Updated October 2019
Anyone who has visited Bright, in northeastern Victoria, will tell you it lives up to its rep and then some – it really is such a beautiful place.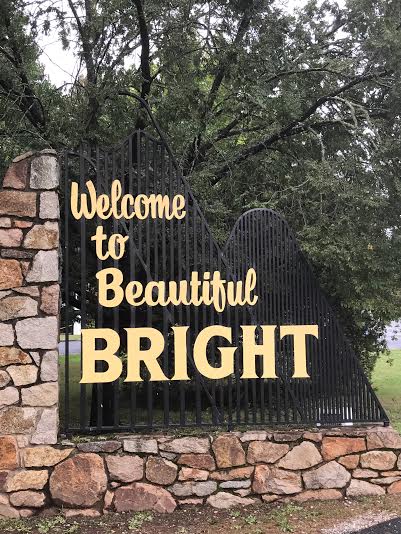 Nestled in between spectacular mountains – Mt Buffalo, Mt Beauty, Mt Feathertop – the scenery really is breathtaking, all year round, sunshine or rain. This is what it looks like in Autumn …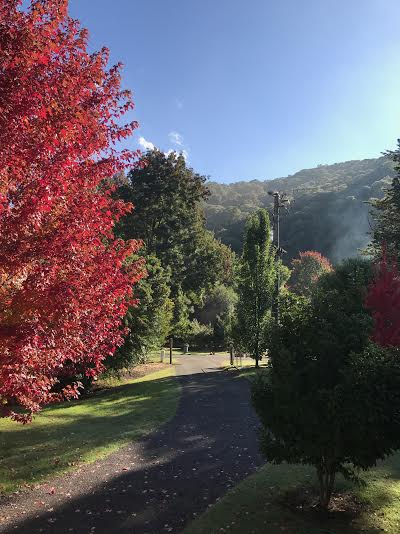 And Spring is not too shabby either …
We've visited three times in recent years and had a ball with our three boys, now aged 13, 11 and 8.
The first time, when the kids were aged 2, 5 and 7, we stayed just out of Bright in the small town of Smoko, in the stunning The House at Smoko. Our middle son still talks about this holiday and how much he loved this amazing property.
The second time around, in Autumn 2017, when our kids were aged 5, 8 and 10, we stayed just out of town at Growlers Creek Lodge, in nearby Wandiligong. The kids loved the extensive backyard – which included the creek – on this property and Wandi was a quiet, pretty place to base ourselves.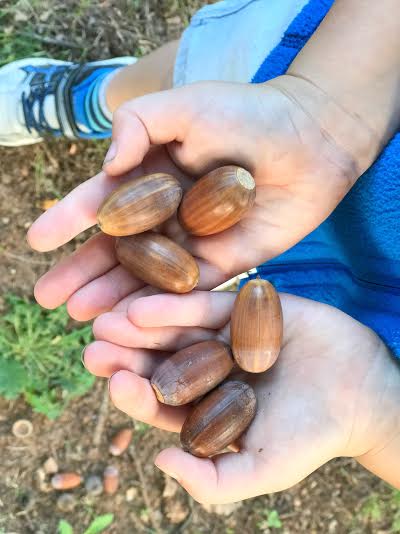 This last time – in the September '19 school holidays – we stayed with another family – Mr SnS's sister, her husbo and two girls aged 6 and 9 – at the beautifully appointed Lumley House, a house we found on Air BnB. Our boys are now aged 8, 11 and 13. This was a luxurious home, in a central but quiet location, just a short walk to the river.
Over our three visits, we've experienced every type of weather (from pouring rain through to a lovely week of sunny, warm days), and have always found plenty of activities to do and places to visit with our children at their various ages and stages.
What follows is by no means a comprehensive list of things to do and places to visit in Bright and surrounds, although we've covered a fair bit over our three visits. What will work for your family will depend on when you visit, what your interests are and how long you stay. However, I do hope it provides some useful tips and a starting point for things to do and places to visit.
1. Play at Howitt Park, Bright 
Howitt Park is sandwiched between the river and Ginger Baker, the Bright Brewery and The Information Centre. This is a terrific park for kids of all ages with a huge basket swing, a flying fox and a rope pyramid. Our kids have spent considerable time each time we've visited, including on our most recent visit.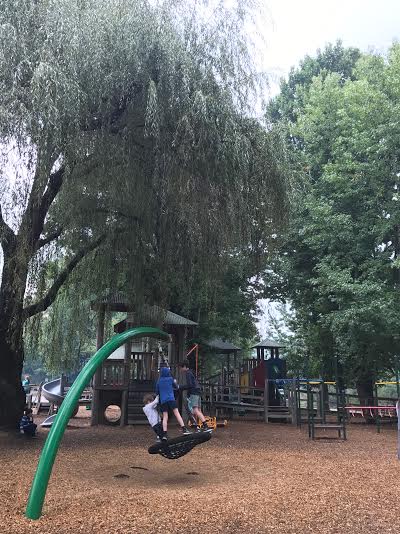 There's plenty of space to play here and paths for the kids to scoot or ride their bikes on. With a seat in the courtyard or on a picnic table at The Bright Brewery where you over look the park, this is a great spot for everyone.
2. Swim in or beside the Ovens River
When it's warm, you've got two options.
You can either swim in the river or, for younger kids or days on which the river is a bit icy.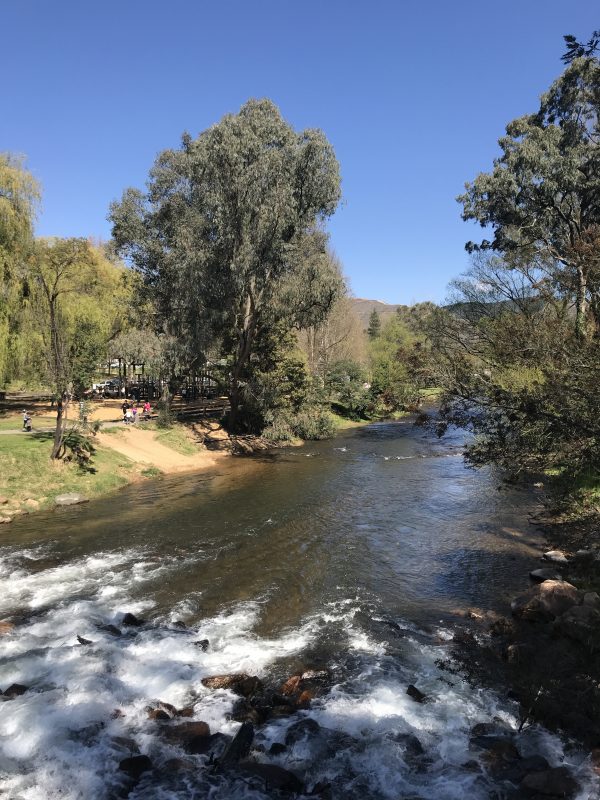 There's also the Splash Park which is open from the September school holidays through to the Easter school holidays each year.
There's also a water slide into the river opposite the Splash Park.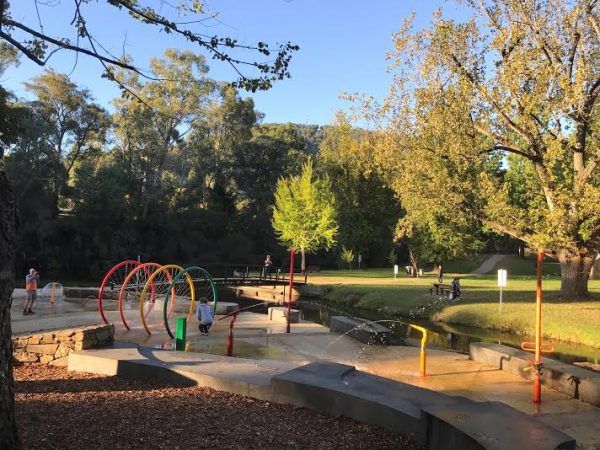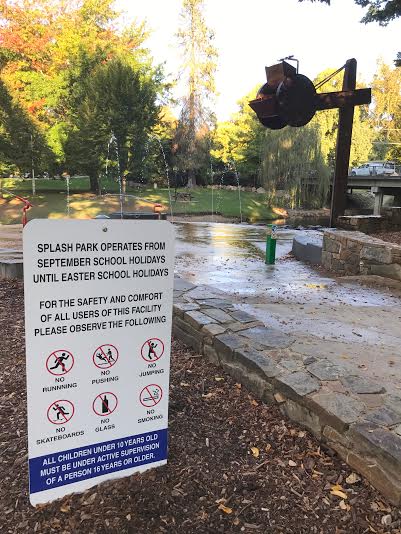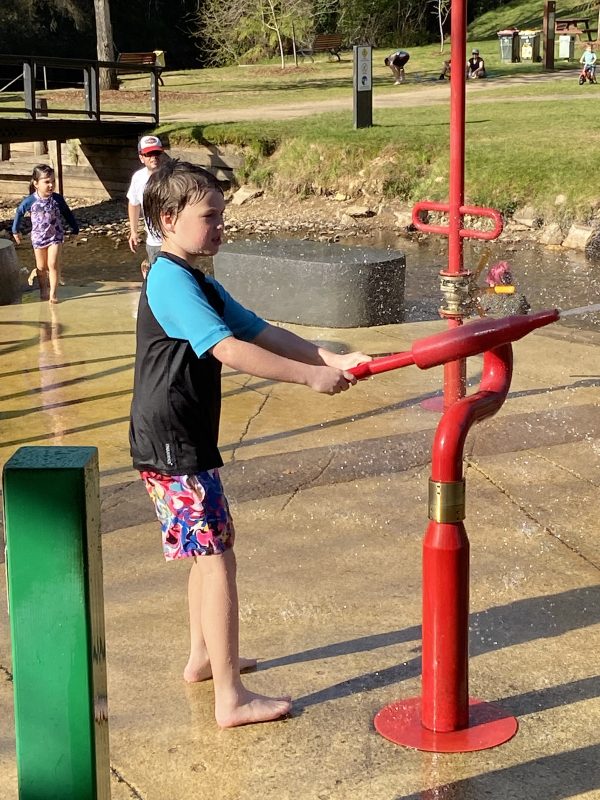 3. Go For a Bike Ride
Bike riders are everywhere in Bright. There are loads of bike paths and trails to follow, from the flat trails to the hill climbs for the super committed and mountain bike riders. You can either BYO bikes or if you don't have space in your car for bikes or have a tow bar, there are a few bike hire places in town to choose from.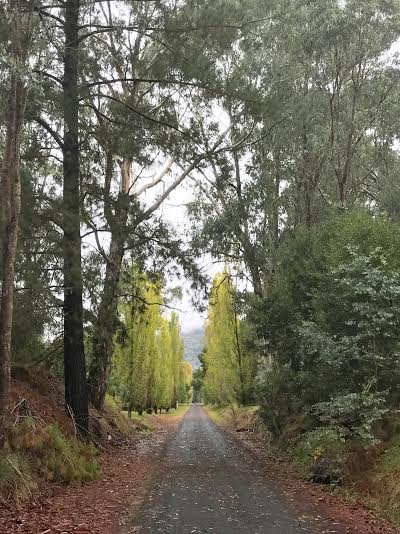 The Rail Trail, above, is super popular with the Rail Trail Cafe at the end for a pit stop.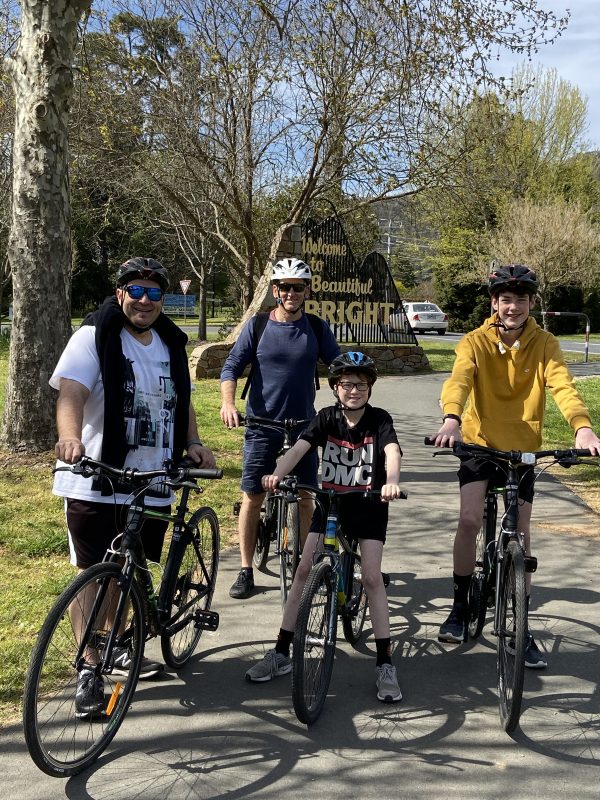 On our last visit, we hired bikes from Cycle Path in town ($40 for an adult all day, $35 for a kid's bike, slightly less for half a day's hire) and rode the Rail Trail to Porepunkah in the morning with a leisurely milkshake/coffee stop at the Rail Trail Cafe before riding back to town for lunch. All up, the ride is around 6kms.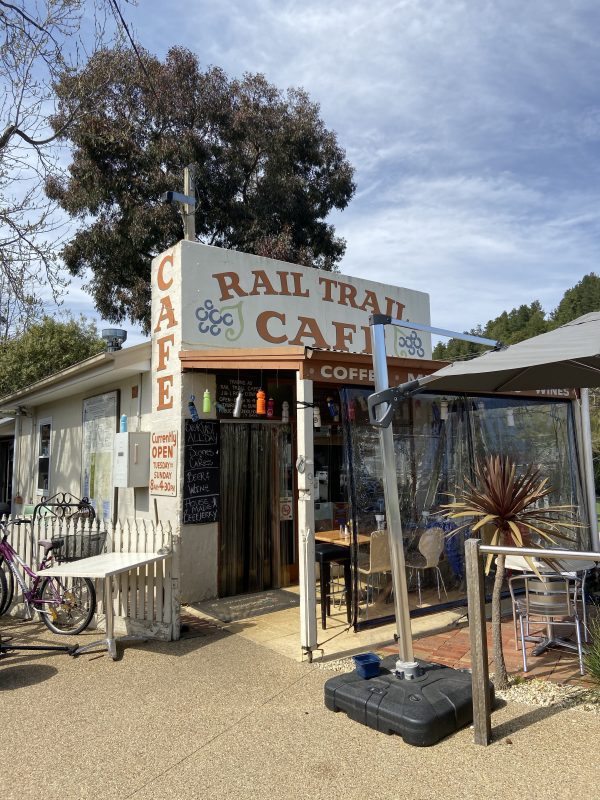 After lunch, we rode out to Wandi. Overall, the ride wasn't as picturesque although once in Wandi, it was absolutely spectacular and worth the effort.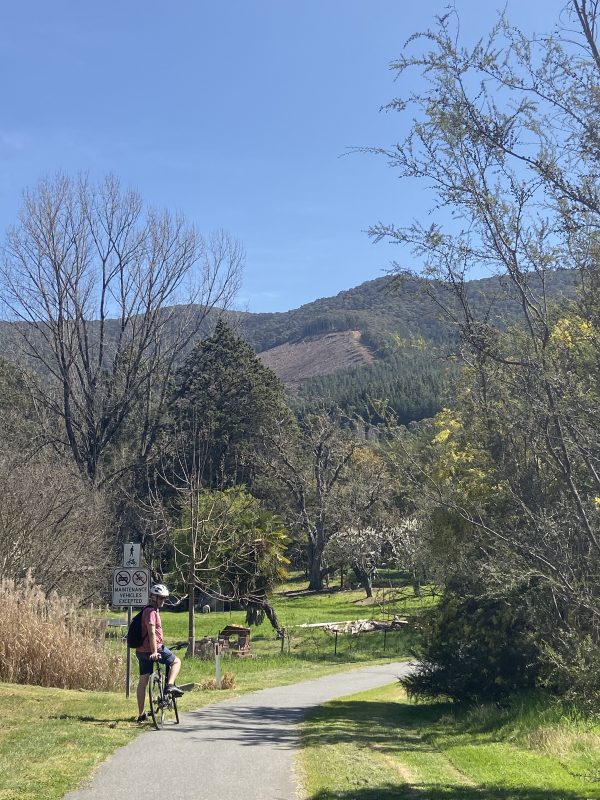 4. Take a Hike
There are loads of walks around Bright and surrounds from short, easy courses through to more challenging, longer options. There are brochures and helpful people to talk you through the options at The Information Centre.
We've done two walks with our kids which were highlights of our stays.
The first was the Canyon Walk, which begins at Howitt Park and follows the river towards Porepunkah. You cross a couple of swing bridges and see the changes in the terrain while staying close to the Ovens River.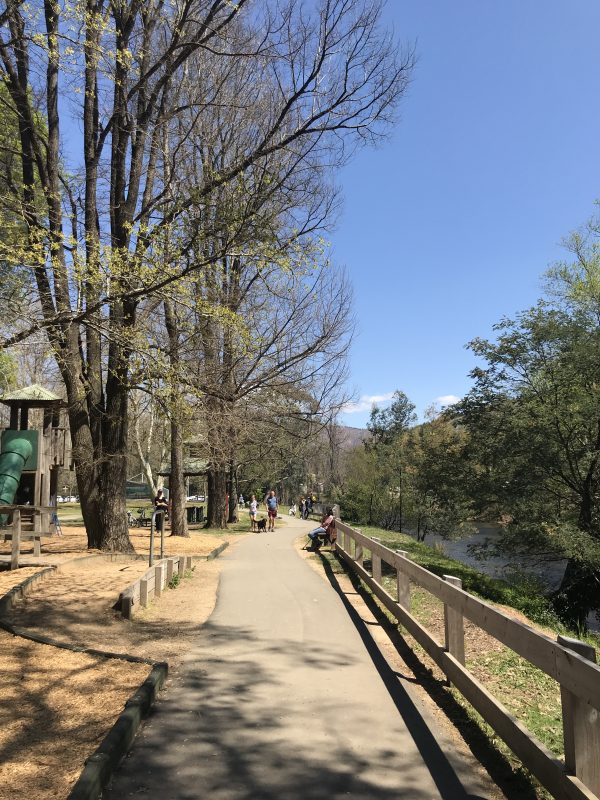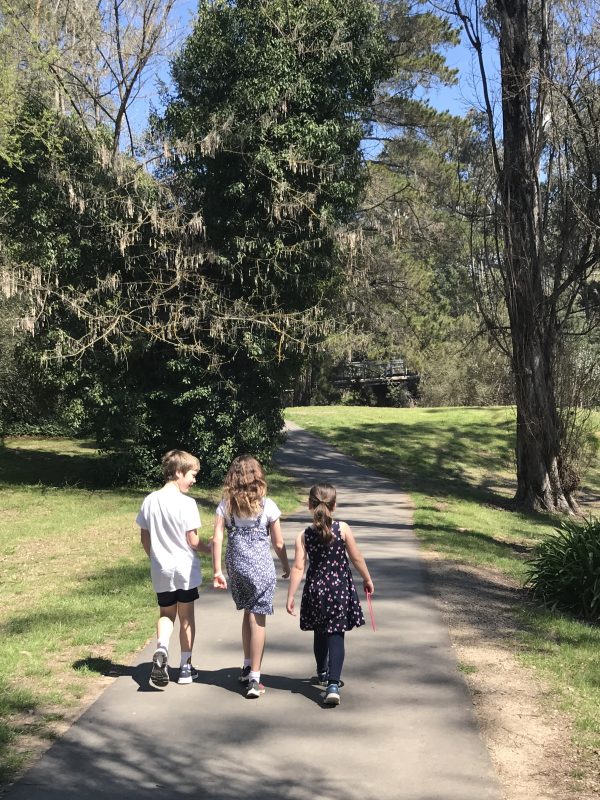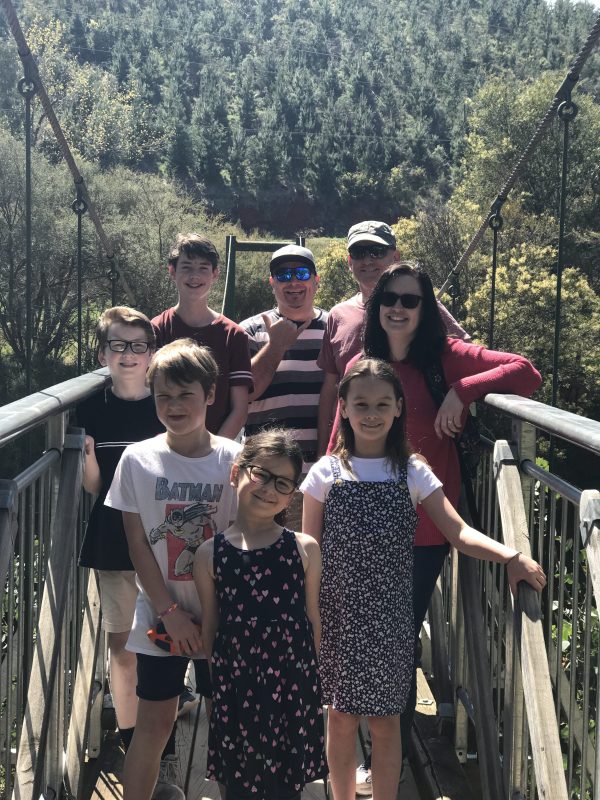 There are shorter or longer loops to choose from too, so if things go pear-shaped or the kids are little, you can do the shorter, half an hour loop. Instead of doing the full loop, we've also taken the Rail Trail back to Bright and all up, it took us 1.5 hours.
5. Pick a Mountain, any Mountain
Bright is surrounded by mountains – in Winter, there's the snow and all the ski-ing, tobogganing and snow play that comes with that. Other times, there are walks, drives and lookouts to visit.
When we visited last time in Autumn, we decided to find a spot to do a walk. A friend who grew up in the area recommended the walk around Lake Catani in the Buffalo National Park.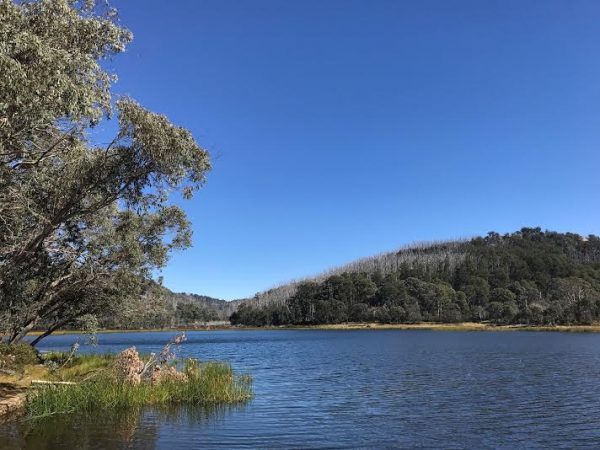 After a good 45 minute ascent in the car (so, so high but the views!), we reached Late Catani where we did the Lakeside Walk. We took a wrong turn and did part of the Gorge walk as well, and all up we walked for about 1.5 hours – a little long for our then 5 year old who was piggybacked the last part of the walk.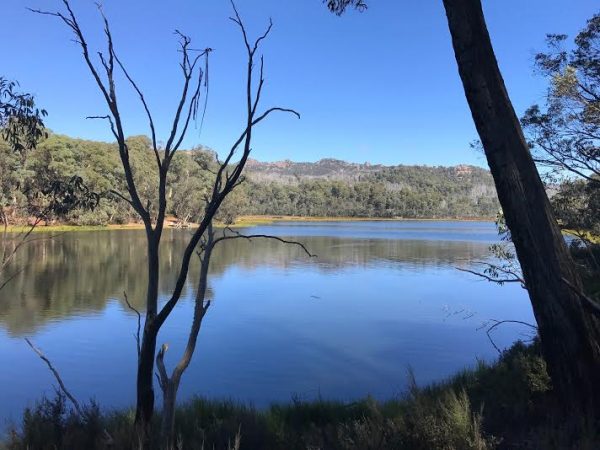 This is an easy course with beautiful views across the lake. Keep an eye out for signs though (we were distracted by the kids and the landscape) and take great care on the short section where you walk close to the road.
Before you decide to go though, it's well worth checking the local weather warnings and with the Information Centre. The day we'd planned to drive up to Mount Buffalo – it had been raining and the clouds were low – we found out the visibility was very low and parts of the road were closed, so we waited for a better day. The drive was steep and scary enough with excellent visibility so I'm glad we held off.
We've also got it on good advice that the drive up to Mt Hotham in the offseason is a winner too, but there's a bit of cashola and admin involved – you'll need to sort out a pass to the National Park, chains for the car wheels and pay for the chairlift. The spectacular views are more than worth it though.
This last time, we drove a short way out of town to take in the views at Huggins Lookout. Can't argue with this view!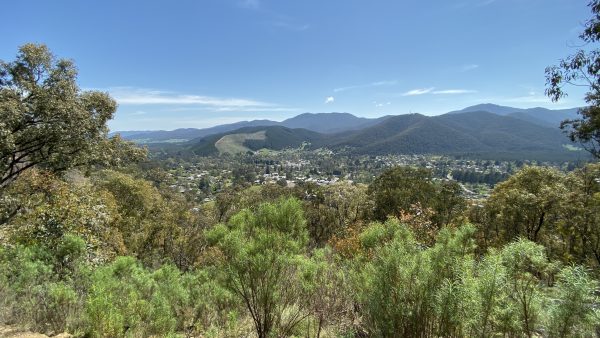 6. Red Stag Deer & Emu Farm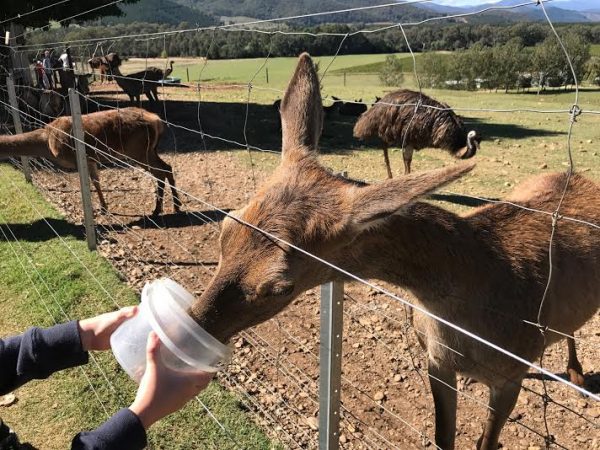 With free entry, The Red Stag Deer & Emu Farm is a fun and budget friendly activity.
For $5, you can buy a bucket of feed (it's $2.50 for half a bucket) for the animals and feed whomever you chance upon (all the animals will eat this food).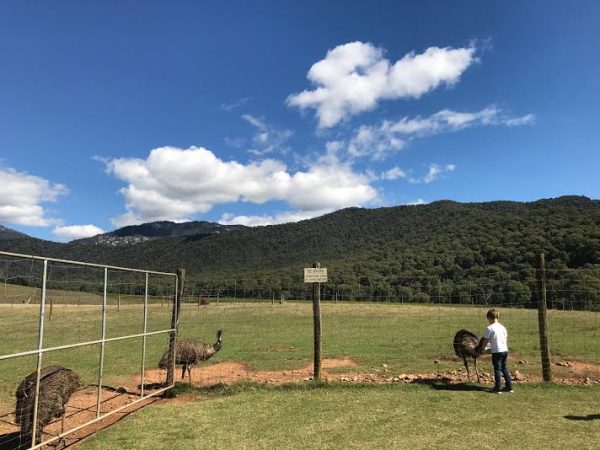 We found baby goats, emus, ostriches, chickens, roosters, sheep and goats.
Of all the animals, our kids loved the deer the most. We were also fortunate to see three baby goats too.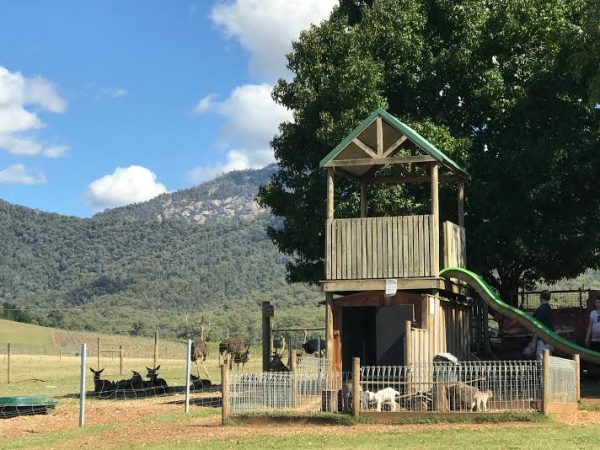 Once we finished feeding the animals, our children had a play on the playground. There is also a cafe (with a deck and a most spectacular view) and a little shop as well as small Mini Golf area ($10 per player). This activity was one of our favourites and was great value.
7. Mountain Fresh Trout and Salmon Farm
We didn't  know what to expect from our visit to the Mountain Fresh Trout and Salmon farm in Harrietville, given we have not fished before and when we visited, our children are relatively young. However, we had a great time the afternoon we visited.
In a nutshell, entry to the farm is free but you pay for your catches. We were pretty confident this would be a relatively inexpensive outing on that basis! With fishing rods, bait and a club provided (all free of charge), our host gave us a quick lesson in how to "finish the job" using the club on any unlucky fish and we were on our way.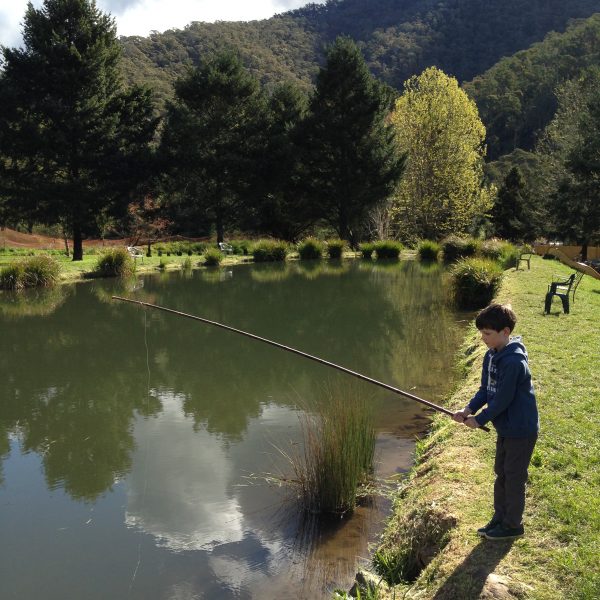 With several ponds with different breeds and sizes of fish, we were directed to the first pond which was full of small trout. Surprisingly, we had instant success (literally within 5 seconds) and our city boys learned how to unhook and club a fish to death, with the club/stick provided. It was a bit gruesome but they coped and I guess that's part of fishing and the circle of life. Well sort of.
After each of our big boys caught a fish, we moved on to the bigger ponds where the big fish reside. It took a while longer but we managed to catch two large brook trout. We were thrilled but mentally calculating how much fish we could possibly eat, how we would take it home to Melbourne and how much those big babies would cost!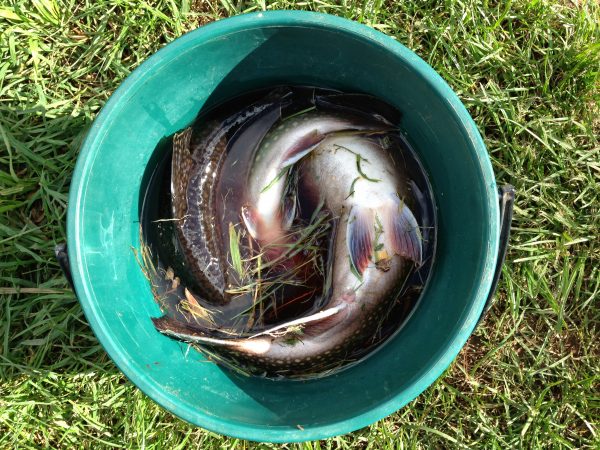 Inside the small shop, a very helpful and competent 15 year old gutted and cleaned our fish and gave our boys an eye opening lesson in fish anatomy. They were riveted. In the end, all up we paid $41 for our catch, which was almost 4 kilograms – a lot cheaper and fresher than the local fishmonger. A box and ice to transport our fish were provided for an extra $5. The boys loved our fishing experience and surprisingly, so did I.
We froze the fish and ate it some months later and it was absolutely delish.
8. Harrietville
After our successful foray into fishing, we drove up the road to nearby Harrietville where we bought house made ice creams and gelato from Morries Ice Creamery & Cafe. This is a popular place and you can read reviews about it here. Just a hot tip – for some reason, it's closed on Thursdays.
We then took the short walk over the bridge to the lovely little playground (Tavare Park) right next to the river. There was a pedestrian bridge over the river but this is no longer in use, having been damaged in recent floods.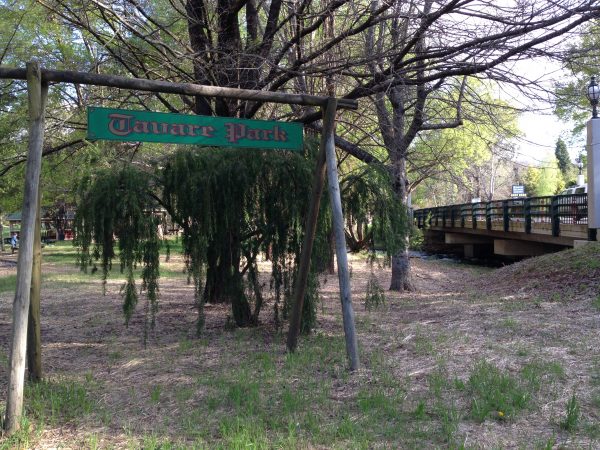 This is a much smaller playground than Howitt Park in Bright but it is still a pretty little spot and has picnic tables as well.
9. Boynton's Feathertop Winery
On the Great Alpine Rd as you drive towards Bright and set back from the road on the hill, is Boynton's Feathertop Winery. This is a smart winery that knows how to draw in the families. With a fenced playground, wine tasting is actually possible.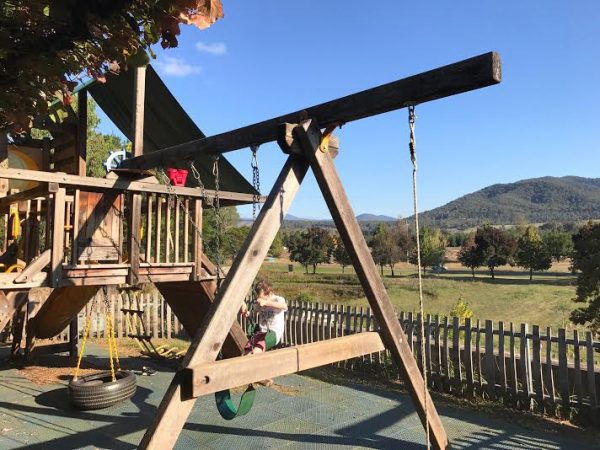 With our three children within eyesight in an enclosed playground (see above, middle), we sampled their wines at the Cellar Door and then put together a platter from the well stocked fridge (think olives, Milawa cheeses, small goods, smoked trout).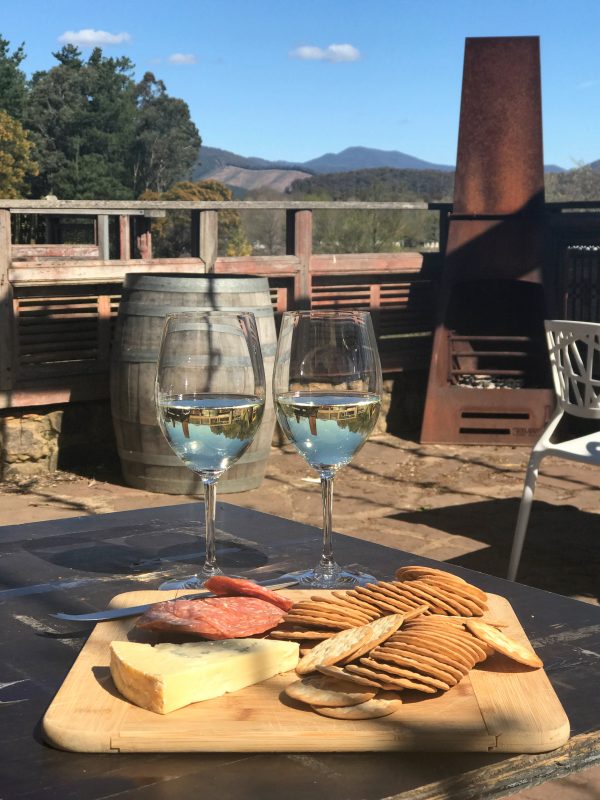 We then sat outside next to the playground with spectacular views over to Mt Buffalo while the kids played and ate, played and ate. Why can't all wineries provide playgrounds?
Things to do when it is raining/boiling hot
Our friends who spent a wet week in Bright told us the Bright Library was brilliant and kept their children occupied for hours.
The Bright Bookshop also has an excellent collection of children and young adults' books.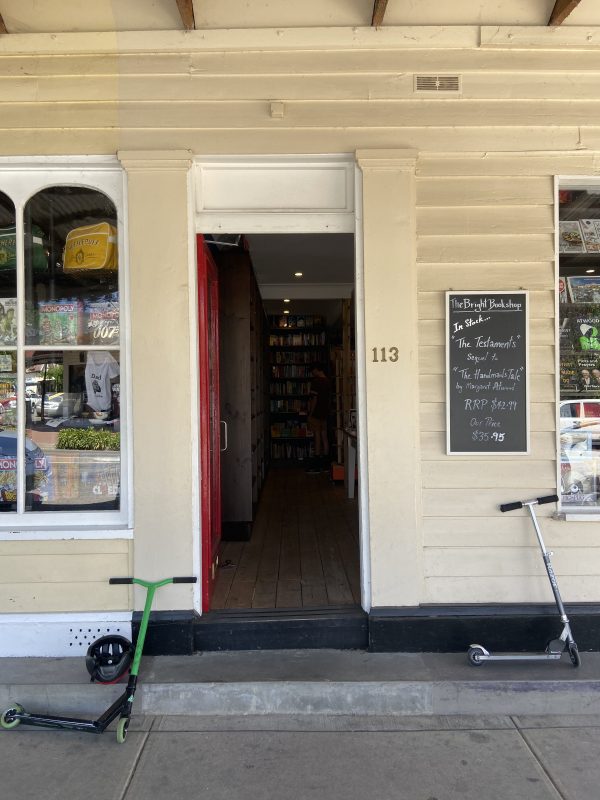 There's also the cinema next to the Information Centre too. It's small and super popular during school holidays so do book online or early if you can.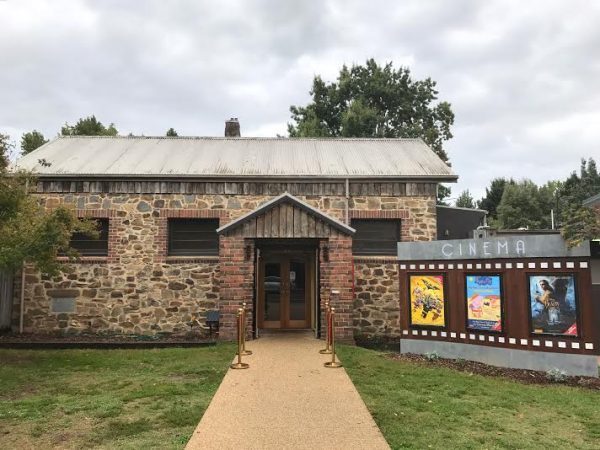 If you are going stir crazy inside, a milkshake or arvo tea at one of Bright's many cafes may be just the thing too or perhaps a treat at Bright's Old Fashioned Lolly Shop or The Bright Icecreamery.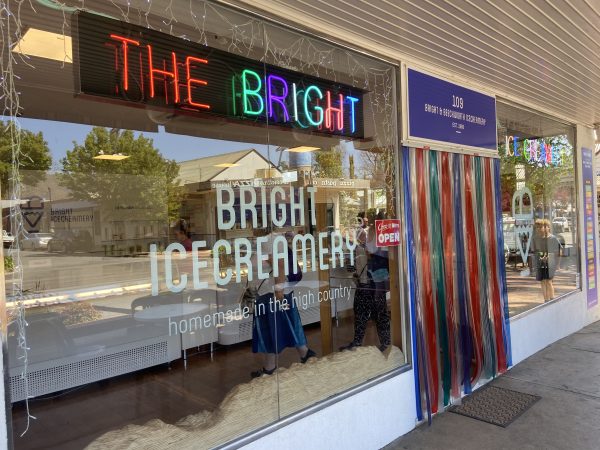 A new addition to town is Cloud Escapes, which not only stocks a great selection of games and fan faves, it also has an escape room "The Larkdale Slasher" ($54 per player for two players or $38 for 3 or more players) with another room on the way (at the time of writing).
Also check out the fab and well-stocked toy shop Bang and the Bright Newsagency for toys, games and craft supplies for younger kids.
In the meantime,  what have you and your kids loved doing in Bright? Are there any great activities or spots you would recommend? If you have visited at the height of summer, how did you cope with the heat?