Updated May 2017
Welcome to the second instalment of my new series: How to Holidays With Kids. Thank you too for the great response to last week's post (how our holidays have changed as our family has grown) – it's clear that how to holidays with kids is a topic that people want to talk about and hear from other people' about their experiences and recommendations.
In today's post, I'm covering some of our favourite destinations within Victoria (locally for us). In the next couple of weeks I'll cover our fave destinations around Australia and overseas.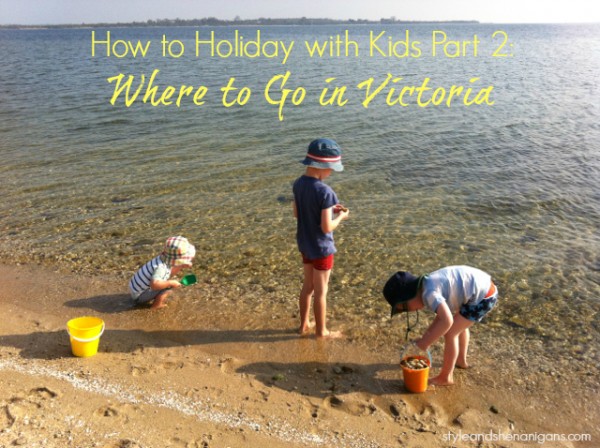 It's funny that I'm writing this now too. We are currently on our annual January beach holiday with our three boys aged 8, 6 and 3. We're having a fun week but it's always a mixed bag, isn't it, depending on the weather and what time you are woken up (5.30am for me yesterday, NOT GOOD). Add a rainy day and a small house into the mix and you've got a recipe for a pizza dinner out with a much needed glass of sanity.
I digress.
As a family, we've covered a fair bit of ground but of course we haven't been everywhere. In all the posts in this series, I'd love to hear from you. Please feel free to leave a comment with any of your tips, traps and favourite places to stay, whether that be a particular destination or accommodation that has really worked for your family. Thanking you!
Where to Holiday with Kids in Victoria – Why Local?
With babies and toddlers, I reckon the easiest holiday by a long shot is a local holiday. By local, I mean a one to two hour drive away max. It is much easier and cheaper to pack your own cot, pram, booster seat, favourite bowl etc and to leave when it suits you.
In terms of the travel itself, we would generally plan our drive to coincide with our baby or toddler's sleep times to ensure a peaceful drive. No need to hire anything, no airports, transfers or parking to contend with let alone cabin pressure on tiny ears as well.
The ease of being able to pack the car with essentials (including buckets and spades for the beach, bikes, helmets and scooters), some food and creature comforts can really help you to have a (hopefully) relaxing holiday. This applies the older the kids are too, as their stuff just gets bigger!
No matter how old our kids are, we will always make sure we spend some time each year at one of our favourite local spots. Our kids love the familiarity of going to the same place year after year and the opportunity to catch up with friends we'd love to see more often that holiday in the same area.
Being only an hour or so down the road too, we've also been known to duck back home when we forgotten something important (medication once and a back up phone just this week when Mr SnS's mobile died).
For us, the criteria for a successful local holiday is actually pretty simple: safe beaches, parks, the odd attraction for extreme weather (cinema, pool, air conditioned/heated indoor attractions) and meeting up with friends or making new ones. We've also found that the older our children get, the more they enjoy going away with other families which works for everyone as the kids happily entertain each other for hours.
Below I've listed our favourite holidays spots in Victoria, beginning with those that are within a 1 – 2 hour radius of Melbourne and then moving further afield. In terms of where we've stayed, with a couple of  exceptions, we have found most of our accommodation through Stayz.
1. The Mornington Peninsula Bayside from Mornington to Portsea – this really is a great place year round for it's wealth of things to do and of course the bay beaches which are ideal for swimming and the patrolled back beaches for exploring rock pools.
In fact, any time of year there is loads to do around these parts, so much so that I've put together thirty ideas here in this post What to Do on the Mornington Peninsula with Kids.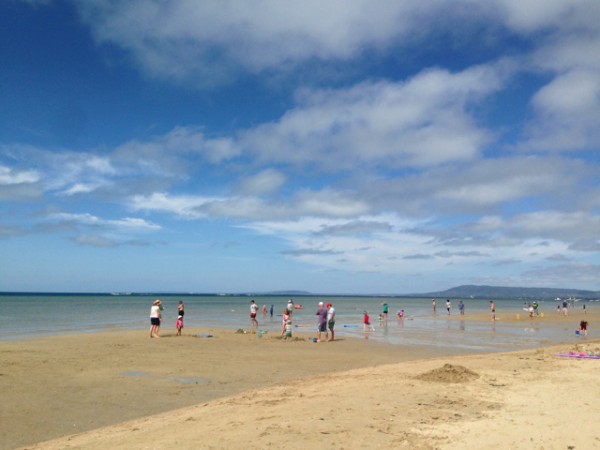 Blairgowrie front beach
There's plenty of great things to do for the grown ups too. Check out my Style Guide to Sorrento and Blairgowrie here.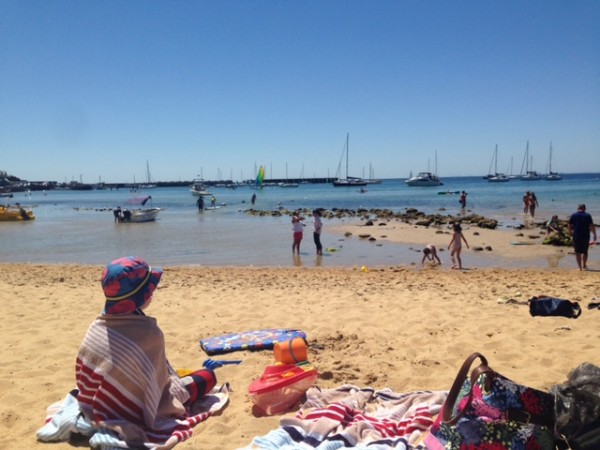 Mornington beach
2. Inverloch – when our boys were toddlers and preschoolers, we loved spending our summer holiday at Inverloch, in Gippsland. The fabulous and protected Anderson Inlet, the playground and extensive grassed areas next to the beach made a relaxed beach holiday possible.
We also found Inverloch to be much quieter and laidback compared with Sorrento and Lorne, the evidence of which was the relative ease with which we could get a morning coffee/a loaf of bread/fish and chips. After the busy rush of New Year's Eve, we found it was easy to find a car park and to make a restaurant booking. We also loved that the park and the beach were full of families with similar aged children.
In the style stakes, I found a couple of gorgeous shops (including Mookah) and loved the farmers' market and other local craft markets but there's not a lot to do, so it's an easy place to relax without FOMO (fear of missing out). You'll find more on What to Do in Inverloch with Kids in this post.
If the weather turns, there are cinemas in nearby Wonthaggi and Leongatha (as well as the fab homewares store/cafe Henrietta's) and a short drive away you'll find the gorgeous Koonwarra Food Store. It's about a half an hour drive to Philip Island too.
We found our accommodation through Stayz but the fantastic and relatively new RACV Resort and the Big 4 Caravan Park on the foreshore are also well worth a look.
3. Phillip Island/San Remo – I spent many a happy childhood summer at Philip Island and it's a place we visit at least once if not twice every year.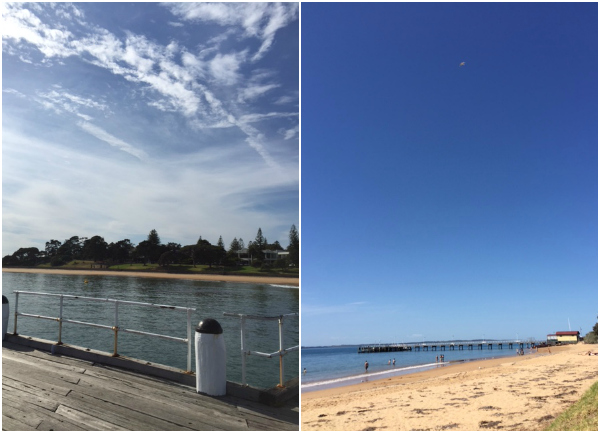 The jetty and beach at Cowes, Phillip Island
Besides the well known tourist attractions (the Penguins, the Nobbies), we've enjoyed Churchill Island Heritage Farm and the beaches and great parks of San Remo and Cowes.
Last summer we spent a fab ten days at the family friendly beach at Silverleaves too, after which I wrote this post: What to Do in Phillip Island with Kids.
The Island has other attractions too including a maze, a chocolate factory plus a variety of places to eat and some lovely boutiques.
4. Barwon Heads – Barwon Heads is one of my favourite places to take the kids. Even though it's small, I feel like there's something for everyone: a great park and the inlet for the kids; the golf course for golf enthusiasts and some seriously fab shops such as Frith and Kiitos not to mention some seriously excellent places to eat including Annie's Provedore.
We've also loved visiting the neighbouring towns of Point Lonsdale and Queenscliff during our happy holidays here. We've generally visited in April and always had great weather and a fab time. I would return in a heart beat!
Loads of our friends have also stayed at the Bellarine Big 4 too (inland towards Geelong) which they have highly recommended.
If you're looking for good coffee en route, be sure to check out this post on where to find the best coffee in Geelong, written by G-Town local Colour Me Anna here.
5. Daylesford/Hepburn Springs/Castlemaine/Kyneton – These fab towns are always on my list. Most recently we've stayed at the Kyneton Bushland Resort with friends, which is pretty basic but it's gold for the kids with an indoor pool, mini golf and plenty of activities to keep them occupied, particularly if you visit with friends.
In town, a short ten minute drive away, there are plenty of great places for foodies (Mr Carsisi and Pizza Verde) and shoppers, so make sure you arrange an afternoon in town if you can.
6. Bendigo – We recently spent three nights in Bendigo with the kids (in the April school holidays) and we had an absolute ball. There's loads to do with the kids including visiting the mines; the Discovery Centre; visiting the excellent Art Gallery, checking out the beautiful historic buildings, fab playgrounds and gardens; popping in to Bendigo Pottery for a class or the famous Woollen Mill.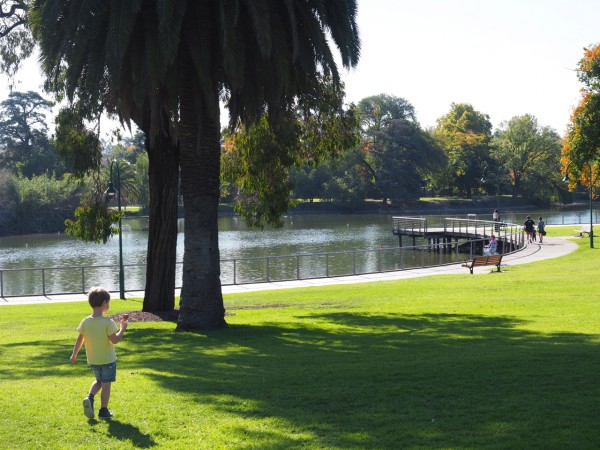 There's some great good and shopping options for the adults too. You can check out all my intel on Bendigo with or without kids here.
7. Flinders – on the other side of the Mornington Peninsula, this small coastal meets country town is a great place for a weekend. There is a great park in town (recently refurb-ed), the Cape Schanck Lighthouse nearby and some great places to eat and shop. For more info, check out my Style Guide for Flinders.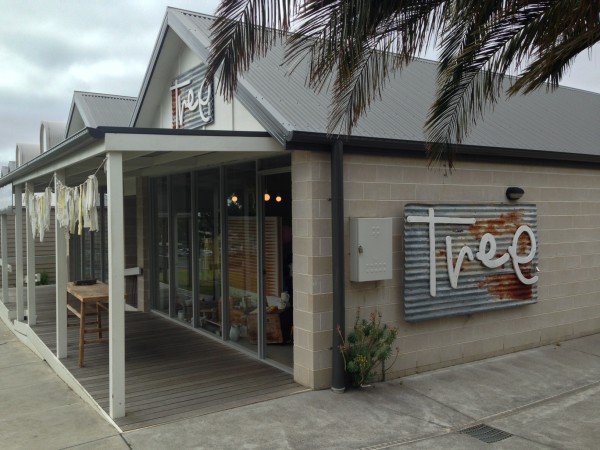 The fab Tree 1 homewares & fashion store in Flinders
8. Ballarat – Over the Anzac day long weekend this year, we spent the weekend with two other families at Sovereign Hill in Ballarat.
We bought a package which included accommodation, so we stayed on site at the motel (one family per room – there was a queen size bed and two sets of bunks in each room plus an ensuite). We had an absolute cracker of a time and between us, we had nine children aged 3 to 11. The kids loved it and it was a fun activity to do in a group.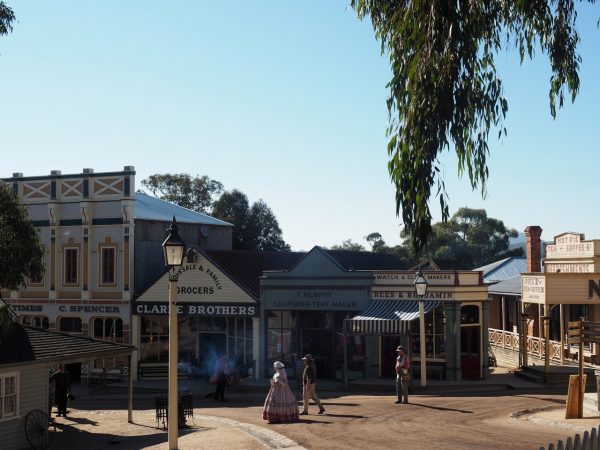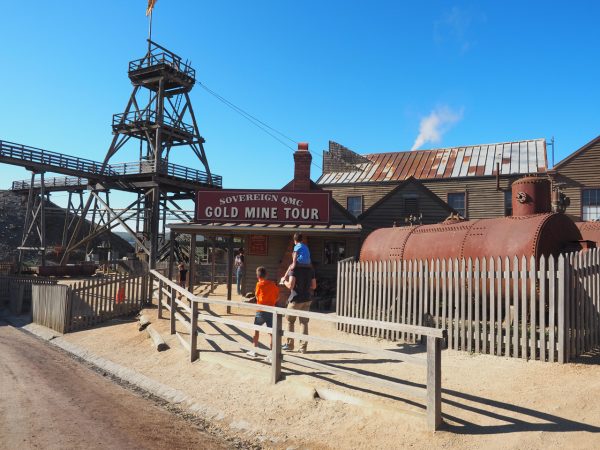 We arrived on the Saturday afternoon, settled in and after a quick dinner in town (the fab barn sized pizzeria Forge), it was time for the Blood on the Southern Cross show.
The next day, Sunday, we spent the whole day at Sovereign Hill, making a bee-line for tickets to the underground mine first thing and then across to the photo studio where we booked our group photo for all 15 of us for the following morning (both are super popular so book first thing, as soon as you arrive, to avoid disappointment).
On Monday, we had our photo shoot, did a bit more gold panning, visited the Gold Museum across then road before heading to the excellent not to mention brand new Inclusive Playspace Victoria Park – a huge, fenced playground on the outskirts of town, for a lazy picnic lunch, before heading home.
9. Anglesea/Lorne/Port Fairy – Slightly further afield on the Great Ocean Road, we've have great holidays in Anglesea, Lorne and Port Fairy. There is a fantastic playground near the foreshore in Lorne, a cinema, the beach and plenty of great cafes and restaurants. It's a bit busy for me during the peak summer season although several of our friends go and have a great time every year.
In Anglesea we've stayed with a group of friends at the fantastic Anglesea Beach Front Family Beach Caravan Park  which has a heated pool, plenty of activities for the kids and direct beach access. Below is one of the fantastic parks in Anglesea which borders the inlet.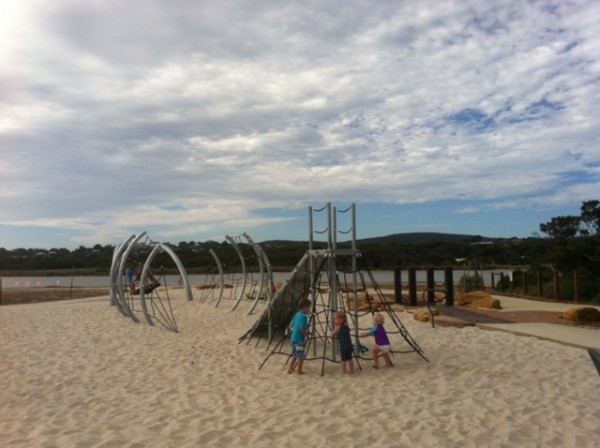 The park on Anglesea River
Port Fairy is a gorgeous town which I'd love to return to soon. We stayed for a couple of nights en route to the Barossa Valley some years ago. Otherwise, at around 4 hours drive out of Melbourne, it is a pretty long journey for small kids although it can be broken down into blocks of two hours. For all of our stays, we found great accommodation through Stayz.
10. Metung/Lakes Entrance/The Gippsland Lakes – It's a big drive to get there (3 – 4 hours depending on which side of town you live on), but this area never ceases to amaze me for it's beauty and mix of coast meets country.
We've stayed in the quaint lake side village of Metung right opposite Lake King (pictured below) and enjoyed the relative quiet and ease of this small town and the magnificent lake by which our kids played for hours.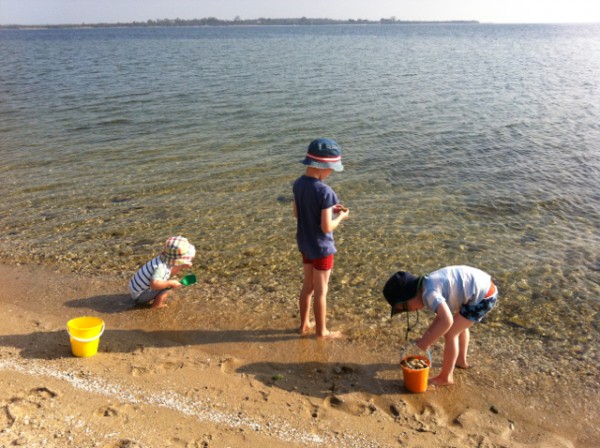 Lake King, Metung
Our accommodation in Metung at The Moorings was excellent, spacious, centrally located and right on the water (although a very high level of supervision was required for our ground floor apartment). Nearby Lakes Entrance (below) has plenty of parks, activities and places to eat and of course the incredible 90 mile beach.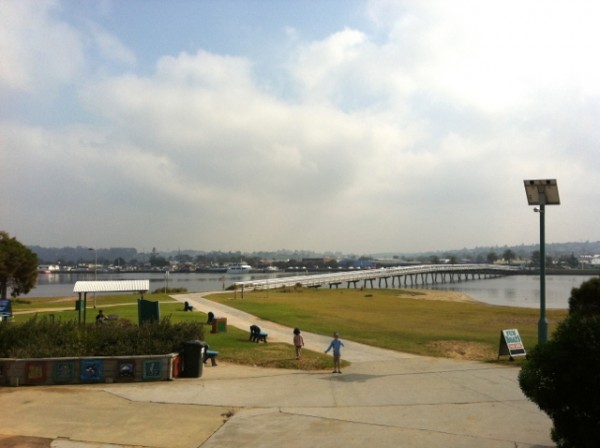 View from 90 Mile Beach back to Lakes Entrance
11. Bright – We also love to visit Bright. While we visited in Spring, it's a beautiful place all year round. Several friends of ours particularly love it in summer and are now converts to swimming in the river.
The playground next to the river in Bright town centre
For our stay, we stayed in some pretty luxurious but child friendly accommodation in Bright – The House at Smoko (pictured below).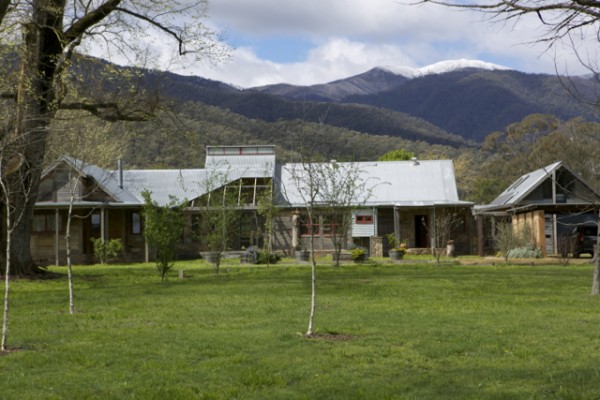 The House at Smoko, above and below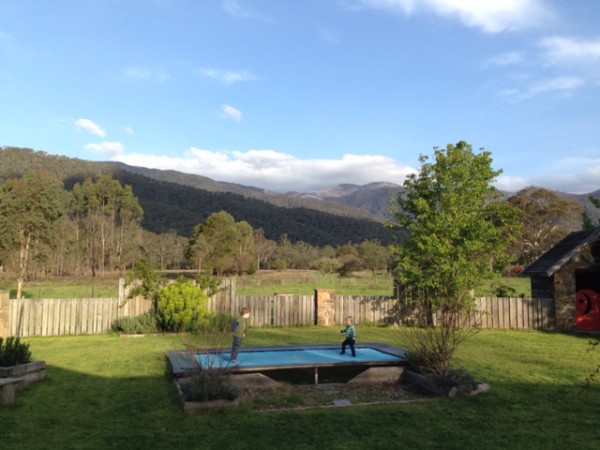 I've also written a series on Bright with Kids which you can catch up with here (Bright with the Kids: What to Do) and here (Bright With the Kids: Where to Eat and Shop).
In next week's post, I'll cover my favourite holiday destinations in Australia for kids and then the week after that, overseas.
In the meantime, what are your favourite local destinations (in and outside Victoria) for family holidays? Where did you stay and what did you do?