Updated November 2017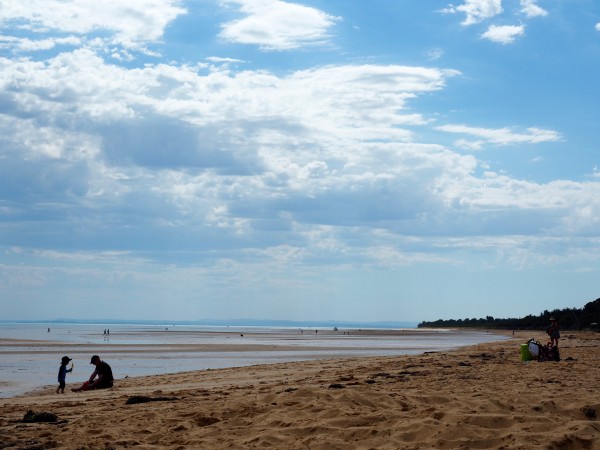 Growing up in the early '80s, my family and I spent a week or so every summer at my great Uncle and Aunt's beach house in Ventnor, on Phillip Island.
Back then, we used to spend hot summers on the famous Woolamai surf beach or Cowes front beach along with the rest of Victoria. We'd always pop in to visit Shirley Strachan at his surf shop too.
It was busy and clearly the place to be.
I'll always remember that house on stilts where we played The Game of Life every summer, listened to Hot Summer Nights on the radio and my Dad caught a snake in the grass and hung it on a street sign to show snake season was on like Donkey Kong in these parts.
Ah the '80s.
Phillip Island always felt relaxed, a home away from home and for many years, didn't seem to really date.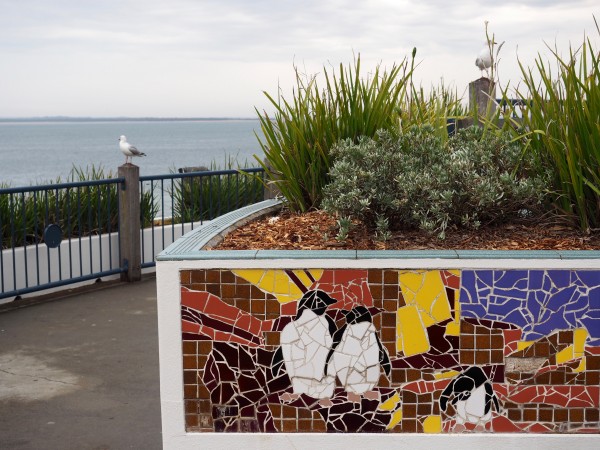 Other coastal places, meanwhile, seemed to always have somewhere new and fab to eat, drink or shop and somehow, seemed a bit, well, cooler than good old Phillip Island.
Until recently, I hadn't spent a lot of time on the Island as an adult, save for our annual weekend with friends at a campsite in Cowes. We don't tend to leave the campsite often though, save for a side trip to the beach, a walk with the girls that includes a quick browse here and there and, of course, the mandatory coffee runs.
I have seen though, in those short trips, that there's a lot more to Phillip Island than I remember and a lot more I'd like to explore.
So, these past two summers, we've booked a holiday rental in Silverleaves, a small village of sorts, just out of Cowes. We've had two great summers exploring the Island's beaches, many activities and re-tracing some of our favourite childhood summer memories.
I've also loved the laid back vibe of the Island, the relaxed pace and the relative lack of crowds mid to late January.
It's no biggie to find a car park, a table at a cafe or find a spot on the beach. There's capacity and space. In fact, the only crowds we found were in queues for good coffee.
There were enough people around but it certainly was a refreshing change from other popular, crazy busy coastal towns.
The price of accommodation was also reasonable. We found a great place on Stayz which cost significantly less than an equivalent property on the Mornington Peninsula (Blairgowrie specifically) where we've also spent a lot of time.
Below, I've tried to capture some of our favourites along with things/places that were recommended to us by friends. I'd love to hear your favourites in the comments below.
The Beaches
You are spoilt for choice when it comes to beautiful beaches here – the obvious thing about an Island being that there's plenty of coastline to visit.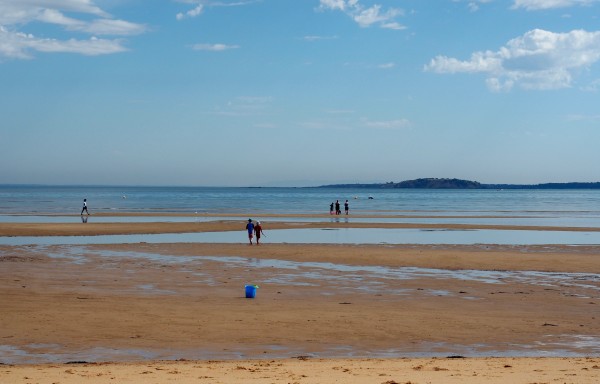 For great family friendly beaches with calmer waters, we loved Silverleaves, above, or the ever popular Cowes beach.
We also visited Red Rocks, below, which is a lovely cove and, reportedly, the locals' beach of choice.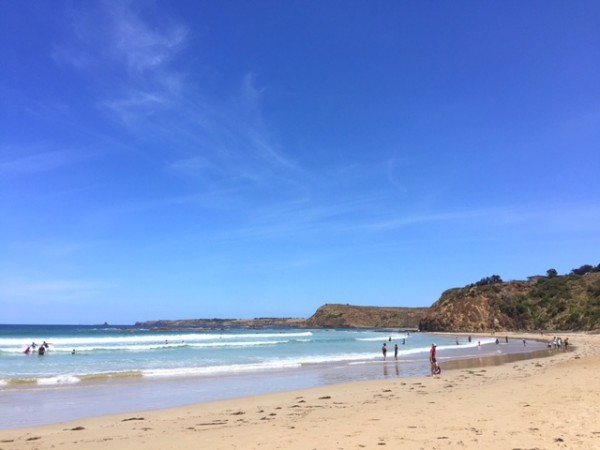 For boogie boarding, Smith's Beach is a popular choice (the most populated beach we saw during our week in fact) and there's plenty of great surf at Woolamai, below.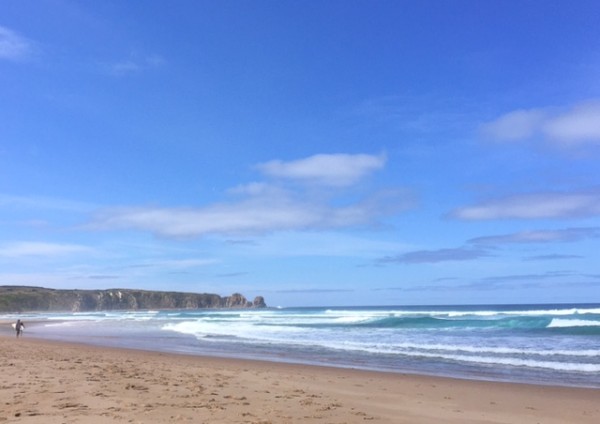 I don't want to get all preachy here but some of these beaches are seriously wild and dangerous. It's so important to always swim between the flags, never swim unaccompanied and obey any life guard info, directions and weather warnings.
Woolamai in particular can be deadly and there have sadly been a number of drownings here recently, including two people the week before our visit last summer.
We opted to play on the beach here with the kids and swam at flat, calmer spots like Silverleaves.
Free Stuff to Do With Kids
Here are some of the things we enjoyed doing with the kids that didn't cost a cent as well as activities our friends who are Island regulars recommend:
– a visit to The Nobbies to look our over Seal Rock and walk down the boardwalk to see the blowhole. This part of the coast line is just spectacular;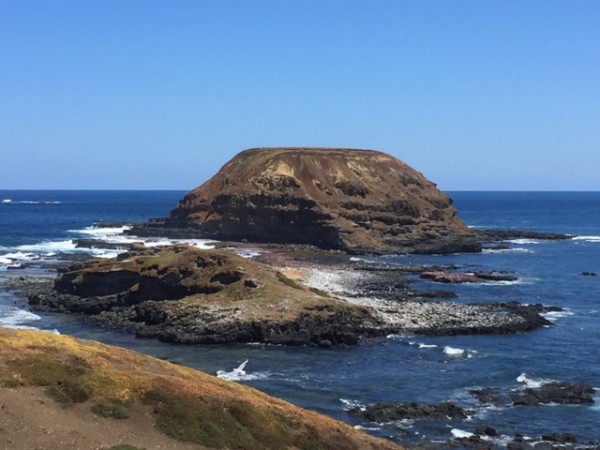 – a drive down the Esplanade from Woolamai to Surf Beach for beautiful views of this stunning coastline;
– walk along the pier and look at the boats in the seaside hamlet of Rhyll;
– hit the sand dunes with your boogie boards at Woolamai;
– go for a stroll down Cowes Pier;
– visit any of the Island's many beaches.
Other Things to Do with Kids (Not Free)
We usually spend most of our time at the beach, but there are plenty of other things to do on the Island with the kids:
– visit A Maze'n Things – we visited Amaze N Things on our most recent visit. It's a fun activity not but it's not cheap, so make sure you make the most of all of what's on offer. We bought tickets for the Puzzle House, Magic Manor and Mazes (an eye-watering $120 for our family of five – it's an extra $60 to add on mini golf) where we spent a good couple of hours. The Puzzle House and the Magical Manor section were excellent and the kids enjoyed all the different activities and interactive displays.
There's a high ropes course on site too but tickets are purchased separately.
– book in for the Penguin Parade – during summer you're looking at 9pm for showtime. There are also tickets which include other attractions on the Island;
– visit Churchill Island Heritage farm where you'll find animals, demonstrations and other interactive activities in a historical farm setting.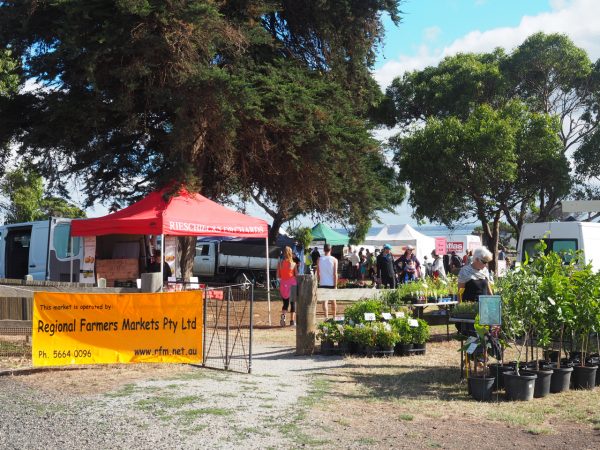 This summer just gone, there was live music and entertainment on Friday nights and Farmers Markets (pictured above and below) on Saturday mornings too, so do check out what else is happening during your stay. There's a cafe on site too;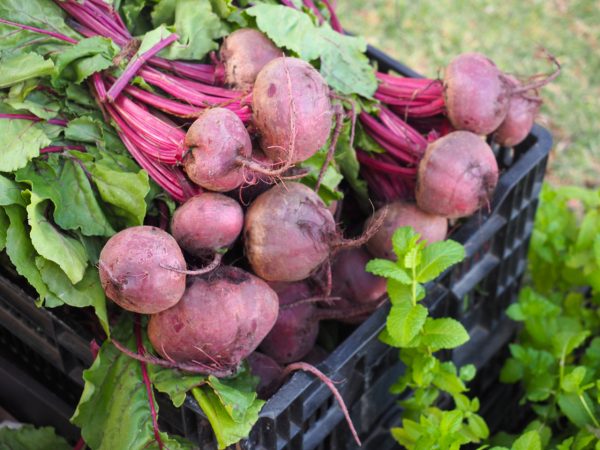 – Grumpy's Mini Golf, below – is a good option for a cold or wet day. There are 18 holes in this very well maintained, colourful Willy Wonka meets mini golf establishment;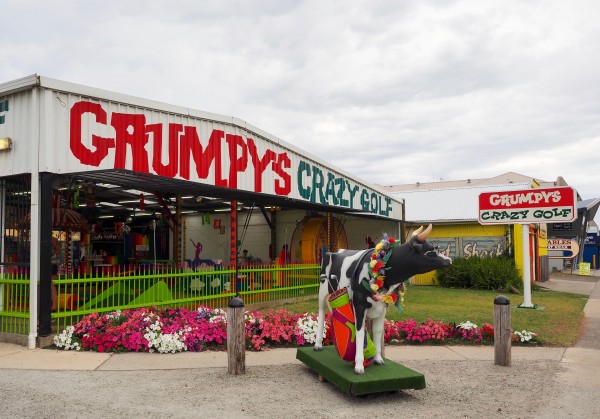 – head to San Remo to feed the pelicans at midday (more info here) and play on the playground next to the beach.
I can also highly recommend the excellent fish and chips at the nearby Co-op. We ate our FnC on the picnic tables overlooking the pier;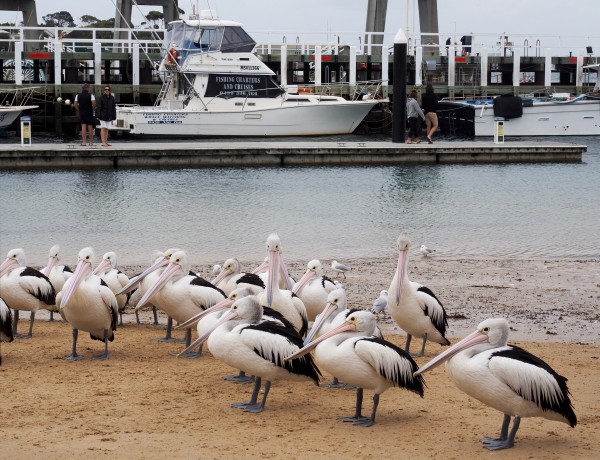 – throw in a line at Ryhll Trout and Bush Tucker farm;
– visit the famous Phillip Island Grand Prix track;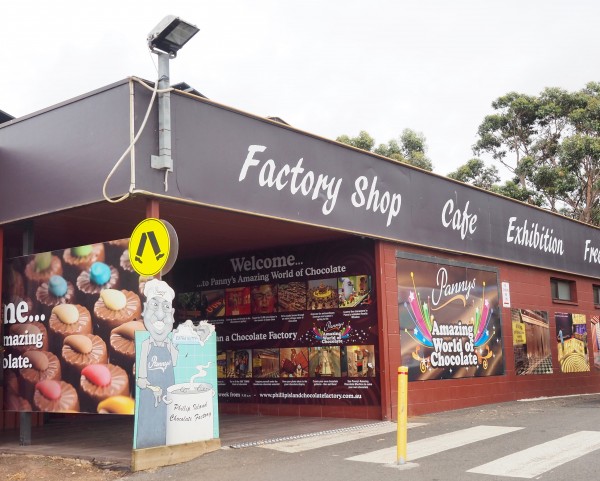 – visit Panny's Phillip Island Chocolate Factory, above. There's also a tour ($45 for two adults and two children) which is pricey but quite good.
The origin of chocolate and the process of chocolate making is explained, there are plenty of interactive displays, arcade games and a free tasting.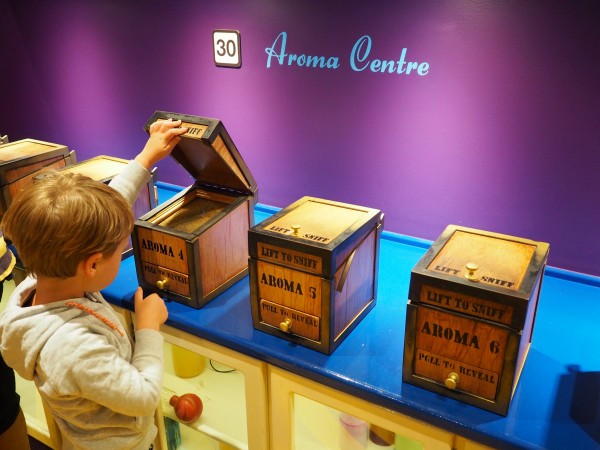 At the very end there's a DIY chocolate machine where you can make your own bar for $2. This is loads cheaper than the offerings in the shop (a small bag of chocolates will set you back $16.95) so worth doing. There's a cafe on site too.
You'll find more ideas for what to do here.
Where to Eat
For views, it's hard to go past The Cape Kitchen, below, situated on the waterfront near Cape Woolamai. It's currently open Friday – Monday.
This beautiful Scandi dining room has the most spectacular views of the rugged coastline. I love it especially on overcast days.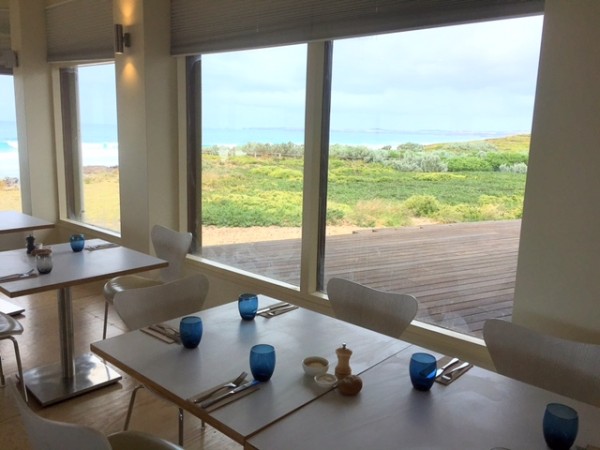 This is a more up market establishment and is open for breakfast through to dinner.
The coffee is excellent and while the breakfast menu is delicious, the serves can be on the small side.
The last time we visited, we had a delicious lunch. Mr SnS and I shared the  Koonwarra lamb with a side of veg and it was a generous and tasty. Washed down with a local Rose, it was a very pleasant meal indeed.
There is also a kids' menu and pencils on offer so it's family friendly with plenty of space for prams and friendly staff.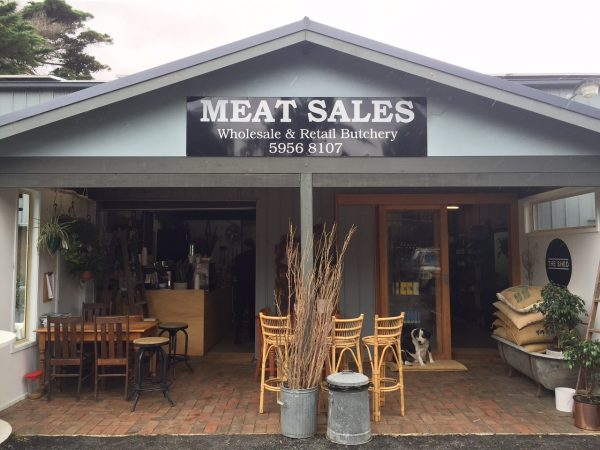 The newest addition to the neighbourhood is The Shed food store in Ventnor which opened in Spring 2016, pictured above and below. This is a small but beautifully curated one stop shop where you can pick up meat from the butcher, flowers, artisan bread and delicious baked goods, fresh produce, deli goods, beautiful home wares and accessories.
It's not a cafe and there's no seating inside but it's a good place to pick up a coffee and a nutella donut or a yo yo and sit outside in the large alfresco area.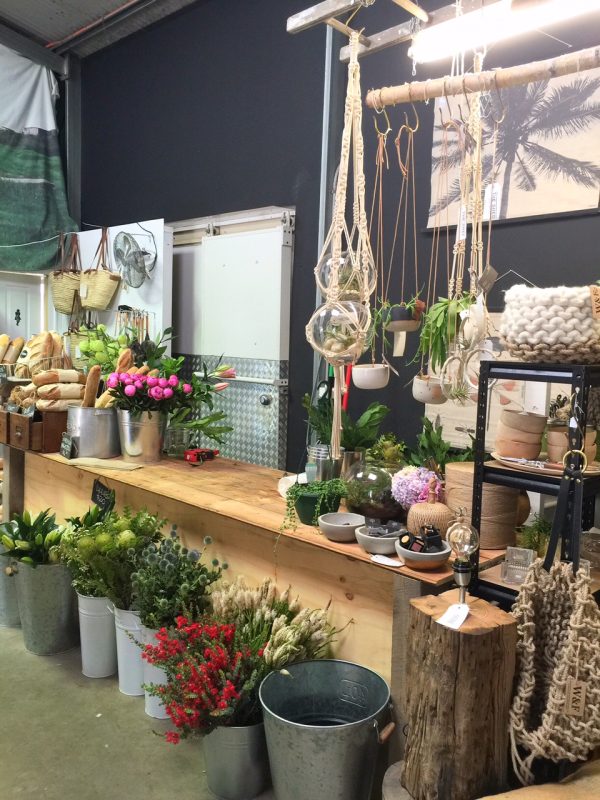 We were also impressed with another newbie, The Waterboy in Cowes.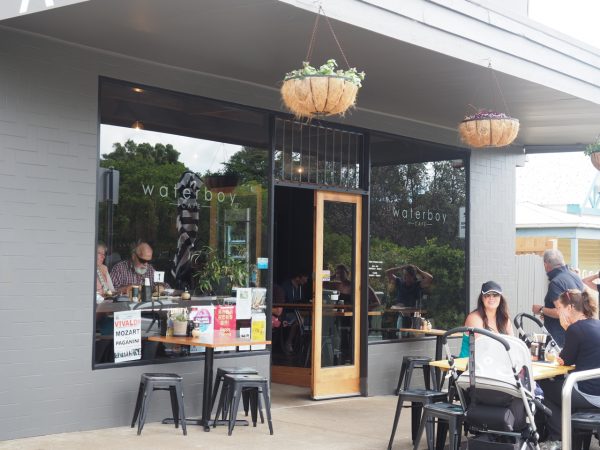 With it's great modern but green filled fit out, reasonably priced kids' menu, large dining area and great views down to the water – and a deck overlooking the water on the cards – this place promises to become a favourite.
I can also recommend the coffee and treats at Island Wholefoods, below, just behind the Aldi car park. They serve Dukes coffee and you can pick up a raw treat or slice for a sweet treat , or a wrap for lunch.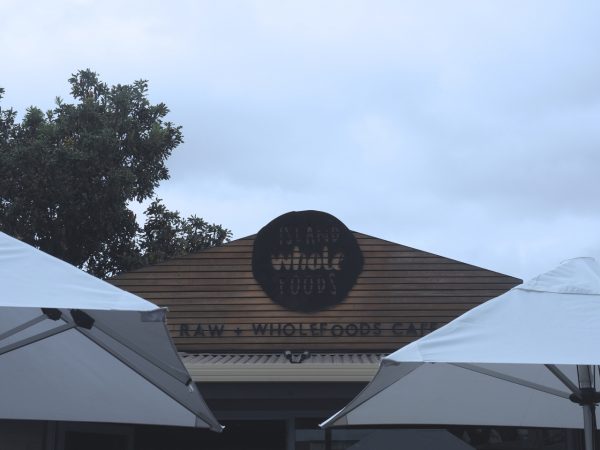 For dinner, there's Hotel, below, on the corner of the Esplanade and Thompsons Avenue in Cowes (opposite the pier). They do a decent burger and you'll find a kids menu with 6 options (the usual suspects) too. It's popular though, so it's worth booking ahead during peak times.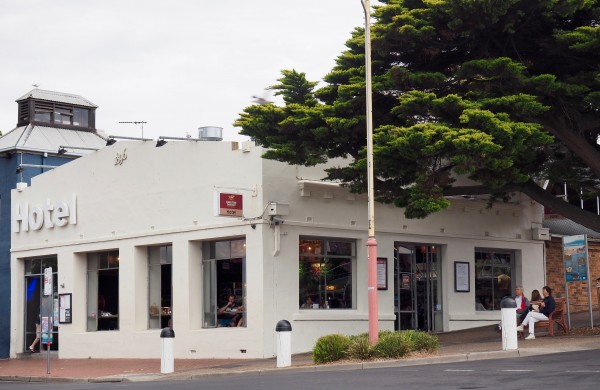 A couple of summers we took the kids to Fig & Olive in Cowes one very hot night and had a lovely meal. Again, the kids were well catered for with the usual options. The wood fired pizzas were pretty good and my prawn pasta was lovely too. I would have liked to see some lighter (i.e. salad) options in the mains department though.
The Goat in the Boat, also in Cowes, also looks like a nice, albeit upmarket option.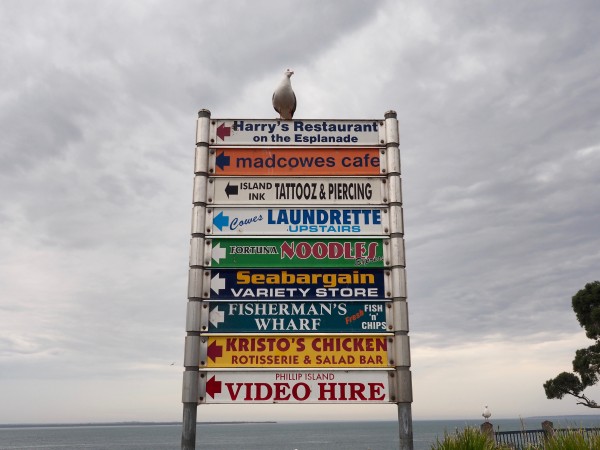 Further afield, besides The Shed and Cape Kitchen, we love a relaxed brunch at Smith's Beach General Store.  Their made to order breakfast wraps and house made sauso rolls are right on the money.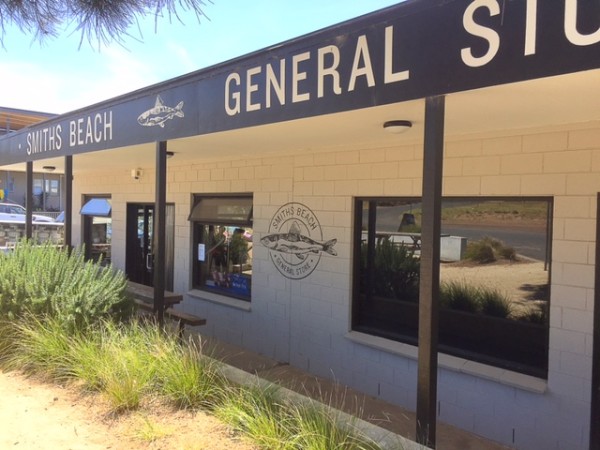 As far as coffee is concerned (and as Melburnians, we are always very concerned) the word on the street is that Mad Cowes, on the Esplanade is the place to go but the queues are often out of control (I popped in one morning and found a queue twenty people deep for takeaways).
I liked my brew from The Island Wholefoods. The coffee at Waterboy was on the strong side. We also had decent coffee from Gullivers on the corner.
Mendls, adjacent to the gallery in Cowes, is also supposed to be a good option.
Locally, the Silverleaves General Store did a decent coffee en route to the beach.
Just off the Island in San Remo, we heard great reports about Beaned and Porter Republic.
Where to Shop
This might surprise a few people that haven't been to the Island lately but there are some very nice places to shop in Cowes. So if you get a chance to head out on your own for an hour, you'll find plenty of options.
My favourites include:
Luxe Tropic – tucked in behind the Aldi car park, this little shop packs a punch in the style department, stocking a range of boho clothing and accessories from labels including Spell Design and Sunny Girl.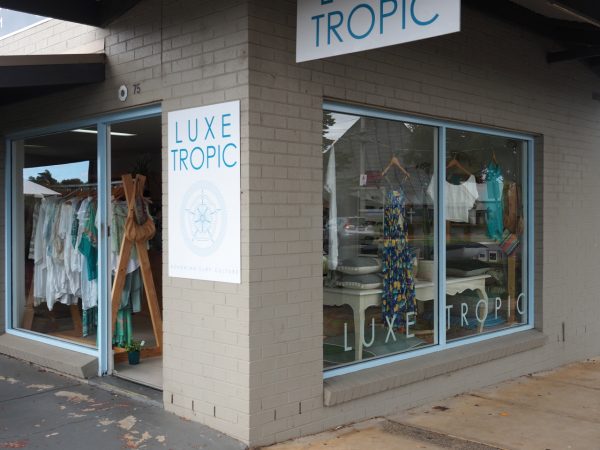 Tyde has also moved from Thompsons Ave to a much bigger, double fronted shop around the corner on The Esplanade near Mad Cowes and continues to stock Elk Accessories and clothing, Palm Beach candles and a beautiful range of jewellery, accessories and home wares.
Neon Circus & Sarsparilla – on Thompsons Ave, these well curated shops used to be next door neighbours on the newsagent's side of the road, but they've recently moved directly across the road (on the bakery side) where they are now in larger premises. While separate businesses, they are situated side by side with internal access to each other, as you can see in the photo below.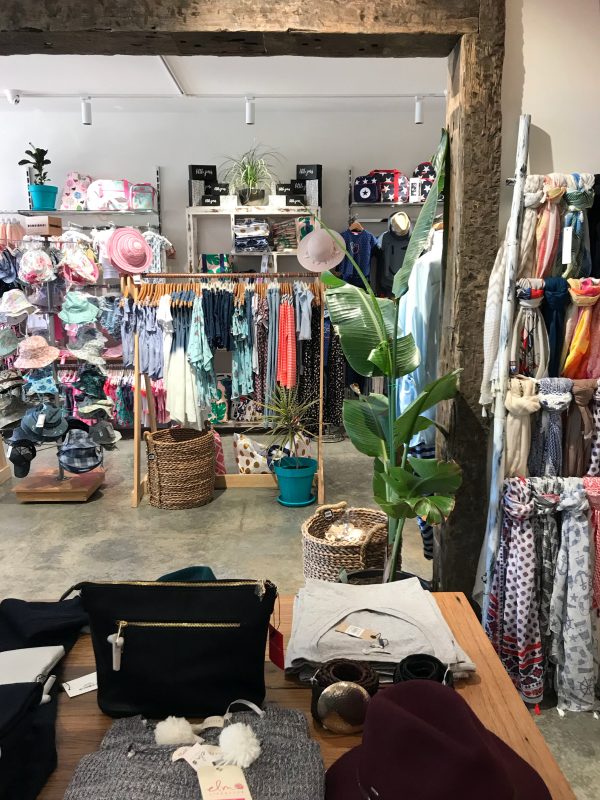 Neon Circus is a bit deceptive as half the store is given away to a very tasteful range of children's clothing (featuring Canadian brand Hatley amongst others).
In the adult/home wares section you'll find clothing by Ebe & Ive, Elm Lifestyle and Alessi and jewellery by Rare Rabbit.
Sarsparilla, pictured below, also has a great range of adult clothing (they stock Elm Lifestyle, Totem and Metalicus among many) as well as beautiful candles and ceramics.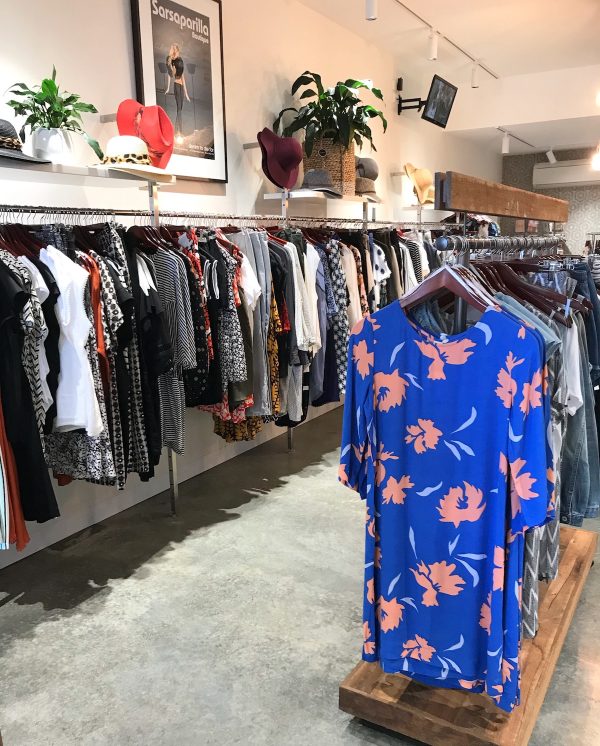 A couple of doors down from Neon Circus and Sarsparilla is The Front Room, below, with it's great range of frockery from Mist, Lola and Camilla, ECOYA candles, Spider and Lily bags and a great range of high end denim and luxe basics including Mela Purdie.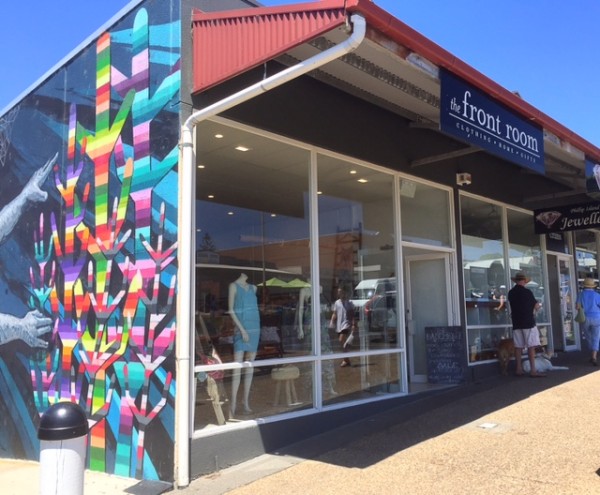 If you love a good book shop, the independent Turning the Pages on the main drag in Cowes is a great spot to pick up a book for you or the kids too. The newsagent is also stocked well with mags as well as plenty of stationery, toys and gifts for the kids.
Have you been to the Island lately? What are your favourite beaches, things to do and see and places to eat?