Updated September 2019
Whenever we are away on holidays, I love to explore the local foodie scene and find great new places to eat.
It is not exaggerating to say that my heart rejoices when I discover a fab new place, especially places that are family friendly.
On our visits to the beautiful Bright and surrounds, we've been consistently impressed with the food and cafe scene. We've found loads of great family friendly places, delicious local produce and there's plenty to love in the design and fit out departments if that's your thing too.
This is second post in my series about the beautiful Bright. If you're travelling with your shenanigators kids, I've written great activities to do with children in Bright and surrounds here. In this post, I am covering some great places to eat out with/without children and of course, as you'd expect around here, great places to shop.
Places to Eat in Bright
1. Tomahawks
Add this Bright newbie to your Must Visit List.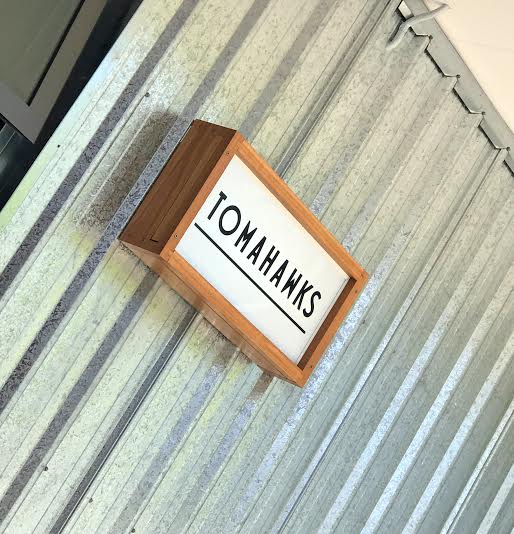 Situated opposite the river on Camp Street, at Tomahawks you'll find seriously good food, a relaxed vibe in an industrial fit out and friendly staff.
When we popped in for lunch, four of us inhaled our Wagyu cheeseburgers and our littlest guy chose the Southern Fried Chicken (there's no kiddies menu but they're happy to adapt to please the munchkins). All were mouth wateringly delicious, washed down with a local brew and vino. The chips – served with roast garlic mayo – were top notch too.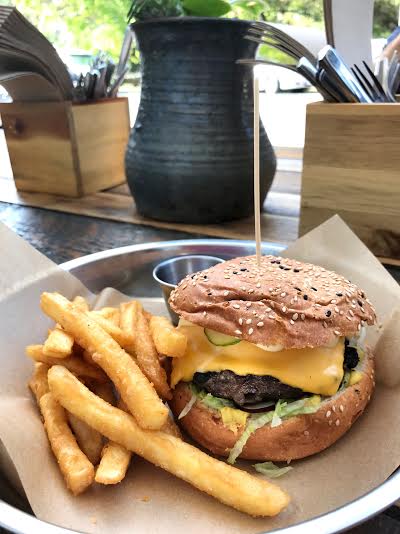 They don't take bookings and it's not a big space, but it's worth making the effort all the same. More details here.
Another newish spot, this light, bright cafe in Anderson St (opposite the Clock Tower) is a lovely spot for lunch, milkshakes with the kids or a sweet treat.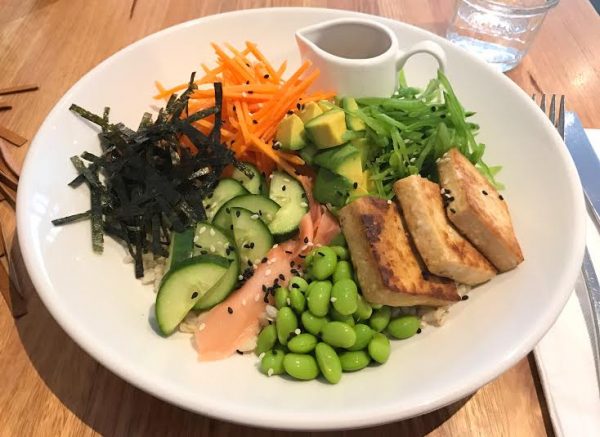 I visited solo one day while Mr SnS took the kids to the flicks (#winning) and had a very delicious Sushi Bowl, pictured above. It was a generous serve with lots of delicious fresh flavours and I've been thinking about it ever since.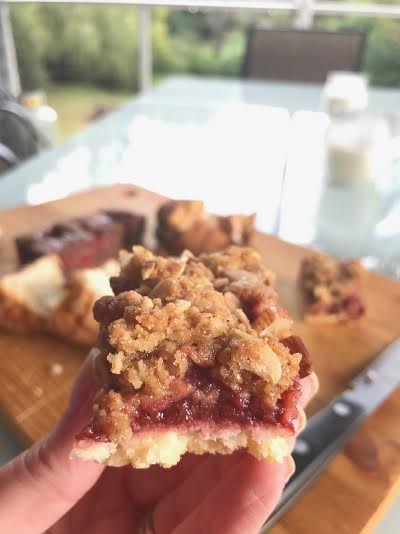 As I paid my bill I noticed a very impressive stack of home made Monte Carlos and other excellent baked goods by the register, so I swung by later that arvo on our way home back from The Rail Trail to pick up some assorted goodies for arvo tea. Everything we tried – the muffins, brownie, nectarine and plum slice (above) and Monte Carlos – was super fresh and first rate.
More info here.
Situated in an industrial are on the road to Wandiligong, Sixpence is a very popular spot, deservedly so.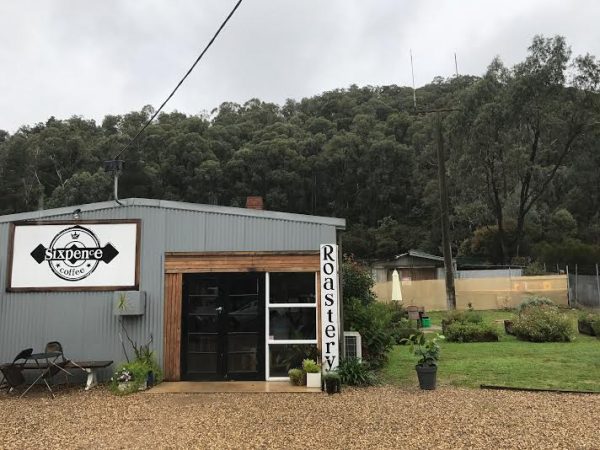 Thanks to some local intel, this was our go to for coffee during our most recent stay. On opening at 7.30am, the place was full of tradies on the way to work. Mid morning, when we visited with our kids, there were mostly families. Later in the morning, the laptop crowd had settled in.
As well as excellent coffee and coffee beans to go, you'll also find delicious sourdough bread, baked goods both sweet and savoury. There's a big communal table, a couple of tables and bar seating inside but if it's sunny, I'd take the kids and sit aside in the grassed, alfresco area.
Sixpence now also shares a space (with Reed Distillery) in Wills Street in town which might be handier if you're already in town.
4. Ginger Baker
Ginger Baker is a little weatherboard cafe which backs onto the Ovens river. Inside, it's an intimate place, with vintage glass jar lights and industrial accents. Thankfully, there are also covered eating spaces on the front and side of the cafe as well as picnic tables and plenty of space for the kids to play out the back.
We had a delicious brunch at Ginger Baker on our last visit. My breakfast salad (pictured below) was ticked all the brunch boxes for me.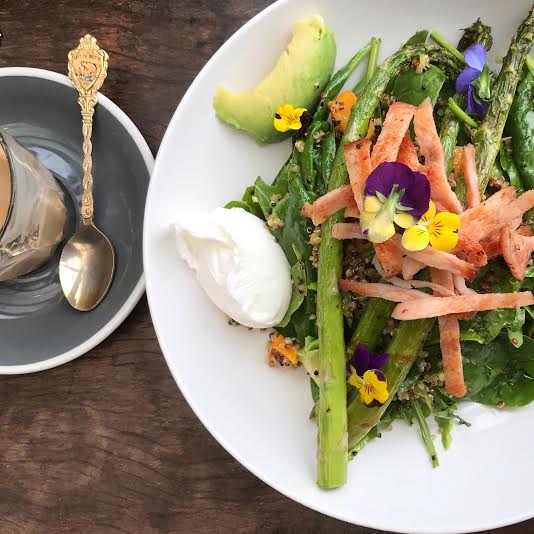 This is a perfect spot for morning coffee, brunch and, if it's not too busy, a great place to read the papers while the kids have space to explore.
5. Bright Brewery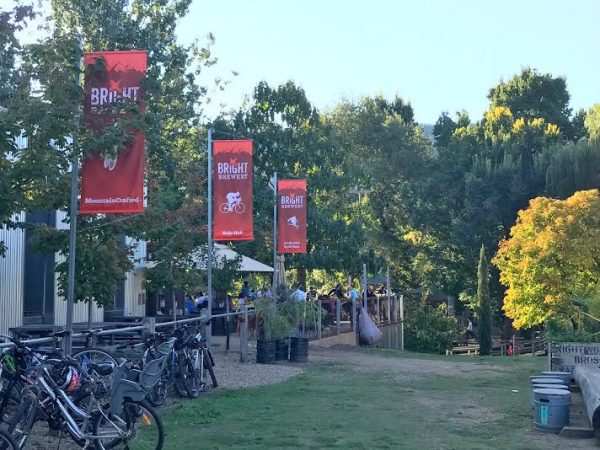 You won't just find a great selection of house made brews and local wines here. You can also eat in – on the deck or inside the large dining area – and choose from pizzas, burgers, chips and the usual pub suspects given a modern makeover. With views over the park and the river, this is a great spot, any time of year.
6. Coral Lee
This lovely little cafe is full of retro charm from the old school yellow glassware, 70s canisters, vintage children's books through to the antique plates, lace napkins and vintage cutlery.
There's nothing old fashioned about the food though. On my last visit I had a most sublime brunch experience – a large corn fritter with bacon, salad leaves, poached eggs and herb cream. Absolutely delish.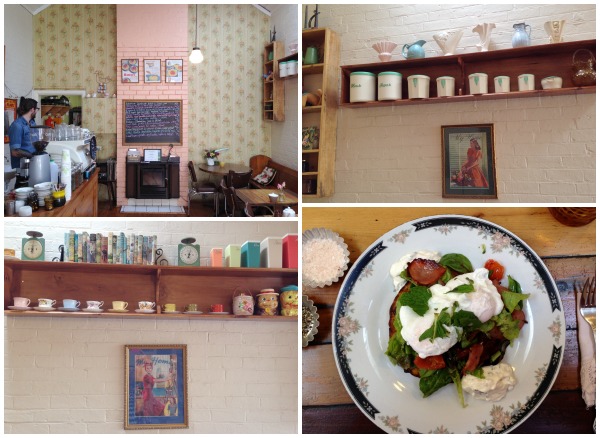 As well as the friendliness and warmth of this cafe and its obliging staff, the highlight for me was the authentic record player playing all the old hits on vinyl. I don't think I have ever enjoyed a brunch to Elton John's duet with Kiki Dee ,"Don't' go breaking my heart". Priceless. This is a lovely spot but it is a smallish place so I plan to keep it as an escape for me, not for the whole family.
7. Blackbird Cafe & Food Store 

We met friends on a rainy day at Blackbird Cafe and Food Store for afternoon tea. While the children were occupied with enormous slices of chocolate cake, toys and a blackboard, the grown ups went about their business with delicious cups of coffee, chai and tea.
We returned a few days later for a morning coffee and a delicious homemade banana and chocolate muffin and croissant, both of which were fresh and flavoursome.
Hot off the press
Also check out newbies Doctor Mauve (where Tani used to be) and Mr Loins.
Further Afield
1. The Wandi Pub
The word on the street during our most recent visit was that The Wandi had the best pub grub going around. As a result, it's often heavily booked (as we found), so it's worth booking ahead.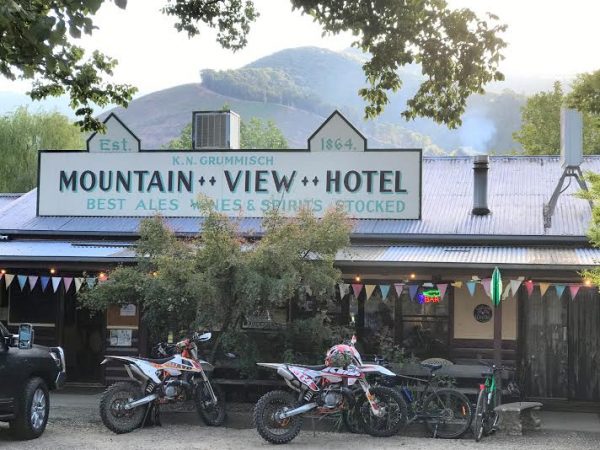 When we visited (with another family on a Monday night), we had a delicious meal full of fresh local produce, which we washed down with local ales and wines.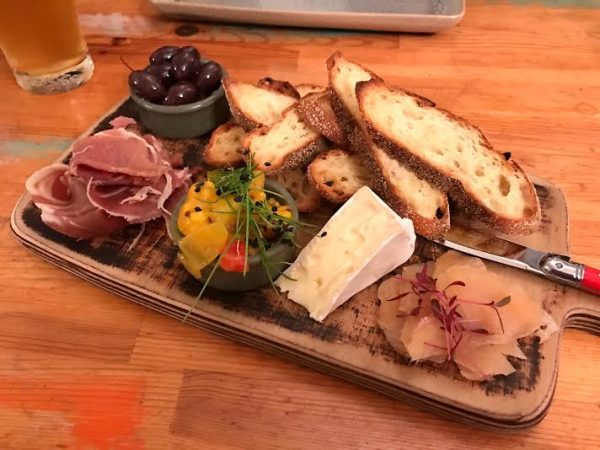 We began with a local tasting plate, pictured above, and then my friend and I had the trout salad (Asian style with soba noodles) which was absolutely yum. Mr SnS rated his Porterhouse steak highly too.
Our kids were a bit on the "excitable" side that night, but the staff were patient and good humoured which we really really appreciated. Next time, I'd try to go on sunny day and let the kids play ping pong or run around the generous beer garden, below, out the back instead.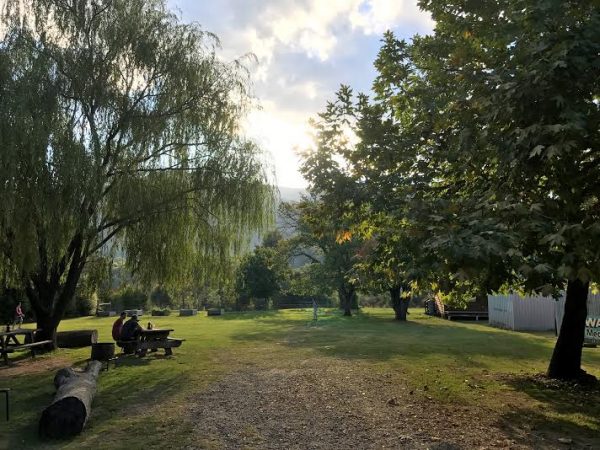 2. The Snowline Hotel
One of our favourite spots is The Snowline Hotel in Harrietville. Last time we stayed at Smoko, it had been highly recommended to us by our hosts and friends. We visited again recently and had another lovely meal.
This is a warm, friendly pub that takes its deer decor seriously (my kind of place on that basis alone).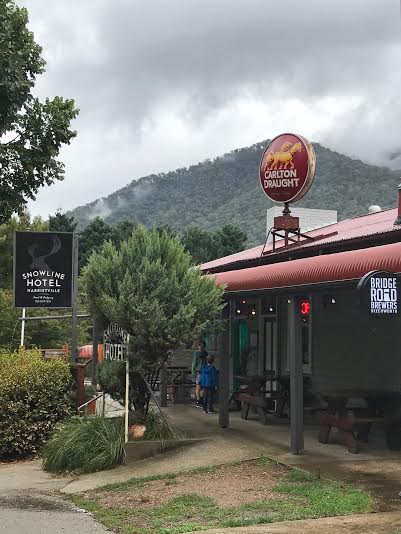 This is a relaxed, informal spot. We ordered at the bar and a short time later, our delicious meals were ready. This time around, I had the BBQ lamb shoulder which was absolutely yum. The kids enjoyed their meals too.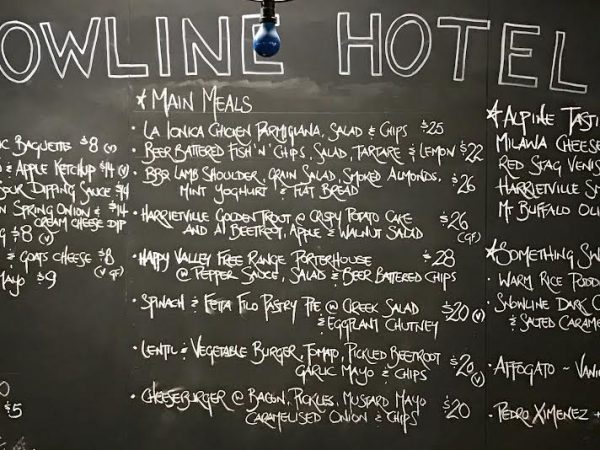 3. Bright Berry Farms
This is a great pit stop on the way home or a nice way to spend part of a morning or afternoon. We can't go past the delicious pancakes with berries at Bright Berry Farm. At $12 a pop they are not inexpensive though, so between our family of 5, we had 3 serves and they were absolutely delicious.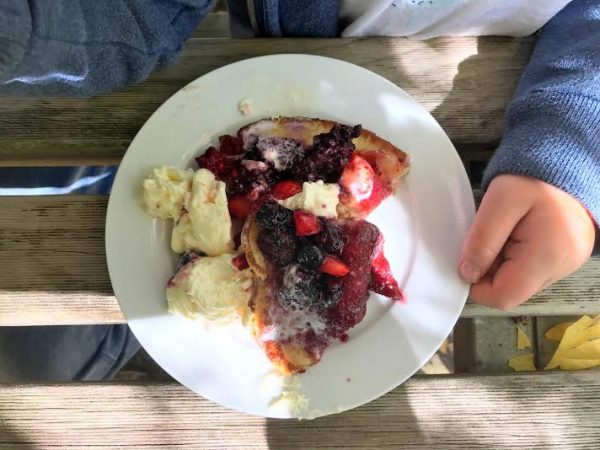 You can also stock up on frozen berries, homemade cordials and homemade fruit pies. Note that there is nowhere to sit indoors here. Inside the shop is where you order and stock up on goodies only. However, on a fine day, order pancakes or a sorbet and let the kids run around the garden (see below).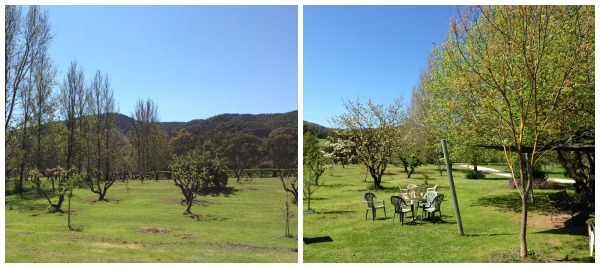 We also heard very good things about The Rail Trail Cafe & Porepunkah Pub but didn't have enough time to get there this time around. If you've been lately, we'd love to hear your review in the comments below!
You can also put together a DIY platter at Boynton's Feathertop Winery – more details here.
Where to Shop
Bright is a well serviced town with all the usual suspects – news agency, post office, banks and two supermarkets. On the retail front, there were a few outstanding shops for me.
1. Bowerbird
This lovely home wares stores is a great new addition to the retail scene in Bright.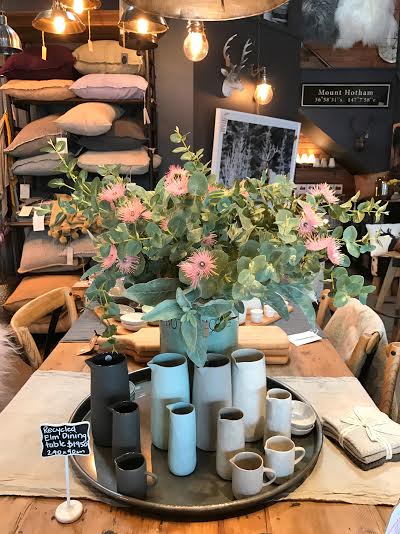 With it's tasteful, "alpine style" ceramics, furniture, lighting and homewares, you can outfit your new High Country abode here. If you don't have a local spot to furnish, they have very reasonable rates for delivery to Melbourne so do enquire if something takes your fancy.
More info here.
2. The Bright Florist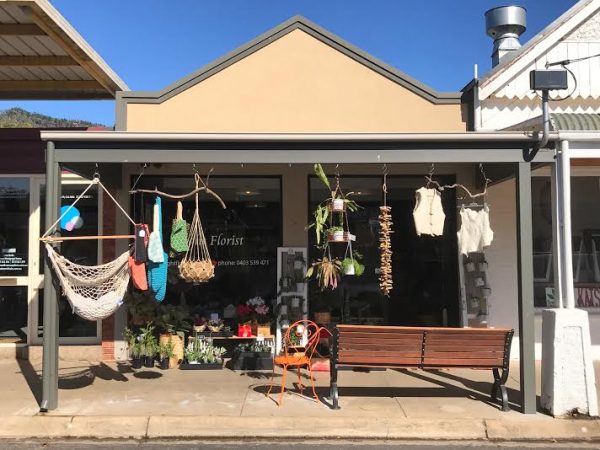 Next door to The Bowerbird, this pretty little florist not only stocks gorgeous flowers and bouquets, you'll also find terrariums, plants and succulents and a small but well curated selection of home wares, ceramics and other gift ware.
Situated on Gavan St, this is a must visit if you need a fashion fix during your High Country vacay.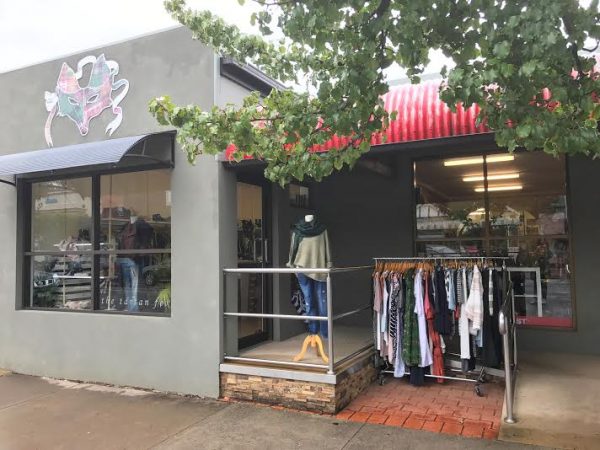 The Tartan Fox not only stocks Kindling, Nancybird and Mesop, you'll also find an impressive selection of footwear (Rollie Nation, Nancy Bird and Solsana to name but a few) and accessories in this one stop shop.
If you have shopping regret on your way back down the Hume, don't stress because you can shop the range online here.
4. Bright Bookshop
I love to support independent booksellers and this little book store, close to the Information Centre, is a great spot to find a book for your stay.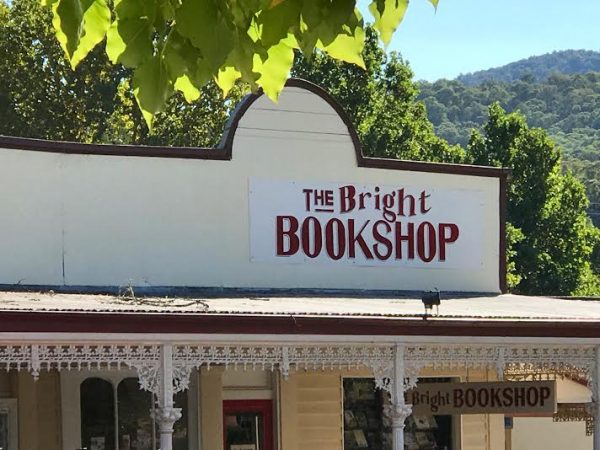 There's a great selection and a bookseller happy to make a recommendation or discuss your latest read.
5. Bang
Toy shop Bang is a couple of doors up from Coral Lee. This is a fantastic toy shop with a great selection of books, puzzles, educational toys, craft kits and activities and games at reasonable prices.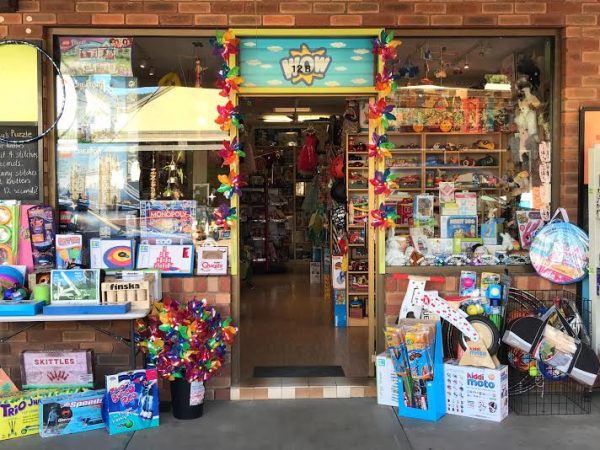 I've bought some terrific stocking fillers and Christmas gifts here. Outdoor toys like frisbees and balls can also be found here if you leave yours at home.
6. The Star Trader
A recent addition, The Star Trader is a great spot to get your fix of Elk clothing and accessories as well as a lovely curated selection of other smaller, boutique labels. Stocking both accessories and shoes as well as clothing, there's also plenty of options to oufit your new season wardrobe.
7. Chooks
Across the road from Bang, is Chooks. Chooks is a clothing store that is a little on the cramped side with loads of stock, but in and amongst the racks are some great finds at reasonable prices. I found some great lightweight casual dresses for summer for under $60. The only things to remember are patience (there is only one change room) and cash (no cards accepted).
Bright's Old Fashioned Lolly Shop
The Bright's Old Fashioned Lolly Shop is at the top of town. This is the old school variety of lolly shop and I loved it for its nostalgic value. Specialist lollies and confectionary can be found here together with bags of boiled lollies, bullets, snakes and the like. The proprietor gets into the spirit of things too, wearing ye olde clothes to boot.
Where have you eaten in Bright or surrounds? What would you recommend? Can you add to the list of great foodie spots or shops? Which cafe gets your vote for best coffee?