Picture this.
It's Boxing Day 2017, and while still recovering from the food coma of Christmas Day, you're leisurely scrolling through the list of discounted airfares and you find a deal to Hawaii that is SO GOOD you book it on the spot. (OK, maybe it was a few hours later once Mr SnS caught up with my enthusiasm).
In fact those airfares were cheaper than flights to Bali in August – say what?
Our Hawaiian vacay was suddenly on like Donkey Kong.
So fast forward to now and we've just returned from a fab ten day break in Hawaii, and in this post, I'm sharing everything we did, our recommendations for things to do and where to eat as well as a review of our accommodation.
Before I launch in though, here's a little bit about us.
We're a family of five with three boys aged 12, 10 and 7. They're pretty seasoned travellers but as with family life in general, there's a fair bit of compromise involved – both ways – when it comes to our holidays. Their idea of a good time is plenty of time to play in the pool, a bit of sight seeing, periods of downtime in the hotel room watching a movie/playing on the iPad/reading/drawing and eating anywhere where fries, sliders, dumplings or Margherita pizzas are involved.
My ideal holiday is one where I can relax and read pool or beach side, where there are interesting cultural, natural or historical places to explore and where there is excellent food, cocktails and shopping.
We found all of this and more in Hawaii.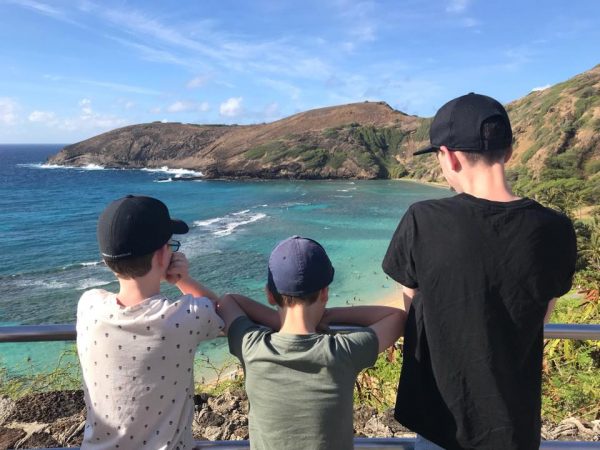 What to Do
We flew in to Honolulu (which is on the island of Oahua) and stayed in the Waikiki area. We spent all our time on the island of Oahu.
1. Waikiki Beach – it's hard to describe the clarity of the turquoise water of the famous Waikiki beach but hopefully this photo gives you a bit of an idea …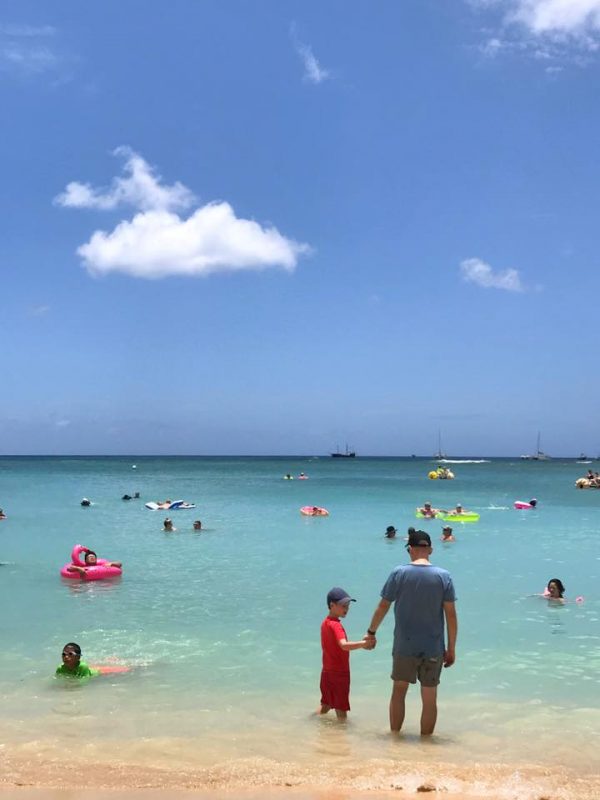 This is such a beautiful beach and is a big enough area that there is plenty of room for everyone – well that was the case when we visited.
We swam here too but I did find the sand was very rocky, so you either had to commit to swim or stay out of the water. (I tend to do the stand and supervise/chat approach). We visited the section of Waikiki which was at the end of Beach Walk which was a great spot, with equipment hire (umbrellas, banana lounges, water bikes and SUP boards etc) nearby as well as The Steak Shack and a shave ice stall.
We came back to Waikiki on several more occasions at sunset and enjoyed walking along the beaches and soaking in this beautiful sight.
2. Pearl Harbour – Pearl Harbour has long been on my bucket list and I was beyond thrilled to finally have the opportunity to visit.
We began with a tour of and time to explore the U.S.S. Missouri which is the battleship on which the Declaration of Surrender which ended WW2 was signed (not to mention the unforgettable location of Cher's If I Could Turn Back Time video clip), before heading back to visit the museums, watch a film about the events leading up to Pearl Harbour as well as the attack itself.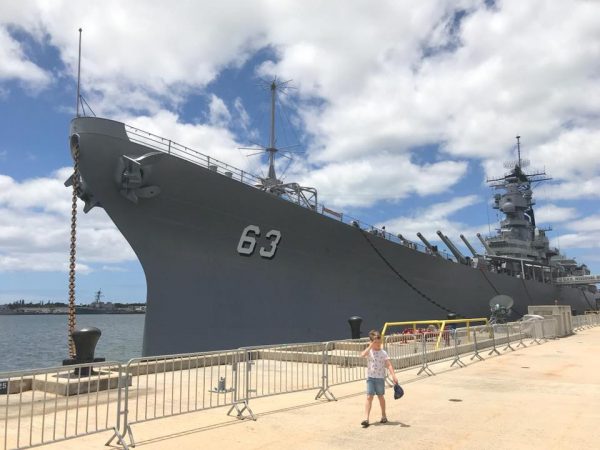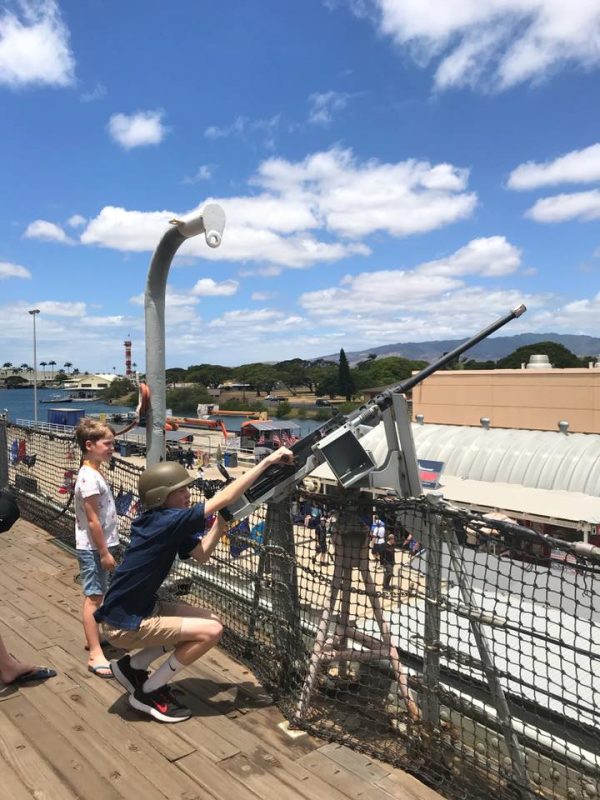 It was such a moving and interesting experience and one the kids really enjoyed too. The only disappointment was that the Arizona memorial, pictured below, is currently closed for an indefinite time, so the ferry tours only go around it to enable photographs to be taken – we could not disembark. It has been closed for a couple of months, reportedly because of damage to the landing area.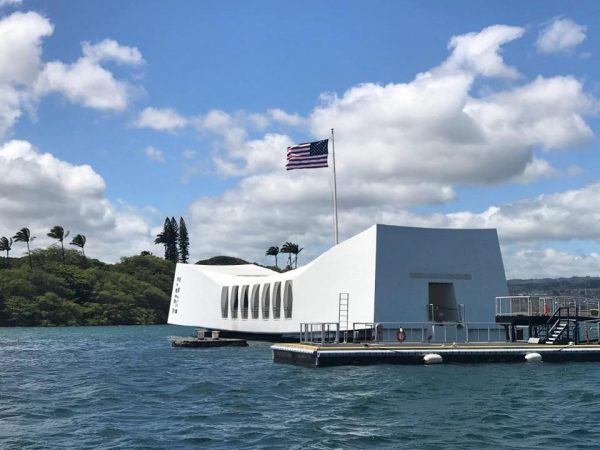 3. Walk Diamond Head – Once a military lookout, Diamond Head is a volcanic crater with a lookout that offers amazing views across Oahu and the Pacific Ocean.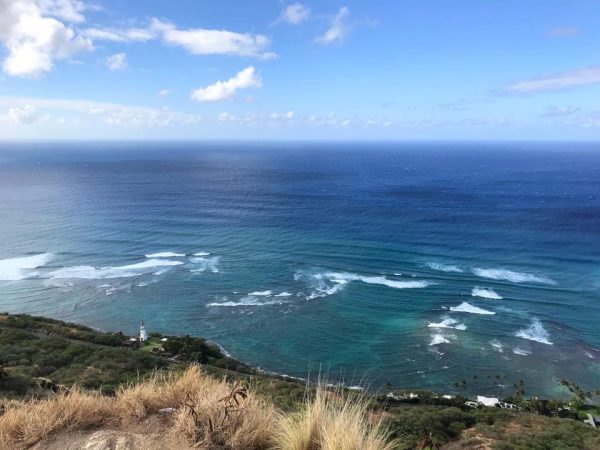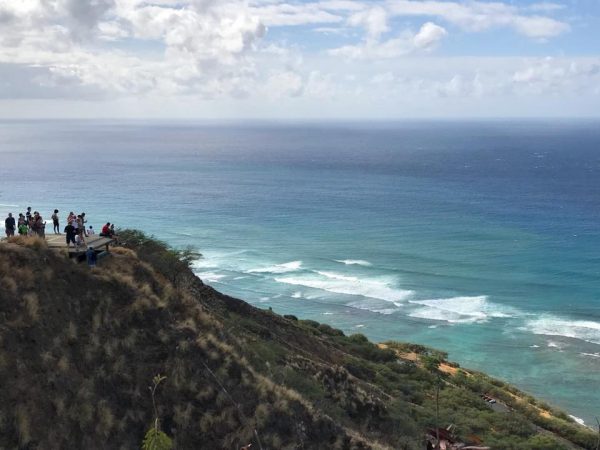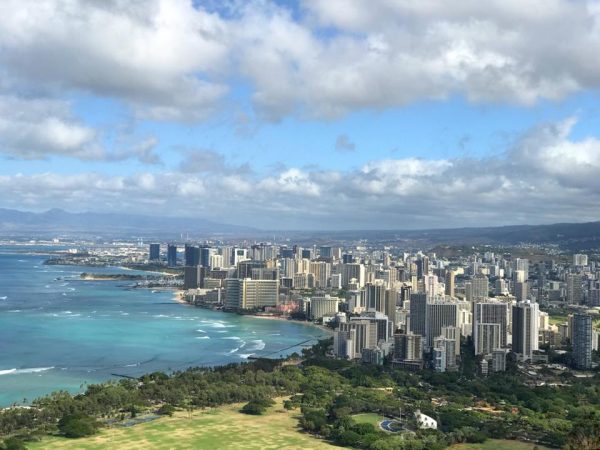 Friends who visited recently advised us to go early and pack plenty of water as it gets very hot on the way up.
With their advice on board, we left the hotel early, got a taxi to the carpark and began our walk at 8.25am. The place was packed already by this time, with the car park full and people all up and down the track.
We walked to the top in half an hour and it was reasonably strenuous. The two sections of steps – one section with 99 steps – were the most challenging. There was also a tunnel section that I didn't mind walking through as it provided respite from the sun.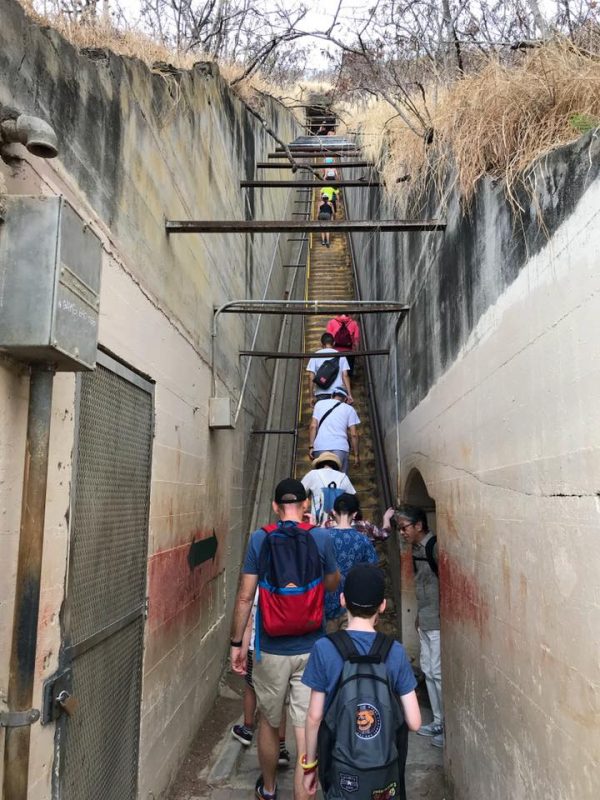 Our older boys managed the walk well and our 7 year old did well too, although he was pretty exhausted by it. We took our time going back, taking plenty of photos and were back in Waikiki before 10am.
With entry $1 per person – aside from getting there – this is a budget friendly activity too.
4. Sunset – Sunset over Waikiki was really beautiful and never gets old. We went for a walk along the beach at sunset most evenings, including the Friday night before the fireworks.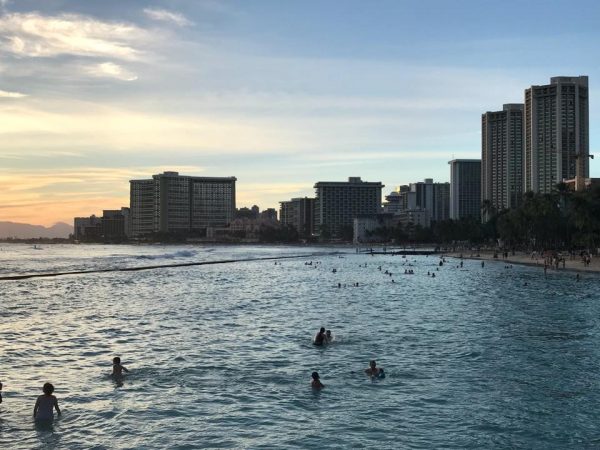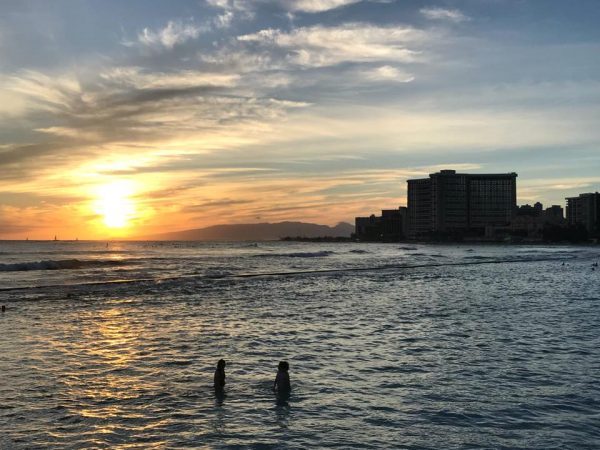 Watching the surfers and the waves is mesmerising and a relaxing way to end the day.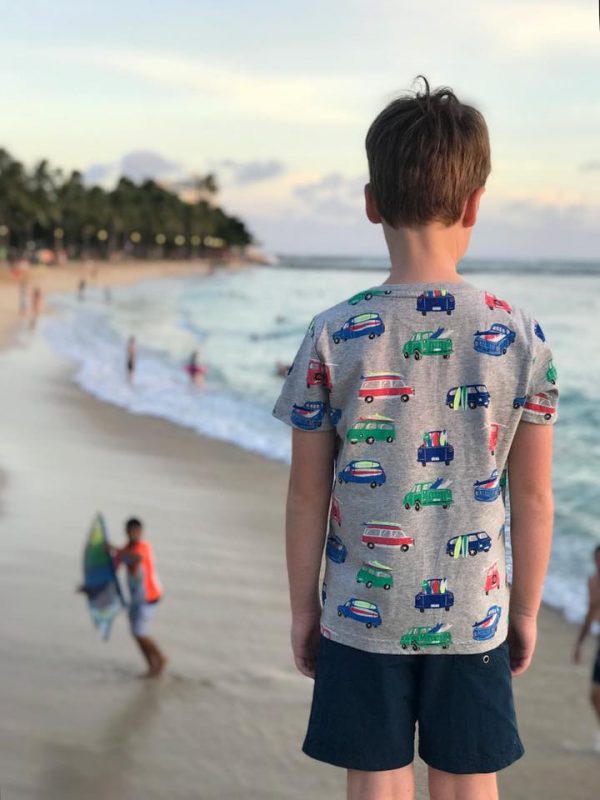 5. Friday Night Fireworks – Fireworks go off every Friday night at Waikiki Beach after sunset. We watched them from the pier at Kuhio Beach park – pictured above – which is the bigger beach next to Waikiki. For us in mid August, the 3 minute display started right on 8pm. We weren't super close to the action but we'd had dinner before at Teddy's Bigger Burgers and loved hanging beachside and on the pier at sunset while we waited for the show.
6.  Back to Nature – if you love checking out the local wildlife, you'll find plenty of options in Waikiki and the island of Oahu.
Swimming with the turtles is a popular thing to do and you can either visit one of the popular spots along the coast – such as Hanuama Bay – or run into some turtles frolicking at Waikiki as we did.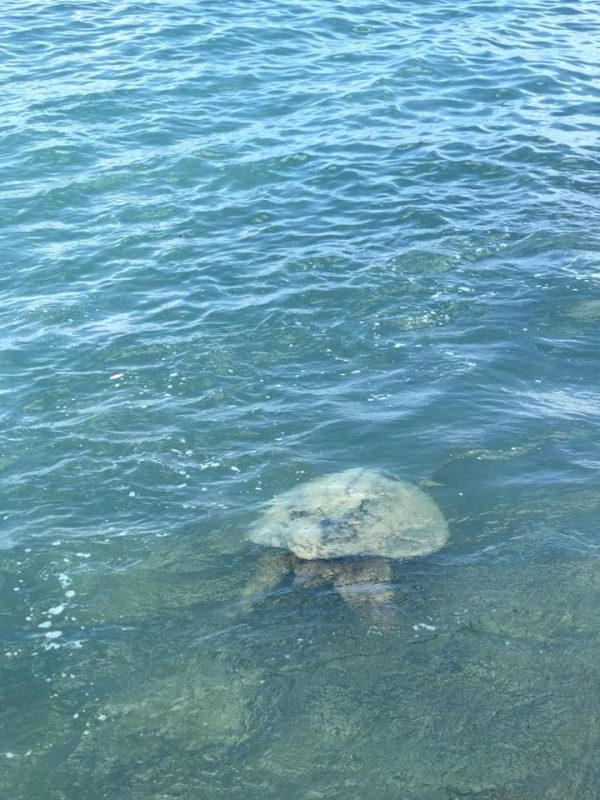 We visited the Hanuama Bay lookout but didn't swim with the turtles. The intel we were given was that you had to go super early and there was a $7.50 entry fee after 7am and the carpark filled very early. Equipment could be hired on site and we were told it was a very busy, popular spot.
Honolulu Zoo in Waikiki and the Sea Life Park are other spots which may be of interest too.
7. Head to the North Shore
Waikiki is fun but definitely on the busy, relatively expensive and touristy side when compared with other areas of Oahu. If you need a break from the crazy or just want to explore more of Oahu, it's a great idea to get out of the city.
We did an Island Circle Tour  – a day tour of the Island – early on in our stay which included driving through the North Shore. I was very keen to go back and explore more, so we hired a car and drove from Waikiki to Hale'iwa and then down the Windward side of the island, which I'll cover in more detail below. It took us one hour on a Saturday morning to drive from Waikiki to Hale'iwa via the freeway. A public bus can also take you there. The Dole Plantation is en route too if you want to factor a stop there in your plans.
Hale'iwa is a very cool surfing town, largely preserved in all it's vintage and colourful glory.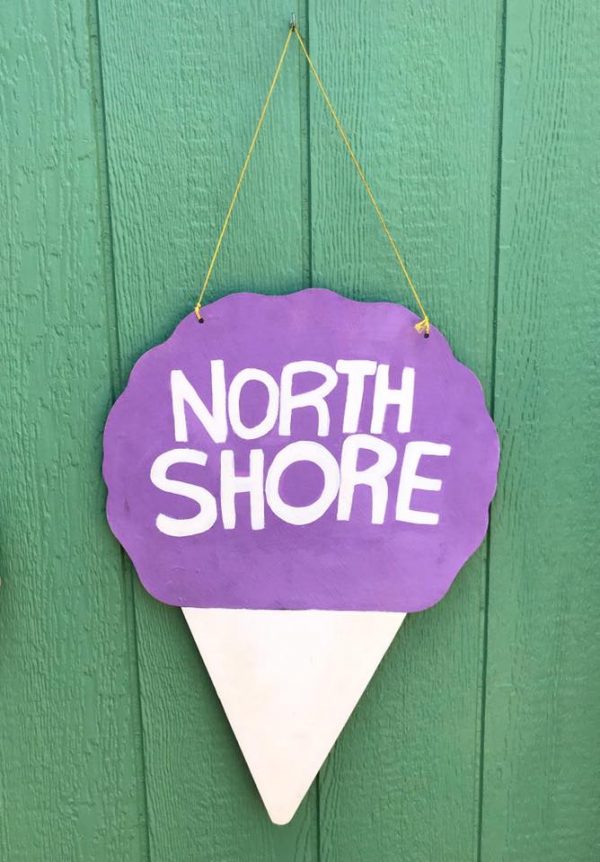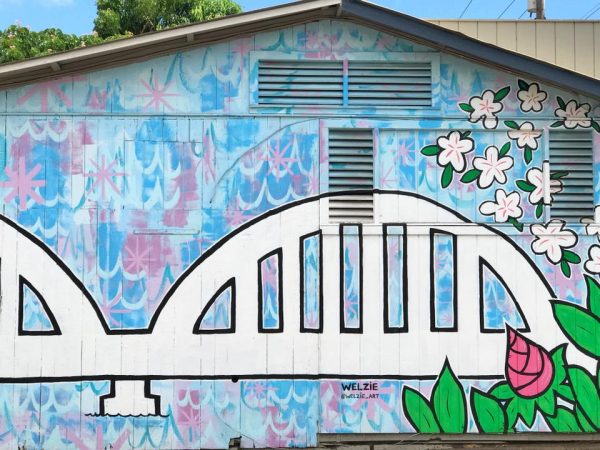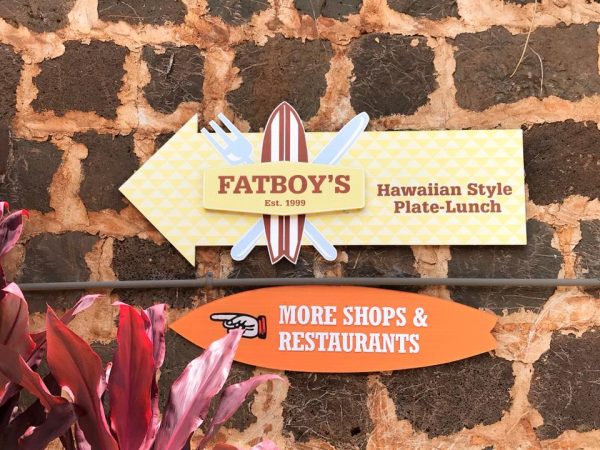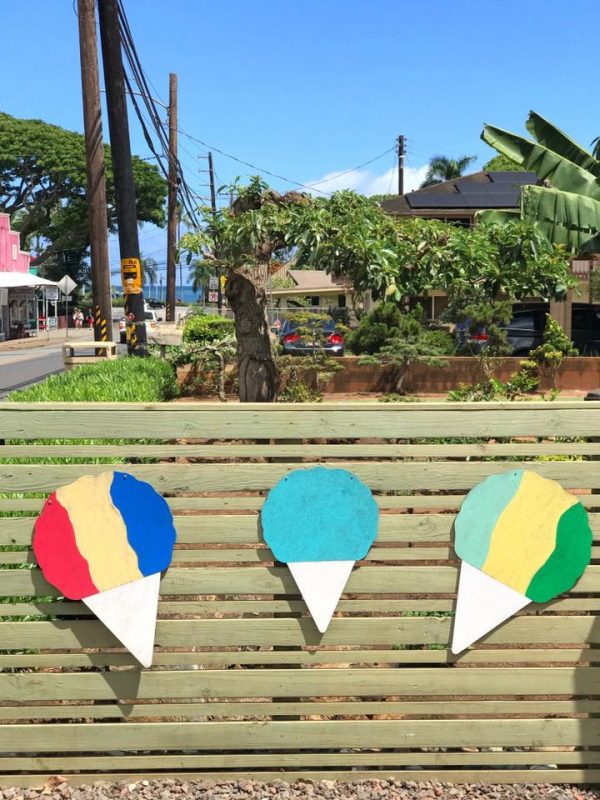 We found Hale'iwa was spread out, with three sections of sorts. Shrimp trucks, including (one of) the famous Giovanni's, are in the first section as you cross the bridge into town. The famous shave ice shop, Matsumoto's (covered below under food) is in the last section, in the group of shops opposite the church. Teddy's Bigger Burgers is in this area too. (If you want to avoid the long queues at Matsumoto's, plan to arrive early – we walked straight up, without waiting, around 10am).
Once you've wandered through Hale'iwa, hit the road to explore more of the North Shore. There are loads of places to eat at along the way, as well as many beautiful beaches, including Waimea Bay below and it's impressive Jump Rock.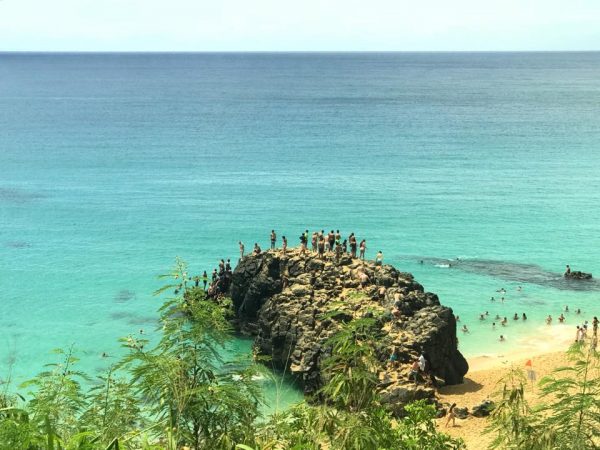 Other spots to swim include Sharks Cove/Pupukea which was also recommended to us as a great spot to snorkel. We ended up stopping near Turtle Cove which was lovely too.
There are plenty of food trucks dotted along the way. We stopped at the shrimp truck pictured below. There was a concentration of food trucks, including a second Giovanni's in the town of Kahuku but the queues were much, much longer.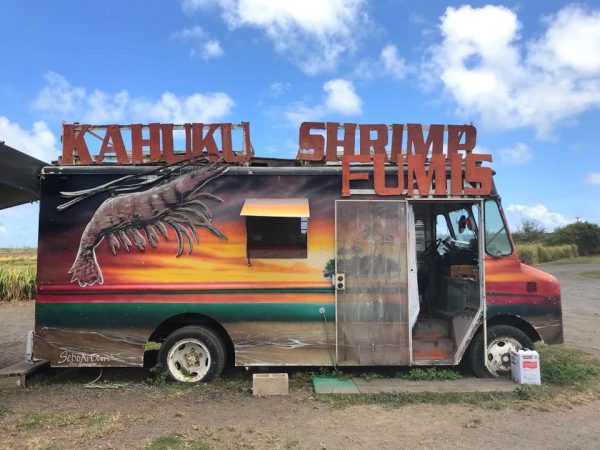 Not far out of Hale-iwa is the famous Ted's Bakery where his cream pies are the speciality. Not being a cream pie fan, I shared this delicious cinnamon bun instead with Mr SnS and the kids rated their chocolate filled donuts. They were good value too – our round of treats set us back $7. Ted's is easy to miss, but look out for a modest green building on the side of the road opposite the beach.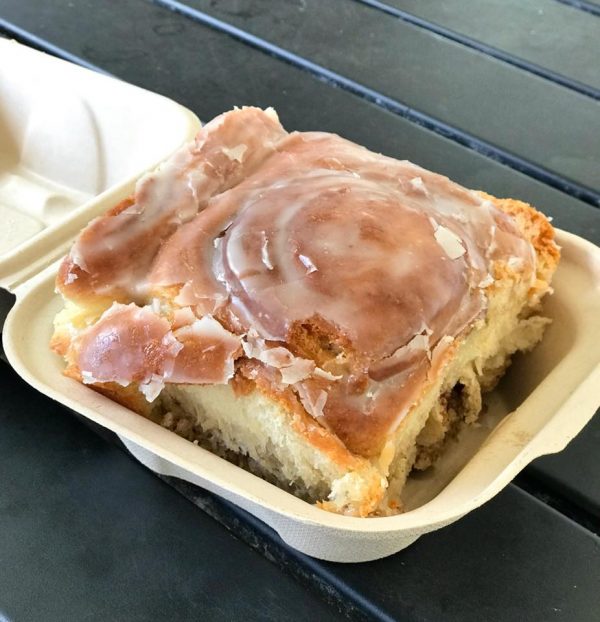 8. The Winward Side of Oahu
I probably don't have to tell you that it gets pretty blowy on the windward side of Oahua, thanks to the trade winds. It's still a great area to explore though.
On our Circle Island tour, we had pit stops at the Byodo-In Temple, Kualoa Ranch and the Nu'uanu Pali Lookout and the Halona Blowhole. You could easily spend loads more time at Kualoa Ranch too, as there are plenty of movie location tours as well as zip line and horse riding options.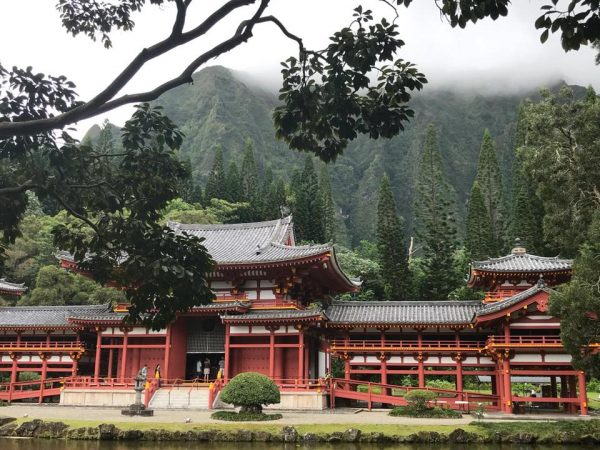 Byodo-In Temple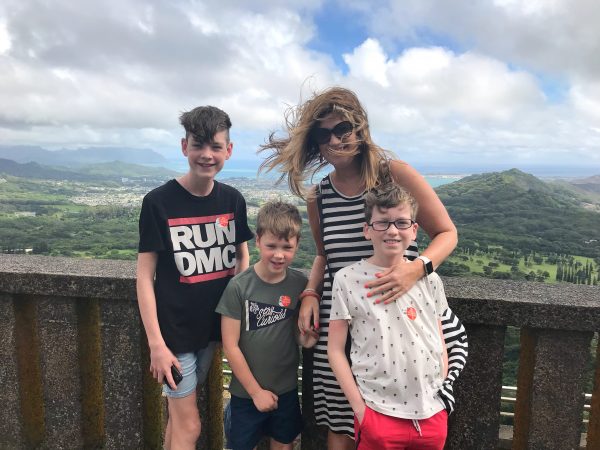 Windy times at the Nu'uanu Pali Lookout!
When we drove ourselves, we travelled down the coast (from the North Shore) to Kailua Beach Park, pictured below, which was overcast the day we visited but a great spot to set up for the day, with it's soft white sand, inlet and shops nearby.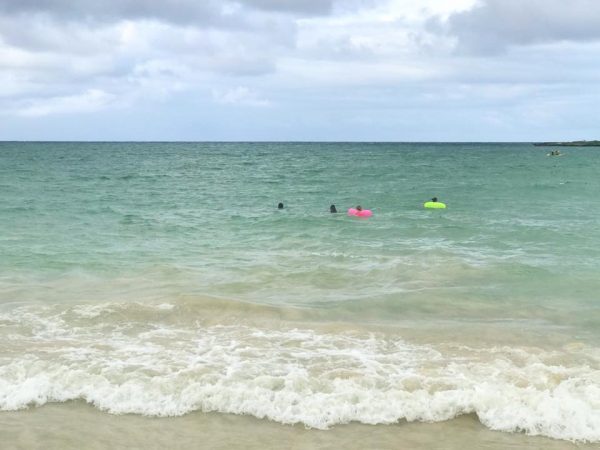 9. The Dole Plantation
We stopped by the Dole Plantation on our Circle Island Tour and only had half an hour here, all of which time we spent queuing up for their famous Dole Whip (pineapple sorbet). It was absolutely nuts here the day we visited and it was frustrating spending our whole time here in the queue but we certainly weren't disappointed with the fruit of our labour …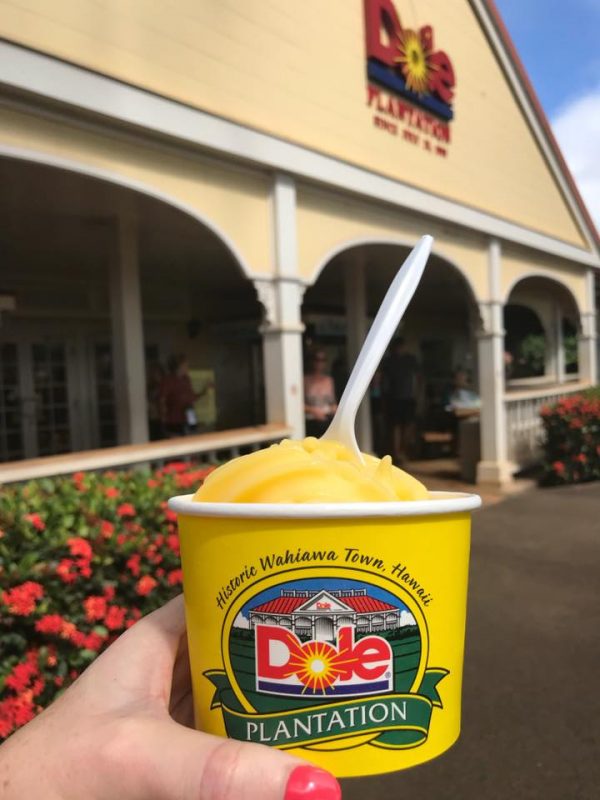 There's also a maze on site here and ideally we would have spent more time here and gone much earlier in the day to avoid the crowds. I wish we had known that you can find dole whip in plenty of other places in Waikiki and surrounds. We enjoyed another, more leisurely round of dole whip at the Polynesian Cultural Centre (it's served at Tutu's Sweet Shop) where there were no queues and plenty of time to relax and enjoy this delicious treat.
Other Things to Do: the Doris Duke Art Museum at Shangri La was also recommended to us and a place I'd love to visit next time.
What to Eat in Waikiki
Before we talk where to eat, let me tell you about the foodie highlights of Hawaii.
1. Pineapple – I like pineapple but the pineapple in Hawaii is Next Level. It's sweet, juicy and finger licking delicious and I could not stop eating it. Whether it was fresh pineapple from the local ABC shop, dole whip, fresh pineapple juice from a roadside stall, a pineapple mojito or their famous Mai Tais – all feature the most delicious pineapple I've ever eaten.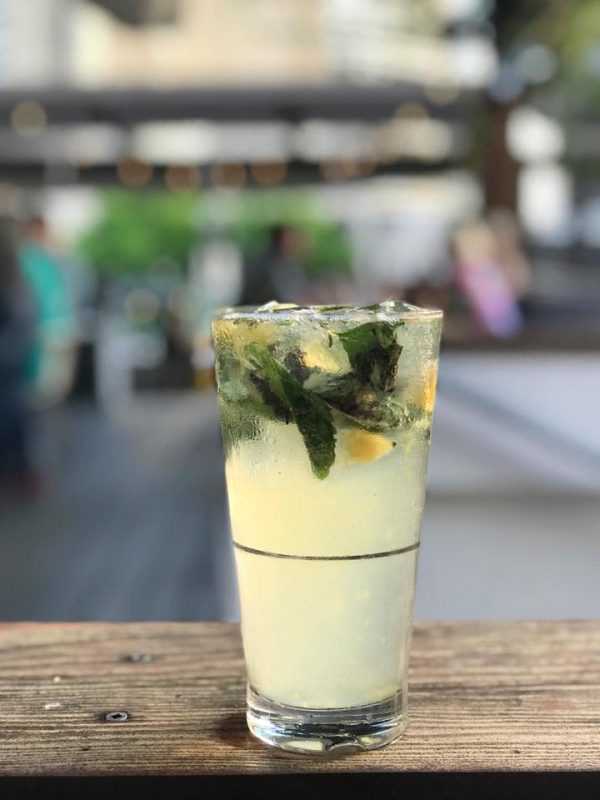 Pineapple mojito from Buho Cocina y Cantina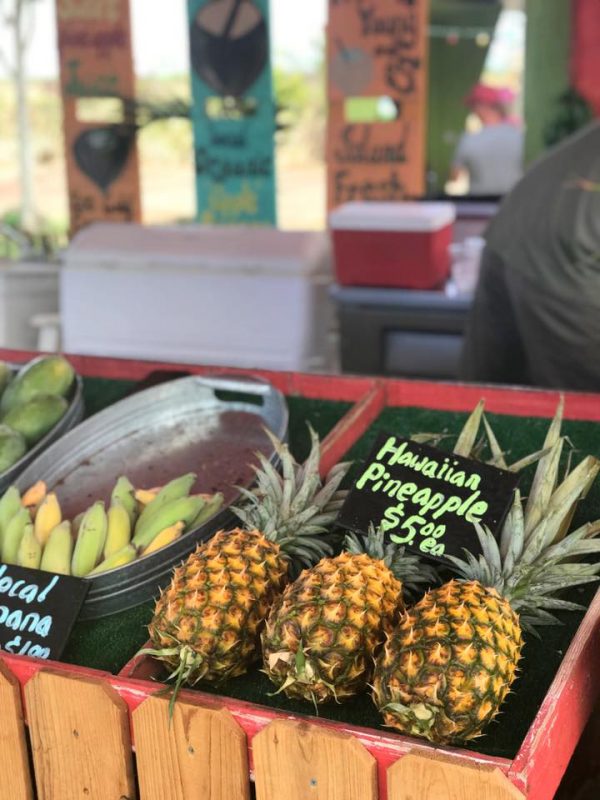 Roadside juice stand on the North Shore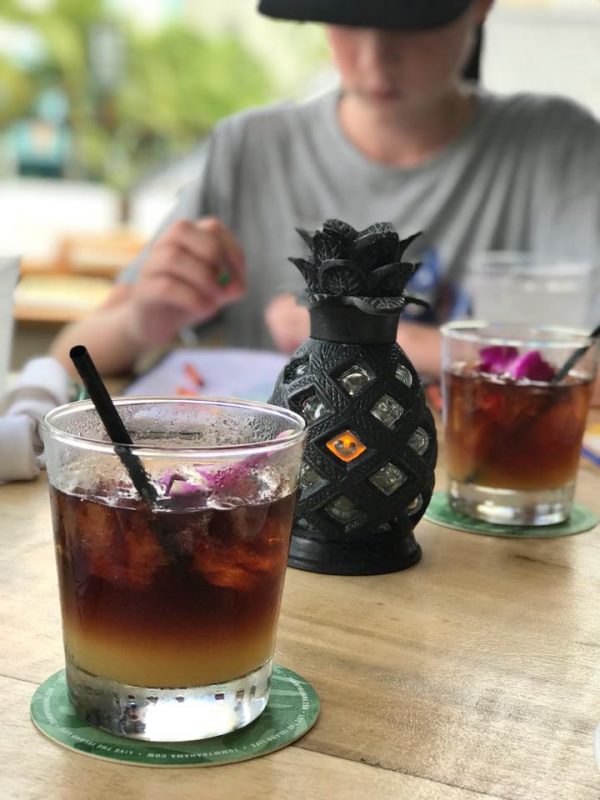 Mai Tais at Tommy Bahamas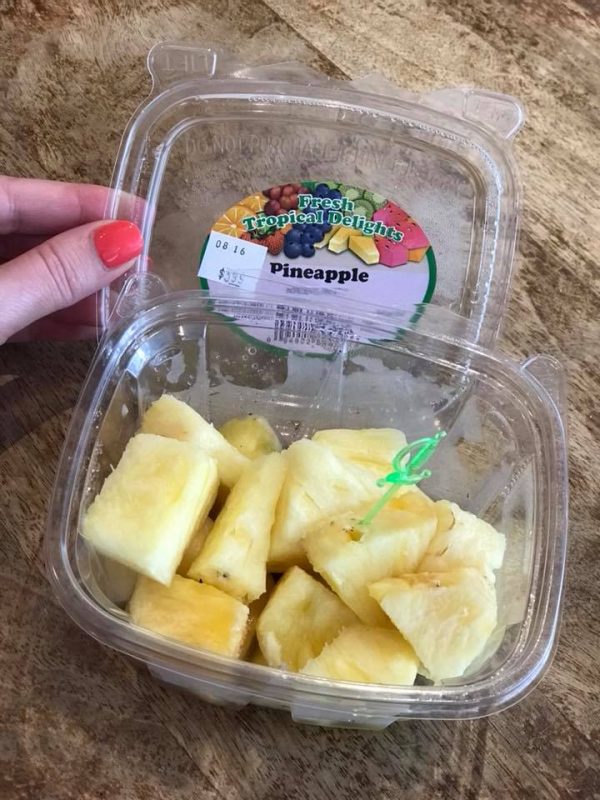 Fresh pineapple from the ABC shop
2. Shave Ice – We couldn't get enough of the shave ice in Hawaii. It's a deliciously refreshing sweet treat on a hot day, and reminded me of a happy marriage between a Slurpee and an old school Sunnyboy.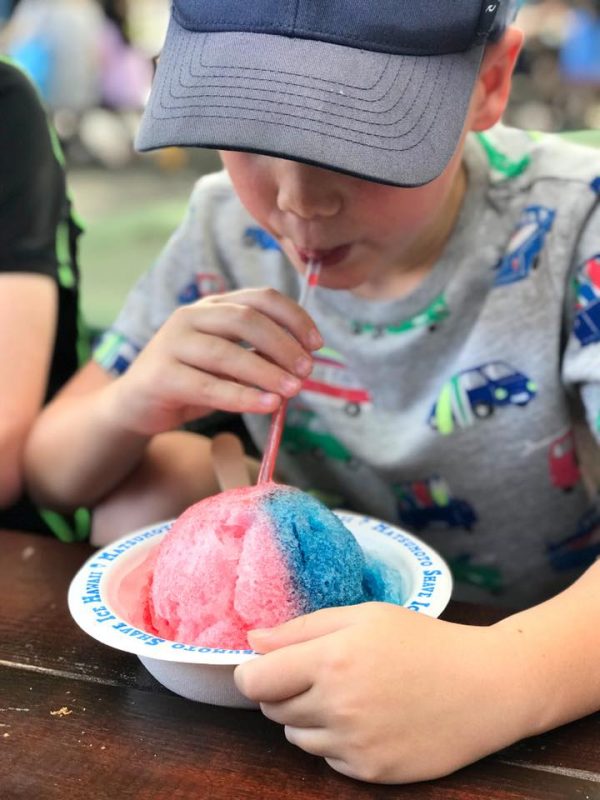 Matsumoto's Shave Ice
The best shave ice we had was definitely Matsumoto's in Hale'iwa – it was also the least expensive at $3 for a small serve, $3.50 for large – but we also enjoyed the shave ice at Sun's Up at Waikiki, but it was twice the price. We also spoke to some locals who recommended the shave ice from Vintage Shaved Ice at Ala Moana.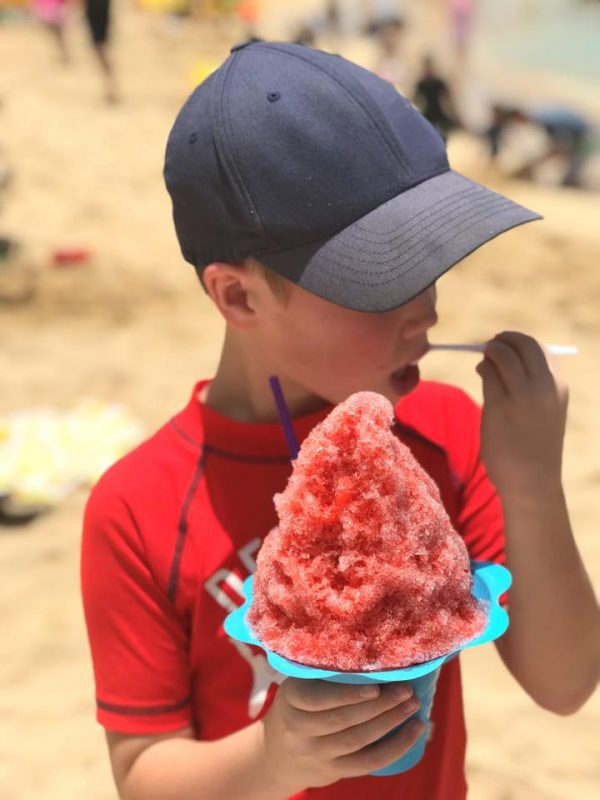 Shave Ice at Waikiki
3. Poke Bowls/Ahi Poke – I was completely obsessed with poke bowls during our stay in Hawaii. If you're not familiar with them, they are basically a bowl of fresh, delicious salad (such as avocado, mushrooms, ginger, greens, fried scallions) and cut up, marinated raw ahi, the local yellow fin tuna.
I ordered it nearly every time we ate out and the best bowls I found were at Mahina & Sun's at our hotel and Tommy Bahama. This is such a refreshing and healthy alternative to all the fried food as well super delicious and satisfying.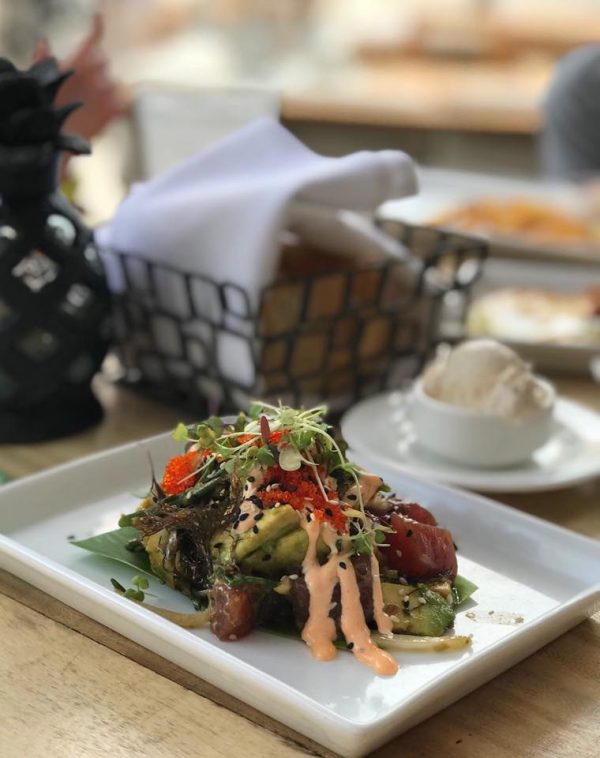 Ahi Poke at Tommy Bahama
Where to Eat in Waikiki
Generally speaking, you can eat anything you want at almost any price point you like in Hawaii.
To keep things budget friendly, we made the most of happy hour opportunities where they serve snacks and drinks at happy hour prices. We did this a couple of times and it saved us loads. If you opt for a brunch/early lunch late morning and then start grazing again at 4.30pm, you'll also only pay for two meals out. We had cereal in the hotel, topped up with a trip to the ABC Store for fresh pineapple or a $2 hot dog if the kids were hungry in between times.
Also, many of the places we visited are extremely popular (The Cheesecake Factory, Matsumoto's, Marakume Udon, Teddy's Bigger Burgers) and have long queues, which is not how I want to spend my vacay. Queuing up in the heat – especially with kids – isn't ideal. We avoided this completely by arriving either at opening time (Cheesecake Factory and Matsumoto's) or by arriving before 6pm (Marakume Udon, Teddy's Bigger Burgers).
Finally, while I generally avoid chain restaurants, in Hawaii, we found that they often represented the best value when eating out with kids. We tried to go to a mix of chain and independent, local restaurants, to cater for all preferences and to keep things as budget friendly as possible.
1. Marakume Udon – expect to queue for at least twenty minutes – we did when we rocked up about 6pm but the queues were twice as long when we left – and then proceed to the cafeteria style counter where your delicious noodles will be freshly prepared to order. This place is massively popular for good reason – I'm a massive fan of Asian dumpling/noodle soups and these are some of the best noodles I've ever had.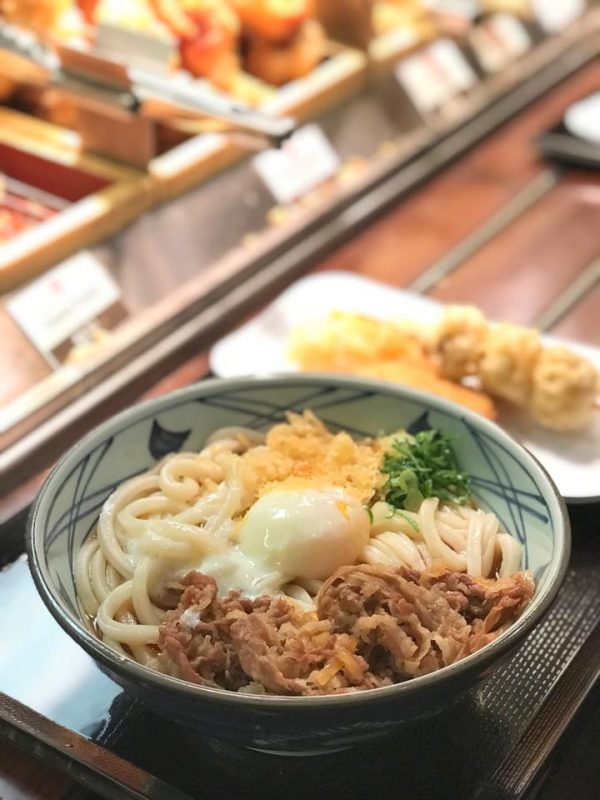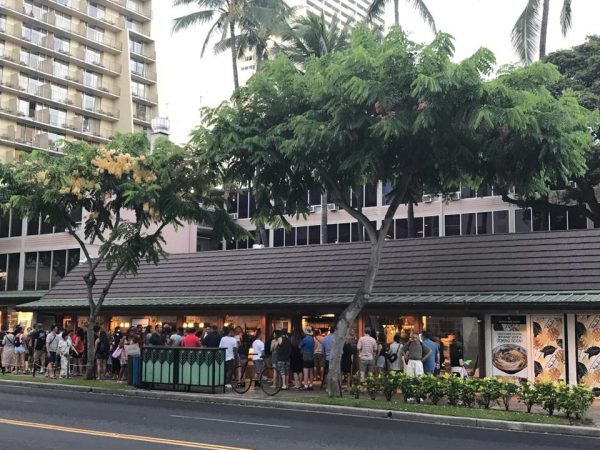 There's also an entire tempura section – tempura chicken, zucchini, prawns, mushrooms, sweet potato etc.
As well as being absolutely delicious, this is an affordable place to eat with a crew too. Bowls of noodles are around the $5 mark with pieces of tempura priced at $1-$2 per piece. This was one of our lest expensive dinners in Hawaii, coming in at under $60.
2. Tommy Bahama – as a rooftop bar on top of a fashion store, I wasn't sure what to expect but the food here was some of the best we ate in Hawaii.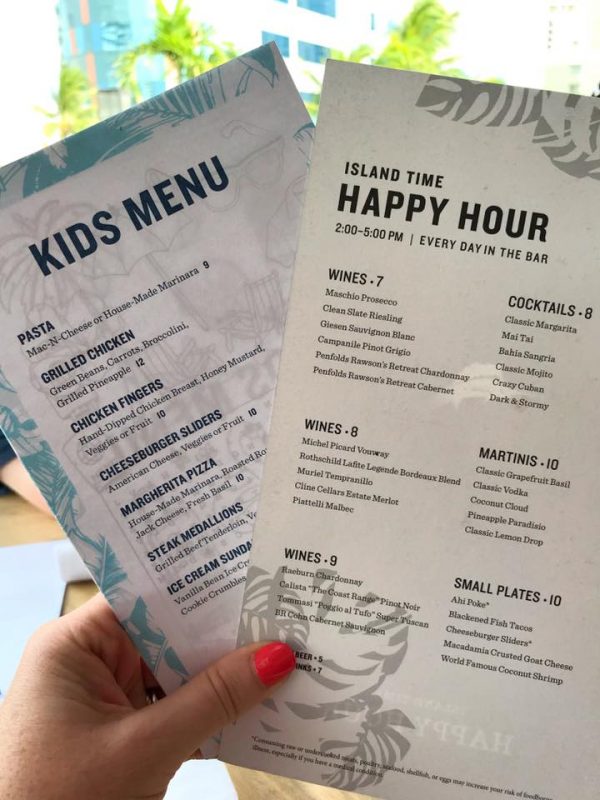 We went at 4.30pm one afternoon – happy hour is from 2 – 5pm – and ordered three of the small plates ($10 each) to go with our cocktails thinking we'd then have a salad each for the main event afterwards. We ordered kids meals for the kids and then the coconut shrimp, crumbed goats cheese and ahi poke for us and, surprisingly, it was more than enough for us for dinner. And it was YUM. The Ahi Poke was Next level delicious too.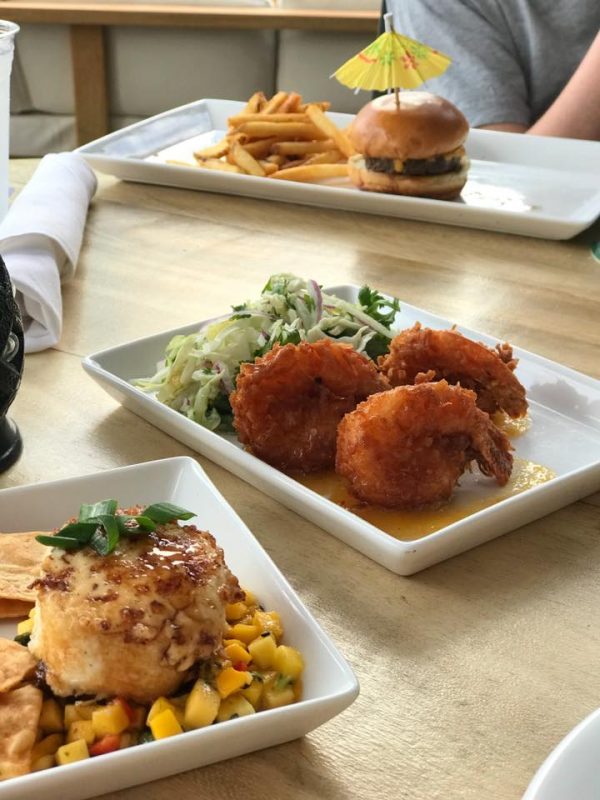 3. Bills – It's seems a bit odd to travel so far and visit a home grown fave but if you're craving some excellent coffee – and great food – make a bee-line for Bills.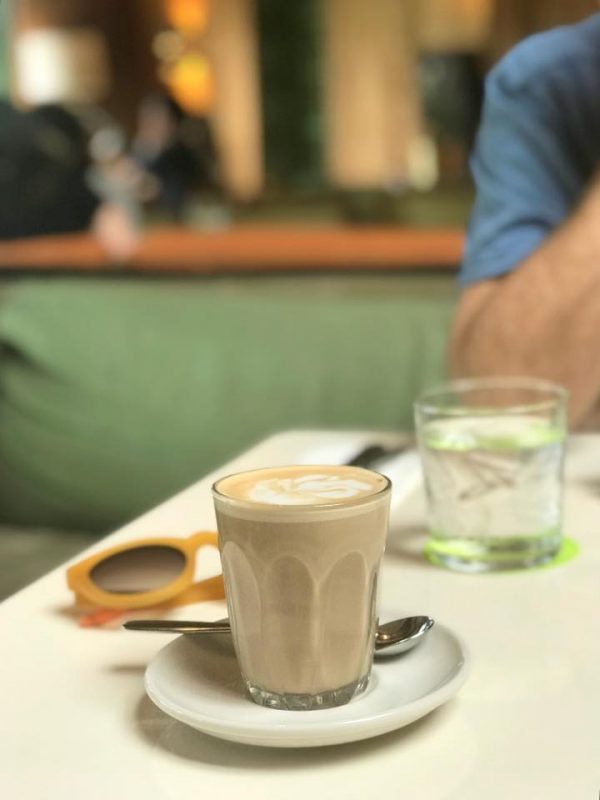 We went for a later breakfast one morning and queued up for about ten minutes. It's not the cheapest option going 'round – especially with kids – but they will email you a 15% discount for your next visit once you've paid your bill. The food was excellent too.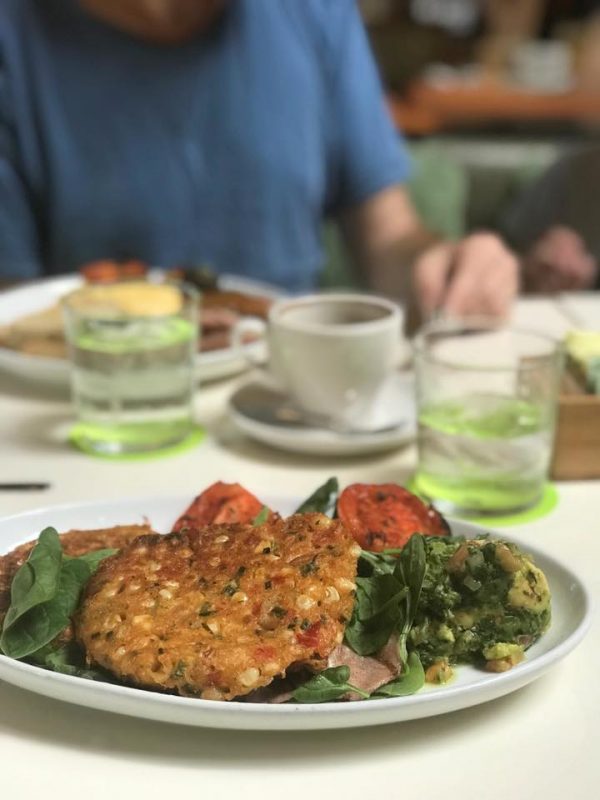 4. The Yard House – Several friends recommend The Yard House and it's easy to see the appeal. A feel good, sports bar with plenty of energy, a huge selection of craft beers and an extensive menu, let alone those yard and half yard beer glasses that only those with a high capacity should tackle. To this Melburnite, it felt like a Tripe MMM sports bar with the 80s and 90s rock soundtrack. I also counted ten TVs broadcasting NFL and baseball in our immediate vicinity. Needless to say, the kids loved it.
Food wise, I had the Poke Bowl which was generous and delicious. The kids' meals were great value here too – $7.95 included a meal (eight options including Korean Beef and Teriyaki Chicken among the usual suspects), a juice/soda and dessert.
5. Teddy's Bigger Burgers – This place had a huge rap – from friends and locals alike – so we hot footed it down to their store opposite Honolulu Zoo on Friday night before the fireworks.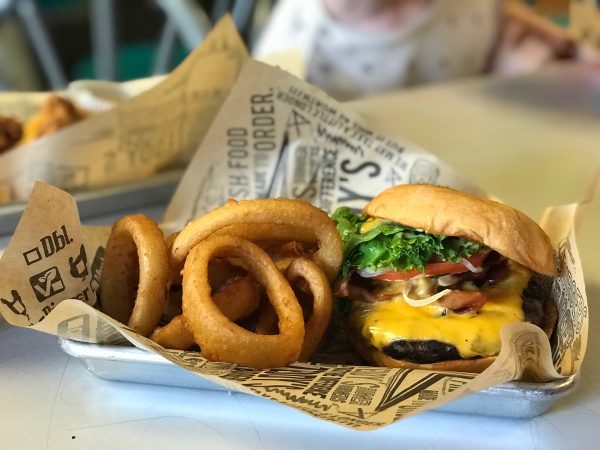 I ordered the traditional style one patty burger with cheese, bacon and a side of onion rings and it was the Bomb Dot Com. Fresh, delicious and Teddy's special sauce gave it that extra something. Everyone agreed this place was a winner.
6. Buho Cocina y Cantina – if a Mexican rooftop bar/restaurant situation is high on your list of Must Do's, definitely add Buho Concina y Cantina to your list.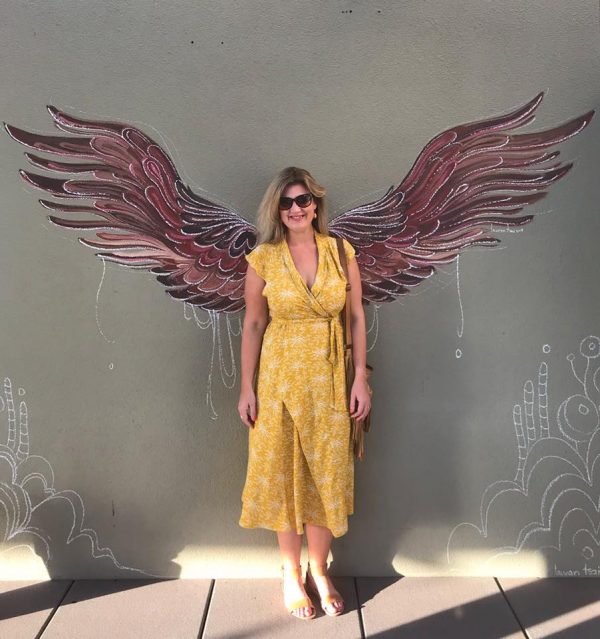 We enjoyed delicious, fresh Mexican food here and I can tell you the pineapple mojitos aren't too shabby either.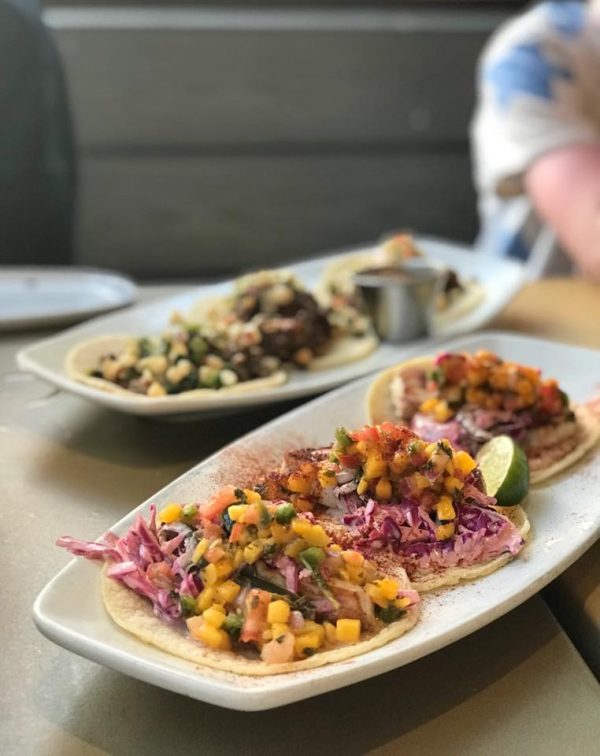 This wasn't an inexpensive night out though – although we did over order – but our meal here cost us about $150, which included two drinks and a tip.
7. The Beach Bar at Moana Surfrider – we had a really nice time here after a day at Pearl Harbour. Again, arriving towards the end of happy hour, we got a table for five right near the live entertainment, with THOSE VIEWS over Waikiki Beach and in the shade of the most amazing Banyan Tree in the most stunningly beautiful hotel. The Mai Tais here were generous and delish but were like rocket fuel.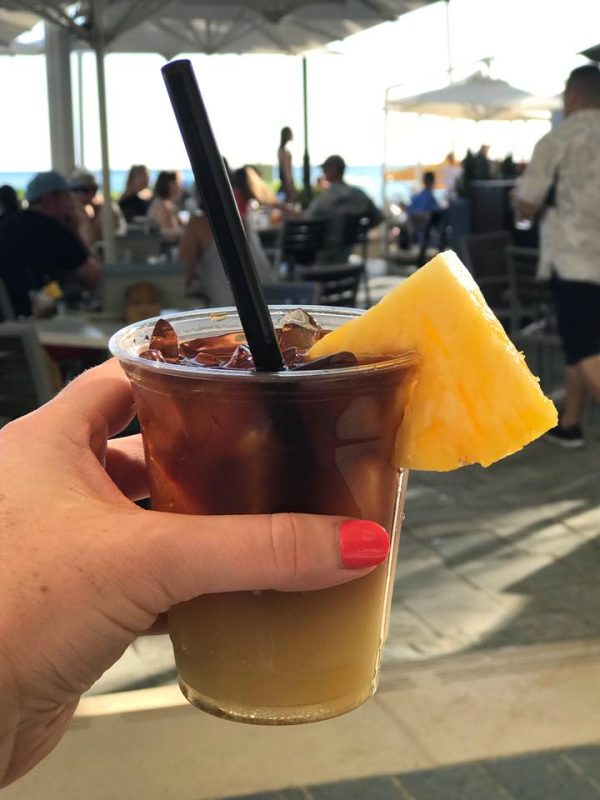 The kids were happy with their meals but Mr SnS and I were underwhelmed by our burgers. All up this is a beautiful spot although it definitely comes at a premium. This was our most expensive meal in Hawaii.
8. Basalt @ Dukes Lane Market & Eatery – located near our hotel, we found great happy hour deals here with $5 burgers which were yum and didn't come with all the usual sides of fries which was refreshing. All up, our meal here was about $45 which was our least expensive dinner and the burgers were simple but great.
9. The Cheesecake Factory – As one of the most popular places to eat in Honolulu – pretty much everyone recommends it – we were keen to visit but not so keen on the 45 minute wait times. We decided to go when it opened at 11am instead – which worked – as we walked straight in and got a table for brunch.
I'm not a massive fan of restaurant chains so I didn't have high expectations in the foodie department, but I was pleasantly surprised by my breakfast sandwich and everyone else seemed to enjoy their meals too. The serves are super generous though so be prepared. There is an extensive menu, so there's plenty of choice for everyone, all day long.
10. California Pizza Kitchen – CPK is another chain restaurant offering a great variety to suit all tastes. We ate at the Ala Moana store and between us, we ordered dumplings, pizza and salads. It's great for those nights when you can't decide on a cuisine and the kids are tired. The kids dessert menu is budget friendly too – $1.99 serves of sundaes and brownies that were more than enough for our guys.
11. IHOP – Dining at the International House of Pancakes held obvious appeal for our boys but not so much for Mr SnS and I. Despite it not being my choice, a deal was struck at the top of Diamond Head to visit the IHOP right near our hotel for brunch after our walk. We had to wait about fifteen minutes for a table mid morning and were seated eventually.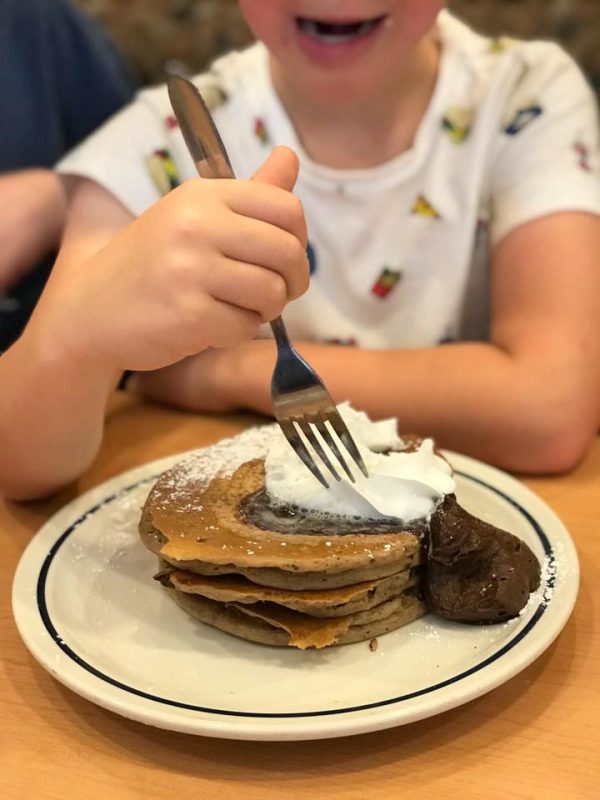 The menu here is extensive and the portions ginormous – four buttermilk pancakes per serve – but you can get half serves as we did, which the kids could barely finish. Not the best food I ate in Hawaii and I was in a food coma afterwards, but definitely a hit with the kids.
12. Dukes – We rolled in to Dukes on our first morning in Hawaii and were off our heads with fatigue after our all night flight. We walked straight in mid morning and opted for the buffet breakfast which was a reasonable $18 for adults and $8 per child. The kids loved it but I can't say it wowed me. Food aside, the view and vibes are definitely what you come to Dukes for – overlooking Waikiki Beach and the pool, this is a beautiful spot to enjoy a drink or meal. Apparently the Hula Pie is worth the visit too.  Report back and tell me what you think!
13. Find a Food Truck – If you're looking for fresh food alfresco, head to one of the food trucks dotted all around Oahu. We also spotted a food truck park – Da Spot – in Waikiki on the corner of  Kuhio Avenue and Kanekapolei Street, which is open every night. This place had a great atmosphere and plenty of dining options.
Other places that were recommended to us by the awesome SnS Facebook readers included the upmarket The House with No Key at The Halekulani, Goofy's, Eggs n Things,  Maui Brewing Co., all in Wakiki and Boots and Kimos at Kailua.
For cocktails, readers recommended The Modern, Tiki's and The Royal Hawaiian (the pink hotel).
Where to Shop
In Waikiki, my pick was the International Market Place. This is a new three story open air mall built around the most magnificent Banyan Tree.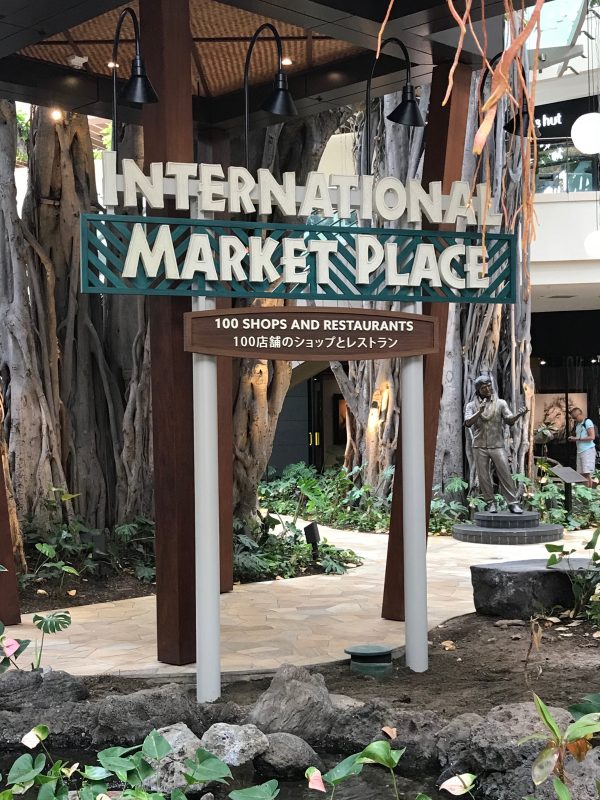 As well as being a beautiful new centre with plenty of open space – including a shallow pool for kids to play in – it has a great selection of retailers including the iconic Saks Fifth Avenue.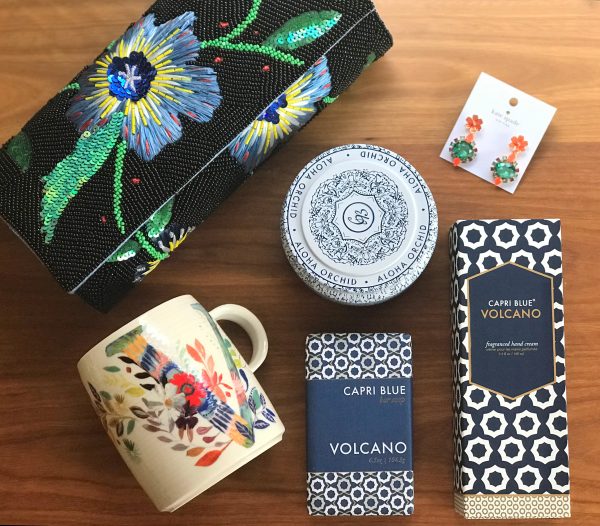 Clutch, candle, mug, soap and hand cream from Anthropologie at The International Market Place and earrings from Kate Spade Outlet store at Waikele Premium Outlets.
My fave retailers were Anthropologie, Greenroom Gallery, I Love Eden, Jo Malone and if you're a stationary tragic like me, Papryus. The kids loved all the sports stores including a whole store devoted to Michael Jordan for Nike. There is also a great coffee shop on the ground level – Kona – where they serve fab baked goods including pineapple almond croissants.
There is also a car hire desk for Budget and Avis in the lobby if you're looking for options.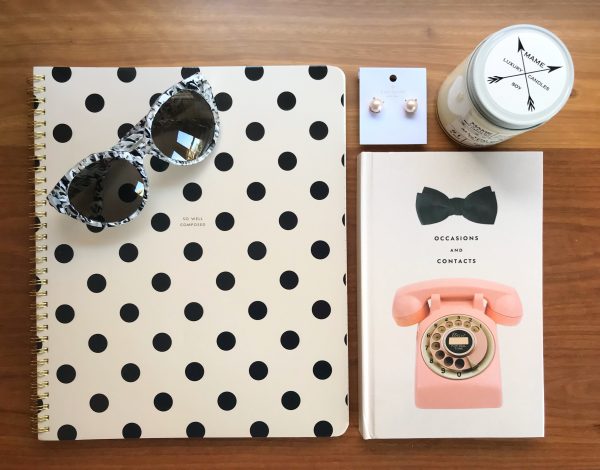 Notebook and Contact book from Nordstrom Rack, Tory Burch sunglasses from Tory Burch Outlet at Waikele Premium Outlets, earrings from Kate Spade Outlet at Waikele Premium Outlets, candle from boutique in Hale'iwa.
I also struck gold at Nordstrom Rack, where designers goods are heavily marked down. I saw Gucci, Tom Ford, Celine, Ray Ban, Kate Spade, Tory Burch sunnies discounted heavily as well as Kate Spade stationary and a huge variety of designer shoes, cosmetics and other bits and bobs. If you don't have time to head out to the outlets, this is a must visit.
We also loved Malibu Shirts which sell vintage surf clothing and accessories. There's a store a couple of doors up from The Yard House in Waikiki and also in Hale'iwa.
We did make a trip to the world's largest open air mall – Ala Moana – but I didn't have any luck. There was some great sale stock at Banana Republic but shopping with kids wasn't conducive to trying things on and taking my time.
The kids loved Old Navy but overall, I found a significant proportion of the stores at Ala Moana are high end European stores which aren't every day options for me – at full price anyway – and I'd already cleaned up at the Anthropologie closest to our hotel. There are four department stores – Macy's, Nordstrom, Bloomingdales and Neiman Marcus though.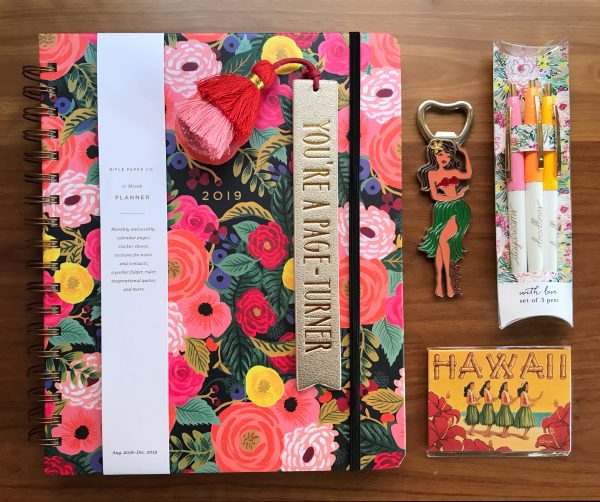 Diary, book mark and pens from Anthropologie, bottle opener and magnet from ABC shops
Overall, Waikele Outlets yielded the most for me. When I arrived I was surprised to see how small it was – compared with Woodford Common out of NYC and the Anaheim outlets – but it was a question of quality not quantity.  The leather goods at Coach and Kate Spade impressed me most, as did the heavily reduced sunglasses at Tory Burch.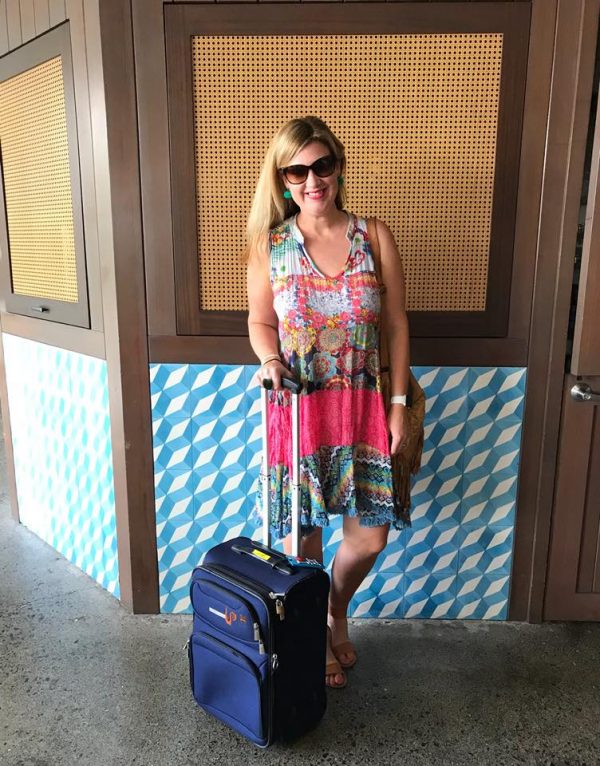 Ready to shop with an empty suitcase!
The kids cleaned up at Ralph Lauren and the sports stores. To give you an idea of the discounts, the boys' polo tops at Ralph Lauren were marked down to $32.99 each and then had a further $40% off, bring them down to just under $20 each.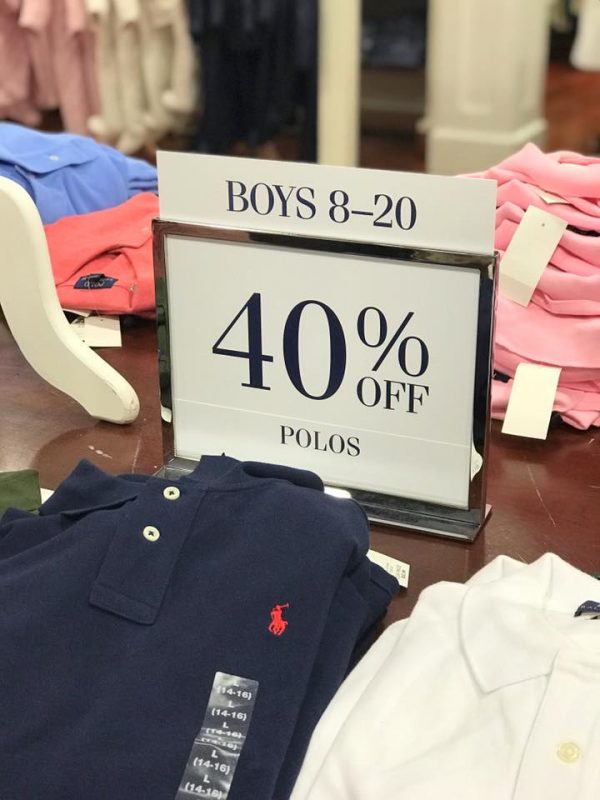 It was a bit of a crazy day though. We took the 10.15am shuttle from Waikiki (it's a 45 minute drive each way and cost $18 per adult return; $12 per child return) and booked to return home on the 3pm shuttle but I could have easily stayed longer. The kids and Mr SnS were done by 3pm though.
I also found some kitschy souvenirs, pictured below, at ABC Shops and the outdoor market behind Dukes Lane Eatery.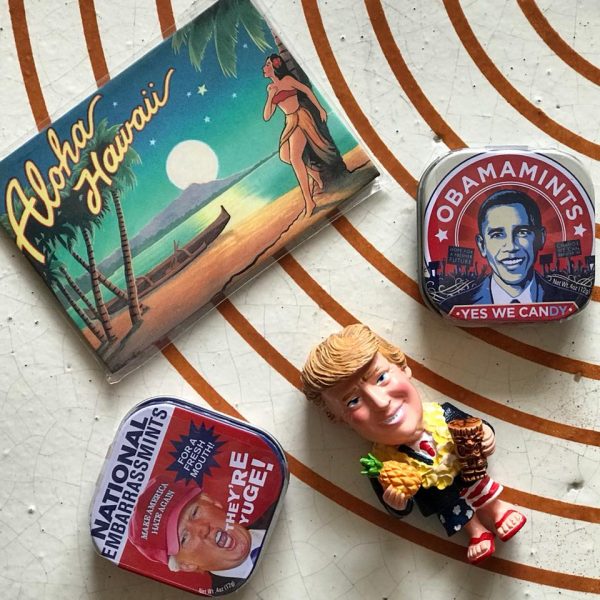 Getting Around
We mostly walked around Waikiki which was ideal but booked either Ubers or taxis as we worked out that this was easier and cheaper or the same price as paying five $2.75 bus fares where the exact change was required.
The trips we took where we Uber-ed there and taxi-ed home, the taxi fare was substantially less than the Uber. For example, when we went to Diamond Head, we paid $35 for an Uber XL but the cab home only cost $15 plus tip.
We wondered whether the difference was that we were booking Uber XLs. It also transpired that all the Ubers we called were also taxis.
We also booked tours for Pearl Harbour and the Circle Island Tour as well as shuttles to and from the Waikele Outlets.
On our final day we hired a car to drive around the Island through Avis. It cost $130 for twelve hours which included fuel.
Where to Stay
Choosing where to stay is always a tricky one. There are loads of options but it really comes down to budget and what you're prepared to trade off and what is non-negotiable.
As a family of five, we don't fit in one room and our budget did not extend to pay for two hotel rooms.  We tried to find self contained accommodation but couldn't find a self contained apartment that would accomodate five people. We also wanted to be close to the action but were looking for a pool for quiet days in the hotel. After a bit of research, we landed on The Surfjack Hotel and Swim Club, a smaller, boutique hotel at the canal end of Lewers St.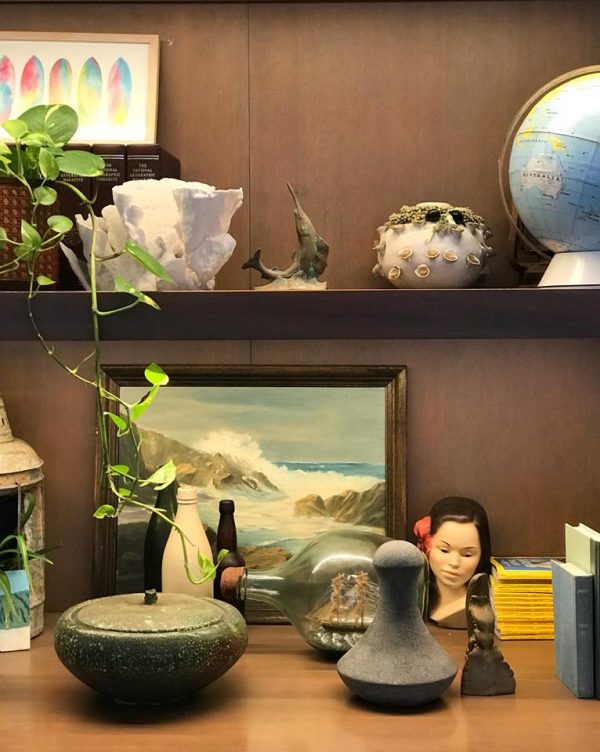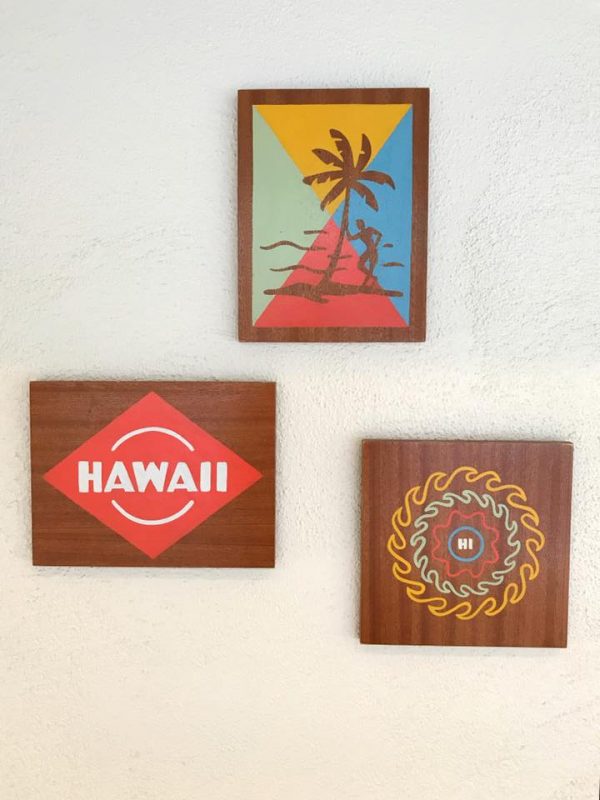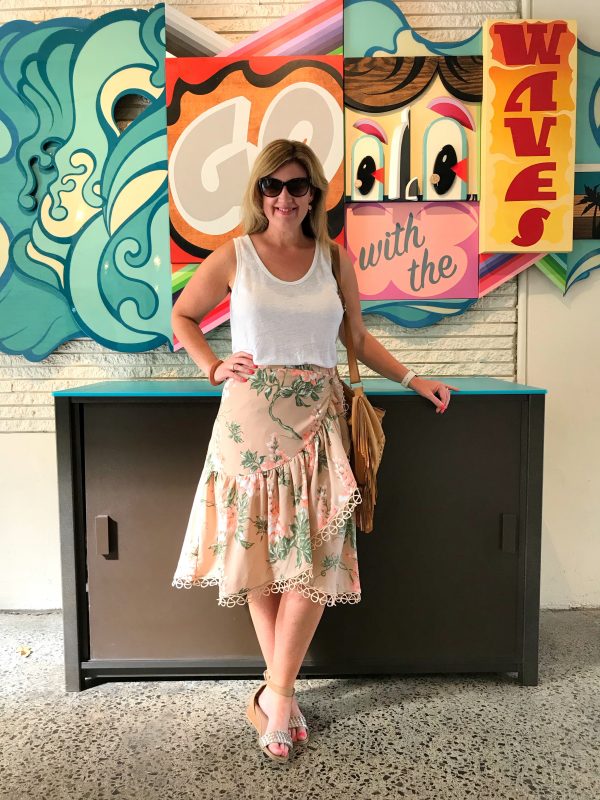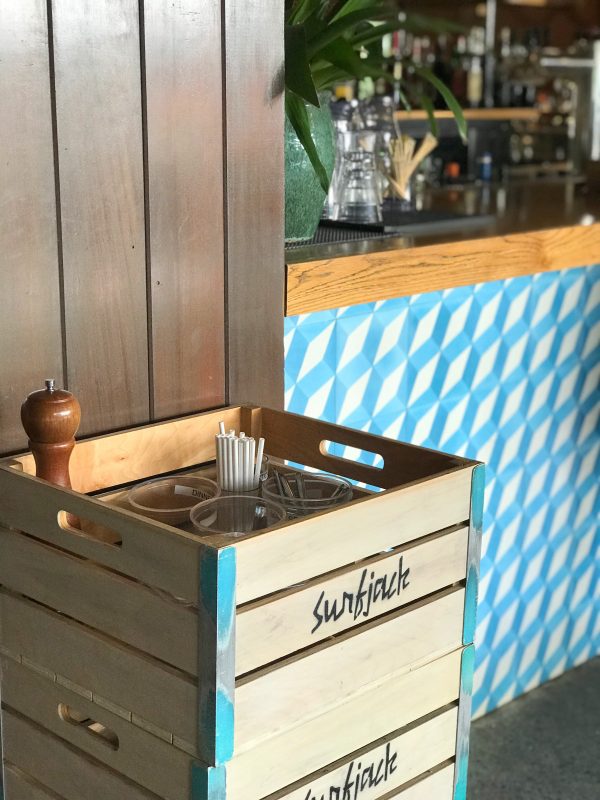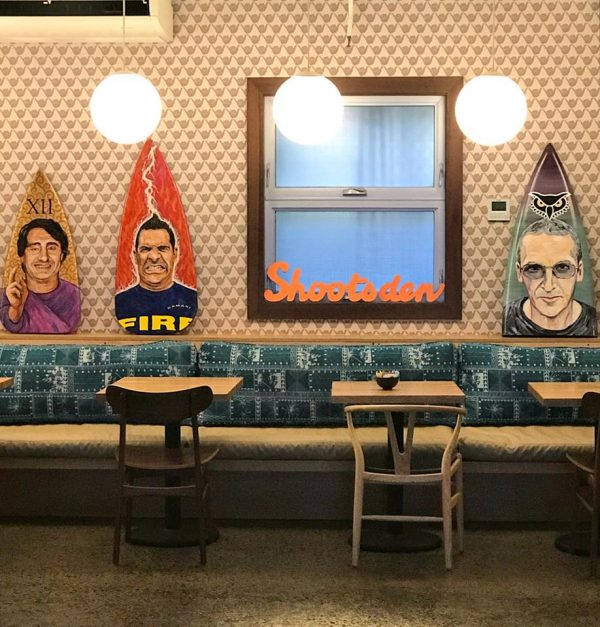 We stayed in a two bedroom suite, which comprised two bedrooms, a living area – with a pull out sofa bed – and one family bathroom, a bar fridge and closet.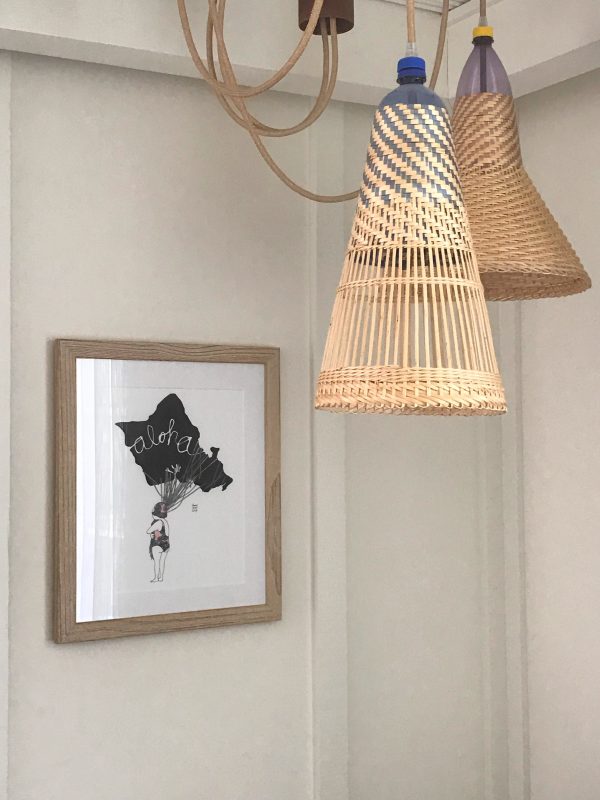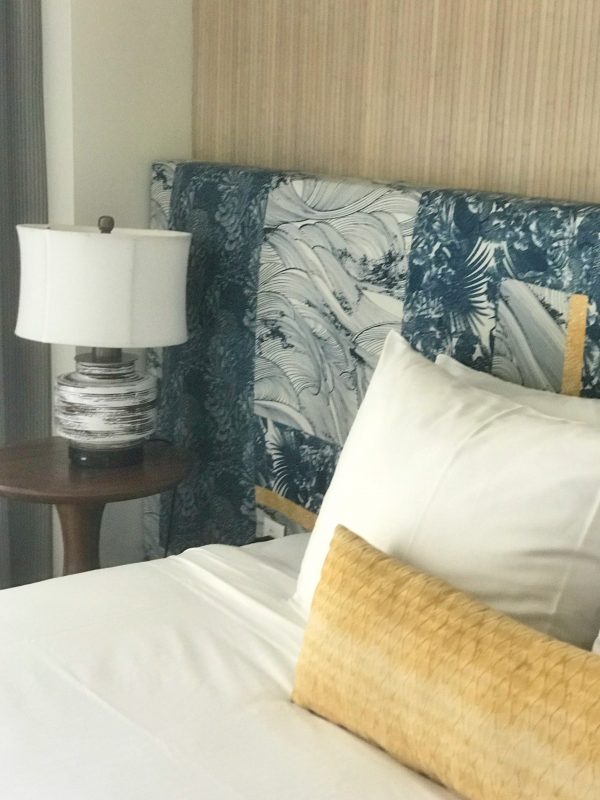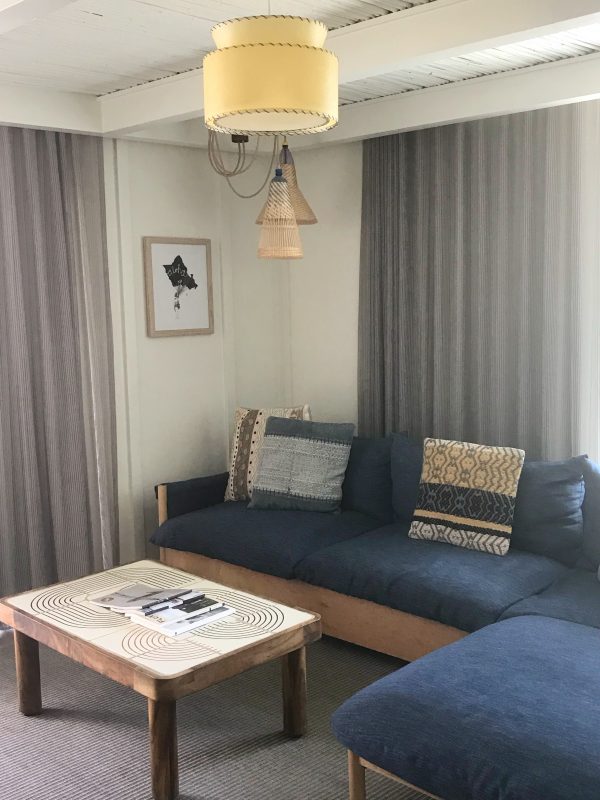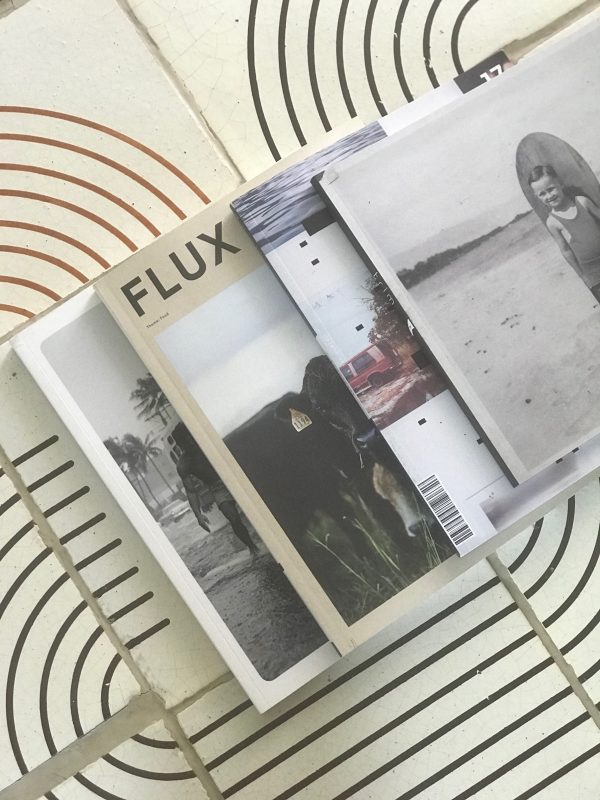 I absolutely loved the style, vibe and fit out of this relaxed and hip boutique hotel and while the pool wasn't huge, we certainly made the most of it, swimming nearly every day. There was plenty going on here too in terms of atmosphere – including a pool party on a Saturday afternoon – and the crowd was definitely on the hip and young side with more ink, man buns and brazilian bikini bottoms than you could poke a pineapple at.
That said, there were other families with kids staying here and the vibe overall was certainly relaxed and fun and the service warm and friendly.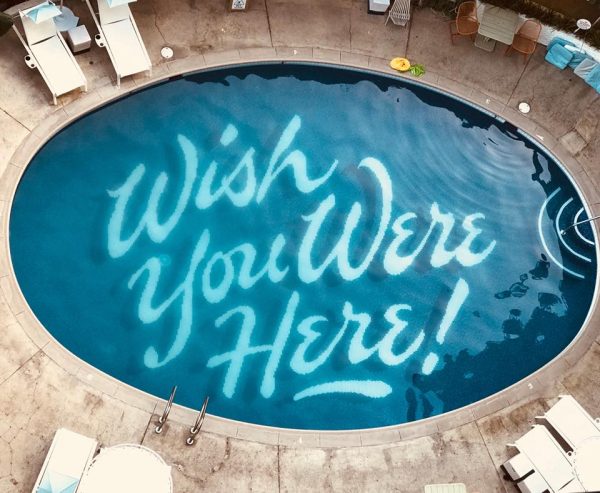 Onsite barrista/boutique Olive and Oliver was a bonus too.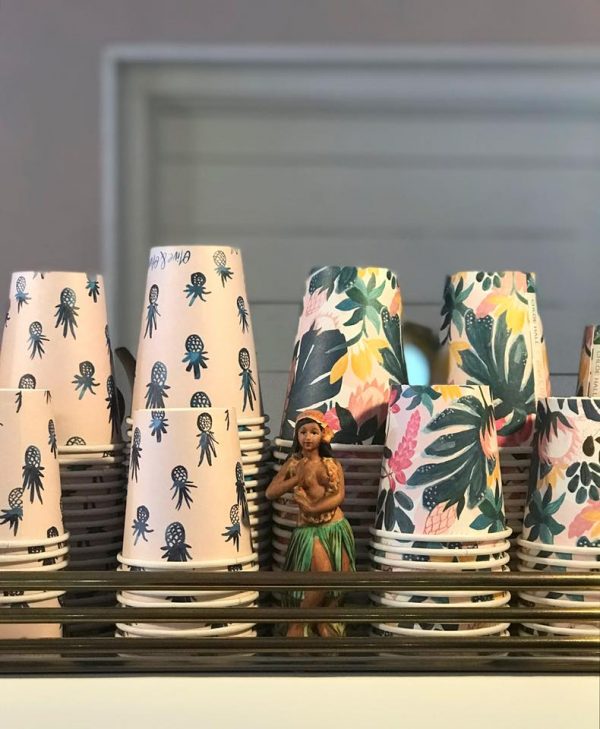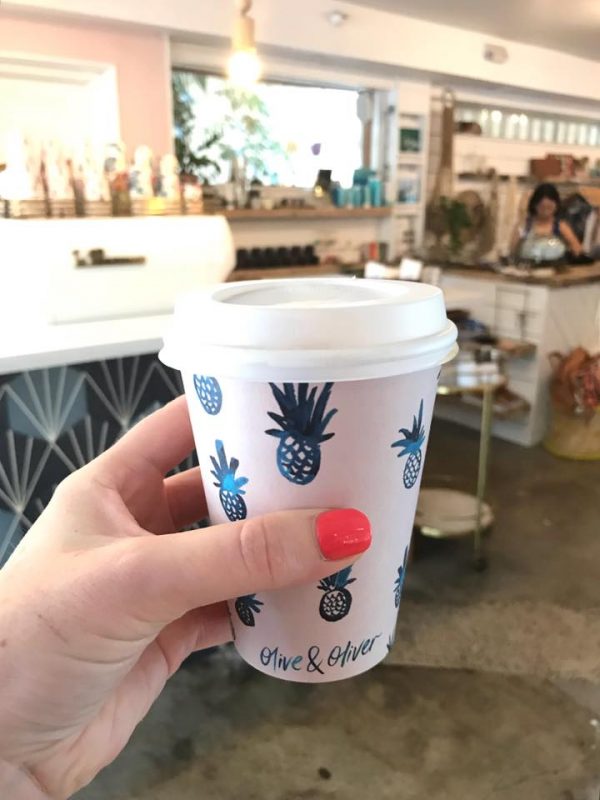 Location wise, The Surfjack is a ten minute walk straight down Lewers St to the beach and in close proximity to some great places to eat including Bills, Tommy Bahamas, Marakume Udon and plenty of shops. All our tour pick ups were from Seaside Avenue two short blocks away and there is an ABC shop two doors down.
The downside? It was a bit noisy at night some times and if you're looking for a quiet, spacious resort, this is not the place for you. We could see the ocean from our room but we were obviously a good walk to the beach. There was no kitchen, kettle or any laundry facilities, and a second bathroom or separate toilet would have been ideal. I did miss not being able to keep up to date with the laundry and it would have been nice to a cup of tea but they weren't deal breakers for us.
Overall we loved our stay at The Surfjack though and would definitely recommend it, especially if you're travelling sans kids.
Other Bits and Bobs
How did we get there? We flew direct from Melbourne to Honolulu with Jetstar and our flights were on time and without issues both ways. It's around ten hours each way, slightly longer on the way home. Our 3.45pm flight arrived in Hawaii at 6am Hawaii time. Unfortunately our hotel room wasn't ready til 2pm – an hour earlier than the 3pm check in – so it was a long, tiring day. We had an early night at 7pm though and were fine after this. I'd definitely book an extra day's accommodation if I was travelling with younger kids/babies though, so you could go straight to the hotel room for a kip upon arrival.
How expensive is Hawaii? Overall, we found Hawaii was on the expensive side as the exchange rate wasn't great when we visited – $1.40 Aus to the $1 US. So an inexpensive dinner that cost $59 US actually cost us $85 Aus and a more expensive meal – $150 US, cost us $230 Aus. While our flights and accommodation were very reasonably priced – compared with Bali – the cost of eating out was significantly more.
Some attractions/activities were certainly inexpensive or free, but the cost of getting around and eating out for our family of 5 over 10 days was not insignificant. I reckon the best ways to keep the cost down are to opt for self contained accommodation, maximise happy hour discounts and other promotions, walk as much as possible or use public transport, avoid tours and hire your own car (depending on how many people you are travelling with) and buy some meals/snacks from the grocery store or ABC shops. We also packed cereal (which we replenished during our stay) for the kids for breakfast in the hotel and for snacks. We also found the cost of food and drinks was substantially less outside of Waikiki too.
What did we love? Hawaii is a great place and we really enjoyed our vacay here. I loved learning about Hawaii's Polynesian identity, it's history from monarchy to joining the Union as the 50th state and it's  role as a strategic military base. We'd definitely return, but spend less time on Oahu – either on the North Shore or Kailua – and head out to some of the other Hawaiian islands.
In terms of this trip, Mr SnS and I rated Pearl Harbour, the North Shore and Diamond Head as our favourite things in Hawaii. I'd also add the foodie and shopping highlights I've mentioned above.
Mr 12's favourite things were dole whip, Teddy's Bigger Burgers and shopping. Mr 10 agreed but also mentioned Pearl Harbour. As for Mr 7, he really loved shave ice, dole whip and shopping.
For more information, check out the following posts:
Kirsten & Co. is a regular traveller to Hawaii too – check out all her Hawaii posts here.
So over to you – have you been to Hawaii? What would you add to my list? Or is it on your list?