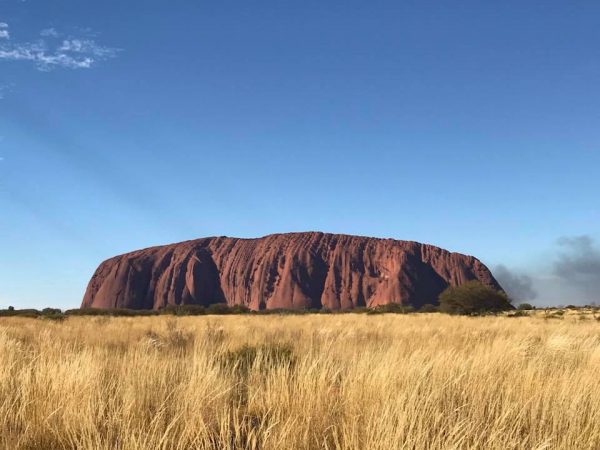 Uluru has long been on my bucket list.
I've been lucky enough to travel to all sorts of exotic places in the world but in recent times, Mr SnS and I decided it was time to tick off some home grown sights. Uluru, like Margaret River, was at the very top of The List.
Last year, I spotted a promotion for airfares where you travel one way free, so I jumped on it and our Queen's birthday long weekend in the Red Centre was all of a sudden actually happening.
In the end we stayed in Yulara for seven nights and were thrilled our great friends Anna and Tez and their four kids could join us for the first four nights.
All up, we were a party of eleven, with seven children ranging in age from six to twelve. We all stayed at the Emu Walk Apartments, in two apartments directly across from one another and we had a fabulous time together.
What to Do
Uluru, formerly known as Ayers Rock, is obviously why we many of us want to go to the Red Centre.
While this was certainly the main draw card for us, we also wanted to visit Kata Tjuta (also known as The Olga's) and learn more about the cultural and spiritual significance of these landmarks and the area in general.
Both Uluru and Kata Tjuta (which consists of 36 domes, the largest of which is Mt Olga) are enormous and are situated within a national park. Both are not only visible from the plane, but also several (free) lookouts.
But there's a lot more to this area than standing at a look out – although we did do plenty of that during our stay.
Actually seeing Uluru and Kata Tjuta up close and learning about their cultural and spiritual significance and the customs, stories and history of the traditional owners – the Anangu – is something we did from a variety of angles, as you'll see below.
1. Bike Ride Around Uluru
This was the collective highlight of our trip. We were collected from our digs at 10.30am and driven to the Cultural Centre where we collected our bikes and helmets and rode the 2kms to the base of Uluru.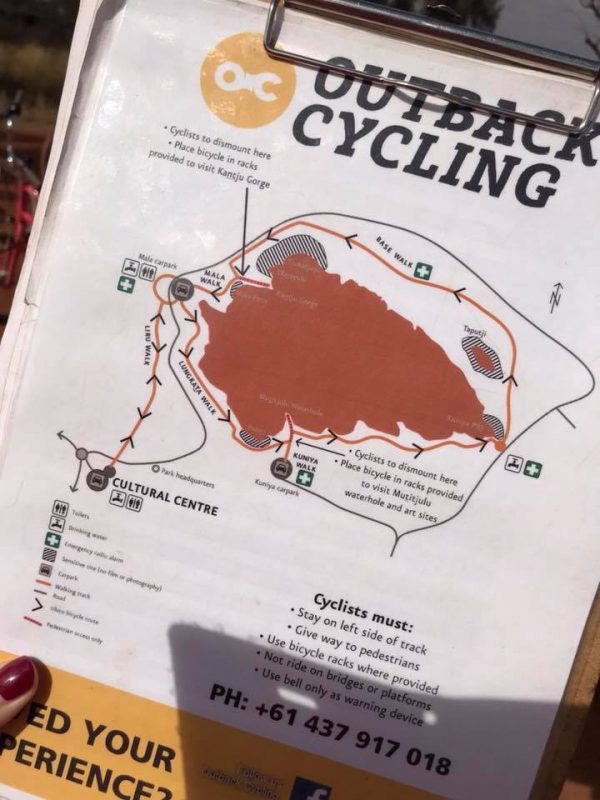 With two six year olds, we opted for two tag along bikes, ridden by Tez and I. Everyone else had their own bikes – both adult and children's bikes were available. If you're travelling with younger kids, you'll be pleased to hear toddler seats are available too.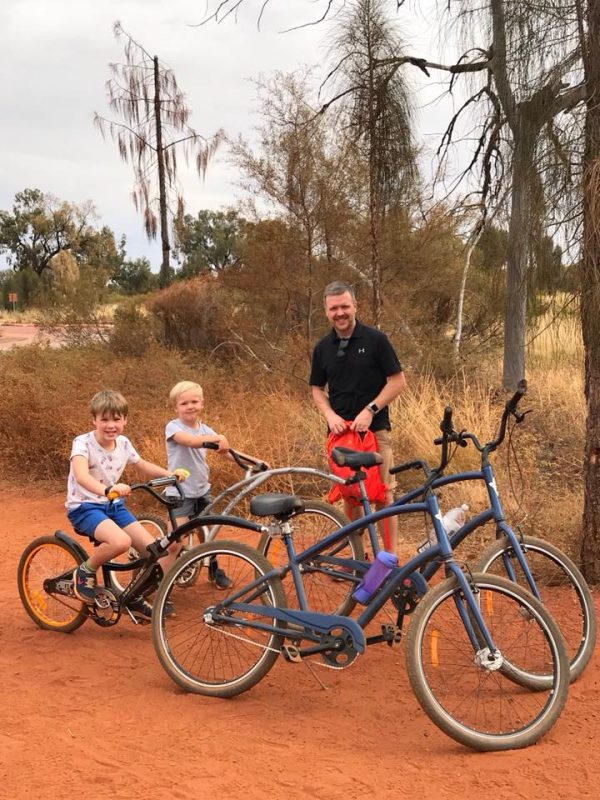 All up the ride took us around two hours, with many stops along the way for a drink, snacks, photos and to refill our water bottles.
Tez reckons we rode for around 1 hour in total, covering 12 kms. Including the rides to and from the Cultural Centre, we covered around 15kms all up.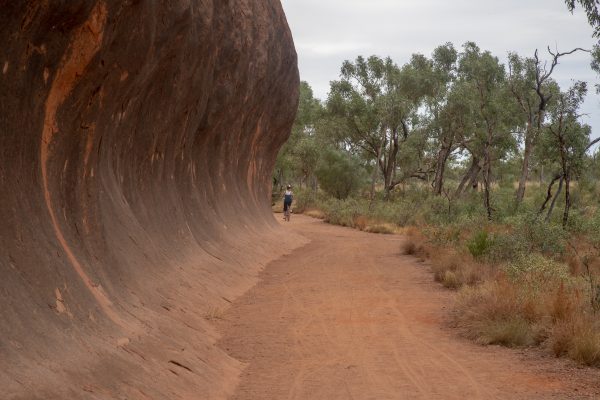 It was a spectacular ride from a scenery perspective, as we saw the variety of vegetation and faces of Uluru up close, including many sensitive areas that are not permitted to be photographed.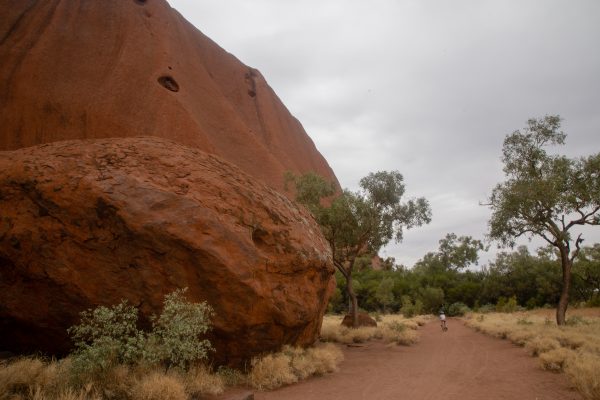 All the kids managed the ride very well and four of them finished first. It was a flat ride for the most part but there were some challenging parts, as you can't ride over sand – I found this out quickly! – and there was a lot of rocky terrain. The distance was a factor too although we were very fortunate to have mild temperatures and not too many flies. Eating flies is not my idea of a good time!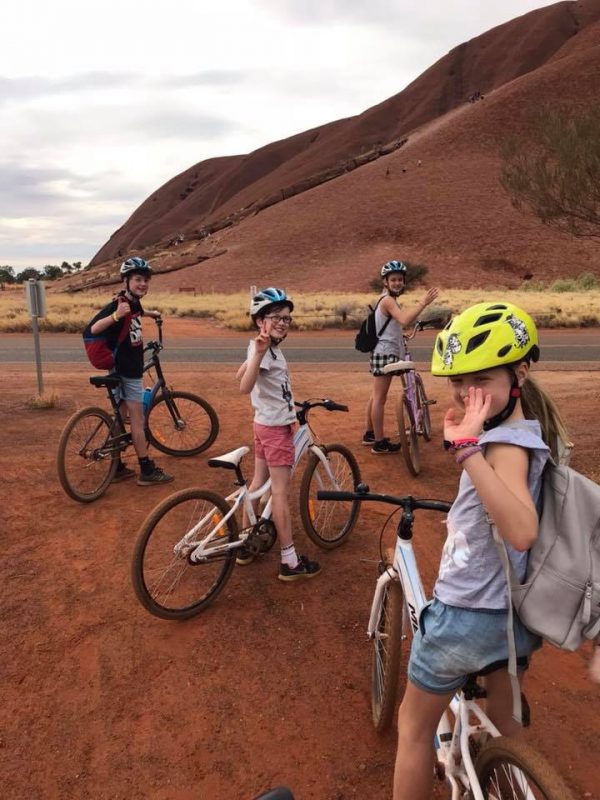 For $210, I thought this was a well priced and excellent option. For more info, head here.
If segways are more your thing, you can check those out how to hire those here.
2. Uluru at Sunrise/Desert Awakenings
You can drive to one of the various lookouts to see Uluru at sunset or sunrise, but we chose to do it one morning on the Desert Awakenings tour which was a small group tour with SeeIt.
We were collected from our digs at 6am and drove out to a lookout for breakfast. The kids loved driving in the dark and eating their breakfast outside in the fresh air while we waited for the sun to come up.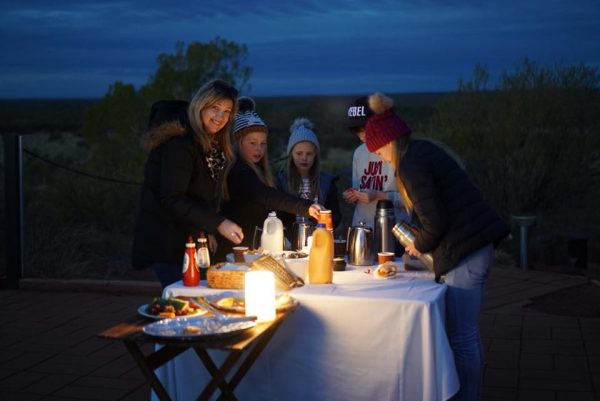 The breakfast, which consisted of hot drinks, pastries, golden syrup covered damper and warm bacon and egg rolls was delicious, and the vista over Uluru as the sun rose was Something Else.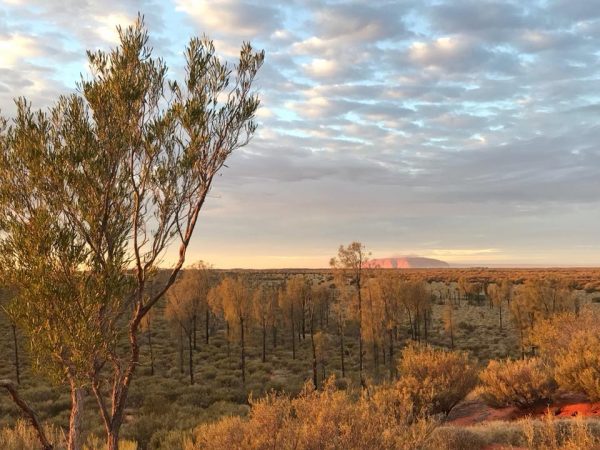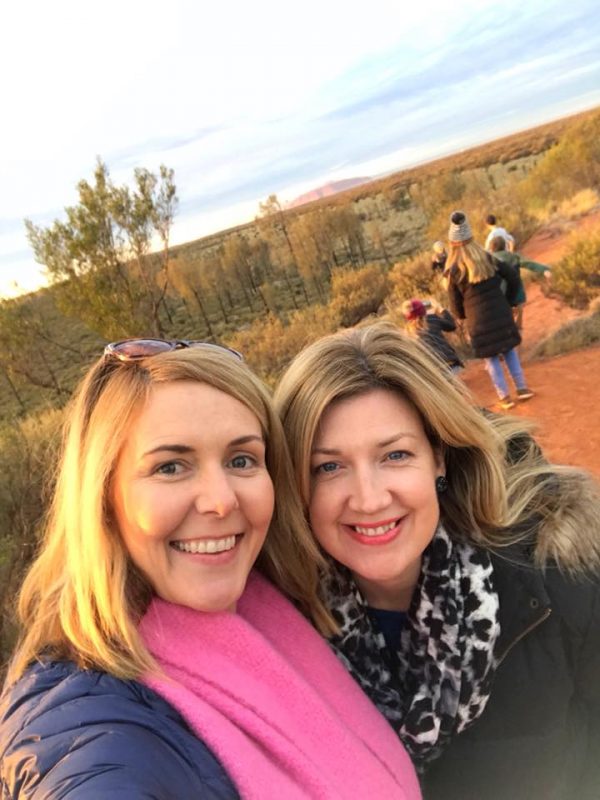 After sunrise, we were driven around Uluru and our excellent guide Serena shared information about the political history and cultural and spiritual significance of Uluru to the local Anangu, the traditional owners.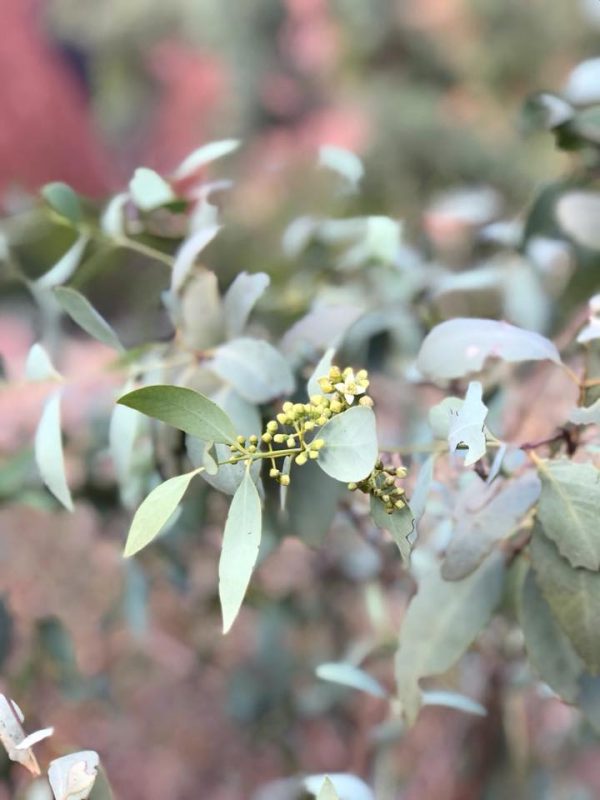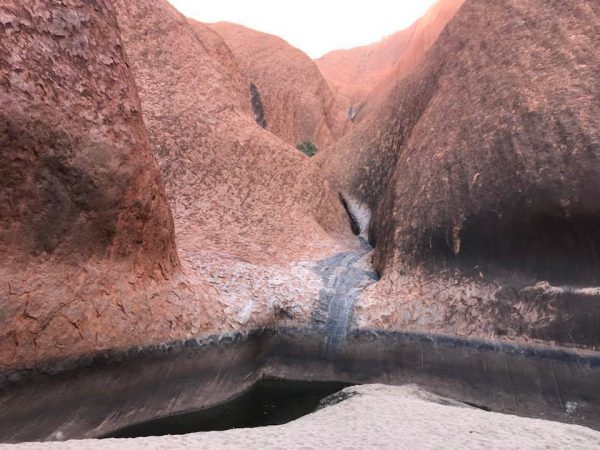 We got off three times – once for a guided walk to the Mutitjulu Waterhole, pictured above, and later at The Uluru – Kata Tjuta National Park Cultural Centre and then finally for this view below. Not too shabby at all …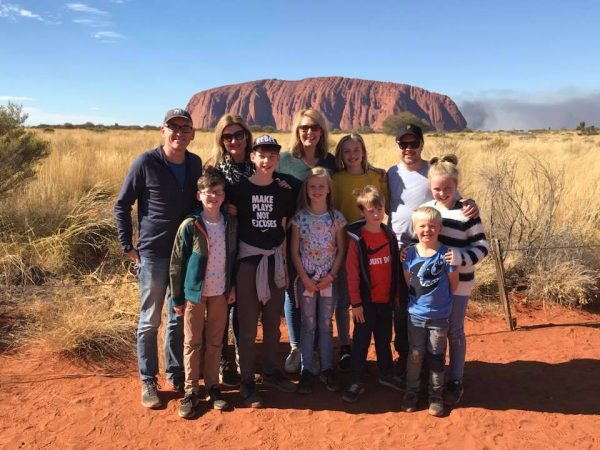 We arrived back at the resort around midday, feeling like we'd had a great morning out and an excellent introduction to Uluru.
3. Field of Lights
The Field of Lights is an art installation by internationally renowned artist Bruce Munro. It consists of 50,000 slender sphere shaped lights which light up the foreground of Uluru as night falls. It's a pretty spectacular sight.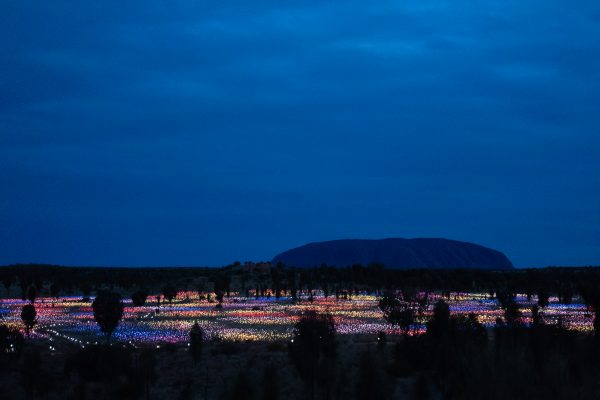 With seven kids under 13, we didn't do the dinner option, so instead we bought Star Passes which entitled us to drinks and canapes overlooking Uluru and the Field of Lights.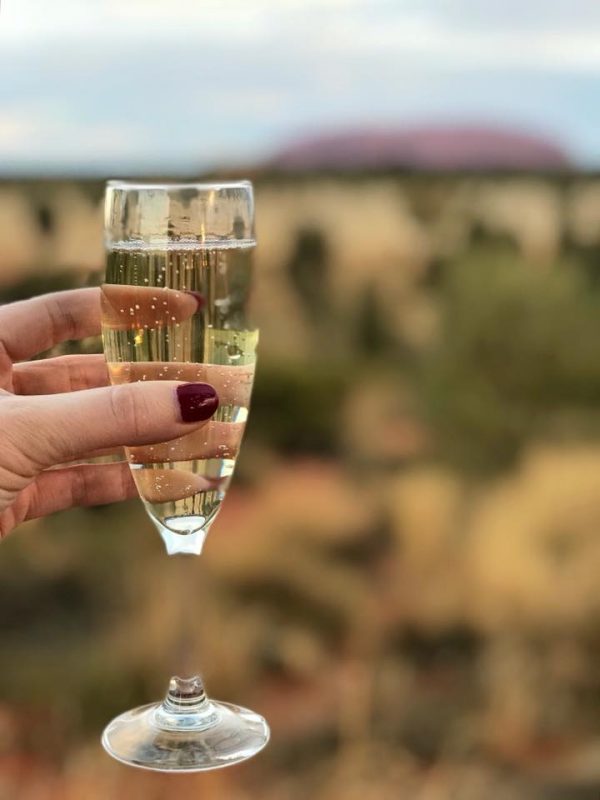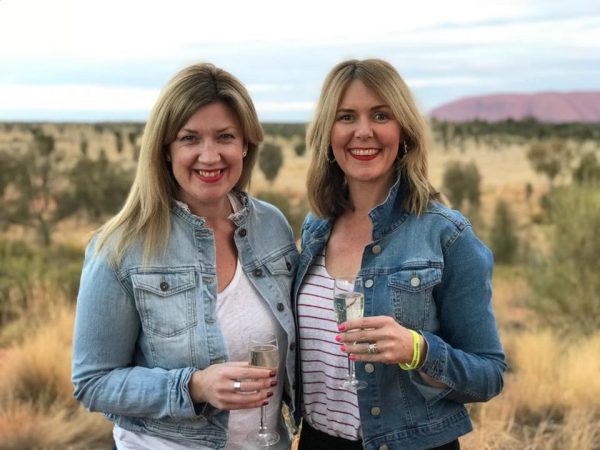 Logistically, we were collected from the resort at 5.30pm and it was a short drive to the location. We had canapes and drinks until the sun set and then we wandered down and walked through the Field of Lights (the long way not the short way), arriving back at the bus at 7.20pm.
While I scoffed plenty of canapes – the caramelised onion and goats cheese tarts were the biz – the kids hadn't eaten very much, so we went back to the resort for pizza at Gecko's.
4. Kata Tjuta
Kata Tjuta is absolutely spectacular and comprises 36 domes, the highest of which is is 546m high, nearly 200m taller than Uluru.
We started our sunrise tour of Kata Tjuta (through AAPT KIngs) with a continental breakfast at a lookout with views of both Uluru and Kata Tjuta. It wasn't much chop compared to our other sunrise breakfast, consisting of cereal, milk, a juice box, muesli bar and some nuts. It was hard to eat breakfast and photograph the sunrise too. I wished I'd eaten a quick breakfast before we left, so I could focus on taking photos instead of eating – we were pretty hungry by the time we got there.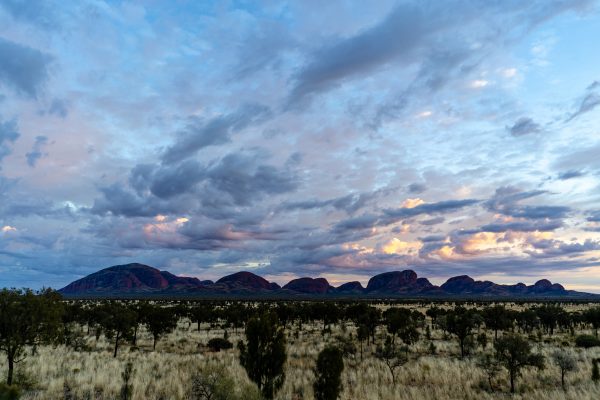 We then drove to Kata Tjuta and did two guided walks. The first through the Valley of the Winds, which lived up to it's reputation and nearly blew us off the rocks with gusts close to 70kms per hour (our friends had visited a few days earlier and it was very hot and still, with plenty of flies!).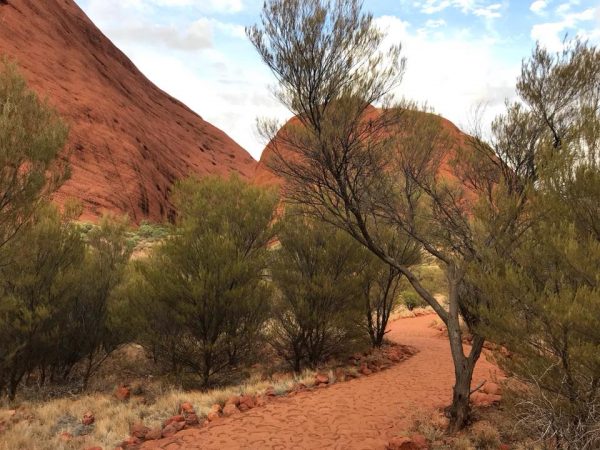 Part of the tour continued on past this first look out point while the rest of us opted for an easier walk at nearby Walpa Gorge. (The Valley of the Winds walk is 8km and usually takes around 3 hours, while the Walpa Gorge walk is 2km and takes around 1 hour).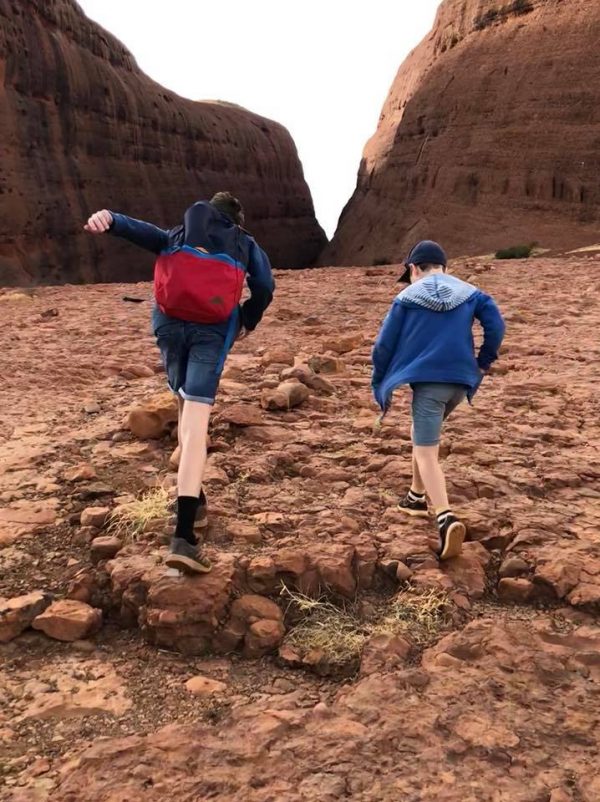 I am so pleased we did too as I found Walpa Gorge to be absolutely breathtaking – the scale, the history and beauty of this place was jaw dropping.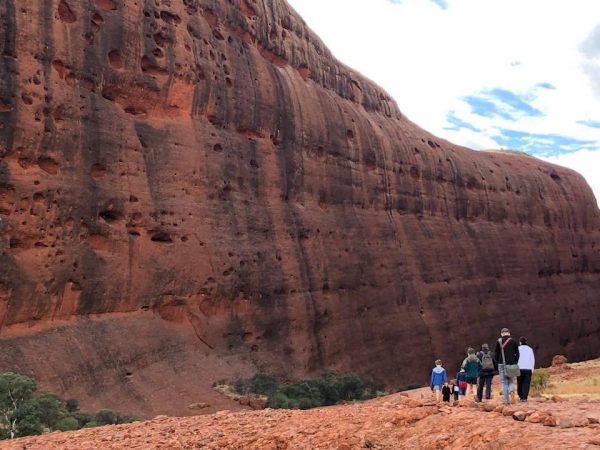 After a couple of toilet stops in between, we arrived back at the resort just before midday.
5. The Camel Farm
We tried to book an Uluru Camel Tour for our party of 11 but they weren't enough camels available (!) so we visited the Camel Farm instead one afternoon.
A ten minute ride cost $15 for adults or $10 for kids, so it was a much more affordable way to ride a camel too.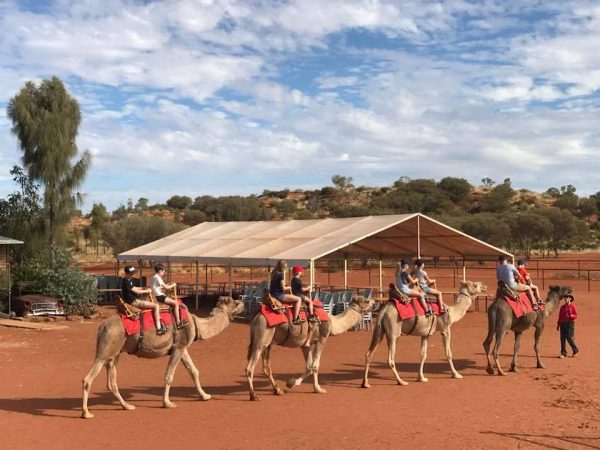 To visit the Camel Farm or find out more about riding the Camel Train, head here.
6. Free Activities Around The Resort
There are a number of free activities around the resort, most of which are offered most days.
We went to the free sessions on Bush Tucker, Bush Yarns and the Astrology documentary across the week we stayed. They're all relatively short – 30 – 45 mins tops – so they're a good way to break up the day without requiring too much time or attention from the kids.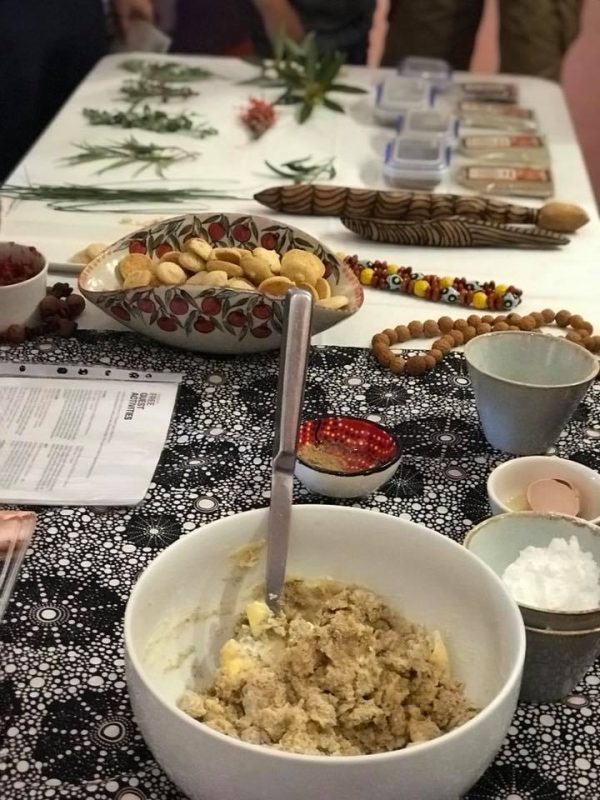 The bush tucker session and Astrology doco were at the Wintjiri Arts and Museum, which is next door to the Desert Gardens Hotel.
We also went to one of the look out points in the resort to watch the sun set on a couple of evenings.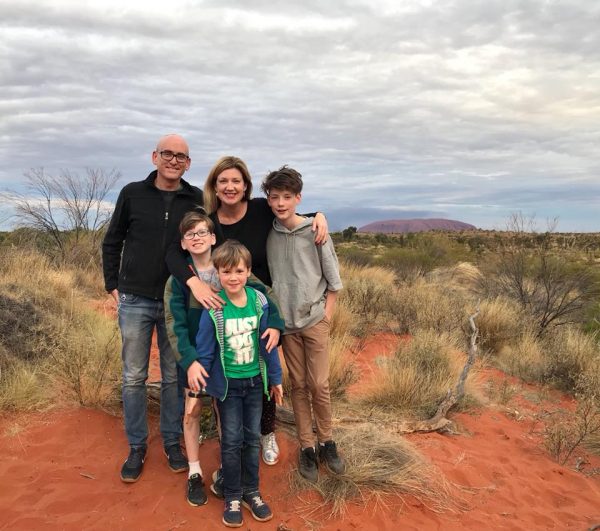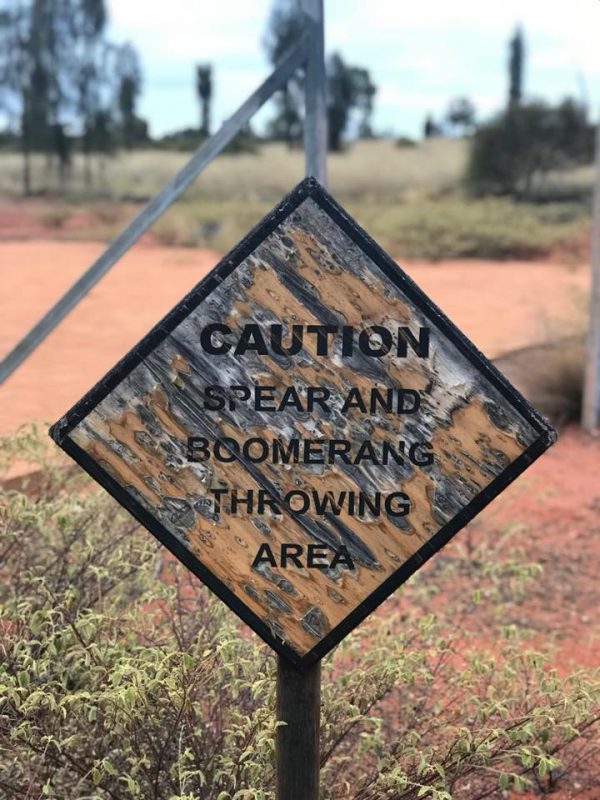 Unfortunately we missed the Didgeridoo session, which is on weekend afternoons. There are also self guided walks around the resort too.
We took a footy with us too and the kids played footy on the grass in the town square most days. There'a also a playground at the camp ground and tennis courts at Sails at The Desert.
7. Paid Activities Around The Resort
If you want to have some quieter days in the resort, there are several options in addition to the free activities noted above, but they're all on the expensive side, especially if you have several children.
We were interested in doing the dot painting workshop – a 90 minute class – which was $36 per child for kids under 16. We could come at until we were told a paying adult had to accompany them at a further cost of $72. Ouch.
The Family Astro Tour also appealed but was held after dark – obviously – and our guys were pretty tired by then after a couple of very early starts.
There's the Red Desert Reptile show too.
Helicopter and scenic flights are available too as well as sky diving, depending on your budget.
8. Without Kids/With Older Kids
We would have loved to do one of the sunset dinner experiences, such as The Sounds of Silence, but alas with our posse of 7 kids it wasn't an option this time around.
9. Further Afield
We would have loved to visit Kings Canyon but it was a thirteen hour day tour with AAPT and would have set our family of five back over $800. If we had our own car and had more time, we definitely would have added this to our itinerary.
Other Tips & Traps
Climbing Uluru – Uluru is of great spiritual significant to the local Anangu and they request that visitors respect their wishes, culture and law by choosing not to climb Uluru. There are notices and information pretty much everywhere to this effect yet still, people climb. I found this baffling not to mention blatantly disrespectful.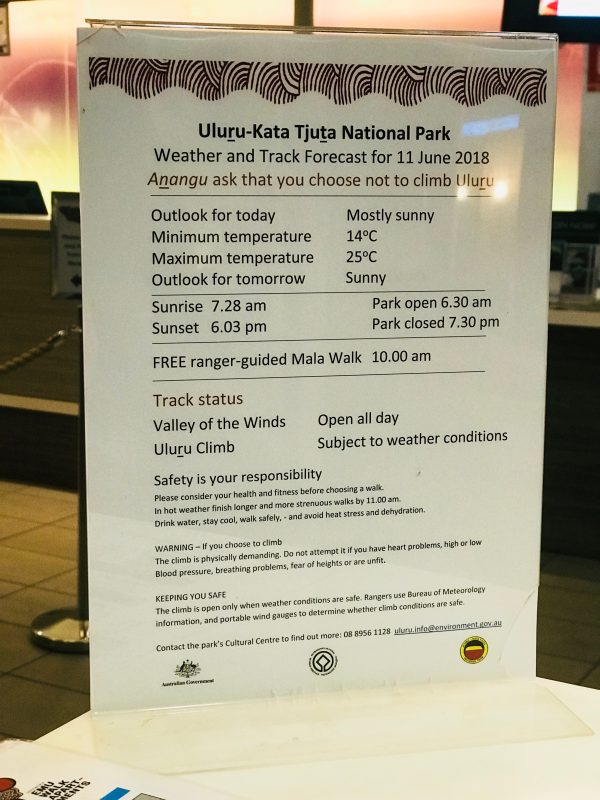 Not only are there cultural considerations, the walk itself is very demanding and about thirty people have died trying to climb it. With all this in mind, I can't imagine why anyone would want to climb Uluru but in any event, the climb will be permanently closed from 26 October 2019. Praise be.
When To Go – From my research, I'd say Winter is the best time to visit Uluru for a range of reasons.
We visited in early June, when sunrise was around 7.30am and sunset around 6pm making those sunrise and sunset experiences much more palatable than the Summer 5am or 8pm alternatives.
Most of the days were in the mid to high twenties and the minimum temperatures ranged from very mild (early to mid teens) through to very fresh (5-10 degrees).
At the height of Summer, we were told that day temperatures could reach 50 degrees with scorching 40 degree minimums, not to mention the year's rainfall and All The Flies.
To avoid extreme temperatures, I'd either visit in Winter or the shoulder months of May and September.
National Park Pass – both Uluru and Kata Tjuta are situated within the National Park which covers 327,414 acres. To visit, you need to purchase a ticket which is valid for three days. This ticket can be purchased from the gate to the National Park or from the tour company. This pass is always in addition to the tour price.
When we visited, an adult pass was $25, children aged 5 – 15 $12.50 and children under 4 years were free. A family pass was $65.
We had a couple of issues on this front. We bought our first family pass from the gate as we entered the National Park on our Dessert Awakenings Tour on a Friday. This was valid for our bike ride the following day.
As we didn't visit Kata Tjuta until the Monday, we needed to buy a second pass, but directly from the tour company (AAPT Kings) who advised us that the only place to buy a family ticket was from the gate of the National Park, so we had to buy not only a second pass but a more expensive pass/non family pass. If we'd visited the day before instead when our first pass was still valid, we would have saved ourselves close to $90.
Cost – There's no doubt that tours are an expensive way to go but we did feel they added value with the inclusion of transport, guide and a meal. If you wanted a more budget friendly approach, you could hire a car and see the sights on your own, and pack your all your own food and drinks.
Opting for self contained accommodation (at Emu Walk or Pioneer Lodge Camp Ground) and eating in all or most meals would also save a heap of cashola.
We ate in all our breakfasts and either lunch or dinner most other days.
How Long To Stay – When I booked I wanted to make sure we had time to do everything so I booked us in for seven nights. On reflection, I reckon we could easily have cut it back by a day or two. We stayed from Wednesday to Wednesday over the Queen's birthday long weekend and during our stay we had three quieter days in the resort, so we had some downtime between our tours and some time to relax. As a family, we actually needed the downtime which made it more of a holiday but leaving on the Monday or Tuesday instead would have saved us both time and money.
If you're short on time and don't mind a steady pace, you could easily cover all we did in four nights, as our friends did, no probs.
Transport – if you fly in to Yulara as we did, the only ways to get around and visit Uluru, Kata Tjuta and other attractions is to either join a tour, hire a car or to get a pass for the Hop On Hop Off Bus which is not an inexpensive exercise ($49/$15 for an adult/child return; $120/$40 for a 24 hour pass).
Within the Ayers Rock resort (i.e. where all the accommodation and restaurants are situated), there's a free shuttle bus.
The Fly Situation – The only time we were really bothered by flies was in the desert/National Park when it was hot i.e closer to 30 degrees. There were a few around the day we rode around Uluru but nothing to report the day we visited Kata Tjuta which was a much cooler day and it was seriously windy in the Valley of the Winds.
In contrast, our friends who visited Kata Tjuta on a hot day reported plenty of flies to the extent that our English friend Tez hooked himself up with a fly net stat!
I know others who've visited Uluru and been overwhelmed by the fly situation and it seems to me that the hotter it is, the more flies there are. In any event, you can buy fly nets from the shops in the town square.
Food – as well as the many restaurants/cafes at the resort, there is a well stocked IGA in the Town Square where we picked up milk, bread, spreads, oats, eggs, bacon and other breakfast and lunch supplies. We could also buy a packet of pasta for an easy – and budget friendly – dinner under $10. There were also plenty of pre made sandwiches, salads, wraps and the like for a portable meal if you're on the go.
Other Amenities – at the Town Square you'll also find a few gift shops, an ANZ Bank, newsagency, post office, hair salon as well as a few cafes/restaurants. There's a tourism info centre there as well while the petrol station is next door to the Pioneer Outback Lodge. If you're up for some spa time, book in to Red Ochre Spa at Sails on the Desert.
The Kids' Perspective
The kids absolutely loved our time in Uluru. I was really thrilled to see them so engaged with the guides who told us about the cultural significance of Uluru and Kata Tjuta. They didn't complain about any other walks – except when we walked from our accommodation to the Camel farm which was a lot further than we realised – and loved everything about their stay.
Their favourite things, in order, were the bike ride; followed by Desert Awakenings; and the visit to the Camel Farm. The walk through Walpa Gorge also rated highly.
Where to Stay
Of all the accommodation options, Sails in the Desert was the most upmarket. Desert Gardens was motel style accommodation which we didn't opt for as we'd need two rooms. The most budget friendly accommodation was the Pioneer Lodge and Campground.
We opted for the self contained/apartment accommodation at Emu Walk Apartments.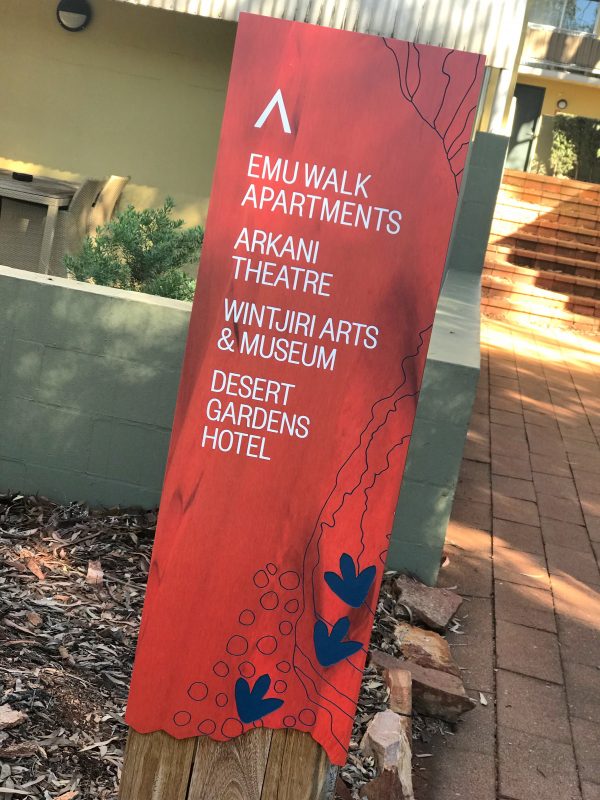 Our two bedroom apartment slept up to 6 (our two younger boys shared the twin bedroom and our eldest slept on the made up sofa bed in the lounge) and was very comfortable, spacious and had both a washing machine and a dryer.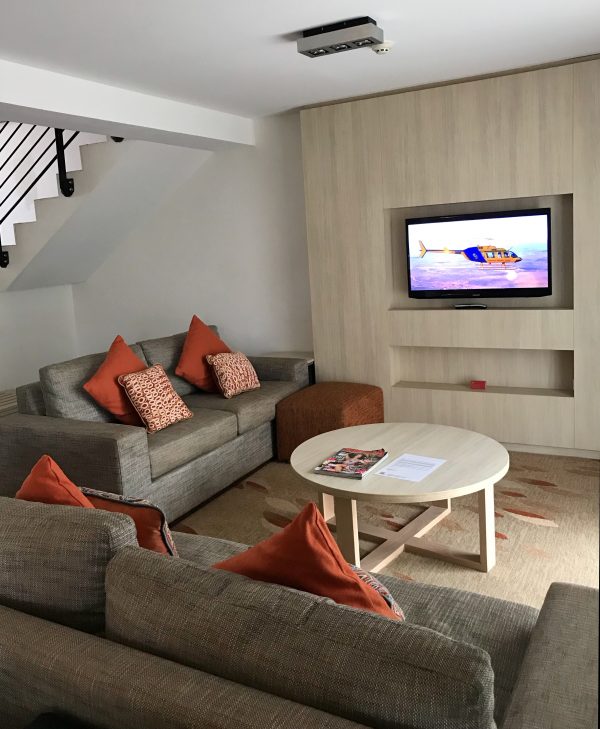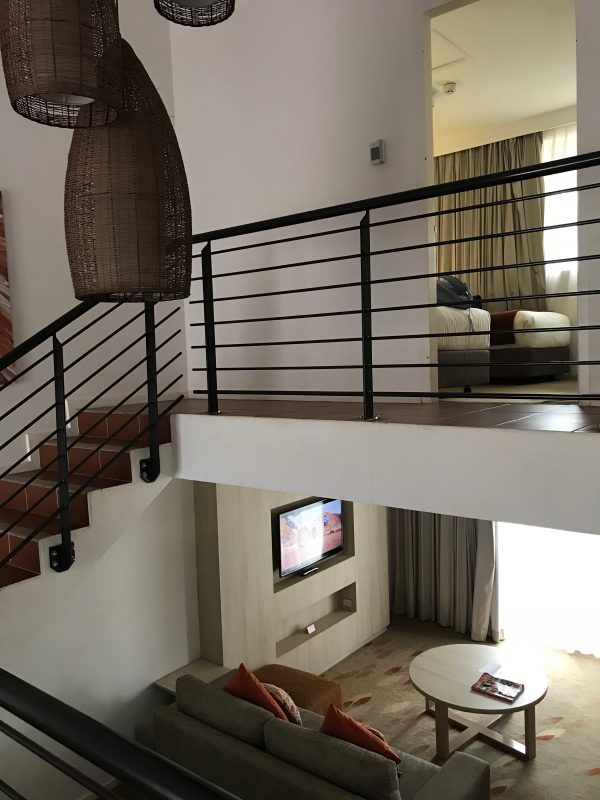 It also had a balcony and a six person dinner table and TVs in both bedrooms as well as the lounge room.
We were grateful to find that washing detergent was supplied and replenished during our stay too. With all that red dirt, I did a load nearly every day as well as washing all our shoes before we flew home.
It did not have a dishwasher or oven though and one bathroom, with no separate toilet.
Where to Eat
We ate at several of the restaurants at the resort.
The best value for the kids were the pizzas at Gecko's in the Town Square and The Outback Pioneer Kitchen. We found these two cafes were the most budget friendly of the restaurant offerings too.
For a relaxed lunch, the burgers at the Pira Pool Bar at Sails and Mangata Bistro and Bar at Desert Gardens Hotel were great.
For dinner, the buffet at Sails by the Desert was excellent and the kids especially loved the chocolate fountain. At $75 per adult and $21 for the kids, it's not an inexpensive exercise though but a great way to finish a holiday.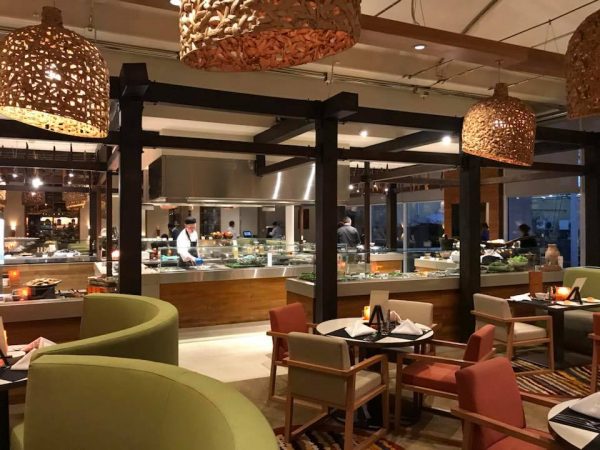 We were less impressed with our dinner at Mangata Bistro which had a limited menu and was over priced for the quality. It was a great spot for lunch though. There are several other eating options to choose from too.
In terms of picking up our morning coffee, we either went to the Kulata Academy Cafe or the coffee cart in Town Square. Mr SnS also BYO-ed his own stove top coffee maker and ground beans.
What to Pack
For our June trip, we basically needed a summer wardrobe, plus jeans/pants, warm knits and a warm coat for cool evenings and and cold mornings. Not the easiest packing!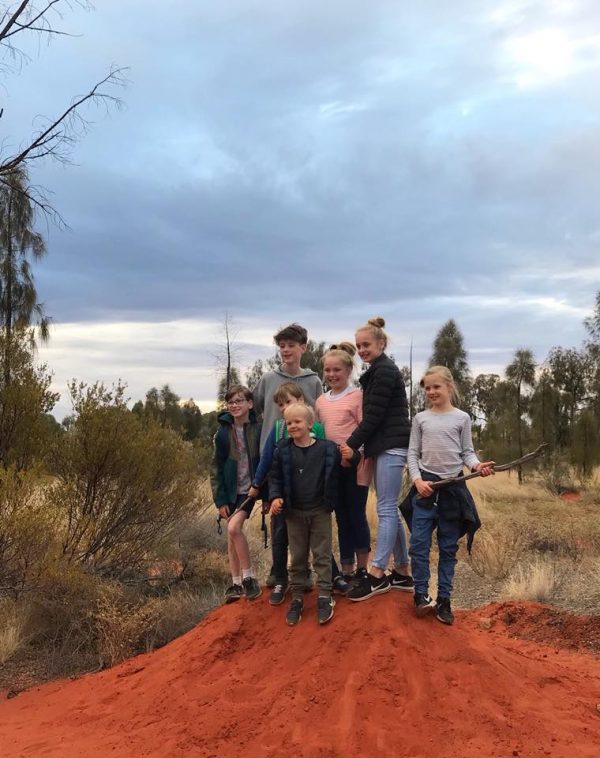 Of what I packed, I wore the following:
two dresses;
two pairs of shorts and three linen tanks;
two pairs of pants (cords and joggers);
two knits and basic tanks to wear under them;
one denim jacket and one puffer;
fabric runners, trainers, thongs, sandals;
underwear & pjs.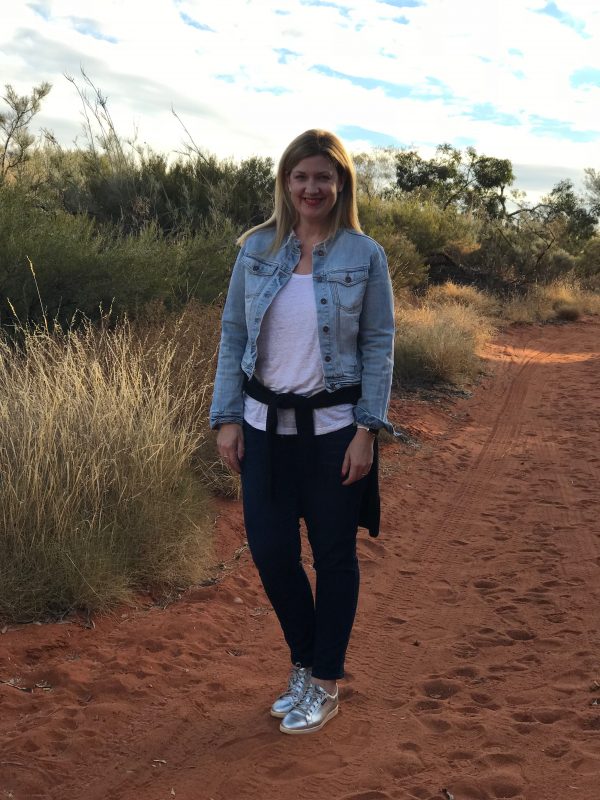 For the kids I packed five t-shirts and five pairs of shorts, two hoodies, one coat, a hat, thongs and a pair of runners. We threw in Boggle, playing cards, textas and paper too.
Everything got trashed from the red dirt, so it was great to be able to wash while we were away, especially all our runners which came up a treat.
I also packed the usual toiletries, sunscreen, book, iPad, chargers, ear phones and a notebook.
Want to pin this post for later?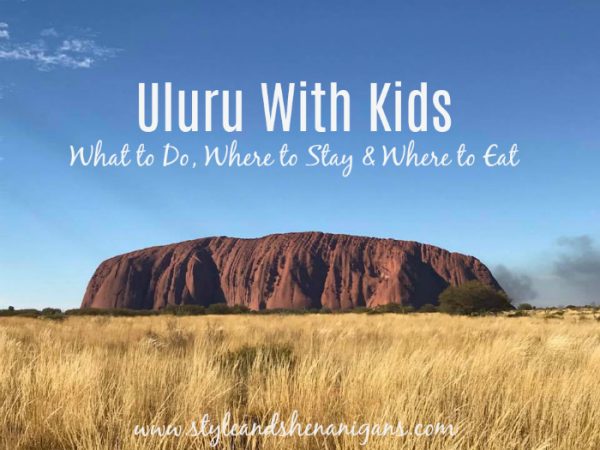 So over to you, have you been to the Red Centre or is it on your bucket list? We'd love to hear any intel or recommendations!