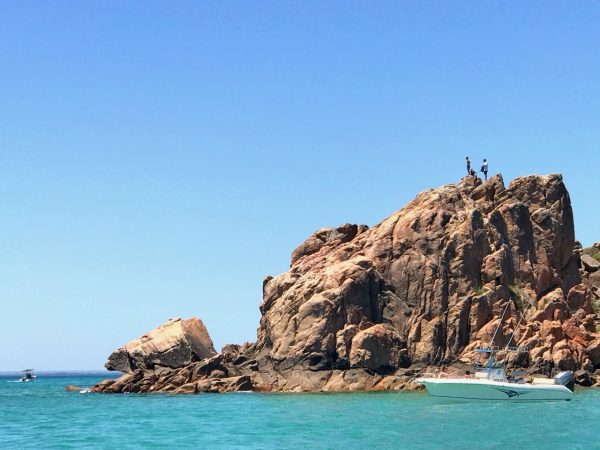 If you've ever wanted to explore the south west of Western Australia – including Margaret River – but didn't know where to start, where to stay or what to do, or perhaps you weren't sure of how you'd go with kids in tow, this is the post for YOU.
Margaret River has long been on my travel wish list but we didn't quite make it there before we started our family – our three boys are now 11, 9 and 6 years old. I was beginning to think we'd only make it on our eventual Grey Nomad tour as I wasn't sure if this was an area we would want to – or could – visit with kids in tow.
That all changed after a chat with our Perth friends – Kelly and Ant who have two kids aged 8 and 4 – which led to a search for frequent flyer flights, and the next thing we knew we had booked ourselves a summer holiday in W.A.
I can't tell you how glad I am that we did. We had a brilliant week together exploring this beautiful region from our base in Dunsborough. (If you'd like to read about what we did and where we stayed in Perth, check out my Perth With Kids post here).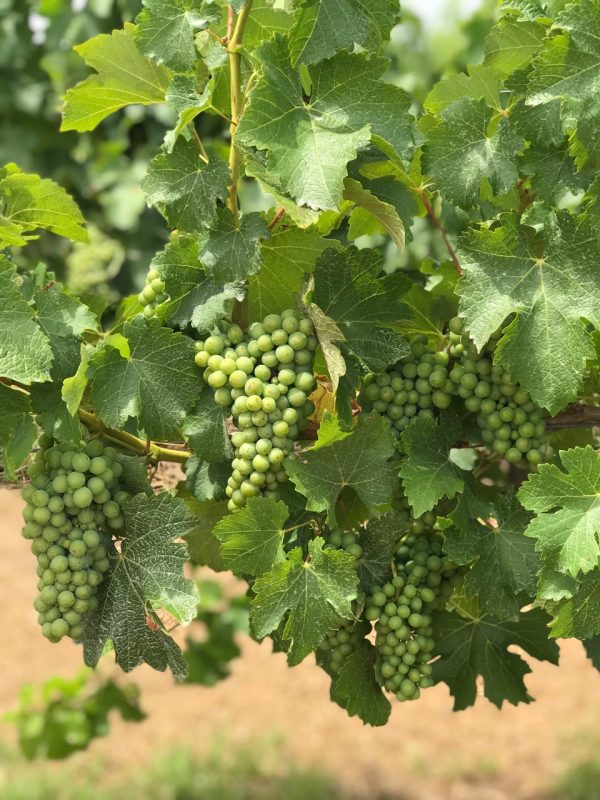 Our goal for the holiday was pretty simple – a relaxed week by the beach and a few days at the end for a city stay in Perth (I'll cover our Perth travels in another post). We had an awesome time but what we didn't factor in was just how much there is to see and do in Dunsborough and surrounds. We thought a full week would definitely give us enough time but we could have added another several more days very easily.
Why Dunsborough?
When we were deciding where to spend the "beach" part of our holiday, our great friend and Perth local Kelly immediately suggested Dunsborough, a coastal town three or so hours south of Perth – one of her favourite holiday spots in W.A.
When we checked it out, we could see it ticked all the boxes for our family too. Dunsborough is not only home to some beautiful beaches and has plenty to offer in terms of kids' activities, but it is also in very close proximity to the Margaret River wine region – a place I've wanted to visit since I first started drinking Chards in the '90s. (I'm more of a Prosecco or Rose girl these days!).
I thought if I could squeeze in a day at the wineries in between the beach hopping, I'd be winning.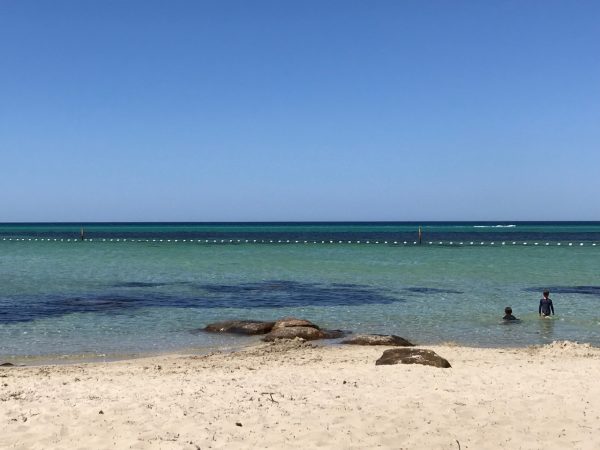 As it turns out, Dunsborough, with it's calm beaches, pictured above, great shopping and well serviced town, is a great place to stay in and of itself. There are two supermarkets, some fab fashion and homewares boutiques, the usual round up of services and some excellent cafes and coffee dens.
The house we rented with Kel and her family (you can check it out here and I've included a more detailed review below) was actually in Old Dunsborough, a short drive out of town, directly opposite the beach and a very short walk to the enclosed beach and the National Park. While there are no cafes in this immediate area – caffeine addicted Melburnians breathe – we were thrilled to find a vintage airstream – Silver Bullet Expresso – serving morning brews just near the jetty. Big tick.
Dunsborough was a fantastic base for the greater region as well, being a short drive to so many great places – ten or so minutes drive west to Yallingup, Eagle Bay, Bunker Bay and Cape Naturaliste; twenty or so minutes to Busselton to the east or the wineries/breweries/providores of Wilyabrup to the south; and forty or so minutes further south to the township of Margaret River.
So what to do while you're down this way? Here's a round up of things we did and things we'd love to try next time.
Beaches
There are some stunning beaches in this part of the world, in two distinctive areas. We chose to swim in the slightly more sheltered beaches in Geographe Bay. On the Indian Ocean side, the beaches are spectacular but more rugged and ideal for surfers.
We loved the calm waters and enclosed swimming area at Old Dunsborough, pictured below.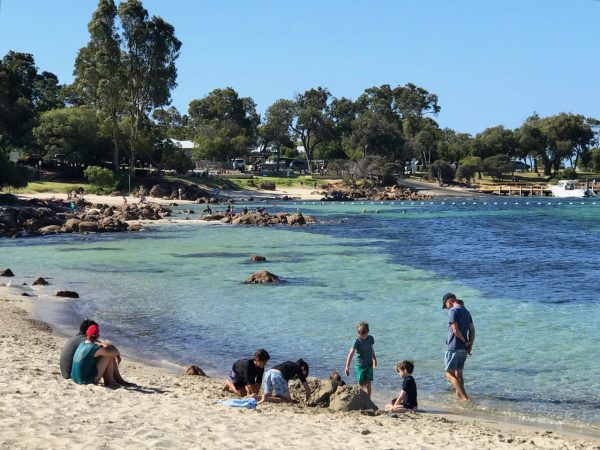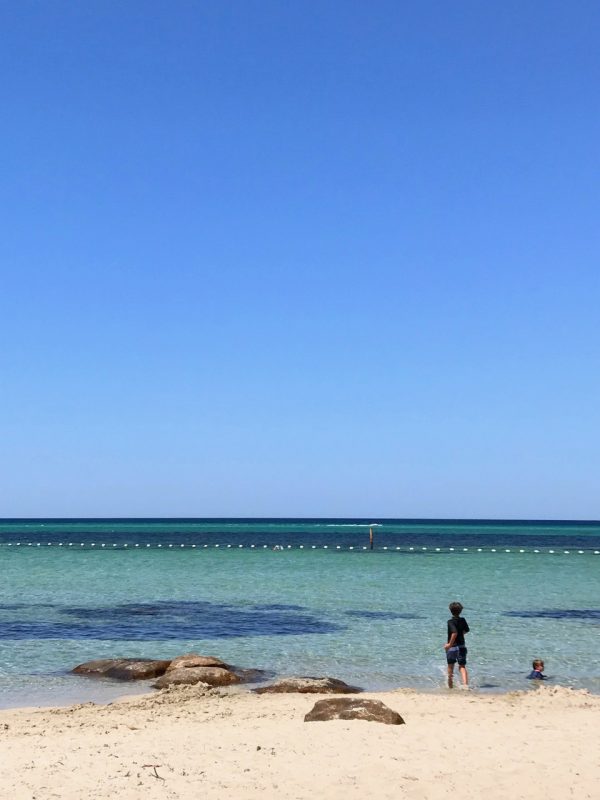 Nearby, the world famous Meelup beach is a must visit. I cannot describe the magnificence and clarity of the turquoise water here – it's Next Level. You might also be able to hire kayaks, SUPs, beach umbrellas, and snorkels.
If you do hire a SUP, take it from me – make sure it's a still day and not too windy otherwise you'll get blown right out and it's much harder to manoeuvre the board. It's still plenty of fun though.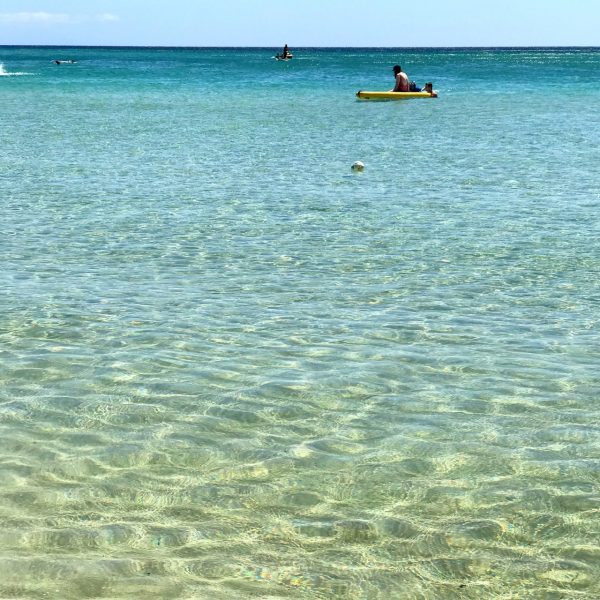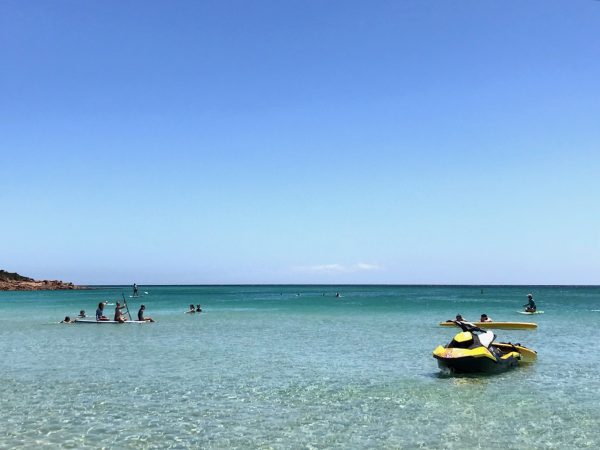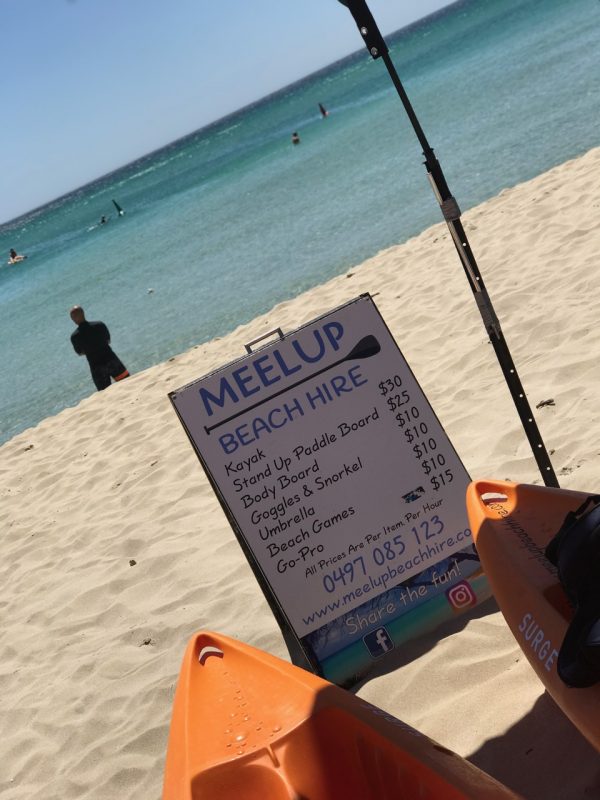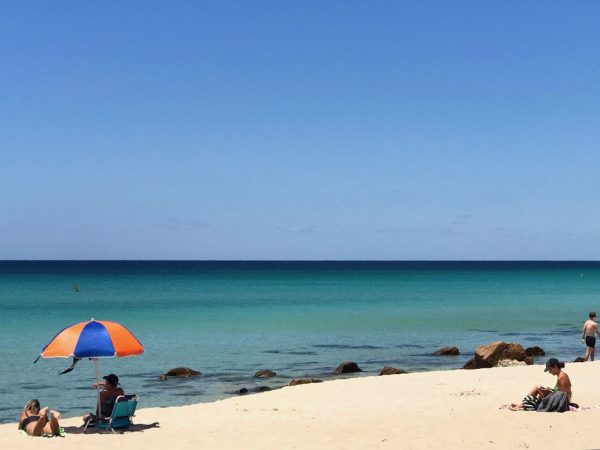 A little further along is beautiful Bunker Bay. There's a Pullman Resort here too, in amongst the amazing holiday homes and sun bleached locals. There's a great cafe on the beach here too – Bunkers Beach House – which I've covered in more detail below.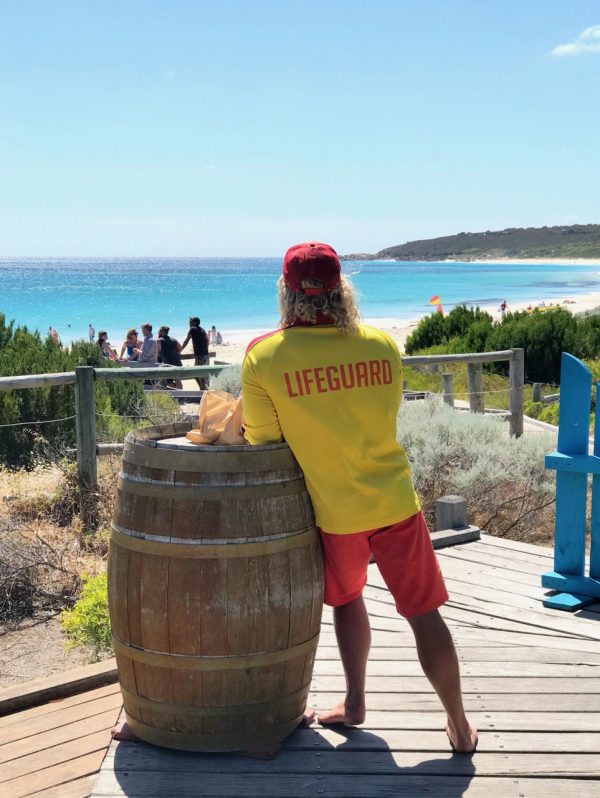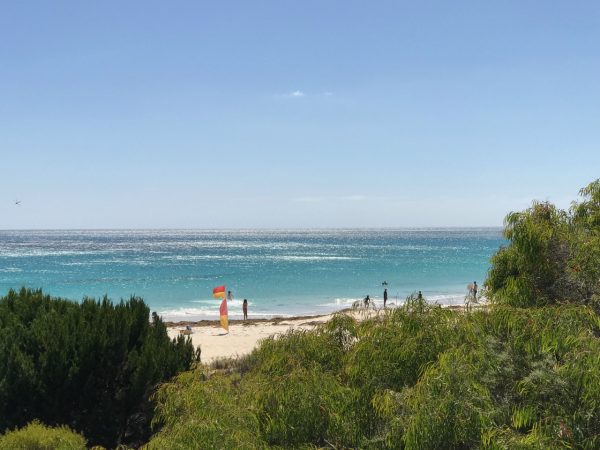 On the ocean side, Yallingup is a stunning surf beach, popular with surfers and kite-surfers the day we visited. I preferred the safe vantage point of the look out. There's also a play ground right near the look out too.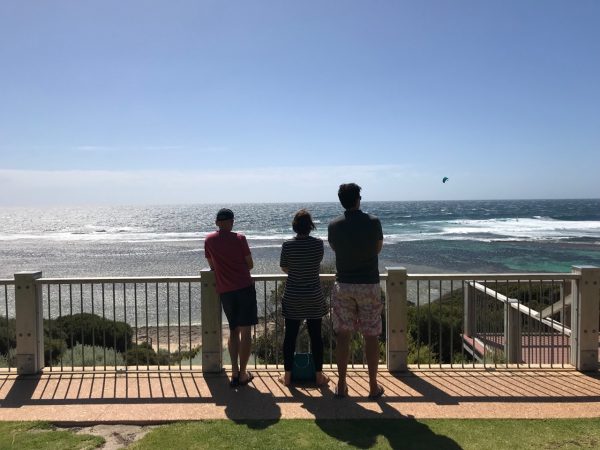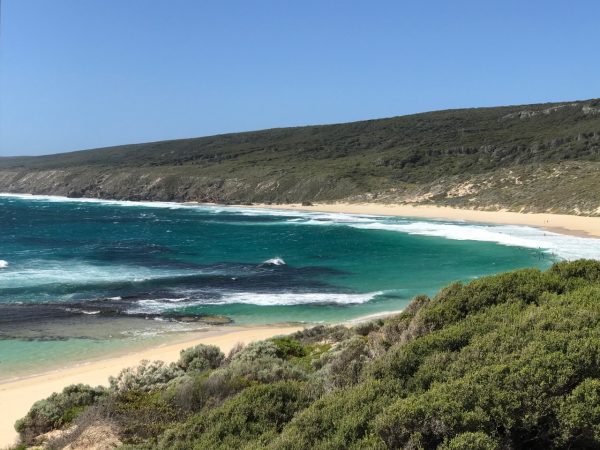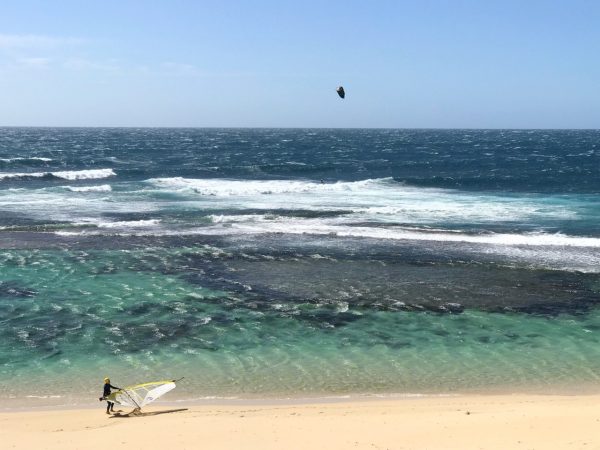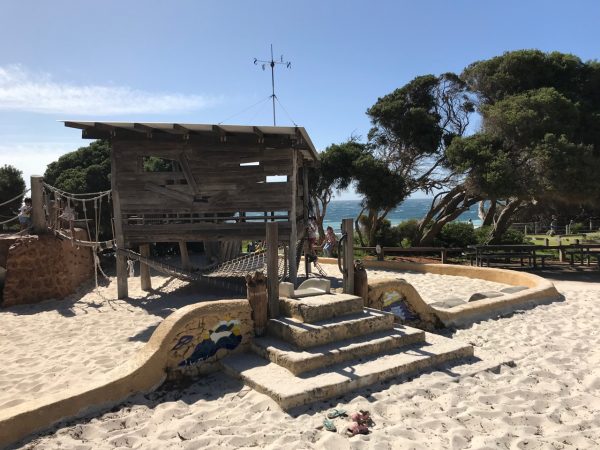 If you're looking for a great beach further south, friends of ours with four kids have stayed at and would recommend the beach at Prevally, near Margaret River.
Wineries
The south west of WA is famous for it's wineries, and this was a huge attraction in visiting the area for us.  Ok, mostly me. As I've mentioned, we'd missed the boat before we had kids, so we were a little unsure of how we'd go – and how many wineries we'd be able to visit if any – with our junior entourage.
We were surprised – and a little amazed – to find many wineries are super family friendly and we ended up visiting six all up – Vasse Felix, Amelia Park Wines, Cullen Wines, Aravina Estate, Hayshed Hill Wines and Swings & Roundabouts. All of these are north of Margaret River and, generally speaking, are around the Wilyabrup region.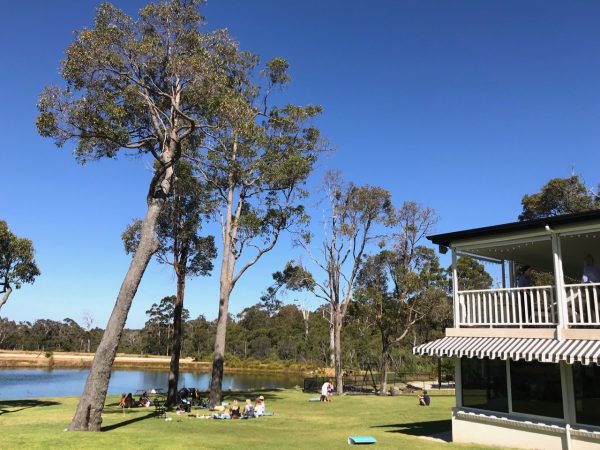 Aravina Estate, above and below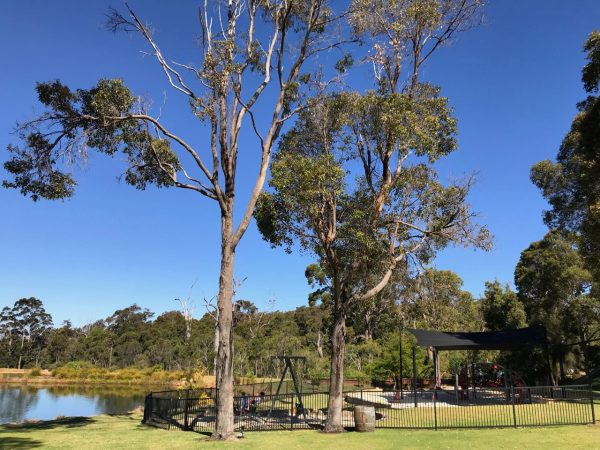 Of those, Aravina Estate, pictured above, was by far the most family friendly (it had a decent sized playground as well as plenty of room to run around) although Vasse Felix, pictured below, with it's sculpture garden, gallery and lawns was great as well.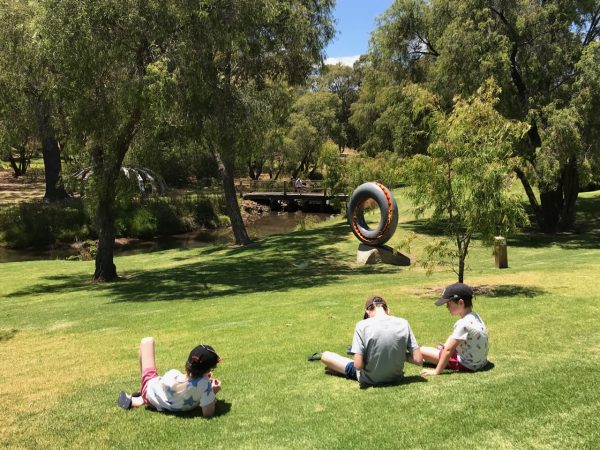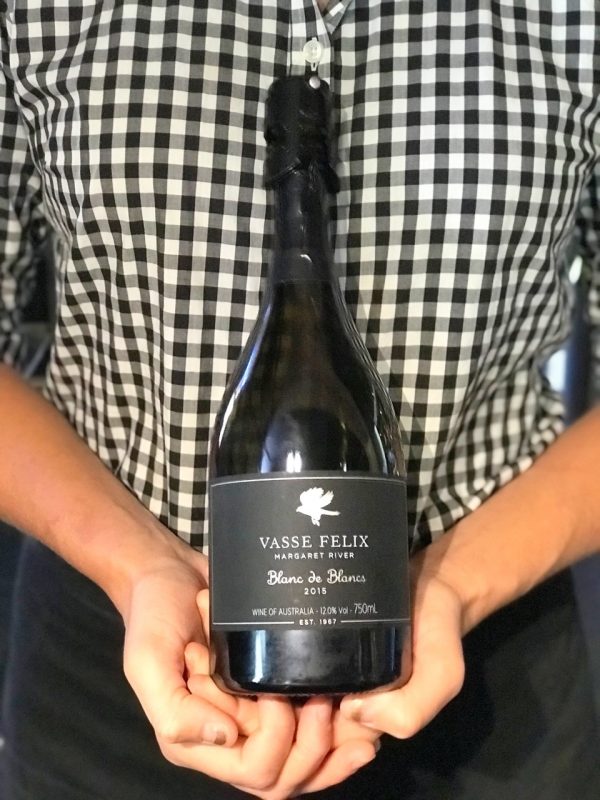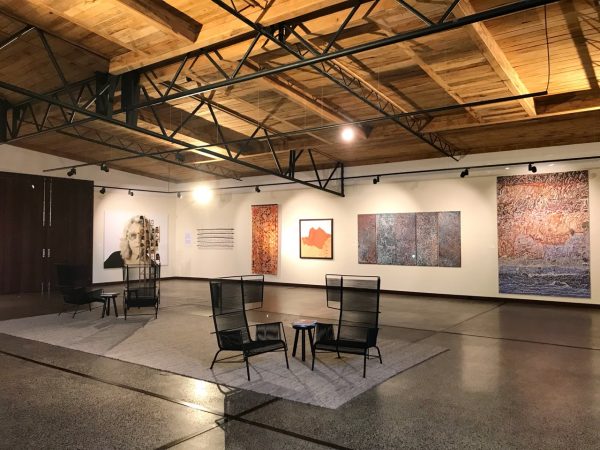 Similarly, both Hayshed Hill Wines and Swings & Roundabouts had plenty of lawn space for the kids to play on during lunch/wine tasting and did not seem perturbed in the slightest by our posse of 5 kids.
Amelia Park was one of the most impressive wineries we visited with it's contemporary design, architecture and seriously impressive cellar door. I would love to visit their new restaurant and lodge in Busselton on a return visit. It looks amazing – check it out here.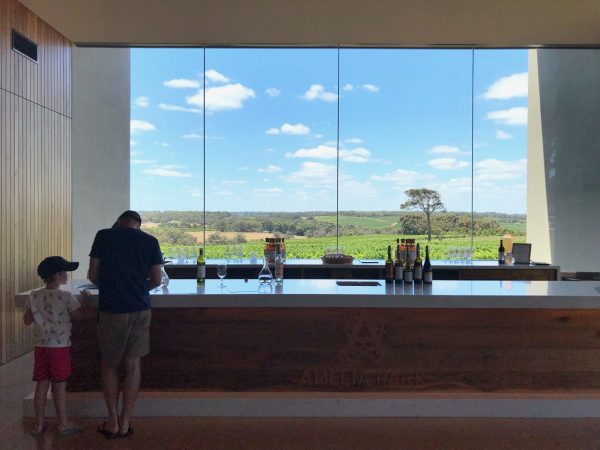 Cullen Wines, one of the oldest and most famous wineries in the region, has a lounge area where our boys sat while we spent ten minutes wine tasting. I'm not sure how they would have fared at the two Chef hatted restaurant though.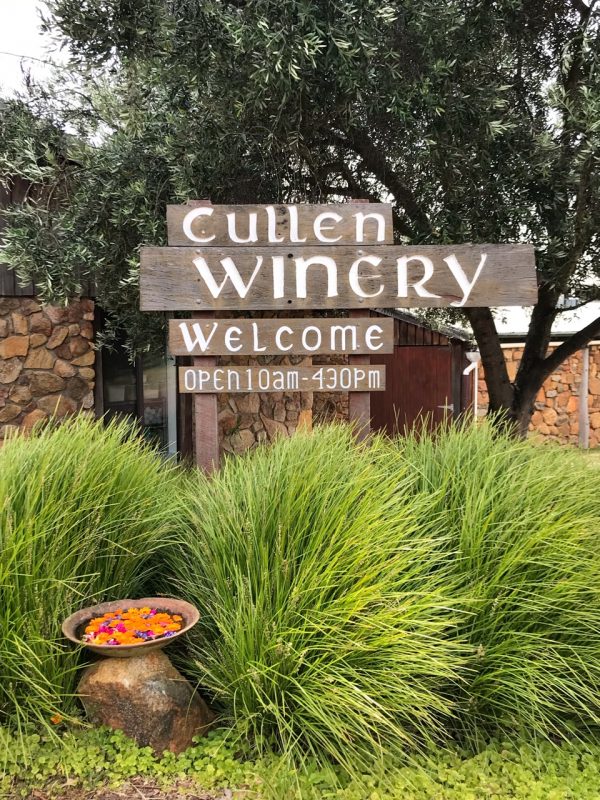 Swings & Roundabouts had the most modest facilities of the wineries we visited, but plenty of lawn for the kids to run around on as well as excellent service and wine and menu of wood fired pizzas.
Breweries
There are loads of breweries to visit in this area and we were lucky enough to visit two – Black Brewing Co. in Wilyabrup and Eagle Bay Brewery in Eagle Bay, a ten minute drive from Dunsborough. Both were excellent, with modern and super family friendly spaces.
We loved the modern design, great communal spaces, playground, lake, $10 pints and food at Black Brewing Co., pictured below.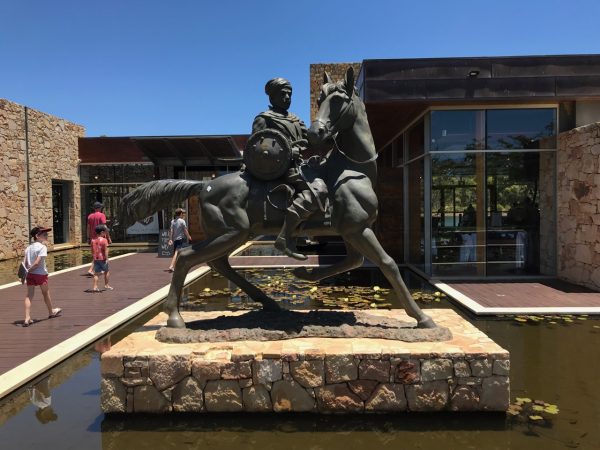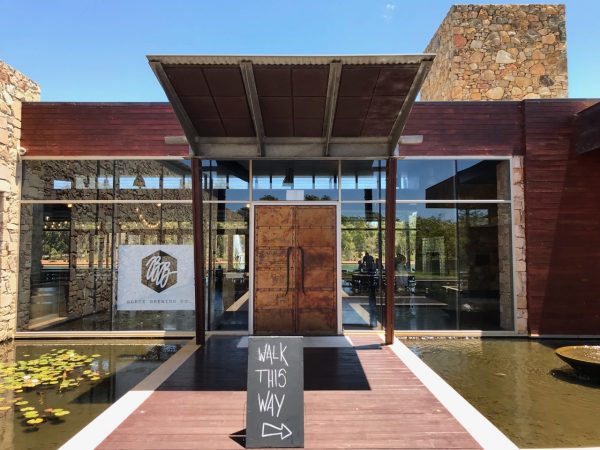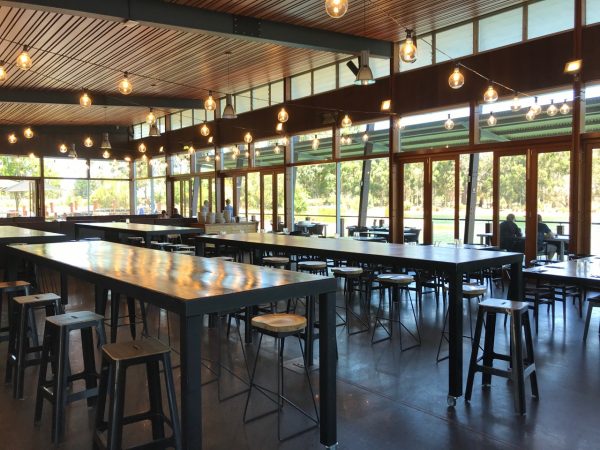 We had a very pleasant lunch here and the kids were happy as larks playing on the playground and the bridge overlooking the lake. The tapas we shared for lunch were top notch too and the service super friendly and accommodating.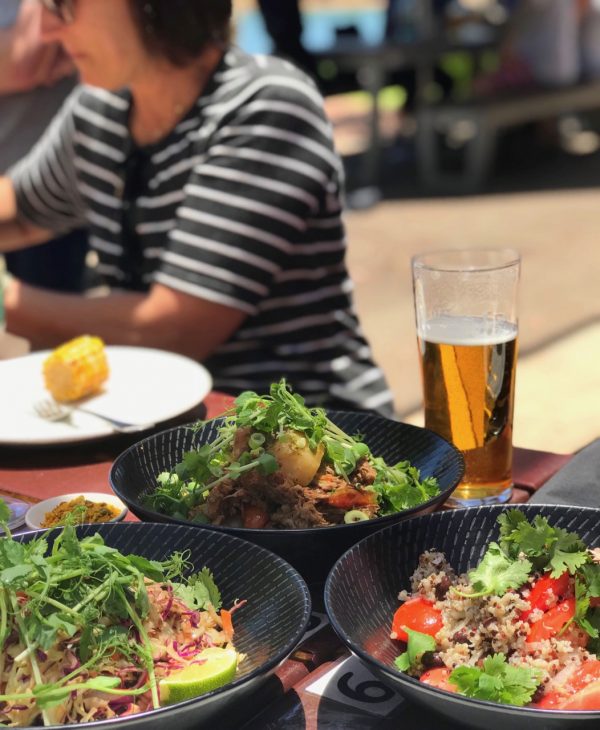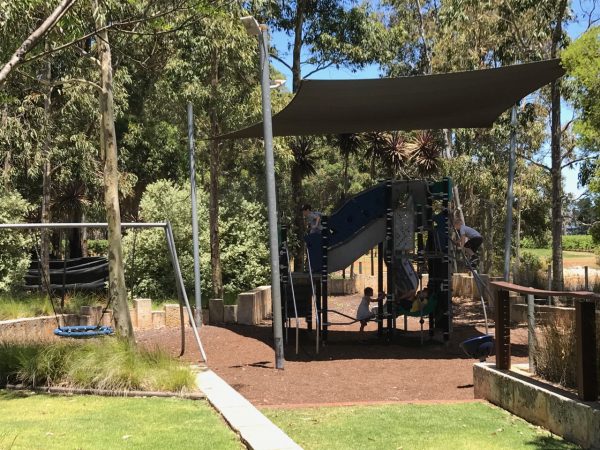 I can also vouch for their apple cider and Mr SnS took a six pack of Honest Ale home for a souvenir. This is a very popular place though, so do book ahead.
We turned up at Eagle Bay Brewery without a booking and missed out on a table for lunch but we were directed to a cabana for snacks and drinks instead which was all we were looking for after a big breakfast at Bunkers earlier in the day.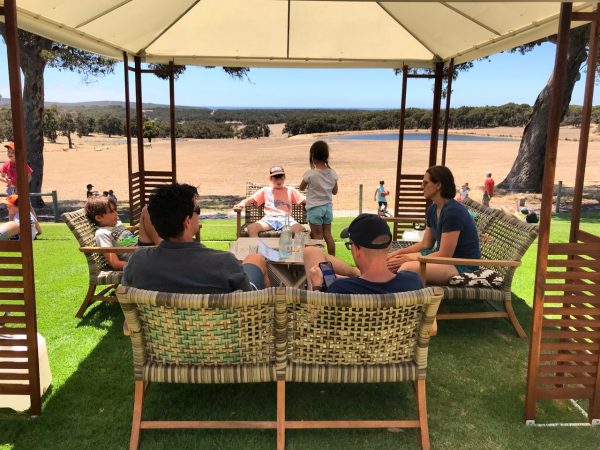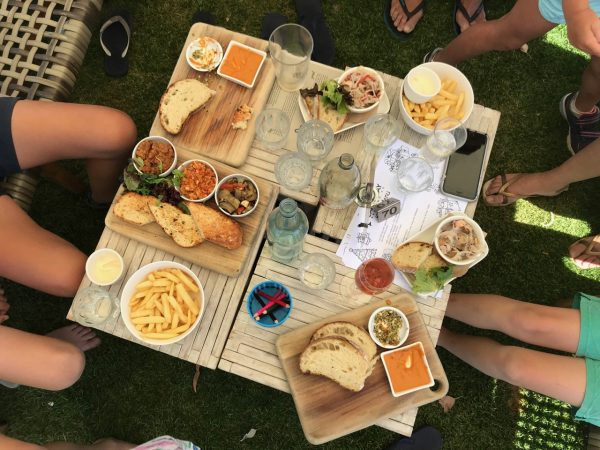 Again, there was plenty of lawn for the kids to play on and a playground as well, so the kids had a ball while I sampled the very excellent Bubbles Rose.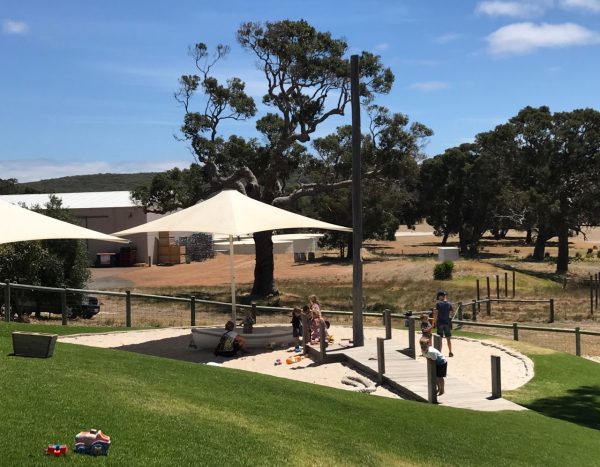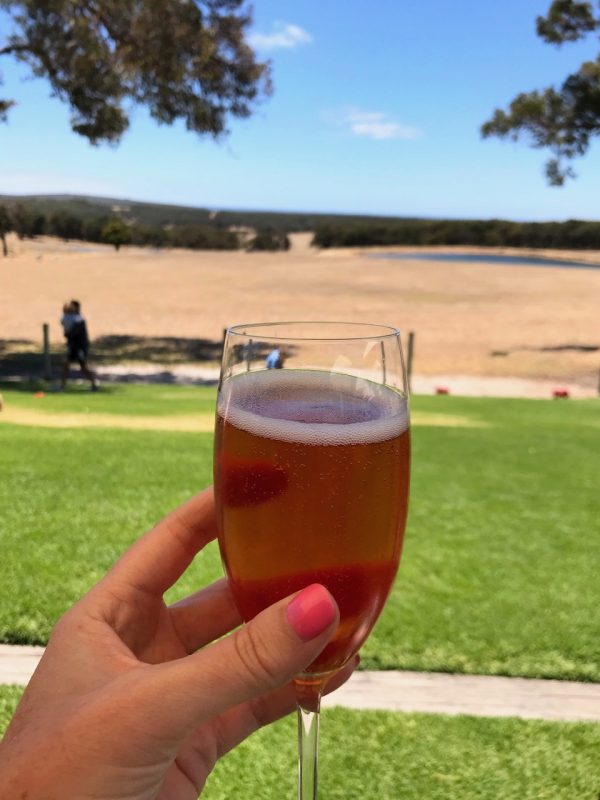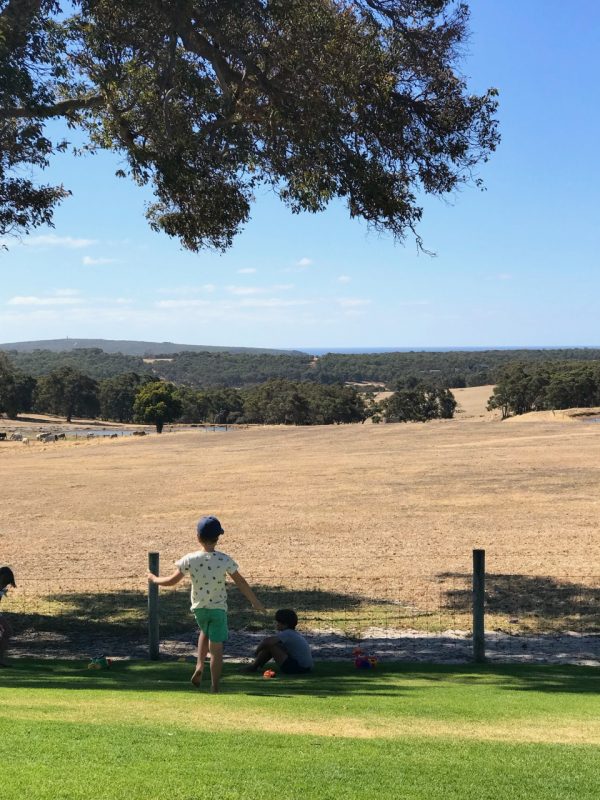 Some of my Facebook readers also highly recommended Colonial Brewing and Cheeky Monkey Brewery, which are further south towards Margaret River.
In the Dunsborough area, a local reader suggested Lot 80 (thanks Lou!), which was completely booked out all day the day we tried to visit, so do book ahead if possible to avoid disappointment.
Local Produce
The food and produce in this region is really exceptional.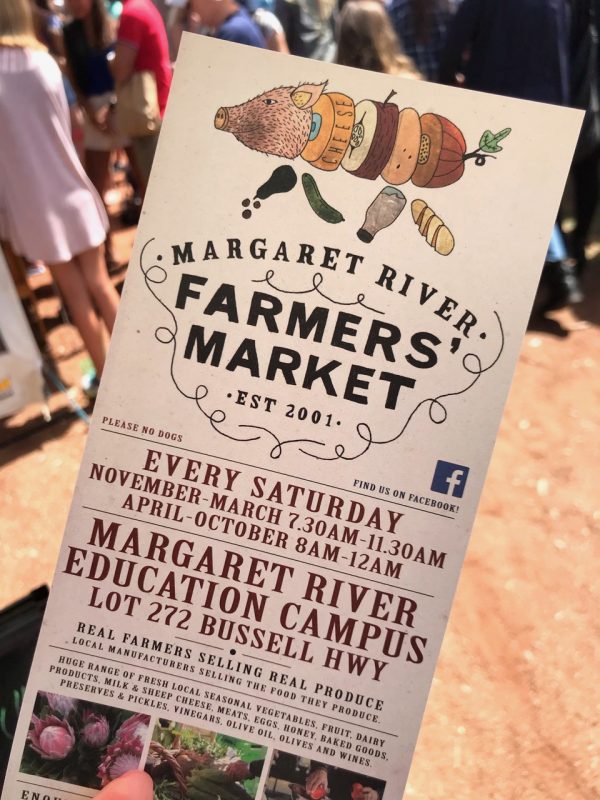 We visited the Margaret River Farmers Market on Saturday morning and picked up our favourite Pink Lady apples, pastries and organic sourdough.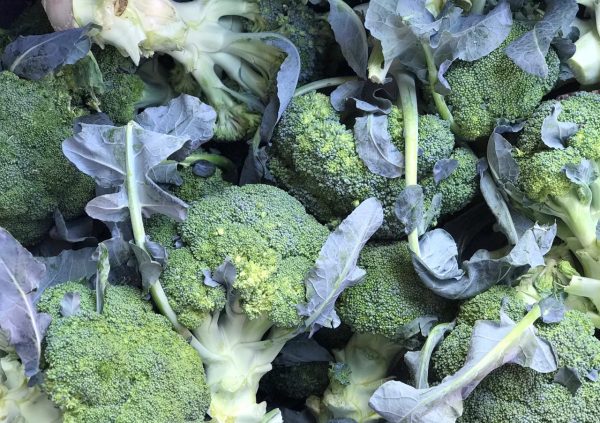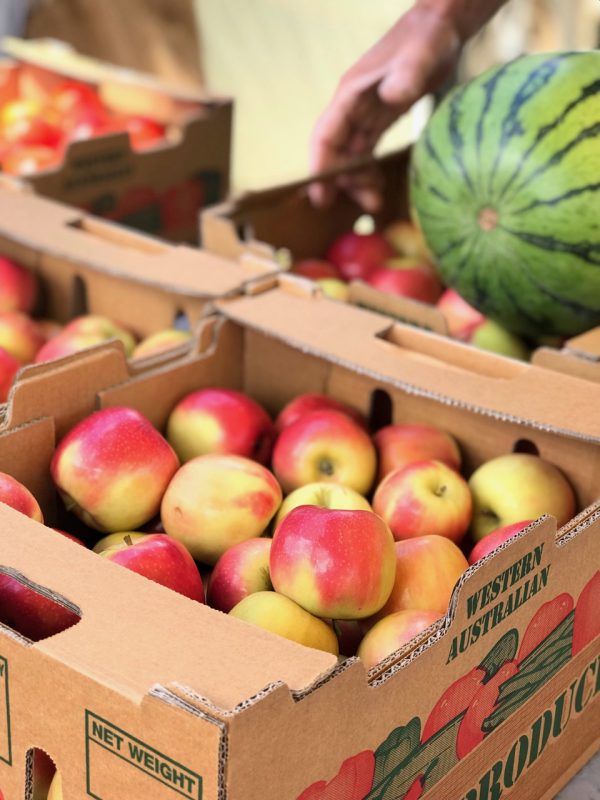 It's not a huge market though, so don't fear overwhelm or resistance from reluctant children and/or partners – we were in and out, including waiting in line for coffee, in less than an hour.
Providore in Wilyabrup is a produce and homewares emporium that is a Must Visit for foodies too.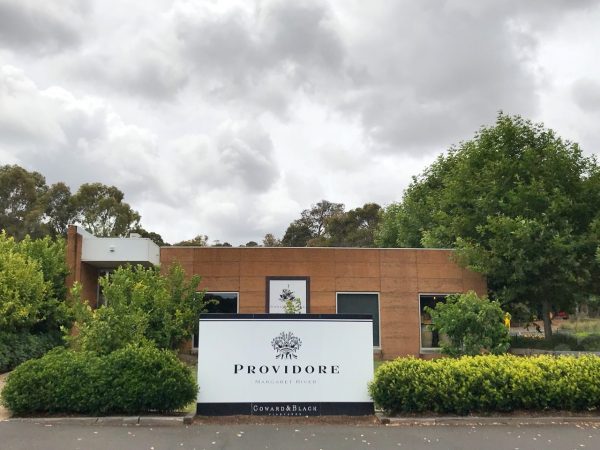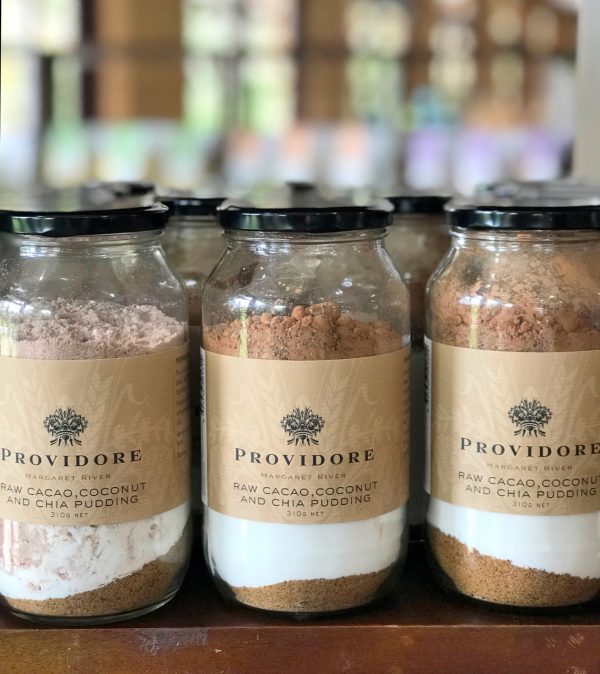 Our picks were the wildberry and elderflower jam – TO DIE FOR – and the smoky, delicious Barbeque relish. I may have also bought enough homewares to fill my hand luggage.
Where to Eat
There are so many great places to eat out in these parts, it's impossible to visit them all although I really wanted to visit every place friends and readers recommended to us. Just another reason to plan our return visit!
We did have some memorable meals out though, all of which I'd highly recommend.
The highlight for me was our six course degustation lunch at Rustico at Hayshed Hill Wines, pictured below. Given the quality and quantity of the food, I thought it was terrific value at $65 too. I'm still dreaming about the creamy mushrooms and I may have licked the spoon. I was still full hours after we left.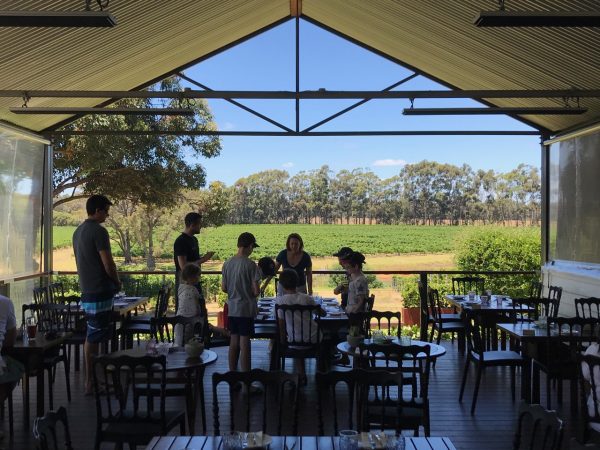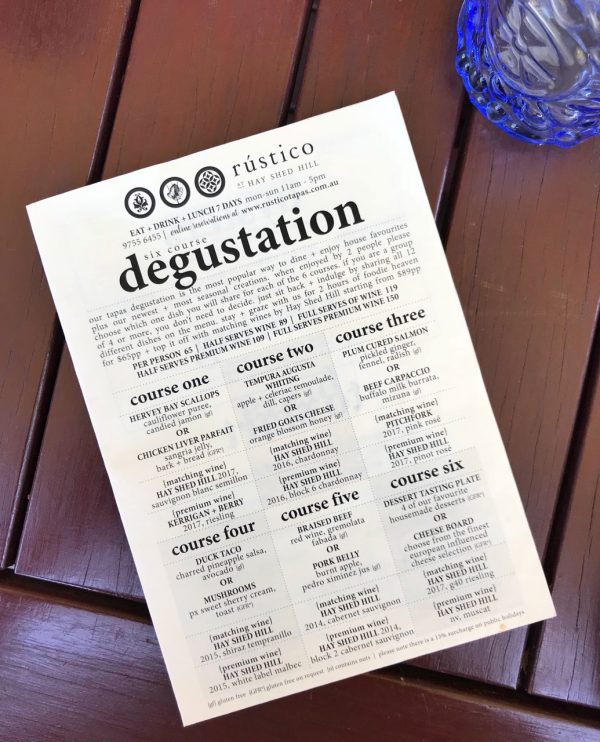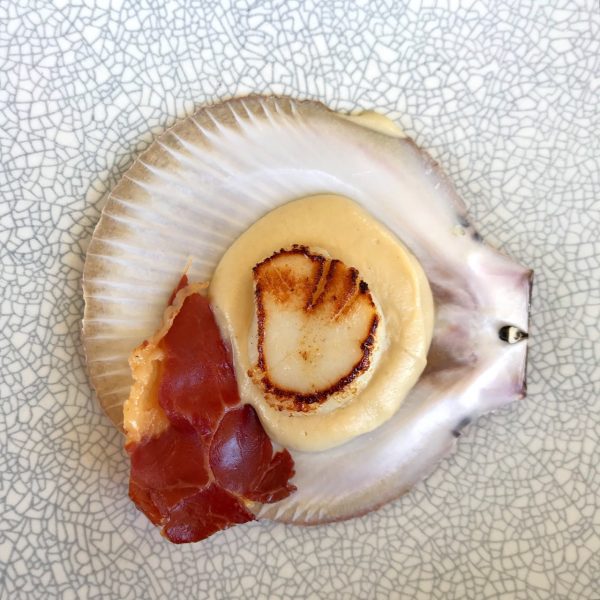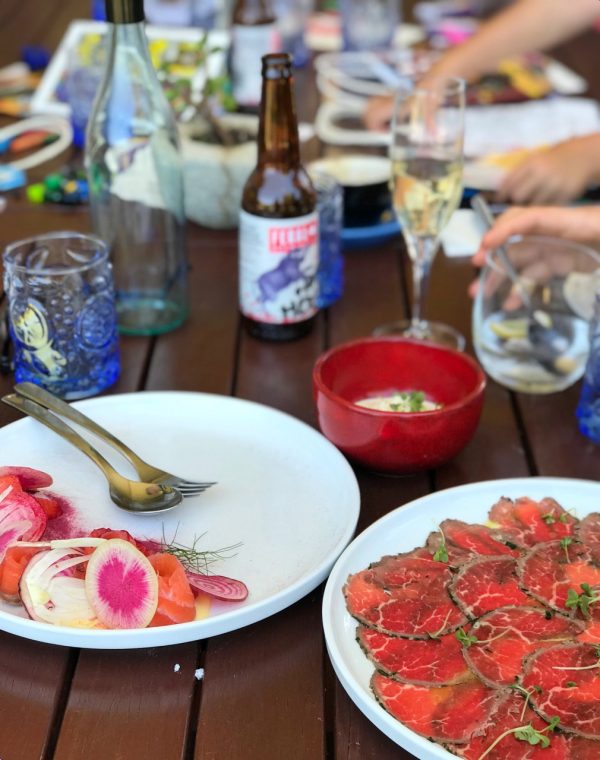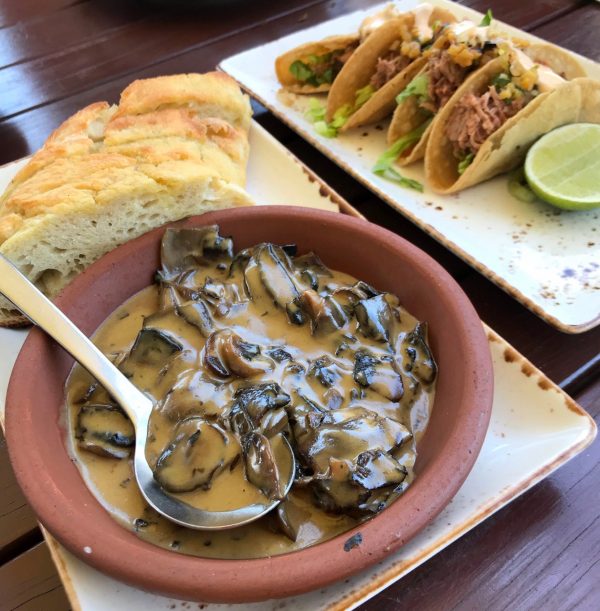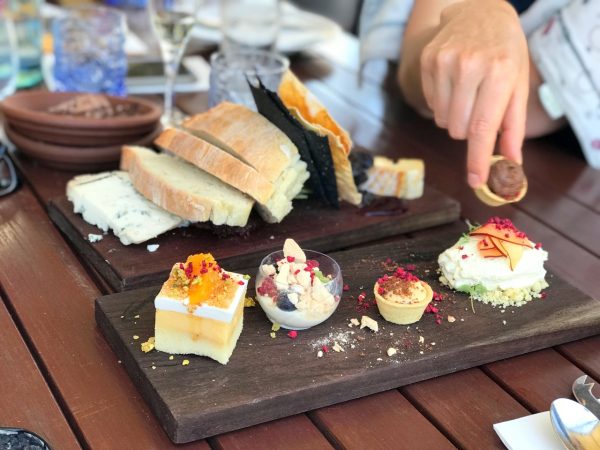 Our lunch at The Goose, located just next to Busselton Jetty, was great too, although it was on the pricey end of the spectrum. It's hard to argue with the views though.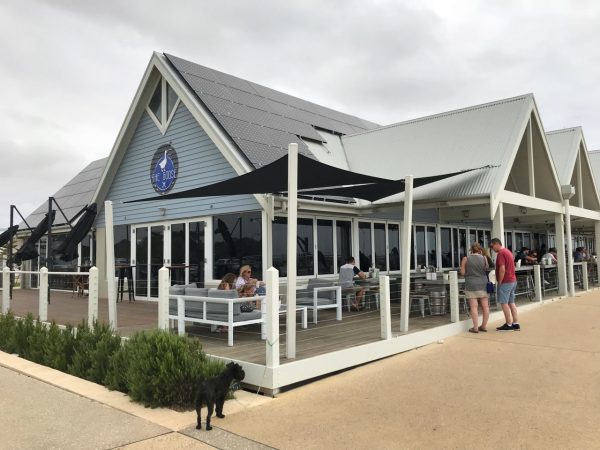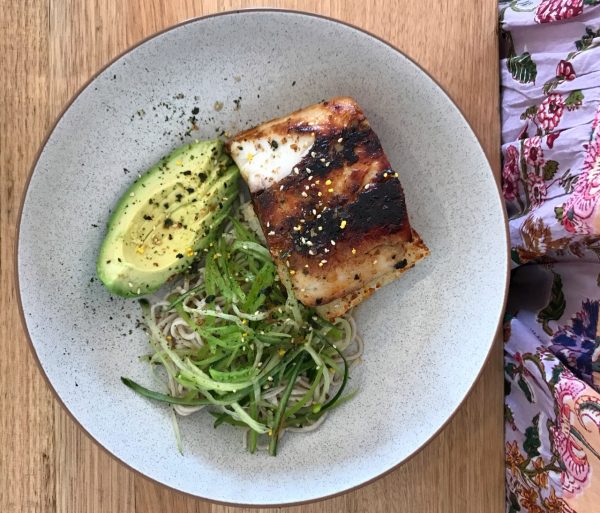 I also enjoyed our lunch at Black Brewing Co. very much (mentioned above) and our breakfast at Bunkers Beach House, pictured below. The beach side location is unbeatable.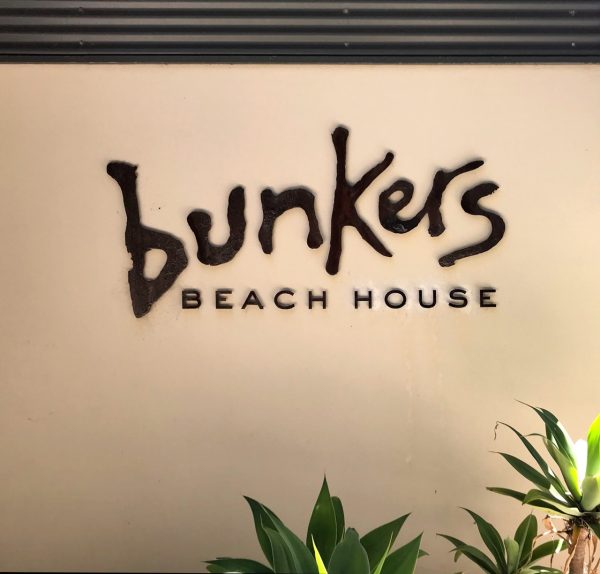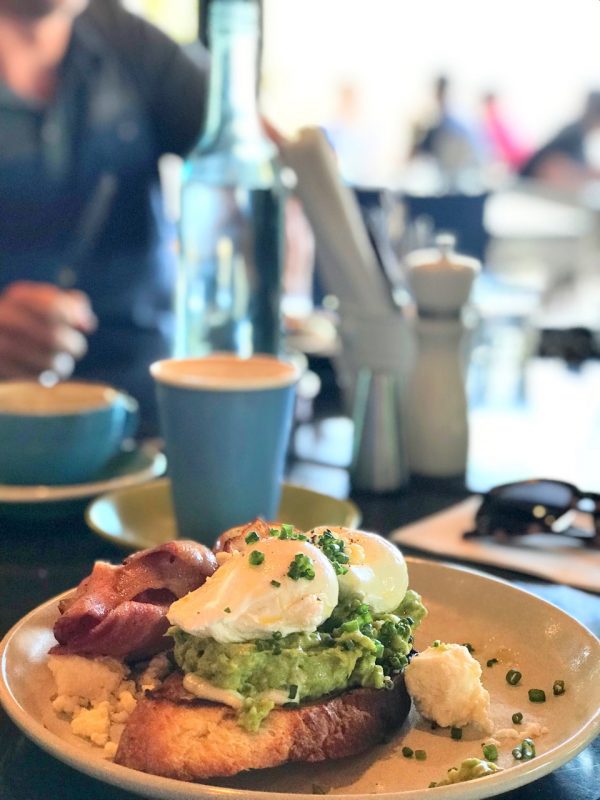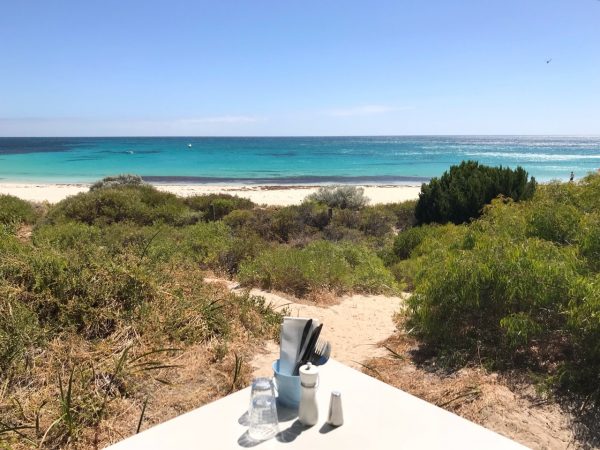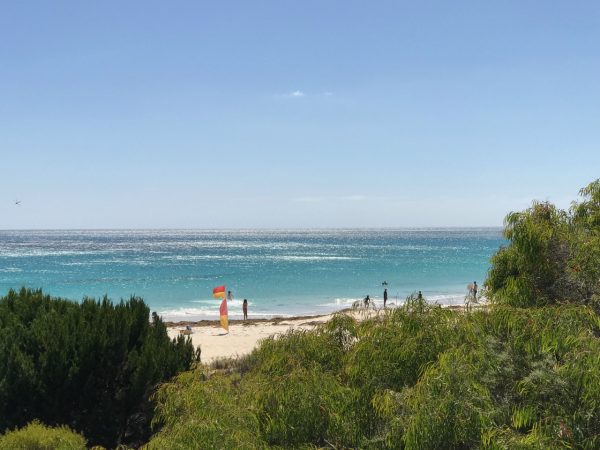 We also enjoyed a relaxed pub dinner at Caves House in Yallingup.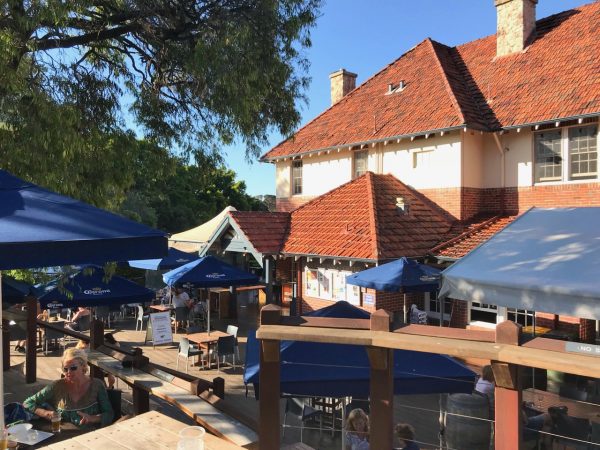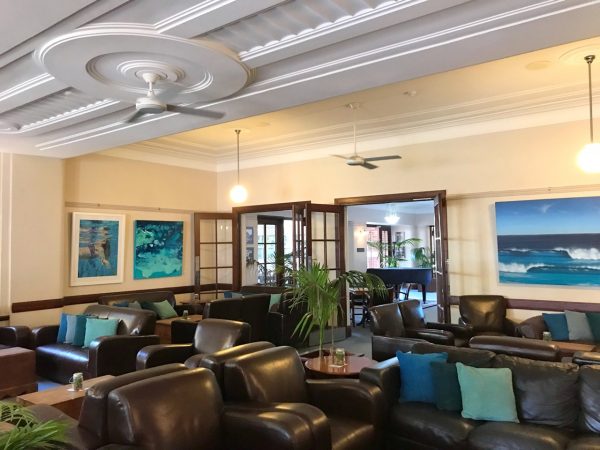 The kids rated the wood fired pizzas, which were available the night we visited, while the adults opted for traditional pub fare. My pork belly was very good and was on the generous side.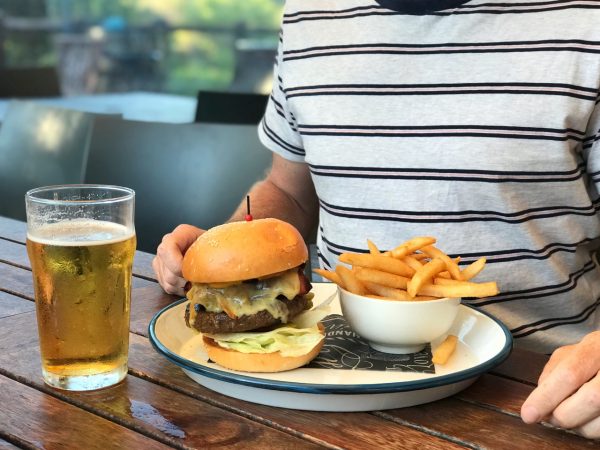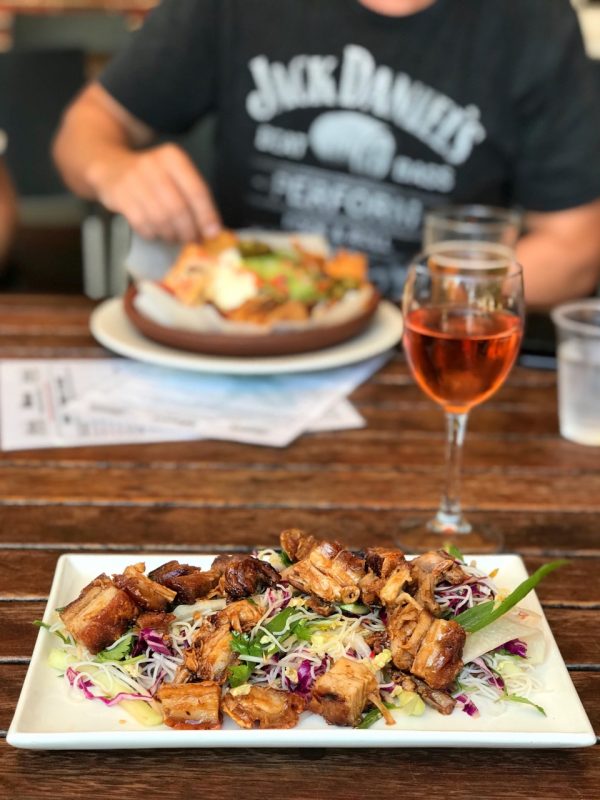 There was terrific live music too and the kids loved running around the grassed areas where they even managed to make some new friends. There's always something happening at Caves House – including weekly markets over summer – so do check what's on here if you're in the area.
For in betweeners, we took the kids to Hot Chocolatte in Dunsborough, below, for their famous hot chocolates, which the kids loved. The coffee was very good too.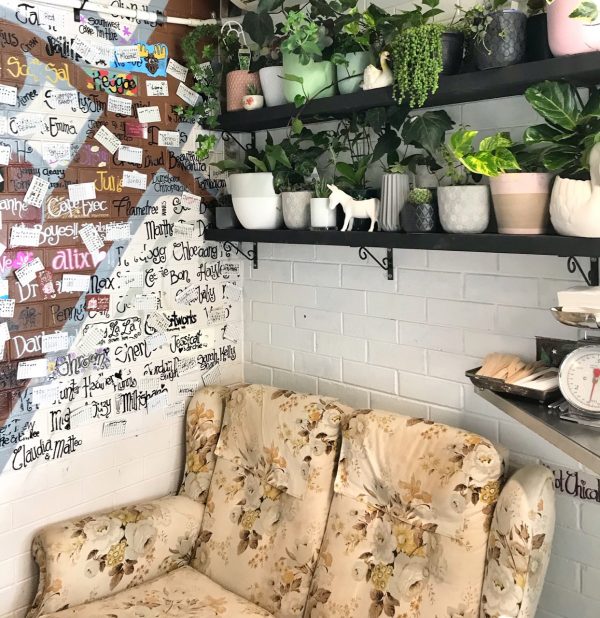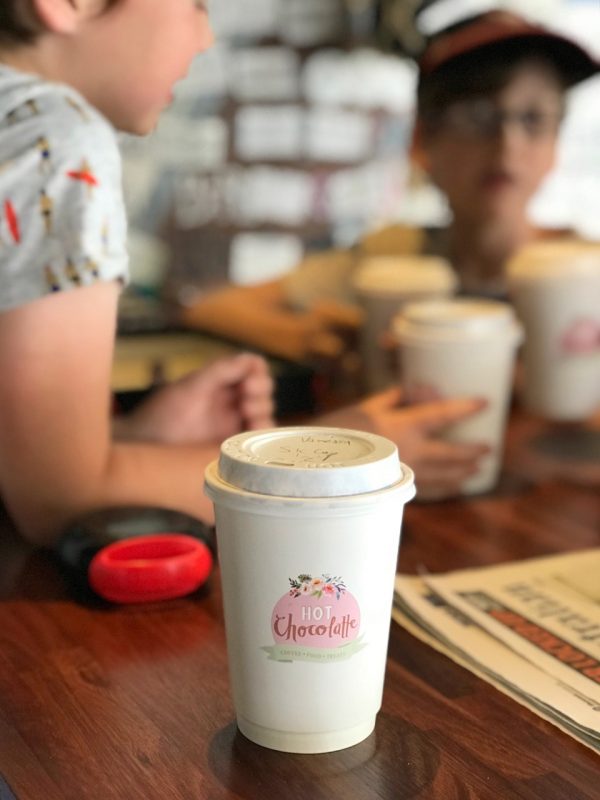 Finally, if there's somewhere you're keen to visit, I'd definitely recommend booking ahead (usually online) to avoid disappointment, particularly in peak periods. We turned up at a couple of places without a booking and managed to find tables but we also missed out on others. This is especially so for winery restaurants which are generally a lot smaller than the breweries, so it's well worth booking ahead for the most popular (Cullen Wines and Knee Deep for example).
Activities/Fun Things to Do
There are literally loads of things to do in this region and we sampled but a few. Depending on your interests, head to Tourist Information on your arrival to find out what's on during your stay. We wanted to mix up our visits to the beach and wineries/breweries with some fun, active and cultural activities for the kids, which is why we chose the following …
1. Busselton Jetty – at 1.8km long, this famous jetty is super impressive and trust me, it's a long way to walk to the end and back, especially in gale force winds.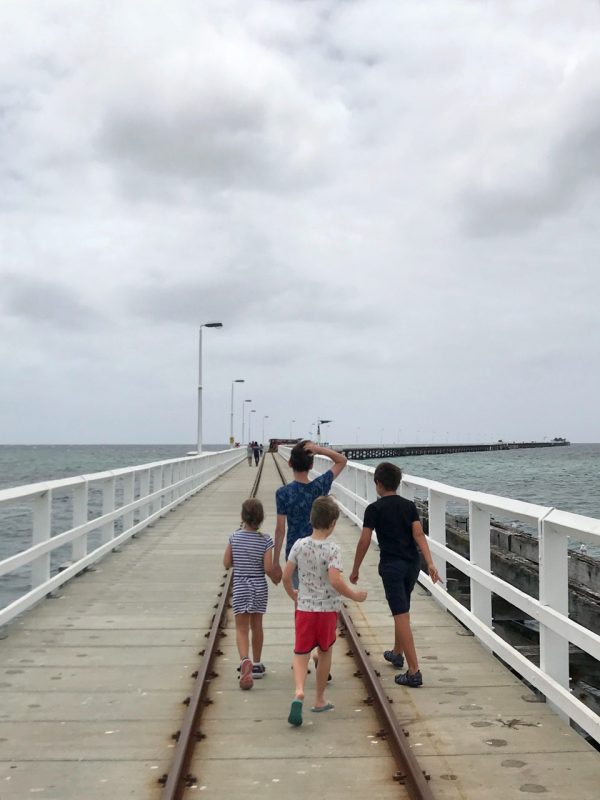 It costs $4 per person to walk the jetty. It's extra if you want to go on the train or visit the Underwater Observatory at the end of the jetty. For all the details, head here. If you do want to get the train back, don't go on a windy day. The day we visited, it became too windy for the train to operate.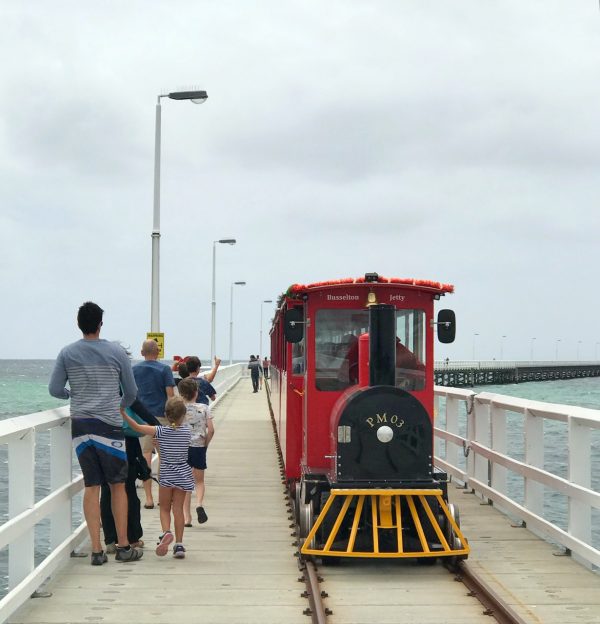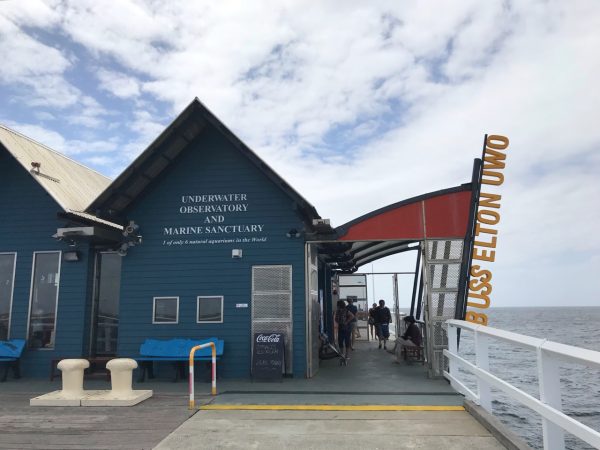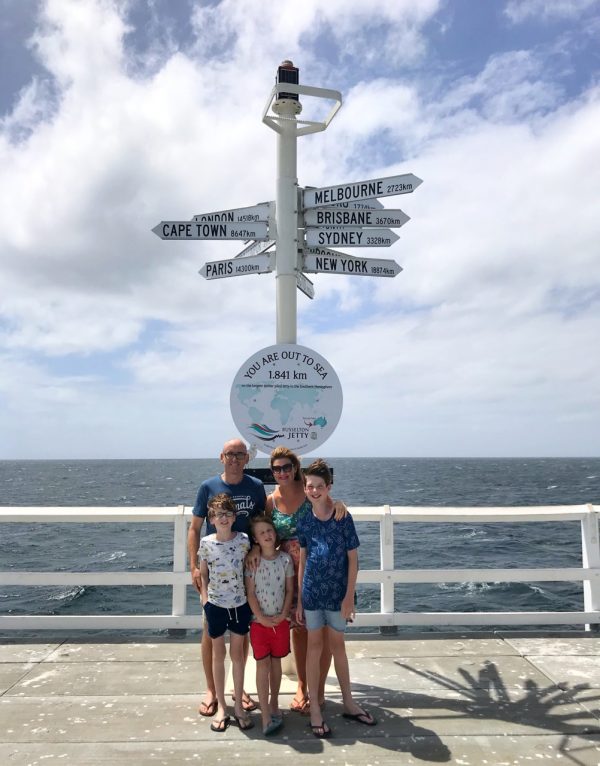 2. The Cape Naturaliste Lighthouse – I love a bit of local history and we had a light house fan in our party, so we booked a package deal  – The Above and Below Pass – for tours of both the Cape Naturaliste Lighthouse and the nearby Ngilgi Caves.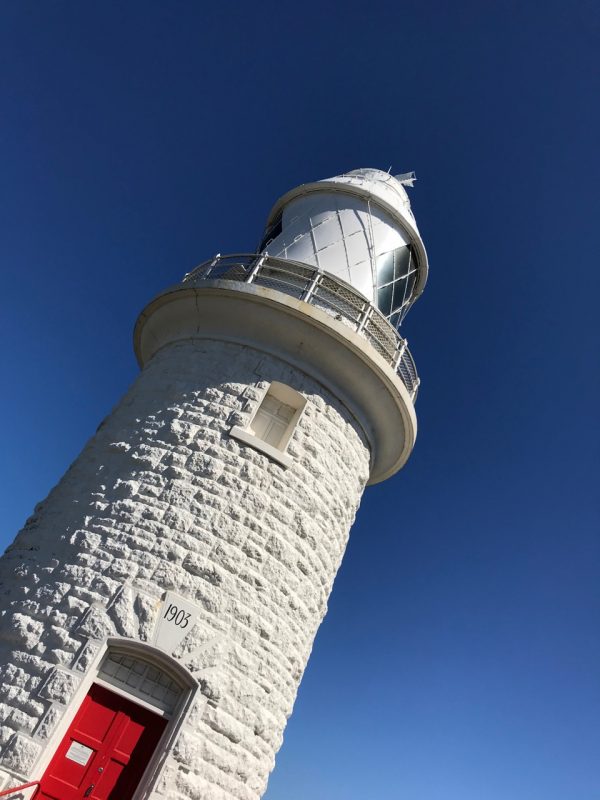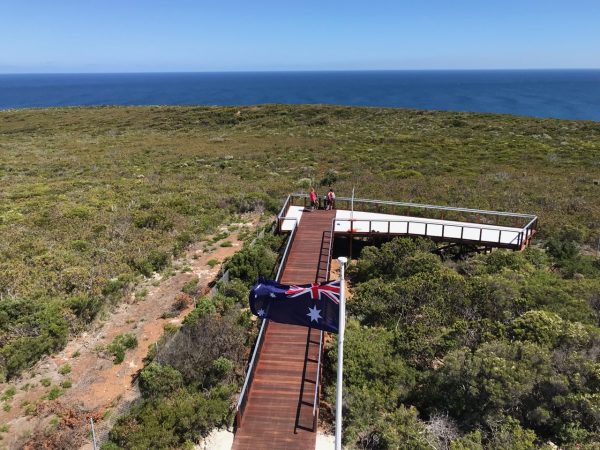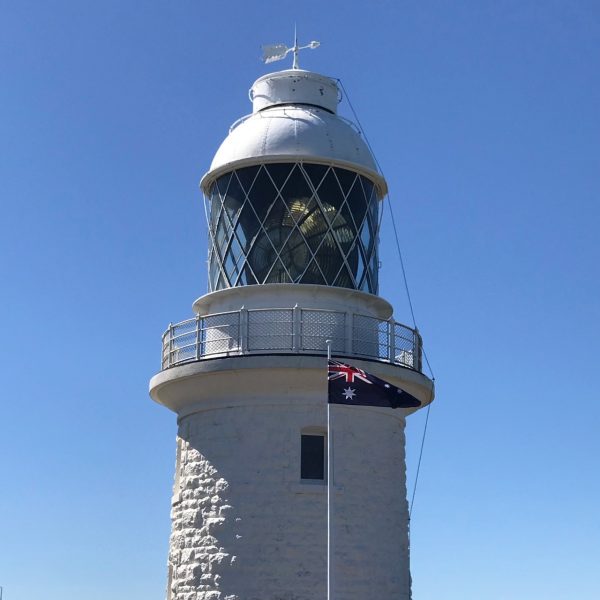 The light house tour isn't too long and it's not overly onerous for little ones as they get to climb up the light house and look out from both the top of the light house and the newly built look out. There's a cafe on site – The Little Goose (sister of Goose Kitchen in Busselton) and a play area/sand pit too, making this is a fun and family friendly outing with young kids.
3. Ngilgi Caves – the kids loved this trip into the bowels of the earth to see all the amazing rock formations and learn about life in the dark.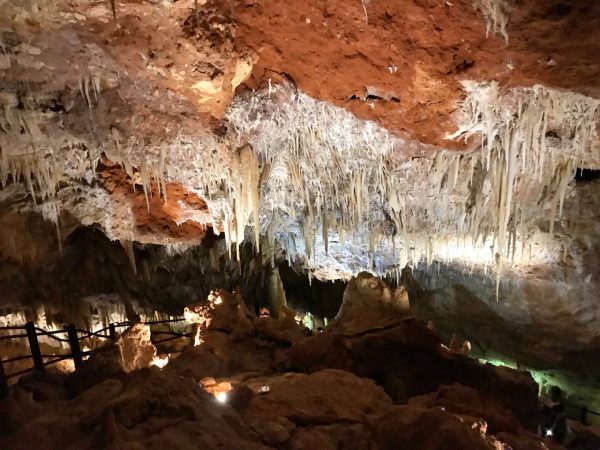 Our guide Leon was great and I enjoyed the tour too, although it does go very far underground – 23 metres – and there are over 350 steps in total. It was a good cardio work out for me but it might be everyone's cup of tea. It is a consistent 23 degrees underground though, so this is a great spot to visit on a very hot, cold or wet day.
4. Jet Boat – Our two hour wilderness safari with Pete from Jet Boat Adventures was the highlight of our time in this region – certainly for the kids anyway. The disclaimer here is that we're a family who loves theme parks and rides – especially rollercoasters – so thrill seeking is appealing to all of us, including our adventurous six year old.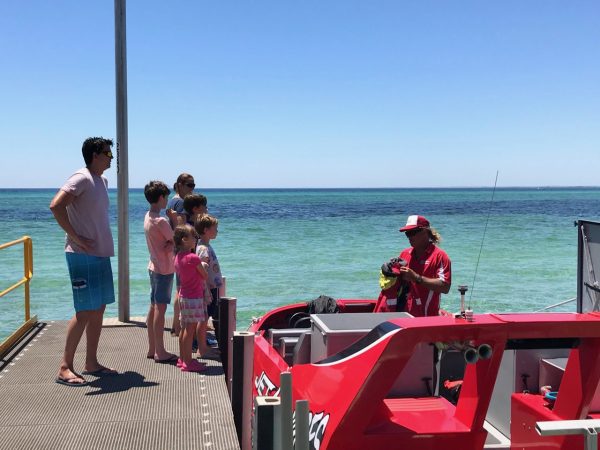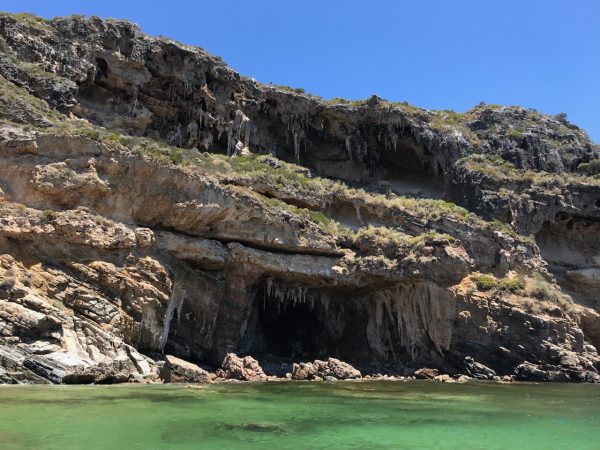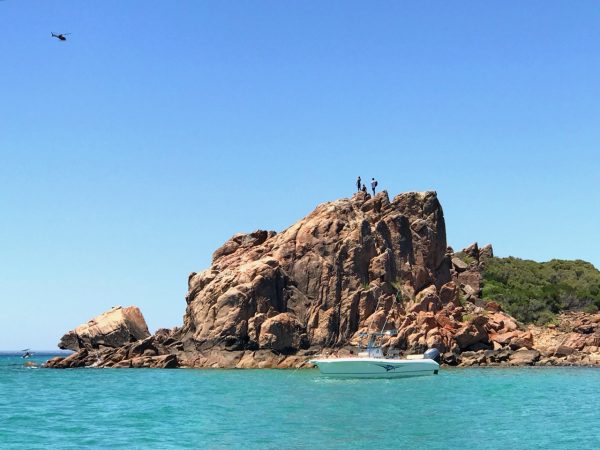 We saw this beautiful and in places, rugged coastline from the water, as well as caves, seals and bird life. Often there are dolphins around these parts too.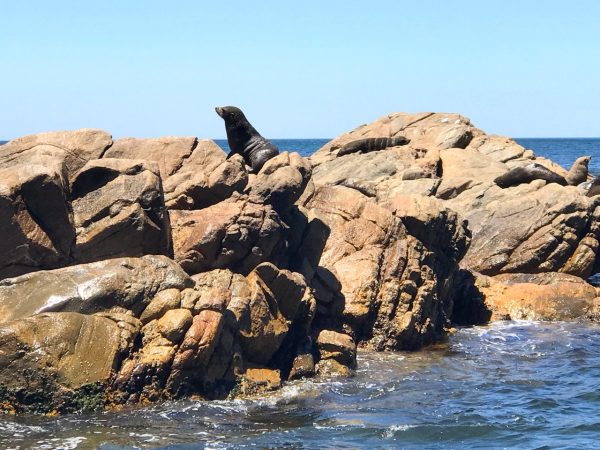 Our trip finished with a complementary thrill ride which was ABSOLUTELY AWESOME fun.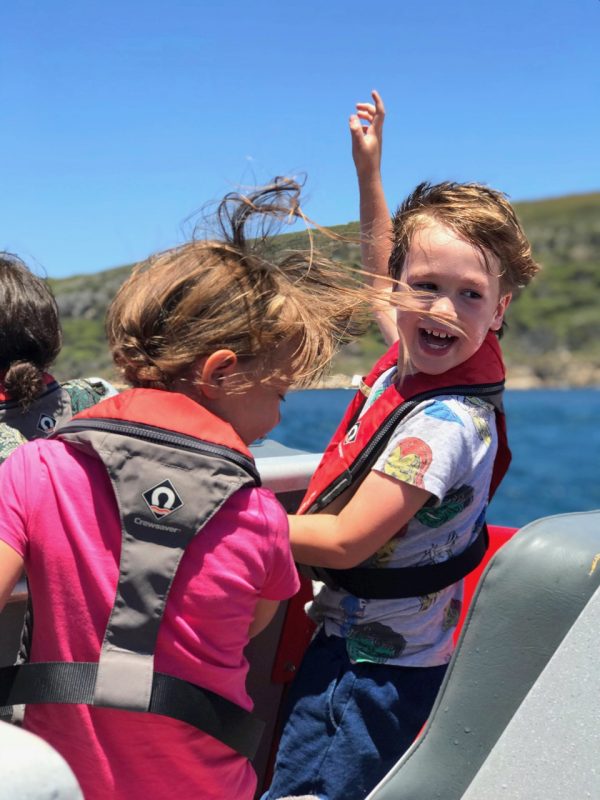 Our jet boat ride was not cheap – it cost our family of five $350 – but it was really great and not something we're likely to do again any time soon.
5. National Park – As the sun rises so early in W.A – at least for us Victorians used to daylight saving – we were often up and about by 6am. Several mornings, I went for a walk with Kelly through the National Park to Castle Rock and knocked off 8kms by 9am. Who even am I and how's this for a view?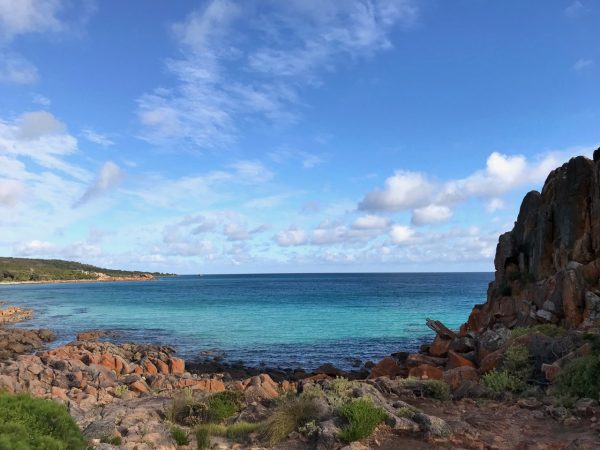 There are loads more walks you can do in this area, so check it out if that's of interest to you.
Other things I would have loved to do include visiting the Chocolate Factory, the outdoor cinema at Cape Mentelle or the night market or movies at Caves House and a visit to the beautiful beaches and wineries (including Xanadu and Cape Leeuwin) south of Margaret River.
Shopping
I didn't have loads of time to shop this trip – and certainly did enough damage buying up at cellar doors and fresh produce in any event – but I did manage to pop in to the township of Dunsborough for a little reconnaissance en route to the supermarket.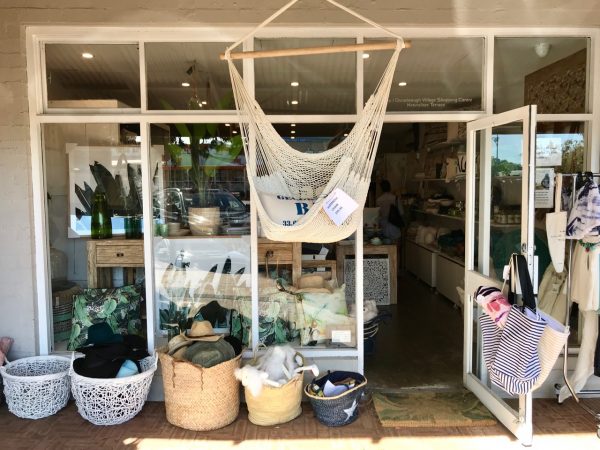 Beach Lifestyle (above), MILC and One Palm (below) caught my eye as well as the small but well curated independent book shop. On the way out of town, also check out Shoe-Be-Doo.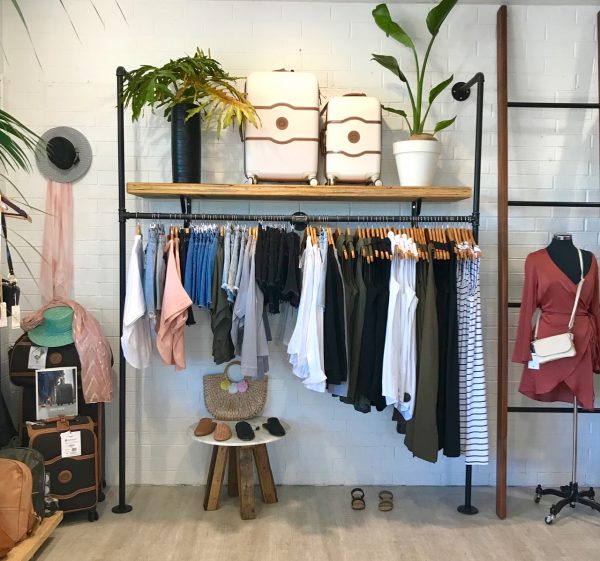 On the main drag in Margaret River, definitely head to Finch for an amazing range of resort clothing and fab homewares (pictured below – including Binny and Ruby Ya Ya)  & Marine & Co. for your favourite independent boho labels (including Spell Designs, Arnhem Clothing and Tulle & Batiste).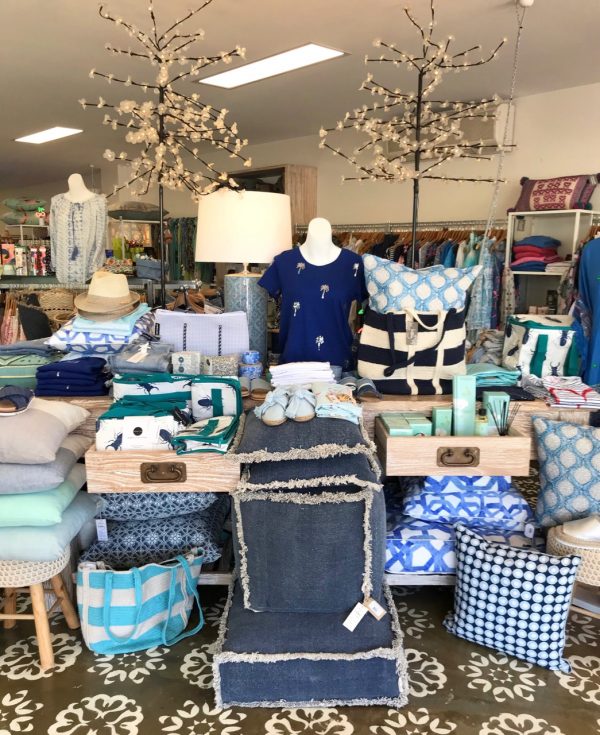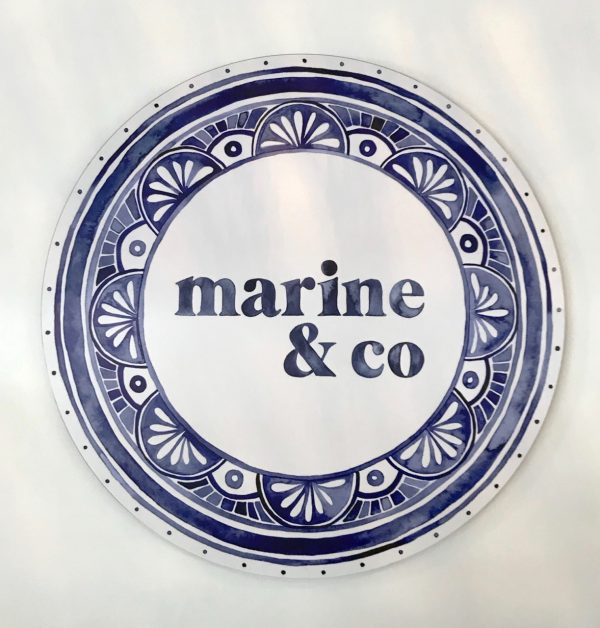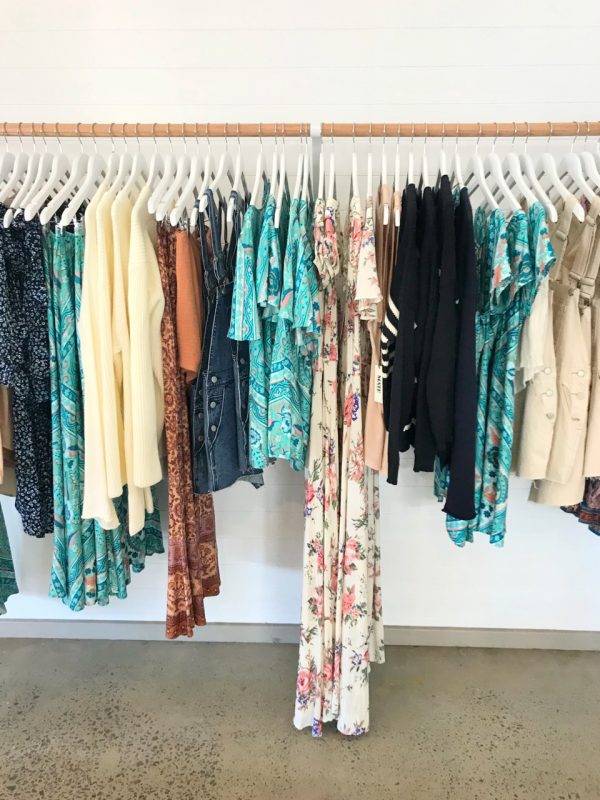 Our Accommodation
We hired a house for the week – this house – through Dunsborough Holiday Homes.
With two families, we were looking to share a house that offered plenty of space and living areas. This house, with two floors that were each self contained (each with bedrooms, bathrooms, kitchens, bathrooms and laundries) was ideal. The location was great too – directly across the road from the beach and a grassed area where the kids played cricket most nights.
The house was extremely well appointed too with detergent, dishwasher tablets and oils, spices, sauces and other basic pantry items as well as Glad Wrap, Alfoil and plenty of tea towels provided. The upstairs laundry was huge, included washing powder and there was a dryer as well.
We also loved the Chess set and games and there was also a Ping Pong table and two outside living areas upstairs; one downstairs. There was also space for 3 or 4 cars. It might not be the most contemporary or stylish holiday house going around, but if you're after a great location, a comfortable place to stay with all the amenities you'd need, I'd definitely recommend this for a big group of two families looking for a place to share.
Our Itinerary
What we did totally depended on the weather and our collective interests, but to give you an idea, below is what we did with two families, with kids aged 11, 9, 8, 6 and 4 and four adults.
As you can see we had plenty of dinners at home and tried to factor in plenty of downtime, which we spent either at home reading/playing Lego/Scrabble/Chess or playing cricket at the beach across the road.
Day 1: We flew out of Melbourne at 9.15am, arrived in Perth at 10.30am (the flight was nearly four hours and we had a three hour time difference with daylight savings), then we drove south to Dunsborough (it took us nearly four hours in total from Perth airport after we picked up our hire car), stopping at the Bunbury Farmers Market for lunch and supplies. We arrived, met our friends and settled in to Dunsborough around 4pm. Sunset stroll on the beach after dinner.
Day 2: Morning coastal walk; head to Busselton for lunch at The Goose  & walk along the jetty.
Day 3: Margaret River Farmers Market; wander down the main street at Margaret River; lunch at Black Brewing Co. and a quick visit to Yallingup on the way home.
Day 4: Visit wineries in Wilyabrup; long lunch at Rustico at Hayshed Hill Winery.
Day 5: Visit Cape Naturaliste Lighthouse, then Ngilgi Caves. Dinner at Caves House in Yallingup.
Day 6: Jet Boat Ride, swim at Old Dunsborough Beach.
Day 7: Breakfast at Bunkers at Bunker Bay; swim and play at Meelup Beach; late lunch/snacks at Eagle Bay Brewery.
Day 8: Quick return visit to Wilyabrup to visit Providore before driving back to Perth.
If you'd like to PIN this for later, please do and to check our great flight deals to Perth/WA, head to Virgin here.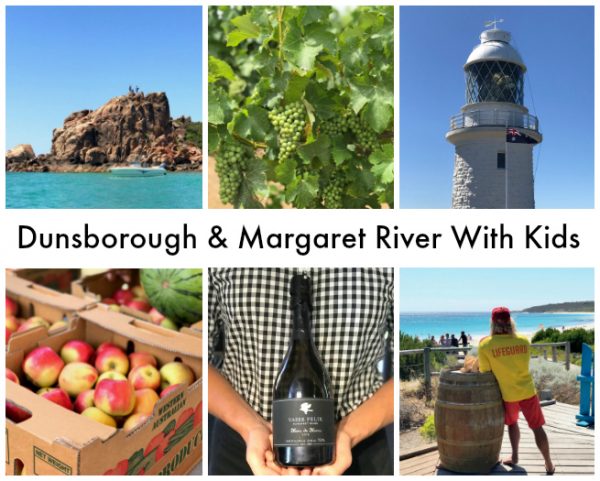 Have you been to this region before or are you a local? What could you add to the above? We'd love to hear your recommendations!