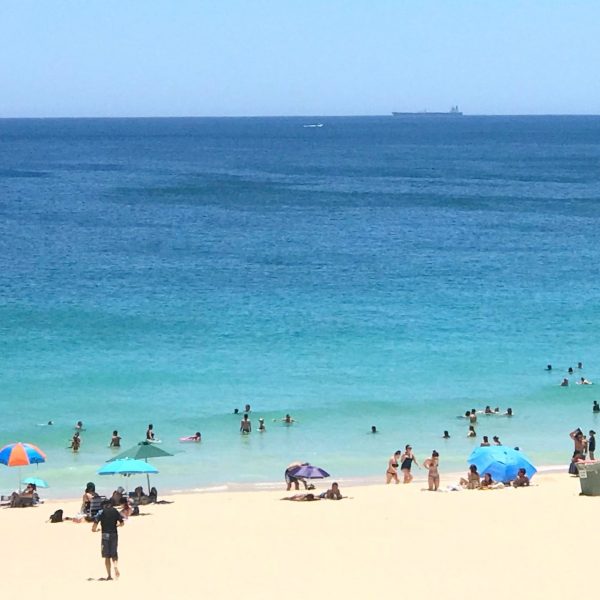 As part of our recent family vacay to W.A. this summer, we set aside five nights for a city stay in Perth.
(We first spent an awesome week down south in Dunsborough/Margaret River which you can read about here).
We loved our short time in Perth and were really impressed by everything Perth has to offer. From it's beautiful city beaches, the spectacular botanical gardens and public spaces to the excellent museums and impressive but relaxed food scene, Perth seriously knocked our collective socks off.
We also loved the laid back vibes and relaxed feel of Perth and, while there were always people around, it was SO much less crowded, busy and chaotic than our much loved but heaving home town of Melbourne.
If you're travelling to Perth any time soon or planning a visit one day, I hope this post gives you an overall idea of what Perth has to offer and how you might approach a family vacay.
We only stayed for five nights though, so what follows is by no means an exhaustive list, but my hope is that it will give you some idea of what's on offer and what we enjoyed with our three boys aged 11, 9 and 6.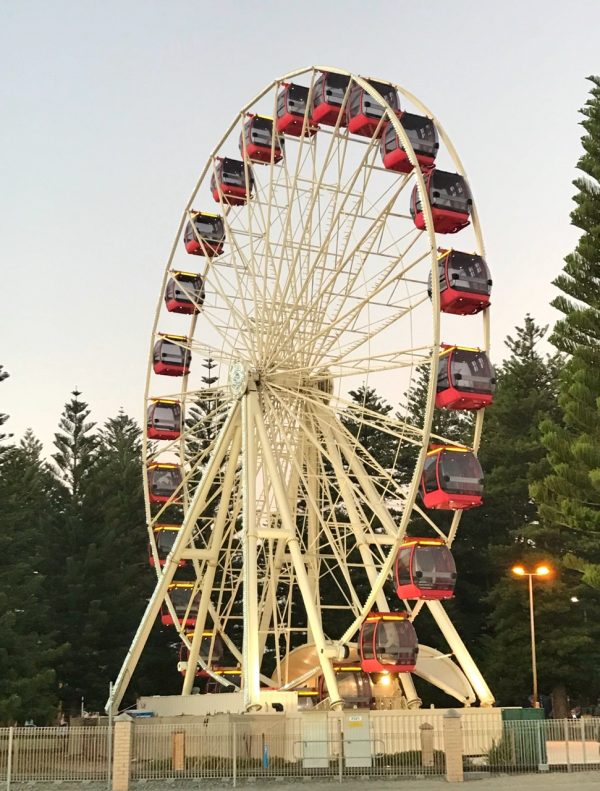 Where to Stay
We decided to base ourselves in Fremantle as we weren't initially sure if we'd be hiring a car (we did in the end) as we could see there was plenty to do in Fremantle as well as it being well connected to ferries and public transport.
If I had to describe Freo in relation to other places we've visited, I'd say it is a mash up of the nautical feel of Hobart or Victoria's Geelong with the inner city art, historical and cultural dimension of Melbourne's inner northern suburbs – such as Collingwood or Brunswick.
We found there was loads to do Freo – as you'll see below – and I loved it's proximity to the beach and the waterfront, the narrow streets, beautiful historical buildings and fab eateries and shops.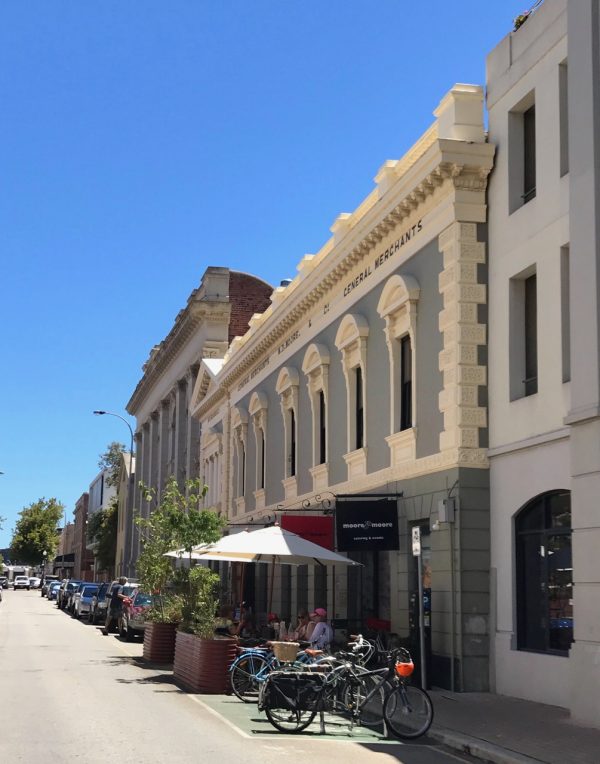 We stayed at Newhaven Townhouse, a three bedroom, three level converted warehouse self contained apartment which we found on Air BnB. It was unbelievably good value – $250 per night in mid January which is peak time  – clean, tidy and very well appointed with fresh fruit, milk, cereal, snacks, toiletries and laundry powder provided. Our host Katrina was lovely, responsive and a pleasure to deal with too.
We did find open plan living with our three boys a challenge from a noise perspective though. Our kids are loud and not having separated living areas drove us a bit nuts especially on the day we were rained in.
The open balustrades, as you can below, also made me a bit nervous, so we had strict rules around wrestling and playing on the mezzanine level – #LifeWithBoys. There's absolutely no way I would stay here with a toddler or a preschooler though. As you can see below, our youngest is a very tall 6 year old.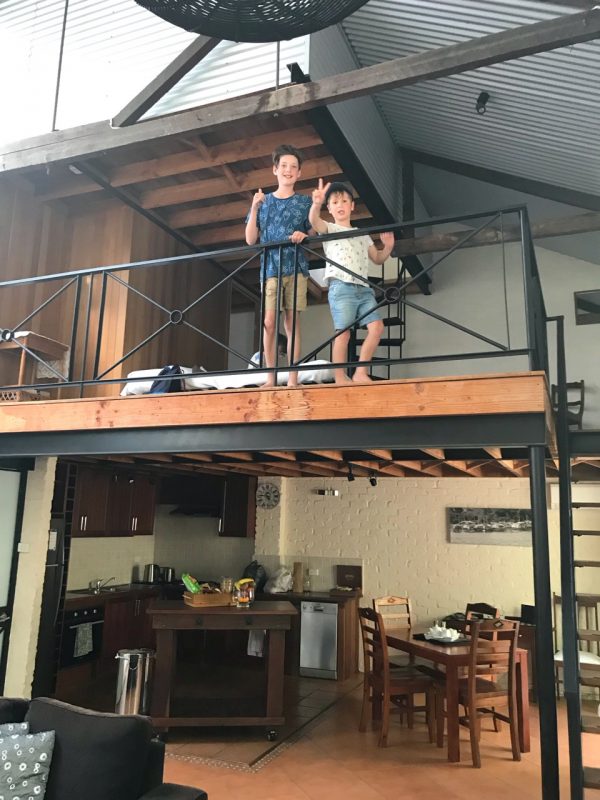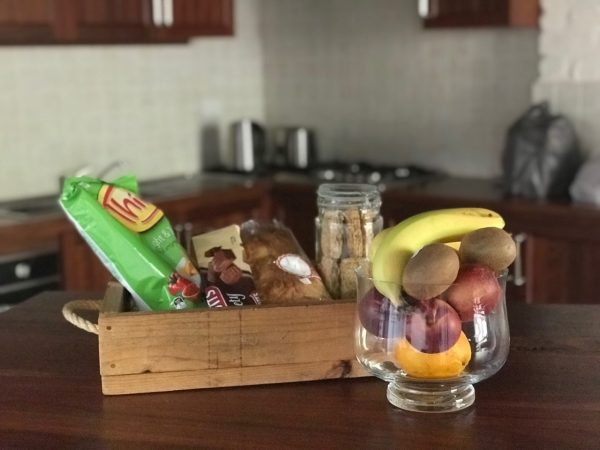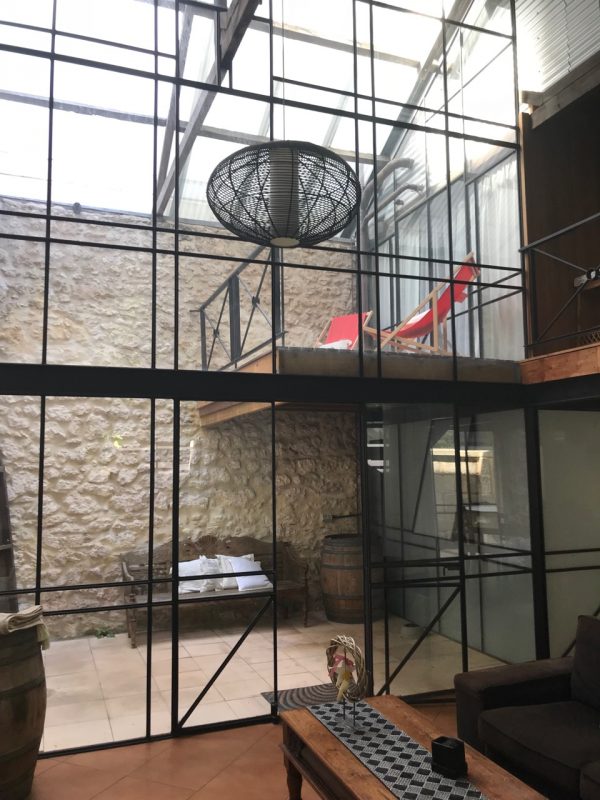 The location was absolutely awesome though, and a very short walk to both the foreshore/waterfront areas, great shops and the beach as well as the Shipwreck and Maritime Museums. The Prison was a twenty minute walk or five minute drive away and Kings Park and Cottlesloe were about a twenty minute drive away.
We didn't find a supermarket in walking distance though, so we used 7/11 to stock up on bread and milk for breakfasts.
Freo has a couple of beaches (Bathers Beach on the waterfront and Short Beach a bit further out), but if you'd prefer to stay right on one of the city beaches, check out City Beach, Cottlesloe, Scarborough or further up towards Sorrento Quay/Hillary's Boat Harbour.
What to Do in Perth & Surrounds
1. Kings Park – a visit to these vast and beautiful Botanic Gardens overlooking the city of Perth and the Swan River should be at the top of every visitor's list. They are just spectacular.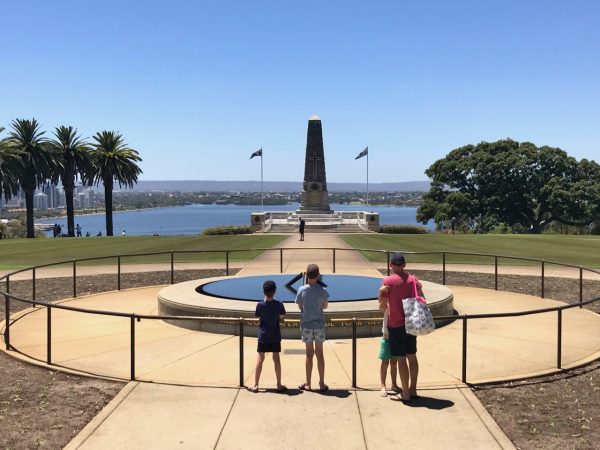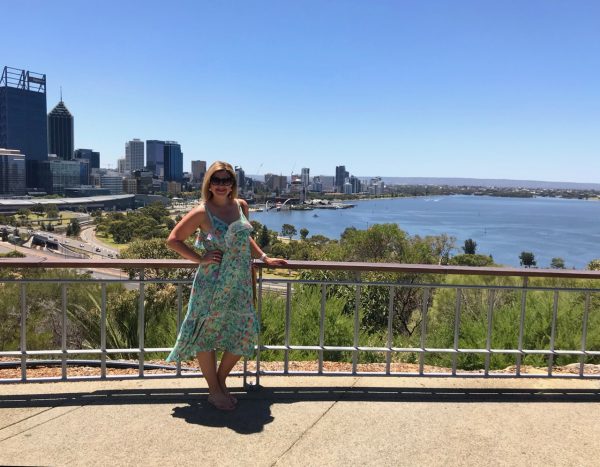 We took our boys to both the War Memorials too.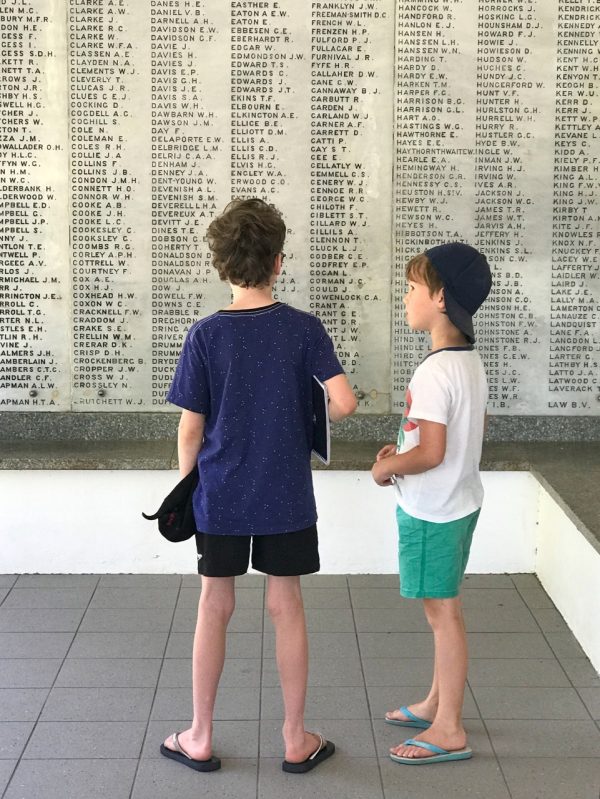 After walking around this area, taking in the beautiful views and snapping a few pics, we picked up a coffee at the nearby cafe – there's also a gallery shop next door – before we walked a short distance through the park to the Naturescape Play Area.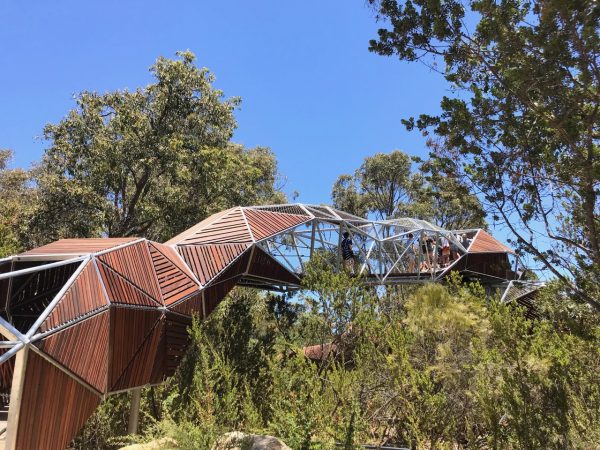 If you're travelling with young children definitely set aside time to visit the Naturescape Play Area. It's an amazing play space for kids to explore and play in, with lots of water play and shade, so it's a great spot on a warm day too. It's recently been extended too, and you can easily spend an hour or two in here, especially if the kids start building dams as ours did.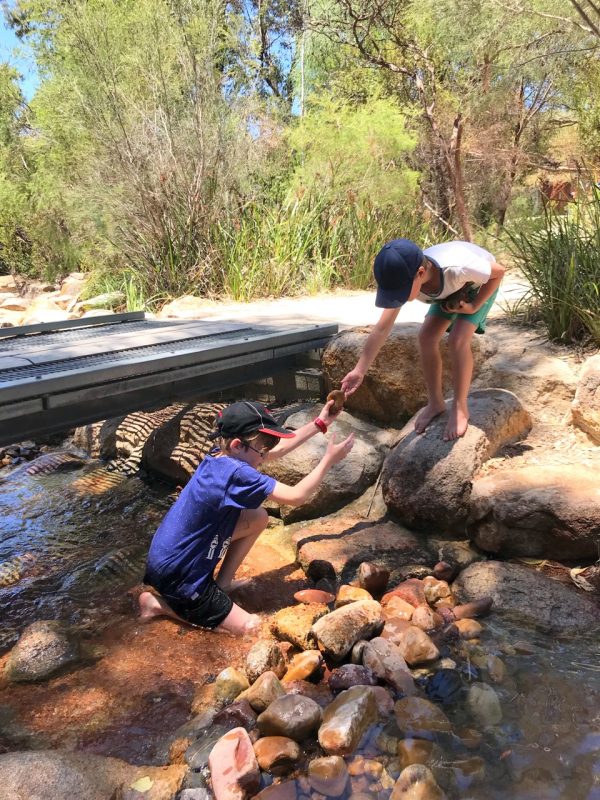 2. The Beach – there are so many beautiful city beaches to visit in Perth and we visited several beaches during our stay in Perth – the famous Cottlesloe Beach, the smaller Bathers Beach (in Fremantle), City Beach and Port Beach.
It was a beautiful day when we visited Cottlesloe although it was a bit on the windy side, which we began to realise was quite typical of Perth in the afternoon.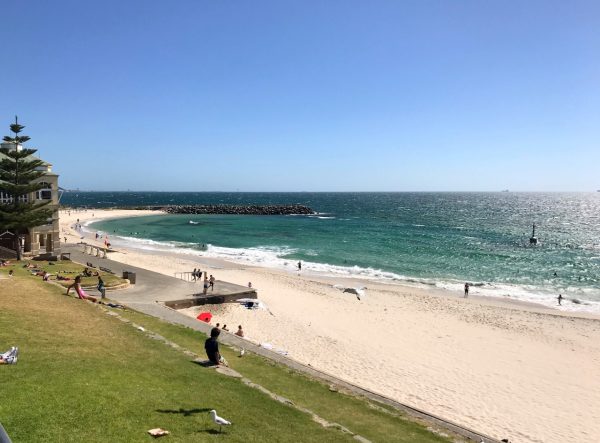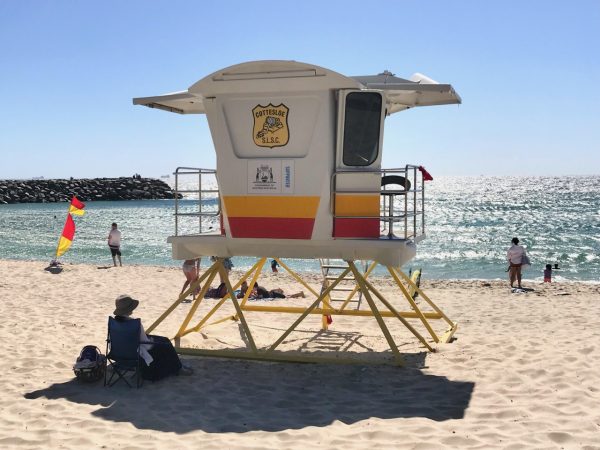 Closer to home, we were thrilled to find the small but well serviced Bathers Beach a five minute walk from our Freo digs.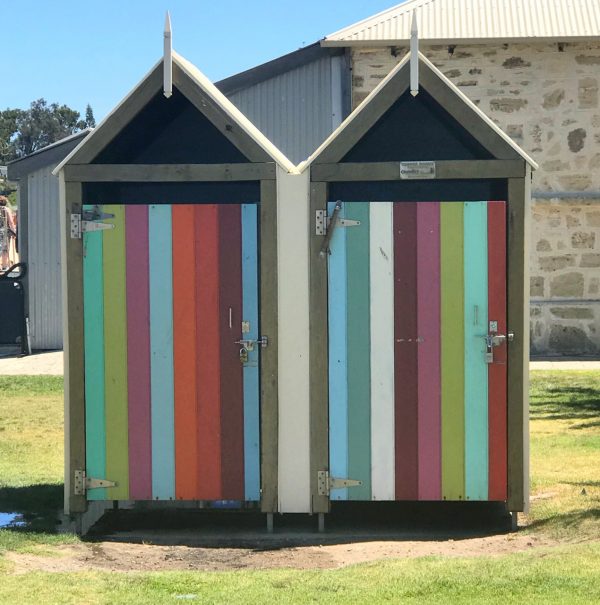 It's a very small beach compared with most, but with Bathers Beach House offering a selection of timber banana lounges – which you can reserve – it's a very nice place to spend a morning or afternoon, particularly as the service extends to this area. We turned up one morning early – without a booking – and were able to use a couple of lounges until the booking at 11.30am.
It's the closest thing to Potato Head that I've come across outside of Bali!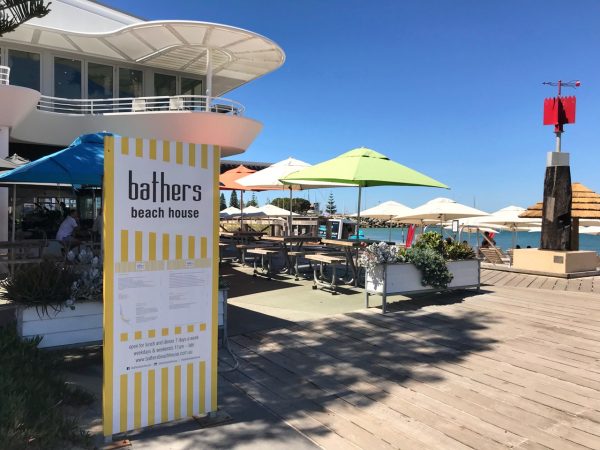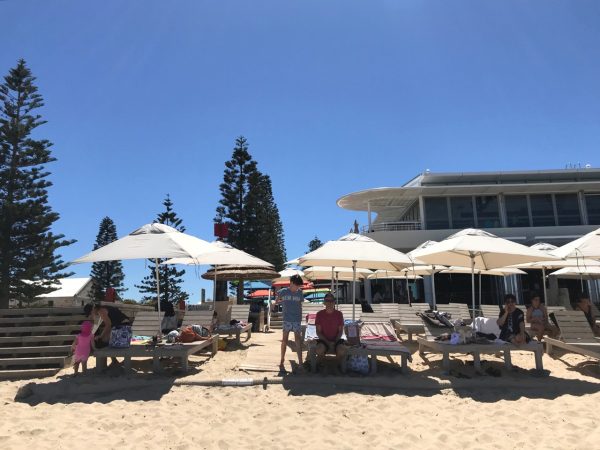 3. Fremantle Prison – Our visit to Fremantle Prison was one of the highlights of our stay even though we did back to back Doing Time/Great Escape tours on a 38 degree day. Soz kids!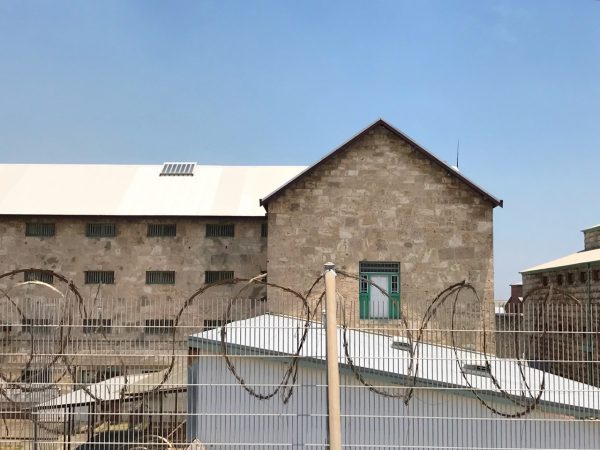 Our tour guides, both former Prison Officers, gave us all their inside intel and brought the prison to life in all it's scary brutality. Given the prison only closed in 1991 too, there was a sense of the recent past here too.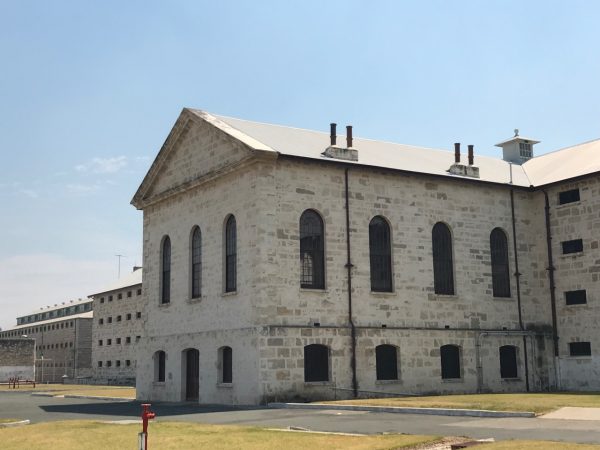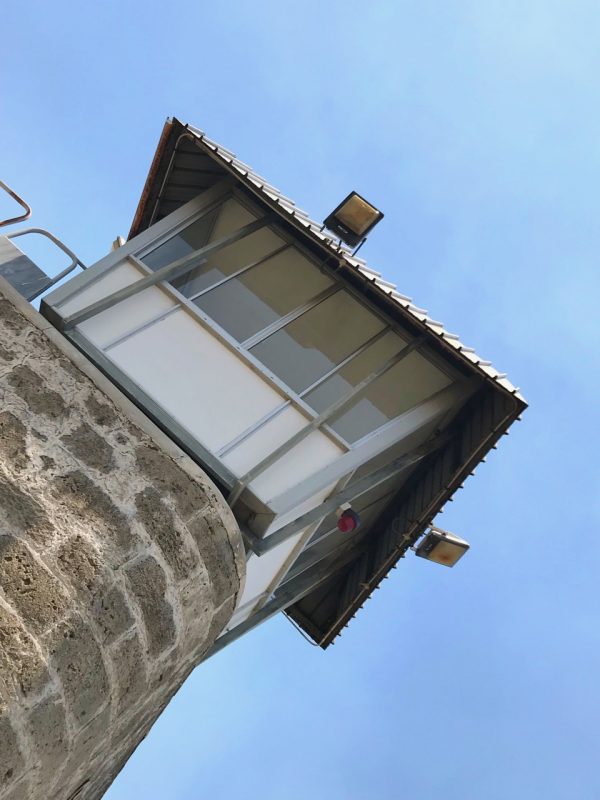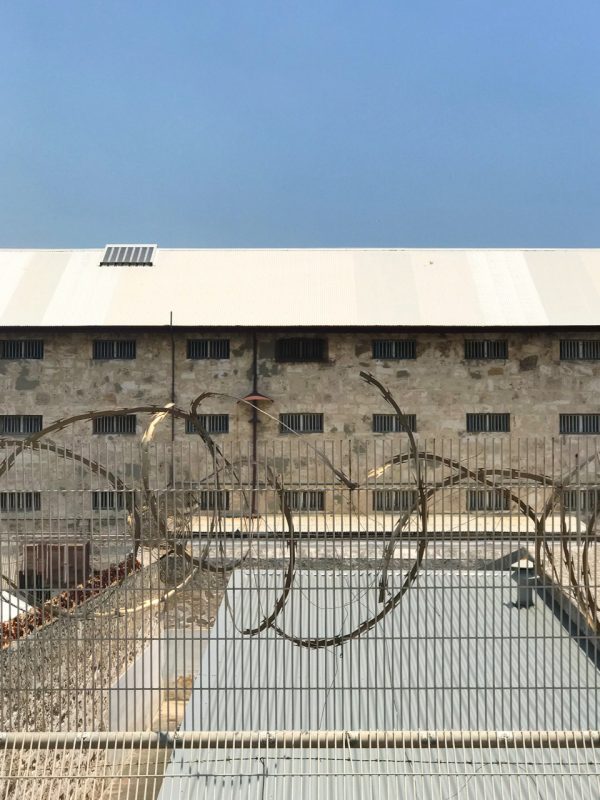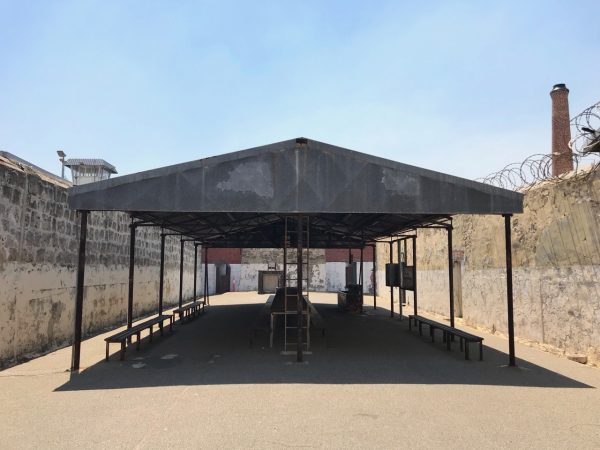 The first tour we did – Doing Time – took us through all the main sections of the men's prison – including solitary confinement and the gallows – with stories of riots, prison life, punishment and brutality. Needless to say the kids were thoroughly engaged.
The second tour we did – Great Escapes – took us through different areas of the prisons and told stories of great escapes – some successful and some not. The back gate and guard tower pictured below were the scene of one of the stories …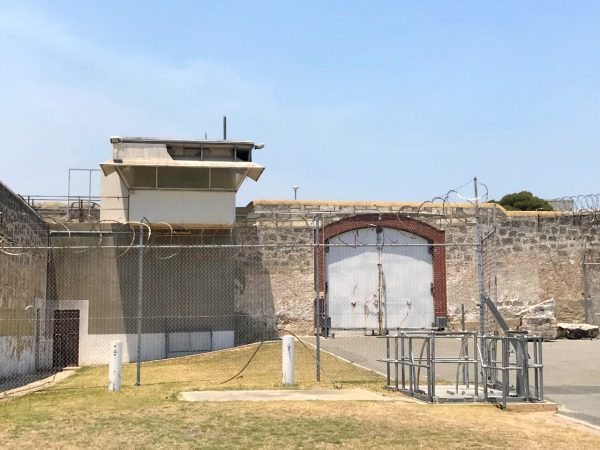 Each tour was about an hour and fifteen minutes and both were very good. If you're short on time or cashola though, I'd recommend prioritising the Doing Time tour as it gives a good overview. There's a deal if you do both though – it cost us $95 for a family pass for both – and for a change, the Family Pass was valid for two adults and up to three children (aged 4 – 15 years).
There are also night tours and a tunnels tour which we've been told are terrifying for kids (and some adults!). For all the details, head here. You can't book online but you can book over the phone and I'd suggest you do this in peak periods to avoid disappointment.
4. W.A. Maritime Museum – located in Fremantle, this is a fantastic museum with so much to see including Australia 2 and a submarine (closed for maintenance during our visit sadly) as well as special exhibits. We saw the Escape from Pompeii special exhibition during our visit.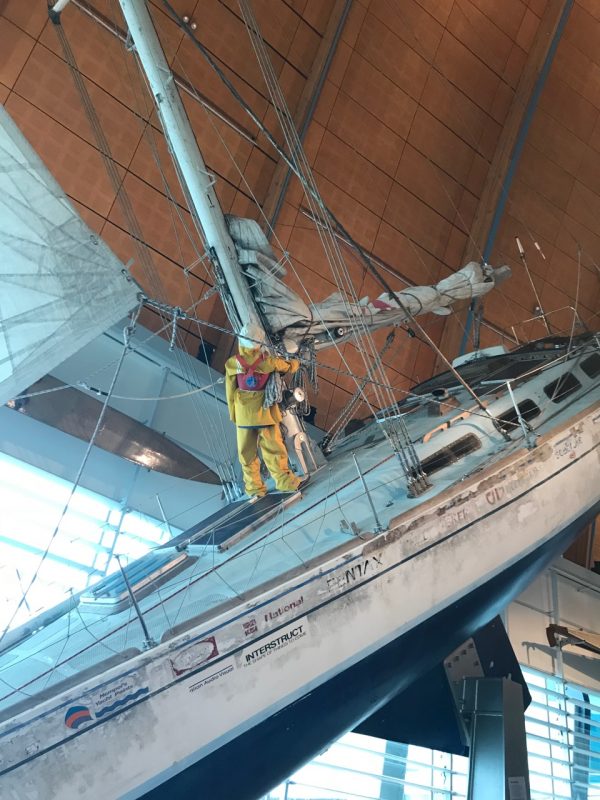 We spent a couple of hours here, going through the various spaces and learning about all aspects of maritime life from the ships and boats through to industry, sea life and safety.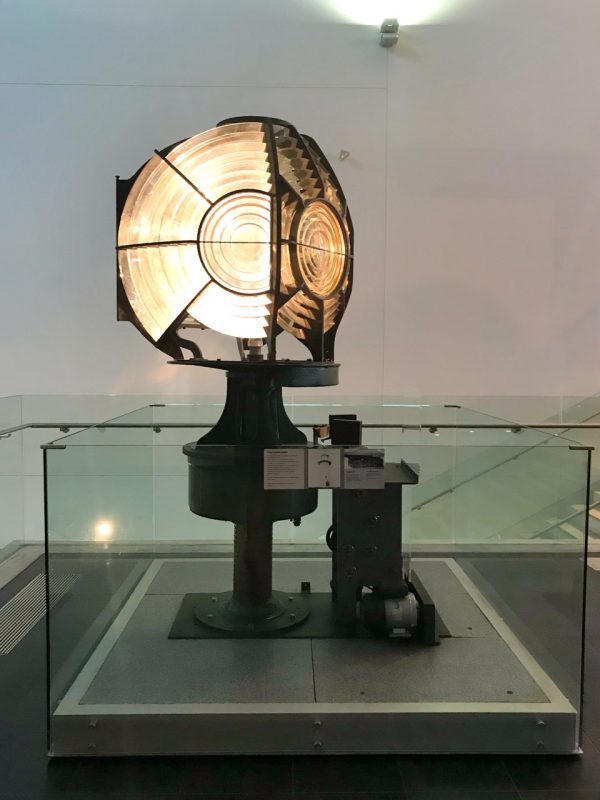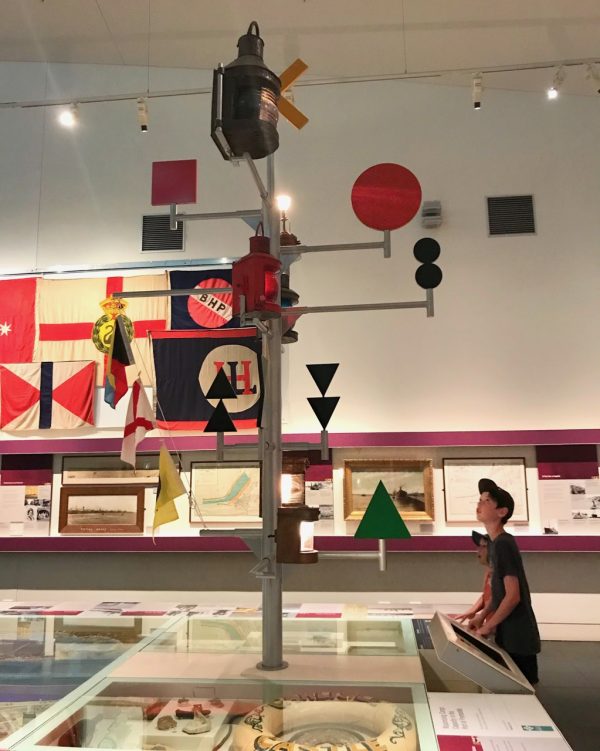 For all the details and to see what's on, head here.
5. The Shipwreck Museum – also situated in Fremantle right next to Bathers Beach, this is a small but interesting museum. Recognised as the foremost maritime archaeology museum in the southern hemisphere, it is housed in this beautiful 1850s-era Commissariat building pictured below.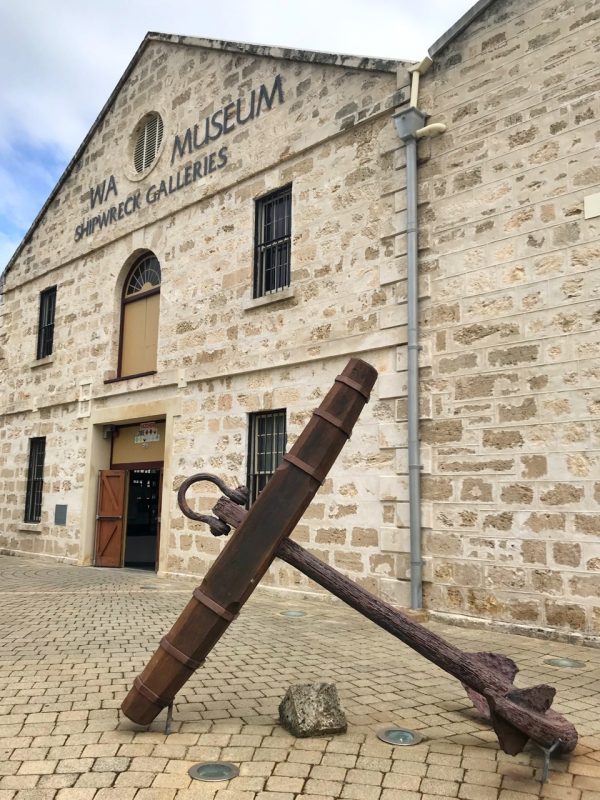 Entry is by donation and there are four or so gallery spaces to visit. The day we visited, there was story time for small children and a kids activity space upstairs as well as other interactive activities and displays. For more details, head here.
6. Explore Fremantle's Waterfront – there's loads to see and do in this family friendly area, from the waterfront cafes and restaurants including Little Creatures, pictured below, the jetty, the Bon Scott statue right through to Bathers Beach.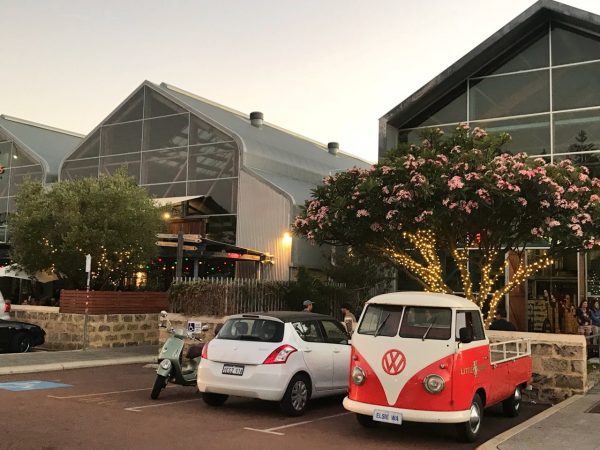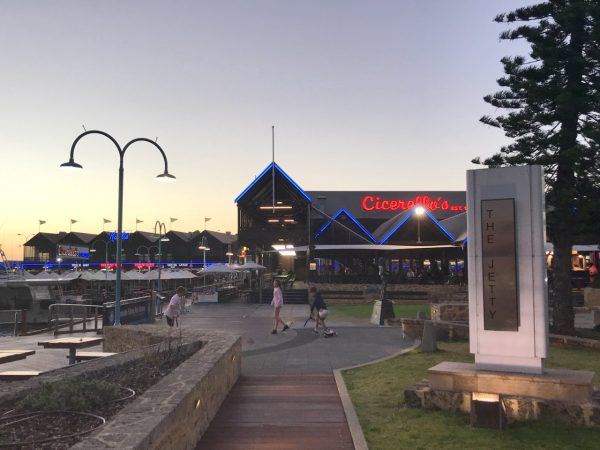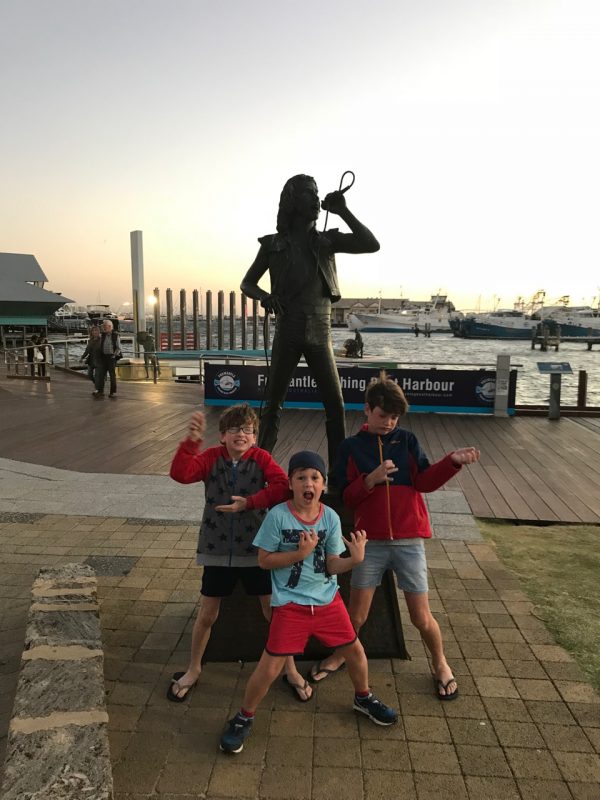 There's also a Ferris Wheel on the foreshore. It isn't cheap ($40 for a family of two adults and two children; $10 for an extra child), but the views are something else.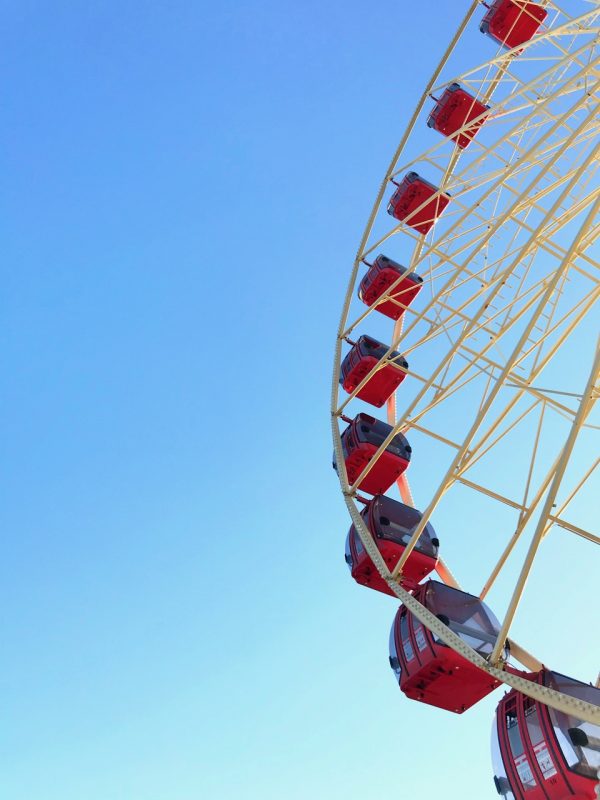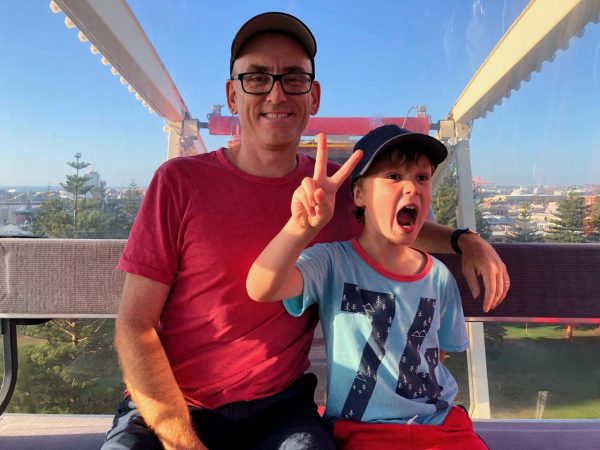 7. Wander the streets of historical Fremantle – I loved the narrow roads dotted with warehouse conversions and historical buildings, cafes, bars and pubs, fashion and home wares/gift shops and boutiques.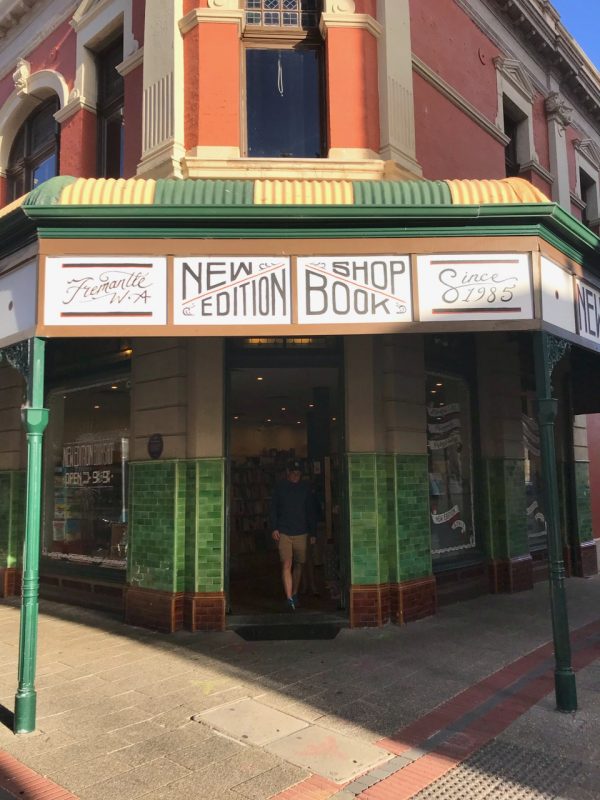 We also came across two awesome bookshops in Henry Street – New Edition on the corner which is a fantastic and very well curated independent book shop and the exquisite children's book shop and art space, Paper Bird, a little further along the street towards the waterfront. We visited several times!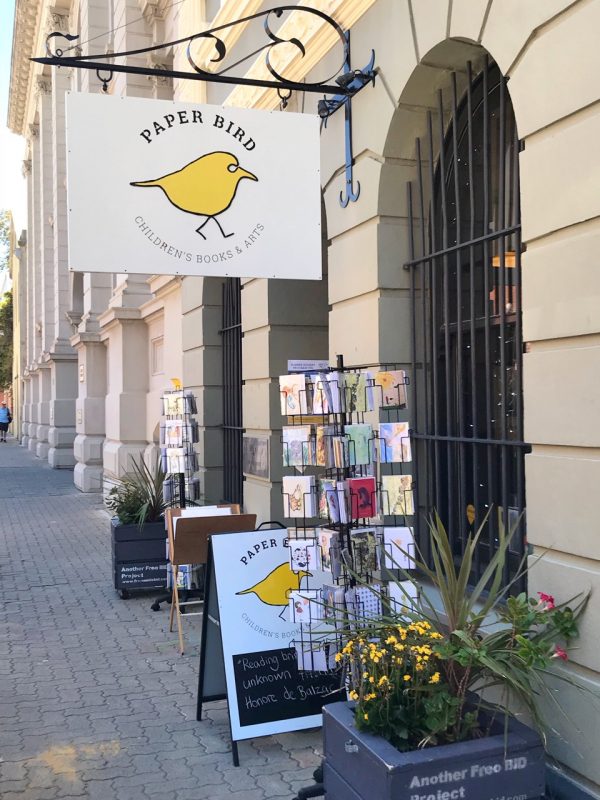 Next time
We'd drive along the coast up to Sorrento Quay/Hillary's Boat Harbour and check out the amazing new public pool at Scarborough. The Mint was also recommended to us.
We would also visit Rottnest Island. We didn't have time to get to Rottnest Island this time – I've been before though – but we'd love to on our return visit. I'd love to hire bikes, swim and explore the Island for the day.
Where to Eat
Thanks to some amazing local intel from our Perth friend Kelly and my readers on Facebook and Instagram – thank you all – we visited some fantastic places to eat and drink during our stay in Perth. I should say upfront that we are big foodies – so finding great food is always high on our list of priorities on our holidays, and as you'll see below, we went to loads of great places.
Without exception, everywhere we visited was super relaxed and family friendly and every place – except the uber bakery Bread in Common – had a kids' menu.
Of particular note for me – nowhere we visited had the rushed, obtrusive service of Melbourne's current two sitting dining situation. It was such a pleasant relief to have a leisurely lunch or dinner at a time that suited us without the wait staff rushing you out the door to make way for the next booking. This was incredibly refreshing!
On the downside though, we thought that overall, it is a little bit more expensive to eat out in Perth – maybe 10-20% more expensive than the equivalent in Melbourne.
In terms of coffee, we were lucky to have the super cool, 80s loving Ghettoblaster a few doors up from our digs. With one size for coffee and a $4 for all styles price tag, we were happy to go Back to the Future.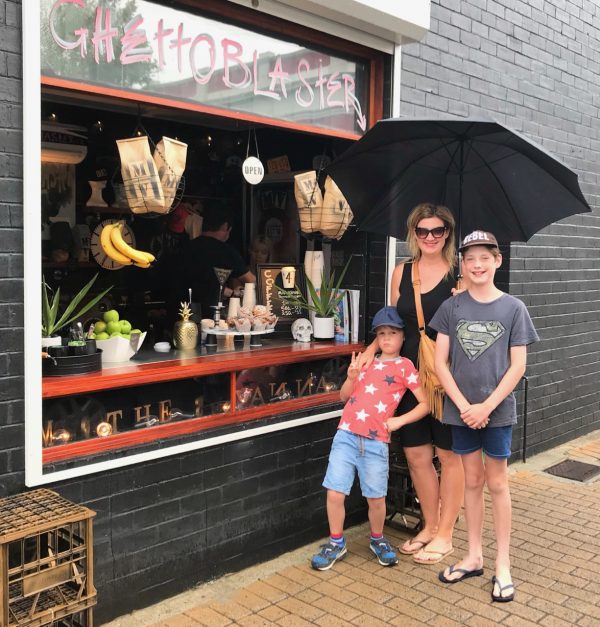 For relaxed, family friendly but cool places to eat out – with or without the kids – I'd recommend the following.
1. Cottlesloe Beach Hotel – I've been following the Cottlesloe Hotel on Insta for months and couldn't wait to check out this super cool space, directly across the road from it's famous beach.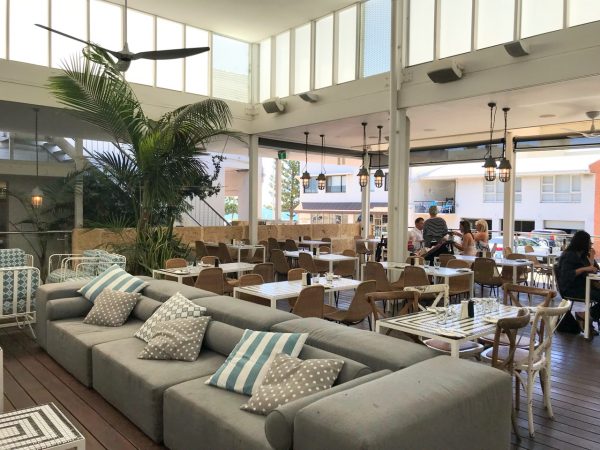 With our three kids in tow for a late lunch, we sat outside in the Beach Club slash beer garden which is a very cool space adorned with fairy lights, striped umbrellas and a modern, coastal fit out.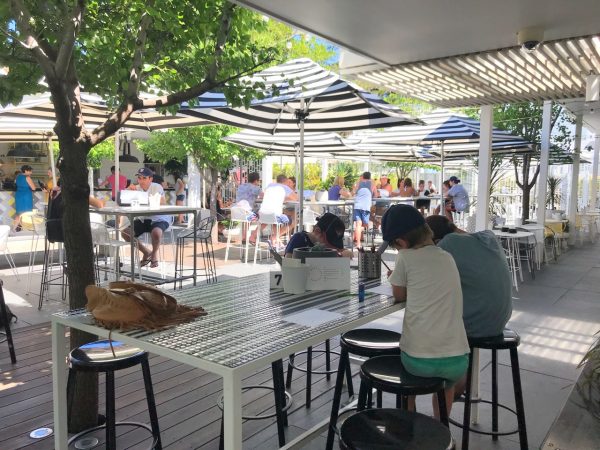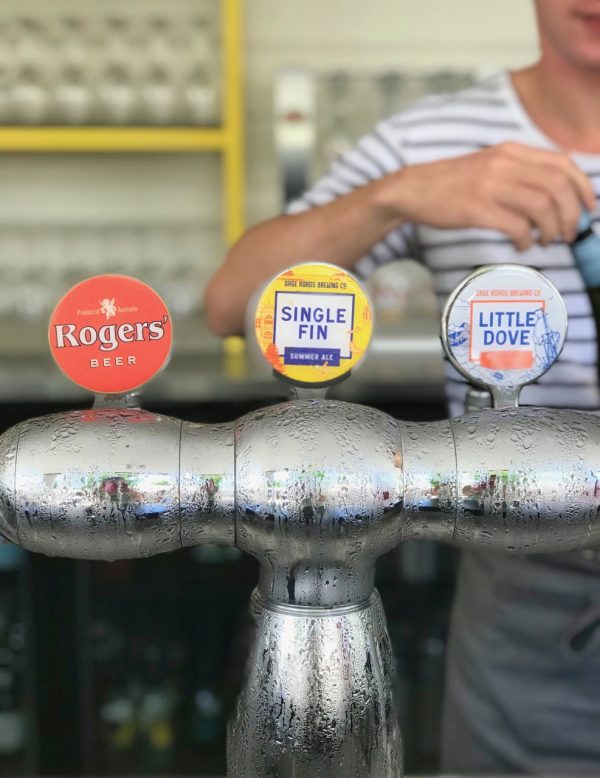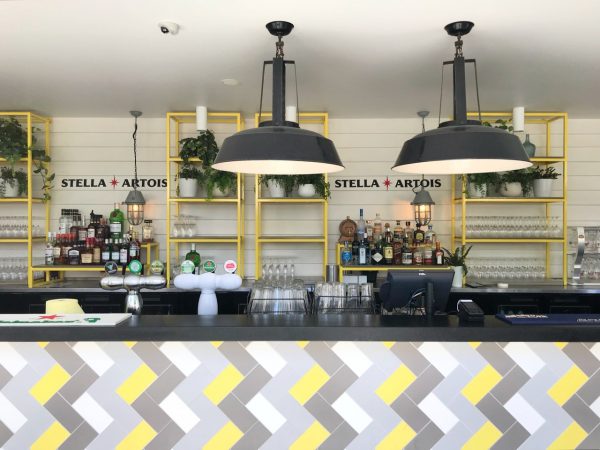 The kids rated the burgers while Mr SnS and I shared some delicious rotisserie and slow cooked meats and salads. This is definitely a great spot for a catch up with friends or a post swim snack or beverage.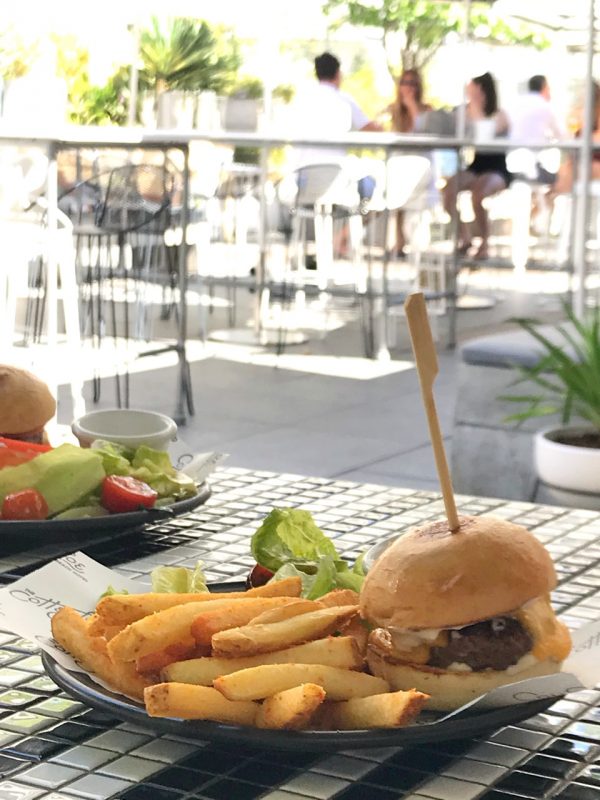 For all the details and to book, head here.
2. Little Creatures, Fremantle – this has to be one of the most popular and visited places in Perth and with good reason. Located right on the waterfront with views across the water, this cavernous bar/restaurant/brewery is a great place for couples, families and bigger groups. It's relaxed and you'll find great food and friendly service.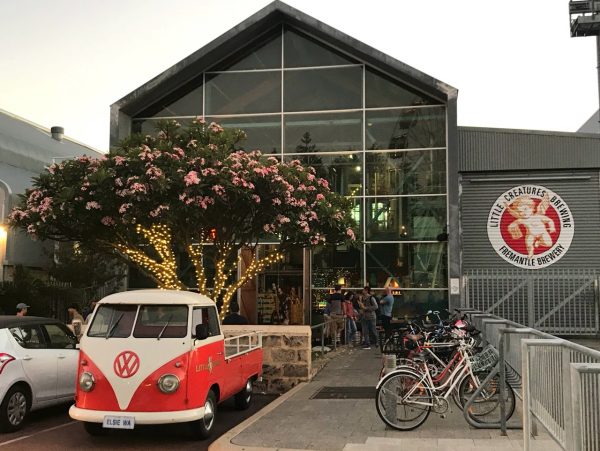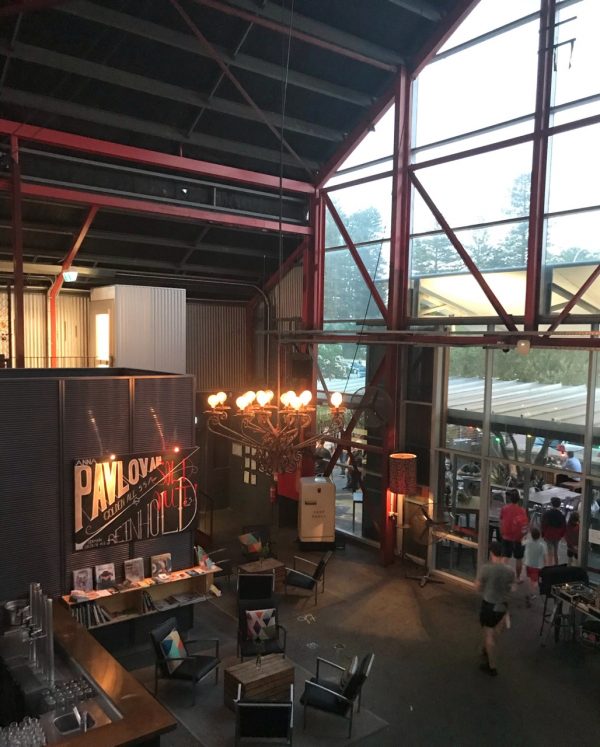 We sat upstairs one night and tucked into some delicious salads and a mushroom pizza as well some local beverages.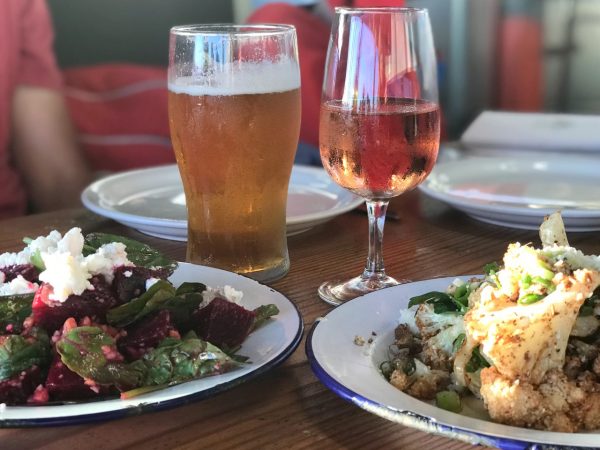 Go at sunset to capture this beautiful view. For all the details, head here.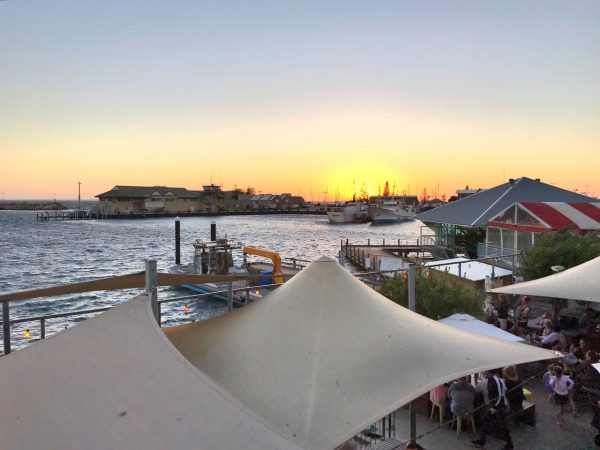 3. Coast, Port Beach – this is a ripper of a place located right on Port Beach so you can go straight from a dip in the ocean to a seaside cocktail or fresh fish and chips. It's relaxed, open air vibes and chambray shirted waiters keep the coastal vibes going in this super cool spot.
Because it's open air there's no air con though – something to bear in mind – although there are enormous industrial fans and water is sprayed out to keep everyone cool.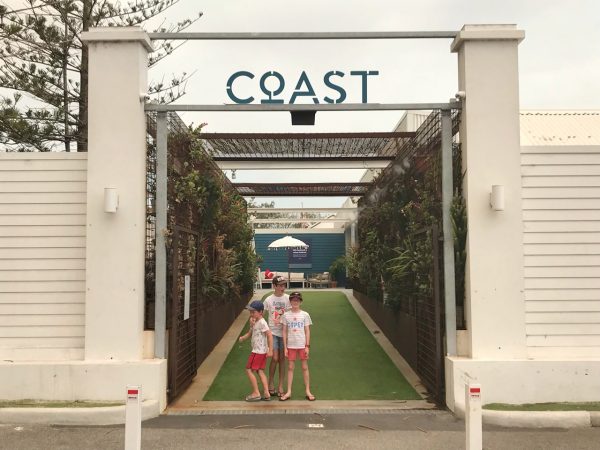 The food is great too – on the day we visited, I went for the mixed tacos which were fresh and delicious and pretty good value for $20, while Mr SnS went for the fish and chips which looked YUM.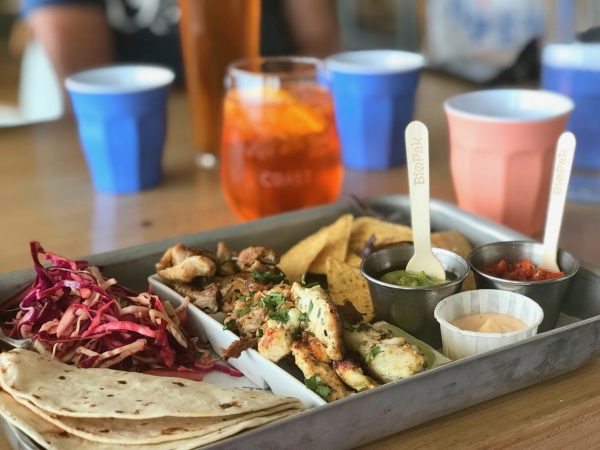 4. Monks Brewery & Kitchen, Fremantle – if you're after a casual dinner and a craft brew or cider, Monks is a great spot.
We went one very hot and humid evening and enjoyed a cold cider over dinner and the kids loved watching the Big Bash on the big screens.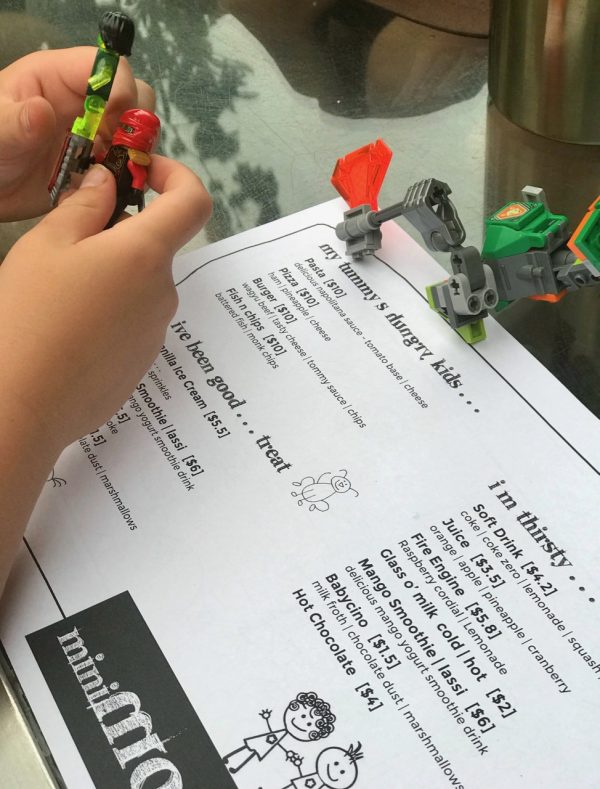 There are loads of craft beers and home made ciders to choose from. In the end I chose the apple, blackcurrant and basil variety which was super refreshing.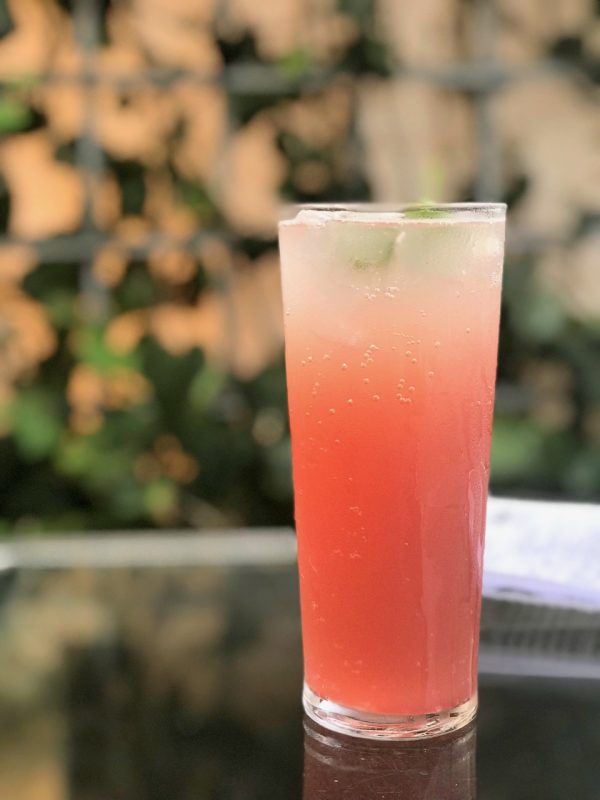 For all the details and to book, head here.
5. Bread in Common, Fremantle – we highly rated Bread in Common, a sophisticated bakery slash restaurant in a modern industrial warehouse space in Pakenham St, Fremantle.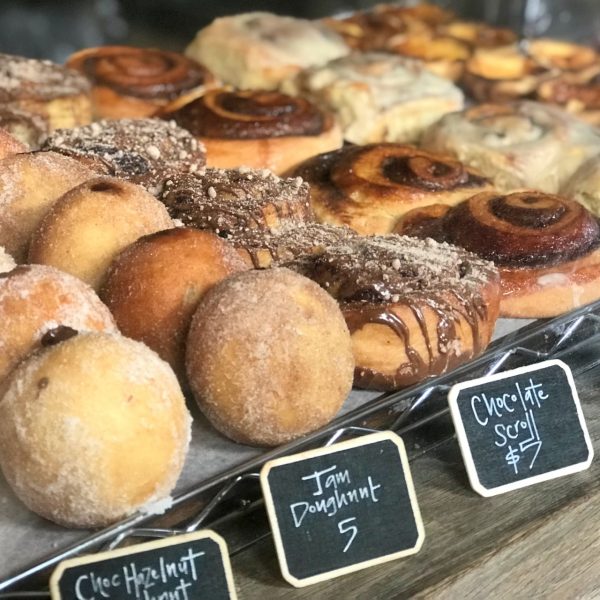 As well as it's impressive house baked bread and moreish baked goods, we had a delicious lunch here – our favourite in Freo – although for five of us, it was on the expensive side. The smokey beef brisket, braised chicken with peas and duck fat potatoes we ate here are the things of foodie dreams.
The artisan bread – charged at $2 per person but capped which is always a good thing when you have three hungry boys in tow – also comes with a range of delicious condiments from olive oil, salted butter through to garlic butter and fennel salt. SO good.
To keep things more budget friendly, order a posh pie or baked goods from the bakery which you can eat in the dining area.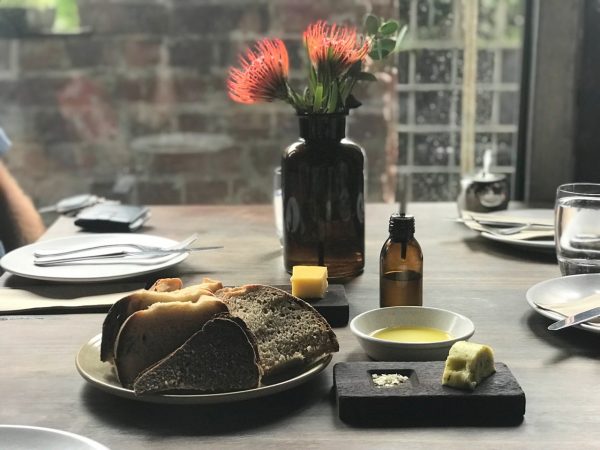 6. Odyssea, City Beach – For something a little more upmarket again with million dollar views, we loved our long lunch at Odyssea which overlooks City Beach.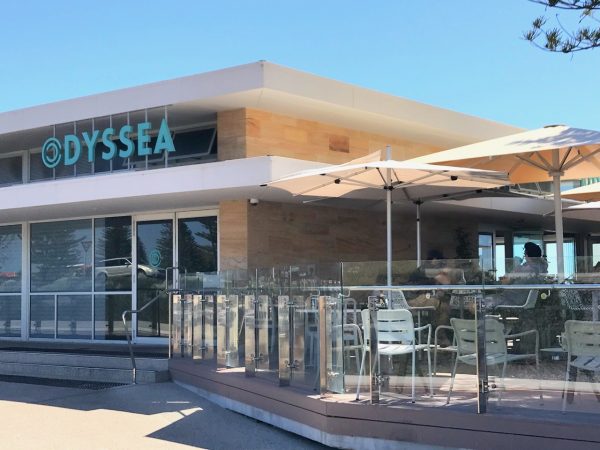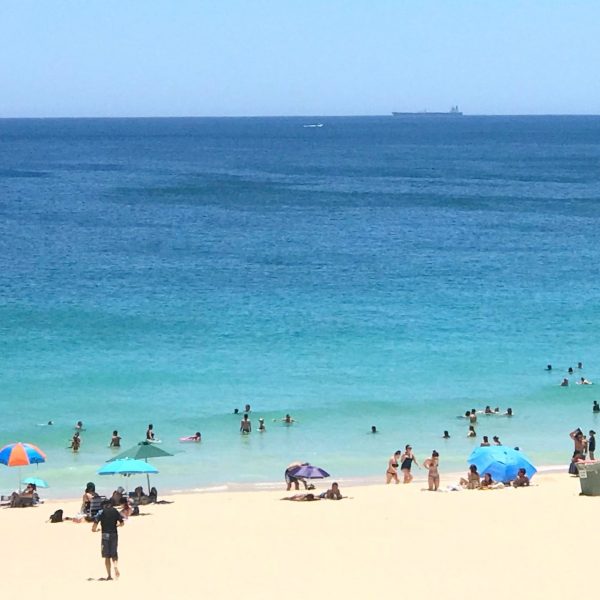 Again, the fitout, service and food here was absolutely spot on and it's a really beautiful space in which to enjoy a long, relaxed lunch.
While this is a much more upmarket place, we still took our kids here – they weren't the only ones too – and they were accommodated with children's menus and friendly service. How great to be able to dine in at a place like this with kids and have this wonderfully positive experience.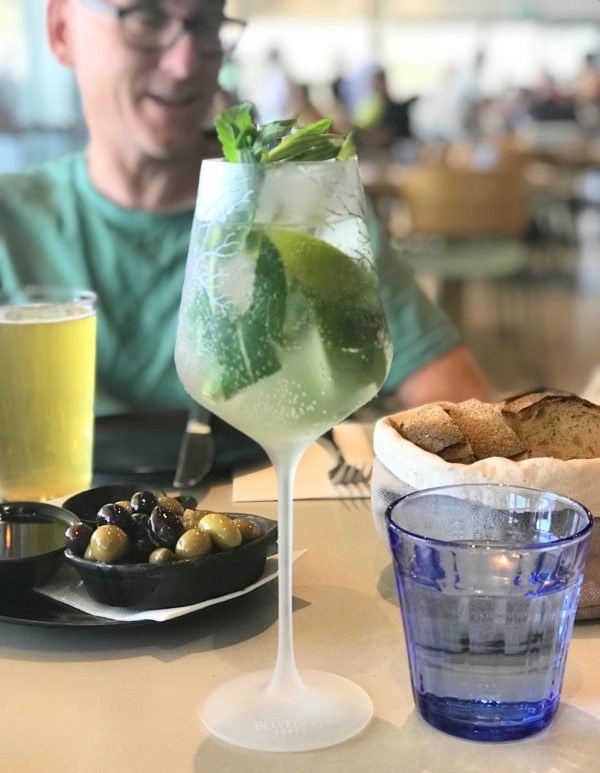 The food was top notch here too with simple and delicious flavours such as this delicious broad bean, tomato and whipped feta salad pictured below. My elderflower spritz, above, was the perfect aperitif too.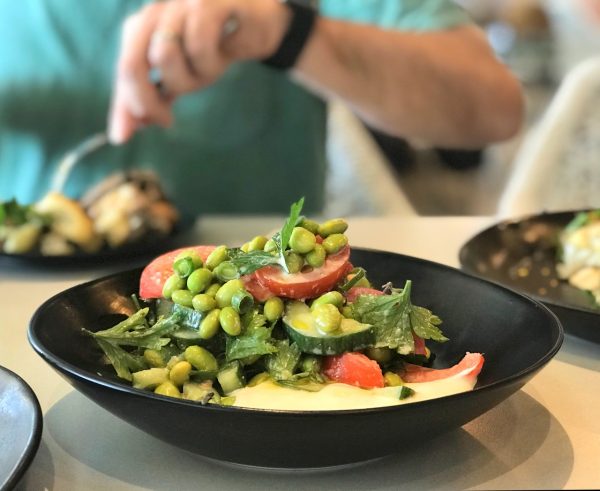 If you're visiting Perth, a long lunch or dinner or sunset drinks on the balcony here is a MUST.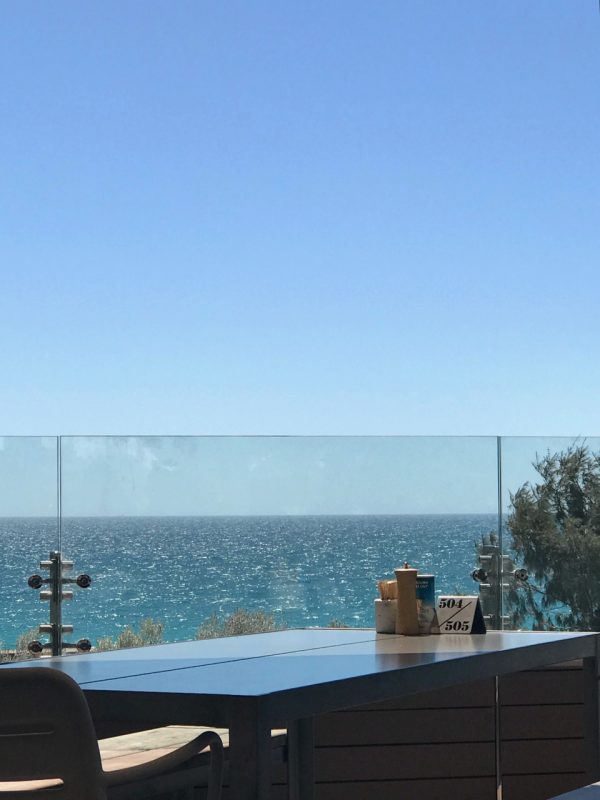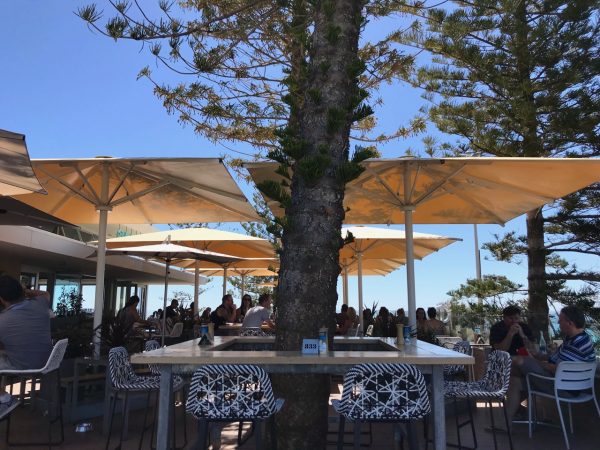 To book and for all the details, head here.
7. Bib & Tucker, North Fremantle – located next to the Surf Life Saving Club this is another coastal winner.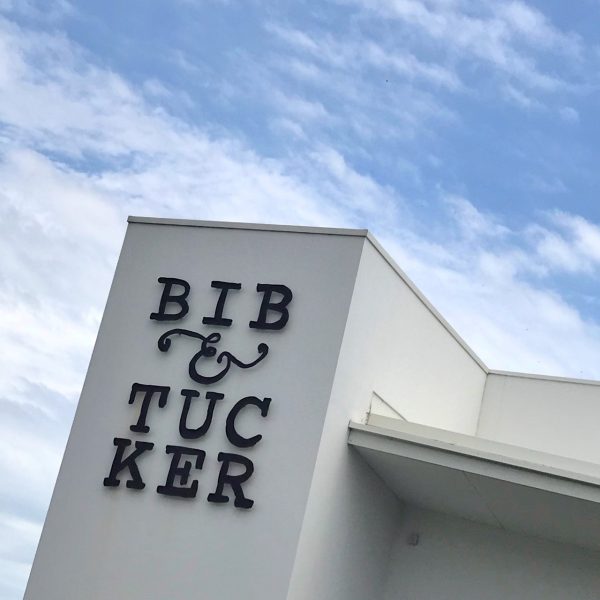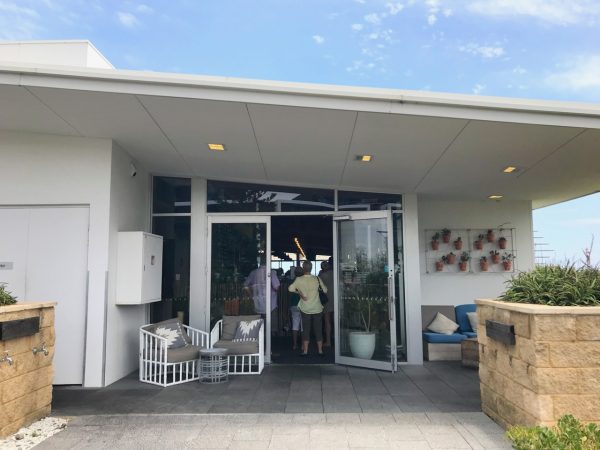 With it's coastal meets industrial fit out and views across the coast, this is a very cool and relaxed  spot for a drink on the balcony or breakfast/lunch/dinner. At any time of day, it's hard to argue with the view …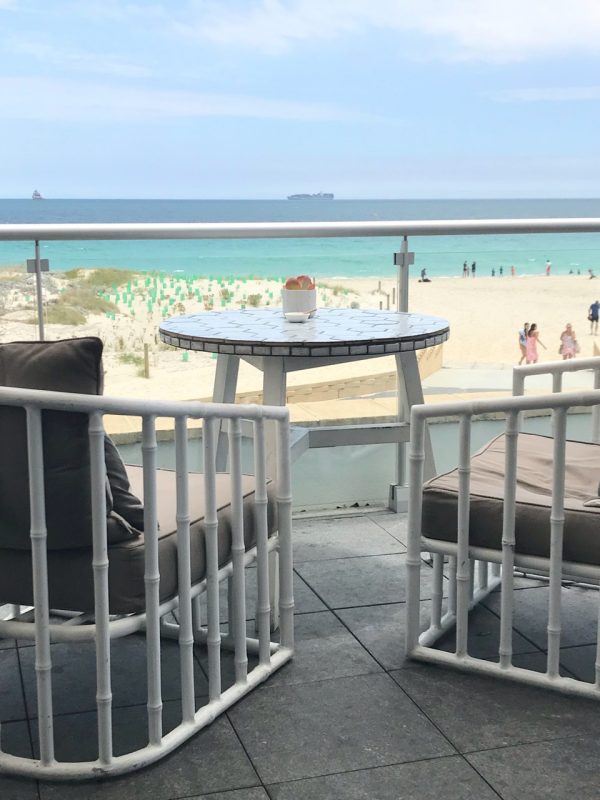 Again, we found this to be a super family friendly space with kids menu, activity packs and friendly service.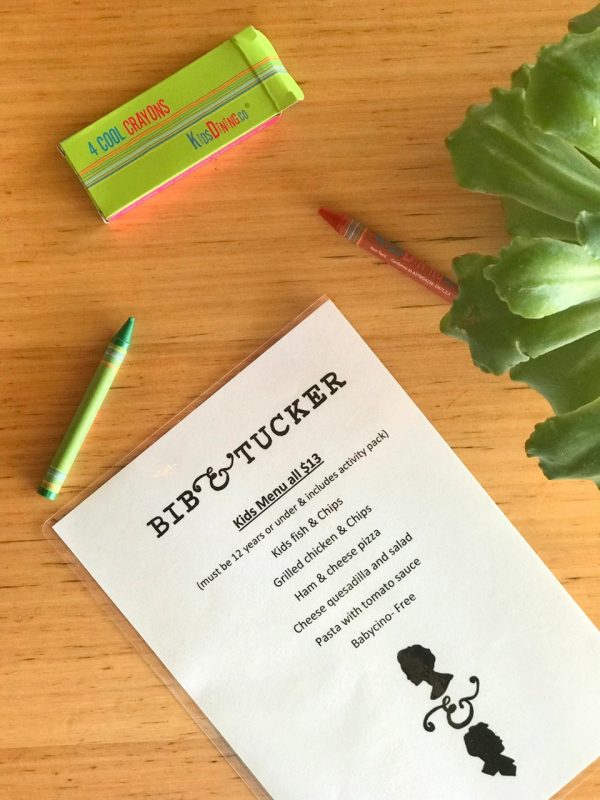 On the food front, I enjoyed a delicious rotisserie chicken with North African spices, preserved lemon and carrot hommus here. DEL-icious.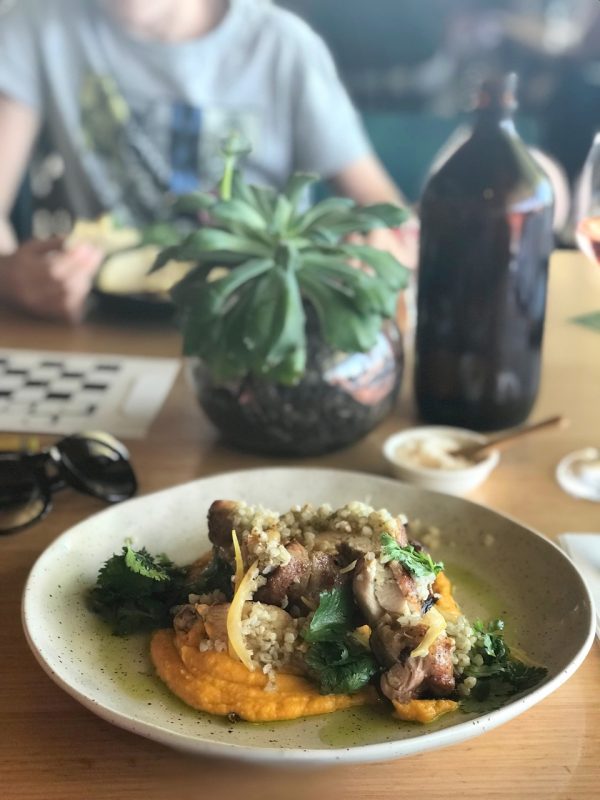 For all the details and to book, head here.
In a Nutshell
So that's a wrap on our trip to Perth. As you can see, we found Perth to be a beautiful place and a super easy and family friendly destination. Freo was an awesome base for us with our interest in museums, history and food too.
Overall, we found the food, beaches and sightseeing were all top notch and we can't wait to return.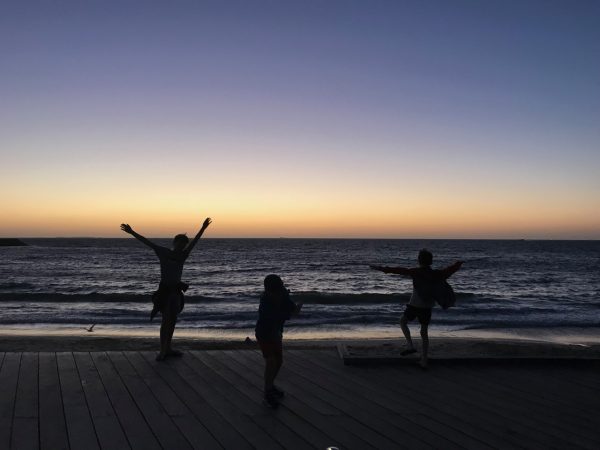 If you'd like to PIN this post for later, please go ahead and to check out flights to Perth on Virgin, head here.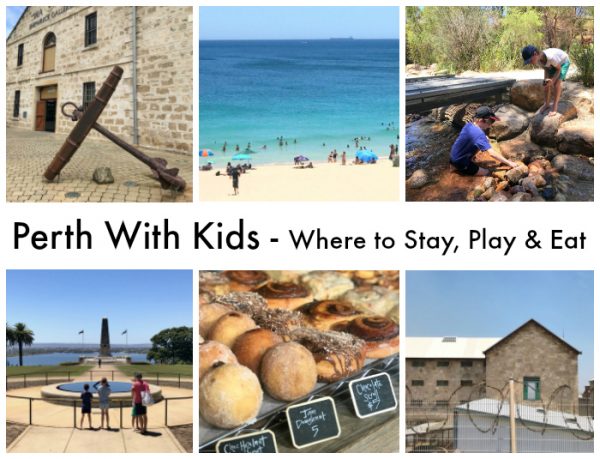 So over to you – have you been to Perth lately or are you a local? We'd love to hear your recommendations and thoughts on any or all of the above.