The question I was asked most often when I recently returned home from Hawaii was:
What should I pack for my upcoming trip?
And I totally got it.
Packing can be tricky enough at the best of times but I reckon it's a LOT harder when you're packing for a summer holiday in the depths of winter.
You might have packed away your summer clothes, or just not be in the zone to put together summer outfits, or be so distracted by everything you've got to do before you leave, you just don't have the brain space.
So if that's you, and you're about to jet off to Hawaii or some other fabulous tropical destination and need to get packing, today's post is for you. If you're staying at home but eagerly anticipating warmer weather slash Spring fashion, I reckon you might find a few things here too!
Checked In Luggage
There are plenty of ways to approach packing but I tend to begin with footwear and work from there. Shoes are usually the heaviest thing I pack – besides my toiletries – so I try to keep the number of pairs I take to a minimum.
I will often put my shoes on the floor and then place the outfits that go with said shoes on the floor next to them. If there's only one outfit, the shoes stay home as they haven't earned their suitcase space. I'm hard core like that.
Once the shoes and clothes are sorted, I add toiletries and accessories plus the other bits and bobs I've mention below.
So what did I pack for my holiday to Hawaii?
Shoes that are comfortable and in neutral colours – tan, black, white or metallic work with pretty much everything. For Hawaii, I packed tan sandals, a pair of leopard print sandals, a couple of pairs of thongs and my runners. I also threw in a pair gold mid wedges for dressier dinners out.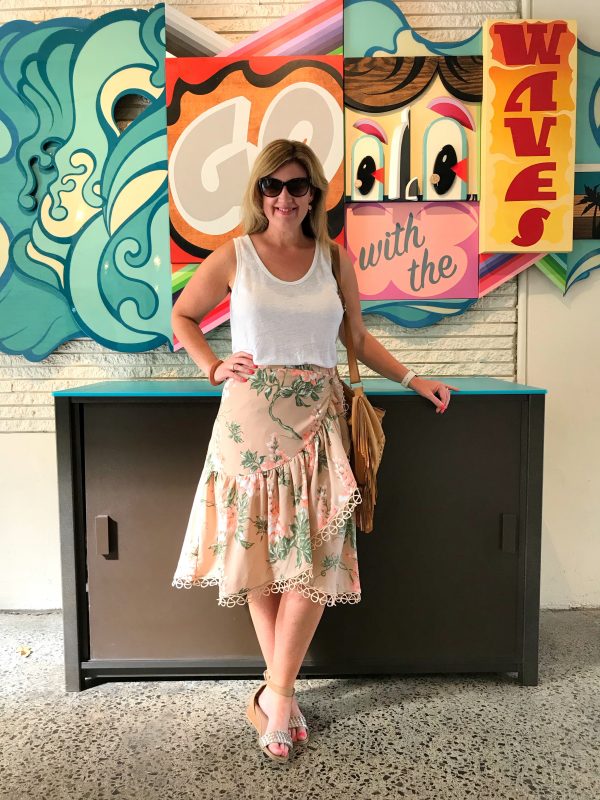 As much as possible, opt for lightweight cotton and linen clothing – it was very humid in Hawaii in August when we visited and breathable fabrics made a big difference to comfort levels;
A couple of pairs of shorts and singlets/tees for walks, bike rides and other adventures. I'm a raving fan of the linen tanks from Country Road, which I'm wearing above (you'll find a link in the collage below), and I'm also loving the budget friendly tank tops for $5 from Target which you can shop here.
A few lightweight dresses – I pack more than most as I find them the most comfortable to wear in the heat.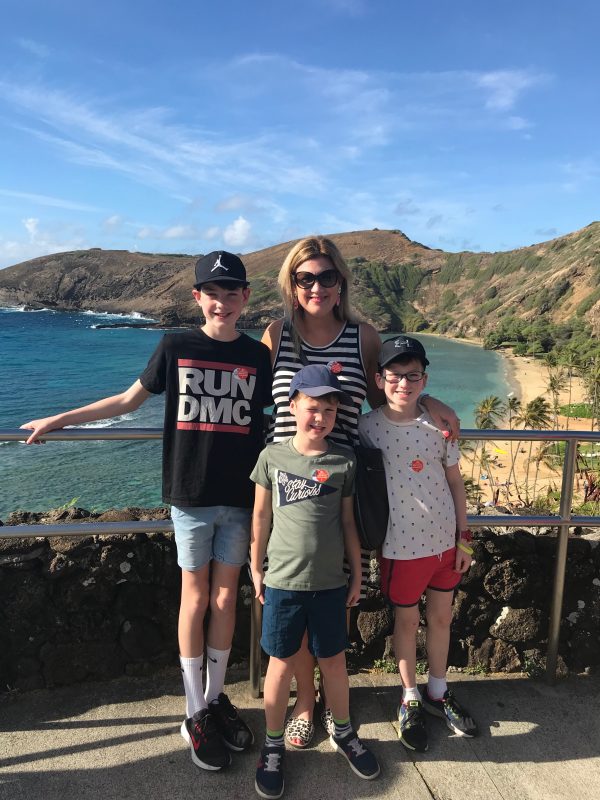 Pack a dressier dress/outfit if you're planning a night out somewhere special – I like to throw in at least one "going out" outfit for my holiday. (Below I'm wearing the Dolce dress from Bohemian Traders). Even if I'm wearing it with flats, it's nice to feel nice on holidays! That said, if you like to keep things relaxed on holidays, a blinged up top or pair of sandals will see you through too.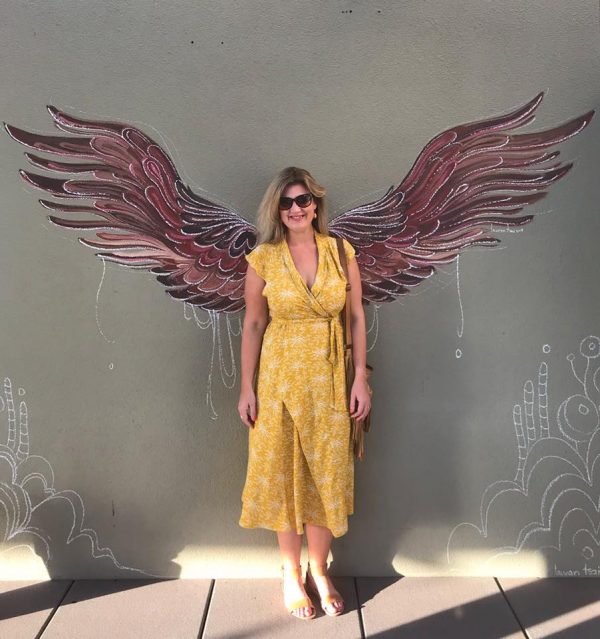 Think about what you'll take to the pool or beach and pack accordingly – for me, this means bathers (I always take a minimum of two pairs to allow for the daily rinse/dry), a couple of kaftans or beach dresses, sunnies, a hat, a book, a water bottle and sunscreen. Check whether your hotel/accommodation supplies beach towels – it might be one less thing to pack.
Pack less clothes if you have access to laundry facilities during your stay and save the room for new purchases;
Don't forget your smalls – Underwear, bras (including a sports or strapless bra if you need one), night wear/pjs;
If you're sticking with a limited colour palette or block colours, pack a couple of statement accessories – this might be a pair of statement earrings, a printed scarf or a great pair of sunnies. They don't take up much space but can totally change up an outfit;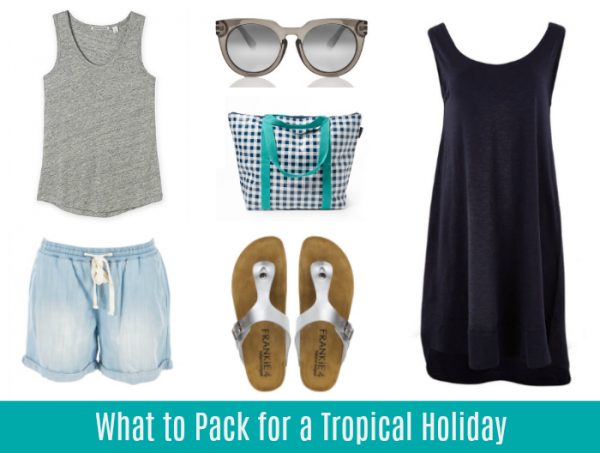 ABOVE, CLOCKWISE FROM TOP LEFT:  Linen Tank, $49.95 from Country Road; Sunnies, $39.95 from Sportsgirl; Navy Swing dress, $59.95 from Birdsnest; Hilary Slides, $149.95 from Frankie 4 Footwear; Chambray shorts, $69.95 from Birdsnest; Zip Up Medium Tote, $24.95 from Project Ten.
Take cabin luggage that you can use as a beach bag – I took one of my zip up Medium Totes from Project Ten (like the one pictured above) on as hand luggage (it zips up so things won't spill out in the overhead lockers or on the floor). The bonus is that they weight next to nothing and have plenty of capacity so you won't waste any of your carry on weight on the bag itself.
Creature Comforts – I packed my hair straightener and hair dryer for my recent trip but I probably didn't need my hairdryer as the hotel supplied one. If you want to save space, check what the hotel supplies or pack the hair products you'll need if you don't want to dry your hair in the heat.
Adaptors – throw in at least two adaptors (one for the bedroom and one for the bathroom) so you can recharge your phone/camera/kindle overnight. If you're travelling with several people or have many devices, it's worth packing a power board.
Toiletries – as well as the usual suspects, don't forget to pack your sunscreen, moisturiser if you want to maintain a spray tan and self tanner if you want some colour/to top up spray tan.
A clutch/messenger style hand bag or back pack – depending on what sort of a holiday you're going on and what you've got planned, think about other bags you might need during your stay;
Basic first aid supplies (Nurofen, Band Aids, Gastrolyte, ventolin etc) and any medication.
Depending on whether it's the wet/dry season, consider whether you need an umbrella or light raincoat. Most hotels will supply umbrellas to guests. We had a few sun showers during our stay but didn't need any rain gear thankfully.
Cabin/Carry On Luggage
An empty drink bottle to fill once you've passed through Security/Immigration;
Bathers/kaftan/thongs so you can hit the pool if you arrive at the resort before check in;
iPad/Kindle/book/earphones for the flight;
Camera and charger;
Earphones and chargers for tech gadgets;
Hand Bag
Passport and travel documents;
Wallet (with local currency and credit cards) and sunglasses;
Tissues, mints and lip balm/gloss;
iPhone and charger;
Comb, toothbrush, deodorant, toothpaste and face wipes to freshen up during long haul flights;
How Much Luggage Do I Need?
Excess luggage is expensive and luggage restrictions are usually enforced on budget airlines, so it's worth thinking about what you'll need before you fly, especially if you intend to hit the shops/outlets during your vacay. Pack your case and weigh it before you get to the airport so you know what you've got to work with.
Everyone is different but to give you an idea of what we did, on the way over to Hawaii, I booked three 20kgs suitcases between our family of five (we have three boys aged 12, 10 and 7). One suitcase between Mr SnS and Mr 10, another for Mr 7 and 9 and the third was mine. It wasn't as big as the others, PROMISE!
When our cases were weighed at check in, we were around 5 – 7 kgs under our 60kg allowance.
We were also entitled to 7kgs of carry on luggage each. Our boys carried a back pack each, Mr SnS had a backpack and a small carry on suitcase and I had my handbag and Project Ten Medium Tote.
For the way home, I had booked an extra 20 kgs worth of luggage but even though we gave it a pretty good crack (we packed one of our suitcases with our new purchases, while another was filled with all our dirty clothes), overall, we only used around 7 kgs of the extra 20kgs we'd purchased.
Finally …
Before you fly:
Make sure you've arranged travel insurance and carry the details with your travel documents in case of an emergency;
Check whether you need a visa – you need a US Visa to enter the USA which obviously includes Hawaii – do this a couple of weeks before you leave.
Take your drivers licence if you are planning to hire a car;
Notify your bank that you'll be overseas so they don't mistakenly cancel your credit card (this happened to a girlfriend recently);
Download some podcasts or some TV to watch/listen to, especially handy if you don't find enough to watch/listen to or the inflight entertainment doesn't work;
Check in online before you fly to save time;
Work out the cheapest way to get to and from the airport. For us, getting a maxi taxi both ways was cheaper than parking at the airport.
For more, check out the checklist in this post – What to Do Before You Go on Holiday.
Tropical Vacay Inspo
If you'd like to read about some of our family vacays to some of our favourite tropical/summer/warm weather destinations, you might find the following posts of interest:
Please feel free to hit me up with any questions in the comments below!
This post contains affiliate links. You don't pay any extra and I earn a small commission. Read more in my Disclosure Policy here.
So over to you, what would you add to my list? Where have you been lately or which tropical destination would you like to visit?