This time last year, I was kicking back on a banana lounge, cocktail in hand, in Bali.
It was a great holiday all round, and one of the easiest to pack for – kaftans, bathers, summer dresses and sandals pretty much covering all imaginable scenarios.
Not all holidays are easy to pack for, however.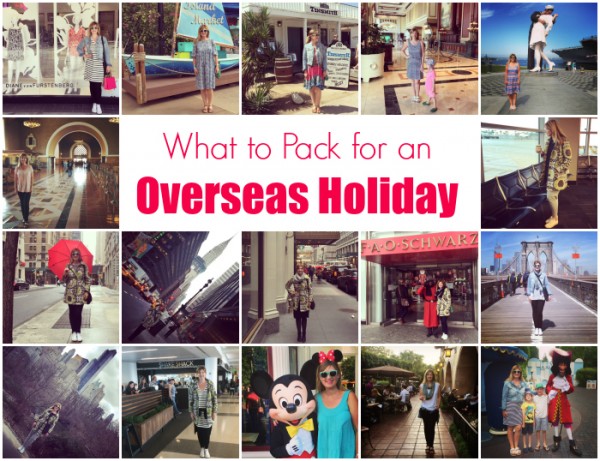 Earlier this year, I was almost paralysed with indecision about what to pack for our four week holiday to the US. We were travelling in late March/early April (Spring in the US), but temperatures at that time ranged from 15 – 24 (California) to 0-14 (New York).
While we were spending the majority of our time in warmer California, we still had to think about what to pack for our ten days in New York where it had been snowing two weeks before we arrived.
As it transpired, it was slightly warmer than expected in both destinations when we arrived, although we had a mixed bag in New York with maximum temperatures ranging from 5 to 18 degrees (we visited from 2 – 12 April).
In addition to this, I also needed to factor in a couple of dressy outfits for two cocktail parties I was attending in San Diego with Mr SnS who was speaking at a conference. This meant another two outfits and a pair of heels that otherwise would've stayed at home.
We'd also booked tickets to the theatre in New York, so I knew I had to bring a dressier Winter shoe as well.
Despite this, I managed to keep my luggage to around 18kgs on the way over. It was a balance between making sure I had enough options and packing as lightly as possible, so I thought long and hard about what I could mix and match.
I also wanted to take enough so that I didn't have to think about laundry every other day although I knew we'd need to get our clothes laundered several times during our trip.
In this post, I'm sharing what I packed for our four week holiday to the US in March/April for myself and our children. However, I think you'll find it's also relevant for any holiday where you are likely to experience a significant variety of temperatures or, as we did, everything from the Australian equivalent of a mild Summer through to the depths of a Melbourne Winter.
Alternatively, perhaps you can use what I packed for California and New York as a starting point for your packing for holidays to warm or cold climates elsewhere.
Below is a collage of what I wore over the four weeks we were away. Below, I'll break it down into what I packed for each distinct climate, then summarise what I think are packing essentials and finally, I'll finish with what to pack for the kids.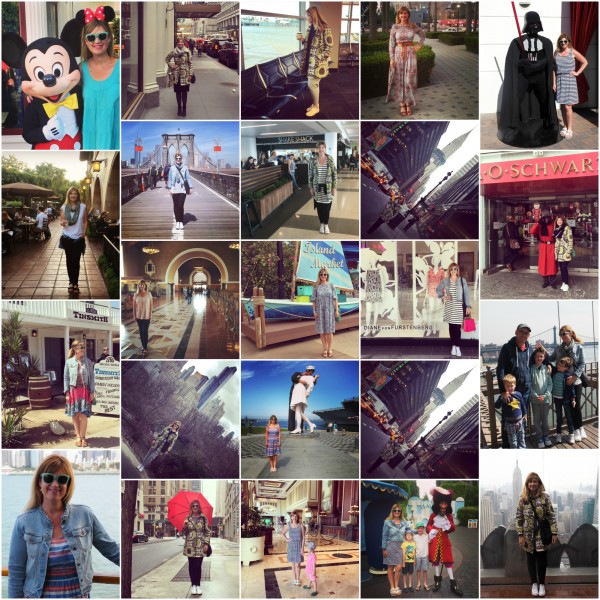 To begin with, here's what I packed for southern California in Spring. We spent a total of two and a half weeks there, with New York in the middle.
I think this would also be a good guide for high Summer in the UK or Spring/Autumn in warmer parts of Europe (for temperatures in the low to mid 20s), although you may not need the dressy outfits.
6 light sundresses, all of which were machine washable. One of these could be worn with leggings for milder days (the black and white striped Maritime t-shirt dress from Katie Hosking) and another could be dressed up if required (the coloured striped Hattie dress from Boden);
3 loose casual tops to wear with my harem pants/shorts/jeans;
1 pair of navy shorts;
2 pairs of jeans/pants – I wore my jeans a couple of times and I wore harem pants on the plane on the way over. I then bought another soft pant from Anthropologie;
1 cream knit cardigan (from Country Road);
1 denim jacket;
For the cocktail party events, I packed a Gorman pencil skirt (the Wing it Pencil Skirt) and hot pink shell top from Boden for one do and my Totem triangle dress (third from the right) which could be dressed up with heels or down with sandals. I didn't end up wearing this dress during our trip as I bought this awesome Maxi from H&M in Santa Monica and wore it to one of the functions instead.
I could have possibly packed one less top and one or two less casual dresses but they were lightweight and I ended up wearing them all in any event and it was nice to have some variety – I wore all of my dresses twice. I also only wore my shorts once but that's because I prefer to wear dresses.
The denim jacket was gold as it could be worn over everything and I wore it in every city we visited. I only wore my cardigan once or twice and could have survived without it given temperatures were several degrees higher than we expected (before we left the highs were in the low '20s but we had several days over 26 during our stay).
On the shoe front, I packed 6 pairs of shoes in total, four of which were for California where we spent most of our time – tan Salt Water sandals, white Birkenstocks, black Trenery sandals and a tan block heel for the evening functions, pictured below. Again, I could have survived without the black sandals but I did wear them, particularly with my black harem pants and jeans at night.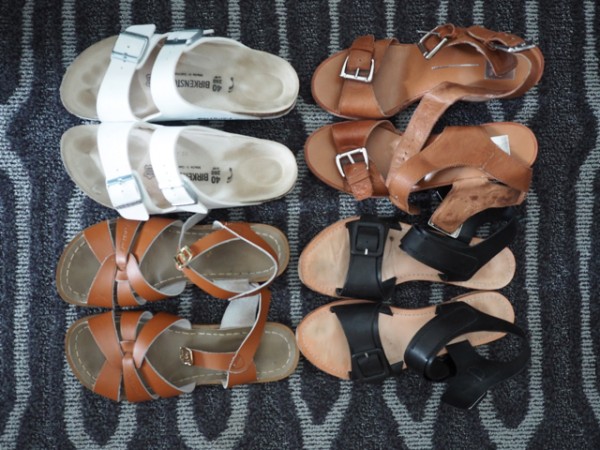 My California shoe-drobe
Here are some pics of what I wore: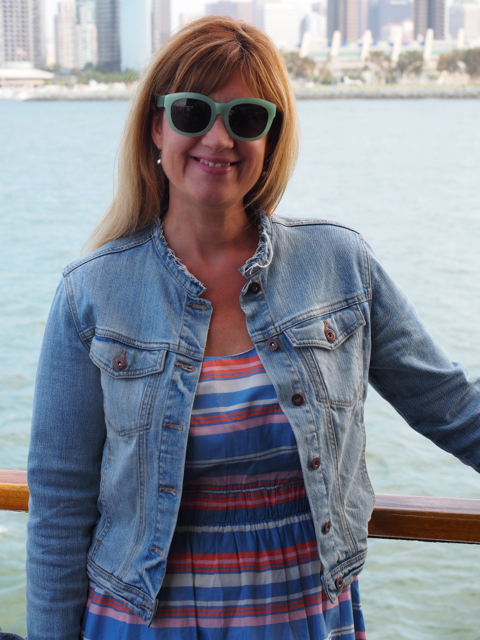 Cruising around San Diego called for a light jacket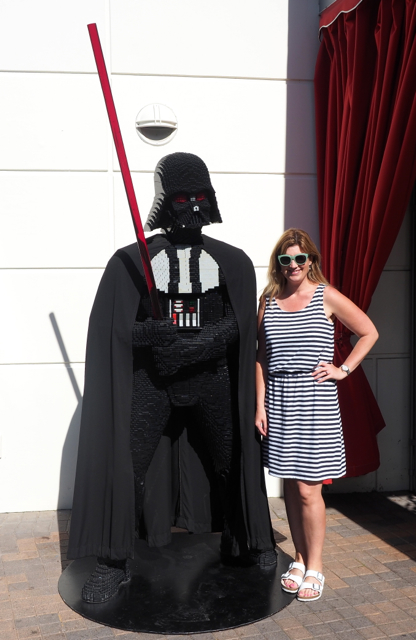 Legoland was hot – this Target dress was perfect and $17 on sale before I left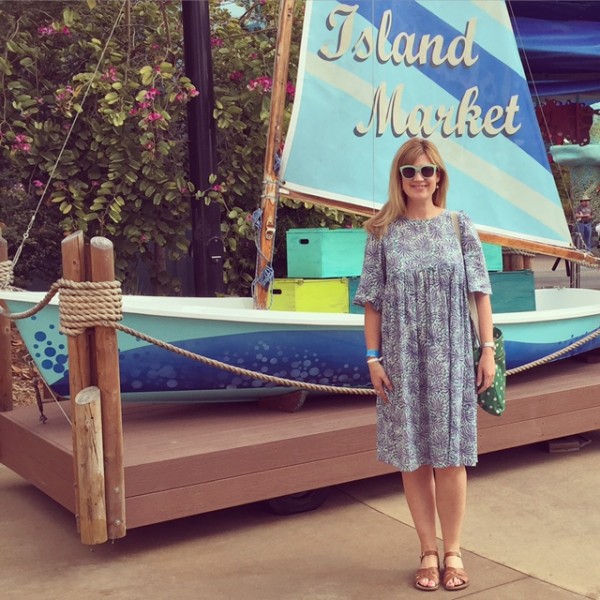 A light sundress and tan Salt Water Sandals for our day at Sea World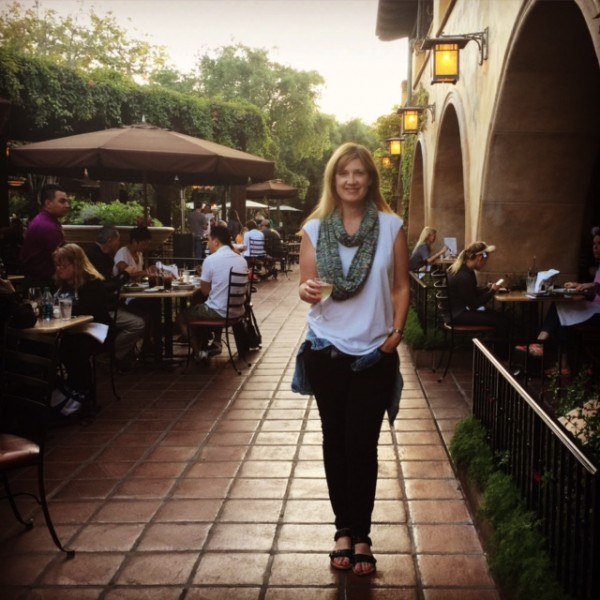 Wearing black jeans, a white tee, both from Country Road, a Sportsgirl snood, Boden denim jacket and Trenery black sandals for dinner and the World of Colour Show at Disneyland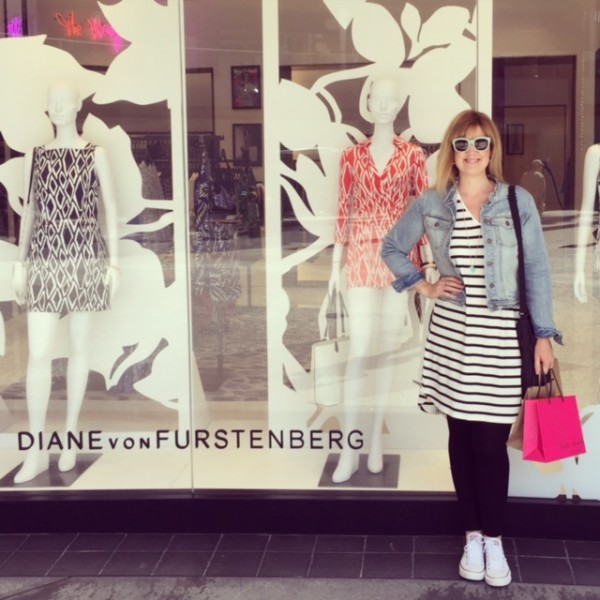 Shopping in Santa Monica in my Katie Hosking t-shirt dress, leggings, Converse and denim jacket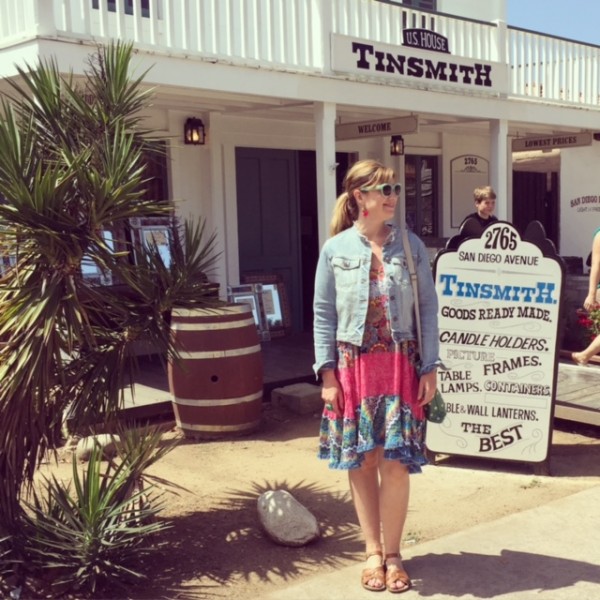 A Ruby YaYa dress paired with Adrift earrings, my denim jacket and tan Salties were perfect for a warm day in Old Town, San Diego
New York was a much bigger quandary, particularly given it was still warm at home when we left and I hadn't delved into my Winter wardrobe for some months.
In the end I packed:
two long knits in navy and green (I love the curved hem pullovers from Sussan);
two long sweater tunics in grey and black to wear over trackies and skinny jeans on milder days (mine are from Target, last Winter);
two lightweight merino knits (from DeCjuba and Glassons) to wear with jeans on milder days and to layer over my Woolerina merino dress;
a warm Winter weight (fleece lined) Rainy Day Mac from Boden;
a Woolerina merino knit dress (which was gifted to me – worn in this post) to wear to the theatre in New York;
two merino wool thermal long sleeved tops – picked up at Target and Kathmandu;
three long sleeved t-shirts from Country Road in neutral colours, pictured below;
three pairs of jeans/pants – denim skinny jeans, black jeans and a pair of grey skinny joggers, all from Country Road;
two pairs of shoes – flat black ankle boots from Country Road and a pair of white Converse trainers;
one grey woollen snood from Boden which went with everything and another, lighter, coloured snood from Sportsgirl which I wore on the plane and on milder days;
leggings and tights for dresses.
I wore everything I packed for New York as the weather ranged in temperature from 5 through to 18 degrees. In the end we only used the laundry service twice in ten days, and mostly for the kids' clothes (as they had fewer options) and my smalls.
I found I could rotate and mix and match all my clothes to come up with lots of different combinations.
 Heading out one evening to watch Beautiful – The Carole King Musical with Mum in New York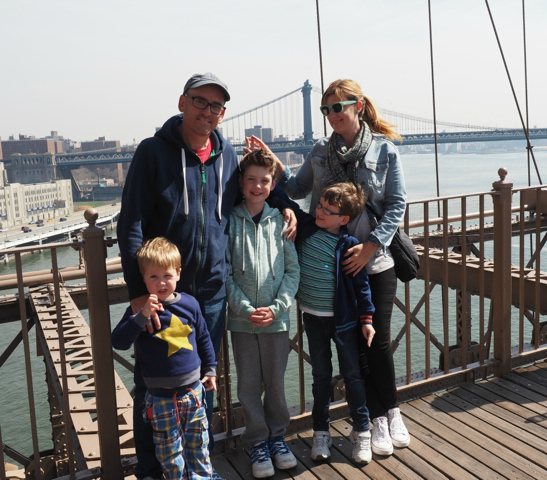 It was a mild 18 degrees the day we walked across the Brooklyn Bridge – jeans, a light knit, snood, denim jacket and Converse were perfect.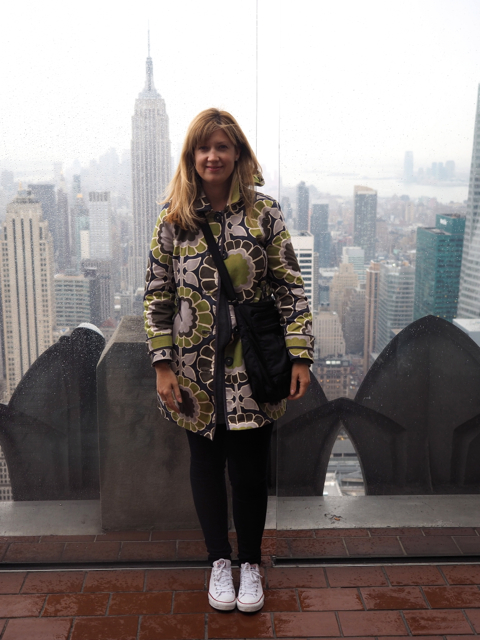 It was a cool 14 degrees and raining when we did the Top of the Rock in NYC
I was surprised to find though that I much preferred my Converse to my boots for walking around the city. I did wear my boots to the theatre though, so they earned their suitcase real estate, but only just.
As you can see, my Winter wardrobe was based predominantly on grey and black, with the only colours being green and navy knits which picked up the colours in my coat and a hot pink knit to wear on milder days under a denim jacket. This was a much more conservative capsule wardrobe than what I'd usually wear but because in Winter it's so important to be able to layer and mix and match, I found it was the best approach.
In contrast, in summer, I wore my usual prints and colour as I was pairing them with either white or tan sandals and a denim jacket.
So in summary, here are my tips for what to pack for a four week holiday where the temperature is expected to vary greatly:
a couple of pairs of jeans/pants – denim jeans and black jeans/pants form a great base for many outfits;
a warm, rain proof jacket for cold days and a lighter, neutral coloured jacket for milder days (a denim jacket is a great option);
at least five tops (some short sleeved, some long sleeved) in neutral colours to wear with jeans/pants and under knits;
three to five knits, of varying weights/warmth to wear with jeans/pants on cold to mild days;
a warm knit dress that can be dressed up or down;
leggings and tights and anything that can help your warmer weather pieces extend to trans-seasonal options;
a neutral coloured scarf/snood for cold days;
three to five lightweight summer dresses for warm days – consider adding a neutral cardigan if the nights are cool;
bathers, thongs, a sunhat and a couple of kaftans if you're spending time by the pool or beach;
if you wear them, a neutral pair of shorts/skirt or light pants to wear to wear with tops on mild days;
pjs or a nightie;
the minimum number of shoes necessary – they weigh a lot and take up valuable suitcase real estate. This will depend on what your itinerary involves – if you are doing a lot of walking, a trainer or Birkenstocks are a great option. Avoid taking boots if you can manage without them or wear them on travel days to minimise your checked in luggage. Tan sandals should cover most warm outfits and only take heels if you know you have a dressy do to go to.
don't forget your accessories – an extra scarf or statement earrings and necklace can dress up a basic outfit but don't take up much space;
sunglasses, umbrellas and a couple of lightweight handbags (mine were very light and able to fit into the outside compartment of my suitcase).
If you have very strict luggage restrictions for some legs of your trip and want to pare things back to the very bare essentials, it's best to stick to a very strict colour palette – say black/grey/navy, white and denim – so you can mix and match virtually everything. Colour and interest can be then introduced with accessories like jewellery, sunglasses, bags and scarves and of course, holidays purchases.
Clothing and shoes aside, don't forget to pack your toiletries (don't forget your toothbrush), camera and spare cards/batteries, phone, chargers, kindle, sunscreen, wallet, photocopies of your passport and any important travel documents and a basic first aid kit. For more tips, check out this post.
As for what to pack for the kids …
We tried to pack the very minimum for our boys as they were sharing a suitcase.
For our boys (aged 3, 6 and 8), for a four week holiday of varying temperatures, for each of them I packed:
5 t-shirts;
3 long sleeved t-shirts;
5 pairs of shorts, including a pair of quick drying bather board shorts which were perfect for Sea World and Disneyland where they got wet on some rides;
3 pairs of pants (trackies/jeans);
1 pair of pjs each;
1 pair of bathers;
a medium sized zip lock bag each with 7 undies and 5 pairs of socks;
a sunhat/cap;
3 long sleeved singlets;
3 jumpers plus a polar fleece jacket each;
1 lightweight raincoat each;
one pair of sandals/thongs and one pair of runners.
They also had what they wore on the plane too which was a pair of trackie pants, t-shirt and jumper.
This was pretty much perfect as we spent most of our time in warmer weather so we didn't need to wash as often there. We opted to take fewer warmer clothes as they were heavier and bulkier, knowing we'd have to do a couple of loads of laundry in New York (which we did). They did wear most of their warmer clothes twice before they needed washing though which was great.
For more information …
For ideas of what to wear on the plane and to pack in your carry on luggage, check out this post.
If you're about to head off to Europe, check out this great post What to Pack for a European Summer Holiday by Nikki over at Styling You.
I've also written about 21 Awesome Things to do in New York, Tips for Disneyland and my Tips for Families Travelling to the US.
If you're taking the kids someone warm, you might be interested to read this post which I wrote about what to pack for kids when going on holiday.
How do you find packing for overseas travel? Have you ever packed for a trip where the temperature has varied greatly? Can you share any of your tips?