While some of us are returning to school/work/normal routines this week, others have a plane ticket to somewhere fabulously exotic and tropical in their hot little hands.
Like my friend Ros, who recently emailed me with this request:
"What to wear when your travelling around a country resorting along the way (backpacking +resort accommodation). I'm off to Sri Lanka in March and need practical clothing that can mix and match for light travel, glamping, comfort with a touch of glam. Big brief I know !!!"
Firstly, thanks for your email Ros. I'm sure there are others in a similar boat not to mention others who are looking to update or complete a capsule wardrobe of their own – for every day perhaps or for weekends.
Putting together the capsule wardrobe Ros has requested is a great exercise in really drilling down what you need for a holiday. And while having the choice of your entire wardrobe every day can be fun, when you really nut out what you'll need, a tightly edited travel wardrobe can make every day wardrobe decisions a breeze.
Whether you're on holidays or at home.
Limited but versatile options can actually be quite liberating – that's how I found the last couple of weeks on holiday anyway.
When it comes to the tropics, a capsule wardrobe is relatively straightforward.
Without the need for layers (save for a travel day outfit perhaps), all you need are two or three pairs of shoes, a couple of bottoms, a few tops, a couple of dresses, bathers and a kaftan or two to give you at least 7 variations. Given it's so reasonable (usually) to have clothes laundered in some tropical destinations, you can easily wash and get two weeks wear from those said 7 variations.
So how to decide what to pack? I generally approach things as follows –
– clothes and shoes that are tried and tested, comfortable and practical for travel;
– neutral pieces that work together;
– a couple of statement accessories – this might be a bright pair of shoes, a piece of jewellery or a great pair of sunnies;
– versatile footwear;
– if possible/available, natural, lightweight and breathable fabrics such as cotton and linen.
Based on Ros' itinerary, I've put together the following capsule wardrobe – which covers both casual and resort style – which can be mixed and matched depending on where she is staying or what her day holds.
Given that most  brands' high summer collections are not as readily available now (Autumn drops, with their knits are already in store – I feel hot just looking at those turtlenecks), I've really had to trawl far and wide to find appropriate clothing for Sri Lanka in March when it's likely to be hot and humid.
Boden Clothing, an English label, is a great place to start for off season travel as they stock the opposite season – it's Spring collection is currently available, with high Summer to launch in February.
I've managed to find some great pieces though and as you'll see, I've stuck to a predominantly monochrome palette, broken up by denim and khaki.
For travel days and backpacking, I've put together this casual wardrobe. Several of the pieces also feature in the dressier resort capsule wardrobe below.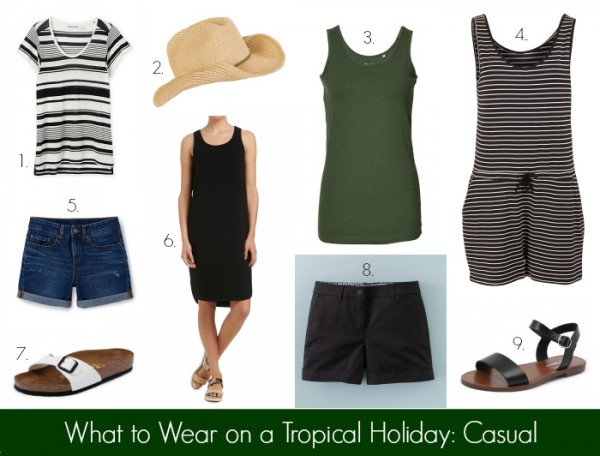 1. Block Stripe Tee, $79.95 from Country Road;  2.Coyote Hat by Seafolly, $39.95 from Birdsnest; 3. Basic Stretch Tank in Khaki, $10 from Target; 4. Venice Playsuit, $39.95 from Birdsnest; 5. Denim Shorts, $68 from Boden; 6. Tank Dress, $79.95 from Sussan; 7. Madrid White Patent slides, $101 from Style Tread; 8. Chino Shorts, $85.50 from Boden; 9. Bondi sandals in black, $79.95 from Style Tread.
This is a classic capsule casual wardrobe with tops and shorts that can be mixed and matched, giving four variations.
The playsuit is a fun but different take on the usual top and short combo but perhaps better suited to days in your accommodation, not trekking in the mountains, given the, um, access slash toilet issh-oo.
I've also added a tank dress that, like the playsuit, can be dressed up with sandals or espadrille wedges or down with Birkenstocks.
Speaking of Birks, I've included a patent style here for a more glam look. There are new metallic styles too if you want to take things up another notch without compromising on comfort.
Now for the dressier, resort edit.
Below, I've taken several elements of the casual capsule wardrobe above – the black shorts, tank dress and sandals – to show how they can work across both looks. The other pieces are a bit dressier and add that easy resort-luxe look Ros is looking for.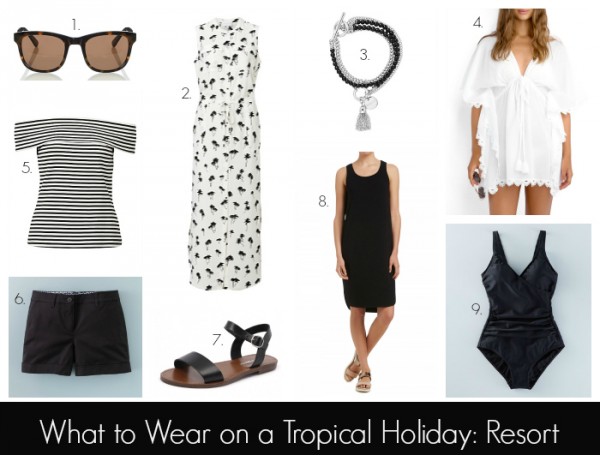 1. Wayfarer sunglasses, $99.95 from Marcs; 2. Side Split Shirt dress, $149.95 from Witchery; 3. Ventura Wrist Set, $69.95 from Mimco; 4. Crochet Trim Kaftan, $89.95 from Birdsnest; 5. Stripe Exposed Shoulder top, $69.95 from Witchery; 6. Chino Shorts, $85.50 from Boden; 7. Bondi sandals in black, $79.95 from Style Tread; 8. Tank Dress, $79.95 from Sussan; 9. Wrap front swimsuit, $119.50 from Boden.
As you can see, the resort capsule wardrobe adds another top – the stripe exposed shoulder top – which picks up on this Summer's off the shoulder trend. A linen tee or cotton peasant top would also work (and don't require a strapless bra) and all can be dressed up with black shorts or down with denim shorts.
This loose maxi with side splits is perfect for cocktails or dinner. A flat sandal always works with a maxi too, although if you've got room, you might like to add a wedge. This Witchery shirt style dress can also be worn unbuttoned too, over bathers or shorts and a tank, as styled on the Witchery website.
The pretty white kaftan is perfect for poolside style and works with any style or colour of bathers.
The Mimco bracelets are small and lightweight to carry but elevate a simple tank dress or top and shorts combo into dressier territory.
Other pieces that could easily mix and match with this capsule wardrobe include:
– Miami Stretch singlet, $19.95 from Birdsnest;
– Casual Weekend Dress, $99.50 from Boden;
– Washed denim short, $79.95 from Sussan;
– Madrid Black Patent slides, $101 from Style Tread.
Finally, whilst this post covers what to wear, I've covered what to wear plus all the other things in What to Pack for Bali and What to Pack for an Overseas Holiday. I've covered What to Wear and Take on a Plane here.
This post contains affiliate links. You don't pay any extra and I earn a small commission. Read more in my Disclosure Policy here. 
Do you live in the tropics or have a holiday somewhere tropical planned for this year? What do you always pack?