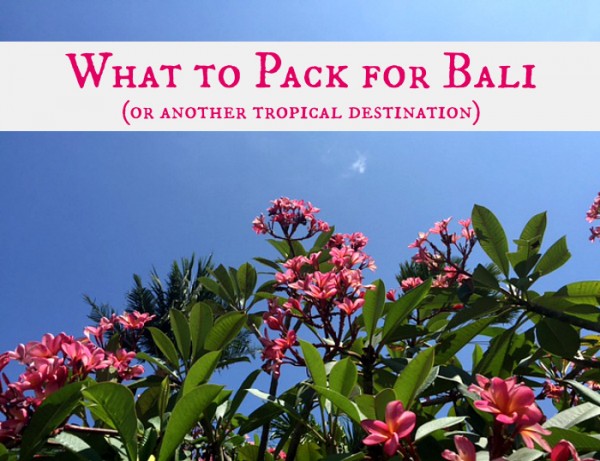 I've been lucky enough to holiday in Bali three times, twice of those visits occurring in the last fifteen months.
When I visited last year, I'll admit my packing was pretty good.
This time around, however, I was ALL OVER IT. I wore everything I packed and managed to have enough variety without bulk, leaving plenty of room for purchases. #winning.
So, if you're off to Bali (now that annoying volcano has sorted itself out) or some other fabulous tropical destination, in today's post, I'm sharing what I packed for a 6 day holiday with a couple of girlfriends as part of my Festival of Forty.
It might be a good place to start for your next tropical vacay, provided you are on a relaxed holiday without any major formal events to factor in.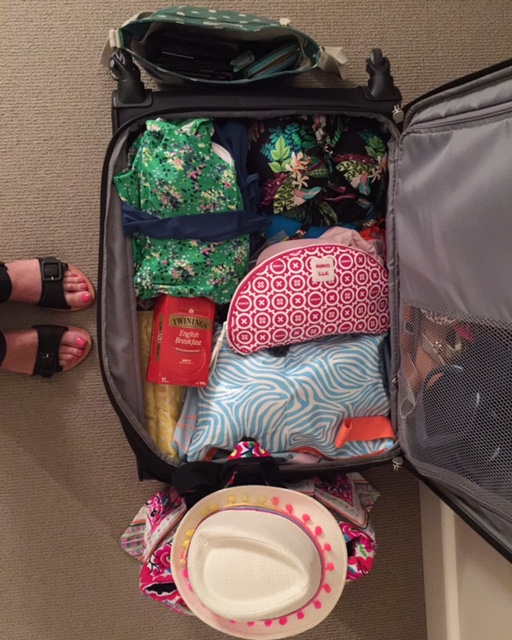 1. Lightweight, floaty cotton dresses – You will need one dress a day plus additional frocks if you're heading out at night. You'll get hot and sweaty as it's so hot and humid, so you'll need some options.
If you're happy to have your laundry done while you're away (which is super reasonable) you can pack less.
I found that thongs and a floaty dress were perfect for shopping and trying on clothes/shoes as they were easy to take on and off.
I love the range of floaty frocks at Adrift, Ruby Ya Ya and Heartfelt Designs Noosa.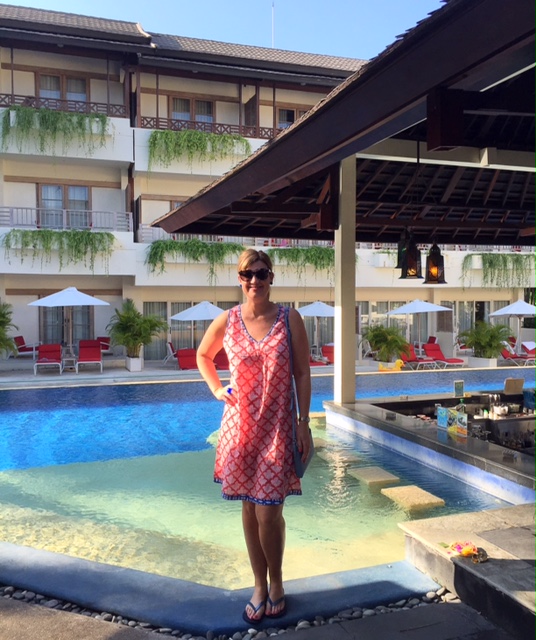 I'm wearing the Annika dress in red by Heartfelt Designs which you read more about in this post.
For going out (and we went to some pretty fabulous places including The W Hotel, Sarong and The Plantation Grill), I found a maxi dress and flats were perfect and comfortable for walking to and from the destination.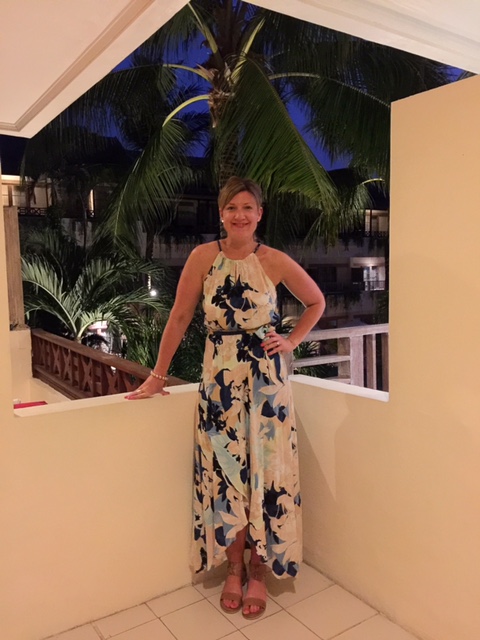 I'm wearing a Witchery maxi, the details of which are in this post on maxi dresses.
Below, for our lunch at The W, I wore a blinged up Ruby Ya Ya dress beach dress (it has gold sequins on the collar) with fun statement earrings, a gold clutch and shoes.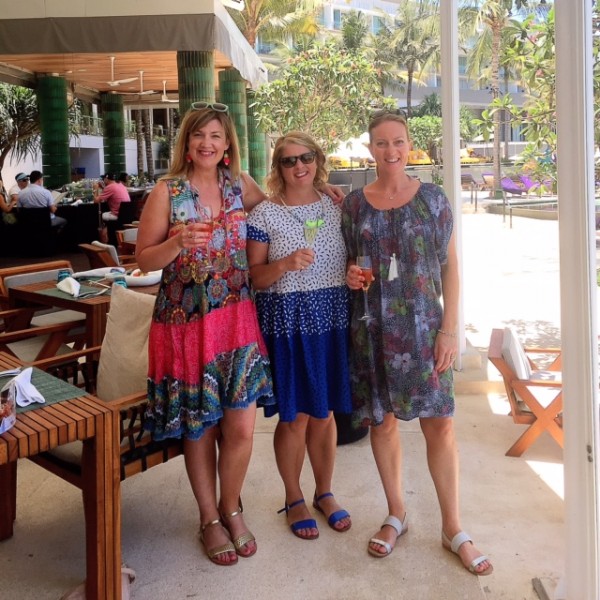 Alternatively, dress up a block colour dress with some fab, colourful accessories.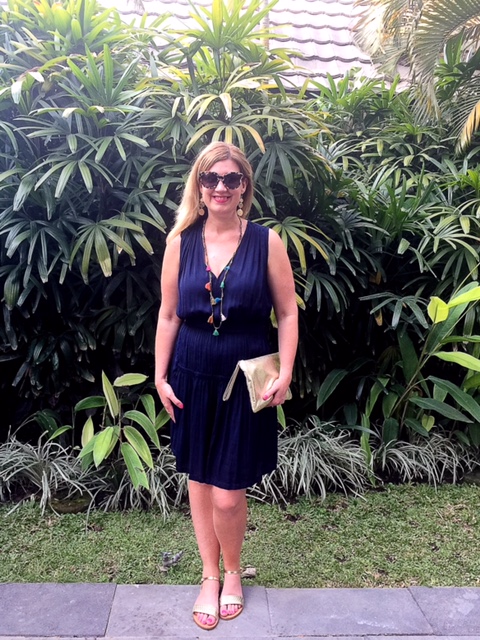 Above I'm wearing the Witchery navy dress featured in this how to style a navy dress post.
2. Bags – I took a variety of bags:
– a clutch for fancy dinners/drinks (there are plenty of clutches to choose from in Bali too the girls picked up their colourful snakeskin clutches there);
– a messenger style bag for shopping; and
– a larger beach tote to carry stuff to the pool/beach club (towel, book, sunnies, water bottle, phone and wallet).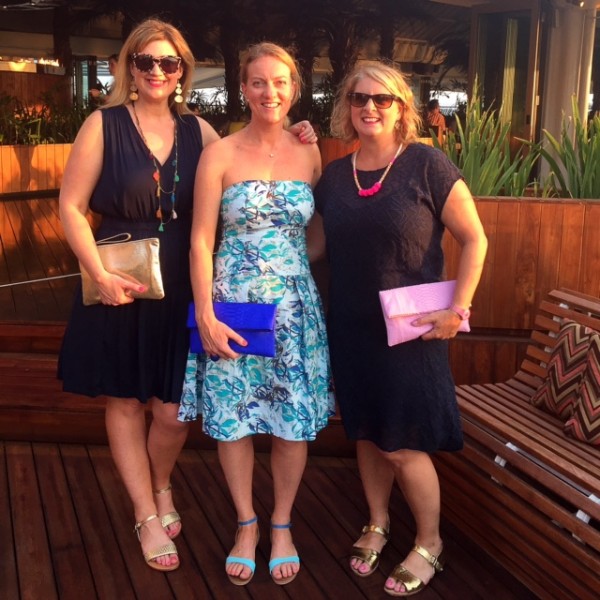 3. Bathers – at least 2 pairs – we found they took longer than a day to dry outside on our balcony because of the humidity.
I threw in a couple of kaftan/throw over bathers dresses too.
4. Shoes – last time I took one pair of heels and wore them once.
This time around, I took only flats including two dressy pairs – a gold Sambag pair and these metallic pink Gorman sandals.  Along with a couple of pairs of thongs and some tan sandals, this pretty much covered all bases.
Shoes are heavy so try to pack as few as you can and if you have to throw in an extra pair, make sure they are light.
5. Underwear – pack twice as much as you'd normally wear. With swimming, the heat and sweating, you'll no doubt be showering  at least twice a day.
6. Sunglasses, sunscreen, book/Kindle, a swim wrap, a couple of beach cover ups and hat – for lazing around pool or hanging at the Beach Club.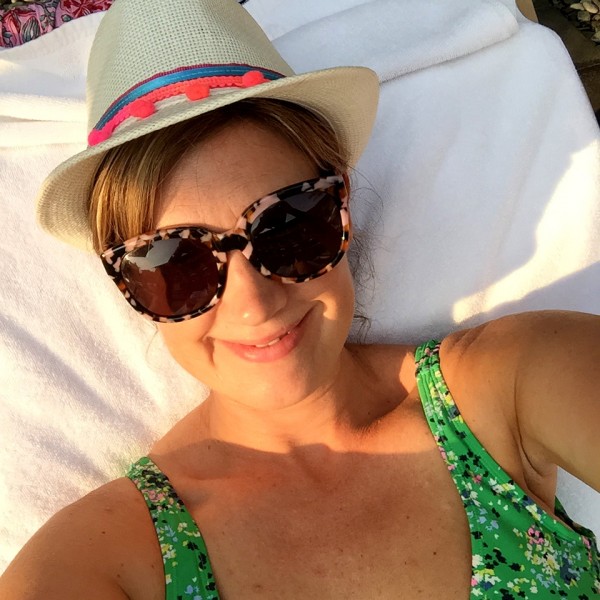 7. All the Chargers – don't forget to pack your phone, camera and Kindle chargers along with spare batteries and adaptors;
8. Documents – you'll need your wallet, credit cards, local currency, passport, itinerary, travel insurance info and other documents somewhere handy.
9. Toiletries – as well as all the usual, it's worth packing Gastrolyte – we took one each day to keep us hydrated – and stoppers and starters (such as Immodium or a laxative) if you are prone to changes in your usual rhythm when you travel.
One of us got badly sunburnt as well one day so paracetemol and some aloe vera/after sun lotion can come in handy for sun stroke.
The Optional Extras
If you're planning to shop up a storm on holiday, packing a foldable bag to use as hand luggage on the way home can be the way to go. I've got an old one from Mimco.
Some people use their smart phones to document their holiday but I like to bring my Olympus digital camera, so I need to pack spare batteries and a charger. Some people also bring different lenses or equipment.
I didn't bring my hairdryer (I used the hotel's) but I did pack my straighteners to avoid the constant frizz and lankness that heat and chlorine cause. I could also whip my hair up and just straighten my fringe when I didn't have time to wash and dry my hair before going out.
I always pack my favourite tea but amazingly, it was the supplied by our hotel.
In terms of communicating with home, I signed up for a $35 Travel Pass with Telstra which meant I could ring/face time home regularly without running up huge bills.
What You Won't Need
You won't need jeans, denim, cardigans or coats.
It's so hot and humid ALL the time. You'll never be cold.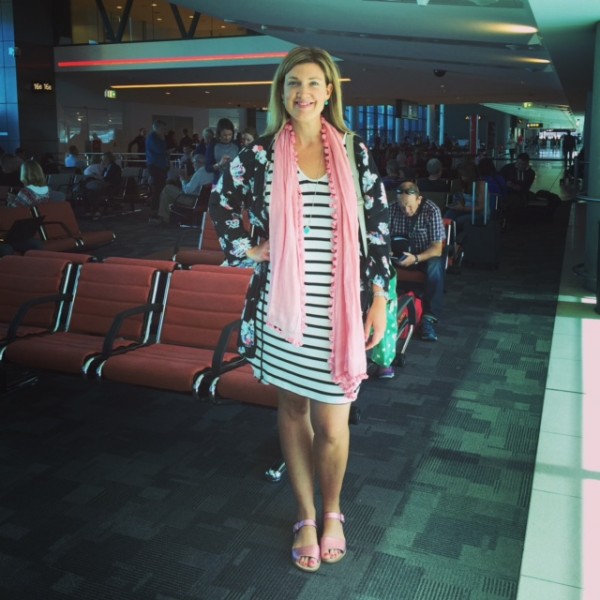 I wore a scarf and a kimono jacket over a sundress (above) on the plane which were lightweight and easy to pack away, as I didn't need them during our stay.
For more information on Bali, check out my Where to Shop in Bali post; my Top Ten Places to Eat and Drink in Bali post and my Bali With Young Kids post.
This post contains some affiliate links. You don't pay any extra and I earn a small commission. Read more in my Disclosure Policy here.
Have you been to Bali? What did you pack? Or forget to pack?