So I've given you the larry lowdown on Bali with Kids and Where to Shop in Bali.
What more could I possibly have left to say?
Well, I've saved the best for last.
Yes. Really.
If you've been popping by here for a while now, you'll know I'm a foodie from way back. And readers, can I tell you that Bali totally knocked my socks off in the food and beverage departments. Oh yes it did.
On our honeymoon, twelve years ago, Mr SnS and I ate at some great restaurants (Ku De Ta, La Lucciola and The Living Room). The difference is that back then, there was nowhere near the scale and variety of great places that there is now. We chatted to a few people about this. The word on the street is that the foodie scene in Bali has come a long way in the last five years, but the last three years in particular, have seen incredible growth.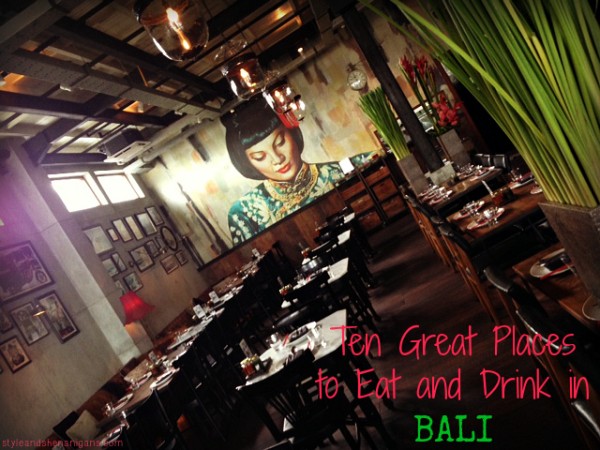 Compared with eating out at equivalent establishments in Melbourne (and other capital cities), eating out in Bali is around half the price – for both food and drinks. A main course at one of the best restaurants (Sarong, Mamasan or Sardine) is around the $15 mark. An equivalent dish in Australia would be between $30- $40. Cocktails are around the $5 mark (hello mojito) and a jug of mojito or similar will set you back around $20. I know.
The only major exception was wine. Wine was generally on par with Australian prices and was even relatively expensive at the supermarket.
Below, I have listed ten places we visited during our recent Bali holiday. They are all situated in Seminyak and neighbouring suburbs. We took our children (8, 6 and 3) to all of them except for Sarong and Sardine. I would recommend them all.
If you have an upcoming holiday to Bali planned, I would also recommend that you book some of the more popular restaurants online before you go or early on in your stay, particularly Mamasan.
1. The W
W should be for Wow.
We took the kids to The W Hotel's Starfish Bloo one Sunday for their buffet lunch which runs from 12 – 3.30pm. It is approx AUS$40 for adults and $20 for children, and you can add on beverage packages for an additional cost (such as non stop sparkling wine for $30). The setting was spectacular, overlooking both the pools, lawn and the ocean.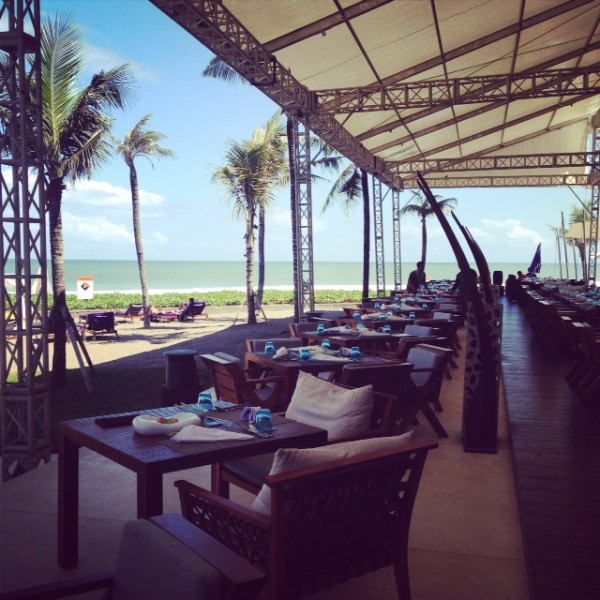 The food was impressive: suckling pig, a seafood bar, sushi and sashimi bar, dim sum, roasts and more. The dessert were fabulous too with a range of continental and Indonesian desserts, freshly made waffles and an ice cream bar.
If the setting and food wasn't enough, a great DJ was on the decks all afternoon and an informal play area was set up for the kids nearby. All in all, a very memorable afternoon and one I would highly recommend. To read more about our experience of taking kids to The W, head over here. For an online reservation, click here.
2. Mamasan
We visited Mamasan for lunch on our last full day in Bali which coincided with our son's 3rd birthday. Mamasan is the younger sister restaurant to the established Sarong and had been highly recommended to us by our friend, chef Shane Delia. It. Was. Fabulous.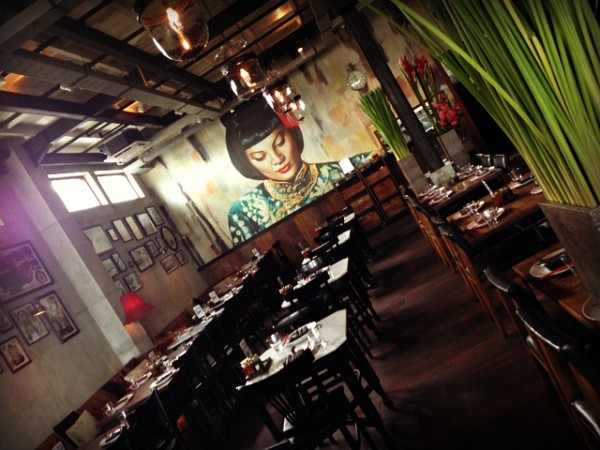 We had tried to book dinner, the week before, but had no luck as it was booked out, so lunch it was. Next time, I would book before we arrived in Bali or as soon as we arrived – so if you're heading to Bali sometime soon, don't dally, book online here.
The kids inhaled the hainanese chicken and the steamed snapper dumplings. Mr SnS and I adored the crispy salted pork with yellow bean garlic chilli & gailan and pepper beef stir fry. But the roti, oh the roti was absolutely world class. It was unbelievable and I can't even begin to do it justice. Think crispy, salty, melt in your mouth perfection. We may have ordered four serves.
Mamasan is a great spot for a special lunch and would make a great dinner date out for the adults. When I popped upstairs to use the bathroom, I also saw a very fabulous private dining area that would be perfect for a milestone dinner or bigger (maybe wedding or engagement) celebration.
3. Corner House
Another great option is the Corner House, which has recently extended its hours to now open for dinner. Set on a corner (surprise), it is an unexpected package.
It has a vintage industrial meets Provincial style fit out with high ceilings and plenty of space.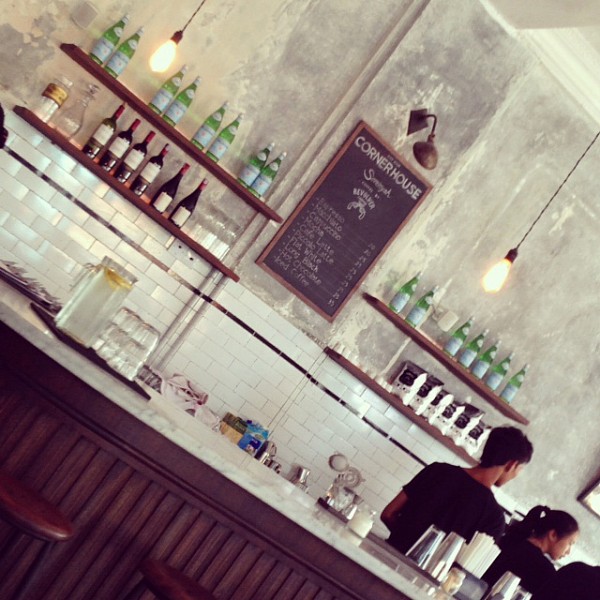 I popped in here by myself one day for a coffee and vowed to return. I did shortly thereafter with the rest of the family for lunch. My lamb burger with minted yoghurt, balsamic glazed onion, cheese, cucumber and mixed greens (below) hit the spot and Mr SnS rated his beef burger very highly as well. You'll also find quiche, vegie burgers and a range of substantial salads on the menu. There was something for everyone, with children well catered for with a nice albeit limited kids menu and highchairs.
To top it off,  they serve Revolver coffee, have hydrangeas dotted everywhere, sell their own provincial style home wares range and stock Australian papers. Seriously, what's not to love?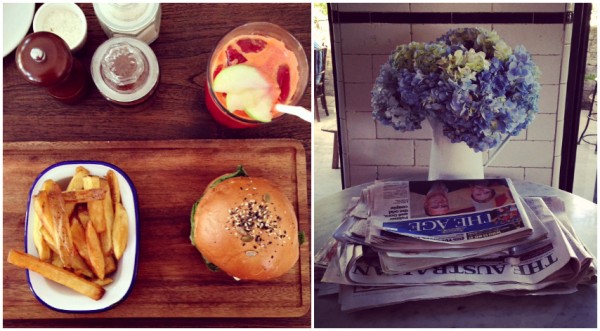 4. Sarong
If you can sneak away for dinner on your own, make sure you visit Sarong. It had been highly recommended to us by several people (including Nikki at Styling You) for good reason. Set around an open pavilion with gorgeous soft furnishings, couches, chandeliers and the most enormous carved mirror over the bar, it is casual, tropical luxury at its best.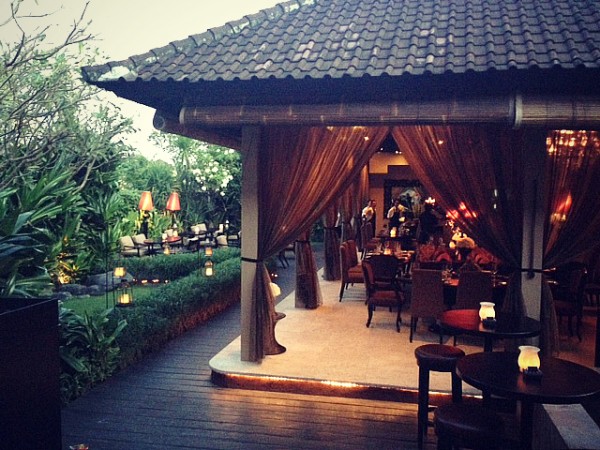 Our food was fabulous – we had the raw salmon, zucchini flowers and pork belly for entrees (all great but very different from one another) and the slow cooked pork cheek and the Sri Lankan lamb curry for main with a side of vegetables and naan. With a couple of cocktails (where have you been all my life Summer Berry Collins?) and a bottle of NZ wine, it was great value at $180, considering the excellence of the food, service and setting.  A comparable meal in Australia would easily cost double.
You can book online here.
5. Sardine 
In neighbouring Kerobokan, you'll find the very tropical and ambient seafood restaurant Sardine. Overlooking rice paddies and with terracotta pots lining the perimeter, it is old school Bali at its best.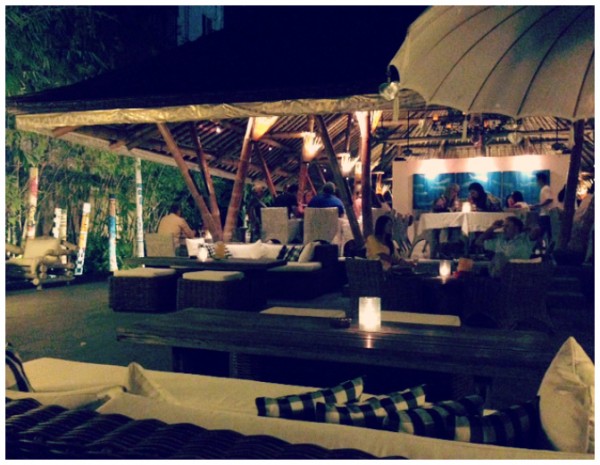 We had a lovely seafood dinner here and we found the options much lighter than some other places. The desserts were sublime. There is also a bar for drinks and a lovely terrace for dessert after dinner.
Email reservations aren't accepted but you can call up to one month ahead to make a reservation.
6. Motel Mexicola
For a casual dinner with the family, our top pick was Motel Mexicola.
This is a spacious, open air restaurant with a festive yet relaxed ambience. The decor is colourful, interesting and vibrant too – a kind of Frida Kahlo/Mexico/1960s LA mash up.
I visited three times – twice with the family for dinner and once with a girlfriend for lunch. The kids went for the cheese and chorizo/chicken queseadillas (the Mexican version of a toasted sanga) and the little tacos. I was a big fan of the fish ceviche, the pork ribs and the mojitos.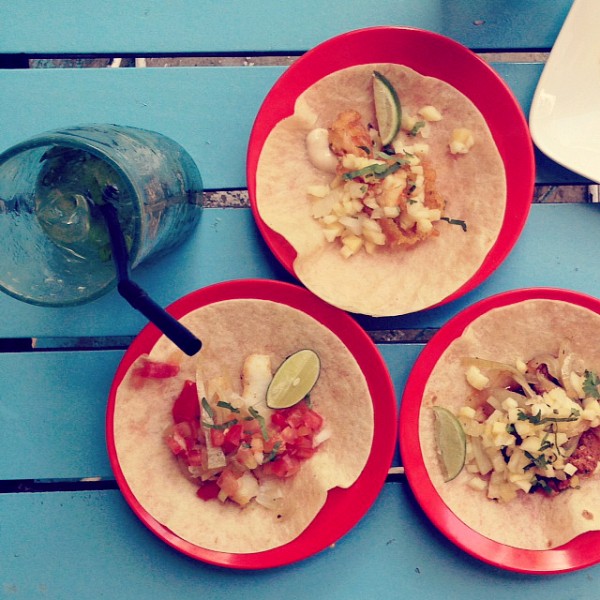 It's a great spot for a lunch pitstop in between shopping – my GF and I shared a lunch of tacos (above, $3 a pop) and another round of mojitos. It would also be a great spot for drinks, with two bars and plenty of space.
A super cool spot, day or night. You can book online here.
7. Sisterfields
For a pitstop while shopping, Sisterfields (just down from Seminyak Square) is the perfect spot for a serious juice, fresh salad or brunch. It's a day only affair at present although there are plans to open for dinner in 2015.
The food here is excellent. I had a slow cooked pork belly over coleslaw for lunch (below) and it was delicious.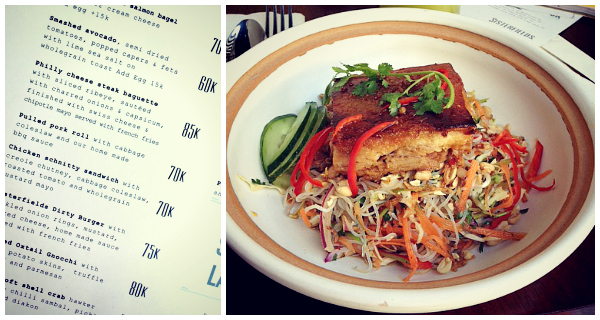 Sisterfield's turquoise and white fit out with modern wire chairs and stone bench tops was clean, modern and a great escape from the busy streets of Seminyak.  We took our kids here for lunch but there is no kids menu.
8. Potato Head
It's better known for its cool fit out, spacious lawn and pool overlooking the ocean, but foodies should also be heading to Potato Head Beach Club. The food and drinks here were really, really good.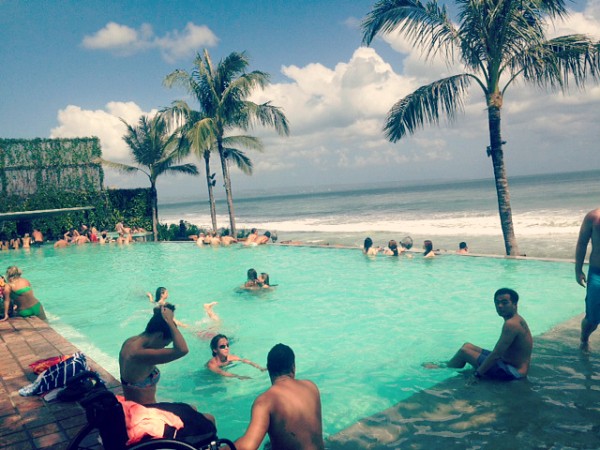 I happened to choose a Kookaburra (cocktail) and have since been inundated with comments from people about it and how good it is. A friend even suggested if I hadn't had one, I should go back for that alone! I think I'd have to agree.
We ate lunch when we visited and Mr SnS rated his club sandwich very highly.  My salad of chicken, pear and walnuts was a refreshing change from my carb overload. The garlic aioli that came with the chips was right up there too.

9. Revolver
If you are craving a great coffee, I can highly recommend Revolver. It is accessible through Home Store (on the main street in Seminyak, just down from Seminyak Square) or down a little alley which perhaps added to its Melbourne meets Bali vibe but makes it a bit tricky to find.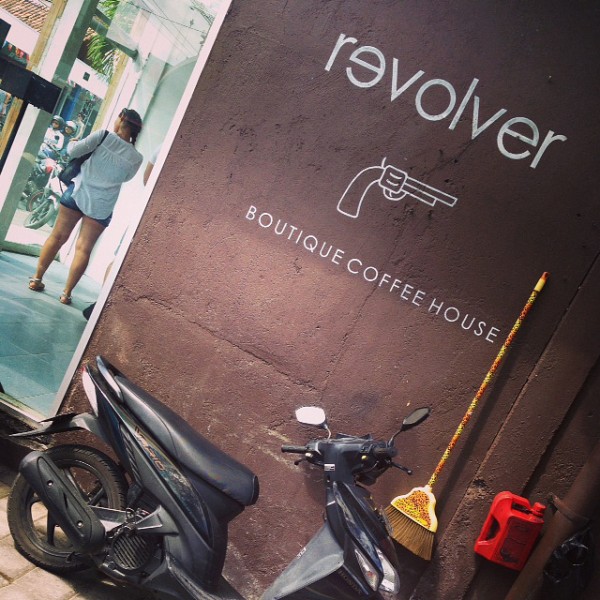 You can also stop here for breaky, brunch or lunch. For more info about Revolver, head over here.
10. Sea Circus
We also ate out at Sea Circus, which we enjoyed, although the food wasn't quite at the same level as some of the other places mentioned above. There is something for everyone on the menu though – plenty of burgers, tacos, seafood, salads and both small and big plates to share.
It's also a great place for families –  the staff were accommodating, relaxed and ready to help; there were highchairs and they were happy to accept our 5.30pm booking.
I'm also a big fan of the fun fit out out, the Mister Zimi clad waitresses and $23 jugs of mojito. Yes, that's not a typo.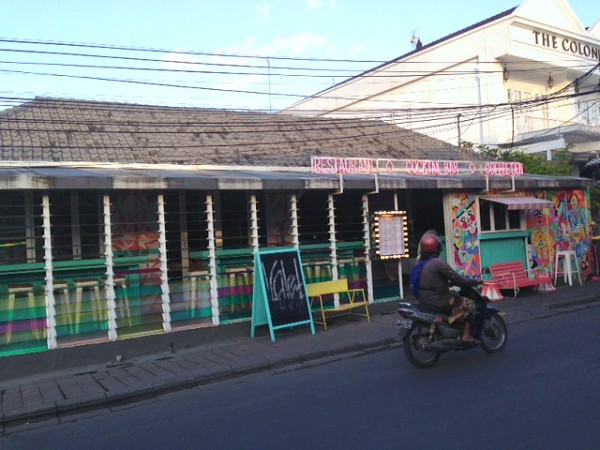 But Wait, There's More
We also paid a visit to Olive, over near Potato Head and The W, which had a great menu, friendly staff and a relaxed vibe.
Grocer & Grind was also recommended to us for pizza, coffee, salad and a great magazine selection. I'll definitely be heading there next time.
Friends who have travelled to Bali with kids, also rated Ginger Moon, Trattoria, Cafe Petitenget and Ultimo very highly.
Are you surprised by the foodie scene in Bali? If you've travelled to Bali, what was your favourite spot?