Melbourne's long held reputation as a serious food destination is well known both locally and further afield.
So it's probably not surprising then, that on the occasions I do venture in to the city for a drink, lunch with a girlfriend or date night with Mr SnS, it's always a tricky decision to work out where to go.
With Melbourne's endless proliferation of new bars and eateries, the hippest of which are usually secreted down some obscure alley or laneway, there's always somewhere new to check out as well as the temptation to return to all those much loved and longstanding faves.
Lately, thanks to a few sessions at the Melbourne Writers Festival and a couple of shows, I've been in the city A LOT and taken the opportunity to check out a whole stack of newbies in the eating and drinking departments.
In this post, you'll find my reviews as well as recommendations for the sort of night out if would suit.
Oh and don't forget to tell me about your latest discovery or favourite oldie but goodie in the comments below.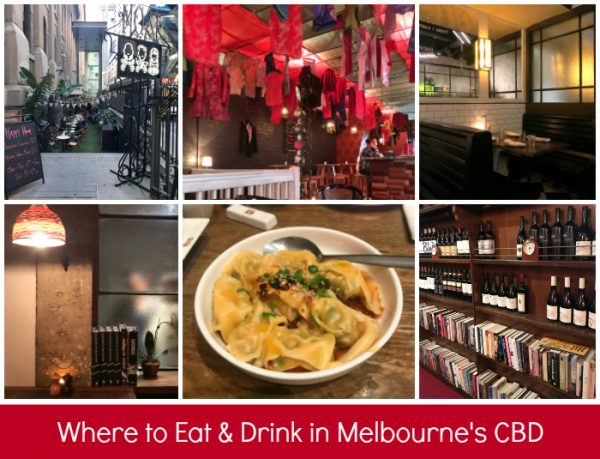 1. The Moat –  176 Little Lonsdale St, Melbourne
Situated under The State Library and The Wheeler Centre in Little Lonsdale Street, The Moat is a great place to continue earnest conversations about books and other literary gossip, well after the author de jour has left the building.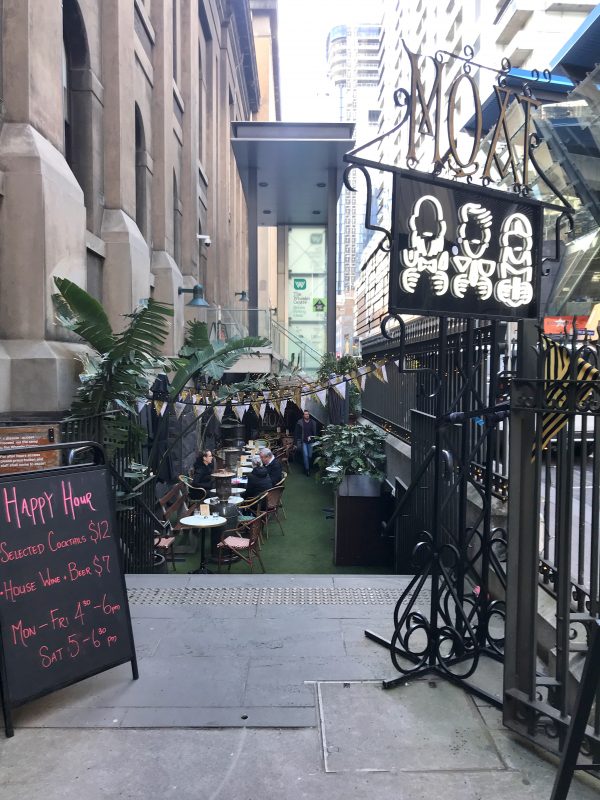 With it's cosy basement vibe, book laden shelves and banquette seating, The Moat is a great find for a quiet lunch with a friend or a casual bookish drink after work.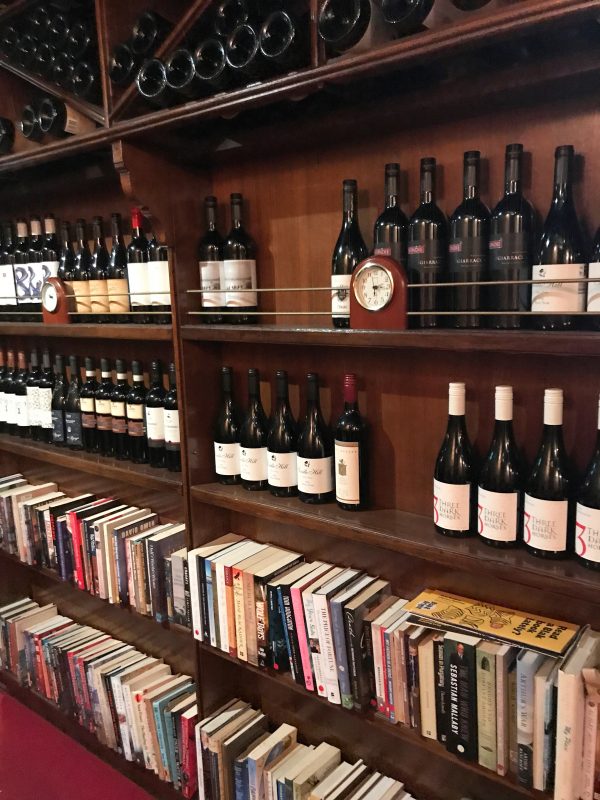 The Friday lunch time I visited (post a Melbourne Writers Festival event of course), there was a bustling lunch time crowd tucking in to the many delicious offerings, including the ever popular Thai vegetarian curry which my friend and I ate and enjoyed very much. I also eyeballed the chicken meatballs with slaw one table over and have it on good advice that the Librarian's Board is another excellent choice if you can't decide.
PERFECT FOR: A cosy drink with a special someone; lunch with a long lost pal or your book club.
For more info and to make a booking, head HERE.
2. Bar Margaux – 111 Lonsdale St, Melbourne
Still on the basement theme, you'll find Bar Marguax down a short flight of stairs which do nothing to prepare you for the fact you're about to be transported to a NYC style French bistro.
Yes, it's totally a thing.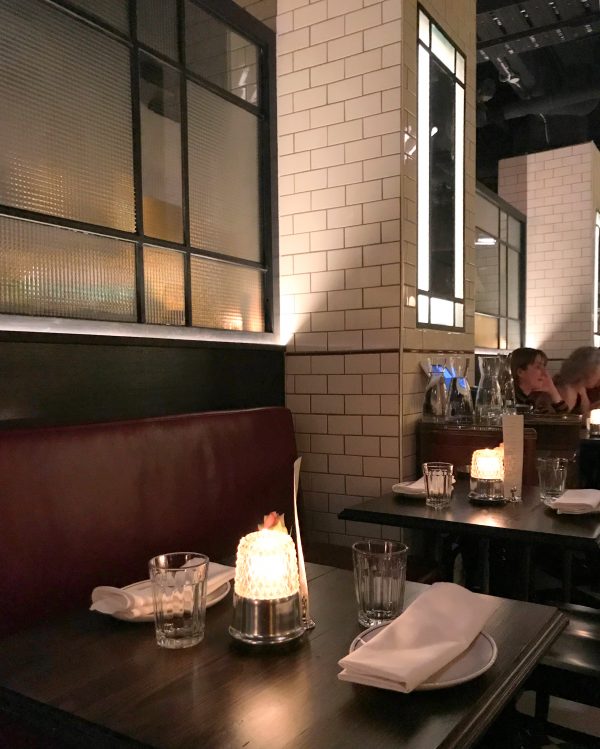 With it's white subway tiles, red leather banquette seating, art deco touches, dimmed lights and impressive bar, this is the perfect place for drink before or after the show, or a very civilised dinner.
I visited one Saturday night with a girlfriend – this time before a Melbourne Writers Festival event – and enjoyed a delicious cheese burger (with two Waygu patties) and a generous serve of pomme frites which was the ideal option far for a very cold and rainy evening.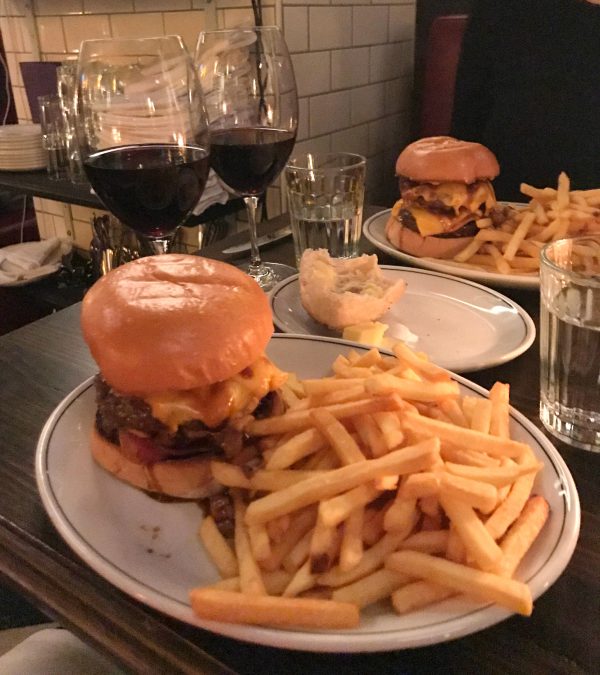 The other menu offerings had a traditional French bent – such as escargo, steak tartare, French onion soup, oysters and champagne – but the very generous option I chose represented serious value at $26. Paired with a rich grenache, my meal came in under $40 which was a very pleasant surprise. The complimentary house made bread roll and salted butter added to the general carb loading and feelings of Food Coma-ville.
Open late, this is a great place to visit when you want to escape to Paris but only have a Myki budget.
PERFECT FOR: An intimate dinner date, a late night drink or book the cosy group table for a special birthday or occasion.
For more info and to make a booking, head HERE.
3. Seamstress – 113 Lonsdale St, Melbourne
Lonsdale Street's Seamstress has long been on my To Visit list, so when we arrived in the city for our 6pm dinner at Bar Margaux half an hour early, we took the opportunity to pop next door and have a pre dinner drink at Seamstress.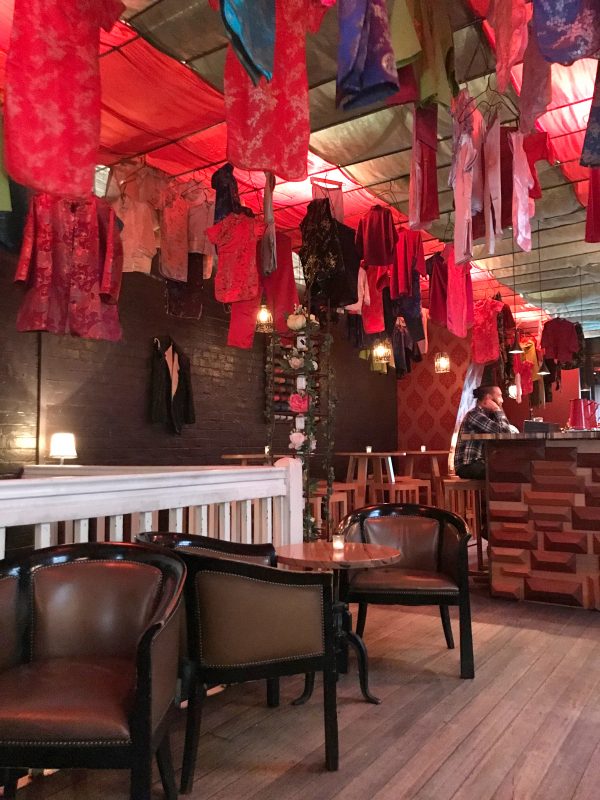 To do so, we climbed a couple of flights of stairs to the third floor cocktail bar, which features deep red interiors, soft lighting, vintage chairs and a ceiling filled with traditional Chinese clothing.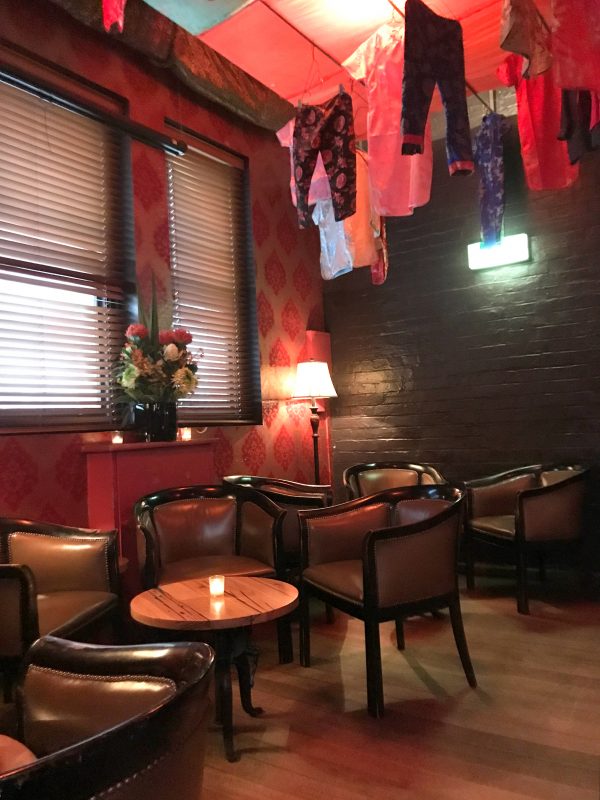 With it's friendly and refreshingly unobstrusive service, Seamstress is a great spot for a drink. I'd also like to visit the restaurant on the lower level next time.
PERFECT FOR: a drink and some small plates before or after the show.
For more info and to make a booking, head HERE.
4. Gingerboy – 27-29 Crossley Street, Melbourne
It's not a newbie, and it's been a few years between visits, but my recent post show pitstop at Gingerboy with a couple of girlfriends was seriously impressive.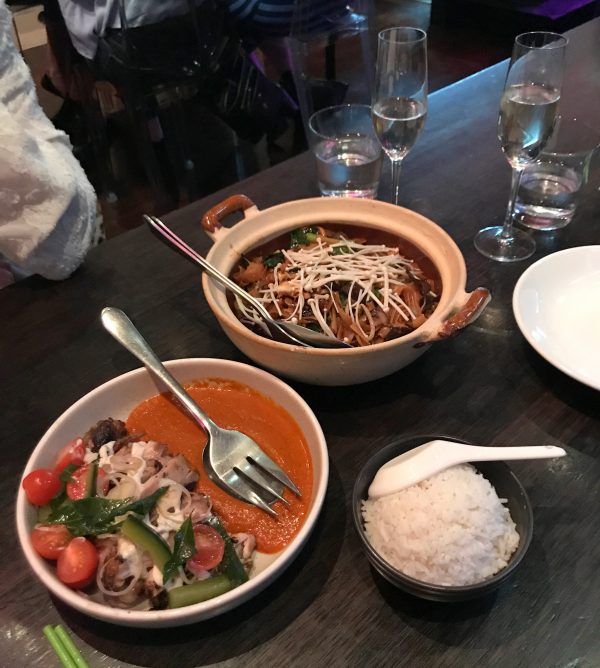 While the $70 per person sharing menu was tempting because the decision-making is taken care of, we decided to choose a few dishes to share instead. This was a good call as we couldn't finish what we'd ordered and it cost half the price.
Particular highlights included the melt in your melt eggplant curry puffs (TO DIE FOR) and a very delicious and generous serve of flat rice noodles pictured above. The chicken tikka and lamb potstickers were excellent too.
If you're after a night cap after dinner like we were, head across the lane to Meyer Place, a very intimate and pared back bar which serves a very well priced bottle of Prosecco ($40).
PERFECT FOR: Dinner with a special someone or a group of your besties.
For more info and to make a booking, head HERE.
5. Bomba – 103 Lonsdale St, Melbourne
In the same strip on Lonsdale as Bar Margaux and Seamstress is plucky Spanish tapas bar Bomba. While we just stopped in for a post show drink, I did check out the menu which was full of delicious sounding tapas and raciones, as well as an impressive wine list.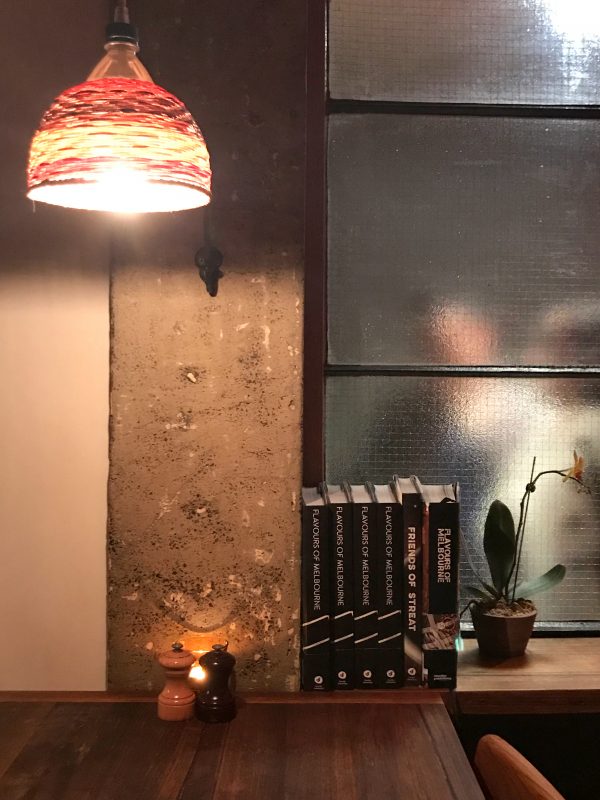 With another great fitout out – and those fabulous Pet Lamps you might have seen in Mister Zimi stores – this is a cosy space, ideal for an intimate drink with your beloved or dinner with your besties.
If your energy, Melbourne's weather and an occasion combine favourably, you might also like to check out it's rooftop bar.
I'll definitely be back again.
PERFECT FOR: a drink and some small plates before or after the show.
For more info and to make a booking, head HERE.
6. Hu Tong – 14-16 Market Lane, Melbourne
Having eaten a lot of seriously excellent Chinese food when we visited China, Mr 13 and I are self confessed snobs when it comes to Chinese food. We want our dumplings fresh and silky and our greens crunchy but tasty. We are also of the view that the barometer of a good Chinese joint is be evidenced through the quality of its spring onion pancakes. That's our approach anyway.
After a disappointing experience at an old favourite of mine recently (due to chewy dumplings and flavourless broth), I was hopeful about our Hu Tong visit, but cautiously so.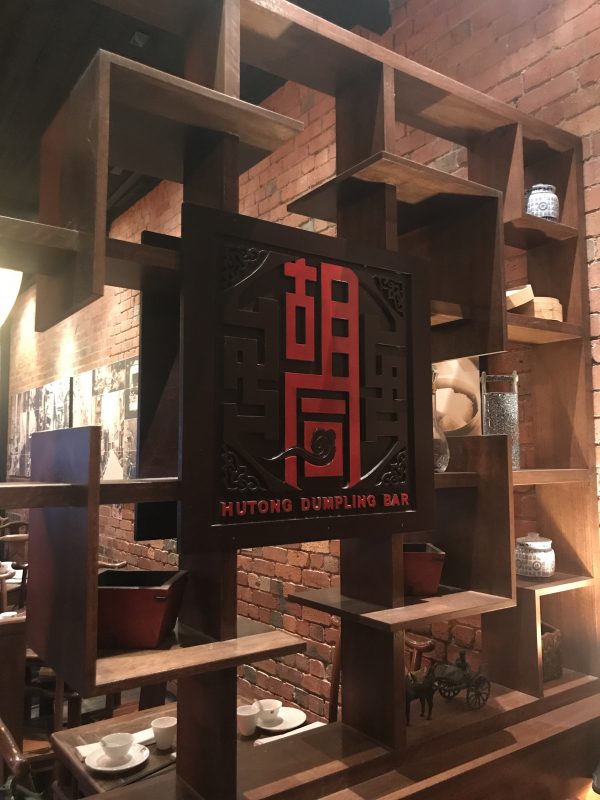 We visited one Wednesday night in between the first and second acts of Harry Potter and the Cursed Child. If you're wondering, no, Hutong is not especially close to the Princess Theatre but we wanted to stretch our legs and visit a couple of bookshops in Bourke St to kill the two and half hours in between acts.
As it transpired, after a meander down Bourke St, we were lucky to get a table without a booking, even though we showed up at 5.30pm on a Wednesday night. By the time we left, the place was absolutely cranking.
But on to the food. We ordered the wontons in chilli oil, pan fried pork dumplings, spring onion pancake and a serve of broccoli with oyster sauce, and washed it down with Chinese tea.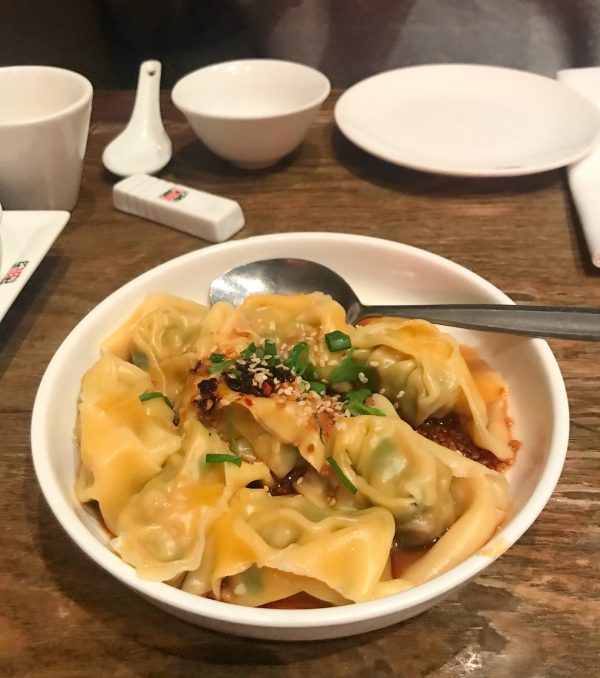 Everything we ate was delicious, but especially the wontons and pancake, which were some of the best I have ever had. Even better, the total bill came in under $50 for our party of two.
PERFECT FOR: Dumpling, wanton, spring pancake die hards. We also spied a few groups making good use of the large circular tables with mandatory Lazy Susan and the banquet menu.
For more info and to make a booking, head HERE.
Looking for more ideas?
I still rate – and love to visit – the fab restaurants reviewed in this post – What to Do on a Weekend in Melbourne.
So over to you – what's your favourite place to eat or drink in Melbourne's CBD?