Before my recent visit to China, it wasn't really on my radar.
Sure I was interested in China – our three boys are learning Mandarin at school, we all love dumplings and I read Wild Swans and went through a Chinese women in fiction phase in the '90s – but I wasn't sure how I'd go actually travelling through China.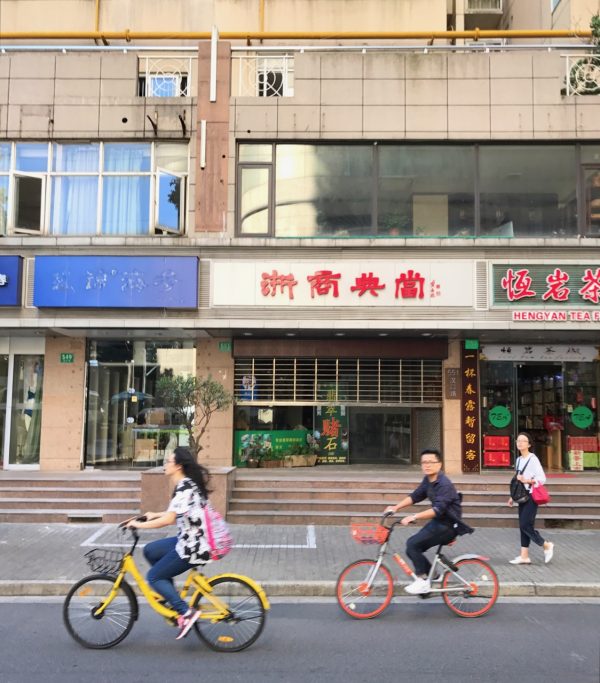 Especially with kids.
An opportunity to visit on a school tour got me thinking though, and after talking to friends who'd been on previous years' trips – and raved about it – I was sold. So Mr 11 and I applied and were successful, joining ten other parent/child pairs and three teachers on this year's trip.
Fast forward to now, and having just returned from spending two weeks in China during which I experienced all sorts of fabulous things in five very different cities, here's my verdict: China is awesome and will BLOW YOUR MIND.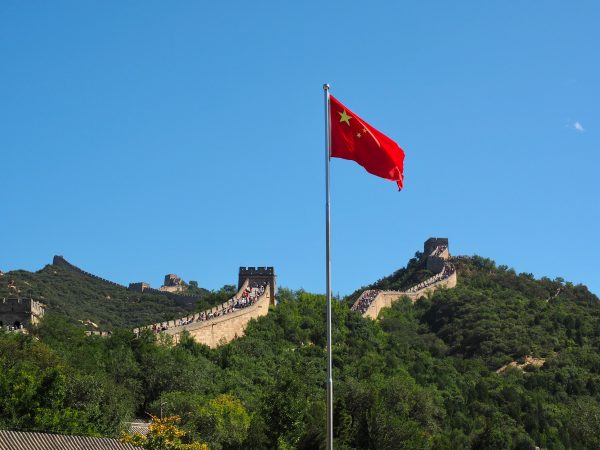 Before I launch in, let me give you the Larry Lowdown slash background.
As we visited with our school – a group of 25 of us – we were effectively on tour and everything we did was organised for us, which meant we visited lots of different places and participated in a great variety of activities. Also, our awesome Chinese teacher has all the local intel you could dream of plus she's super fun, which added a whole other dimension to the trip. As you'll see below, we packed in a lot more than I would have been able to do and see otherwise.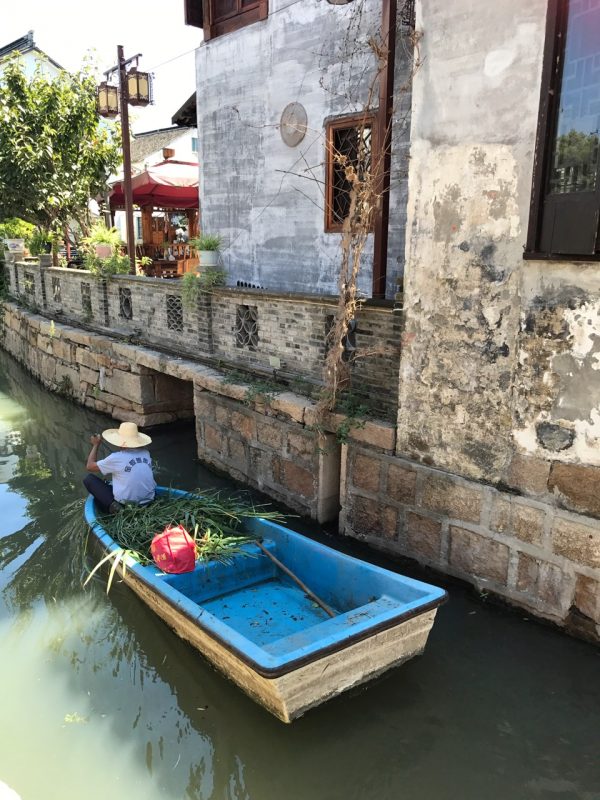 Here's another disclaimer: I don't know how much a lot of what we did cost as we paid a lump sum up front which included all our accommodation, internal flights, the bullet train, admission tickets to all attractions and shows, local guides, our coach and all our meals. All we had to do was pack our bag for the day, arrive in the hotel lobby at the designated time and bring a bit of spending money. It was almost like being a kid again!
In sharing what we did do though, I hope I can give you an idea of how much China has to offer and all the wonderful things you can see and do there, particularly if you're planning an itinerary and trying to work out where to visit, how long to stay and what might appeal to you. As a school group too, everything we did involved the kids (all aged between 9 – 12) and they loved it as much, if not more, than we did.
Our itinerary in a nutshell was 4 nights in Beijing; then we flew to Xi'an for 3 nights; then we flew to Nanjing for 1 night before catching a bullet train to Suzhou where we spent 2 nights; then we drove to Zhouzhuang for the day before driving by coach to Shanghai where we spent our final two nights.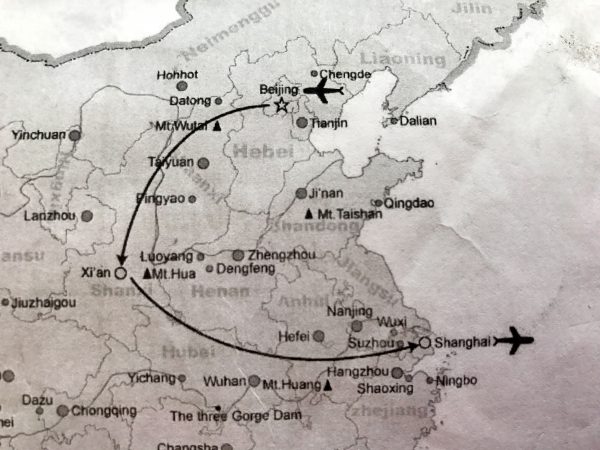 BEIJING
Beijing is China's capital and is situated in the north of China. Home to 21 or so million peeps, it's a big, bustling city and the political centre of the People's Republic of China. It's also home to some of the country's most famous sites. The legacy of Chairman Mao is ever present here too, particularly in and around Tiananmen Square where the Mao Zedong Memorial Hall is situated.
The food here is generally saltier and more savoury than southern Chinese cuisine and it's signature dish is the world famous Peking Duck. I found Beijing to be an interesting city with a long story to tell of both modern (post Chairman Mao) and ancient China. All up we spent four nights in Beijing and here's what we loved about it.
1. The Great Wall of China – The Great Wall, one of the great wonders of the world, spans nearly nine thousand kilometres from the east to the west of China. The section we visited was in Badaling, a couple of hours out of Beijing.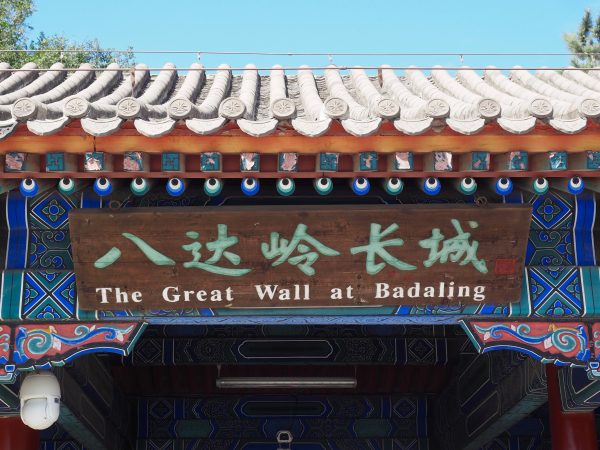 The section we walked was around 2.5km return which took around an hour and a half, most of which was uphill including some very steep stepped sections. We were lucky enough to have picture perfect conditions for our walk, as you can see below, but as a result, it was pretty crowded but not as crazy as I expected.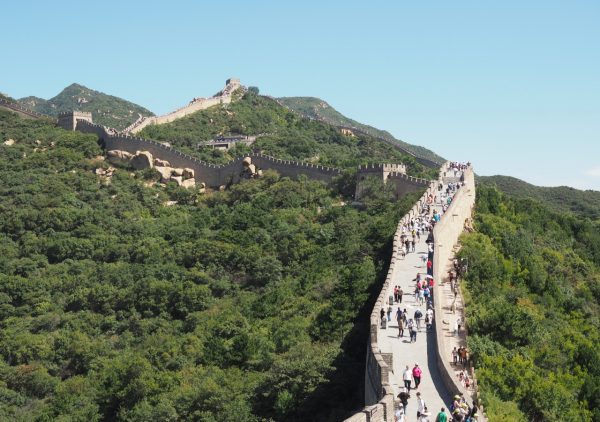 The steep parts and narrow steps were a bit of a workout but those views across the mountains and looking back across the Wall are breathtaking and well worth the effort.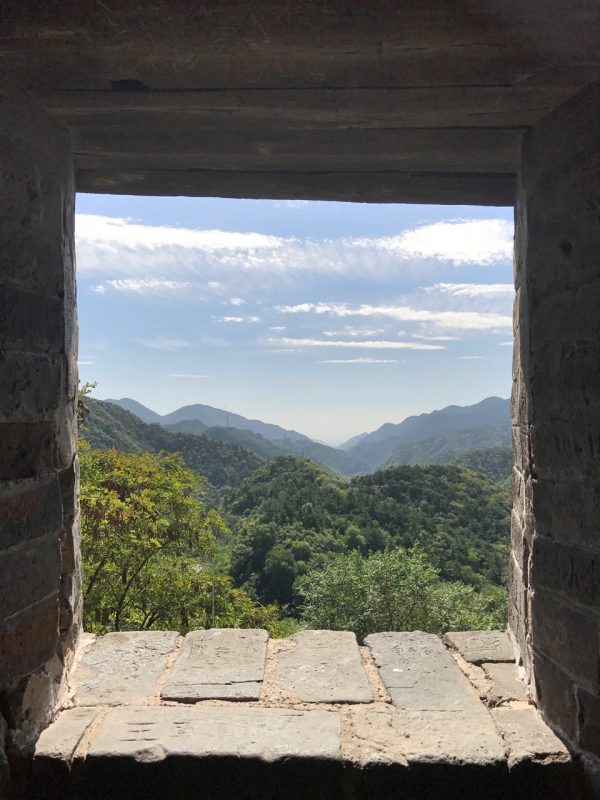 Thankfully, there were guard towers to stop at to break up the hike too as well as some flat and downhill sections.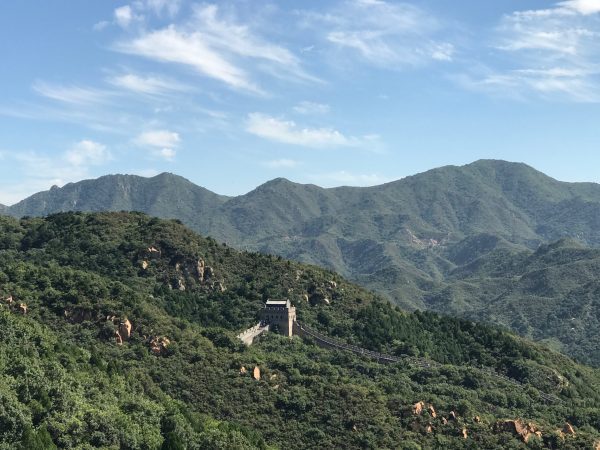 This is definitely Bucket List material and I still can't believe I've done it. Life goals: Tick.
2. The Summer Palace – Located 15kms from central Beijing, construction of the Summer Palace began in 1750 as a place for the Emperor and his family to rest and entertain. It subsequently became the main residence for royal members of the Qing Dynasty. This enormous space – over 300 hectares – comprising pavilions, towers, the world's longest corridor and the enormous man made Kumming Lake, is a beautiful place to spend an afternoon. I loved all the lotus flowers and the dragon boats on the lake.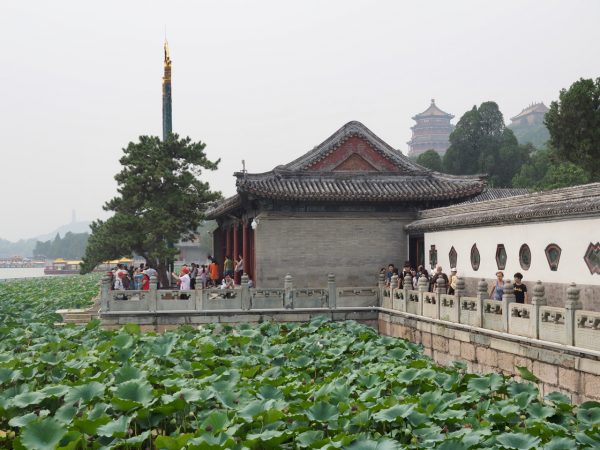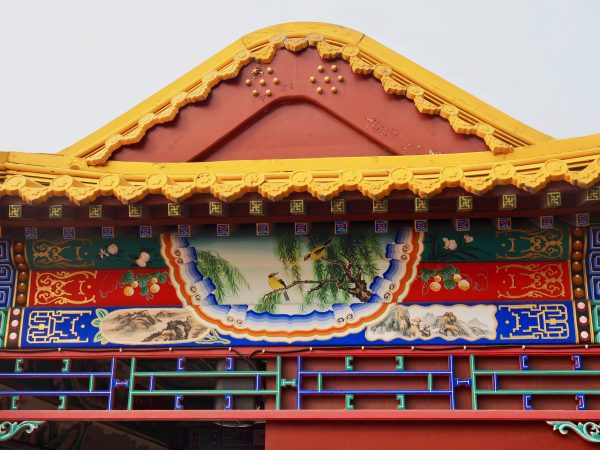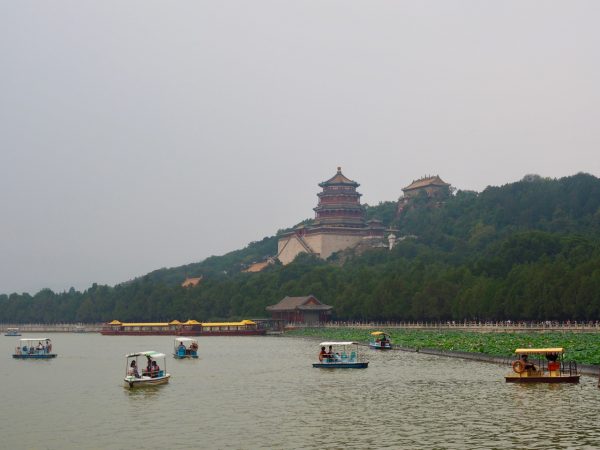 Wander through the Palace gardens, check out the Marble Dragon boat, have a Dragon boat ride and walk down the longest corridor – make sure you look up as you walk along so you can see the beautiful paintings and intricate designs.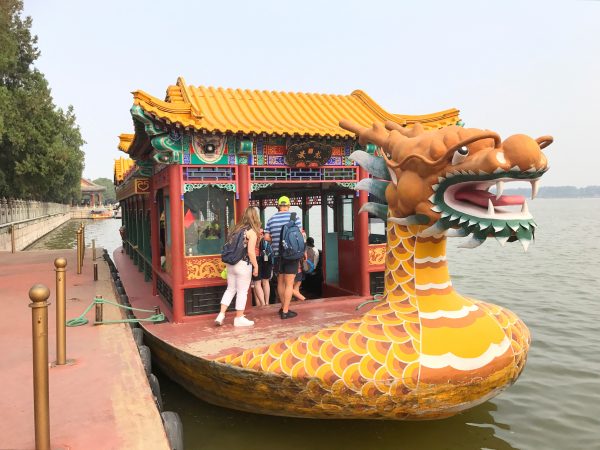 Also, head across to the 17 Arch Bridge which is a beautiful piece of architecture and a lovely place to walk with an ice cream on a sunny afternoon.
3. Tiananmen Square – No trip to Beijing is complete without a visit to Tiananmen Square, located in the centre of Beijing. This massive public space – an area of 440,000 square metres in which 1 million people can stand side by side – comprises the Tiananmen Tower, Monument to the People's Heroes, The Great Hall of the People and the Mao Zedong Memorial Hall.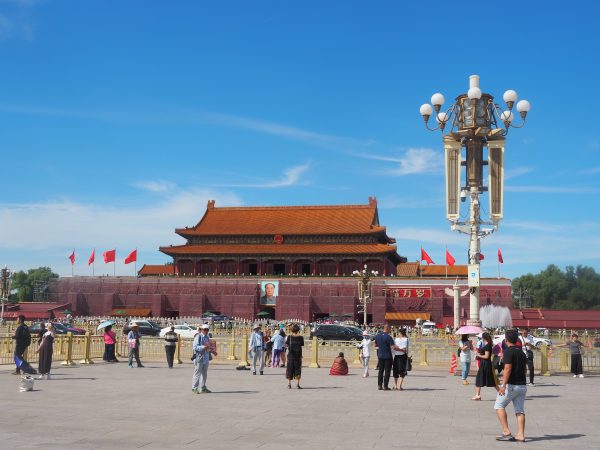 If you continue through the Square to the Golden Water Bridge, you'll enter the incredible Forbidden City – an unbelievably well preserved imperial palace complex.
4. The Forbidden City – Pack your walking shoes for your journey through the amazing – and enormous – Forbidden City, Beijing HQ to many emperors. I was amazed by the incredible architecture and by how well preserved this city is.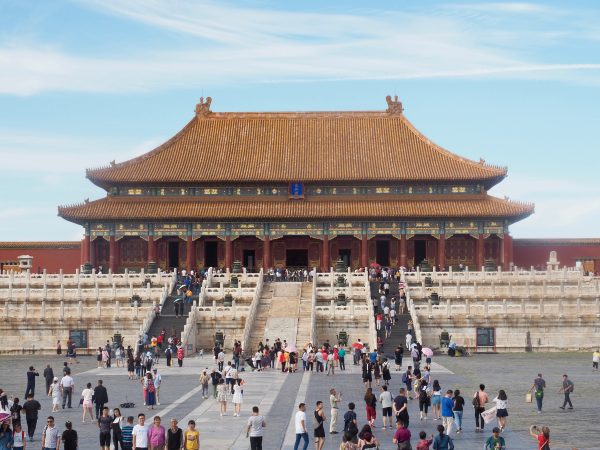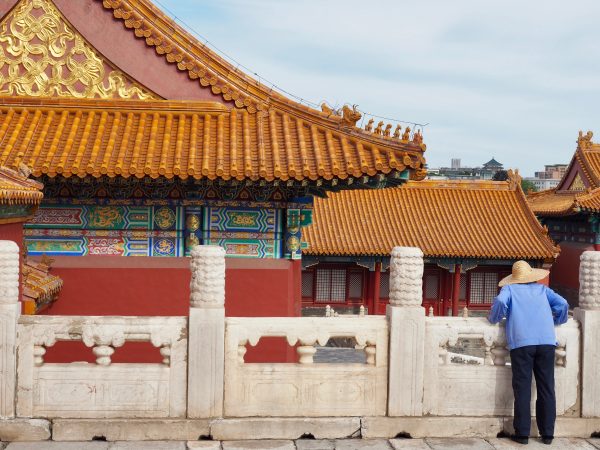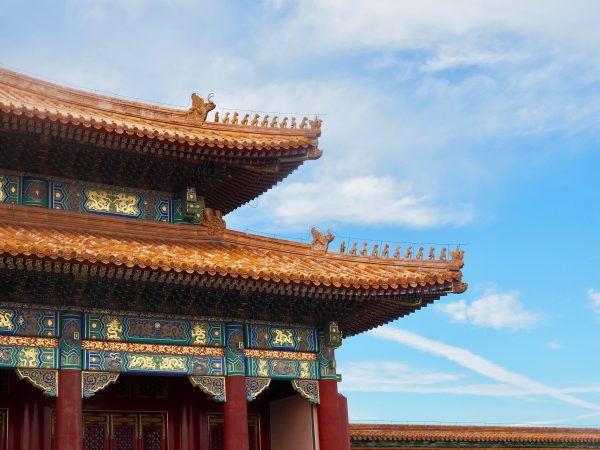 5. Peking Duck – Beijing – formerly known as Peking – is famous for it's signature dish. Don't leave the capital in the north without trying it! We visited the 150 year old Quanjude Roast Duck Restaurant which has other chain restaurants throughout the city.
6. The Temple of Heaven – Built in 1420 during the Ming Dynasty, the Temple of Heaven was built for the Chinese Emperors to offer a sacrifice to Heaven.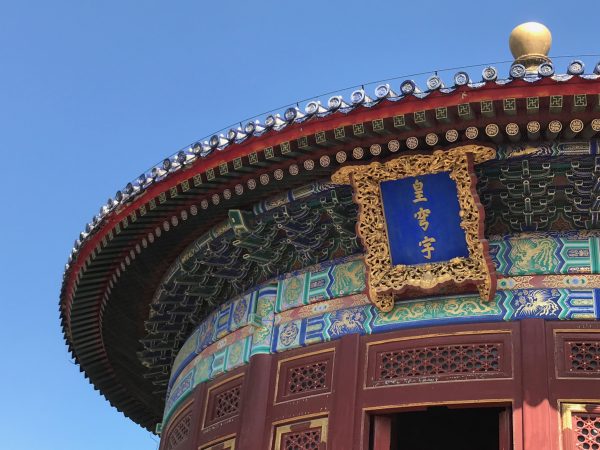 This is – again – a very big place but it was lovely to walk through the gardens before walking through the various areas before you reach the Temple of Heaven. You might also like to visit the Echo Wall and find the 500 year old Nine Dragon Cypress Tree.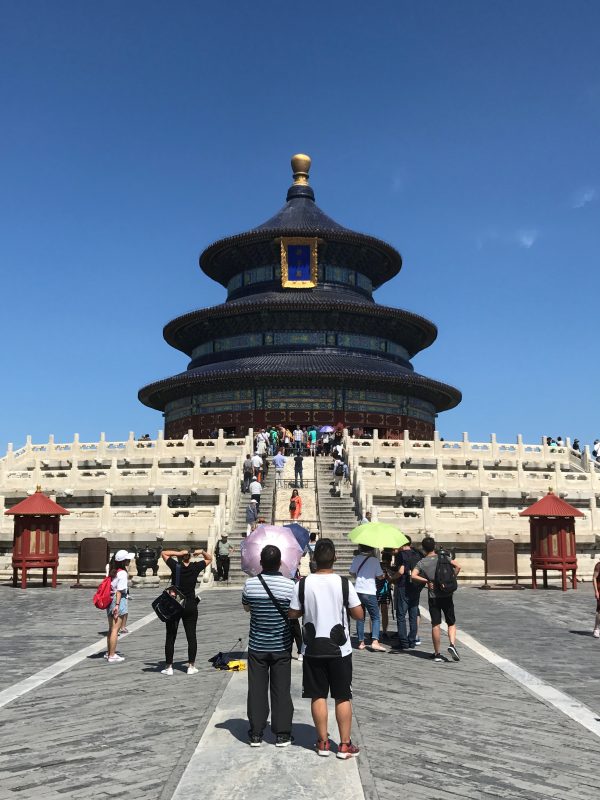 7. Take a stroll along Wanfujing Dajie  (a shopping mall/street) and take a detour to the bustling food market street – on a balmy night, wandering down this bustling street which is filled with high end European stores, Chinese department stores, upmarket hotels, street performers and people out and about was a highlight of our time in Beijing.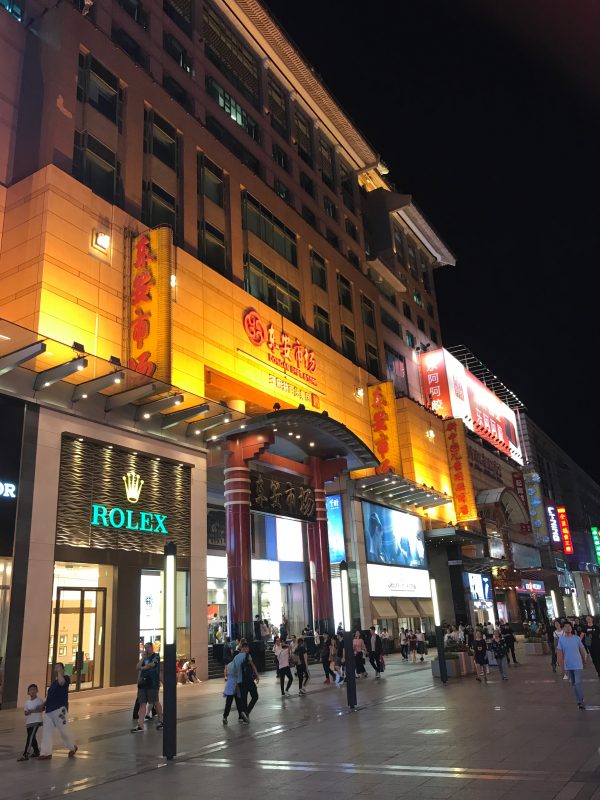 Just off Wanfujing Dajie is a narrow but busy laneway full of food stalls offering the unusual, delicious and entertaining.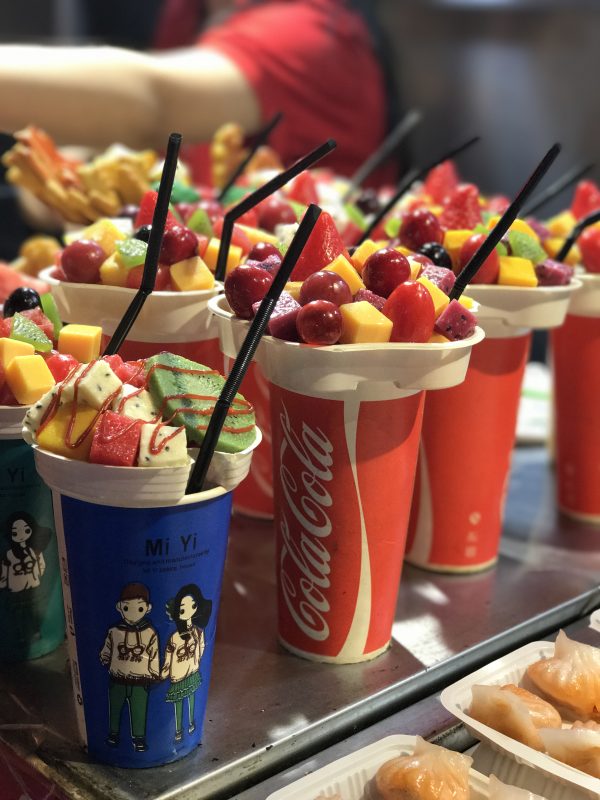 It's busy but fabulous and a must visit if you're in Beijing.
8. Visit the Olympic Park – check out the amazing Birdsnest and Water Cube, built specifically for the 2008 Beijing Olympics. Visit at night to see the beautiful colours lit up.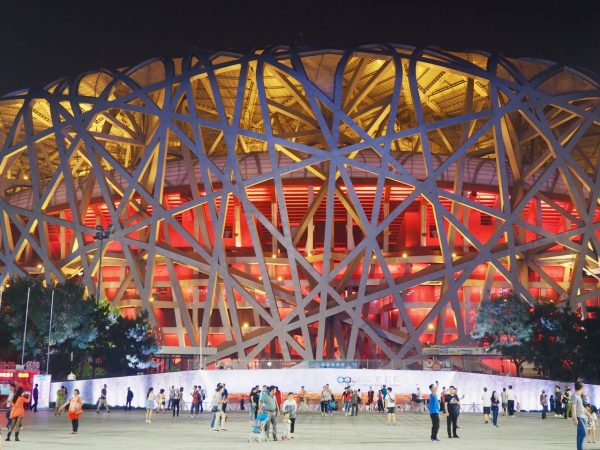 9. Beijing Zoo – You can't leave Beijing without visiting the pandas at the Beijing Zoo. There were four pandas to see when we visited and thankfully, when we got there at opening time, they were all awake. If you want to see the pandas, go early because once the crowds hit, it's Crazy Panda Town.
There's a train stop right outside the zoo too, making it easily accessible.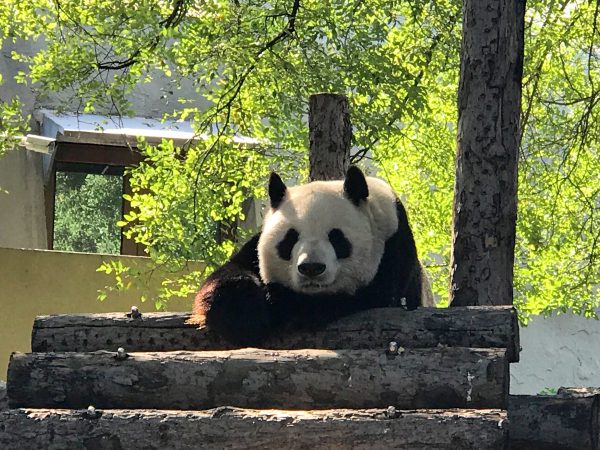 10. The Sacred Way and the Ming Tombs –  Located approximately 50kms out of Beijing, are The Ming Tombs – the name given to the mausoleums of the 13 emperors of the Ming Dynasty – and The Sacred Way. The Sacred Way is a long road lined with stone statues and beautiful Willow trees and a further ten or so minutes down the road is the tomb of Emperor Zhu Di and his empresses.
You can't actually see the tomb – it's buried beneath the earth where we're standing below – but there are some incredible buildings and a museum. There are also some shops, a place to buy drinks and some excellent public toilets. We visited late one afternoon and the light and the views were just beautiful.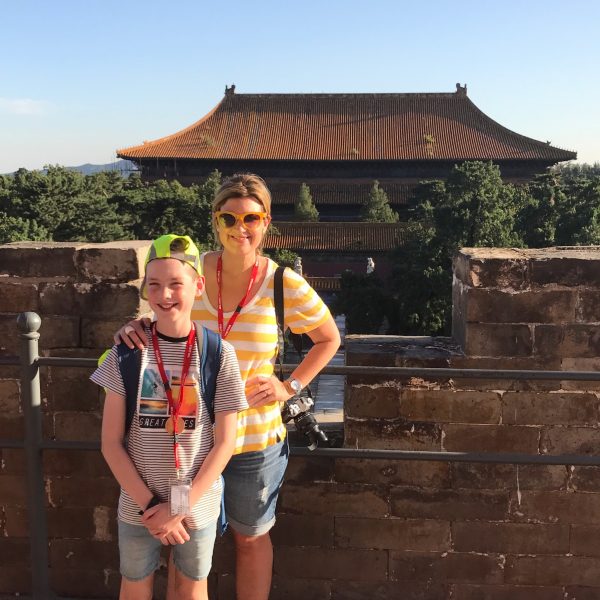 11. The Silk Market – before the Olympics, this building was built to house what were previously street stalls. It doesn't look like a market – it's several floors of stalls in a very modern building with the convenience of public toilets and on site cafes.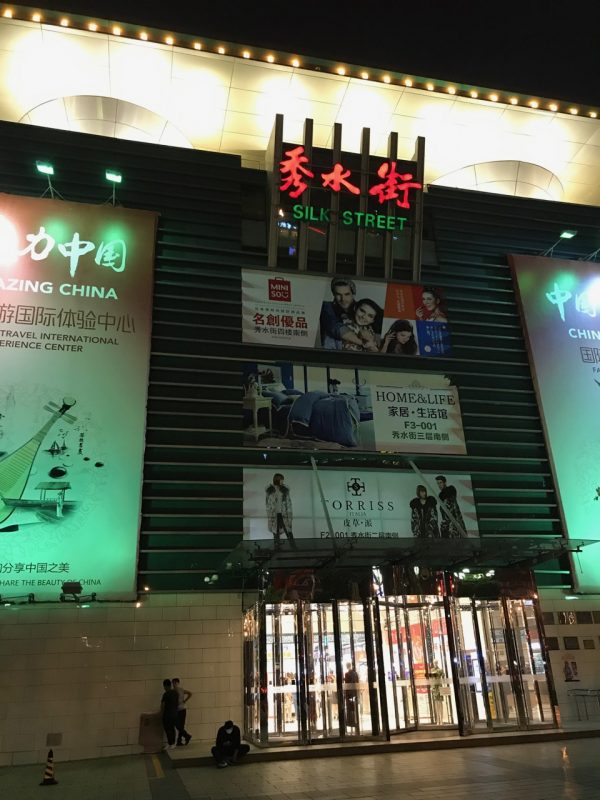 Be prepared to bargain hard though – they are used to it! I bought the boys silk pyjamas here as well as some small gifts (key rings, chop sticks and pens).
XI'AN
Xi'an is one of the ancient capitals of China and as far as I'm concerned, one of it's prettiest. We had a ball in Xi'an and stayed three nights, but I would have loved another day here to see even more of it.
12. Walk around the city, taking in Xi'an's 600 year old Bell Tower and the contrast between the ancient towers, temples and city walls and all the modern buildings and the conveniences of 21st Century life – Xi'an is such a pretty city and offers a fascinating contrast of the ancient and the modern sitting beautifully along side the other.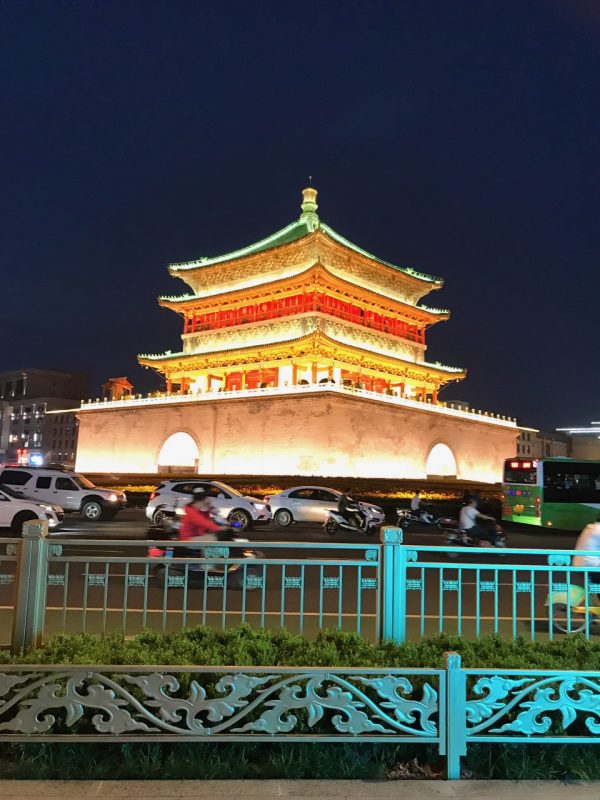 It's especially pretty at night all lit up, even on a rainy evening, with all the red lanterns shining, the temple and bell tower lit up and people out and about on the streets.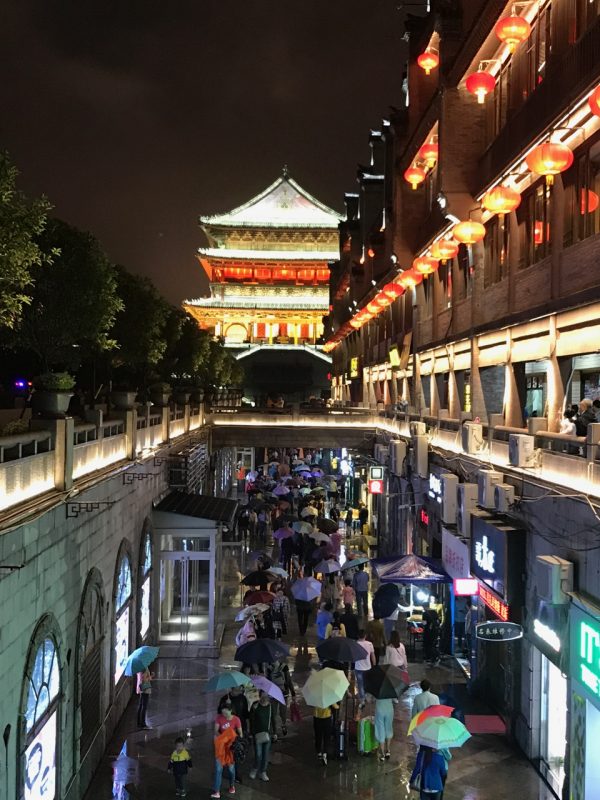 13. Terracotta Warriors – this is an hour or so out of town but you can't miss this incredible discovery made by a local farmer in 1974.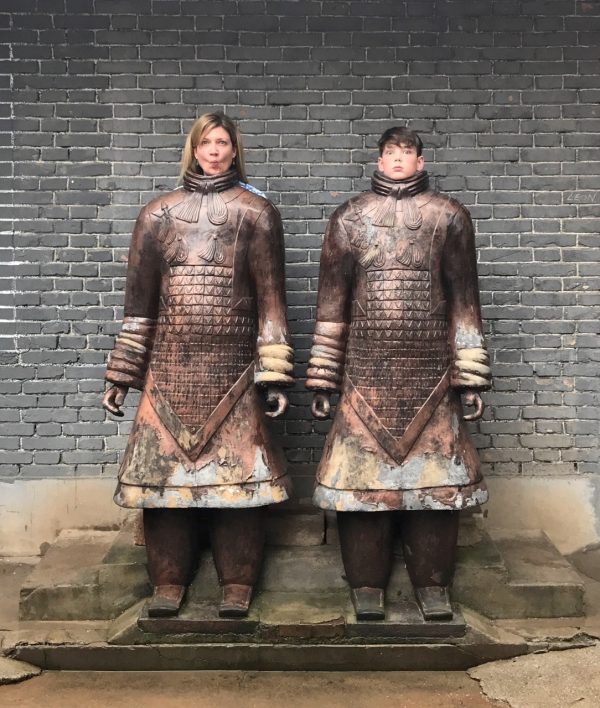 Three enormous sheds reveal the excavated treasures which were buried a couple of hundred years before the birth of Christ. It's Next Level mind boggling. You can easily spend a full day here.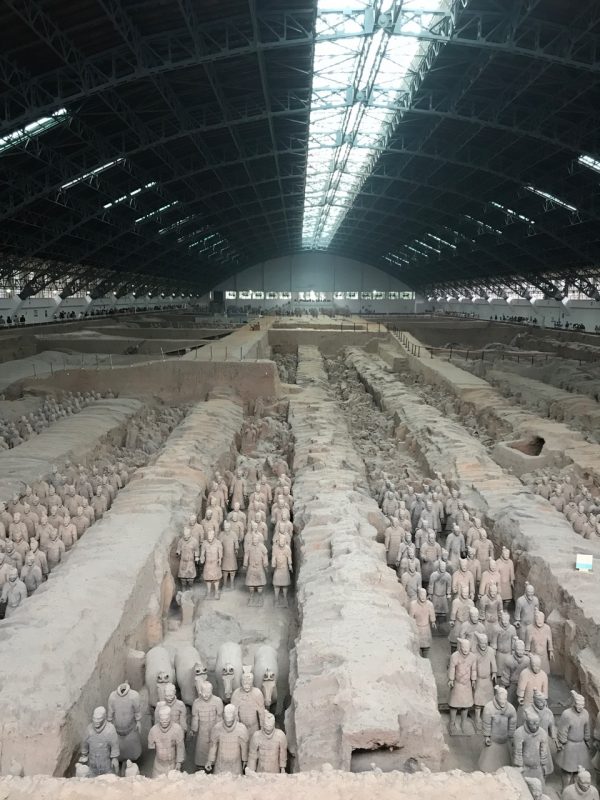 There is plenty to see here as well as cafes, shops and museums in this huge complex. It's a long way to walk through the only exit too – you'll pass shops, cafes and walk through a long public space to reach the car park.
14. Eat Noodles and Dumplings – Xi'an is the home of the humble noodle and dumpling, so make a point of trying these local specialities in their home town.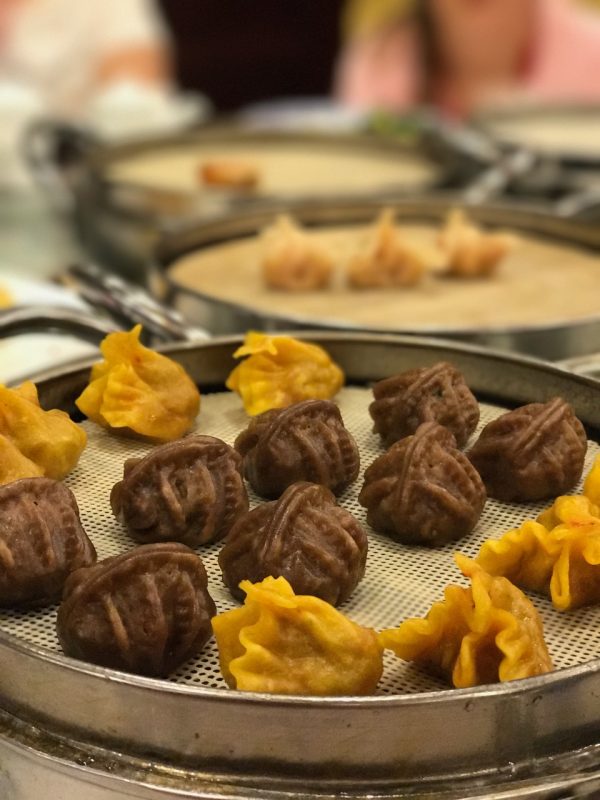 15. Go for a Bike Ride along the City Walls – this was my favourite activity on our whole trip. We walked up the steps to the top of the 600 year old city walls, hired bikes and cycled 14km along the perimeter.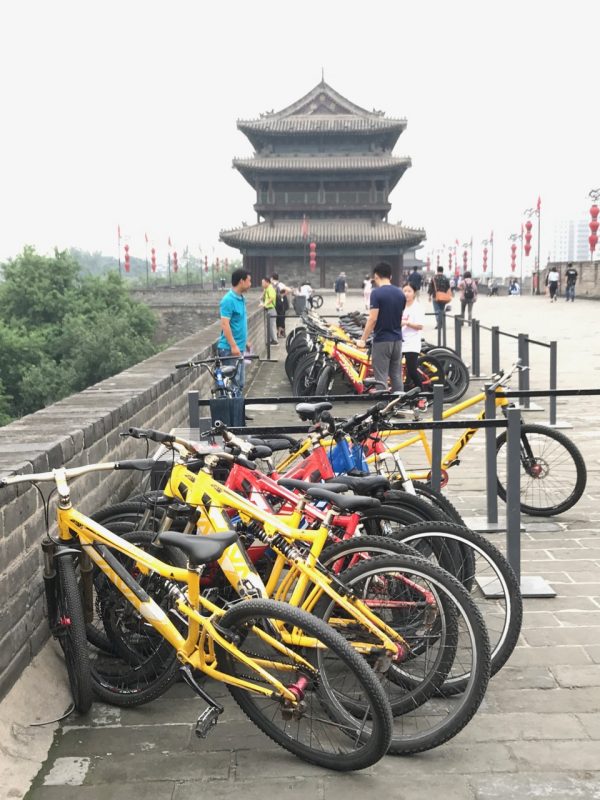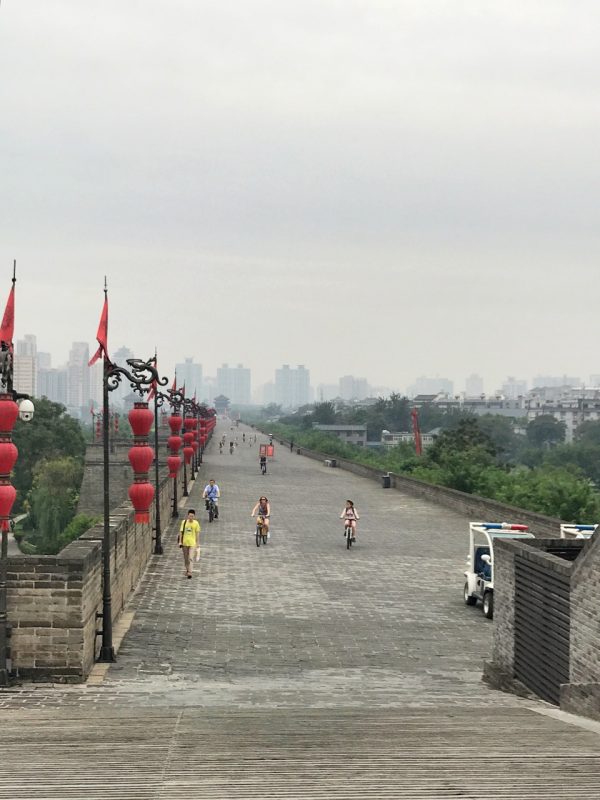 You don't have to ride the whole distance – there's a midway point to pick up or dump your bike if you prefer – but despite the often bumpy path and not so comfortable bikes, this was a very fun and amazing way to see the city.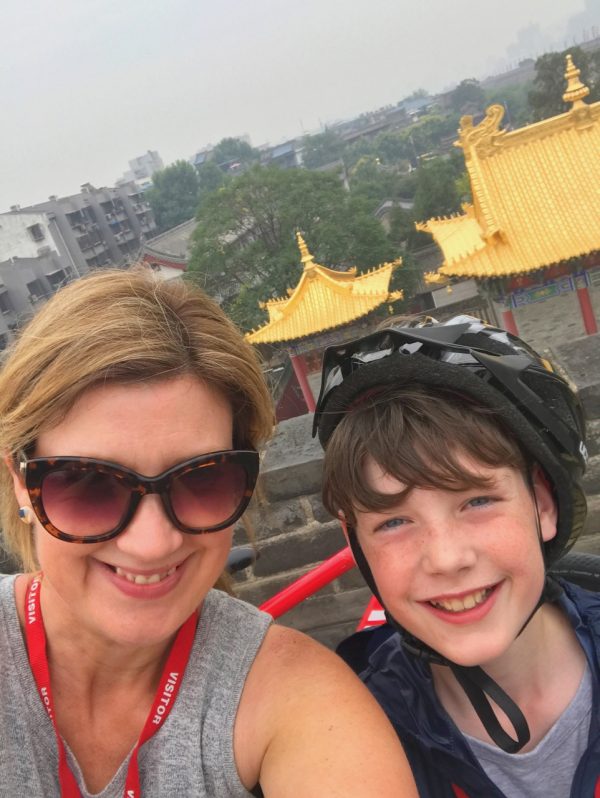 16. Have a Hot Pot Dinner – as much theatre as dinner, we loved out hotpot dinner in Xi'an. Each person has their own hotpot – a bit nerve wracking (Hashtag Understatement) with all the kids – and then you choose from a variety of meat, veggies, noodles and tofu and DIY dinner.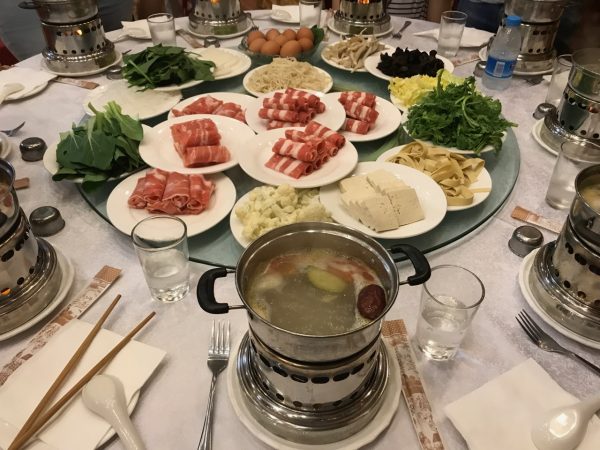 This was a lot of fun and absolutely delicious.
17. Go to a Show – for a slice of culture, we went to a Tang Dynasty Music and Dance Show in which the story of the first and only female emperor was told. The costumes and music were awesome and the kids all loved it.
18. Visit the Muslim Street Market – this is a fantastic, bustling street market near the Mosque, which is full of food, souvenirs and the famous – and reportedly delicious – Chinese hamburger.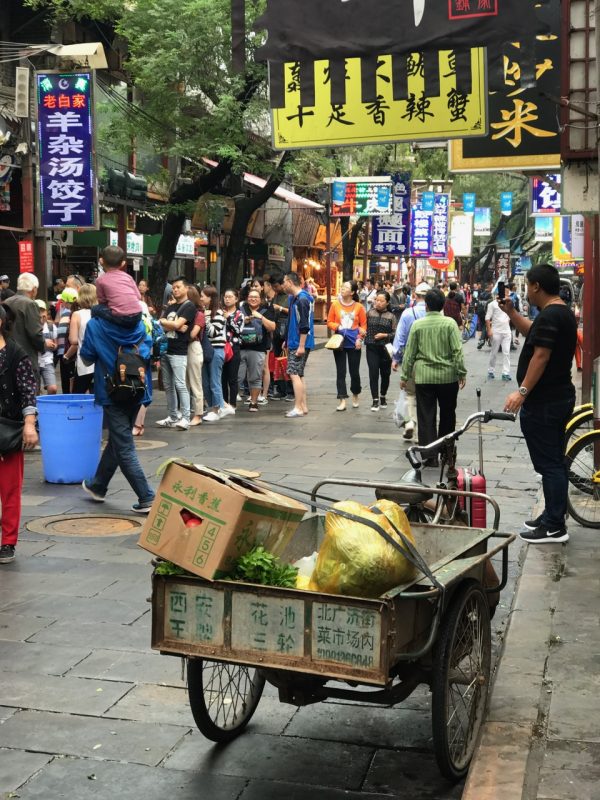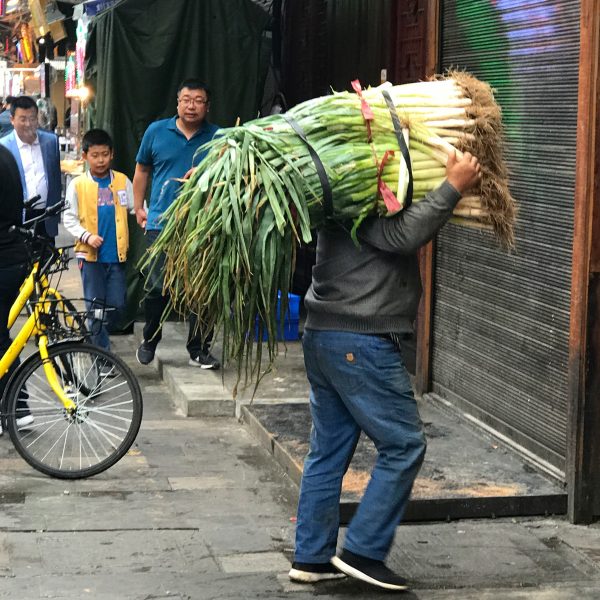 We spent a fun couple of hours here one morning, taking in all the sights, smells and spectacles of this vibrant market. We also found plenty of souvenirs here too and Mr 11 was stoked about bargaining in Chinese and scoring his first pair of Ray Bans … for $6.
NANJING
We only had a short, one night stop over in Nanjing – which is situated on the south bank of the Yangtze River – to visit one of our sister schools but while we there we also enjoyed the following …
19. Visit the Nanjing Youth Olympic Park – this is an impressive precinct comprising some incredible modern buildings and the Nanjing Eye – the first pedestrian bridge over the Yangtze River.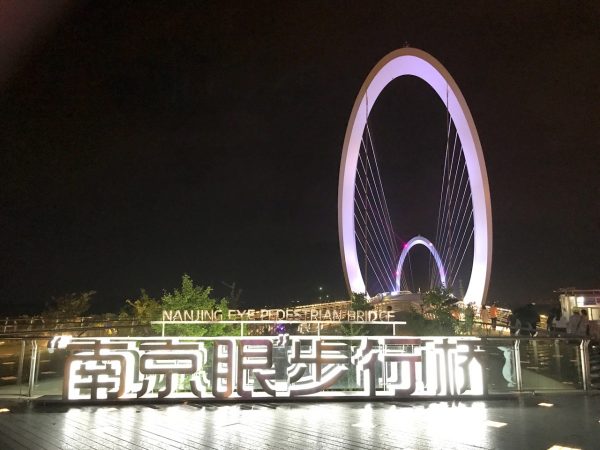 20. The local cuisine – the lunch we had in Nanjing at Da Paidang (there are also franchises apparently) was ah-mazing. The local specialty – salty duck – was delicious while the more adventurous eaters in our group tried the Duck Blood Soup.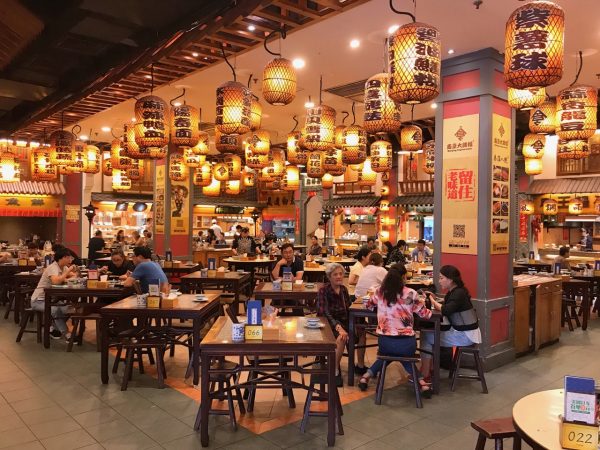 SUZHOU
Our visit to Suzhou – pronounced Su-Jo – was one of the highlights of our trip. A city of 6 million people – modest by Chinese standards – is known as the Land of Fish, Flowers and Rice, The Water City and, as Marco Polo once described it, "The Venice of the East". Canals flow through the ancient part of the city, providing a completely different aspect and experience to the other larger, busier cities.
21. Take a Gondola ride – I never thought I'd be cruising along a canal outside of Venice or Amsterdam but we did in Suzhou and it was a very pleasant experience indeed.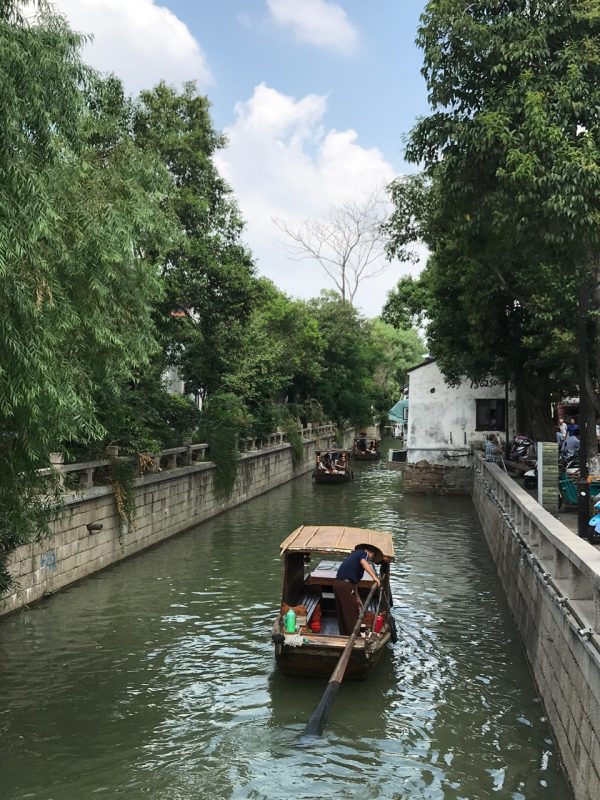 We didn't see any of the craziness or busy-ness of the European experience and loved seeing up close how the locals lived by the canal.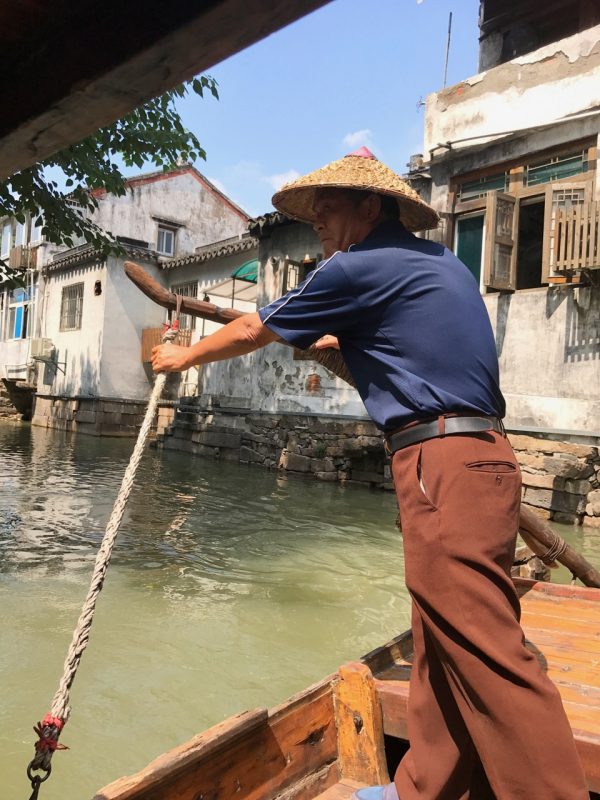 22. Visit The Humble Administrator's Garden – built by an allegedly corrupt government official who fled Beijing in the 1500s, this impressive garden was originally built for the Humble Administrator and his family purely for entertaining guests. How's this for outdoor inspo?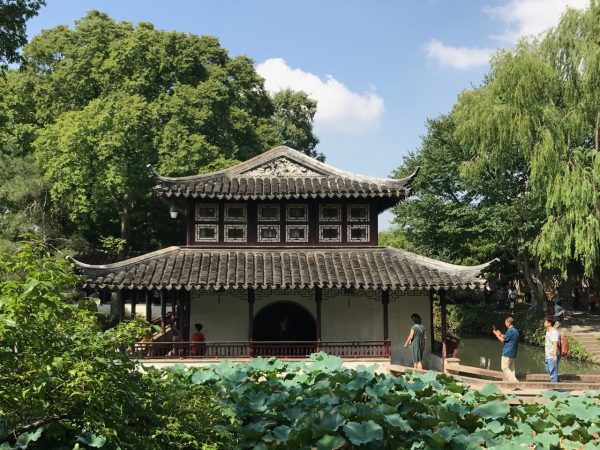 Comprising several pavillions, canals and a large bonsai garden, this is a beautiful space and with it's dappled light and many trees providing shade, a great place to visit on a hot day.
23. Wander along Ping Jiang Road – this is an awesome shopping street full of beautiful, weird and wonderful shops which runs along the canal in the pretty historic district of Ping Jiang Road.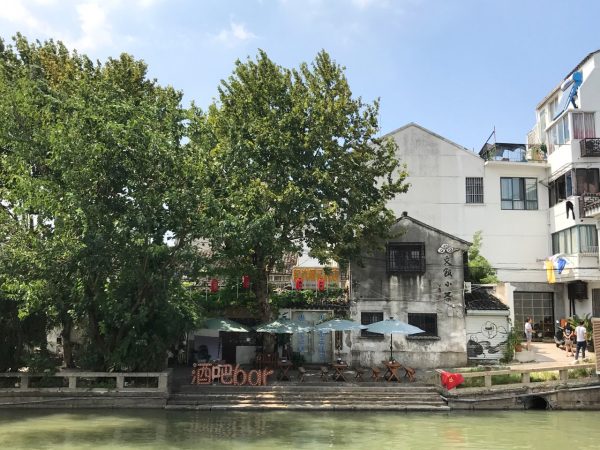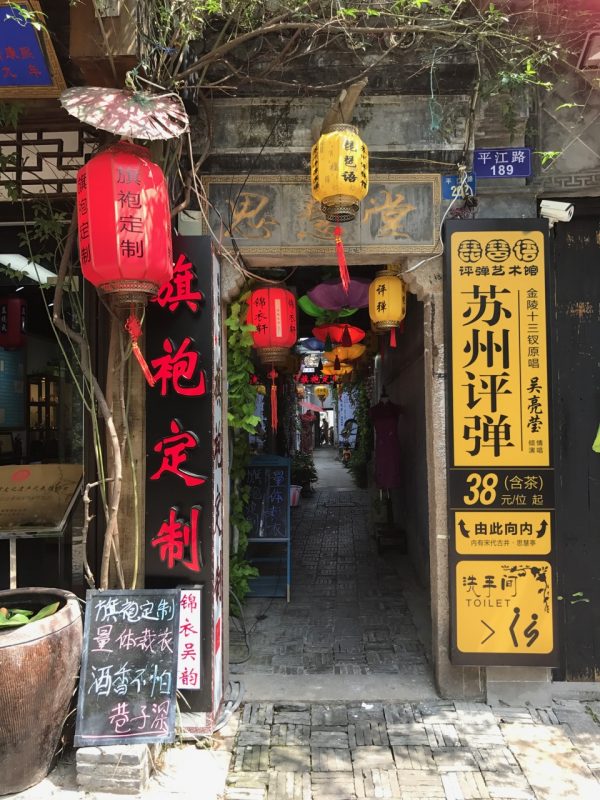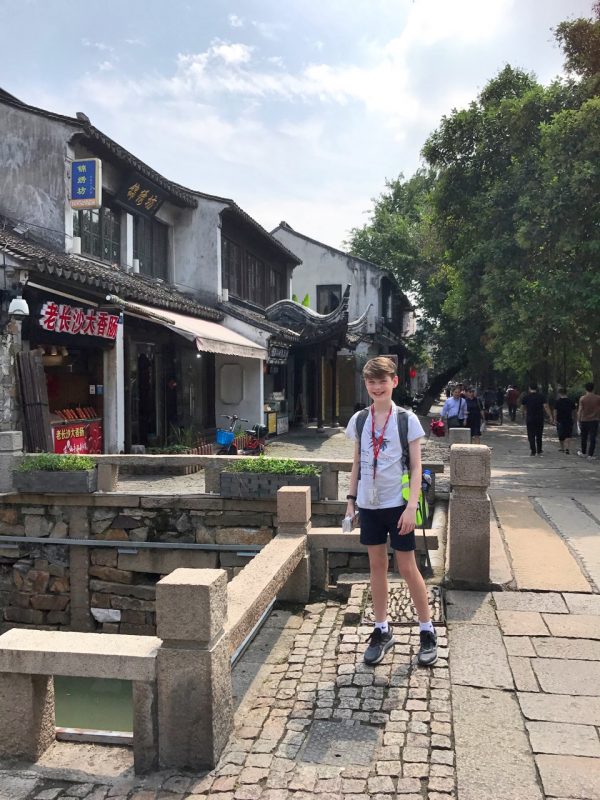 24. Visit a Silk Factory – we visited the No.1 Silk Factory in Suzhou where we saw first hand how silk is made, from the silk worms themselves right through to the end product. I bought a silk doona here as well as some beautiful silk purses, scarves and gifts.
ZHOUZHUANG
Our visit to this pretty water village, 30 kms from Suzhou and an hour or so from Shanghai was one of our favourite days on the trip. There are well preserved homes, laneways and stone bridges and magnificent water side views.
25. Wander along the narrow streets of this ancient canal city, stopping at the stone bridges and looking out over the water.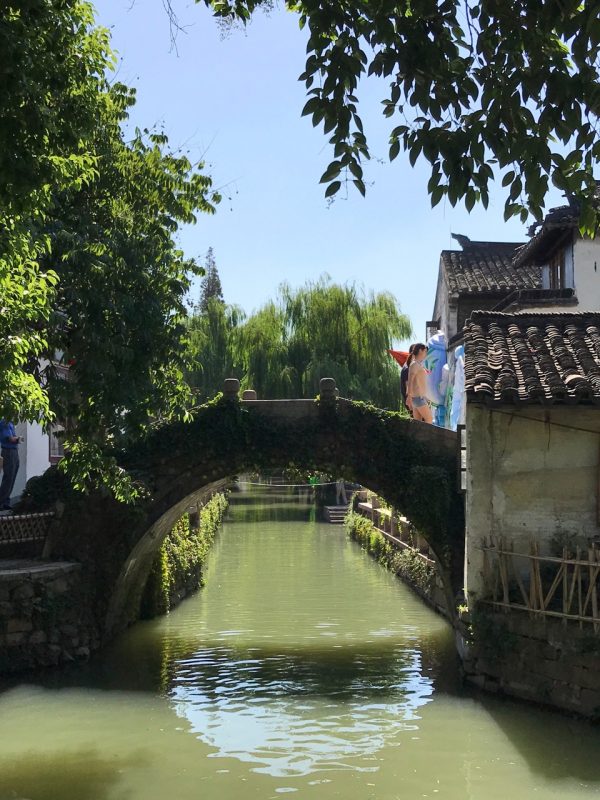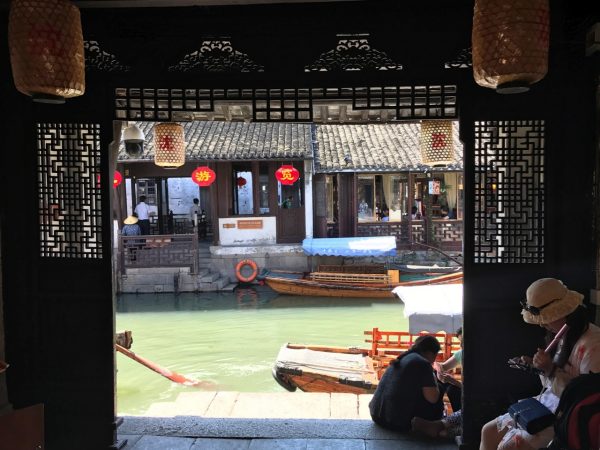 26. Try the local speciality – pig's feet. Not my usual fare it has to be said, but delicious all the same and very similar in taste and texture to slow roasted pork belly.
27. Visit the Shen Residence – Built in the 1700s, this substantial private residence provides a glimpse into domestic life for the privileged of the day. There are many rooms – 100 or so – and 7 courtyards. We loved the peep holes in the ceilings which enabled young daughters to spy on potential suitors in the room below!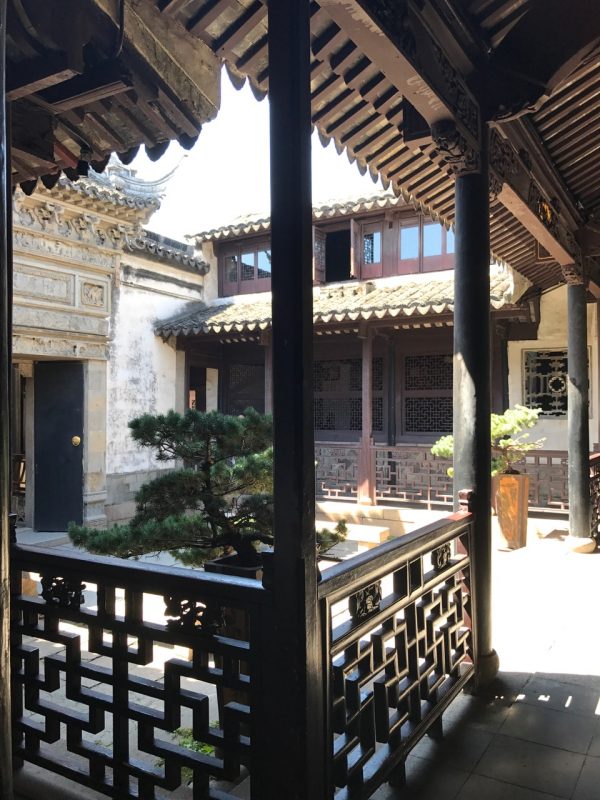 28. Go on a gondola ride – and take in this beautiful village from the water. Your host might even sing you an old folk song during your ride.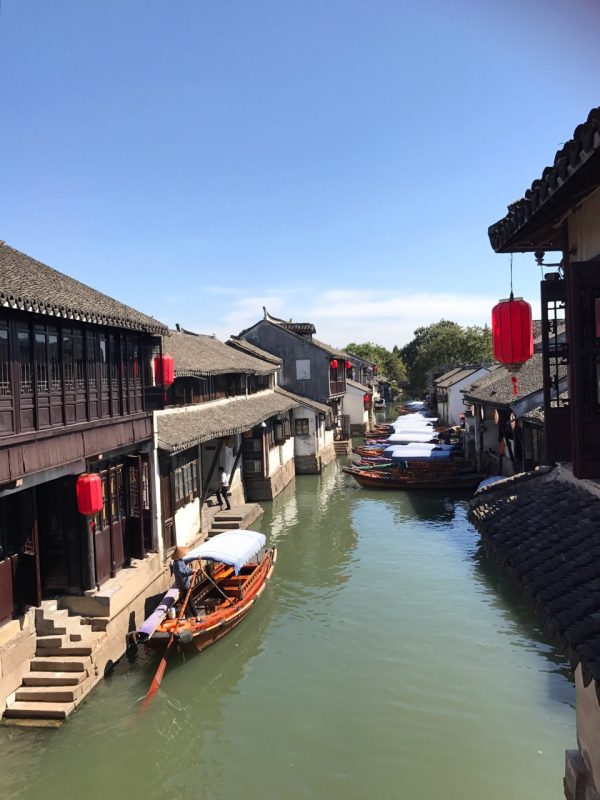 SHANGHAI
The financial and fashion capital of China, Shanghai is sometimes described as China's version of Manhattan. With 24 million people, it's a huge metropolis on the water, straddling both sides of the Huangpu River. It was by far the most Westernised city we visited and felt modern, dynamic and exciting.
Despite it's enormous population and the traffic that often accompanies it, we found it easy to get around in Shanghai thanks to a sophisticated and well designed traffic and public transport system, with many tunnels and Back to the Future like freeways servicing the city and it's residents.
29. Cruise the Bund (waterfront) at night – we loved seeing this seriously impressive and famous waterfront from the water, with all the buildings lit up, reflected across the Huangpu River. Below is the famous Bottle Opener (blue) and the iconic Oriental Pearl TV Tower (purple), with it's stand out design and brilliant colours.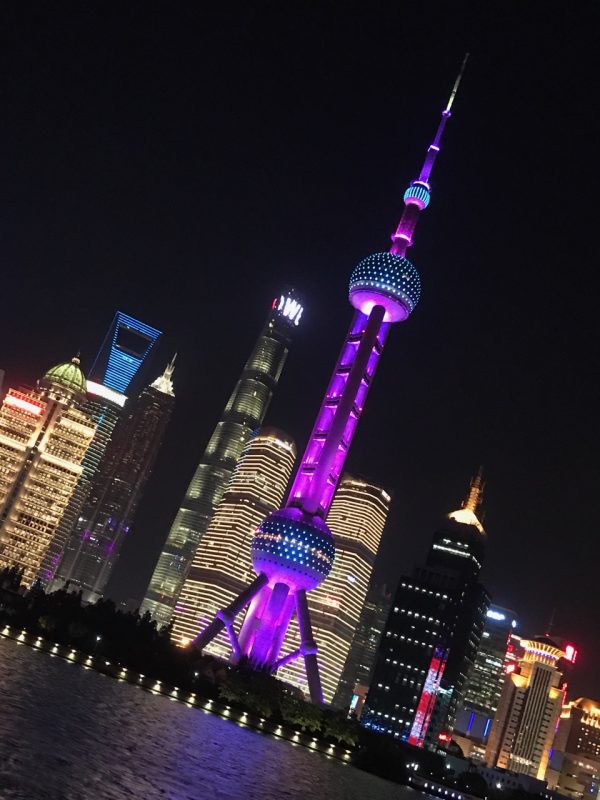 It's great to see the significant landmarks lit up too, as they look quite different by day.
30. Visit the Oriental Pearl TV Tower – this futuristic building (also pictured above at night) is an impressive sight in and of itself but from the 271st  floor, you're treated to 360 degree views of Shanghai.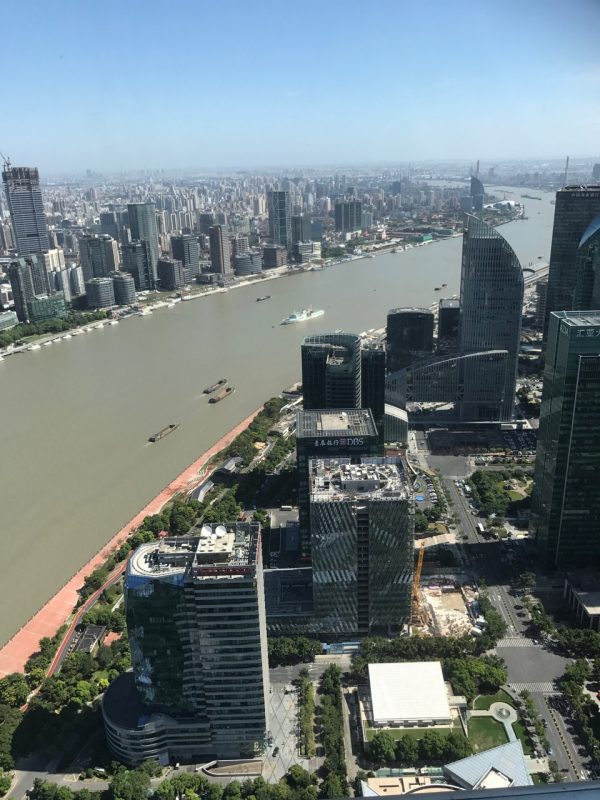 The bottle opener is one of the most famous – and identifiable – buildings on the skyline.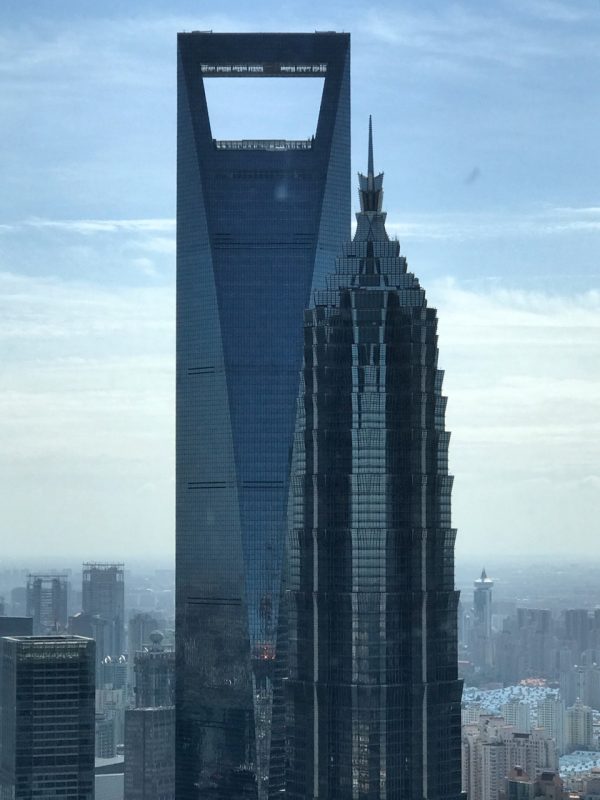 A few floors down – the 259th – is the glass floor level where you can take pics and see all the way down to the ground. It was packed up here but we managed to secure ourselves some transparent real estate. The kids especially loved this!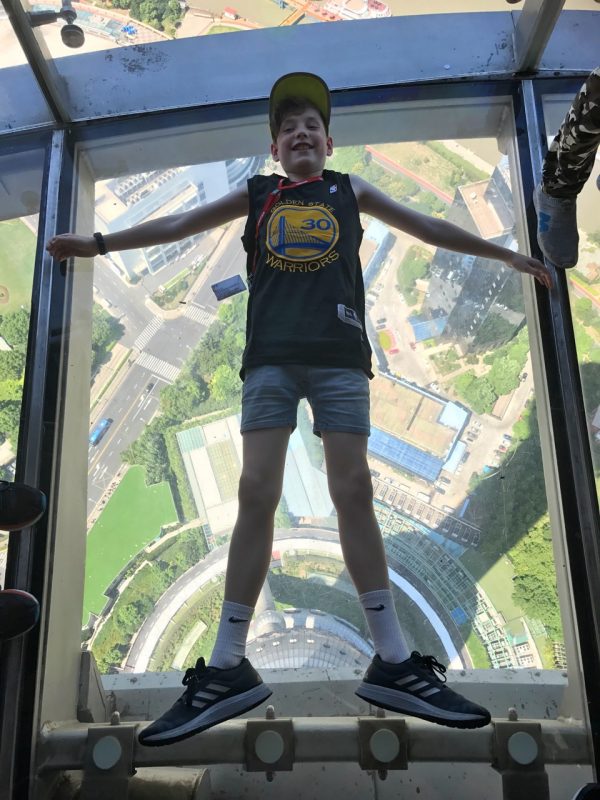 On the bottom floor of the building is a fantastic historical museum which gives a great overview of the history Shanghai which I'd highly recommend too. Go early if you're planning a visit. It was absolutely choccas and the queues were very long when we left around lunchtime.
31. Old Town – this was the most crowded place we visited in our stay in China but it's a great way to see old Shanghai.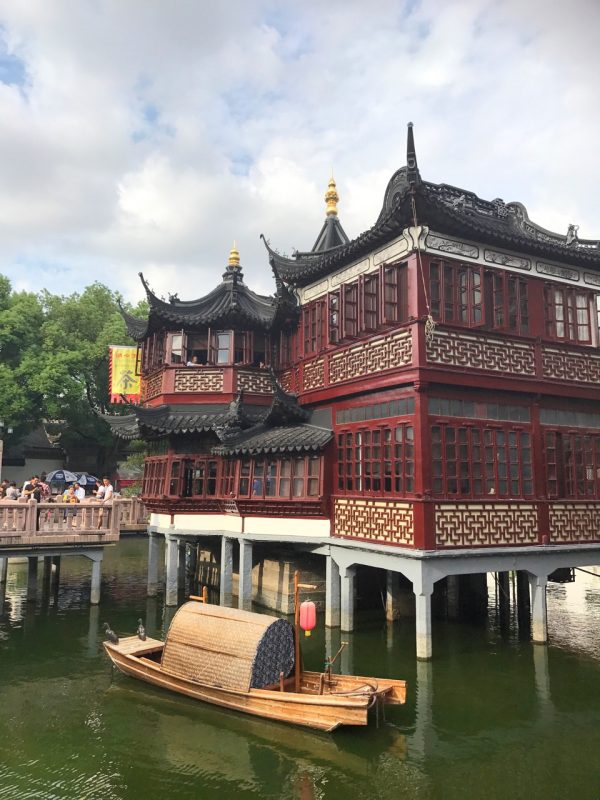 32. Go to a Chinese Acrobatic Show – we did this on our final night and it was fantastic and super entertaining. Highly recommended.
33. Tea Ceremony – there's a whole lot more to drinking a cup of tea than boiling the kettle in China. We watched a tea ceremony in Old Town Shanghai to gain some insight into this practice and get an overview of the amazing variety of Chinese teas.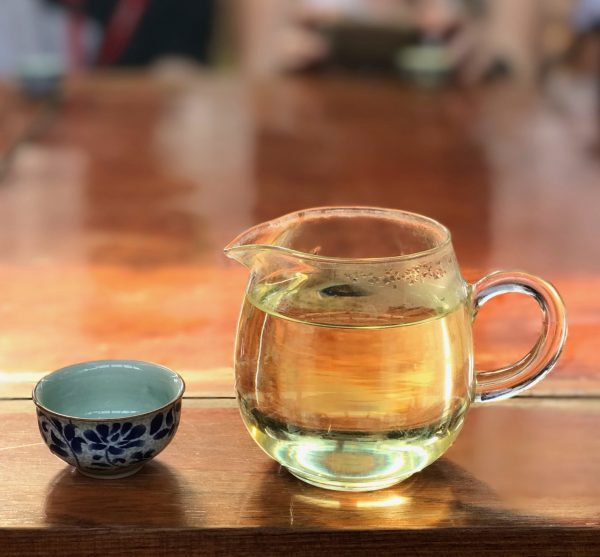 Other bits and bobs
If China conjures up images of pollution, overwhelming crowds and grey cityscapes dominated by uninspiring high rise apartments, I hope the above makes you think again.
While I've never seen so many apartment blocks ever – they go on and on and on – especially on the drive into a city from the airport, there's so much more to China than it's population of 1.3 billion people.
What I found was an incredibly interesting, consistently surprising and often beautiful place, full of well preserved and impressive ancient buildings and relics sitting alongside incredible modern architecture in dynamic cities; exquisite gardens; quaint historical villages; great shopping and some seriously impressive food.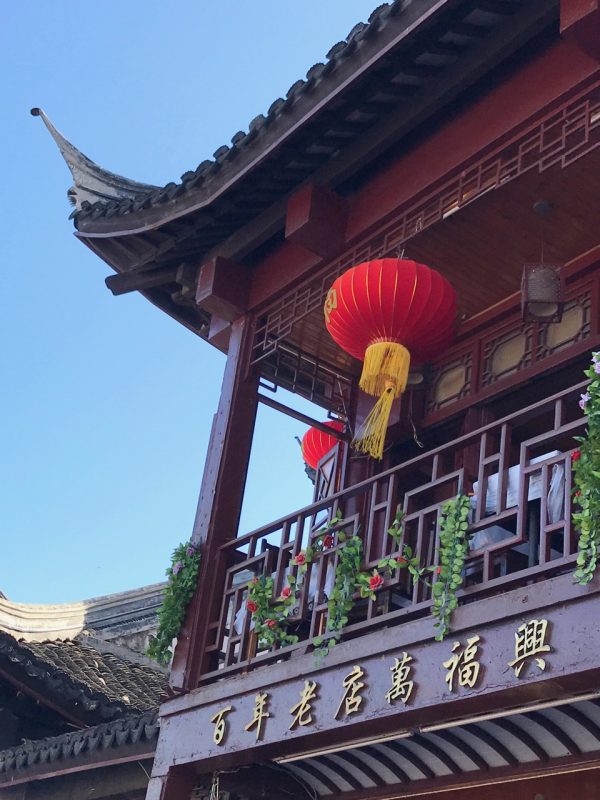 I also found China to be surprisingly clean – hardly any rubbish or debris anywhere. While in some cities, many of the endless rows of apartment blocks and buildings seemed quite old, dated and rundown, it was all still unbelievably clean. In fact, the first time I saw a piece of rubbish on the ground was 10 days into our tour. We were in the main tourist areas though, which may explain this.
Also, importantly, I felt safe walking around during the day and also at night, whether in our group or just with my 11 year old.
The air quality was also surprisingly very good – at least no different to Australia when and where we visited. There were a couple of days with fog or low cloud but most days the sky was clear, the sun shone, there was a light breeze and the air felt fresh. There were several asthmatics on our trip but no one reported any issues.
The weather during our visit – the first two weeks of September – was also unbelievable, with temperatures in the mid to high twenties and, for the most part, blue skies, sunshine and light breezes, not unlike Noosa at this time of year. Who knew? Suzhou, in the south, felt hotter and more humid than the northern cities we visited. We had one day of heavy rain during the entire trip too. Previous years' groups encountered more rain than we did from all reports, so I think we hit the jackpot on that front.
My highlights
As you can see above we covered so much ground in our 11 nights/12 days trip to China.
If I had to choose favourites from the above, it's hard as I enjoyed every single thing we did. I particularly enjoyed the bike ride in Xi'an; the days we spent in both Suzhou and Zhouzhuang; wandering through the food markets in Beijing and Xi'an and of course walking The Great Wall of China. My favourite town overall was Xi'an, but only just. Overall, it was an amazing trip, full of variety and contrasts.
My 11 year old's favourite activities were the bike ride in Xi'an, the walk up The Great Wall of China, the Chinese acrobatic show, going to Kung Fu School (sensing a theme, much?) and all the noodles!
If you can swing it …
One of the highlights of our trip was our visits to two Chinese primary schools (our sister schools in Beijing and Nanjing) and a Kung Fu Academy in Xi'an. If your school or if anyone you know has a connection to a school or anyone really in China, make a point of visiting. The Chinese people we met were all super friendly and hospitable and impressed me as relaxed, hard working and happy people, proud of their beautiful country.
Our kids did loads of fun things too – they rode unicycles, played badminton, made dumplings and did an art class with their new Chinese friends and all rated the kung fu show and lesson they participated in very highly. This was a great way to see something beyond the usual tourist sights too.
If you'd like to save this post for later, you can PIN it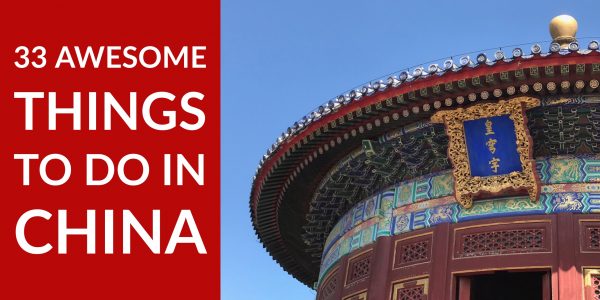 Have you ever visited China? Would you like to? What did you love or where would you love to visit?