I'm a practical person AND I love travelling, so I always take particular care to think through my packing before I take off.
I like to have what I need, when I need it, so I don't waste precious time in a fabulous foreign destination running to the pharmacy, the Apple store or department store, when I could be out and about, seeing the sights and absorbing Every. Single. Minute.
Did I mention I love travelling?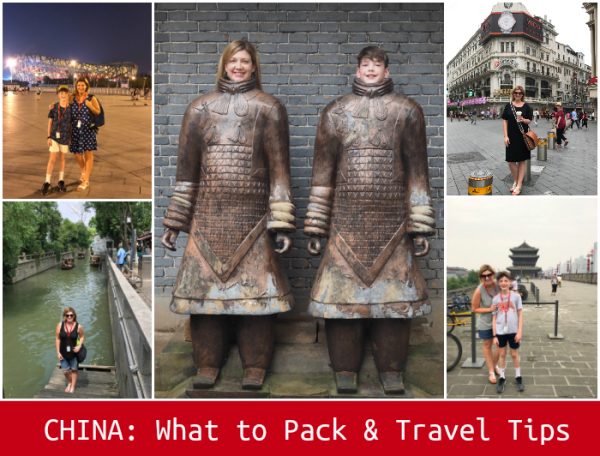 The more exotic or varied the destination, the more seriously I take my packing and pre trip prep too. I know other countries have everything I need in theory, but, if possible, I'd just prefer not to spend the time and money looking for things I have at home. Right?
So naturally, before I left for China, I did plenty of reconnaissance, most of it over a pot of Chinese black tea with my friend – Suzi – who visited last year.
Her tips, combined with everything I picked up during my two week visit are all in this intel packed post. I've also included pics of what I wore and where I wore it to give you an idea of what to pack to wear.
If you're interested in why I think China is such a great place to visit or what to do once you're there, I'd love you to check out this post, 33 Awesome Things to Do in China.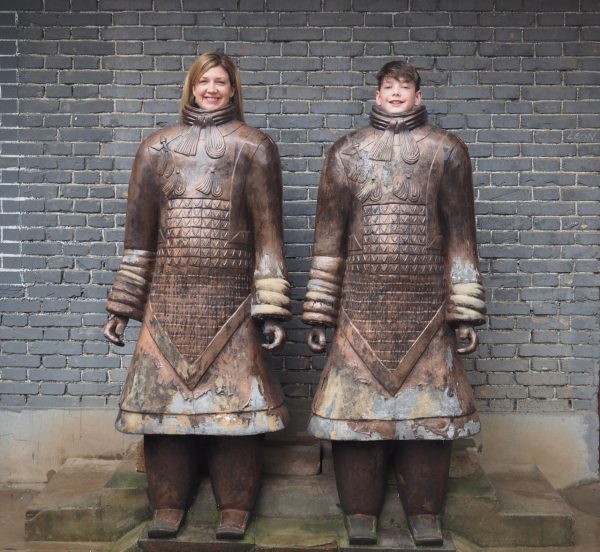 What to Pack for China
Just before we launch in, most of what follows will apply whenever you travel to China, but in relation to clothing, we visited in the first two weeks of September when it was warm, balmy with a light breeze and down south, a bit humid. The temperature was in the mid to high twenties most days, a little warmer in the south. We only had one day of torrential rain in two weeks but I gather that this was unusual as it usually rains more at this time of year.
1. Comfortable Shoes You Can Walk All Day Long In – I can't over state this enough. On average, we walked 16,000 to 21,000 steps a day during our time in China. That's a lot of steps.
In particular, there's a lot of walking in Beijing. The sheer scale and enormity of The Great Wall, Forbidden City, The Summer Palace and The Ming Tombs mean you will be walking and on your feet for hours at a time.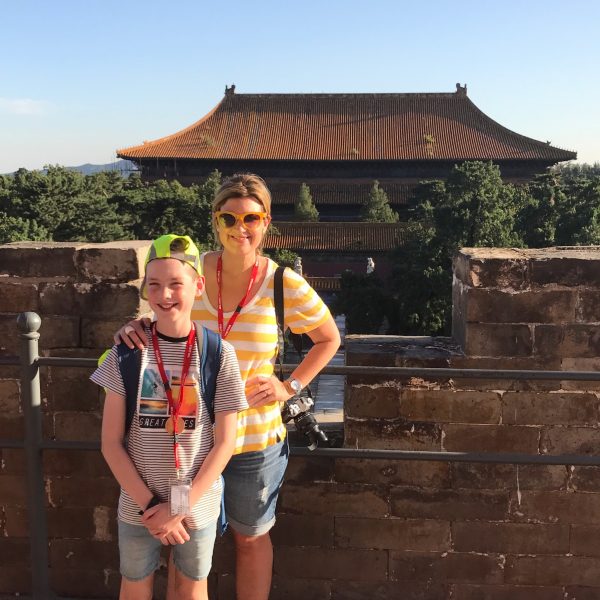 A beautiful afternoon at the Ming Tombs
I took three pairs of sandals and in the first week I rotated them, as with the heat and post flight cankle situation, my feet were swollen, blistered easily, and were hot and sore. My ankles also went AWOL. Only after a foot massage at the end of the first week – which I'd highly recommend – did my feet/ankles return to their normal size and I didn't have any issues at all the second week.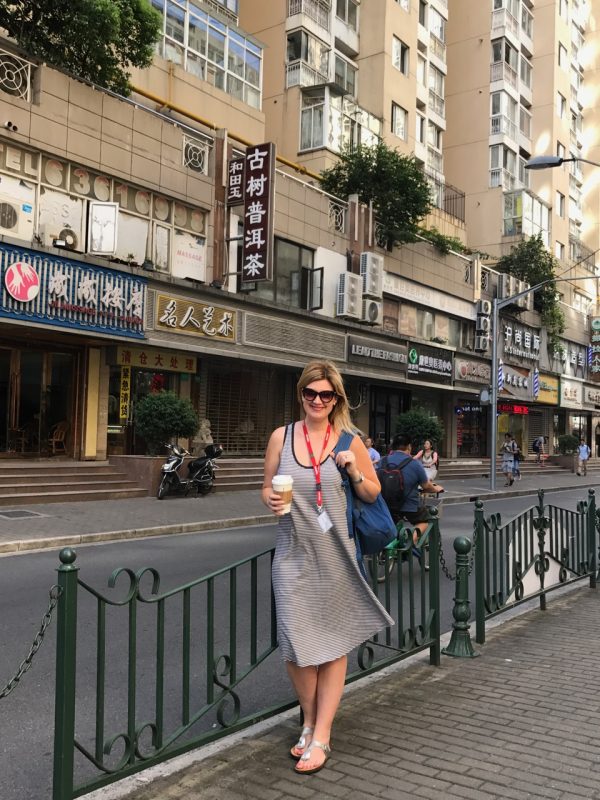 Starbucks in hand, ready for a big day of sightseeing in Shanghai
I wore open toe sandals to walk the Great Wall and to bike ride in because I like the air to circulate in hot weather, but many of my fellow travellers opted for runners for these activities. Runners or other comfortable closed toe shoes are also ideal for wet days.
However you approach it, pack at least two options so you can rotate and book a foot massage in as early as you possibly can. (We had ours in Xi'an and it cost AU$30 for an hour).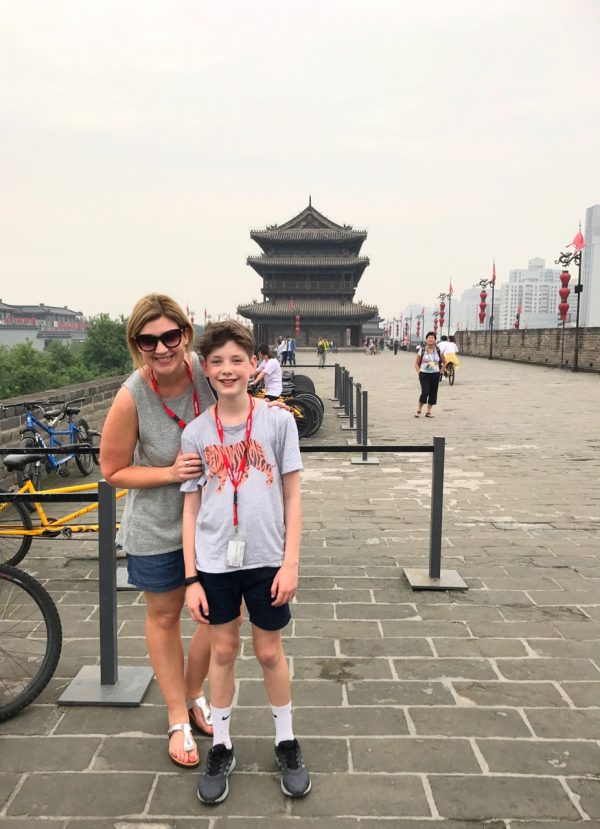 After our awesome bike ride on the City Walls in Xi'an
As well as a couple of older pairs of sandals, I took the new HiLARY slides from Frankie 4 Footwear (which were kindly gifted) with me on this trip – I'm wearing them above – which were awesome.
With their podiatrist designed footbed and support, HiLARY was my go to shoe for active days. I loved that my foot could breathe but I also had great foot and arch support.
From a fashion perspective too, their neutral silver colour went with everything, making them super versatile too.
2. Natural fibres – it was hot during our stay, so I packed mostly linen tees, shorts and plenty of light cotton dresses. The last thing you want when you're hot and sweaty is your clothes clinging to you.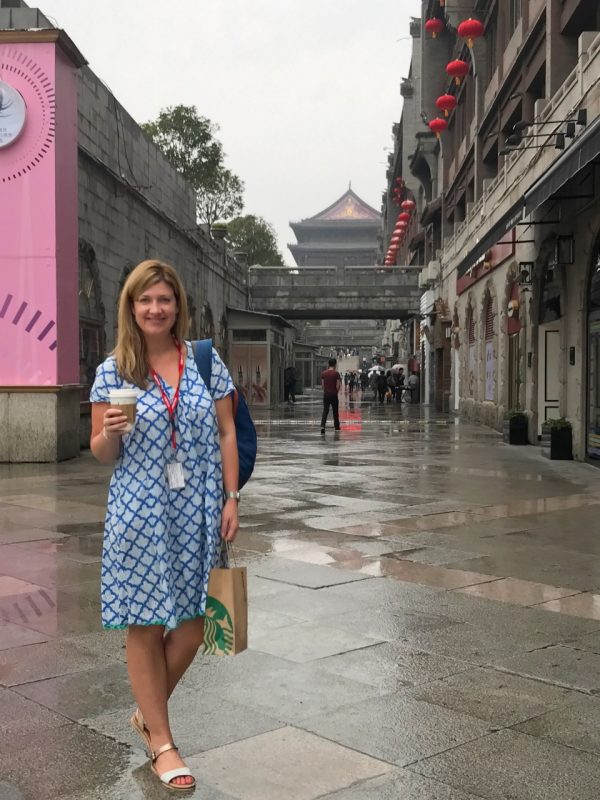 Another Starbucks run in central Xi'an before heading out to the Terracotta Warriors
A cotton dress and sandals were perfect for dinners out too.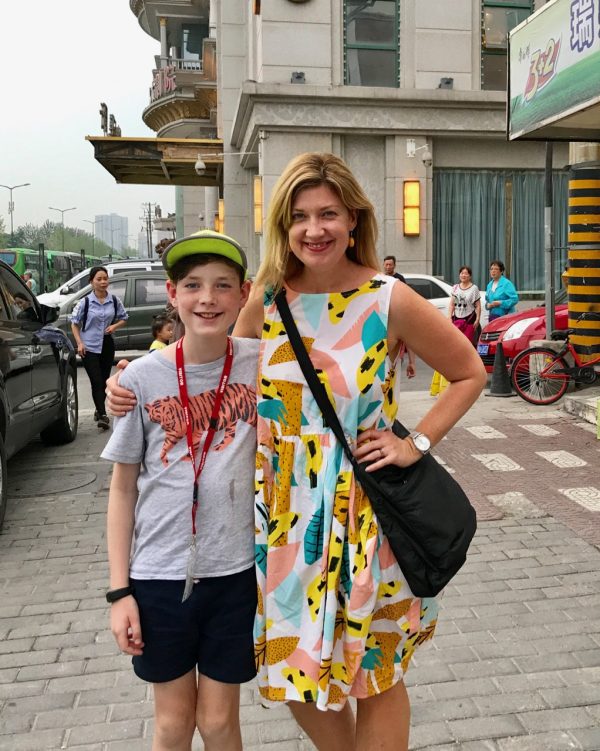 Ready for dinner and a show in Xi'an
If you're looking for where to buy some summery frockery, my go to places are Heartfelt Designs, Bohemian Traders, Adrift, Birdsnest, Gorman and Decjuba. I also wore several – and recommend – Country Road's linen tanks and tees too.
I packed two light baby wool cardigans but only wore one once on a milder evening. Instead, I could have worn the longer cardy I packed to wear on the plane.
3. Shorts – I don't love wearing shorts – I find dresses much more flattering – but if you do want to bike ride or similar, it's handy to have a pair or two in your suitcase.
I also found them surprisingly practical as I like to take photos on both my "good" camera and my iPhone and I could easily stash my iPhone in my shorts pocket securely, which saved opening my bag/backpack repeatedly as the dresses either didn't have pockets or they weren't deep or secure enough.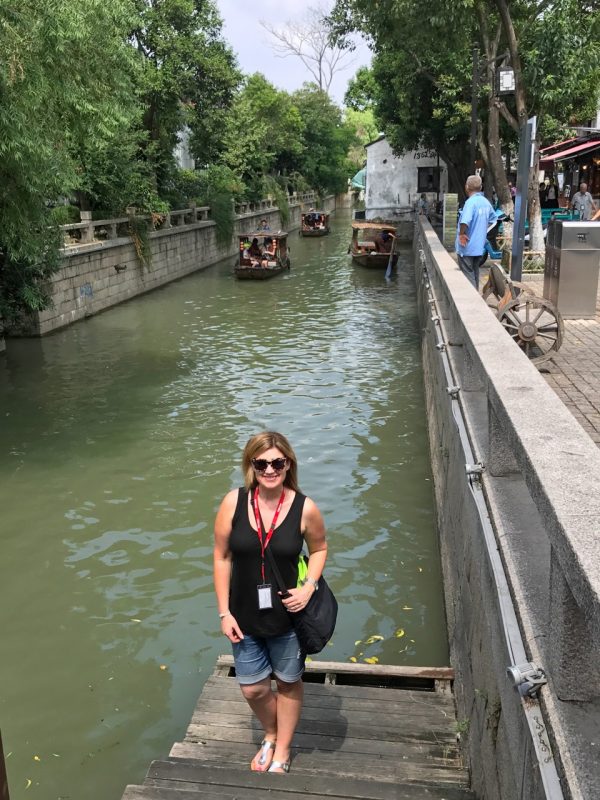 Dressed for a busy but fabulous day in Suzhou
I bought a distressed pair from Sussan – which I'm wearing above – and this lighter, chambray pair from Birdsnest (which I wore on our bike ride).
4. Plenty of cash – I'm not suggesting you walk around carrying wads of Yuan, but you won't be able to rely on your Australian credit card as much as you might do at home.
Many places – with the exception of hotels, Starbucks and big tourist pitched shops – only accept Chinese credit cards and won't accept your Visa or Mastercard. I even had a hard time using my Visa at an Apple Store. I took about 1800 Yuan with me ($400) for spending money as everything else – accommodation, attractions and main meals – was included. I then used the ATM twice during our stay and used my Visa for my big purchase (a silk doona in Suzhou).
So, it's important to carry some cash at all times – which most of us would do anywhere when travelling – and you'll need to be able to access your money easily ie. be able to use one of the ATMs which are everywhere.
5. Chinese adaptor and power board – this is the easiest way to manage all the charging that goes with travel. With a four point power board, I charged two iPads, my iPhone and camera battery overnight. In the mornings, when everything was fully charged I could use two points for my hair straighteners and hair dryer. If you like to do your hair in the bathroom, you'll need a second adaptor, otherwise, you can get away with one and a power board.
6. Raincoat & umbrella – fortunately we didn't have much rain during our trip but when it rained – the day we were mostly undercover at The Terracotta Warriors thankfully – it absolutely bucketed down.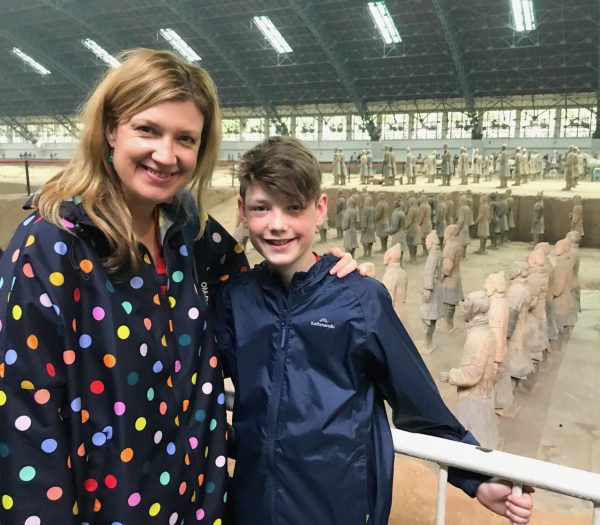 Hanging at the Terracotta Warriors … as you do
Even with a raincoat – this Gorman raincoat was showerproof at best – I was completed saturated. I ended up buying a $6 umbrella from the Japanese store Mon Sui to throw in to my backpack as a back up for the next wet day. I hadn't packed one before I left as I was told the hotels had umbrellas you could borrow, but on reflection, I wish I packed a compact umbrella.
7. Messenger Bag & Backpack – I used these interchangeably on our trip and some days used both, as we were able to leave some gear on our bus.
Messenger bags are great for shopping, dinners out and short trips as you have easy access to your wallet, iPhone, hand sanitiser etc. Backpacks are great for bike rides, long walks and any time you want to be completely hands free or have more weight to carry.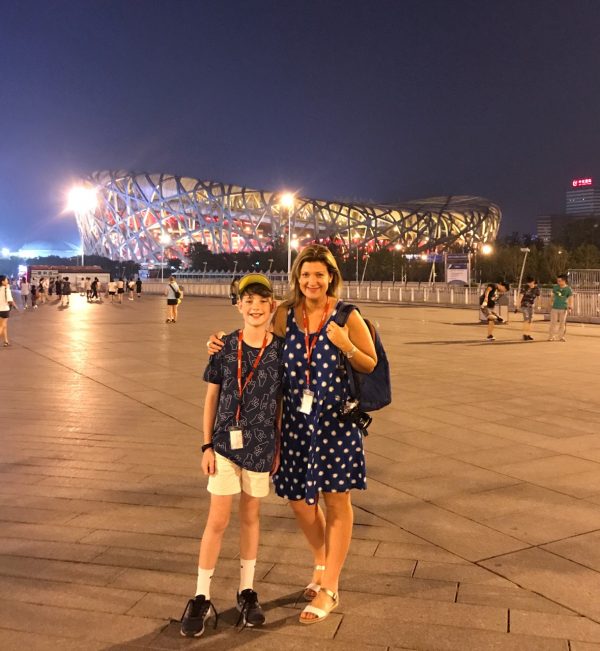 Our first night in Beijing – a visit to Olympic Park to check out the Birdsnest and Water Cube from the Beijing Olympics
The other thing to think about ahead of time is your camera situation. Not just which one you'll take – a big or compact digital camera or just your iPhone – but how you'll carry it. I wanted easy access to my "good" camera so I used a camera strap and carried it over my shoulder for easy access during sight seeing. It was too big and heavy for my messenger bag but while it fit in my backpack, stowing it there didn't allow for easy access, so I usually carried it over my shoulder as you'll see in many of the pics above.
8. Camera Paraphernalia – pack an extra card or two for your digital camera, somewhere to store used cards, a lens or a spare battery, straps – whatever your camera set up requires.
9. Other Tech Gear – helpful accessories include headphones for your iPad (to watch previously downloaded Netflix eps – I downloaded a doco and complete seasons of Narcos, Peaky Blinders and Bloodline to watch on my trip); headphones for your iPhone (to listen to previously downloaded podcasts or music) and all the relevant chargers.
10. Books/Sudoku/Mags – there's a lot of travel time to some of the attractions out of town and on domestic and international flights. On flights we found that devices aren't permitted to be used all the time – often until well into the flight or well before landing – so unless you like day dreaming and can happily sit with out any distraction, pack something to do.
We also had several bus trips that were 1.5 – 2 hours long each way. I always packed a book to read for some much needed downtime in between all the sight seeing and activities. We had a very busy schedule but I still managed to read three books and watch one complete season of Narcos while we were away, using some of this incidental time.
11. First Aid Kit – wherever I travel, I always pack a basic first aid kit which for us contains Panadol/Ibruprofen, stoppers and starters (Immodium and Nulax), band-aids, Rid, ventolin and a spacer. We also packed plenty of sunscreen and aloe vera.
12. For Kids – for my eleven year old, I packed ten t-shirts and 7 pairs of shorts (to minimise washing although the spatter of sauce from dinners meant I spent plenty of time hand washing – opt for dark colour t-shirts!); pjs, plenty of socks and undies and three pairs of shoes (two runners in case one pair got wet and a pair of thongs he didn't wear). I also bought him a waterproof jacket from Kathmandu before we left which was gold – he wore it a lot – and he used a back pack everyday to carry his water, work book, rain coat etc.
Tips for Travelling in China
1. Choose hotels close to tourist destinations or public transport – particularly in the biggest cities like Beijing and Shanghai, as you'll save loads of time if you don't have to taxi or bus places as the traffic is intense. The public transport system in Shanghai was awesome and well designed and makes getting around much easier. In contrast, there are only 5 train stations in central Beijing so you need to use public bikes, buses, walk or get taxis to get around.
2. Choose trains over planes if possible – train stations are always much more centrally located than airports to start with (so it's generally cheaper and faster to get to your hotel), but you'll also spend a lot less time with checking in, waiting, security and the journey itself is much more pleasant on a train.
We loved our ride on the bullet train from Nanjing to Suzhou – below – on which we travelled in excess of 300kph. You can also use devices the whole time too.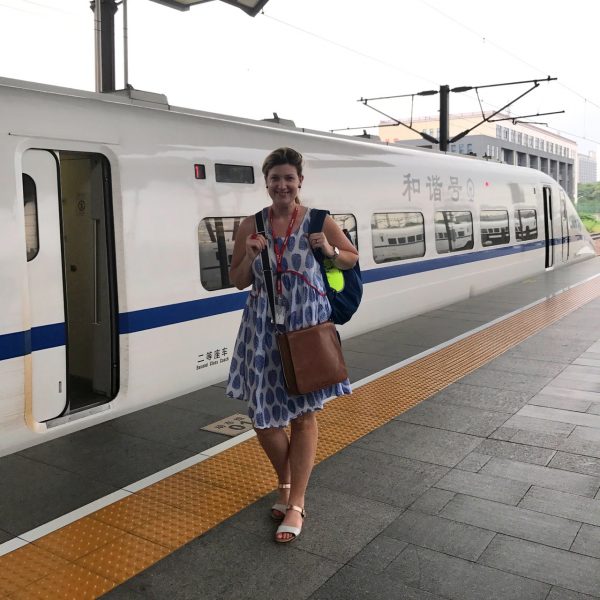 All sorted for our bullet train ride
Conversely on planes, devices could not be switched on until at least thirty minutes after take off (we also spent a lot of time in the plane before take off too) and before landing. So for a 90 minute flight where you're in the plane for well over 2 hours, devices could often be used for no longer than an hour maximum. That's barely one episode of Narcos on Netflix for those playing at home.
If you fly in to Shanghai, next door to the Hongqiao International Airport is the Hongqiao Railway Station where you can catch trains to various places.
3. Internet Issues – the internet sitch in China was a bit tricky. Initially I relied on hotel wifi and used WeChat, a free Facebook messenger style app to communicate with home but I didn't have access to my Gmail, Facebook or Instagram.
I then got on to VPN Express – you can find it in the App store – which was free to download, but the freebie only lasted an hour. I then bought a $2.99 non-recurring 30 day subscription which gave me access to the whole internet, including Facebook and Instagram. It worked on and off, usually best in the early morning perhaps before other people logged on, but didn't work at other times or at all in Shanghai. Very frustrating. To avoid this, you could organise a roaming package with your internet provider before you leave home.
Also related, there were plenty of recharging stations at the airports, but BYO cord.
4. Book in for a foot massage – with all the walking, especially in the heat, your feet will love you for it. I have never had cankles like I had in China – the combo of the flights, heat and kilometres of walking was a lethal combo for my white Melbourne ankles. A great foot massage helped enormously.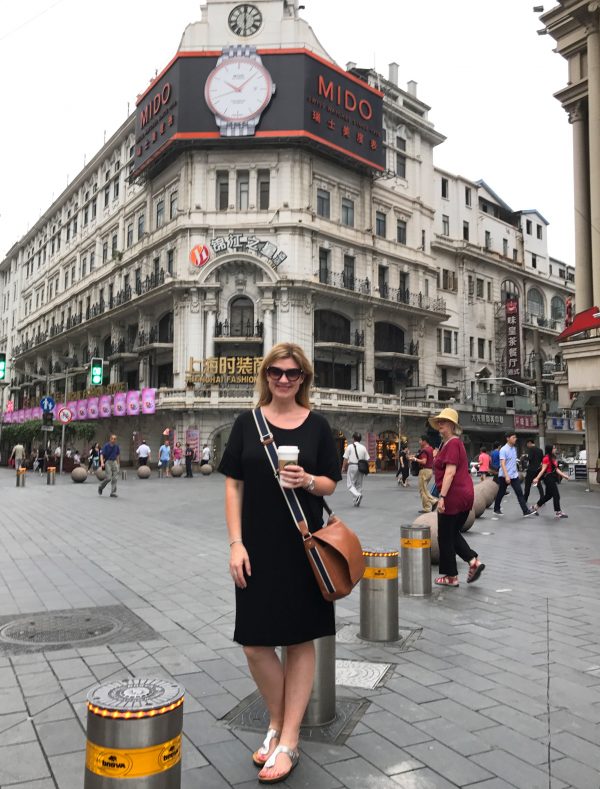 Downtown Shanghai
5. Security at airports is hard core – there are several screening and check points for every flight – way more in number and intensity than I've experienced anywhere else. As a group, we had loads of things confiscated including bottles of water, tubes of sunscreen over 100ml, mobile phone battery packs without an identifying serial number to name but a few.
6. Don't pack any batteries in your checked luggage – following on from the above, when we travelled, no batteries of any description could be placed in checked in luggage. So phone and battery chargers and power packs, batteries for drones and other toys etc., had to be packed in hand luggage.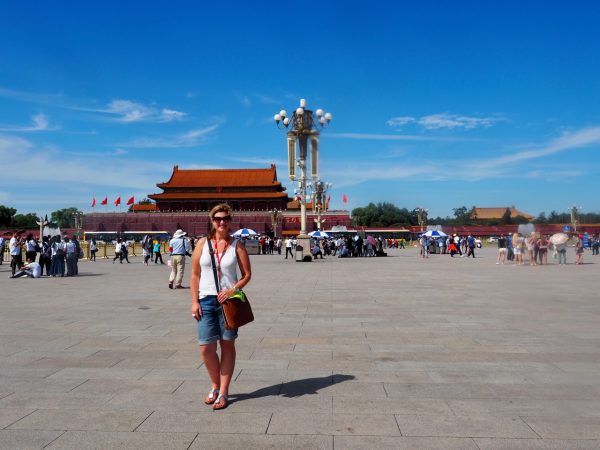 It was warm the day we visited Tiananmen Square
7. Learn how to squat – I won't go in to too much detail here, but chances are you will need to use squat toilets from time to time and ideally, you'll want to master the technique sooner rather than later. I can't help you more than that and I'm not sure You Tube is the way to go on this one but ask seasoned travellers for their tips before you go. Apparently standing on the grooved sides, relaxing and not wearing shorts helps!
8. Pack a roll or two of toilet paper and hand sanitiser – all our hotels, the airports and most restaurants we visited had Western toilets, toilet paper and soap. It was when we were out and about in shops, cities and other tourist places that it was less predictable. Loo paper is not always in the cubicle – often it's in the hand washing area if they offer it at all – so we often had to BYO loo paper. If you don't have enough room in your bag/backpack to carry a whole roll of loo paper, I put several sheets worth in a little zip lock bag which didn't take up a lot of room and was more discreet than taking a roll in with you – which I did too! Soap is not always available for hand washing too so we always had a pack a small bottle of hand sanitiser in our day bag.
9. Starbucks is your friend – not only will you get that Western style coffee you're craving, you can also pay for it using your Visa, get free Wifi and maybe even access to a toilet.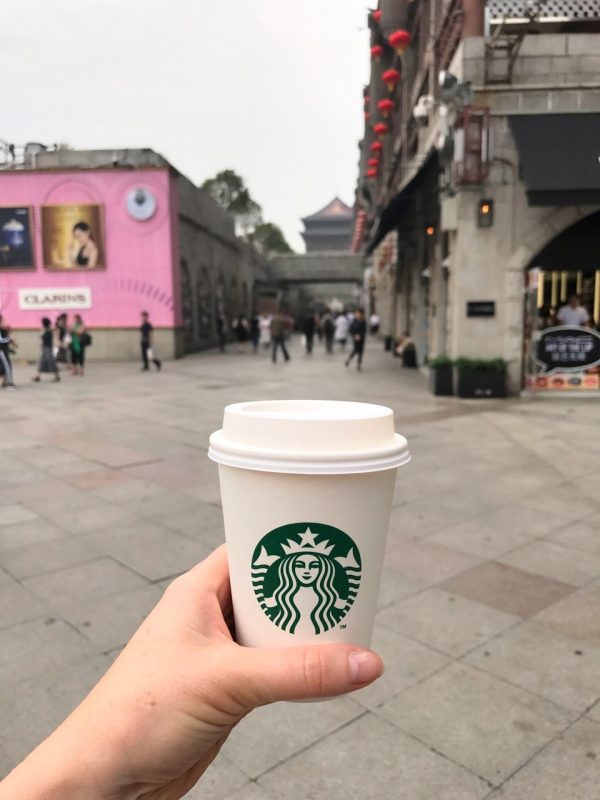 Finally …
If you need a new suitcase before you leave, check out the range at Samsonite. If you're looking for a camera or messenger bag, check out the range at Crumpler.
For more ideas of where to travel with kids, locally, within Australia and abroad, you'll find loads of ideas, reviews and inspo here.
This post contains some affiliate links. You don't pay any extra and I earn a small commission. Read more in my Disclosure Policy here.
Have you travelled through China or other parts of Asia? What would you add to the above?