Every January, we pack up the car and head down to one of Victoria's many coastal towns where we rent a holiday house for a week or so.
It supposed to be an "easy" holiday, with no weight restrictions or major packing space issues to worry about.
While this is true, there is an art to packing for a driving holiday and it's quite different to that of an overseas pack.
The beauty of a driving holiday is that technically, what you can bring is only restricted by how much you can physically cram into your car and therein lies a temptation to just chuck in All The Stuff.
But there's a bit more to it than that.
And despite what the photo below may suggest – there is a method to the madness.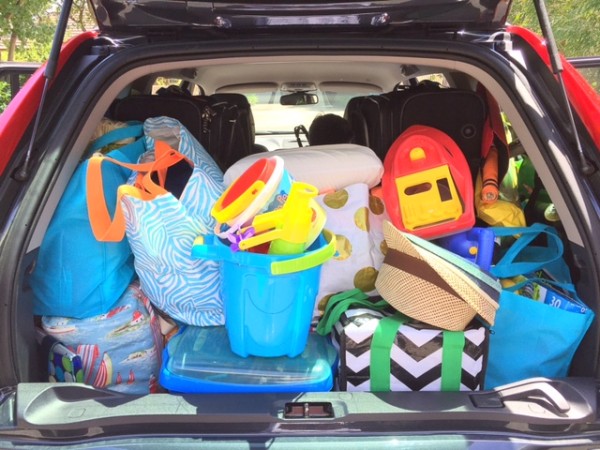 Now what follows is how I approach our annual beach holiday which is usually for 7 – 10 nights. It's a pretty comprehensive list but it's the result of years of holiday house rental experience. It might be overkill for some – especially if you're staying at a relative's place which is already well stocked or you're only heading away for only a couple of nights.
Before I launch in, I should also say that when we go for that length of time, we eat at home most nights so I tend to bring a lot of food. We always eat out a couple of dinners – usually FnC on the beach or at the park and dinner at the pub or the local pizzeria – but generally, it's a lot cheaper and easier for our family of 5 to eat dinner at home.
If we're going for a shorter break – such as a weekend – I'd take much, much less but you can pick and choose what might be relevant or helpful for you, depending on the length of your stay or your budget for eating out.
Regardless of how long we're staying, if I'm packing for a driving holiday within Victoria, I want us to bring what we need to have a relaxing holiday.
For me, that means minimising the number of trips to the supermarket (although I'm happy to pop in to the bakery for fresh bread every day on my coffee run) and having a few things to keep the kids occupied at the house so we don't have to constantly entertain them or take them out.
It also means trying to avoid having to buy necessary household items (some of which are expensive) that I already have at home.
What I pack is dependent on what's provided at our accommodation too.
Some rental houses and apartments are incredibly well appointed.
The house we stayed in last summer had loads of inclusions we didn't realise – a beach umbrella, DVDs, board games, loads of books for kids and adults and toys. It also had a very well appointed kitchen (toasted sandwich maker, coffee machine, blender, paper towel, glad wrap, foil and baking paper) and a well equipped pantry (spices, olive oil, tomato sauce, sugar and flour) but no pepper (they had salt though).
Others are basically empty shells, with literally one tea towel and that's it, so you're really starting from scratch. If you can, it's worth getting an idea before you leave of how much, if anything, will be provided .
Food/Household
When we are driving to a holiday within our state, I tend to bring a lot of food with us. I would usually pack a couple of eskies, two shopping bags of pantry items and one basket of fresh food. Yes, that accounts for nearly half our boot space.
How much I bring depends on how much I have in the fridge and also how long we're staying. Generally speaking, for a week away, I'll pack:
Milk, cereal, bread and butter – for breakfasts and sangas;
One dinner's worth of pasta or rice (pop in a plastic container which you can then use for leftovers or for taking fruit to the beach);
Bacon and eggs for an easy dinner, breakfast or carbonara pasta;
A couple of spreads for sandwiches and toast;
Glad wrap, paper towel, olive oil spray and tomato sauce (for cooking/BBQ);
Salad items for sangas and dinners – ham, cucumber, tomato, cheese, rocket/spinach/cos lettuce, beetroot;
Three or four dinners' worth of meat – I take frozen meat too, all of which go straight into the freezer upon our arrival if they're still frozen. They also serve as excellent ice blocks en route;
Salad dressings – I bring a bottle of lemon aioli or balsamic glaze;
Plenty of fruit;
Any leftover veggies;
Dip, olives, crackers and cheese for when friends drop in or for holiday happy hour;
Tea/Coffee – I take my favourite tea everywhere and I have friends who always pack their coffee machines and pods;
Wine, mineral water or other beverages of choice;
A small bottle of laundry detergent, stain remover and a lingerie bag for washing. I generally do a couple of loads of washing every day so we go through way more detergent than what's provided (if any is provided) – all those BBQs and ice creams mean dirty, greasy clothes not to mention all the washing of bathers, towels etc;
Dishwasher tablets – with our family of five, we usually run the dishwasher every night so what's often provided doesn't get us through our stay;
A basic first aid kit (plus any Epi pens, antihistamines, asthma meds etc) and all the sunscreen/aloe vera you need for a beach holiday;
Again, this might be total overkill for some, but I almost brought my Thermie for smoothies as I'm into those for breakfast at the moment but thankfully, there's a handstick blender here so I'm all sorted.
Sometimes, it's also worth throwing in a couple of face washers, hand towels and an extra tea towel as they are not always supplied along with linen or you may need more than you've been given.
We've also had to go out and buy soap before too. I know. Crazytown.
I also pack a bag of snacks for the kids for the drive – depending how long it is – that usually consists of water bottles and snacks such as fruit, popcorn or yoghurt.
Note that if you are travelling to some states, quarantine restrictions apply. For example, you can't take fresh food (fruit and vegetables) into Tasmania.
Linen
For four years running – in three different rental properties – we've arrived at our holiday rental to find no linen on the beds despite me paying for it (it's not included in many properties rental fee) and reconfirming the week before our arrival.
Not happy Jan.
One year, the linen was eventually supplied but towels weren't included, which necessitated an urgent dash to Rosebud K-mart shortly after our arrival.
Last year, it turned out that the linen service was on it's way (and included towels), and it arrived two hours later. Phew.
This year, the linen service turned up after we arrived but didn't include hand towels.
The answer to this might be either BYO linen or only stay at places where all linen is always included. Our issue is mainly a space one – it would be tricky to find space for linen for 5 people on top of what we've already packed.
Either way make sure you clarify exactly what is included or provided so you know what to expect/pack.
Beach Gear
For a beach holiday in Victoria over summer, we always pack buckets, spades and other beach play paraphernalia and of course beach towels for everyone.
Some people might also like to pack beach chairs and a shade/umbrella.
Boogie and surf boards, inflatables, balls and beach cricket sets can also be fun and worth bringing along too.
Entertainment
As the weather is often unpredictable here in Victoria, we also always pack a few things to entertain the kids in the very likely event of non beach weather –
a container of Lego;
scooters/bikes and helmets for the kids;
at least two board games plus some smaller card games. Last time we brought The Game of Life, Pictionary, Sequence, Snakes and Ladders and UNO. Some rentals have a great stash already so it's worth checking;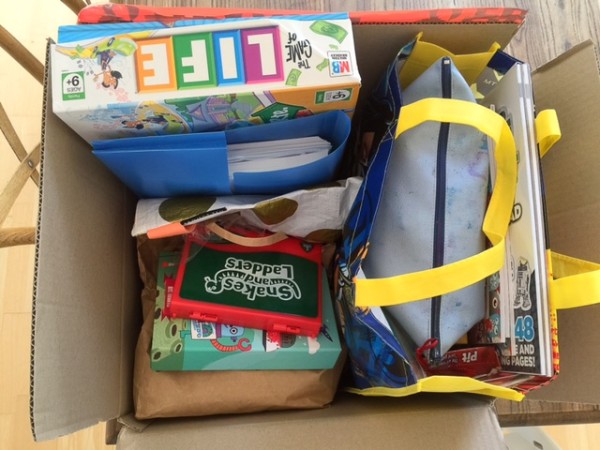 Paper and pencils, and when the kids were younger, colouring and activity books;
A couple of books each or a Kindle for the book worms might be the easier way to go;
iPads and DVDs.
Clothing
I always pack two pairs of bathers for the kids, to allow for rinsing and drying.
For each of our three boys aged 10, 8 and 5, for 7 nights away I pack:
5-6 pairs of shorts and 7 t-shirts;
thongs and runners;
7 pairs undies a few pairs of socks;
Pjs;
a hat;
2 pairs of bathers;
one pair of long pants and a hoodie each.
All of this is packed in one suitcase, divided by thirds.
For me, I pack more than I would usually as the weather is so unpredictable. If I'm holidaying in a place with consistent temperatures i.e. Bali, I would pack half of this.
a few beach dresses or kaftans to throw on over bathers;
day dresses for milder days or dinners out (you might like to add in shorts and tees);
1 – 2 pairs of pants/jeans for cooler days;
a couple of tees and long sleeved tops to wear with jeans;
a denim jacket and a fine knit cardy to throw over dresses. I would often also throw in a light rain coat depending on the forecast;
two pairs of bathers and a sunhat;
exercise gear;
nightie/pjs;
thongs, sandals, runners and a pair of closed toe shoes for cooler weather.
I also always pack a few books or my Kindle, a couple of magazines, my diary, journal, hair dryer, straightening tongs, camera, toiletries and all my chargers. I'm low maintenance like that.
More Packing Inspo
If you're heading away for the weekend, check out this post on what to pack for a weekend.
If you're taking the kids somewhere tropical, this post on tips for packing for young children,
If you're heading overseas, I've shared loads of intel in this What to Pack for an Overseas Holiday post.
If you're heading away somewhere tropical, check out this What to Pack for Bali post.
If you're out and about in Victoria
You might also like:
What to Do on the Mornington Peninsula with Kids
What to Do in Phillip Island with Kids
What to Do in Bendigo with (or without) Kids
What are your tips for packing for a driving holiday? What do you always forget?