I've had a seriously excellent month in the dining out department.
It began with some mouth watering meals in Sydney (you can catch up about about here) and then I returned home to occasions and dinners galore, as a result of which, I've sampled five fab new (to me) great places in and around with Melbourne.
If you're anything like me, you can be a bit stumped with where to eat out in Melbs town, both with and without the kids. There's the sense that there's so much out there, so many great new places, so much so that it can be overwhelming or just plain hard to know where to start.
In sharing these reviews, I hope I can introduce you to somewhere new that's been road tested by the crew here at Shenanigans Central. If you've been somewhere fab lately, I'd love to hear your foodie discoveries in the comments below.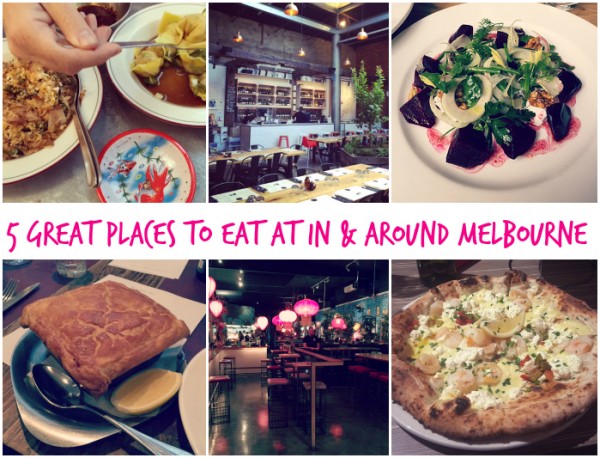 And a little housekeeping before I launch in. Of the places listed below, two we went to with the kids (SuperNormal and Zero95) and two were group dinners (The Builders Arms and The Epicurean). I visited Rice Queen with a girlfriend mid week.
All in all, I was impressed once again at amazing food scene we have in Melbourne, across the city, in the suburbs and beyond.
1. SuperNormal – Flinders Lane, Melbourne CBD
We took our two eldest boys to SuperNormal, the latest venture of super hip and design savvy Melbourne chef Andrew McConnell, for an early lunch one Sunday before we saw the Lion King. (It's located right behind the Regent Theatre in Flinders Lane).
Despite it's popularity, we managed to snag a table only a couple of days before using their very user friendly online booking system. I'm thinking perhaps it was because our booking was for 11.45am. Bookings can be made for lunch every day or groups of 6 or more for dinner, but groups of 5 or less are on a walk in basis only for dinner. Get there early or be prepared to spend some time at the bar.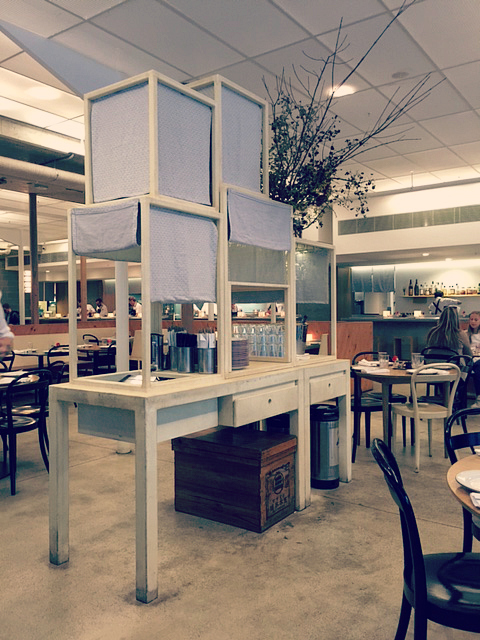 When we arrived, we were greeted by a spacious dining room with a modern, but relaxed Asian fitout. Simple but tasteful furniture (and an odd coloured chair per table) and a large buffet in the centre of the room, pictured above, which added interest and colour. We felt totally fine having our kids with us and saw other families dotted around the restaurant too (including chef/TV presenter Karen Martini and her family).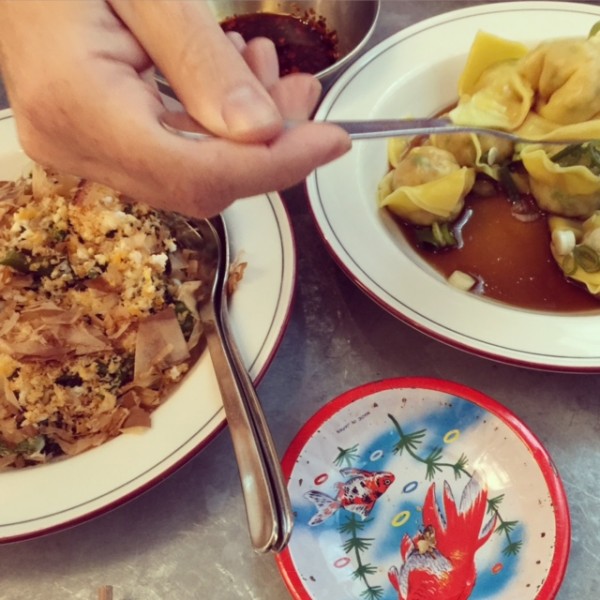 We ordered four dishes between the four of us, all of which were excellent: the prawn and chicken dumplings with chilli and vinegar ($14 for 6); the pan fried pot sticker dumplings ($14 for 5), the salad of broccoli, egg, bonito and toasted panko ($15) and the big daddy, the Szechuan slow cooked lamb to share, with spring onion pancakes and coriander paste ($39).
Our kids loved the dumplings and the lamb while we enjoyed the cold salad on the side. Washed down with a rose, it was a very pleasant Sunday lunch indeed.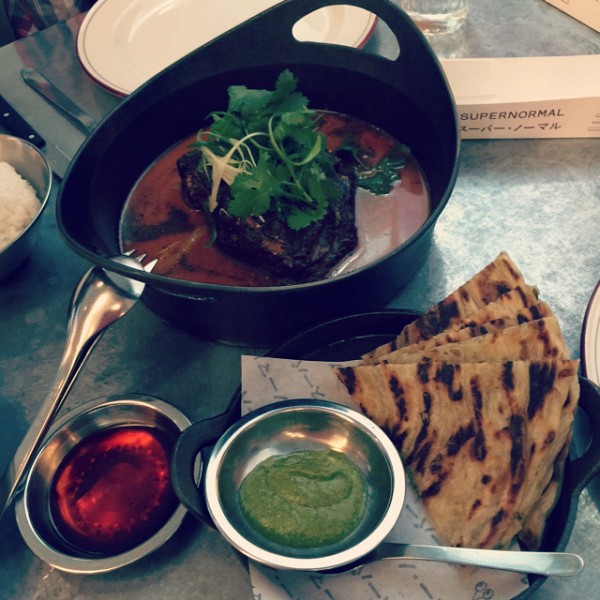 This is a seriously fab place and well worth a visit, with or without the kids but you'll need to book ahead. Downstairs I spotted a gorgeous private dining room too if you happen to have an occasion coming up and have a penchant for karaoke.
2. The Builders Arms Bistro – Gertrude St, Fitzroy
The Builders Arms Hotel is a Fitzroy institution.
While it's been there forever and has survived the gentrification of the area, it's managed to keep up with the times but still stay true to its roots.
While we've been to the fine dining restaurant on site Moon Under Water several times (you can read my review here), I hadn't eaten at the Bistro because until recently bookings were only allowed for groups of 8-12. (They are now taking bookings for lunch and dinner although there are two sitting times. Set menus may also apply for groups of 8 – 20).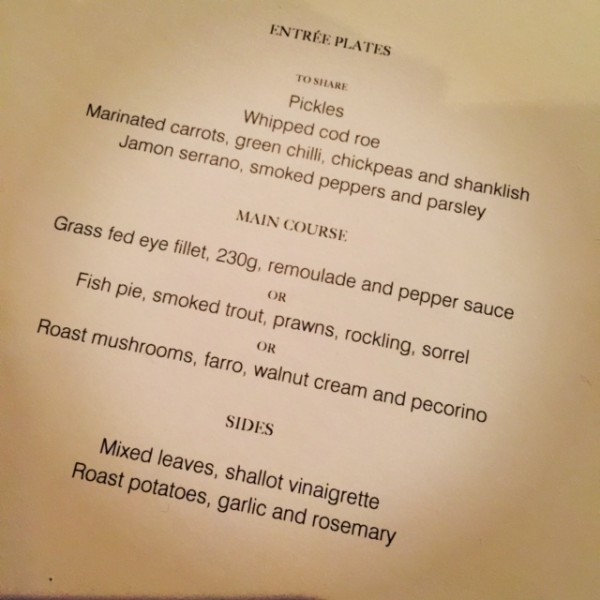 So when Mr SnS's team were looking for a great place for dinner, I nominated the BA Bistro. And so it was that we visited one Saturday night recently with our party of 11. We arrived a few minutes early for a drink and some footy in the bar (our booking was for 8.15pm) and then enjoyed an excellent set meal together ($55 per person for 2 courses) which catered for all our dietary needs – paleo inclined through to vegetarian.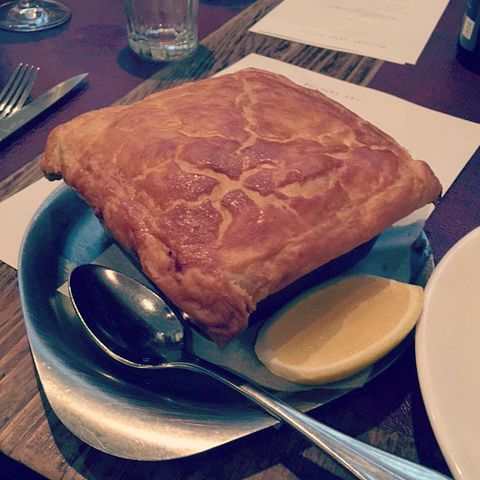 We began with some mixed entrees which were absolutely and universally fabulous and then I had their signature fish pie ($33). It was delicious and filled with fresh seafood (smoked trout, rockling, prawns and sorrel), a creamy but light white sauce and flaky pastry on top. It was a substantial serve as well and I was high fiving myself big time on my selection.
Everyone else's meals were also excellent. You can checkout the full menu here.
The BA is definitely worth a visit but book ahead.
3. The Epicurean – Red Hill
Ok, so this place is not strictly in Melbourne but it's a short 45 minute trip down Eastlink and well worth a drive.
On our annual book club weekend away, we stay on the Mornington Peninsula and try and find somewhere fabulous for our Saturday lunch (we like to retire to the house late afternoon and throw on our PJs for our big night in).
In the last few years, we've been to The Rocks, The Pavilion and DOC Pizza and Mozzarella Bar in Mornington, all of which have been excellent.
This year, as we were staying in McCrae, we thought we'd head for the hills – Red Hill to be exact. Someone suggested The Epicurean and as soon as we'd booked, I was inundated with comments about how fab it was.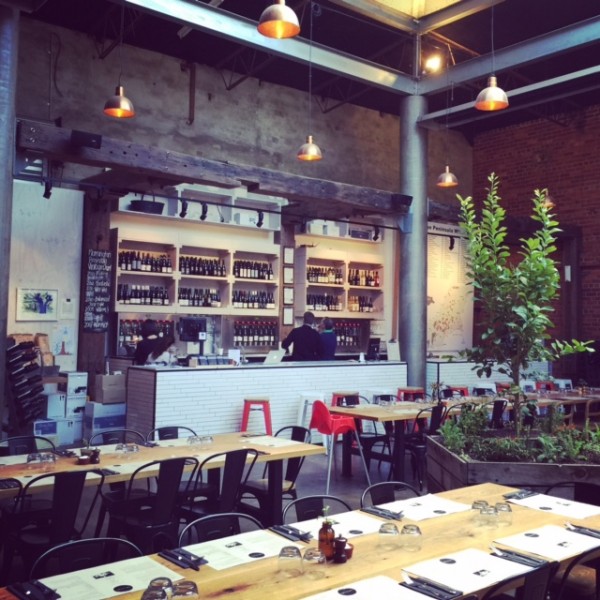 Located in the Red Hill shops, The Epicurean is a one stop shop – there is a cafe with a beautiful gift store at the front, below (The Store), and out the back is a huge rustic barn like space (The Shed, pictured above, with two adjacent private rooms, loads of space so good for kids/prams) serving up some serious pizza and excellent Italian dishes.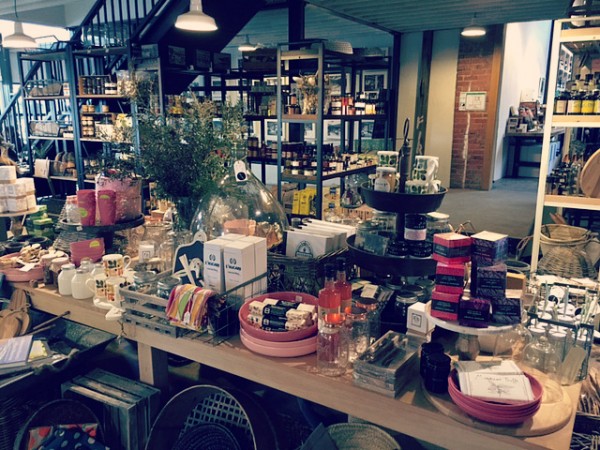 I shared a couple of pizzas and sides with girlfriends all of which were delicious including the fried polenta chips ($12) and beetroot salad ($18.50), pictured below, both of which deserve a special mention.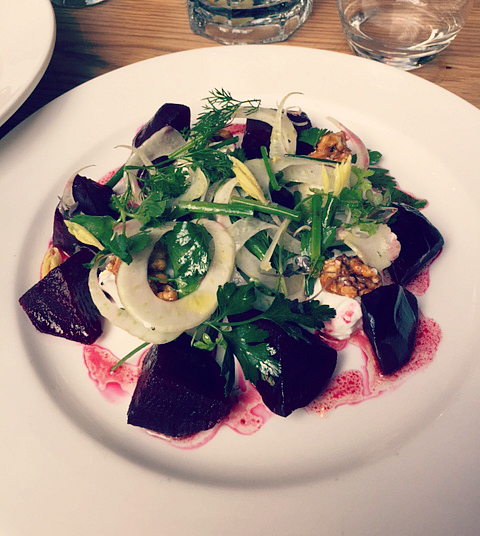 As fab as my meal was, I did have dish envy when I saw (and tasted!) my friend Janine's roasted pumpkin ravioli with pumpkin seeds and a burnt butter sauce ($26.80). It was unbelievable and I shall be returning to The Epicurean stat to order this very dish.
You can check out the full Shed menu here.
Again, you can't book unless you have a group of 10 or more so it's worth rounding up friends or family and paying a visit. You'll love it.
4. Rice Queen Oriental Diner & Bar – Brunswick St, Fitzroy
Several friends have been raving about Rice Queen and saying it's just like Chin Chin but you can book.
That made me sit up and take notice right there.
I still haven't made it to Chin Chin (alas, their bookings policy *insert frustrated emoticon*) so I can't compare them, but I did make it to Rice Queen for dinner with a girlfriend recently and I was impressed.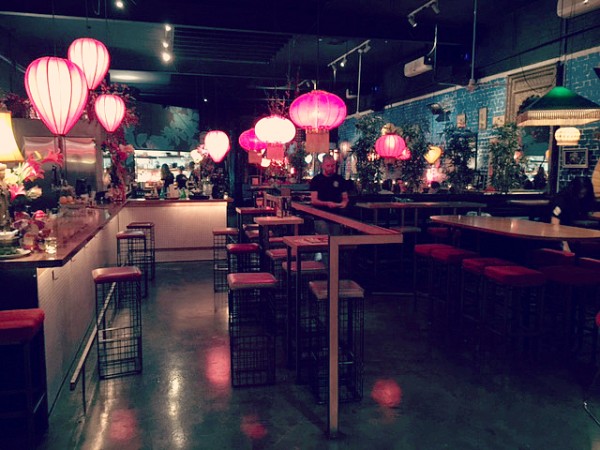 It's been a while since I've dined down Brunswick St, where I used to spend quite a bit of time, but I'll be heading back again soon.
Why? Well firstly, there's the fabulous decor – think retro Chinese kitsch with plenty of fake cherry blossoms and red lampshades – which makes the enormous space feel intimate and ambient.
And then there's the tasty food.
I'd asked my friends what we should order and they recommended the KFC (Korean Fried Chicken)/Eric's seven spice crispy chicken ribs tossed with spring onions and whole chillies and served with mint sauce (5 pieces $12/10 pieces $19) and the pork bites – twice cooked pork belly served with green nam jim, crispy shallots and garlic chips ($13), both of which were great. Everything we ate was good and it was a fun night out.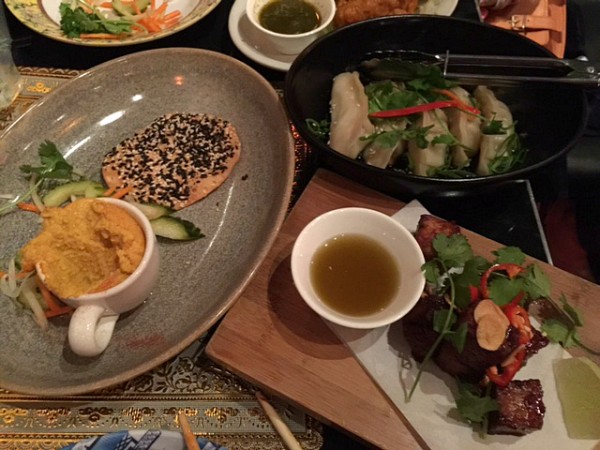 This is a super cool spot for a midweek dinner with a girlfriend, a date night or a group, but do book ahead. You might also be interested to know there is a Karaoke room out the back which you and your mates can hire. How fun is that! Hmmm, I'm beginning to sense a theme …
5. Zero95 Wood Fire Pizza Bar – Doncaster Rd, East Doncaster
I'm on the eternal search for the best pizza in Melbourne.
My current favourites are Pizza Espresso in Lower Templestowe, i Carusi in Brunswick and a locals joint which has sadly just closed down.
So when Mr 7 said he'd like to go out for pizza for his birthday dinner, I naturally obliged and thought it would be a great opportunity to try out a place that I've heard great things about – Zero95 in East Doncaster.
This place is new but has been packed since it opened which is saying something as it's open seven days and has two sittings every night – 5.30 and 7.30pm. We went at 5.30pm on a Sunday night and the place was heaving.
It's relaxed, family friendly but modern decor impresses and the pizza is excellent. It's a little pricey though – I'm not sure I've seen many rocket and parmesan salads for $14 lately.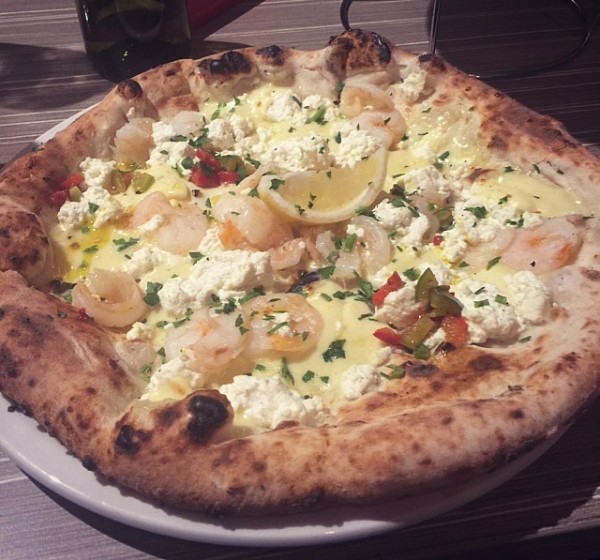 The boys inhaled the ham and pineapple pizza that came with a honey mustard dressing although Mr 7 wasn't so keen on the dressing (the Dolce et Salato, $19). I enjoyed the prawn, ricotta, fior de latte, lemon zest, parsely and chilli pizza but Mr SnS wasn't as keen (the Amalfi, $23).
The fior di latte, San Danielle proscuitto, rocket, walnut, goats cheese and strawberries drizzled with balsamic (the Lipari, $24) was the most popular at our table but Mr SnS took issue with the inclusion of fruit on his savoury pizza. Of course he won't abide Hawaiian anything either so it's all the more for me!
The service was efficient bordering on the superhuman. Our pizzas arrived literally within 5 minutes of ordering so this is a great place to visit if you have small/fractious children and like a quick dinner in. It does mean you won't be there long though so perhaps it's not the place to go with someone you haven't seen for a while.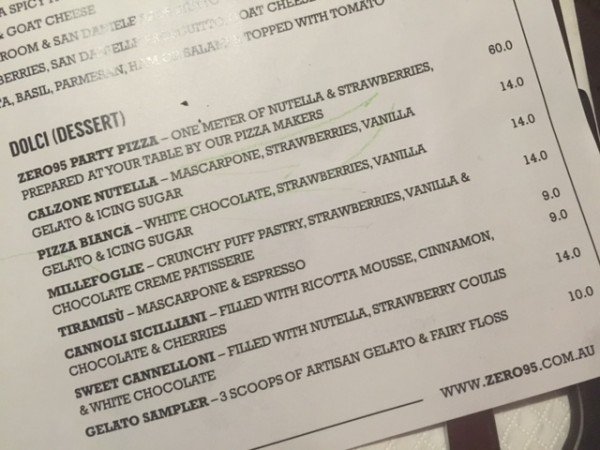 Importantly, they take their dessert pizzas seriously and there were no complaints whatsoever with the strawberry and white choc pizza (pizza Bianca) I shared with Mr 8 or the huge nutella calzone, both $14, Mr SnS shared with our two other boys – and they had a decent serve each.
I'd love to return and sample more of the menu and perhaps go midweek when the whole experience is a bit slower and relaxed.
Have you been to any of these places? Or somewhere else fabulous? Are you opposed to fruit on savoury pizza? Discuss.