It is not always easy to have a dinner out with your partner. It can be hard to find the time, money or even the motivation if you are tired and overwhelmed with work, children or life in general. Going out for dinner takes a bit of planning too – organising a babysitter, making a booking, finding something to wear. However, a special date night or a wedding/relationship anniversary is a night for which most of us are prepared to put in a bit more effort. I have always loved going out for dinner and I make a point of going somewhere fabulous for our wedding anniversary every March. It is the dining high watermark of my year!
The question for many of us though, is if I don't go out much, where do I go for dinner?
We are spoilt for great places to eat in Melbourne. However, there are lots of fabulous places which unfortunately don't accept bookings (such as Chin Chin, Bar Lourinha and Mamasita) or which have two sittings per night (6-8pm and 8.30pm onwards) which just don't work for parents of little people or people who prefer to eat at approximately 7pm. The places I have included below will take your booking but be warned, some of them are very popular so you will need to book several weeks ahead for Saturday nights.
Here are some of my favourites places for a special night out. I hope you will find something that suits your budget, mood and dietary preferences.
1. Somewhere a bit posh – CBD & Inner City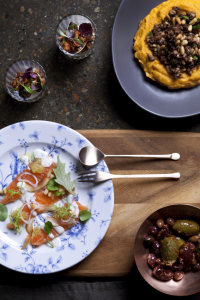 If you love middle Eastern food and like a sophisticated, intimate ambience, I would highly recommend Maha (pictured above). Chef Shane Delia, also of the SBS show The Spice Journey, creates some magnificent food in his restaurant, which is located in a basement, in a lane way between Flinders St and Flinders Lane. You can choose from an a la carte menu or you can choose from 3 set menus – ranging from 4 to 8 courses and, in price, from $75 to $125 per person.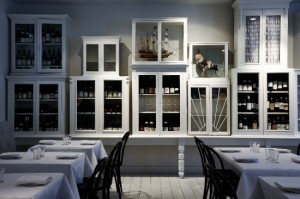 Newer to the Melbourne dining scene is Moon Under Water, in Fitzroy's Builders Arms Hotel (pictured above). In terms of decor, Moon Under Water rates as having one of the most beautiful interiors I have had the pleasure of dining within. The menu is relatively restricted however – there is one $75 fixed price menu for all diners. I personally find this a bit liberating as I like not having to making decisions for a change. The menu changes from day to day, season to season and having sampled their Spring and Autumn menus, the food was really something special. They cater for dietary requirements and preferences and but it is worth discussing any requirements you have when you book.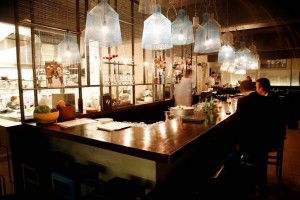 Finally, if you like something a bit different again, check out Coda (pictured above). Their menu is described as French/Vietnamese or Modern Australian. If you love your wine, Coda won the Best Wine List in The Age Good Food Guide 2013. The last couple of times we have been, the menu has featured a lot of delicious seafood and some really great desserts. Typically Melbourne, Coda is also in a basement, in a lane way off Flinders Lane and has a great industrial fit out.
Another place I would rate highly is Mo Vida for an intimate night of Spanish tapas but as it is a small place, book well in advance. I am also hoping to visit Gazi, the new George Colombaris place soon.
2. Somewhere a bit posh – Suburbs
For a posh night out in the suburbs, good options in the East include Union Dining in Richmond, Centonove  in Kew, The Tender Trap in East Doncaster and The Firehouse in Ringwood.
In the North, great spots include the very hip Hell of the North in Fizroy (see below),  Matteo's in North Fitzroy or Merricote in Northcote.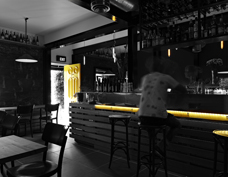 In the South, check out Golden Fields in St Kilda, Dandelion in Elwood or The Point at Albert Park.
In the West, The Station Hotel in Footscray is worth a visit.
3. Somewhere relaxed and cool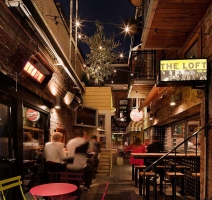 If you are after an interesting, conversation-starting fit out, check out The Bridge Hotel in Richmond (pictured above). Another cool and relaxed place with great modern Asian food is  Easy Tiger in Collingwood.
4. Somewhere Cheap and Cheerful
Most people know a local gem that is low on ambience but is inexpensive, familiar and has great food. Our go to places are Pizza Espresso in Lower Templestowe, The King and I in Balwyn, Tiamo 2 in Carlton and i Carusi in Brunswick.
5. Out of town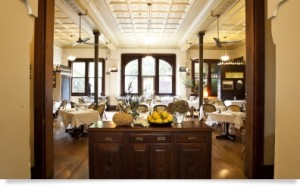 If you can manage it, a drive out of town for lunch is an option worth considering. If you have young children too, it is a good way to have a break and spend time together when you are less tired! I would highly recommend either Quince Dining at The Healesville Hotel (great food in a gorgeous country hotel dining room – pictured above),  The Pavillion (a stunning Hamptons style dining room opposite the beach) in McCrae or The Rocks in Mornington. They all have great, atmospheric interiors and delicious food.
Other places I would love to try are Montalto in Red Hill South, Ten Minutes by Tractor in Main Ridge, Sault in Sailors Falls and Mr Carsisi in Kyneton.
What is your fail safe "date night" restaurant? Can you recommend a place or is there somewhere you would like to try?