Editor's note: we returned to Bali with our three boys now aged 6, 9 and nearly 11 in June 2017. To read all about this trip – where we stayed, what we enjoyed and some awesome family friendly dining options now our boys are older – head here. If your children are younger, this post is the best place to start.
Over the last couple of years, we have been fortunate enough (thanks to Mr SnS's steady accumulation of frequent flyer points) to enjoy great resort holidays in Fiji and Bintan Island (Indonesia via Singapore) over the Australian winter. Being pregnant, then with a baby and then a toddler, a resort holiday has suited us well. Very well.
This year, with our youngest on the cusp of 3, and the older boys turning 6 and 8, we decided we could step things up a little. Perhaps venture slightly further afield and do a bit more than rotate pools and have another round of ice-creams. Even start possibly working towards a return to the more adventurous holidays we used to have, pre kids. But where?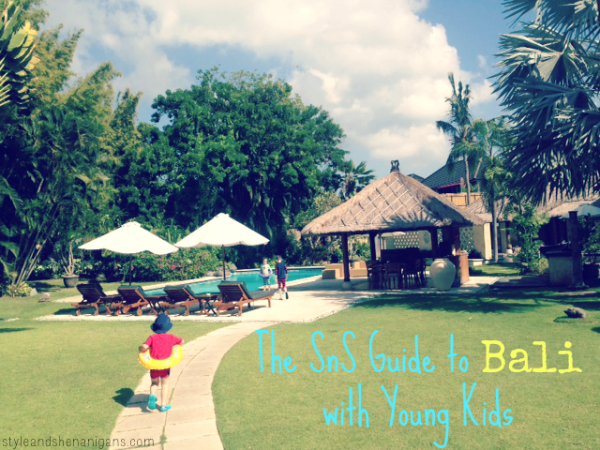 Why Bali?
Bali was not really on my radar. We had visited previously on our honeymoon some twelve years ago. We had stayed in the (then) remote outpost of Seminyak although we spent most of our time eating and shopping in Legian. We made a few day trips to Ubud, Jimbaran Bay and Lembongan Island. Although I had enjoyed our time, we hadn't been nursing any major desire to return.
My Mum, a travel agent, had also been steering us clear of it too. She was concerned about our safety and preferred to book us to Queensland or Fiji.
Fast forward to last year, when a number of local families with young children visited and came back raving. Not just "I had a great time" kind of review, but grabbing on to your arms, intense eye contact, 'YOU MUST GO TO BALI" kind of conversations.  There was a lot of talk about how fab it was for kids. I was surprised. A little taken aback.
Then, Nikki from Styling You visited last October, and having read her posts on Bali here and here and seeing her photos on Facebook, I was sold.
Our baby was older and from all reports, Bali suddenly sounded like a great place to visit. Flights were promptly secured using points and then the search began for the "right" accommodation. And the "right" accommodation is a different thing for everyone, isn't it?
Choosing the Right Accommodation For You: Villa or Resort?
We are very fond of resorts and a resort was our initial preference. When booking a resort, we have always opted for an apartment style room with a kitchenette though so we can prepare the odd meal as we find eating out every night with children can be exhausting not to mention expensive.
Having decided that we wanted to stay in Seminyak (where the food/shopping scene seemed to be happening), the best reviews we could find were for villas in this area.
We were initially cautious and a little dubious about the villa option. We like the social aspect of resorts and have met some lovely families by the pool over the years, had dinner and catch ups with them both on holidays and subsequently.
Our kids love finding new playmates in the pool too and this is often a highlight of their holidays. It has also taken the pressure off us in the entertaining stakes.
Our kids are also fans of Kids Club, and in previous holidays, this has provided us with a couple of much needed hours off, every other day to enjoy a cocktail and read our books by the pool uninterrupted. We knew if we stayed in a villa, time off would still be an option but would involve a more formal babysitter arrangement.
There would also be no poolside bar *insert sad face*.
Having not stayed in Bali lately and not knowing exactly where to start, in January, we searched Trip Advisor and searched for family accommodation in Seminyak.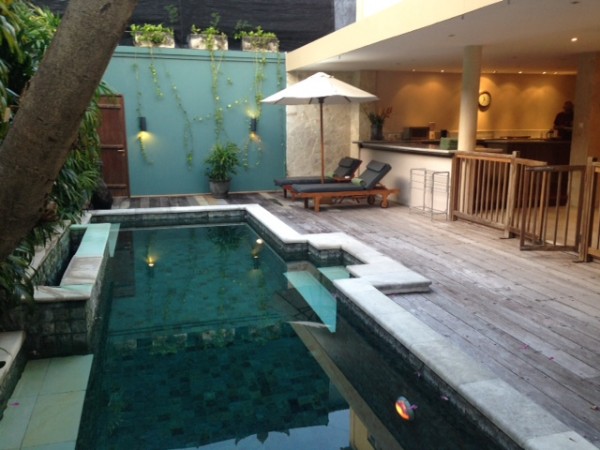 After a bit of research, we booked Sienna Villas as it was (then) the number 1 rated family villa in Seminyak. The reviews on Trip Advisor were glowing – 97% of people rated it as "excellent" with 3 % rating it as "very good". We wanted to feel confident that the place we stayed at lived up to its online persona and other families, with similar aged children, had tried, tested and recommended it.
It was expensive (well beyond what we expected) which surprised us as I thought Bali would be a relatively "cheap" holiday. (I think it still can be, depending on where you stay). The published rates for Sienna Villas range from AUS$400 to $700 per night, depending on high/low season although they are happy to discount when you contact them directly (this is expressly stated on their website).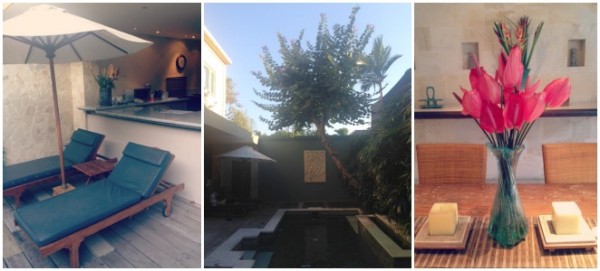 It was Sienna Villa's location, 100m from the main drag via a paved path/road, that was the clincher for us. With a toddler who still needs his day sleep (especially when he is swimming and going out for dinner often), we wanted to be close to the action as possible while still enjoying some peace and quiet.
We figured the location would enable us to maximise his "awake" time and also provide me with opportunities to duck out during his sleep time/the older's boys' rest time to shop, run an errand or pop up to the supermarket without wasting time on getting to and fro our accommodation. We also thought the paved road would make it easier for us with our stroller too.
Some of the resorts we looked at were right on the main street and the reviews commented on the noise and hustle and bustle. This didn't appeal to us.
Some of the other villas we looked at were some distance from the action. If our children were older and we could go out for whole days, being further removed from the action wouldn't be a huge deal. While our villa was beautiful and the service was excellent, we definitely paid a premium for our location. We were prepared to bite the bullet on this though as we used points for our flights, and therefore didn't have flights to pay for on top of our accommodation.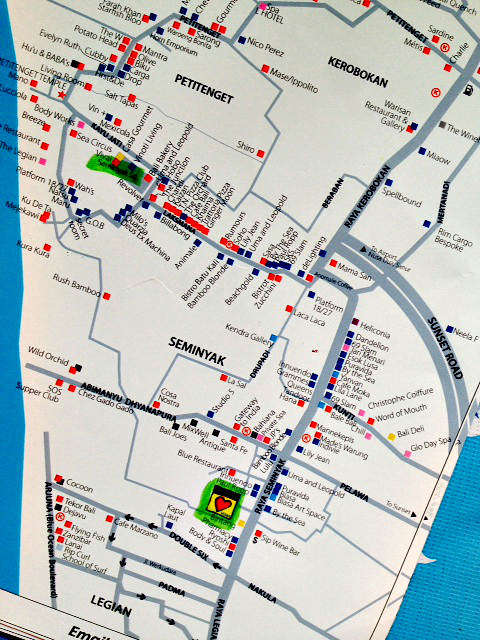 In terms of where we were situated in Seminyak, Sienna Villas are just off one of the main roads at the Legian end of Seminyak, approximately 3 to 4 kms from Seminyak Square. (On the map above, the red heart is Sienna Villas and the other green highlighted place is Seminyak Square).
We didn't realise quite how big and busy Seminyak was before we arrived. It took between 10 to 40 minutes to travel this short distance, depending on traffic. Seminyak is a very busy, urban area but is a relatively high end suburb. I've heard it aptly described as the "Noosa" of Bali.
Our Villa at Sienna Villas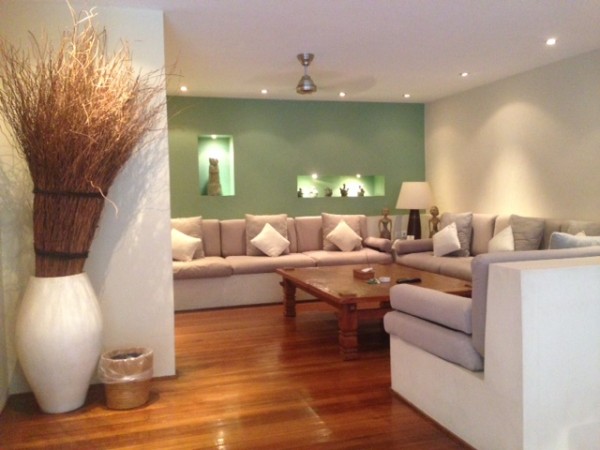 The set up of our villa was a large open living space on the ground floor comprising a full kitchen, dining table for six and a large built in U shaped lounge area (above). This area had lots of open space and was complemented by a full bathroom and plenty of towels which was great for when our friends came for the day.
The back of the villa was open with a wooden fence leading on to the deck and pool area. A pool fence was provided at no additional cost and seemed to be part of the decor in any event. Overlooking the pool area in the kitchen were another three chairs at a bench for further living space (if you had a climbing toddler, this would pose a safety issue). The pool was serviced every day and plenty of scented pool towels provided.
Because it was open, the downstairs area could not be air conditioned. At night it was a little steamy and humid, however, the many fans kept the air moving.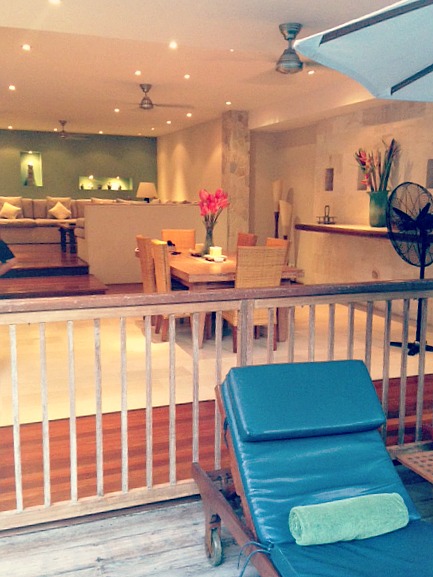 Upstairs, there were three very generously bedrooms with a King Size Bed, TV, two wardrobes, a desk, two chairs and a full bathroom. Our eldest boys shared a bed/bedroom and made good use of the expansive floor space to play Lego in the morning.
Our youngest seemed a tiny dot in his "big man bed" (below) but was happy in the room closest to ours. Our bedroom was the master bedroom and was bigger again with additional space and a full bath in  the ensuite.
The bedrooms were all air conditioned and each room could be locked with its own key. We are glad the kids didn't cotton on to this.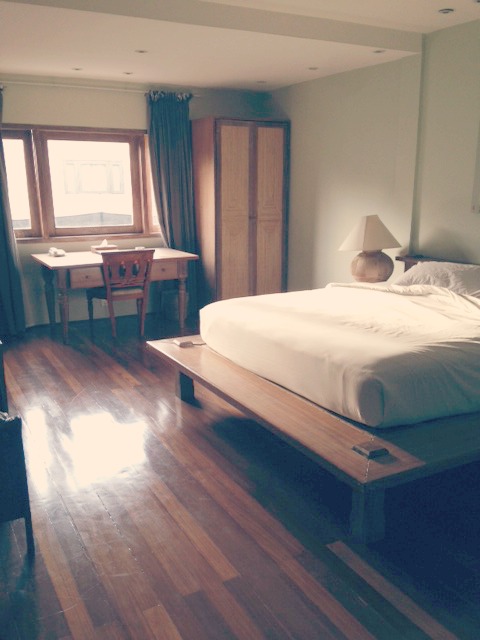 On reflection, our villa had enough living space for at least another couple of people (grandparents?) and would be a perfect set up for two couples with two kids, each pair with their own bedroom. The space was considerable and it took us a while to grow into it. I also spied some spare beds in the store room so if you have a particular configuration in mind, it would be worth discussing it with the staff at Sienna Villas. There is certainly enough space in any of the bedrooms to add an extra single bed.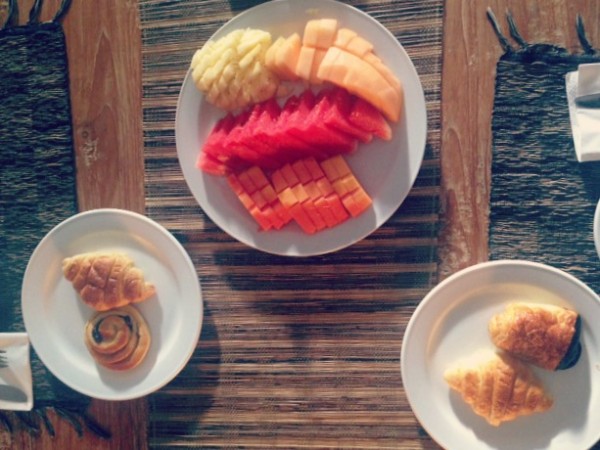 The rate at Sienna Villa also included breakfast – a choice of American, Continental (above) and Indonesian – cooked in our Villa each morning at a time that suited us as well as transfers to and from the airport. We generally chose the American menu which included eggs, bacon, tomato, pancakes or french toast as well as OJ and fresh fruit.
One thing we didn't realise was how much we would use their guest services and how convenient this was. The lovely Made and Wayan were always happy to make and then confirm our restaurant bookings, book drivers for day trips, call a cab or organise laundry or takeaway for us. They were extremely helpful, pleasant and conscientious and were almost like a virtual Bali PA.
The location was great too – right around the corner from the Bintang supermarket (a local landmark apparently which helped with giving directions to friends and taxi drivers) where we shopped for fresh bread and fruit each morning. A bit further up, there was a pharmacy, an ATM and a money changer. We also found a good spot behind the supermarket (Kopi Luwak Coffee House) for our takeaway coffees every morning.
We used the kitchen facilities in our villa on several nights to cook basic pasta dishes for the kids as well as for making lunch and the odd cup of tea. We had a full sized fridge with freezer which was full of mini bar like beverages to which we added our own fruit, drinks, butter, cheese and ice creams.
Whilst there is no restaurant on site, a large book of takeaway menus is provided. A couple of times we rang through our takeaway order to Made or Wayan who rang the restaurant for us, delivered our meal and even offered to serve it up to us. There was a service charge however, and it would have been less expensive to walk around the corner ourselves. Another night we ducked up to the local Cafe Seminyak where we ordered a couple of Nasi Gorengs for $4 a pop.
Finally, in case you are planning to travel with a group or extended family, there is an amazing 4 bedroom Villa on this property, the "Puri" Villa, shown in the graphic for this post. We were lucky enough to be invited to swim here one day so I took the opportunity to have a gander. Situated on two thousand square metres, each bedroom is in a separate Villa (!) surrounding a large lawn, two pools and a great entertaining area with BBQ, dining table and lounge suite. I would love to return here one day with family or friends when our kids are older. I might have just found a venue for my 50th!
Resorts
While we were in Bali, we caught up with friends staying in two resorts, which gave us an opportunity to check out a different style of accommodation in two different locations.
The first family was staying at the Novotel Bali Benoa, in Tanjung Benoa.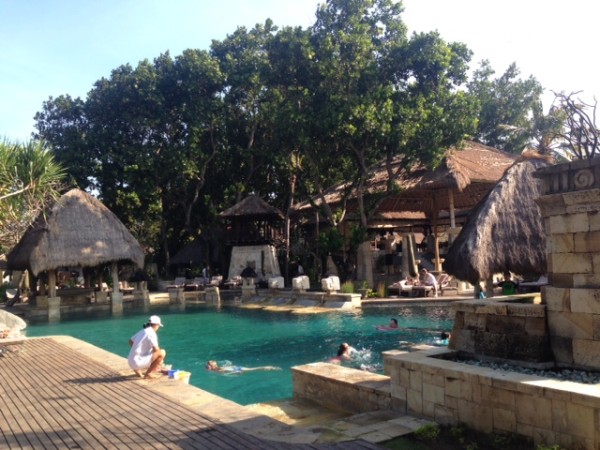 A private driver drove us there one weekday morning and it took around thirty minutes door to door. Our journey included the new tollway (approximately $1 each way) over the water which has apparently cut down travel time considerably. Tanjung Benoa was a much quieter, slower paced place than Seminyak and reminded me of Fiji.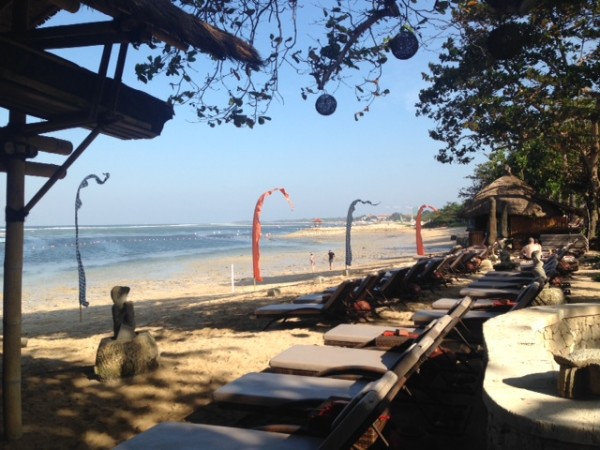 We spent a lovely day with our friends in their resort. We swam in the pool, ordered lunch by the pool and spent some time in the large covered recreation area near the pool, where my friend and I drank mojitos and swung on the swing while the kids played ping pong.
The resort was lovely and reminded me very much of the resorts in Denarau Island in Fiji with its traditional decor and open pavilion style reception and dining areas. The pool area was lovely with a shallow wading pool (perfect for toddlers) adjoining the deeper, adult pool with a covered gazebo nearby and plenty of banana lounges. There was a lovely sea breeze and a view of the beach where we could see plenty of water sports and activity. It felt relaxing and was a stark contrast to the busy streets of Seminyak.
Our friends were staying in a very comfortable family suite (only one of three and they are extremely popular and book out quickly), with two bedrooms, a large ensuite with a great big bath; a toilet, vanity and shower off the children's bunk room; and a small living area with a couch and TV. There were no kitchen facilities but our friends regularly walked up to a local cafe where they could eat well for $25 for their family of 5 (minus cocktails).
I really liked the Novotel Bali Benoa and next time we return to Bali (already planning!), I think a week here (or somewhere similar) and then a week in Seminyak would probably suit us and give us the mix of experiences, downtime and accommodation that works for us. I think both locations were great but were very different as was the style of accommodation.
If you and your family prefer a quieter, chilled out and less expensive holiday, a resort somewhere like this would be ideal. If you like to shop, go out to great restaurants punctuated with sessions by the pool, Seminyak is probably the place for you. Or a bit of both might work too.
Our other other friends were staying in the impressive and modern The Stones in Kuta. It reminded me of hotels I've seen in LA and had a real "wow" factor.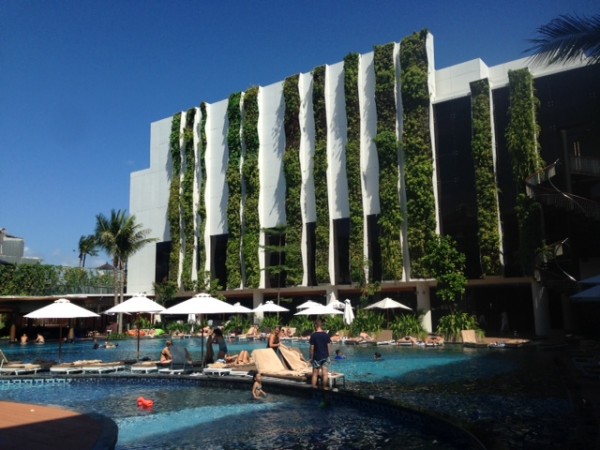 This is a seriously impressive hotel with a stunning pool area and a magnificent vertical garden. There is a large pool for young children (in the foreground, above) and lots of designer citrus coloured sun lounges. Our friends loved the pool area and had enjoyed their stay. They did find, however, that the hotel style accommodation – one room which was effectively the bedroom and living room all in one for an adult and two children – tricky in terms of living space. It is opposite the beach however, and a short taxi ride to a great shopping centre in Kuta.
What to Pack
For the kids, for 12 nights, for each child I packed ten t-shirts and eight pairs of shorts, a couple of pairs of bathers and pjs, a sunhat and a couple of pairs of shoes.
In terms of toys, we packed them each a plane bag which contained new textas, colouring books, journals and a book each, most of which I picked up at Big W or Typo. We also packed a big zip lock bag of Lego and UNO. The pink playdoh in our toddler's bag got a good working over too. We used all of these every day and the colouring/writing books every time we ate out.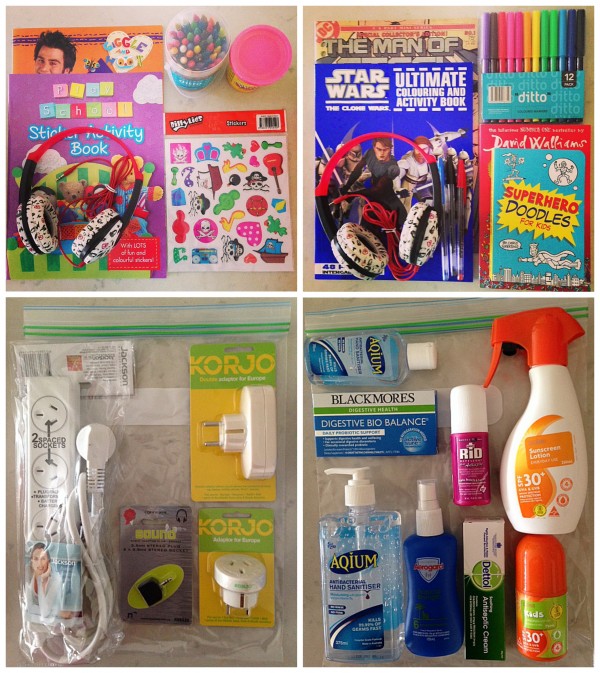 Mr SnS packed the tech stuff including a couple of adaptors and a power board to recharge our phones, iPads, his lap top. He also picked up a headphone jack/splitter to enable two sets of head phones to plug into one iPad which made it much easier for our two older boys to watch a movie together on the plane. On the subject of earphones, we also bought the kids new, old school headphones as we find the smaller, adult headphones either hurt or fall out of their ears.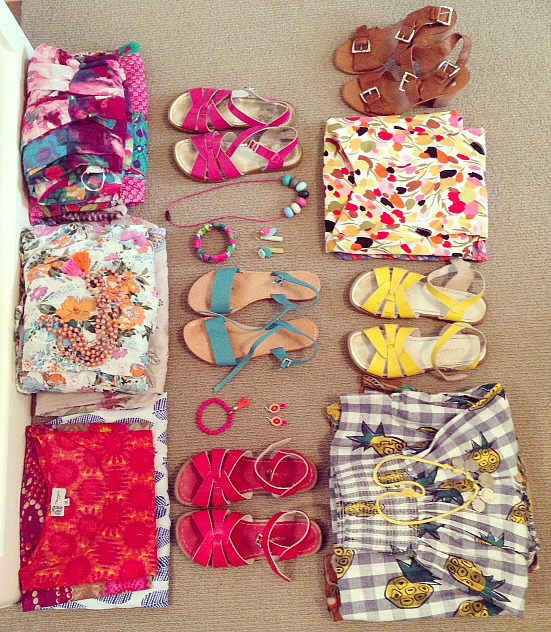 For me, I packed about six pairs of shoes (including a pair of heels I only wore once), about ten outfits and three pairs of bathers. I added several throw over beach dresses and a couple of pairs of thongs. Coming from Melbourne in Winter, I found it was very humid and hot and there is no way I could have worn a cardigan, knit or anything denim at any time. Light, cotton dresses and thongs were my usual daily get up.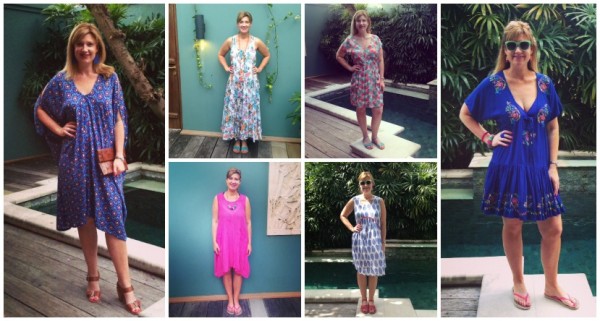 For dinner, I put on a dressier but loose frock and either sandals or once, heels. There didn't seem to be a dress code anywhere though and pretty much anything goes.
Getting Around
When we needed to get somewhere we either walked or hailed a Bluebird taxi (always ask to put on the meter) from the main drag. Make sure you have small notes though as they often don't have a lot of change.
All of our taxi journeys cost less than RP30,000 ($3) and the longest distance we travelled was from one end of Seminyak (The W) to the other (our Villa). Even when the traffic was terrible and it took half an hour to cover 3 kms, our fare rarely exceeded the equivalent of AUS$2. Often times, if I just wanted to go a little further (1km) up the road, the fare was 60c.
For our longer journeys (to and from the airport, visiting friends in Tanjung Benoa and our day at Waterbom Park in Kuta), we booked a driver and a 7 seater car so we all had our own seat, safety belt and personal space!
Activities
We spent most of our time swimming and hanging out at the Villa. This is how our kids like to holiday.
Aside from spending three days with our friends, the highlight of our kids' holiday was our visit to Waterbom Park in Kuta.
1. Waterbom Park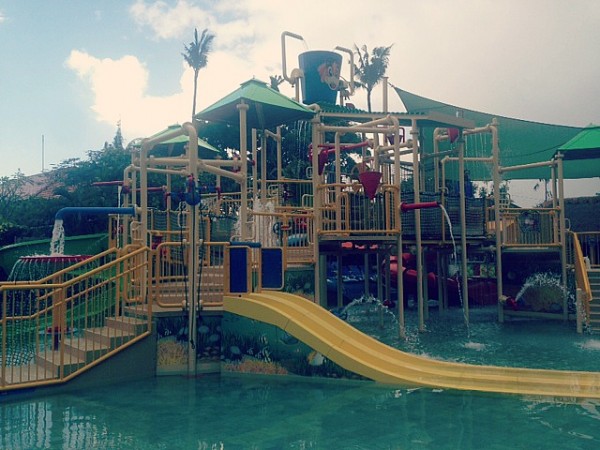 It was raining when we arrived right just before it opened at 9am. We'd been worded up, so we made a bee-line to hire a gazebo near the children's play area, lest the rain continue and the toddler and I needed some dry, down time. As it transpired, the rain didn't last (thankfully), and while we could have easily done without it, it was nice to have somewhere to stash a few bits and bobs and have some shade during the day. Notwithstanding, we still hired a nearby locker for our valuables.
We loved our day at Waterbom and I was impressed by how well run, efficient and clean the place is. The staff were helpful, the food was good, the systems all in place including cashless wrist tags which you can load up at pay stations.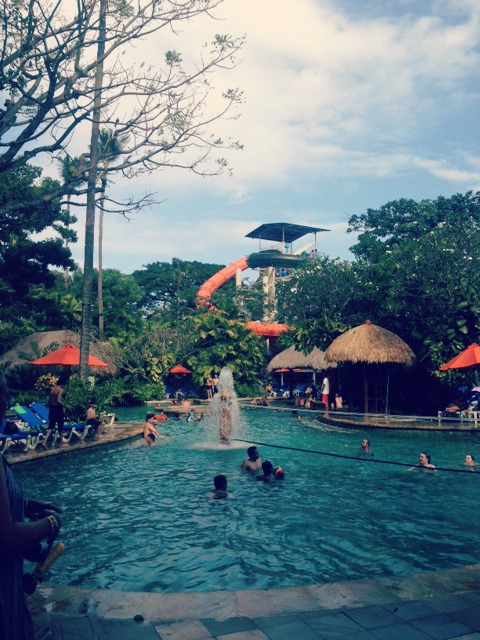 The only shenanigans we had was that our second son (who is an average to tall 6 year old) was .5cm too short to go on some of the rides with his elder brother (including The Boomerang and The SuperBowl). This was an unforseen bummer and disappointing.
He was stoic about it but it meant that one child could go on pretty much all the rides, one could go on some of the rides and the littlest who wanted to go on ALL the rides, could only play at the water "FUN-tastic" playground, the nearby green slides and the Lazy River. This meant a bit of tag teaming and to-ing and fro-ing for Mr SnS and I taking various combinations of kids to various rides over the course of the day.
I reflected that our friends who had raved about Waterbom either had older kids or perhaps taller kids, so the height restrictions may not have had an impact on their day. When all three of our kids are all older and tall enough, we will no doubt go back twice, like many of our friends did (you can buy a second day pass at a discount rate before you leave the park).
2. Potato Head
Potato Head is a pool/restaurant overlooking the ocean and is a seriously great place. I loved the vintage fit out, the beautiful pool and the serious cafe food. It's the sort of place where I would love to spend the day with a group of friends, swimming and sipping cocktails all day and into the night.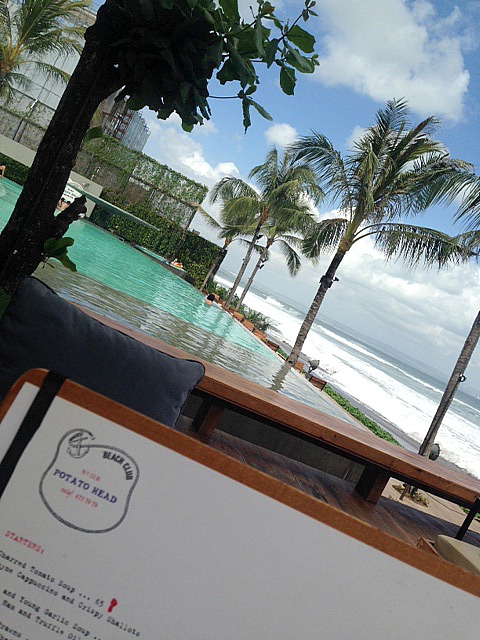 What was it like with kids? Unfortunately, I think our kids, actually our toddler really, was a bit young to enable us to fully enjoy it. We encountered a couple of logistical issues such as nowhere to change his nappy – I ended up changing it on the bench seat inside the unisex bathroom. Awkward.
Even though our day bed overlooked the pool, it was a few metres away and we still need to be hands on with our younger ones in the pool, so for us, it wasn't a kick back on the day bed and sip cocktails sort of place (although I did squeeze in a Kookaburra or two over lunch). There is also no lifeguard on duty.
While there is no entry fee, there is a minimum $50 spend if you use a day bed. This was easy to rack up with food and drinks for our family of five and given outside food and drink is not permitted. Two towels are included with the day bed and further towels can be hired. This makes packing for the outing easier and lighter.
We also had a few shenanigans the day we went. To start with, we turned up at 10am (we wanted to get there early to snag a day bed) when it opened at 11am (on Saturday). We returned just before 11am to find there was already a considerable queue – people then literally ran in to secure a day bed. Mr SnS also forget his bathers but thankfully managed to buy a pair in the gift shop.
As I was leaving, I also saw these rules. I couldn't see them being enforced but it was interesting, all the same. Children are also not permitted in the pool after 4pm.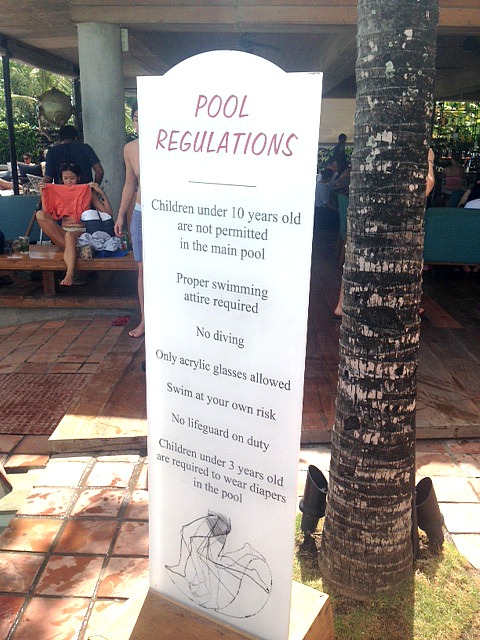 3. The W Hotel Kids Buffet Lunch
On Sundays, The W Hotel hosts a buffet lunch  from 12 – 3.30pm at which children are half price (approx $20 each). Our kids loved the dim sum, sushi and dessert bar not to mention the jubes on the table centre piece.
After lunch, they played on the lawn where a few informal activities were set up (UNO, Duplo, beading and colouring in). We had a lovely afternoon there and the kids really enjoyed it up until our middle son came a cropper in a collision with another child (see below).
I'll have a lot more to say on The W in my upcoming post on Great Places to Eat and Drink in Bali.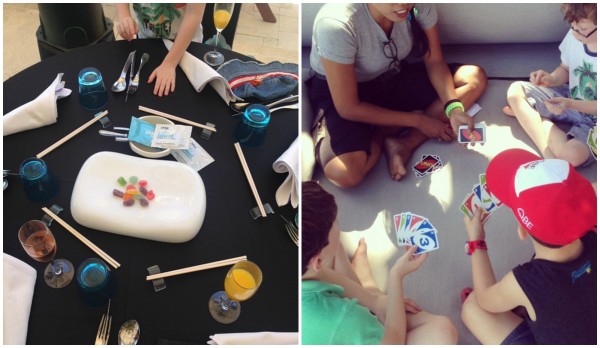 4. Other Ideas
Friends with young families who have been to Bali also enjoyed the following: an early dinner at Jimbaran Bay; a trips to Finns Beach; surfing lessons for the kids; the Safari at the Zoo; lunch at Ku De Ta and a visit to the Monkey Forest in Ubud.
For more ideas on fun things to do with little ones, check out Little Bali Love's suggestions here. If you've been to Bali with kids, I'd love to hear your recommendations and experiences in the comments below.
Where to Eat
The following are our children's top three places to eat out and they were all pitched to kids in one way or another. Thanks to all the SnS readers who heeded my call out on Facebook for their recommendations. You were right on the money!
1. Corner Store
Corner Store was one my favourite day time spots and is open daily for breakfast and lunch (but sadly not for dinner).
Recently re-opened following a fire last year and set on a corner (surprise), it is an unexpected package. It has a vintage, almost French Provincial vibe and a great menu. Children are well catered for too with a nice albeit limited kids menu (all about $3.50 each) and highchairs. It really is a gorgeous space, with room to move, attentive service and really great cafe food.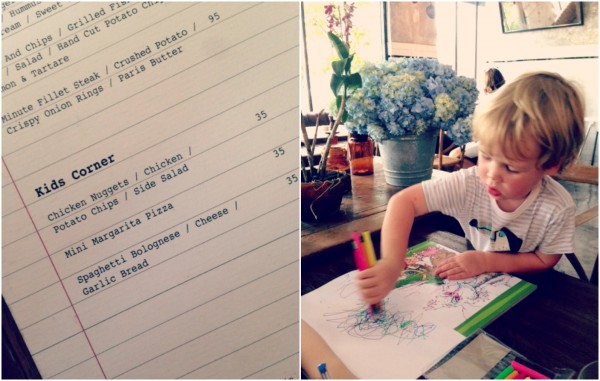 2. Motel Mexicola 
For dinner with the family, the kids' top pick was Motel Mexicola and we ate there twice. We managed to snare a booth which contained our shenanigans (we were on the end so the kids couldn't get up and wander off) and the kids loved the food. They inhaled the cheese and chorizo/chicken quesadillas (the Mexican version of a toasted sanga) and the little prawn and chicken tacos and then got stuck in to our mouth-watering pork ribs as well.
The only heads up I'd share is that the second time we visited, we made a 5.30pm booking for dinner, but once we sat down, we were told the kitchen wouldn't be open for dinner until 6pm but we could order tacos until then. This was no big deal for ours but with smaller children who are hungrier, tireder and less flexible, forewarned is forearmed.
 3. Sea Circus
Our kids also really enjoyed Sea Circus. The place was full of young families the night we went (including several toddlers and young babies) and the staff were accommodating, relaxed and ready to help. There were highchairs and they were happy to accept our 5.30pm dinner booking. These things matter when you are on holidays with little people!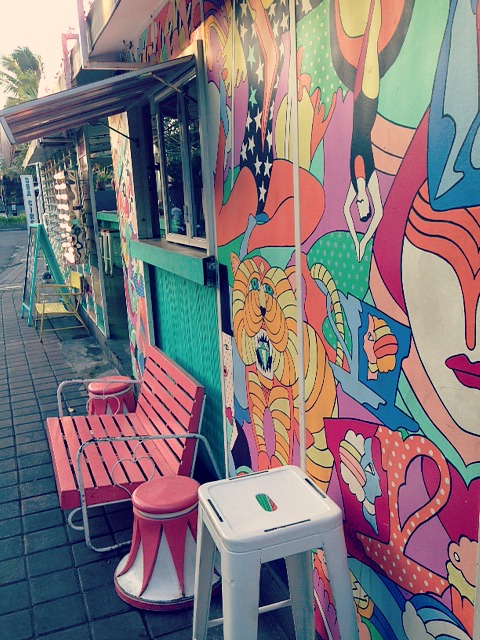 Babysitting
On two occasions, Mr SnS I went out for dinner on our own (to Sarong and Sardine which will be covered in a future post). We were a little hesitant to hire a babysitter initially but decided to give it a go.
The staff at our villa recommended (and booked) Wayan, who was lovely and fun and arrived with origami and lots of smiles.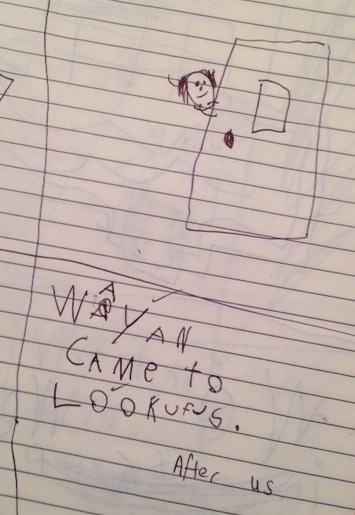 We talked to the kids before we booked her and they were fine about it but wanted to meet her instead of her arriving after they were in bed. We agreed that we would make an early dinner booking (6.30pm) but book Wayan for 5.30pm so we could meet her and the kids could have some time with her while we were still around.
The first time, we had fed, bathed and dressed them before she arrived and then set them all up with a movie. We returned at 8.30pm to find the older boys asleep in bed and our toddler waiting for us (he had a very long afternoon sleep until 4pm that day). Sorry Wayan!
The second time, we all knew the drill so we set them all up with a movie again. We returned to find all the kids in bed asleep by 8.30pm.
Including the 20% or so tax that is added to almost everything, Wayan's fee was around $7 per hour or $19 for three hours. We felt confident with her and also because there were staff on duty in the main office if anything went awry (the office was open til 10pm). We also left our mobile numbers with her, just in case.
Medical/Health
Thankfully, none of us succumbed to Bali Belly while we were away. I was surprised about this as one of our children literally licked a handrail at the airport after we landed, while we were going through Immigration.
Over the course of our stay, they touched every wall and surface we walked past and all developed a sudden habit of constantly putting their hands in their mouths. At every opportunity. It was baffling.
I did try to ensure that we all used hand sanitiser before we ate and after using the bathroom. I had also packed a couple of packets of Blackmores Digestive Bio Balance but I could only find two packets, so between us, we only had four days worth of tablets which we took over 12 days.
I have spoken to many people before and since who were less fortunate. This last weekend, I heard a horror story of a child picking up a parasite infection in Bali, probably as a result of playing in a sandpit and another friend, who had Bali Belly and took weeks to recover.
I don't know how or why we escaped it other to say we tried to be careful and always used bottled water to drink and brush our teeth.
Also, as a family, we are also not overly prone to gastro, having only had three or four bouts of it (and never all five of us) in the last eight years.
We didn't escape a health drama though.
Our issues arose when our middle son collided with another child after lunch at The W Hotel. We were quickly directed to take him to the "Ouch" room aka First Aid, where he was assessed by a nurse who thought he needed a stitch or two. She called a doctor who arrived an hour later and gave him two stitches. This was a relatively straightforward exercise and we thankfully avoided a hospital visit.
We then took him to the local pharmacy which had a doctor on site between 11am – 2pm, to change his dressing. On the first visit, the doctor took out the stitch and we didn't need to return again.
We also got attacked a bit by mosquitoes so don't forget to pack the tropical strength Rid. We also needed an antihistamine to reduce the swelling when one of our sons was bitten near his eye.
Safety
I can obviously only relate my/our experiences here and *disclaimer* no one should rely on this advice. It goes without saying that anyone travelling overseas should always check and heed the relevant DFAT warnings and trust their instincts and experiences.
Personally, I felt safe in Bali. At no time was I concerned for our physical safety other than around the road and water both of which are obviously sources of potential danger for children everywhere.
I generally felt fine as a passenger in taxis around Seminyak. Initially, I found the driving chaotic, lawless and hair raising but at least we were generally driving slowly because of the traffic. I came to see that there was a system of sorts and that people drove relatively slowly and carefully, all things considered.
The main thing we took great care with was holding on to all of the children's hands (particularly our day dreamer and toddler) as we walked down the street as the footpaths are narrow and the traffic often heavy. We also made sure we (the adults) stood closest to the road (not them), just in case.
We also took great care around water. The pool fence had two bolts but we did not let any of the kids play on the deck or in the pool without an adult present and supervising at all times.
As I mentioned above, where we stayed, in our villa, because there is a bench with chairs between the kitchen and deck, this may pose a risk to a climber or a sleep walker who could access the pool by climbing over. We closed our children's bedroom doors at night to prevent mosquitoes entering and also to prevent them going downstairs in their sleep.
There is also a decent set of stairs but I did not enquire about a stair gate as our youngest is confident/competent using stairs.
These are just a few thoughts about where we stayed but I am obviously not a safety expert so if you have particular concerns, I would read any proposed accommodation's website carefully and ask any questions/clarify any issues before booking.
In terms of personal safety, I took a taxi on my own (during the day) several times and did not have any issues.
In terms of public safety, in the post 9/11 world, there are no guarantees and anything can happen anywhere. There were bag checks at Waterbom Park, a security check before we could enter The Stones resort and a search of our car before we entered the grounds of The W. Other than that, security was pretty relaxed.
Ultimately, I think at the end of the day, you've got to do what and go where you feel comfortable and always make sure you have excellent, comprehensive travel insurance.
Other Bits And Bobs
We packed a stroller but only used it once, on the first day when we walked to the supermarket and tried to get our bearings. Our toddler was happy to walk the 100m up to the main road and around airports, although he wasn't as keen on carrying his backpack.
The footpaths are narrow and a couple of times I did see motorbikes driving along them in heavy traffic. In other places around Seminyak, there are no footpaths. A backpack might be a better idea for babies and toddlers. It wasn't a total loss though. We packed nappies in the stroller bag on the way over and dirty/wet clothes in bags on the way home.
The time difference between Bali and the East Coast of Australia is 2 hours. This was hardly felt on our arrival or departure. We arrived in Bali very late at night so the kids slept in (they woke up at their usual time in Australia but 8am local time) and upon our return, we arrived home close to 2am (midnight Bali time) and they slept in until 8.30am local time.
As we didn't have a washing machine, a couple of times during our stay, we made use of the villa's laundry service. Each piece cost between 50c and $1 to launder through the in house service. It was only on our last day that we saw that there was a laundry service directly opposite the villa which would have been less expensive again. By laundering all the boys' dirty clothes on the second last day for $15, I saved myself a couple of loads of washing at home. It would be much cheaper again to go to the laundry direct.
Airport Info/Taxes
When you arrive in Bali, there is an arrival tax of sorts of US$25 per person. This needs to be paid in US dollars. Friends reminded us of this just before we left so we used the Foreign Exchange ATM at the airport in Melbourne after we checked in.
Once you've landed, you can pay US$20 per person to use the "express" service through Immigration/Border Protection. This is not a formal process and I couldn't tell whether it was sanctioned or not as once you've paid your arrival tax, people surreptitiously approach you before you line up at Immigration and seem careful about being discreet.
I wanted to use this service but Mr SnS refused on principle and because he'd read on Trip Advisor it wasn't worth it. It would have cost us close to AUS$125 to do this which was not inconsiderable. If I was travelling alone, however and even next time, I would definitely consider it. We ended up queueing up for Immigration for close to an hour, which are after long day of travel and late at night with a toddler, was not ideal. OK, it was a shocker. Then we had to collect our bags. Our driver was punctual but went to collect his car and then we had another half hour drive to our Villa.
All up, we didn't arrive at our accommodation until nearly 2 hours after we landed making it a very long day for everyone (close to midnight Australian time but 2am local time). This is despite leaving on a 3.40pm flight which suited us in terms of getting ready on the day. I think next time I would try to secure a morning flight on a weekend (less traffic), even though it means an early start.
On departure there is also a 200,000 Rupiah departure tax (Aus$20) payable in local currency.
In a Nutshell
I really enjoyed our holiday and the different pace it offered from our previous resort holidays. We loved our villa, particularly how it was a comfortable and peaceful oasis in a very busy area. I did miss the poolside bar of an afternoon, but a quick trip to the supermarket to pick up a Bintang or Alco-Pop for $2 was a decent trade off.
Whilst we missed the social aspect of a resort, catching up with friends three times was great and gave us the social fix we all love on holidays. If we were to stay at a villa for longer than a week again, I'd try and make sure we stayed with or near friends or family.
I can't say I found Seminyak/Bali as relaxing as other holidays we have had though, as there were so many new places to explore. Put another way, I only read one book when usually I read three or four books! I had less downtime than normal but now we are out of the intense baby phase, I am not as tired and run down as I once was, so I think this was ok. Time will tell.
I think next time, we would mix it up by staying somewhere quieter, in a resort for part of our time, and allow another week in Seminyak to eat out at some of its great restaurants and indulge in its great shopping. I would look at some of the resorts in the thick of the action  if I'd already had some P & Q elsewhere as well as Samaya Villas, over near Sea Circus, which looked amazing.
P.S. If you are looking for intel on great shopping, check out my post on Where to Shop in Bali.  I've put together a list of ten great places to eat and drink in Bali here too.
If you are planning a trip to Bali, other great resources are Styling You's posts on Bali (links above), Trip Advisor and Little Bali Love.
Have you been to Bali or are you considering holidaying there? Can you add any tips and traps for families with young kids?