Back in 2014, Mr SnS and I took our three boys, then aged 7, 5 and 2 – they were pretty little back then – to Bali for the first time.
We had an awesome holiday – you can read about it in detail here – but, as is typical of this stage of life, our holiday reflected the pace of this exhausting and hands on stage.
Our days were slower, punctuated by early starts, a day sleep, plenty of rest times and early dinners, as you'd expect with a toddler in tow. We stayed in a villa so our toddler could have his day sleep upstairs while we swam and hung out downstairs. We made sure our villa had a pool fence. We packed nappies and wipes every time we went anywhere. Day trips weren't overly achievable although we did attempt a couple over our twelve night vacay.
This time around – three years later – we are in a completely different stage of life with our three boys, now aged nearly 11, 9 and 6. Our boys are all much more independent these days, day sleeps are a thing of the past and our boys are much more adventurous eaters and explorers. The only thing that hasn't changed is that they all wake up at the crack of dawn … especially on holidays! We're working on it.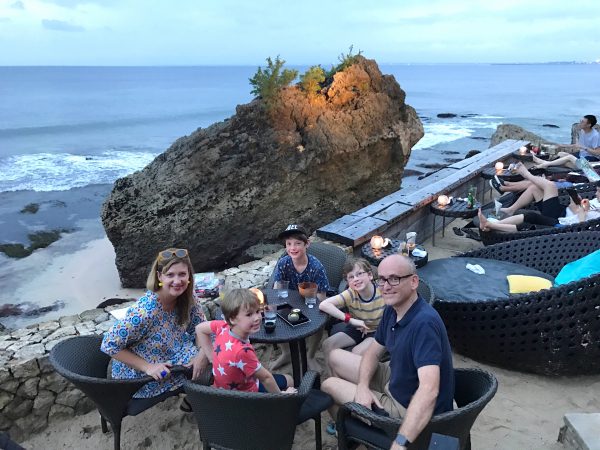 As a result, our Bali holiday this time around was quite different from our last, even though we did return to some of our favourite places.
So in this post, you'll find a wrap of what we did, where we ate and where we stayed this time around. It's not a definitive guide by any means but it might help you plan your next Bali vacay, especially if your children are similar ages. I also asked my boys to share their favourite things this time around at the end of the post.
How We Holiday at Shenanigans HQ
Just a bit of a heads up before we launch in.  Every family approaches their holidays differently taking into account what they enjoy, their budget, how much time they have, their child/children's ages and energy/exhaustion levels.
The way we approach our holidays is to ensure we have plenty of pool and down time and we also like to mix things up with an activity or a day out every few days.
Our boys like their downtime, but they still benefit from something to wear them out every so often. Over twelve days, we had four days where we were out for most of the day interspersed with eight days poolside.
We also made it a priority to book hotels that were close to the action. In Seminyak, for example, it took only 5-10 minutes in a taxi for dinner in Seminyak and 15 minutes to get to Petitenget.
In Jimbaran, we chose a hotel that had plenty of pools and restaurants on site to keep us inside the resort as much as possible so we could wind down before coming home. We also saved our day trip for Sundays Beach Club – more on that below – for our stay in Jimbaran as it was only twenty minutes away from our hotel instead of closer to an hour from Seminyak. We ended up eating in at the hotel restaurants every day for lunch and three of the four nights during our stay.
Given our twelve night stay, we also decided to change up the location – having stayed there before, we know how busy, crazy and fun Seminyak is and we made the most of it while we were there knowing we had a quiet four days at the end in Jimbaran.
As we're foodies, we also wanted to go to as many of our favourites and some of the new places that have opened since our last visit. I also love the shopping in Seminyak, so wanted to have plenty of opportunities to pop out for a shop while Mr SnS and the boys swam and hung out poolside.
Fun Things to Do
1. Pool Hangs
The main reason we holiday in Bali – besides the food! – is to enjoy it's predictably fabulous tropical weather and enjoy plenty of time poolside.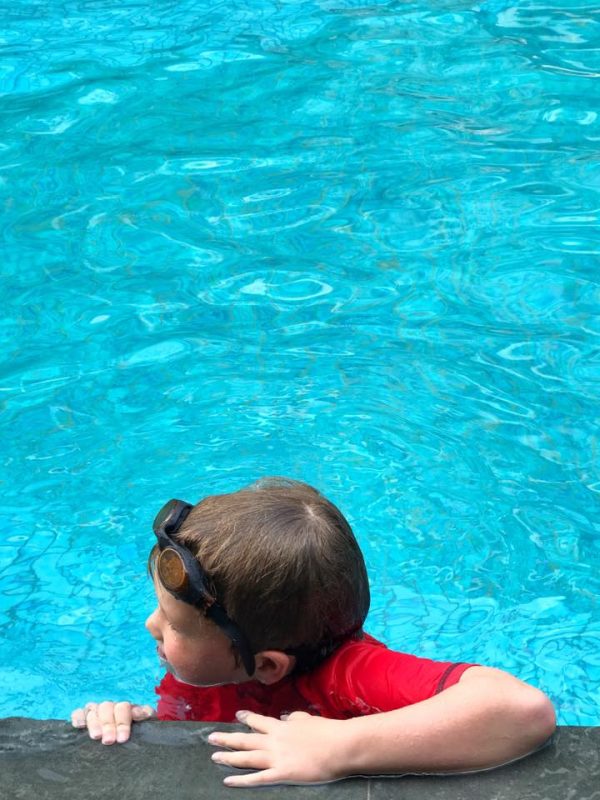 We make it clear to the kids that this is the main activity for the holiday. The kids swim, play and read as do I, with a frozen mojito thrown in every now and then.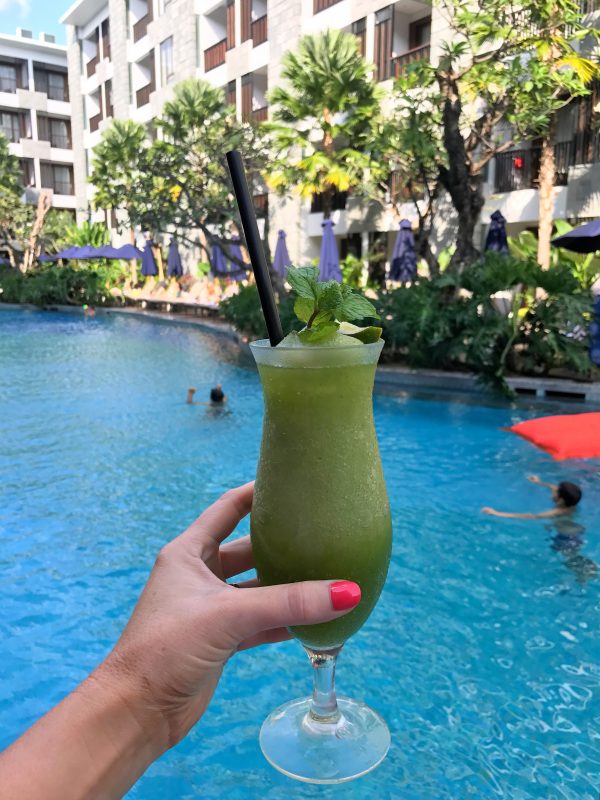 From our hotel to beach clubs, our idea of a good time is to set up somewhere for the day with a good book, UNO, poolside menu and have plenty of swims in between all the reading and eating.
Our visit to Water Bom was one of the highlights of our last holiday but it was even better this time around.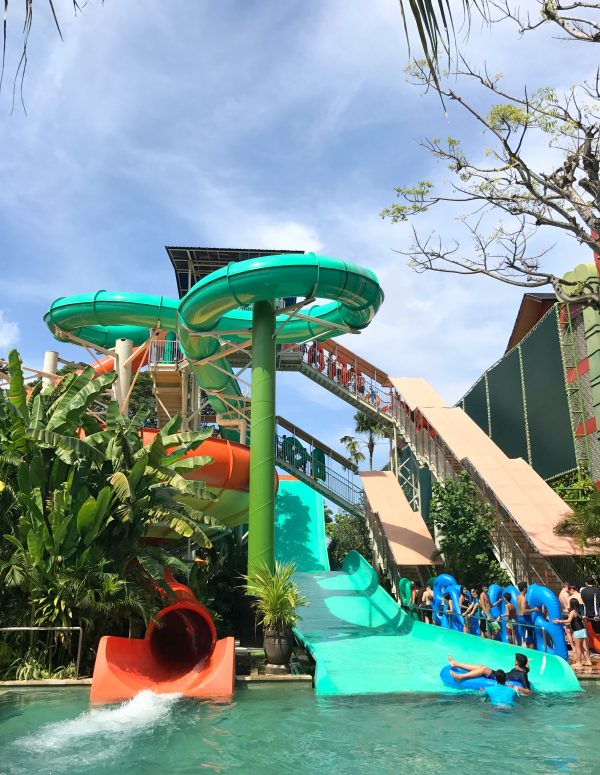 Last time, only our eldest son had unrestricted access (height wise) to all the rides. This time, they were all tall enough to go on nearly all the rides. This made the day so, so much easier.
In terms of how we planned our day, we arrived shortly after it opened at 9am. It started raining just as we arrived so it was quiet and we spent the next two or so hours going on nearly every ride in the park as there were no queues.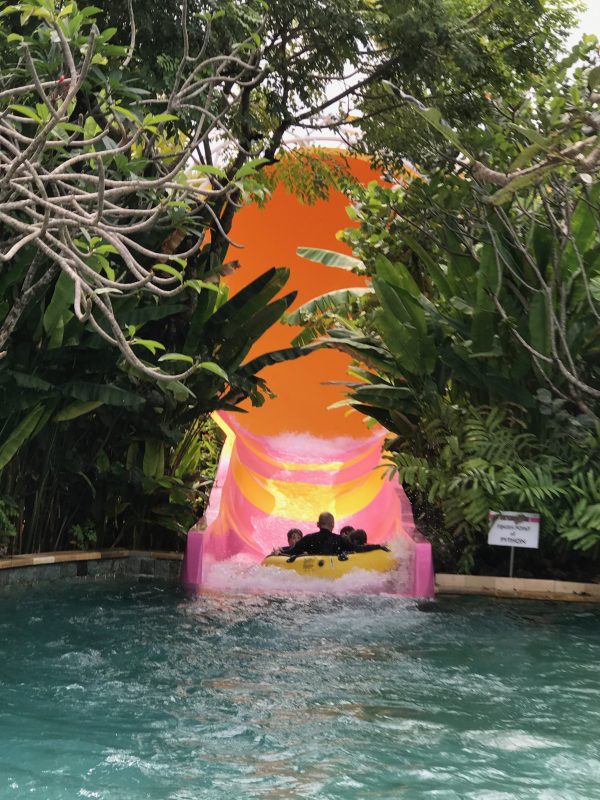 When the sun finally broke through around midday, the crowds flooded in, so we had a relaxing ride down the Lazy River, a swim in the pool, then lunch and dried off.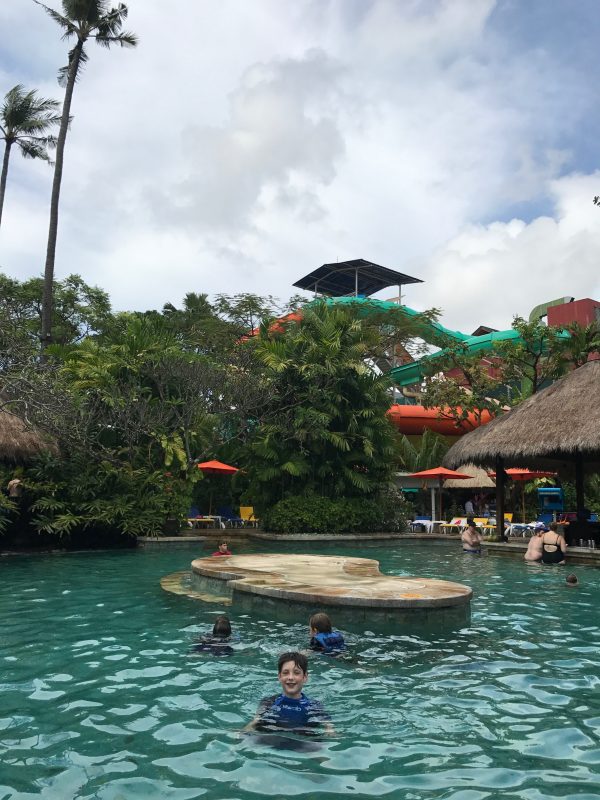 After lunch Mr SnS took our 9 and 11 year olds back to the most daring slides while I hung with Mr 6. He wanted to go back to the Superbowl – two more rides later including one on his own – then we spent some time on the younger kids' water slides near their play area, and then back to the towers for the Python. We left around 4pm feeling as though we had covered all our favourites – several times over – and happily exhausted after a very fun day.
For ticket prices and all the details, head here.
3. Visit a Beach Club
Beach Clubs are such an awesome idea – I wish we had them here in Australia. Essentially, they combine great food with a pool or beach (or both) and plenty of space to lounge about. Most have either an entry fee (Sundays) or a minimum spend (Potato Head) but with that you get access to great facilities, towels and attentive beach/pool side service. Staff will often ask for a credit card imprint at the beginning of the day too.
There are loads of beach clubs to choose from in Bali – including Seminyak newbie Mrs Sippy – but with the kids, we decided to return to Potato Head in Petitenget and try out Sundays Beach Club in Ungasan, which had been recommended by friends and readers.
Potato Head isn't pitched at families and it definitely attracts a younger, rather attractive, childless demographic, with a very high selfie stick/selfie photo shoot ratio per capita. That said, there is a toddler/wading pool next to the main pool so there is somewhere for babies and toddlers to paddle if you need it.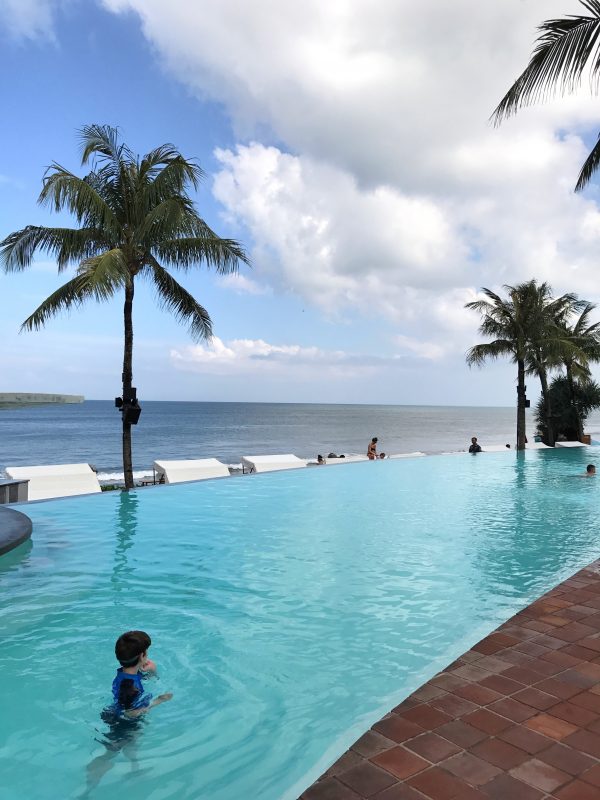 Our boys are old and confident enough to swim in the deep main pool but we made sure the shenanigans splashing was at a minimum. With all the cool tunes, selfies and cocktails going on around us, we didn't want to detract from the overall relaxed vibes!
Our kids were the only kids there the day we visited with the exception of one family with a baby and toddler who we saw briefly. Our boys swam, ate, read, drew and played UNO on and off all day and overall, we all had a really terrific day here.  If your kids want to swim with other kids or love vigorous water play, this might not be the ideal spot though.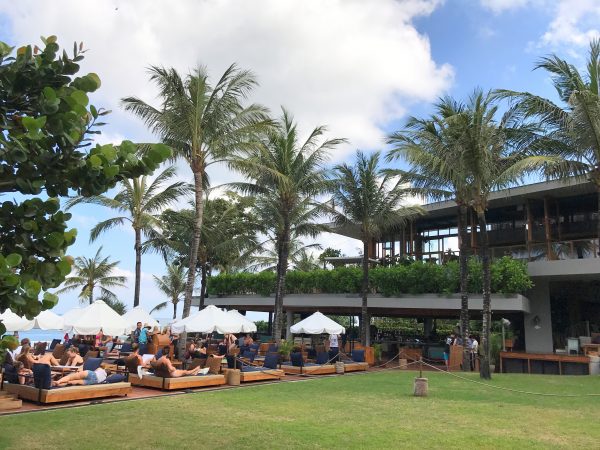 A couple of other things to note in terms of logistics. Potato Head opens at 10am but if you want to secure a front row day bed or a beach side cabana, you can arrive earlier and receive a token that gives you your choice of where to set up for the day. Some people arrive an hour or so earlier to secure the best spots. We arrived just on opening, and managed to nab a third row day bed (three rows from the pool) which was perfect for us as it was shaded, near the wading pool and grassed area.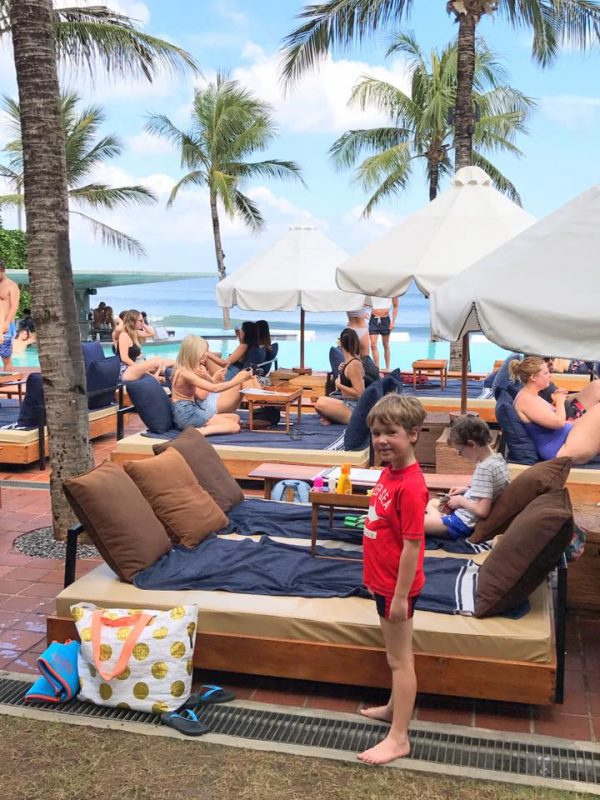 The minimum spend was $50 which was no issue for us given we planned to have lunch there and ended up spending 6 hours there in total.
Other things to note are that there is no kids menu or baby change room (we found this out the hard way last visit) and some of the toilets are unisex.
Finally, you must try their signature Kookaburra cocktail. The passionfruit foam is NEXT LEVEL and you will be dreaming about this beverage well into the future. I promise you'll be thanking me – just tag me on Insta so I can enjoy one vicariously!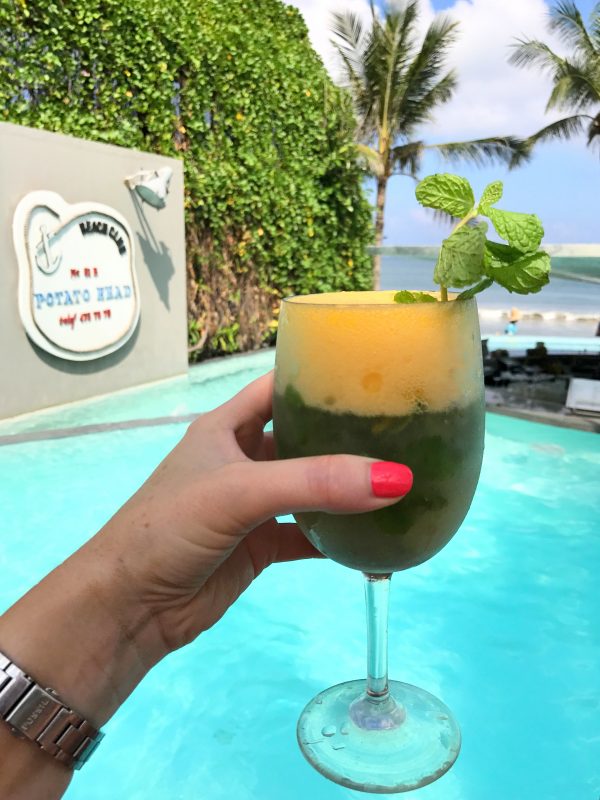 The other spot we visited was Sundays Beach Club in Ungasan (formerly Finn's Beach Club – a new Finn's Beach is now in Seminyak). This beach club is definitely pitched towards families and is a great spot for a day beach side.
It costs $30 for adults and $5 per child for a day pass which includes beach access, use of the inclinator, a towel and WiFi. The beach activities are all included, although a refundable deposit must be left for snorkelling gear. It also includes a $15 food and beverage credit.
We found out when we arrived that a day at Sundays revolves around high and low tide, as when the tide is high, the water covers the entire beach, all the way up to the restaurant/dining areas. Once the tide subsides, the many beanbags, umbrellas and sun beds are all scattered across the beach and a bit later, the snorkels, stand up paddle boards and kayaks come out.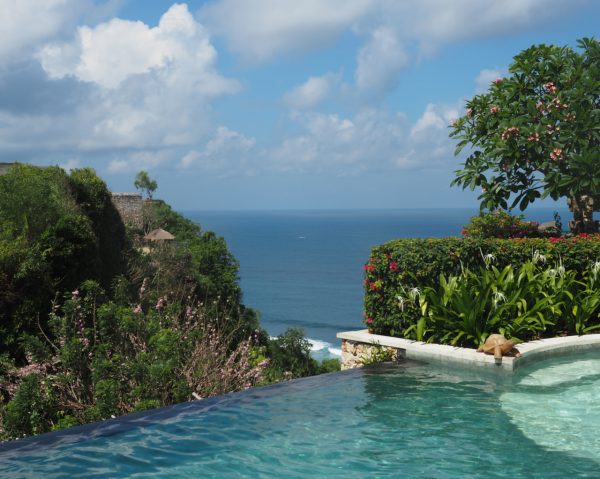 When we arrived at 10.30am, we found that high tide would be at 12ish. We took the inclinator down to the beach and saw that the only space to hang was the restaurant and deck. Given it was hot, and it would be a couple of hours before we could swim, we decided to go back up the hill (on the inclinator again) for a couple of hours and swim at the pool, pictured above, on the top of the hill, near the entrance. The staff at the beach offered to save us a day bed spot, so we'd have somewhere to hang when we returned.
Just after 12, we took the gondola down the hill again – there are quite a few steps either side of it too – to the beach. We soon found two day beds side by side, and then the awesome staff, who knew we'd arrived hours earlier, found us three big beanbags on the beach where we spent the rest of the afternoon eating, swimming and later on, playing volleyball, having a snorkel and kayaking.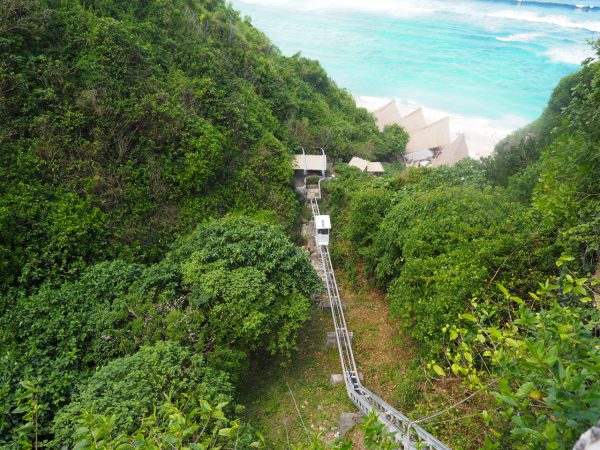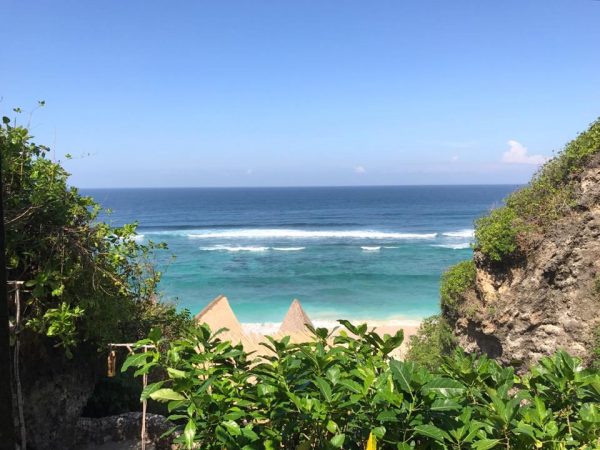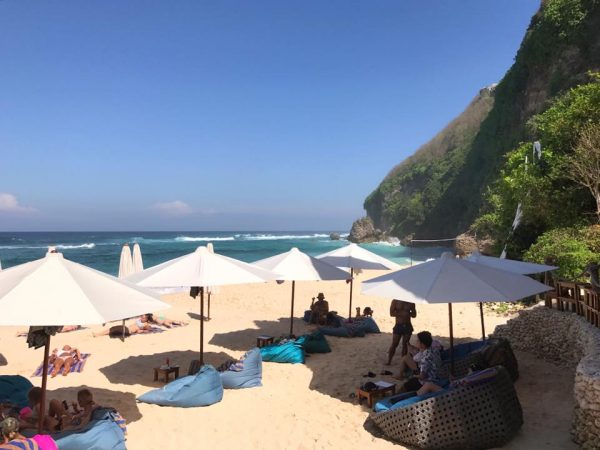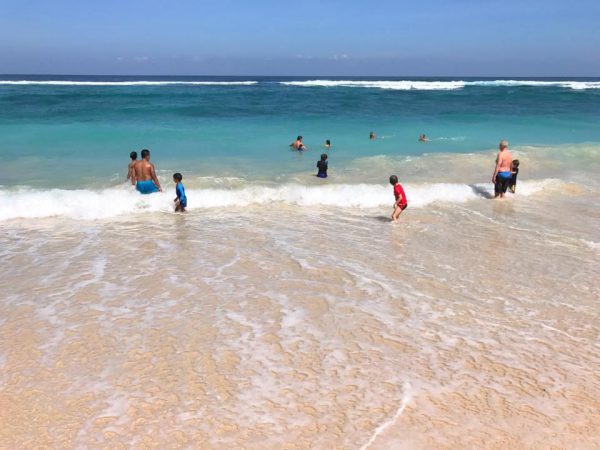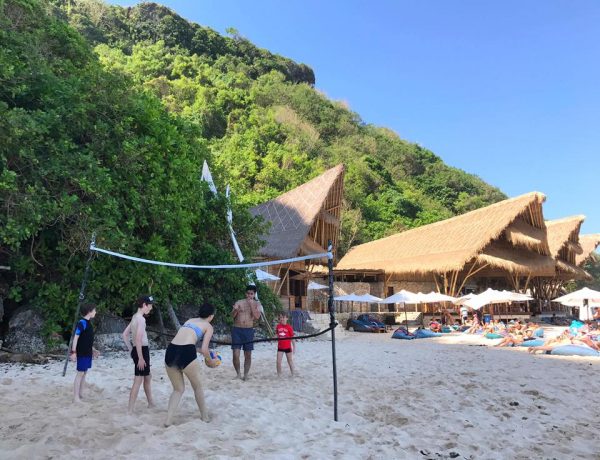 The food was top notch with plenty of great options for breakfast, lunch, dinner or anything in between.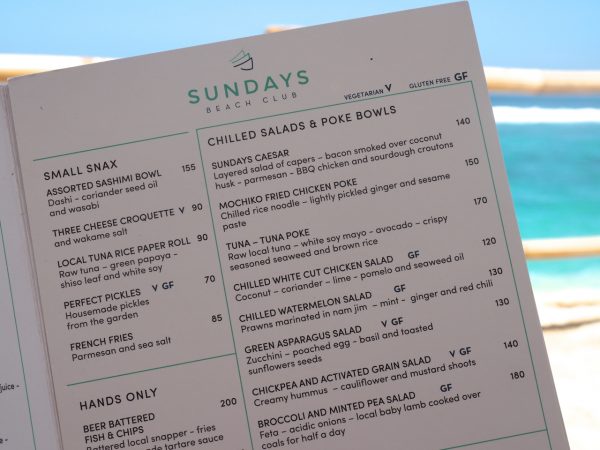 Also an FYI on timing. It was already pretty packed when we arrived at 10.30am, with plenty of people arriving early to secure day beds for the morning when beach access was limited.
We left just before 5pm along with a lot of other people and found an enormous queue for the inclinator to return back up the hill. It was a big crowd and the inclinator only takes 8 or so people per trip, including staff. It was a half hour wait to the top, then another twenty or so minute wait to get a cab back to our hotel in Jimbaran. Many people paid drivers to wait for the day but we weren't sure how long we'd stay so we opted to call a taxi when we were ready instead.
All up, it took us close to an hour to make it up the hill to the taxi but if you left at a different time, you might have a different experience. Also, you might opt to stay later for the bonfire and marshmallows, which would be a very nice way to end the day too. It does cool down a bit though when the sun sets.
For more details, head to the Sundays site here.
4. Bike Ride
One of the highlights of our holiday for me was our bike ride through the villages of rural Ubud. We booked a tour with the excellent Celebrity Bike Tours who my gorgeous friend and fellow blogger, Martine AKA The Modern Parent, had highly recommended to me (she did it with her family and friends last year) and I would in turn recommend them highly. The staff were terrific and very accommodating.
The tour began with a van picking us up from our hotel at 7am and driving us to Ubud where we had a simple but tasty breakfast overlooking the rice paddies.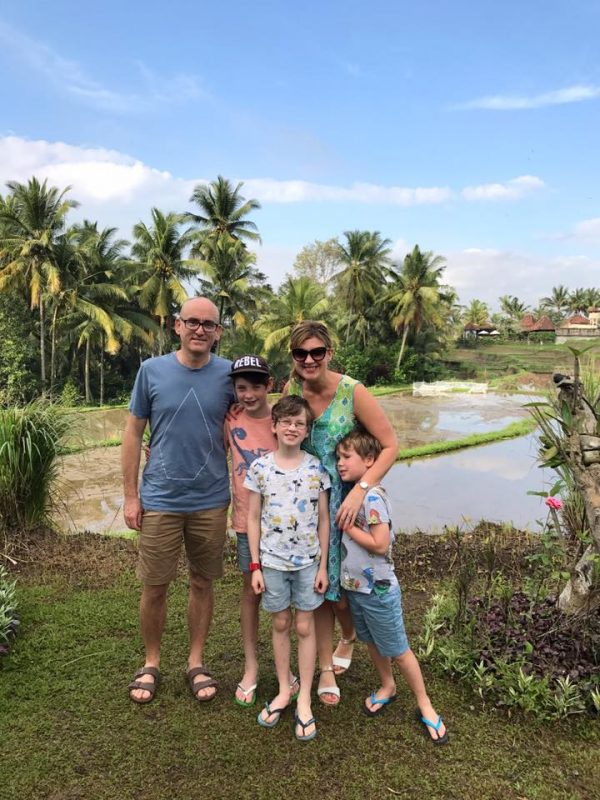 From there, we drove up to Kintamani for some amazing views.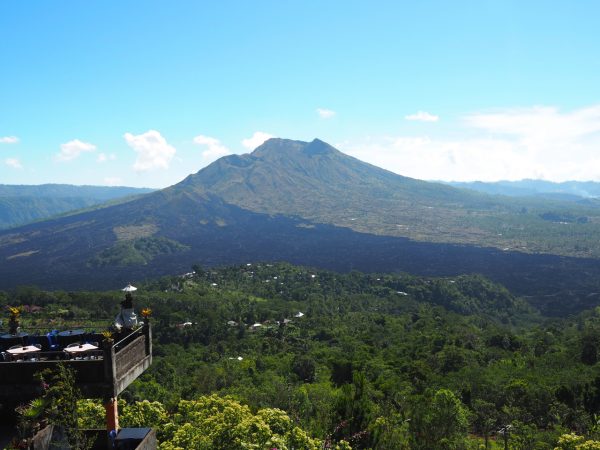 After that, we stopped in to a coffee and tea plantation where we sampled some local teas and coffee, which we all enjoyed. From there, we drove to a village, parked on the side of the road and jumped on our bikes.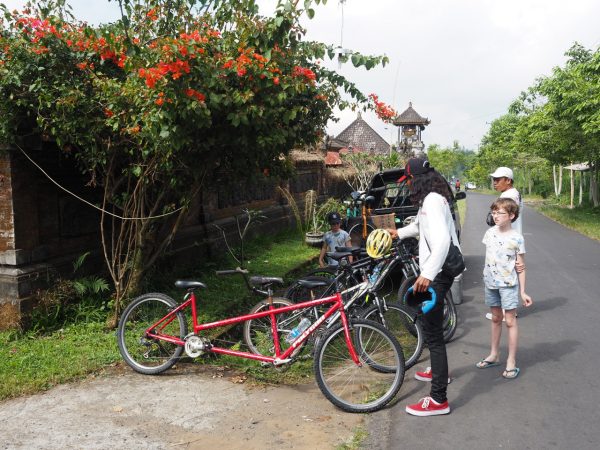 We then rode for 2.5 hours, downhill nearly the whole way, through villages and rice paddies. I absolutely loved it.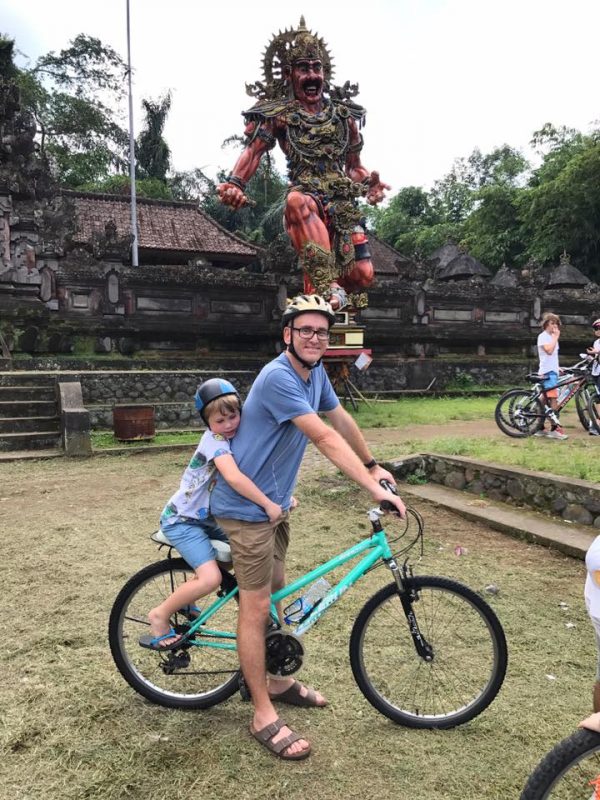 Here's a video and below are some more snaps.
I loved that the boys got to see another side of Bali – rice being dried out on the road after the harvest, kids flying kites, women working in the paddies, chickens, roosters and dogs running around and people going about their everyday lives.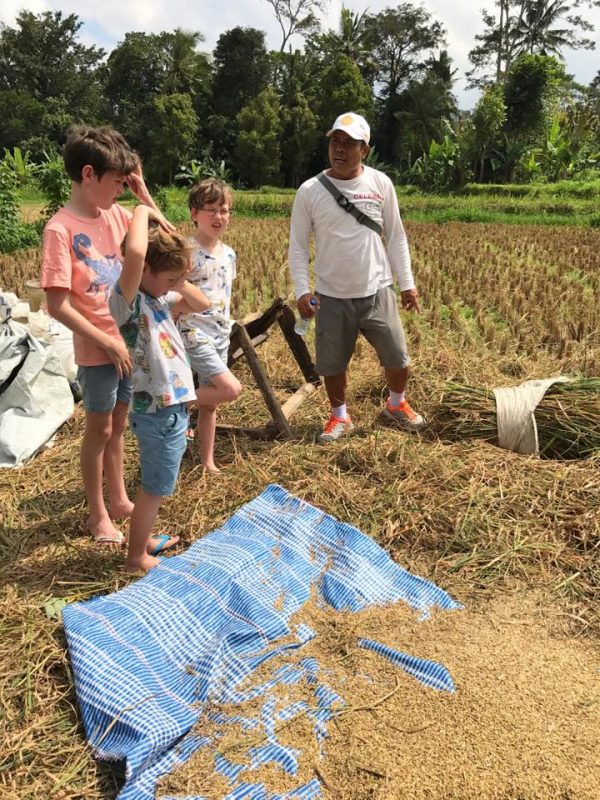 We are not great bike riders on any level, but we all managed well. I rode the tandem with Mr 9 – it took me an hour or so to find balance and speed – and Mr SnS dinked (dunk?) Mr 6. Mr 11 rode on his own and we rode in single file behind our awesome guide Made. I was flying by the end though, once I found my groove!
All in all, this was a really great day, which ended with lunch at our host's home, before we returned to our hotel in Seminyak by around 3pm. I could not recommend this experience more highly.
5. Beach Play
The beaches of Bali provide the perfect playground for kids to play. Go for a morning walk, take a surfing lesson or watch the sunset from one of the many beach side cafes.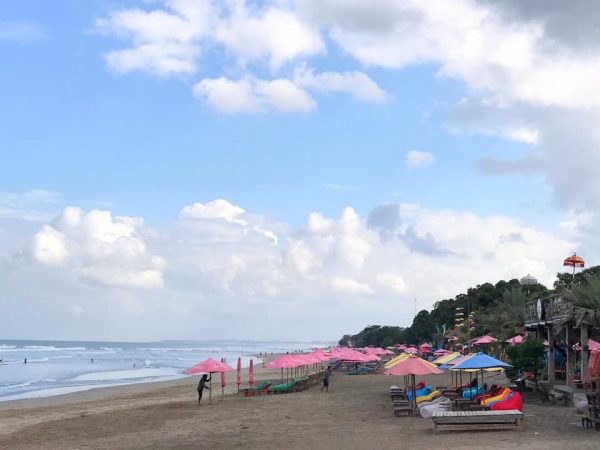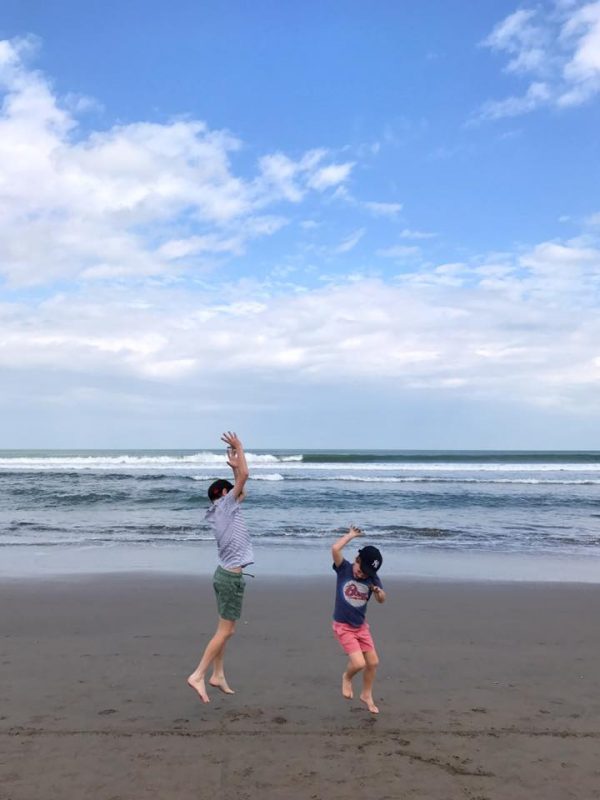 Other ideas – a local cooking class, surfing lessons, a visit to the Monkey Forest in Ubud or try some water sports in Nusa Dua.
Family Friendly Places to Eat
As we stayed in hotels, we didn't have any cooking facilities or fridge, so we ate out every single night of our holiday (thankfully our breakfasts were all included) and generally ate lunch poolside.
Because eating out every night is tiring for kids (and us!), we'd generally secure a 6pm booking and be home by 8pm. A couple of nights, to give them a break, at the Courtyard Marriott, our boys went to kids club from 6-8pm for dinner and a movie while we went out for a quick dinner.
When we did go out for dinner, we generally opted for some of the best restaurants the areas offered. Being foodies and the absolutely off the charts food scene in Bali, we wanted to try a lot of our old favourites as well as some newbies. Unsurprisingly, this was more expensive than eating out at the local warung (cafe) every night, but not by a lot. For example, our butter chicken (a main dish) at Sarong, one of the best and well known restaurants in Seminyak was $18 where curries at the local warung were $11. Given the difference in quality, it was a no brainer for us. What usually turns an inexpensive meal into a blow out is the drinks. We found paying for bottled water for all of us plus the 20% service tax was usually where things blew out unexpectedly for us as opposed to the food itself.
When we all ate out together, we usually took UNO, books, paper and textas which kept the boys amused and entertained before the food arrived.
Seminyak
This was my favourite place to eat with the kids in Seminyak. It's reasonably priced, has lots of healthy options for the parents and the kids loved it too.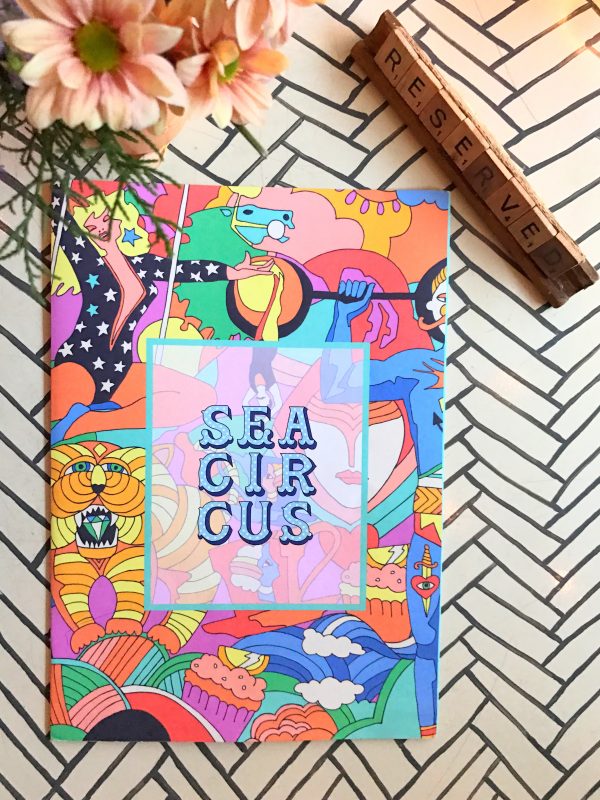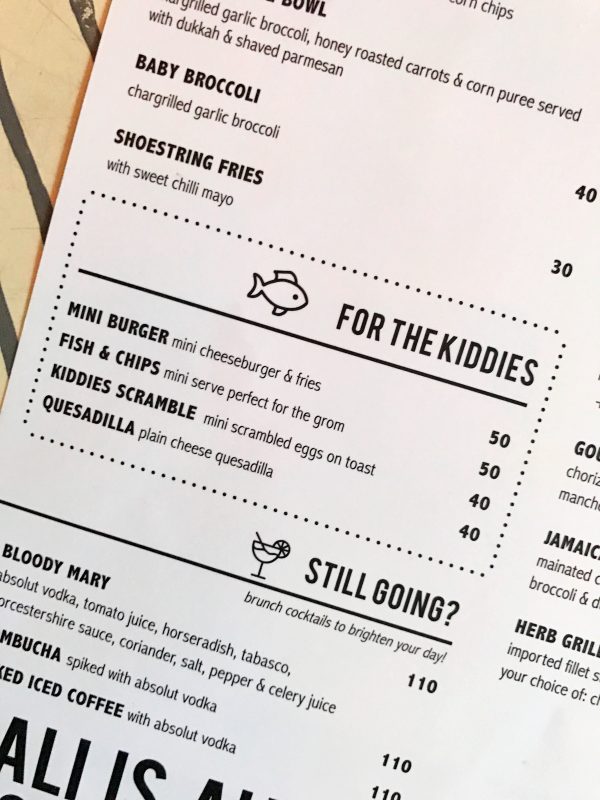 My marinated tofu poke bowl was so good, I came back and had it a second time another day!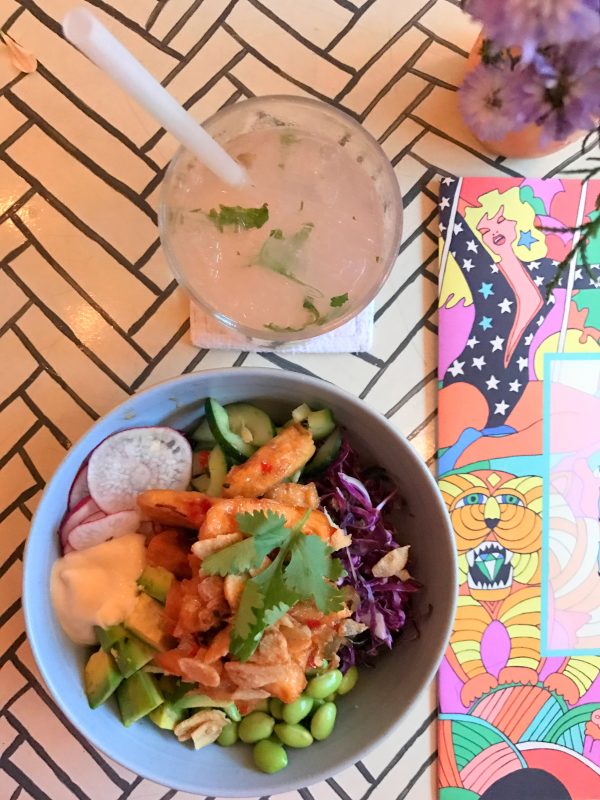 Book online for dinner here.
2. Barbacoa
We had a fabulous night at Barbacoa, a newish BBQ/grill in neighbouring Kerobokan.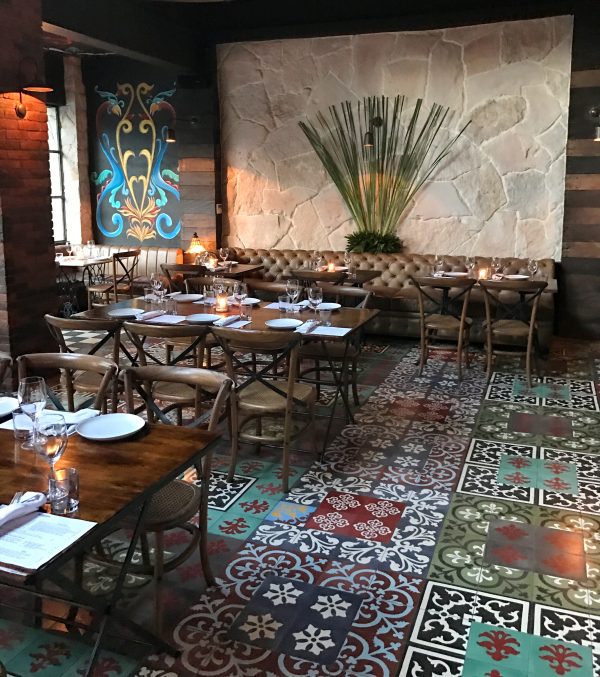 As well as it's fab fit out, the service here was terrific. We loved the menu – for both adults and kids – and I can highly recommend the lamb cutlets. They were absolutely delicious. Mr 11 rated his Buttered Corn Tacos too.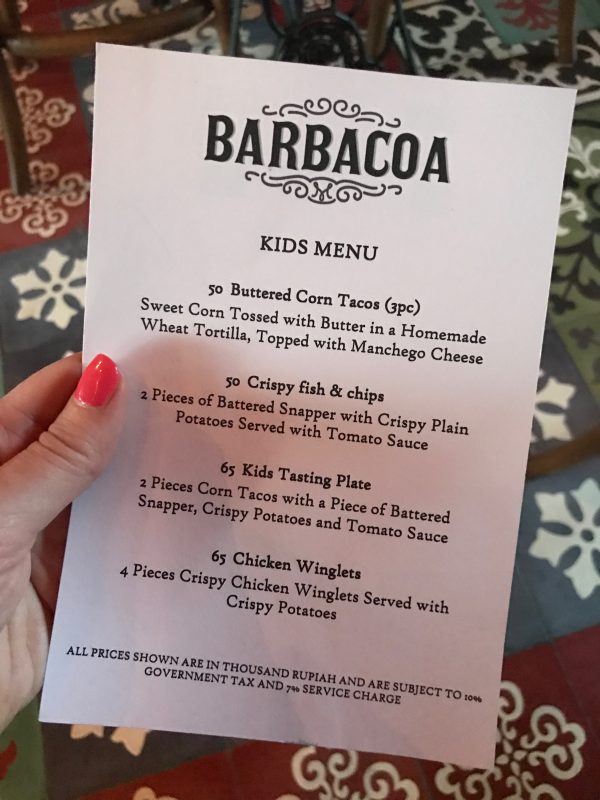 We ended our night with a delicious dessert tasting plate and the boys had the ice cream which was made with liquid nitrogen at our table. Love a bit of culinary theatre!
To book dinner, head here.
3. Ginger Moon
This is a well established favourite of many regular visitors to Bali. We ate lunch here one day and loved the dumplings, wonderful service and fresh juices. The kids loved receiving the bill in a coconut monkey head too.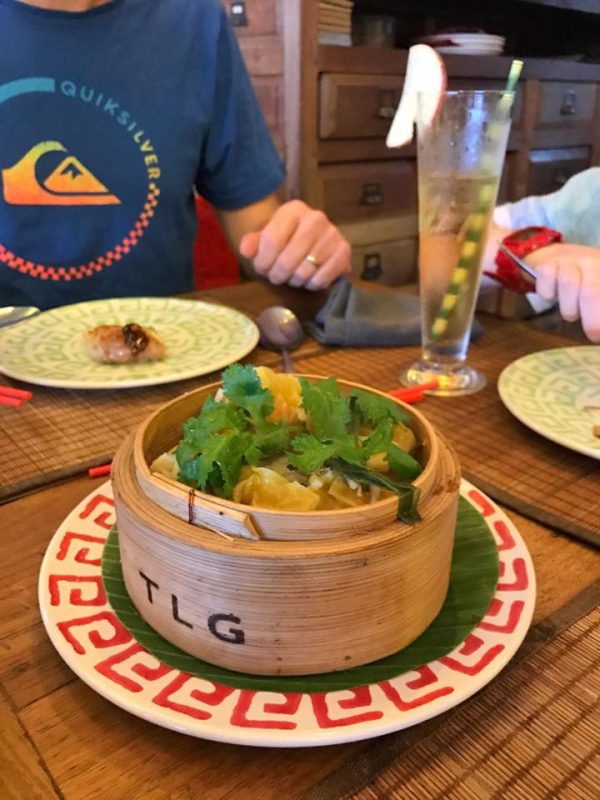 To book and for more details, head here.
Motel Mexicola is one of the coolest spots in Seminyak with it's outrageously colourful and playful 60s/Mexican mash up of decor and music.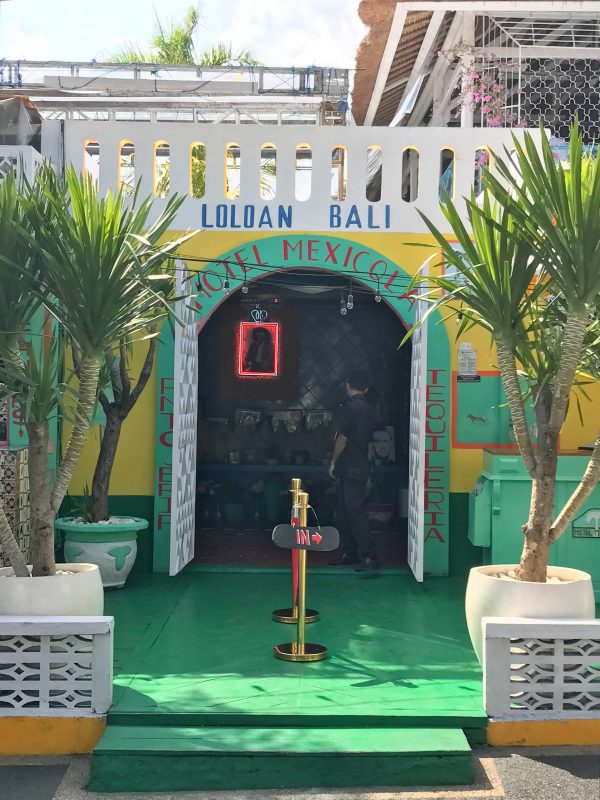 We ate here for dinner one night and the quesadillas and tacos were as good as we remembered. The kids were pretty happy with the churros too …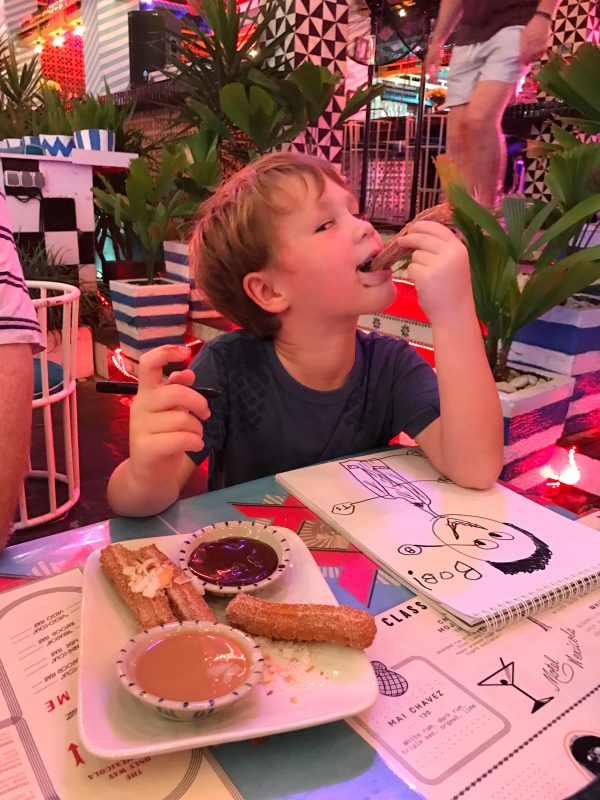 One minor thing – we were seated in the open seating in the middle and the music was blaring to the point where we could barely hear and speak to each other. Last time we were in a booth and it was not an issue. Also, the $25  jugs of mojito from past days are no longer and instead, they're charging $13 a glass. Tacos are still $3 a pop though and as delicious as always.
For more details and to book, head here.
Jimbaran
We stayed in Jimbaran for only 4 nights but we found plenty of family friendly spots here.
1. Unique Rooftop Bar, Rimba Resort
This is the new rooftop restaurant/bar at the Rimba resort where we stayed. Serving Mexican cuisine, this is a great spot after a day of swimming, especially if you can make it for sunset. If you go by day, pack your togs and you can take a dip in between tacos.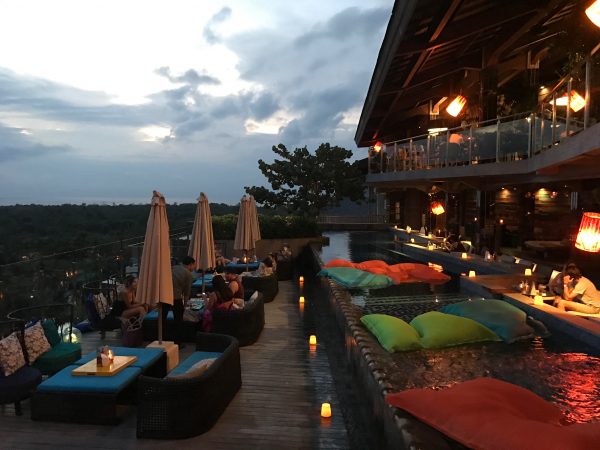 For more details and to book, head here.
One of the reasons we stayed at The Rimba was for easy – and priority – access to The Rock Bar. Anyone can visit the Rock Bar, but as the Rimba is part of the Ayana resort complex, guests of any of the Rimba, Ayana and the Ayana Villas can join the priority queue for faster access the Rock Bar.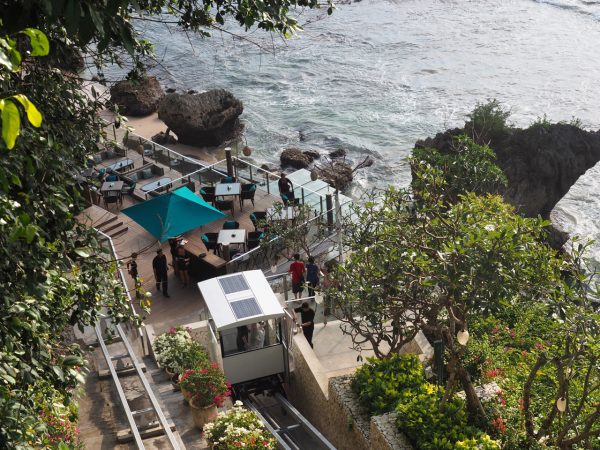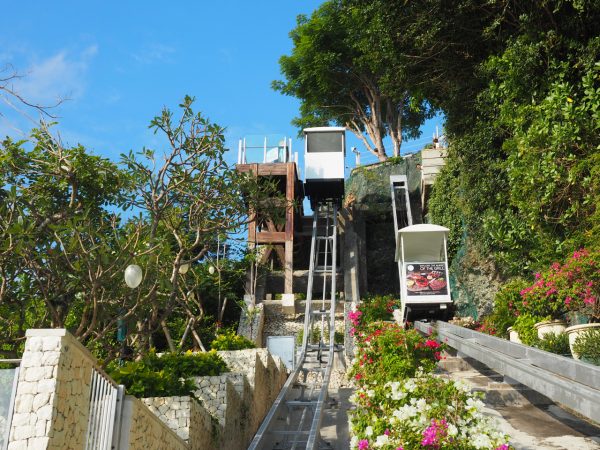 The Rock Bar opens at 4pm, so we arrived at 3.45pm thinking we'd beat the crowds.
WRONG.
There was a very long queue but thankfully the priority queue was much, much shorter and had their own inclinator, so we went down after a relatively short wait. We managed to nab a front row seat in front of the rock, and spent a happy three hours playing UNO, having drinks and then an early dinner while we watched the sun set over the Indian Ocean.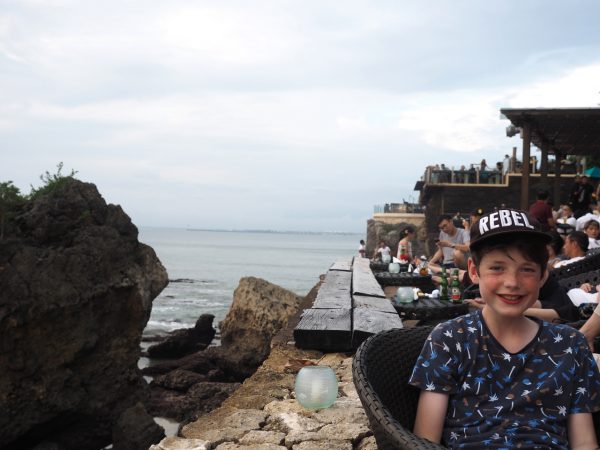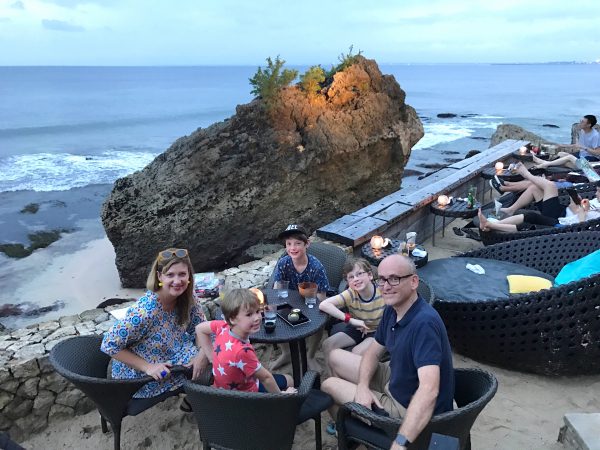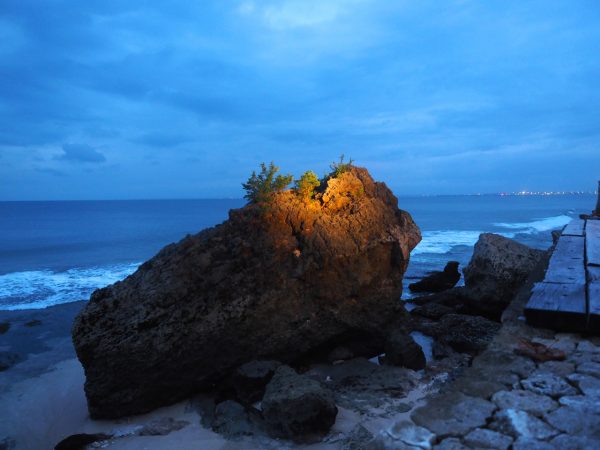 I think we all really enjoyed this night out – the ride on the inclinator, the spectacular views, the food – the boys were given endless free crisps from the lovely staff – and cocktails were all something else. The smiles on our faces tell the story! We also saw plenty of families with kids arriving when we did too. By the time we left, close to 8pm, the music was cranking and the night was just beginning for some.
For more info, head here.
3. Cuca
On the last night of our holiday, we spent a memorable night at the excellent Cuca in Jimbaran, which was highly recommended to us by readers of the SnS Facebook page – thank you all so much!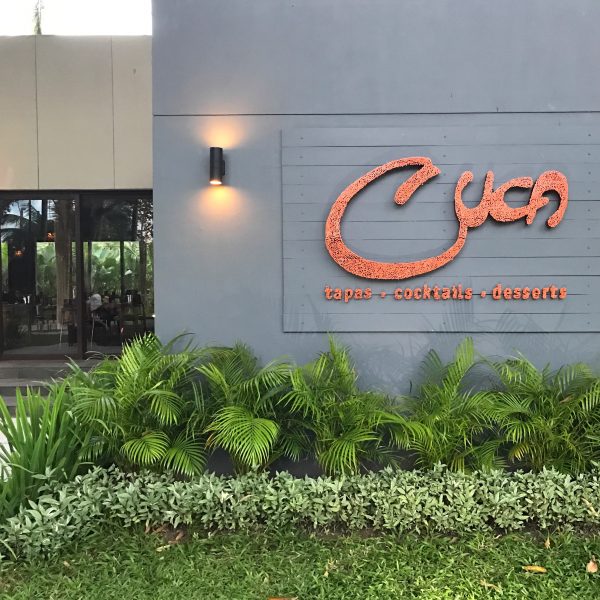 The chef/owner has worked in Michelin starred restaurants in Spain and NYC, and has bought his impressive credentials to Bali where he has sourced incredible local produce to come up with a tapas/cocktails/desserts concept but despite the relaxed approach, this really is family friendly fine dining.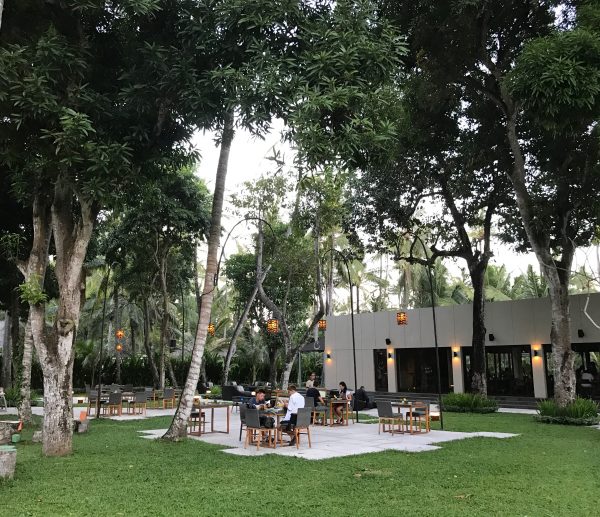 Families are seated in the garden where there's plenty of space and some play equipment. On arrival, the boys were presented with a fairy floss entree, activity sheet, pencils and a kids' menu. DID I MENTION I LOVE THIS PLACE?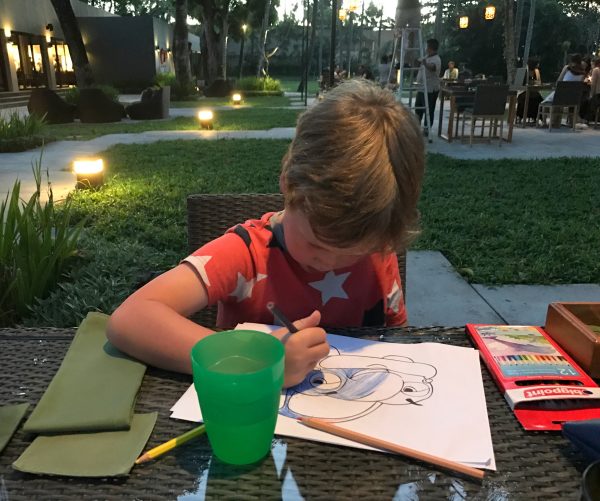 The kids sorted, we turned our attention to the very excellent food and beverages on offer for the adults, such as this Big Apple cocktail (Malang apple, vodka and cucumber), $11.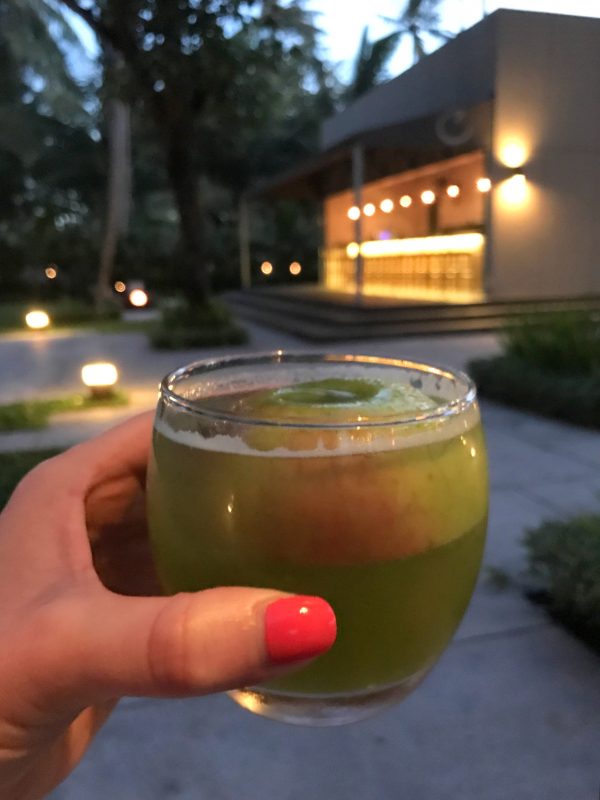 We then opted for the $50, 7 course chef's tasting menu which was excellent value given the very high standard and quality of the courses. To end our lovely night, the children were taken inside and given a balloon each. They had a great night and so did we. I would highly recommend this place to anyone but especially if you are a frustrated foodie who loves fine dining and is travelling with kids.
A Note About Fine Dining 
Since we last visited Bali, many of our favourite Seminyak restaurants are discouraging bookings for children under a certain age.
At Sarong, children under 12 are discouraged at dinner but we still took them as they eat out regularly and we knew they'd be able to manage. The fine print says, "If you would like to bring children below the age of 12, please ensure that they remain seated with you at all times and be respectful for the experience of other guests." It was a risk but they were fine. They were also given a kids menus although they mostly ate our rice and roti!
At Merah Putih, they accommodate children but ask that they dine before 6.30pm. There is no kids menu which means they are eating from the adults menu which our kids were fine with – they loved the pork belly – but it's expensive.
Like Sarong, there are no high chairs or baby change facilities at Merah Putih. We were seated upstairs on the mezzanine with two other groups. To give credit, the staff were all polite and very accommodating at both venues and while our children – thankfully – behaved well, I would have much preferred to go without the kids. If you have older children, I wouldn't think twice about taking them though.
We didn't take our kids back to Mama San – we went alone while the kids went to kids club – and it was lovely to have a date night on holiday. In any event, they "cannot welcome children under 8" and there are no high chairs, baby change facilities or a kids' menu.
Where We Stayed
In Seminyak, we stayed at The Courtyard Marriott for 8 nights in a two bedroom suite, which was perfect for our family of five with two bedrooms and bathrooms, one living area plus a balcony. The third bed was placed in the living room as the two single beds in the kids' room were enormous. This suite would also be a great set up for a family of four or a group of girlfriends.
This centrally located hotel was terrific, a short walk to the beach and right in the middle of Seminyak making everything accessible in a 5 – 10 minute taxi ride.
The set up of the hotel is basically that the rooms form a giant, 6 level rectangle with a grassed area and three pools, all connected, situated through the centre.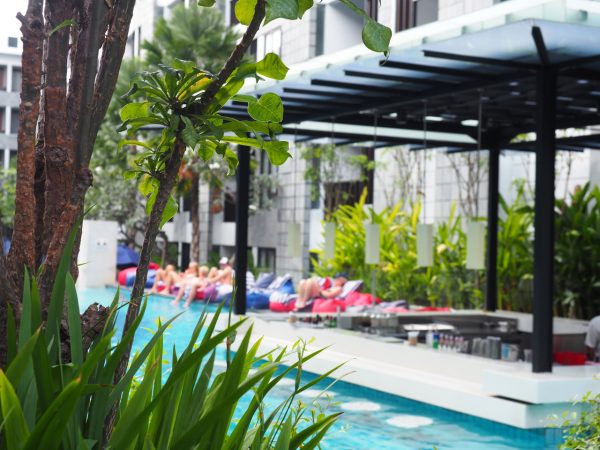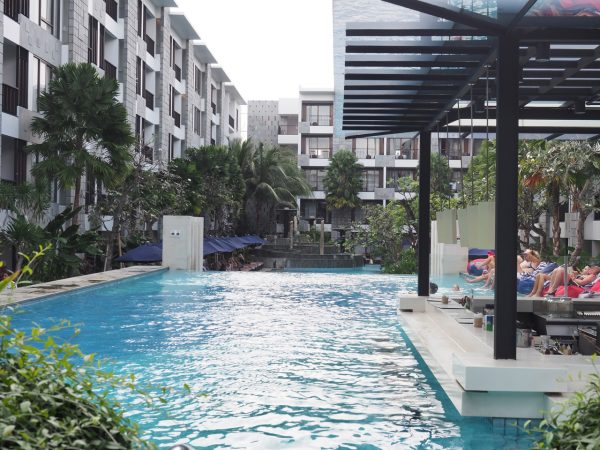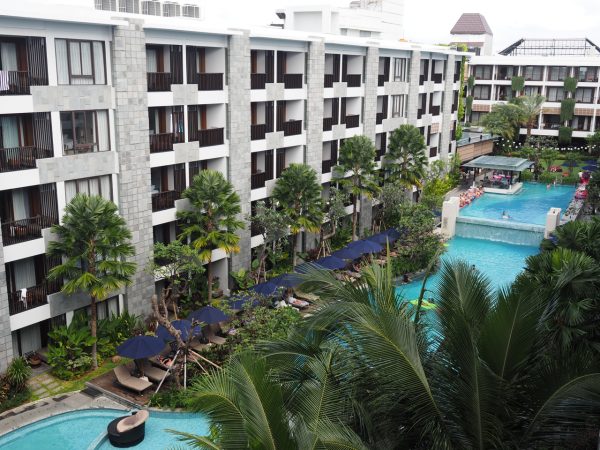 Below is the kids' pool, ideal for babies and toddlers. Our boys liked playing here too sometimes.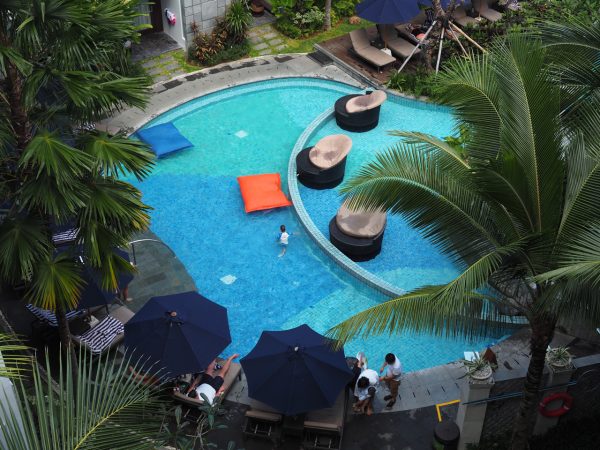 Included in our accommodation package was 2 hours each day per child at Kids' Club – they could go for longer but 2 hours was free. Our kids didn't go every day, but given it was open until 8pm at night, twice they went from 6-8pm, allowing us to duck our for a quick dinner while they had dinner and a movie.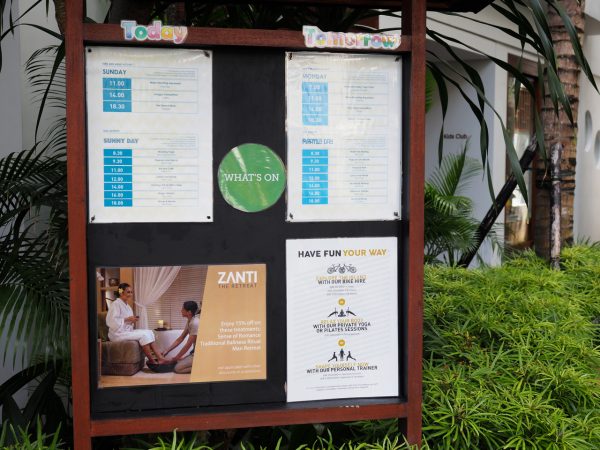 I really liked this hotel and the staff were extremely helpful and friendly.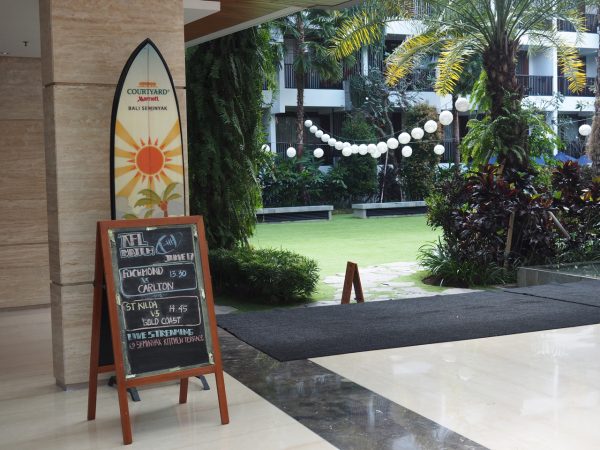 The kids loved What the Truck, and, as you can imagine they've been saying this ever since!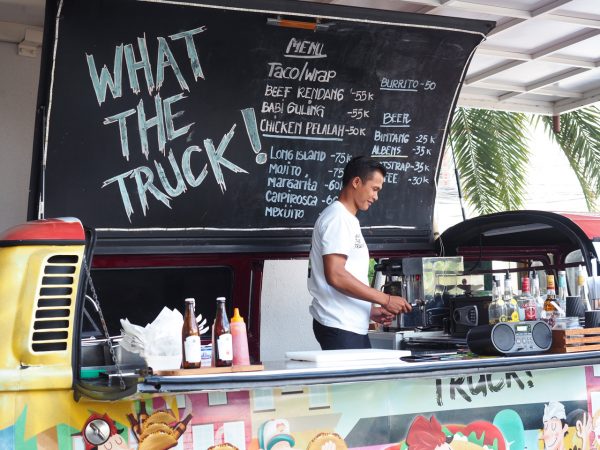 In Jimbaran, we stayed at The Rimba which is part of the Ayana resort. This is quite a big resort, with two towers of rooms and plenty of pools to choose from – I counted five which included two adults only pools. All the facilities at the Ayana are also included and are accessible using the hotel's shuttle bus.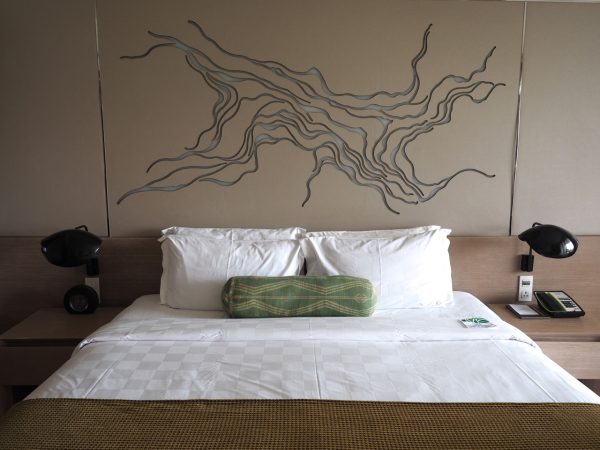 We booked two interconnecting rooms, both of which well very well appointed and had their own bathrooms and balconies.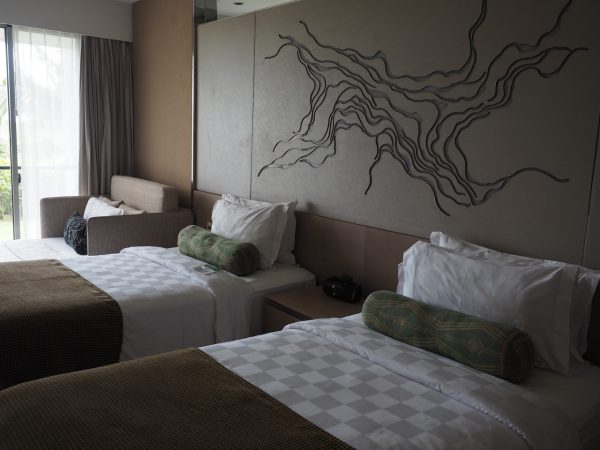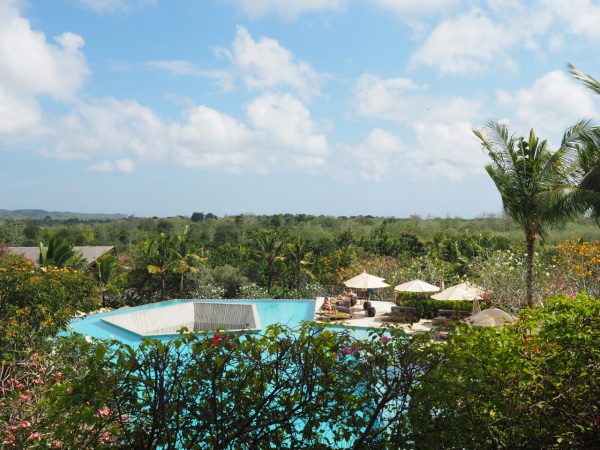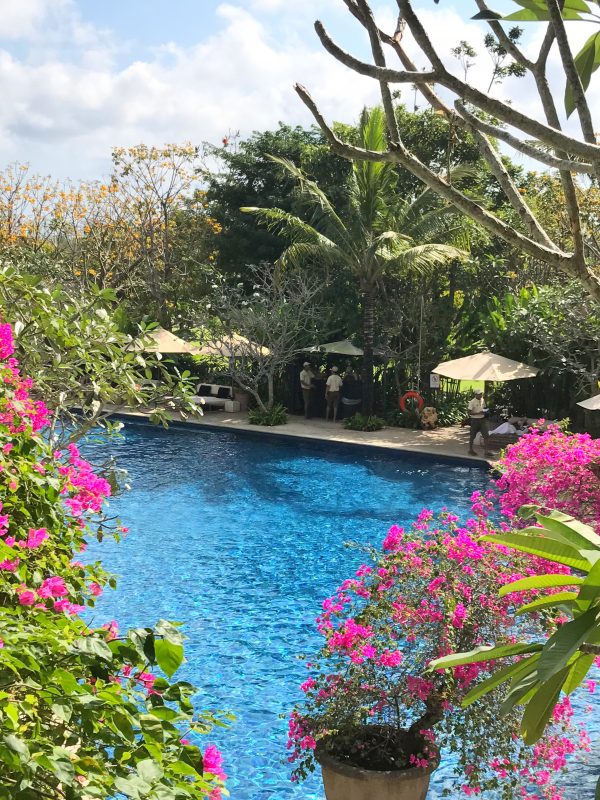 This is such a beautifully landscaped resort with beautiful bougainvillea, frangipanis, jasmine and hibiscus flowering everywhere.
In the kids' pool, there's a small water slide which Mr 6 especially enjoyed.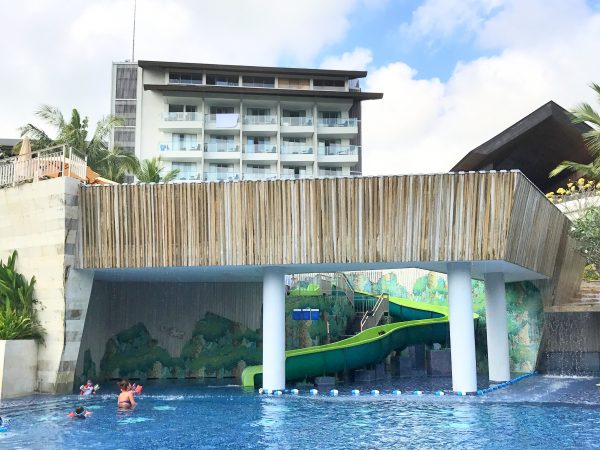 I'm a fan of poolside dining at the best of times but this BBQ was a big time winner: $2.50 for three small pieces of corn and $6 for six satay sticks. That was lunch sorted.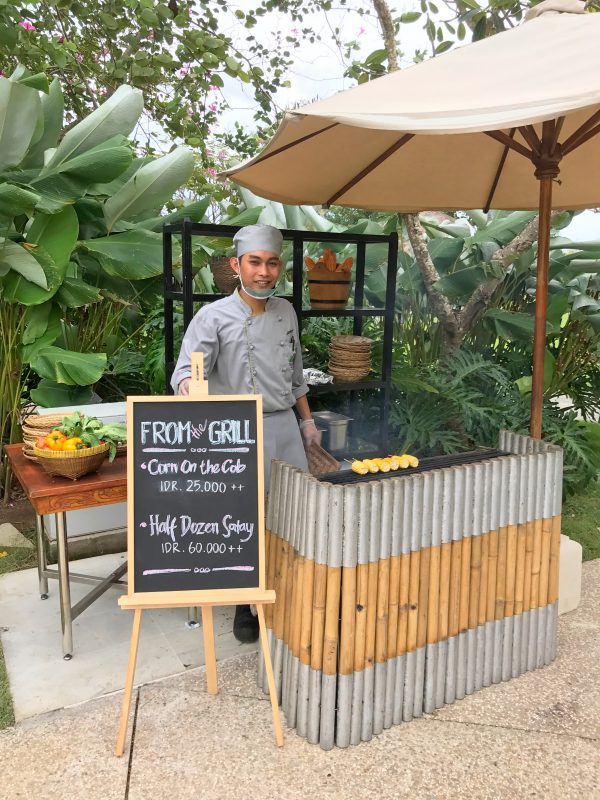 The lobby was incredibly striking with this amazing view at sunset …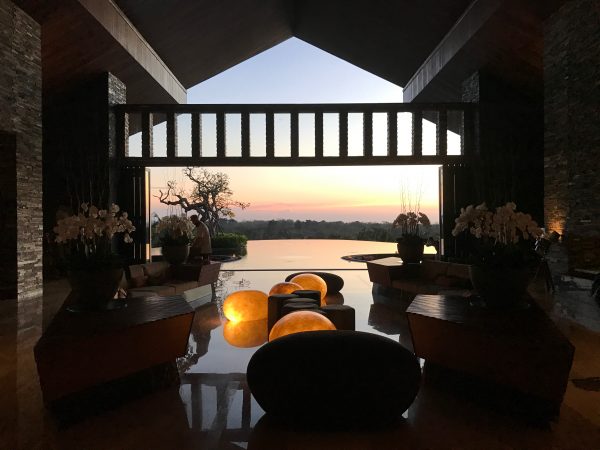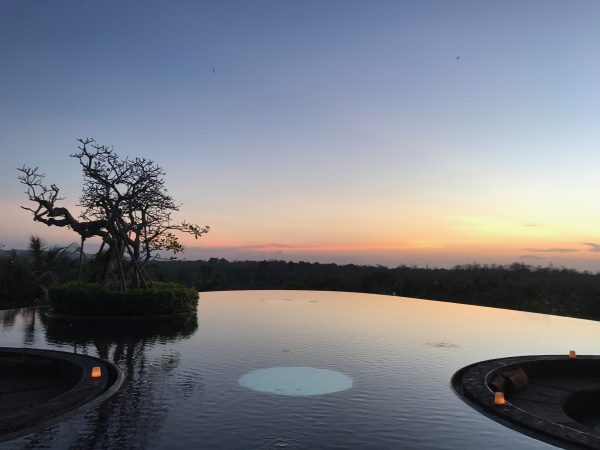 Overall, we really liked the Rimba and were very grateful to be upgraded from hillside to poolside rooms. The only drawback was that the rooms were quite noisy. In contrast, our suite at the Marriott was in the corner on the sixth and top floor so it was very quiet. On the upside, we were in a great central location, close to the lobby and pools.
There were a couple of things about the Rimba that were a bit perplexing though.
Firstly, despite "free use of the kids' club" being included in our package, when we went to drop the boys off – on their request – we were told that we could "use" the kids club if we stayed with our kids. What the? To leave the kids there, we had to pay $10 per child per hour. Any activities would also be extra. This seemed bizarre to us but we managed to negotiate two free hours per day which was just what we thought we had already paid for and more than enough for us. If you're booking this resort based on this facility – we didn't – make sure you know exactly what your package includes.
Secondly, while the poolside service was great and included food and all beverages including cocktails, if you ordered one of the discounted, happy hour priced cocktails, they would not provide poolside service. To get a discounted cocktail, I was told I'd have to get up and walk to the pool bar myself. If I ordered a full priced cocktail, they'd bring it to me, no probs. I have never come across anything like this before and while it's not a biggie, it struck me as bizarre. Maybe good to incorporate some exercise perhaps – they sure made you work for that $5 discount!
Highlights
I asked the kids what their highlights were on this trip and this is what they said …
Mr 11's favourite day was at Water Bom park. He also loved the roti at Sarong and the ice-cream at the breakfast buffet at the Courtyard Marriott. He also rated the pool at Potato Head as the best pool.
Mr 9 loved playing and being dumped in the waves at Sundays Beach Club. He also loved our day at Water Bom (especially all the trap door rides) and was a big fan of the donuts at the breakfast buffet at the Courtyard Marriott.
Mr 6 rated Motel Mexicola and Sea Circus because of their awesome quesadillas. He loved going to Kids Club (anywhere) and swimming in all the pools. Water Bom was totally awesome. He also loved snorkelling at Sundays Beach Club. He went down the water slide at The Rimba approximately 400 times too.
Mr SnS's favourite meals were at Cuca and Sarong – he said the butter chicken was Next Level. He also enjoyed seeing the kids having a ball at Water Bom and the bike ride through Ubud.
As for me? I think I've covered all my faves above in detail. The only thing I'd add is that the shopping in Bali is still first rate and you can find all my hot tips and favourite shops here.
Want to PIN this post for later?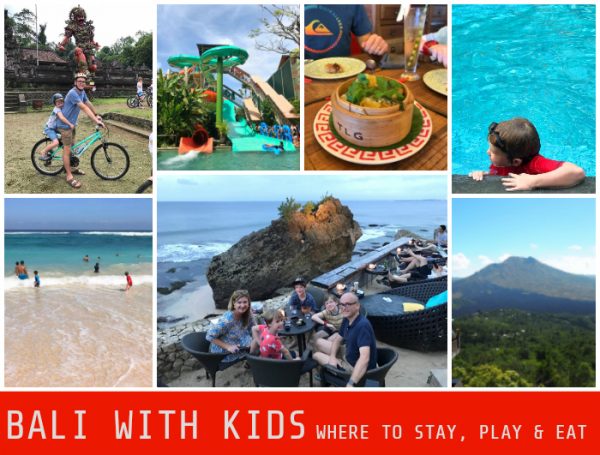 So over to you. Have you or would you like to travel to Bali with kids? What would you add to the above?