It's no secret around these parts that we're regular visitors to Bali, and on our latest holiday – my fourth in six years – we decided to add a stay in Canggu to our usual visit to Seminyak. (Last time, we added a few days in Jimbaran – you can catch up on all our previous trips here).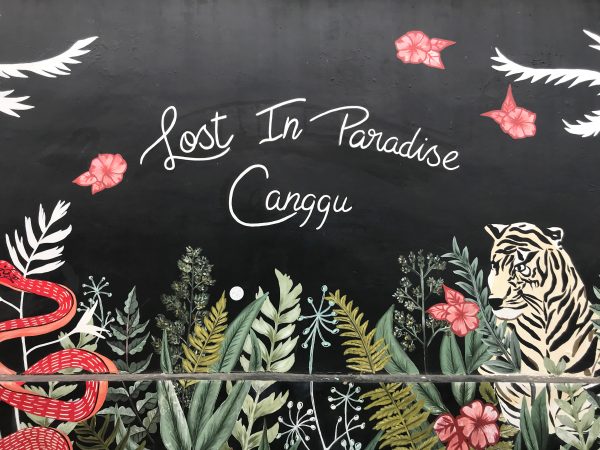 Like me, you've probably read the mail and heard from friends that Canggu is the "new Seminyak", and that it has plenty to offer in the low key, relaxed holiday stakes, as well as having the clean living, hipster and, with it's famous Echo Beach, old school surfers' seal of approval. (I think I'd add 80s tragics to that last group).
I'd also heard Canggu was a sprawling, semi rural area that could be tricky to navigate by foot because there weren't footpaths, and by road given the rustic surrounds, limited roads in and out – because of said rice paddies – and dearth of taxis.
We had an absolute ripper of a time in Canggu earlier this month, and in today's post, I'm covering everything we did, as well as where we ate and stayed.
Just before I launch in, to recap, we're a family of 5 from Melbourne, Australia with three sons aged 13, 11 and 8.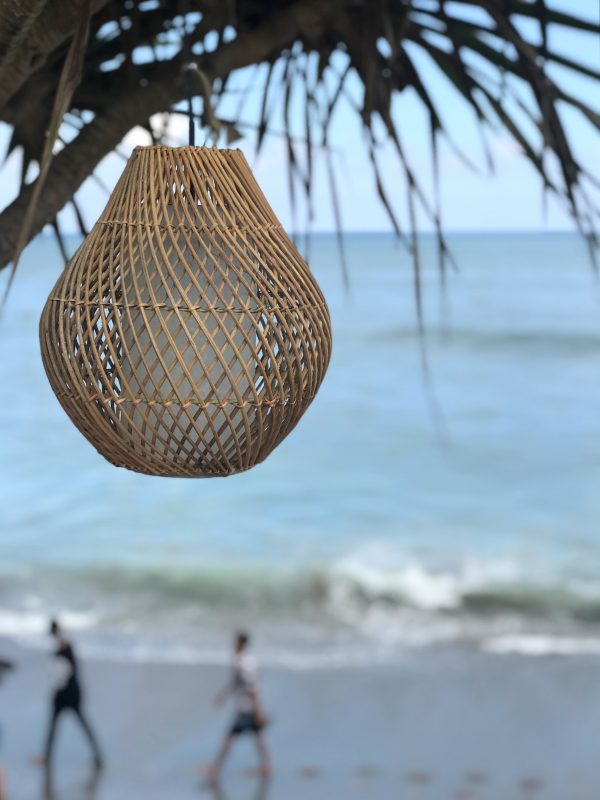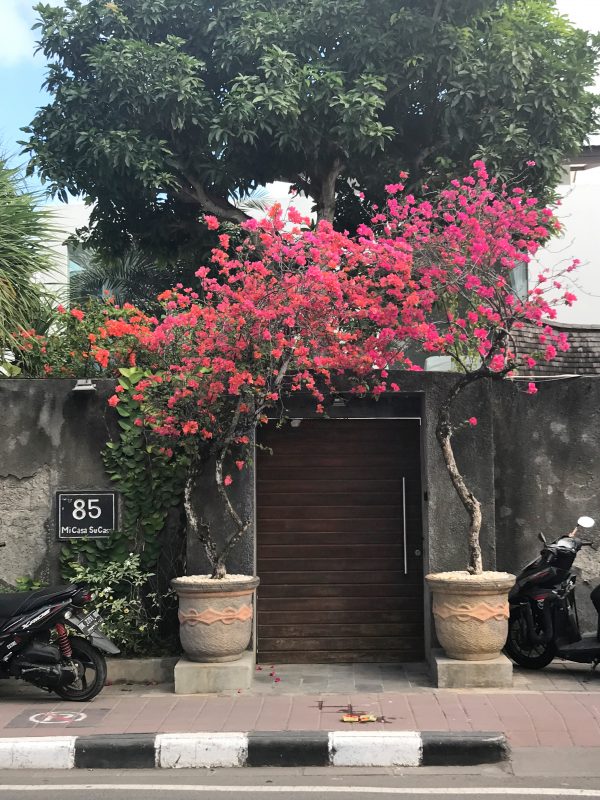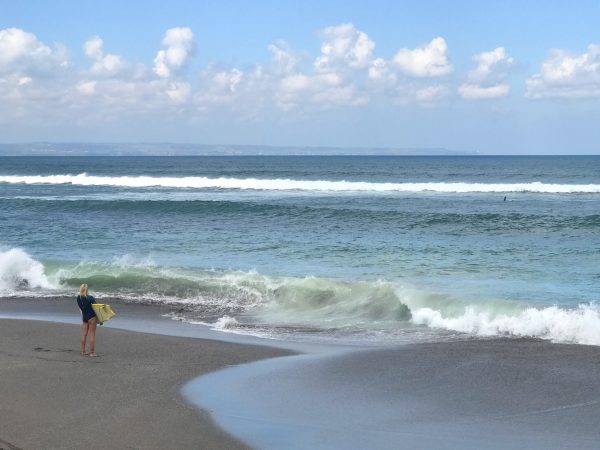 General Impressions
I really enjoyed our five night stay in Canggu which I put down to a few factors.
Firstly, it was great to go somewhere quieter after the hustle and bustle of Seminyak but still be in a fab location with excellent cafes and all conveniences at our door step, with beach clubs a short walk or drive away.
Secondly, it was fab to have all the living space of a villa after a week in a hotel, although we were very comfortable in our two bedroom family suite at the Courtyard Marriott.
It was also special to spend the time with our Perth pals, who stayed in the villa next door, allowing the kids – and us – to move between our two pads freely and easily.
Finally, although there were plenty of people around, I felt like Canggu offered a more relaxed vibe in general as well as excellent value in the eating – and drinking – departments. I also loved the obvious overall gearing towards younger people, many of whom appear to be vegan hipsters on a budget who love reasonably priced cocktails. What's not to love?
Where to Stay
While we usually opt for the social scene that a hotel offers (because of our social posse of three boys), for Canggu we decided to stay at a villa. We were then able to convince our friends from Perth to come and stay in the villa next door at Villa Casey, so in the end we had the social aspect of a resort with the space and privacy of a villa. Winning!
We searched Air BnB and found these villas, which we chose because of the location – primarily because of their proximity to the beach and local cafes. I could not come at the idea of trekking through rice paddies for my morning caffeine fix. First World priorities right there.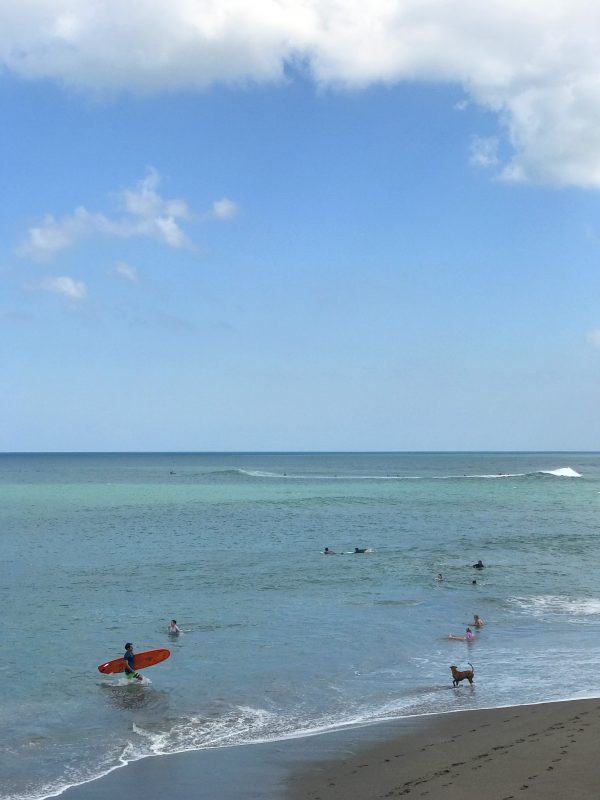 We didn't know much about the various areas within Canggu – other than Canggu itself is a huge area – but it transpired we were located in the Batu Belong area.
As for the villa itself, it was one of three – we stayed in Villa Joshua. It was excellent and suited our family of two adults and three boys well.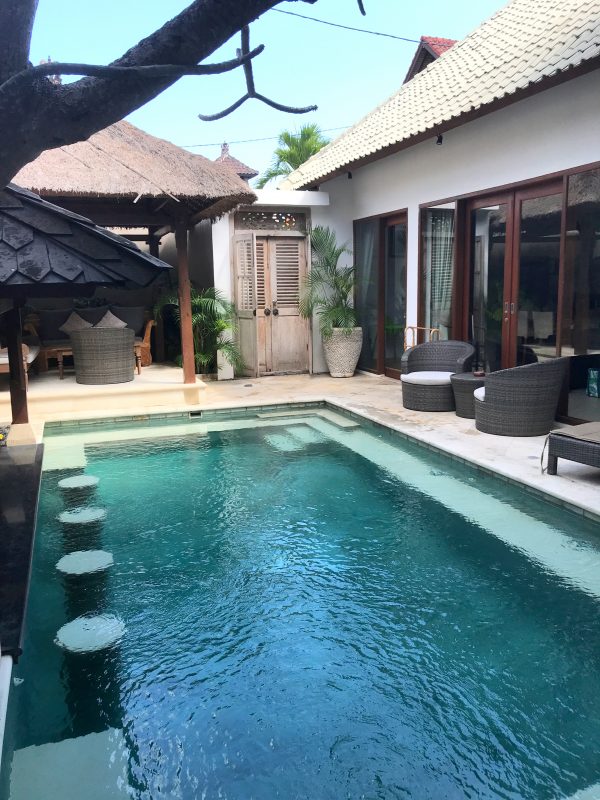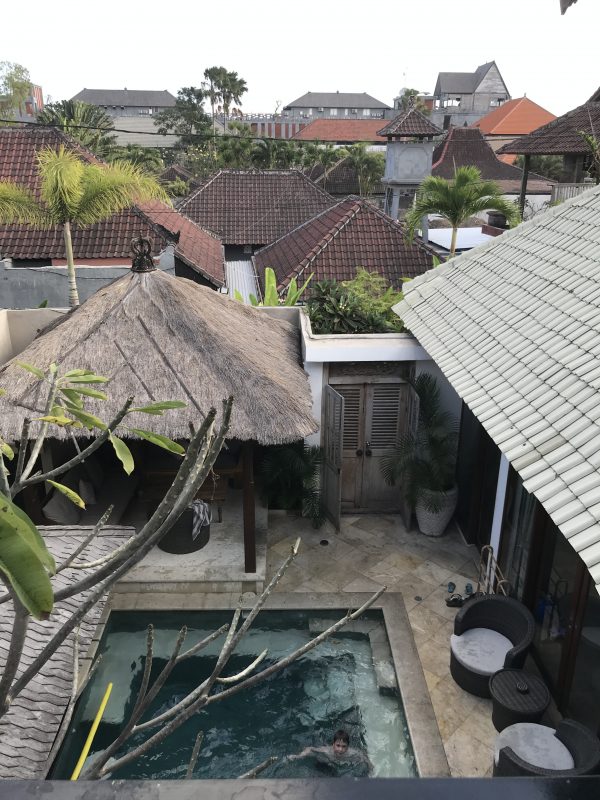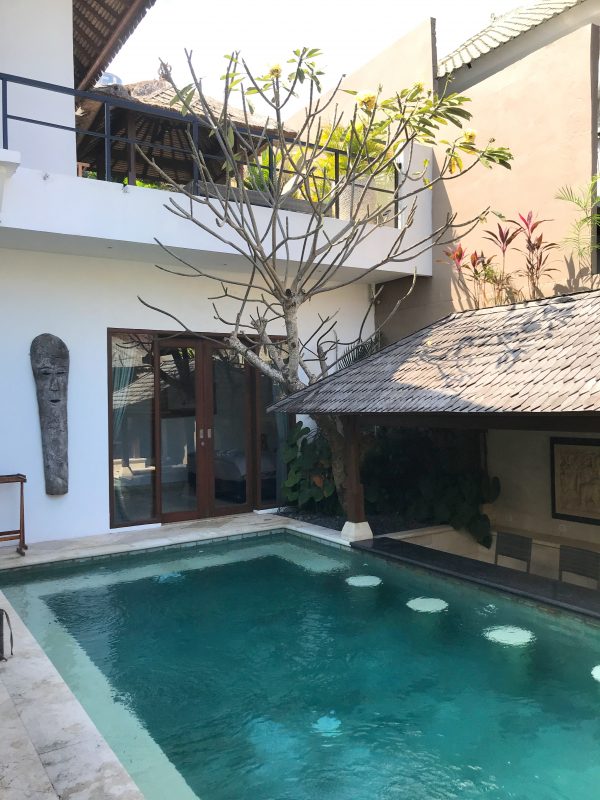 It was a well appointed, spacious and luxurious space to stay, with three sizeable bedrooms, enormous ensuites and several places to lounge both inside and outside. There was also a full kitchen which included a fridge stocked with Bintangs (for a reasonable $2.50 a pop) and filtered water. The only thing it could improve on is a better hairdryer.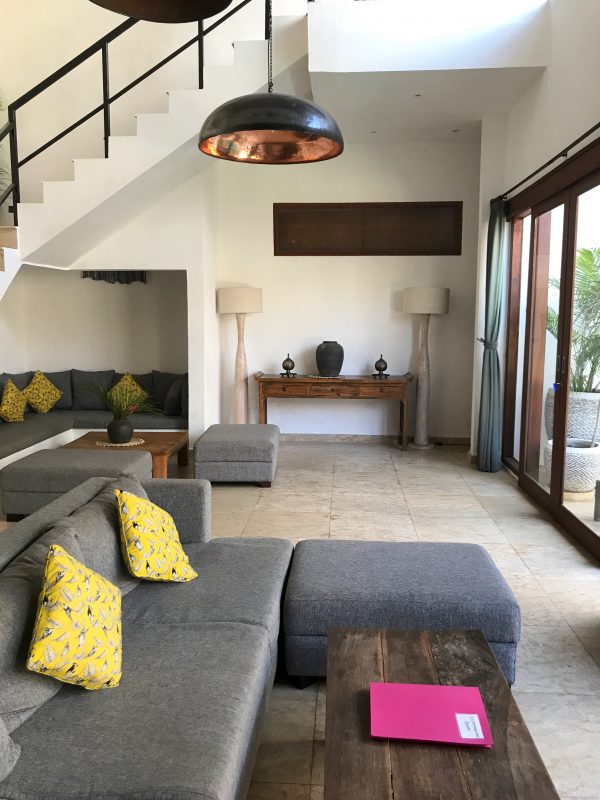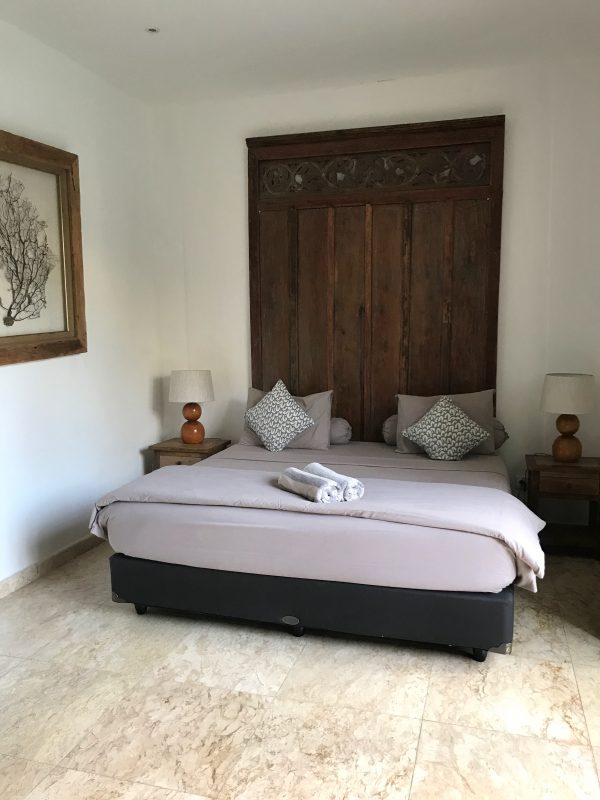 The manager Risa was great to deal with and answered all our questions promptly. She arranged a babysitter on our first night, our transfers from our hotel in Seminyak and from the villa to the airport too, as well as the driver and passes for our day out.
As described, our villa was located in a great neighbourhood with plenty of great cafes on our door stop (including Gypsy reviewed below) and conveniences (ATM, spa, convenience stores). It was a ten minute walk to The Lawn, Old Man's and The Slow and a five minute walk to The Shady Shack and Deus Cafe.
The beach was a ten-minute walk away, which we could access from our street or, to walk on footpaths the whole way, by diverting to a side street and walking along the street parallel to ours. This street also happened to have lots of great places to eat and shop including The Slow.
For other accomm options, my instagram friend Desperately Seeking Suzy recommends the Legong Keraton Hotel as a great place to stay for a family of five too if a hotel is more your bag. It's located in Berawa, right next door to Finn's Beach Club.
For a group and the budget to match, I'd love to check out the Zimi Villa also in Berawa, owned by couple behind Mister Zimi.
What to Do
Having spent a week in Seminyak first, our plan for Canggu was pretty simple: low key hangs, swimming and catch ups with our mates from Perth who stayed in the villa next door. I also like to do plenty of reconnaissance slash blog research in the eating and shopping departments with some solo walks around the neighbourhood.
In the end, we achieved this, as well as seeing plenty of what Canggu has to offer.
Of the five days we spent in Canggu, we spent most days poolside or in each other's villas, with occasional strolls down the street to eat, shop or get supplies. The kids loved the street side stalls with all their fake sporting brands and souvenirs. Me, not so much!
There were plenty of boutiques and shops in the surrounding streets too. I was on the look out for homewares – that's where I'm at at the moment – but the focus was definitely on clothing.
I also wandered down the street on Saturday morning and found a market at Old Man's, where I bought some of the bamboo straws I'd been eyeing off.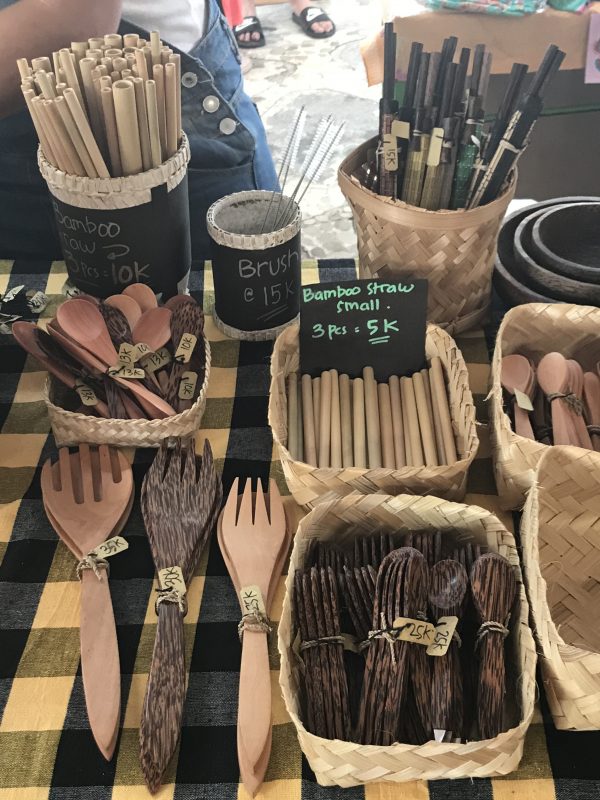 Our biggest – and most expensive – day out was to Splash Waterpark and then to Finn's Beach Club. Both are operated by the same people and come under the same umbrella as Finn's Recreation Club, which is why the passes offered include access to all three venues.
We each bought a Finns Bali day pass, which cost around AUD$33 for kids and AUD$55 for adults (check out the pass options here). Our villa manager organised our passes, and saved us 10% on the entry fees, which was a good saving. This pass included all sorts of activities which we didn't utilise but importantly, included a free shuttle to Finn's and a day bed per adult, subject to availability. This was great because it saved us organising and paying for a transfer as well as avoiding the minimum spend per daybed at Finn's Beach Club which is steep – around AUD$300 per daybed (for up to 6 people). I'll go into more details about both below.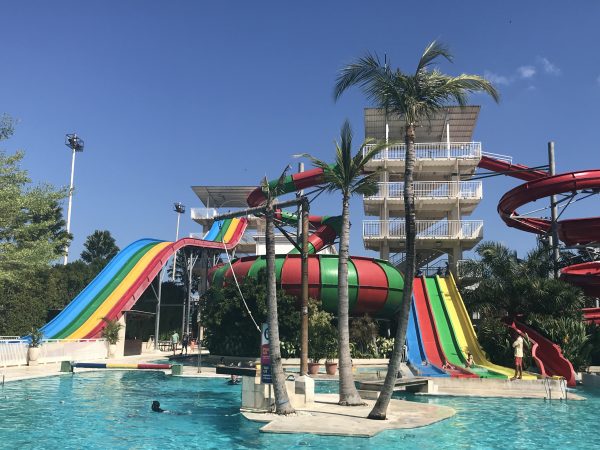 Expectation Management – Splash Park is tiny compared with Water Bom Park in Kuta, but has four main slides all next to each other, a rope swing, and an excellent water play area for younger children. There is also a proper swimming pool if you want to swim laps.
Despite its modest size, we stayed there very happily for nearly five hours, as the kids swam, went on the slides, ate lunch and then hit repeat. We lured them to Finn's with the promise of a round of ice creams!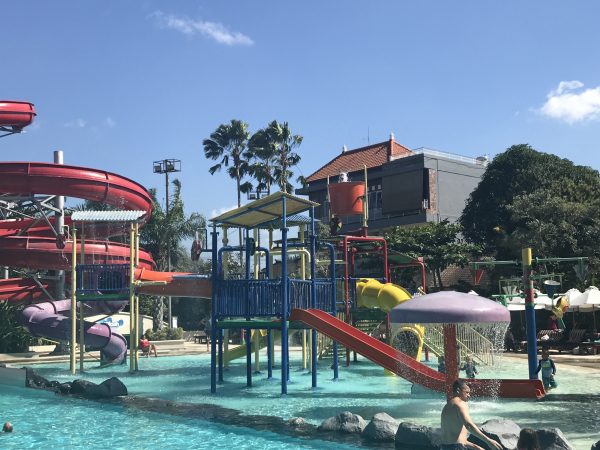 Arrive earlyish – We arrived at Splash Park at around 10.15am which was great timing as we nabbed five-day beds right in front of the main pool.
BYO towels – if you can be bothered and want to save some cash. We packed our towels from the villa.
Don't BYO food or water – it'll be confiscated when your bags are searched as you enter. There is a great menu and plenty of options as well as a full bar when you can run a tab – you'll need to hand over your credit card – or pay as you go.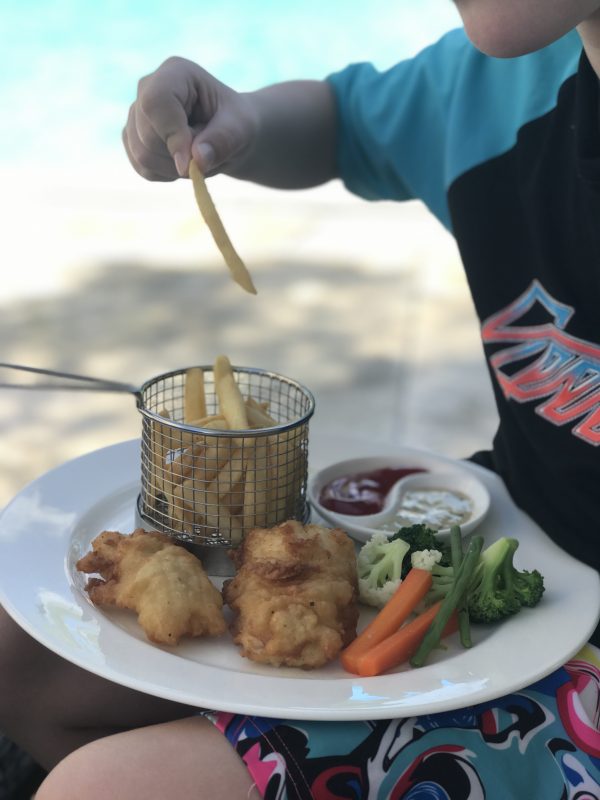 Be careful on the stairs climbing up – you wouldn't want to fall on the hard stairs.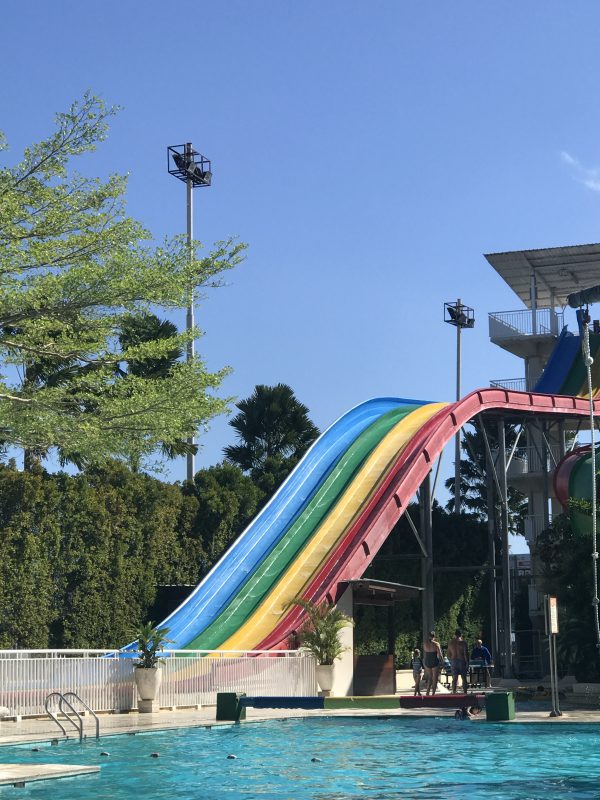 I wasn't sure whether to mention this but here goes.
I'm not a particularly anxious person when it comes to safety and water parks but it was a bit disconcerting that we were offered accident insurance as an option when we bought our tickets, which we declined. Shortly after we'd arrived though, we saw a boy around ten years of age come off one of the slides with a sizeable bloody gash to the back of his head and blood trailing everywhere. I don't know how he did it, but the kids said he'd been on the red/green slide and went down – not as he should have – head first. It was reassuring to see he received immediate medical assistance from the staff and reappeared shortly with a huge bandage around his head and that he and his family stayed and played afterward, much to our collective relief.
Tips for Finn's Beach Club
We arrived at Finn's around 3pm by shuttle from Splash and the place was absolutely buzzing and full of people.
If you're not familiar with it, Finn's Beach Club is a huge venue spread across the oceanfront with two big pools, a central pool bar as well as ice creamery, shops, and other services and touts itself as the "world's best beach club."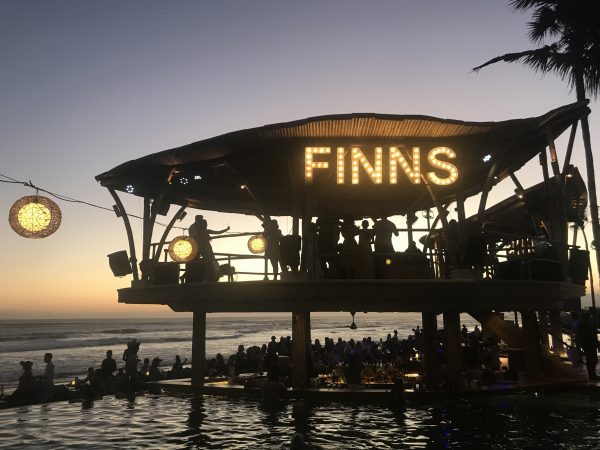 There are lots of different options when it comes to where to lounge from private VIP areas and party beds through to the restaurant and daybeds.
Our passes included a single daybed per adult, subject to availability (no entitlements for the kids), so we were very happy to arrive and be allocated two lagoon double daybeds next to each other, which comfortably catered for our group of three adults and five kids. I think this was beyond what we were entitled to, according to our passes.
As we'd planned to swim, hang and hopefully have an early dinner and sunset, we packed card games for the kids to give them something to do in between swimming and eating.
In the end, we began with ice creams for the kids and a swim, then drinks and fries/mezze platter, more hangs and downtime, before dinner at around 5.30pm. With the cool beats thanks to a great DJ and a live singer, it was a very cool place to watch the sunset and of course, watch all of the people! If you check out Finn's Insta, you'll know what I mean.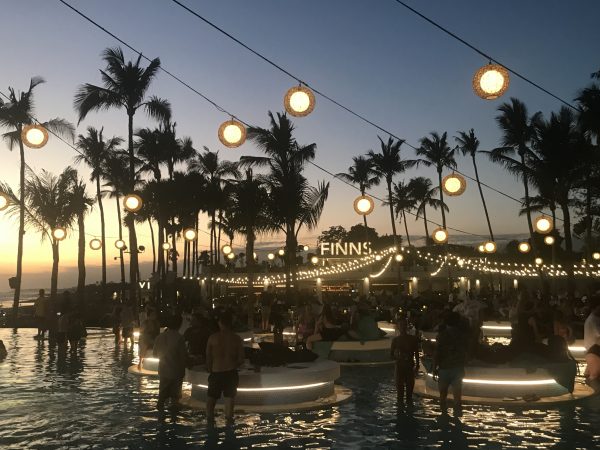 If we'd booked just daybeds, from what I can see, the entry level for a double lagoon daybed – for up to 6 people – as a walk in would have included a minimum spend that was the equivalent of AUS$300, which you could rack up over the course of a day if you were happy to have a day of serious indulgence. Across two double lagoon daybeds, which is what we needed for our two families, it would've been $600.
As it transpired, between our two families over three hours, we spent around $300, which included a round of icecreams, three serves of fries and a mezze platter, water for everyone, a few beers, cocktails and a bottle of bubbles plus dinner for everyone. My $10 Nasi Goreng was a winner too.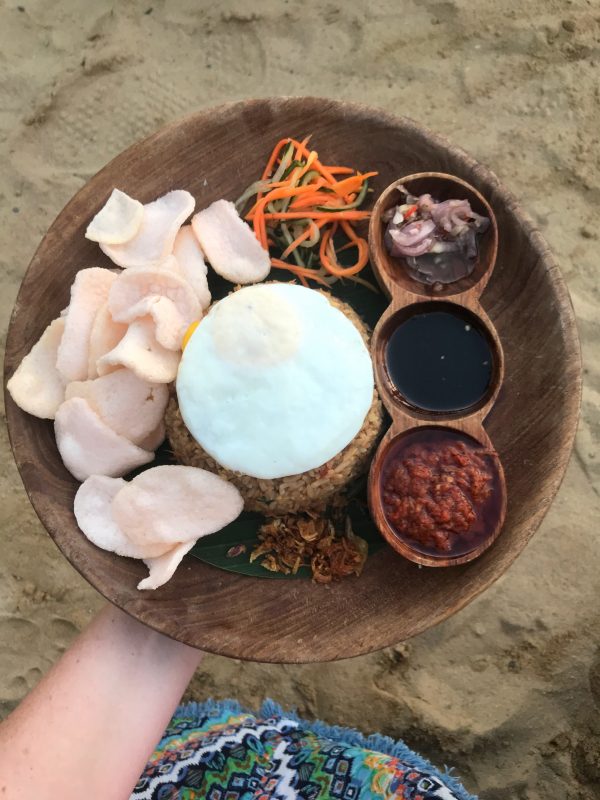 By comparison, we were able to prebook two double daybeds for our day at Mrs Sippy and the minimum spend per daybed was the equivalent of AUS$100. Between three adults and three children over a five hour period, we reached this comfortably. The food was probably a bit better at Mrs Sippy too and I'd say overall, with its kids menu and diving board, it was more pitched towards families.
Where to Eat
Generally speaking, we found better value in Canggu than Seminyak when it came to eating out. Everything from drinks through to food was less expensive, on the whole, than in Seminyak. For example, in many places we ate in Seminyak, cocktails were around the IDR 12-16K mark, as opposed to IDR 10-12K in Canggu.
Our villas was very well situated and in close proximity to a great range of cafes and restaurants.
Given Canggu is spread out, we went to places in walking distance to our villa.
We also loved Gypsy, where we found the best coffee locally and an interesting, local menu.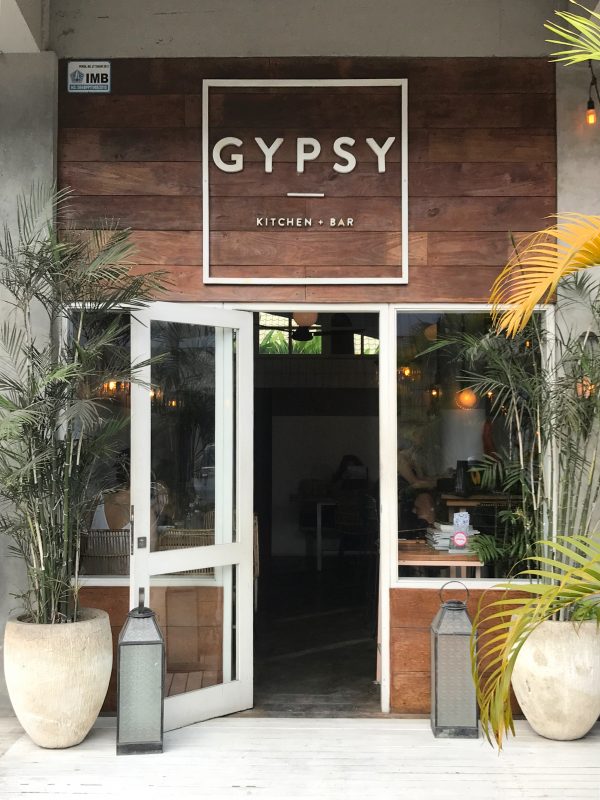 Complimentary water was also a bonus. We ate here twice, the first day for lunch, and then for breakfast a couple of days later. Both times, the food was excellent.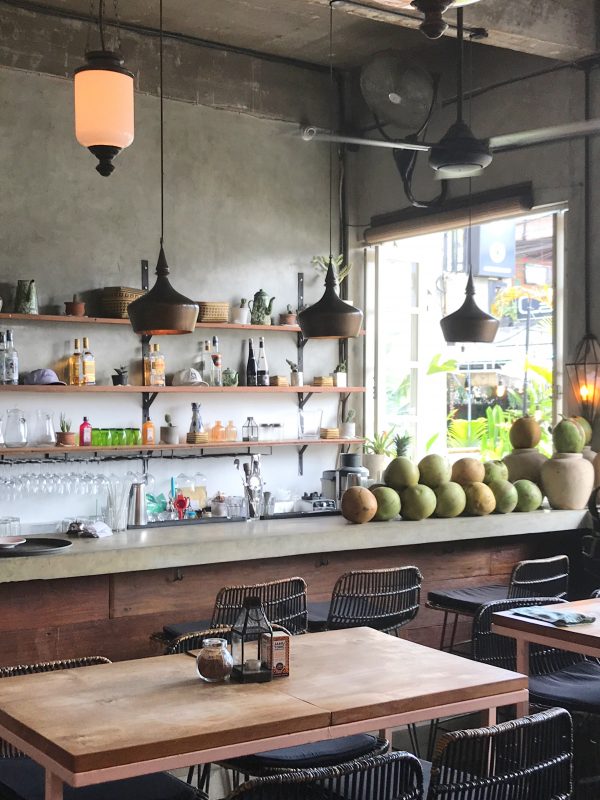 Another excellent option for breakfast or brunch is The Shady Shack, a pretty cottage set in a lush tropical garden just a short walk away, amidst the rice paddies.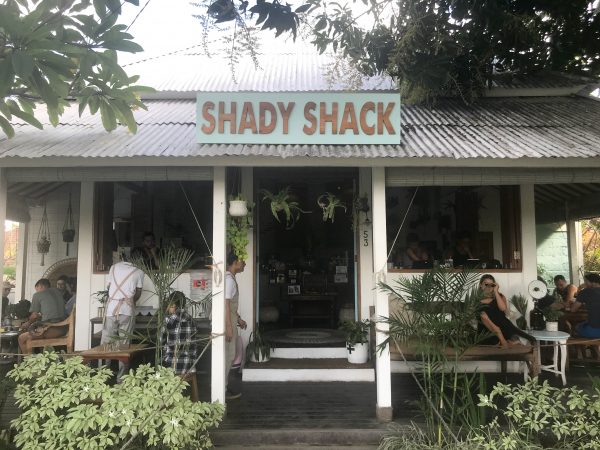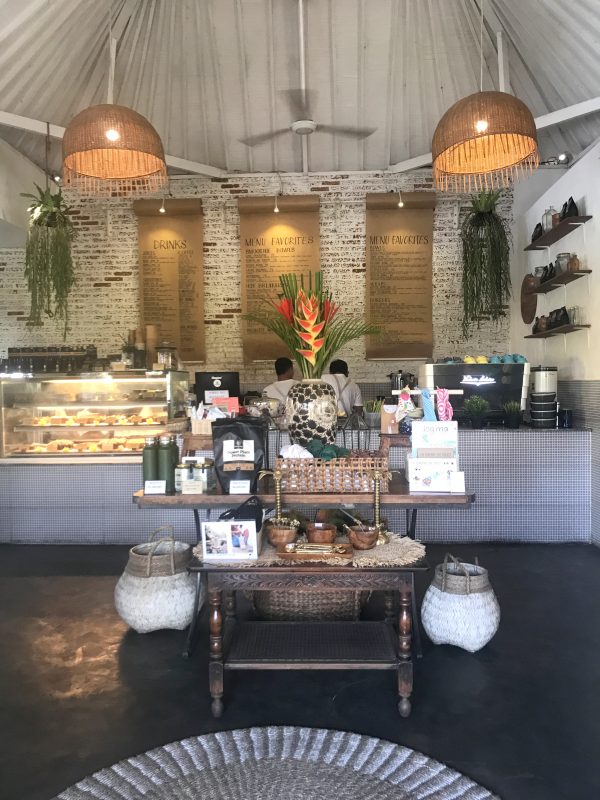 The berry bush smoothie bowl was delicious and how pretty are the coffees?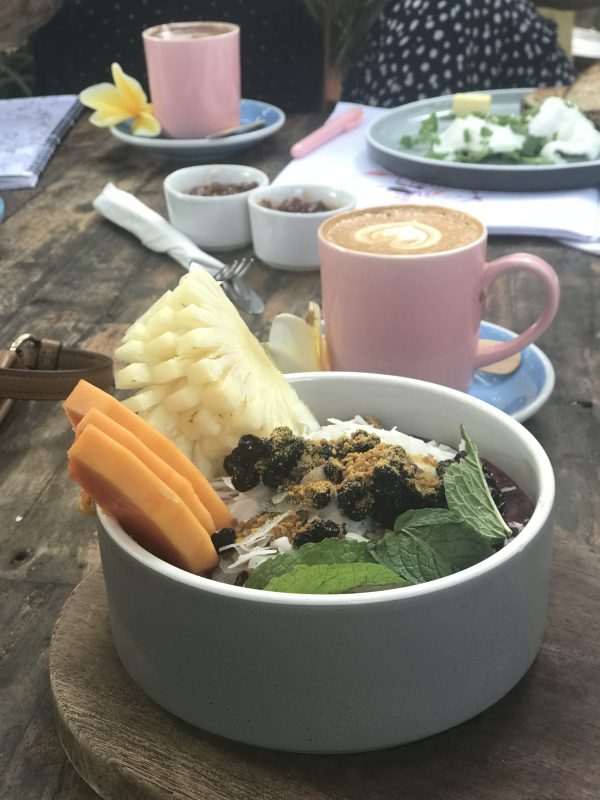 The most family friendly – and the kids' favourite – was Tropikale, a cavernous cafe with a big internal courtyard which caters well for big groups and does the basics exceptionally well. It's also good value and, offers soy milk.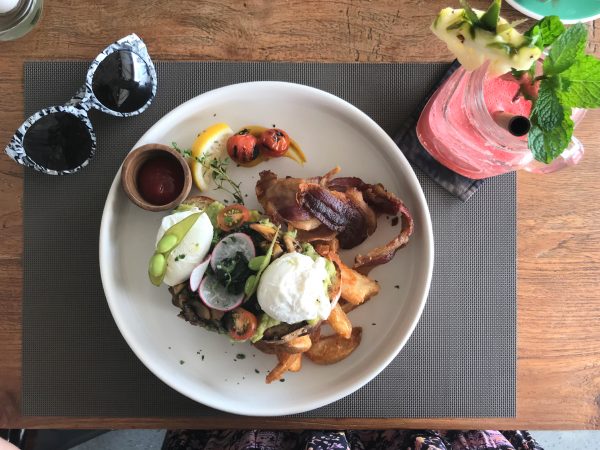 I also rated Deus Cafe, part of Deux ex Machinas, a huge cafe slash motorcycle slash surfing emporium that had plenty of places to sit undercover as well as a lovely courtyard.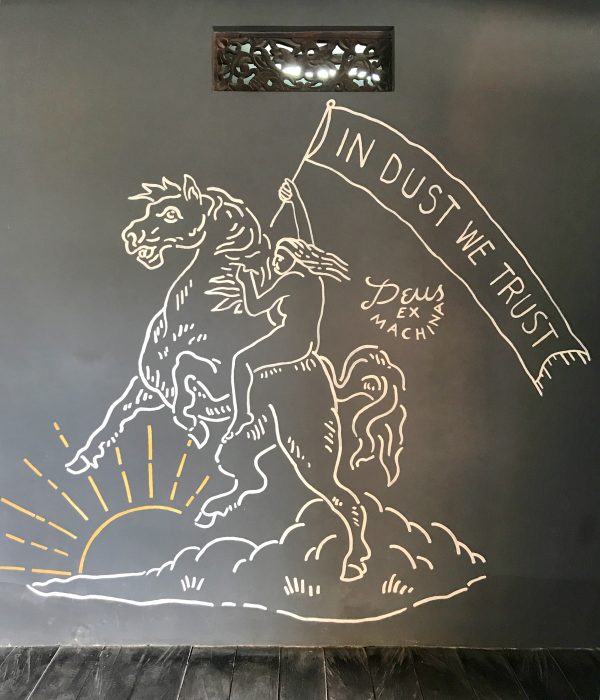 The food here was great and super reasonable, especially the kids' menu, with plenty of options between AUD$2.50 – $3.50. I rated my Buddha Bowl too.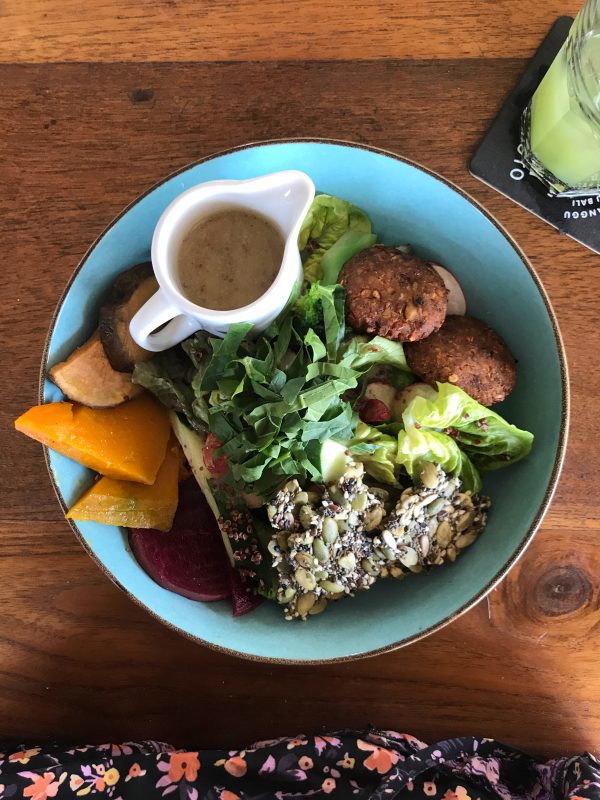 Another budget friendly winner was the French bakery cafe Monsieur Spoon, opposite Deus Cafe.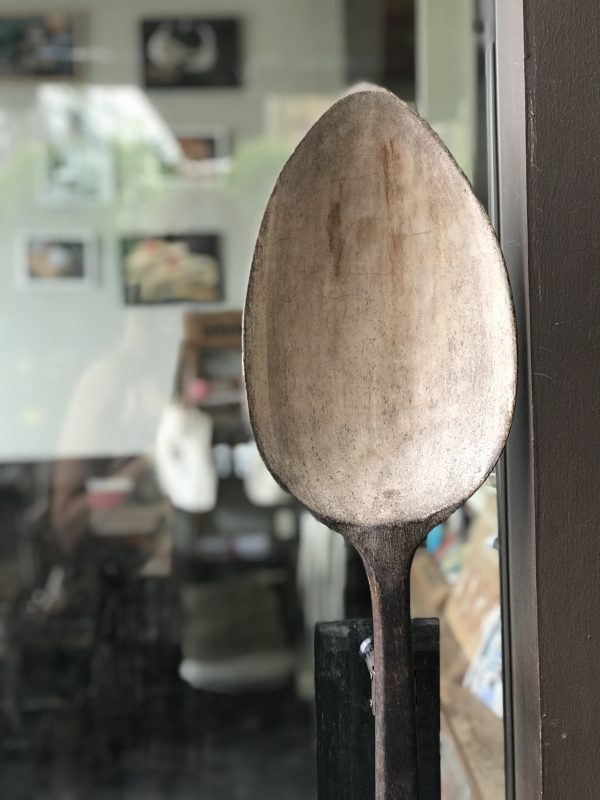 With delicious baked goods that were flying out the door and this wholesome bowl, there was something for everyone.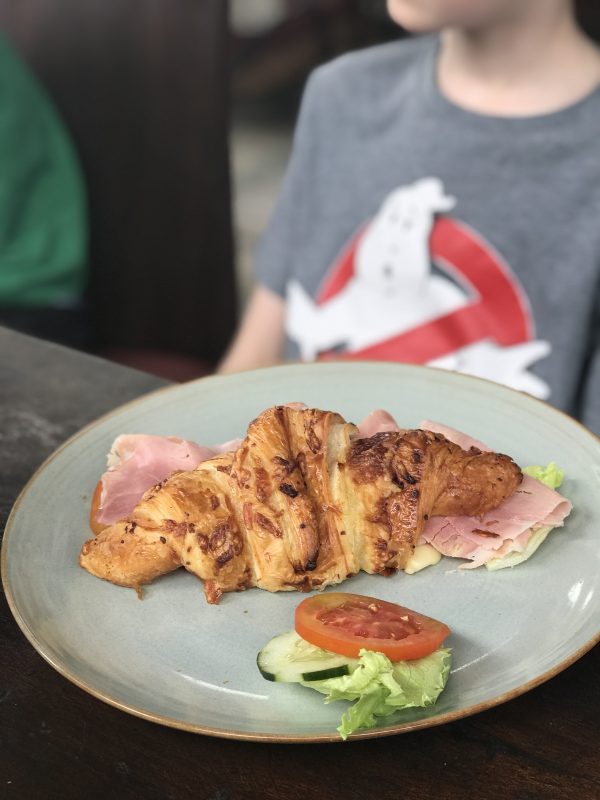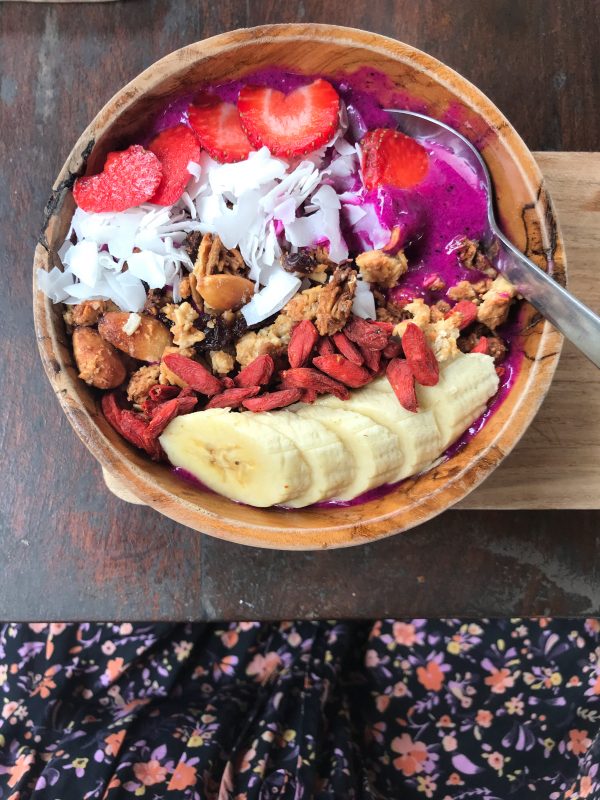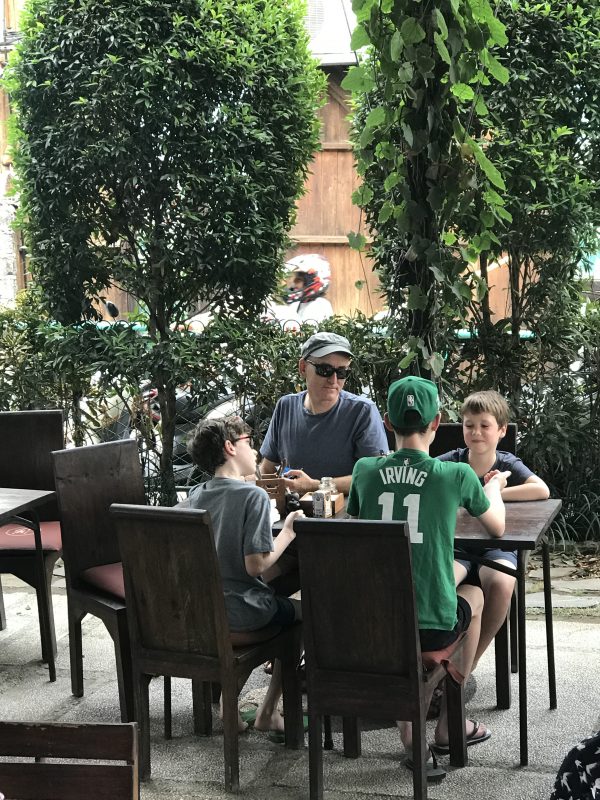 For dinner and drinks out sans the kids, we loved The Slow.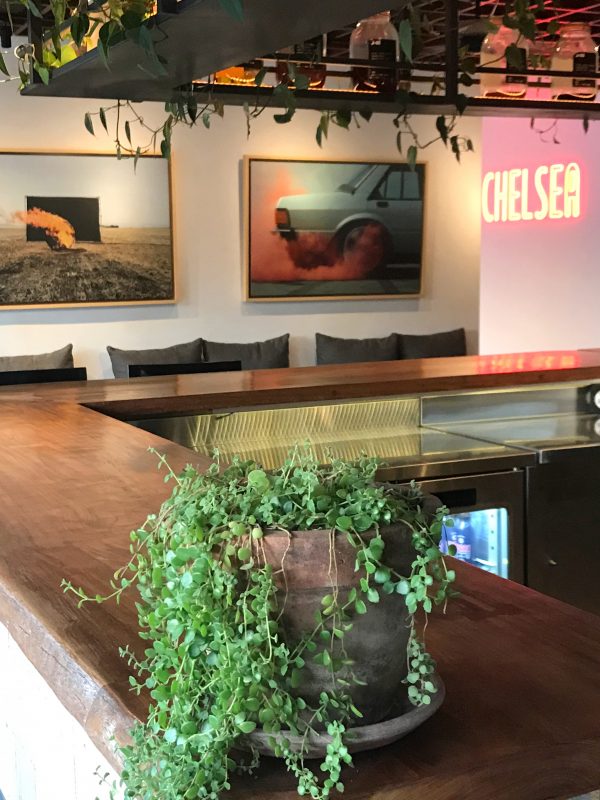 Set in a pared-back dining room with timber paneling, concrete floors and plenty of indoor greenery, I loved this modern, minimalist setting. The food – and cocktails – was great too, with plenty of interesting vegetarian dishes, including the delicious KFB (Kentucky Fried Broccoli). The usual suspects such as Pad Thai, were great value at IDR10K too.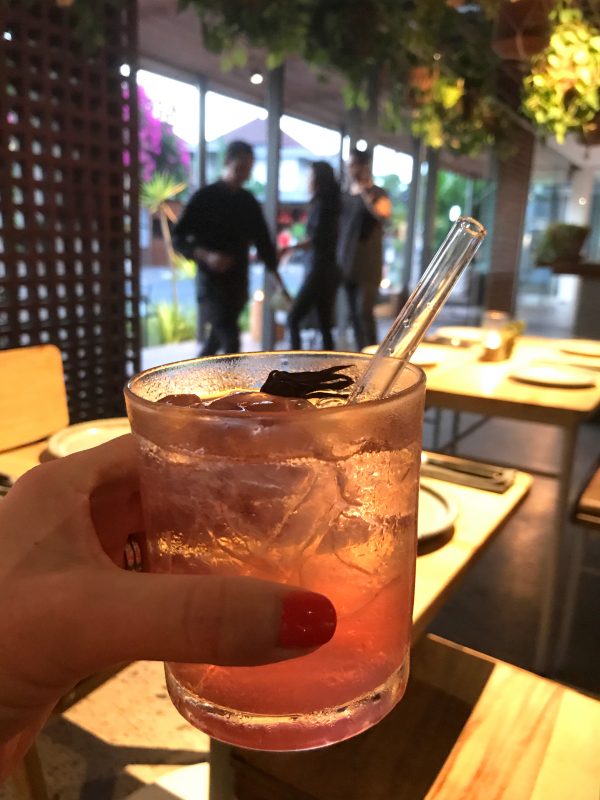 We enjoyed dinner at The Lawn for our son's 13th birthday one Saturday night too and went back a few days later for afternoon drinks/swim and an early dinner. It's a newly opened and very popular beach club slash bar/restaurant set overlooking the beach.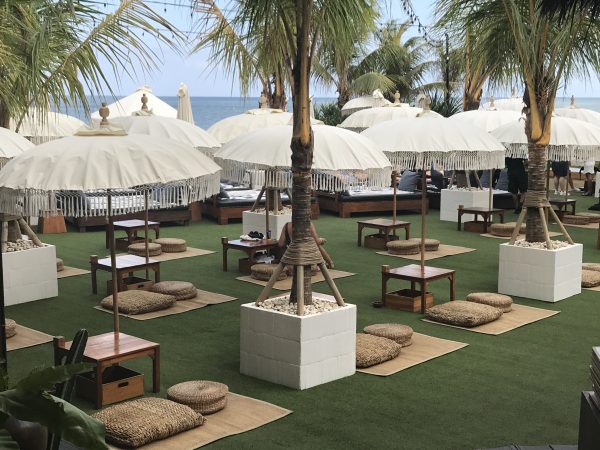 On the Saturday night, while we enjoyed our food and the two for one cocktail jugs, it was pretty loud so not conducive to conversation. It was absolutely cranking the night we visited too, so the service was a bit slow.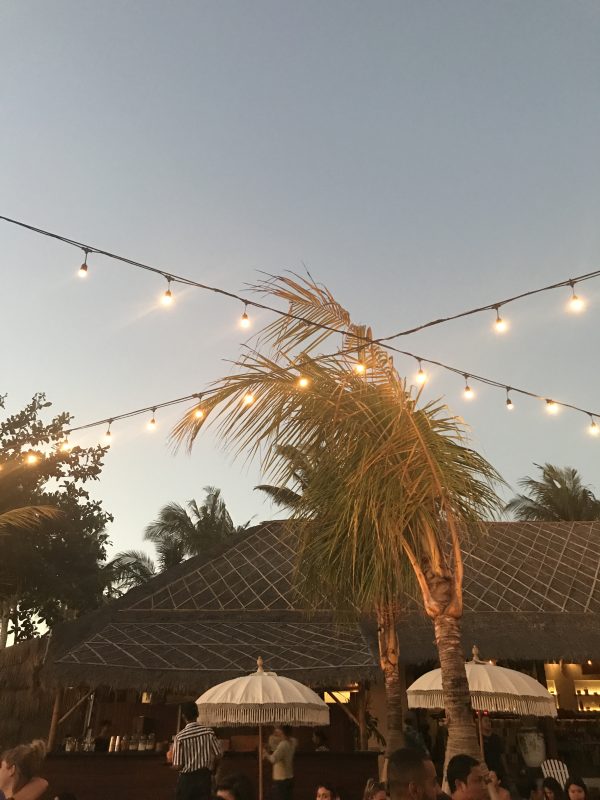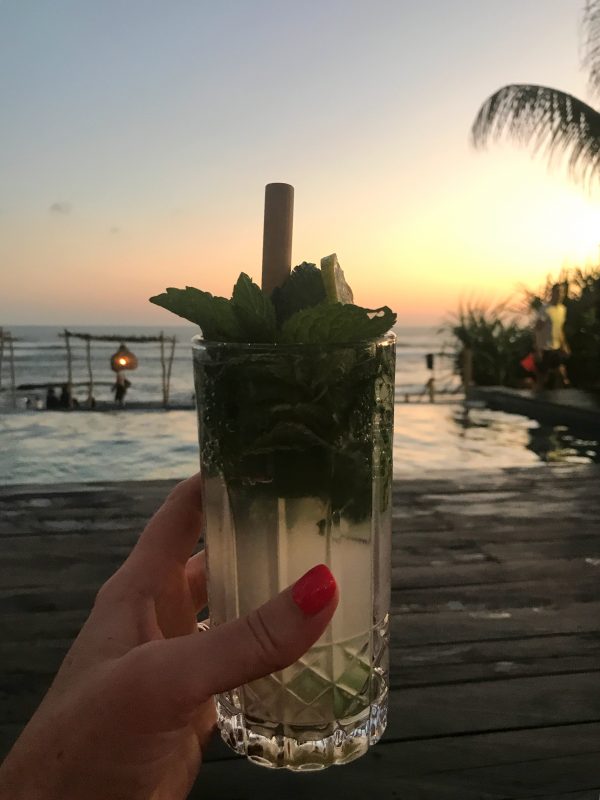 The second time we visited, we went late arvo and let the kids swim while we enjoyed some drinks and snacks and views of the pool and ocean. We had to wait about close to an hour for a daybed, but the kids could swim while we perched on one of the comfortable Adirondack chairs.
Like all the other beach clubs we visited, there's a minimum spend on the daybeds. While you can book a table at the restaurant, daybeds can't be booked and are on a walk in basis.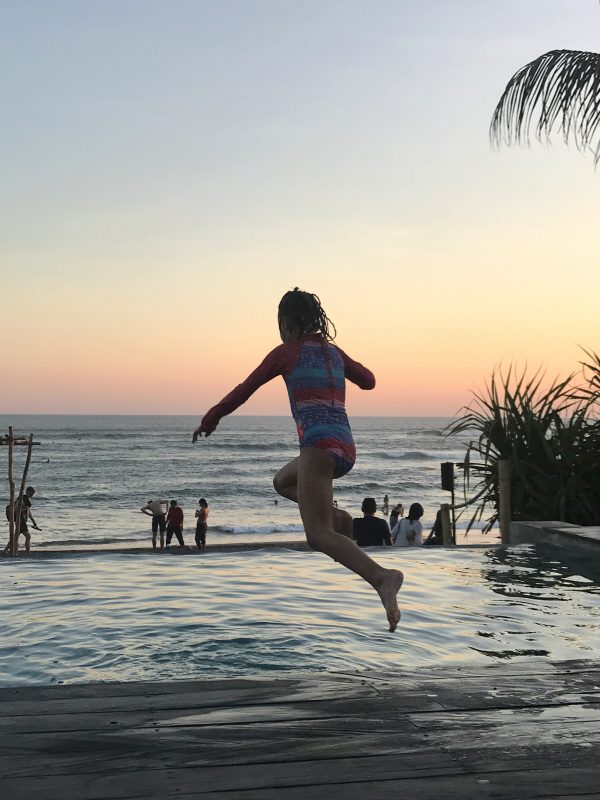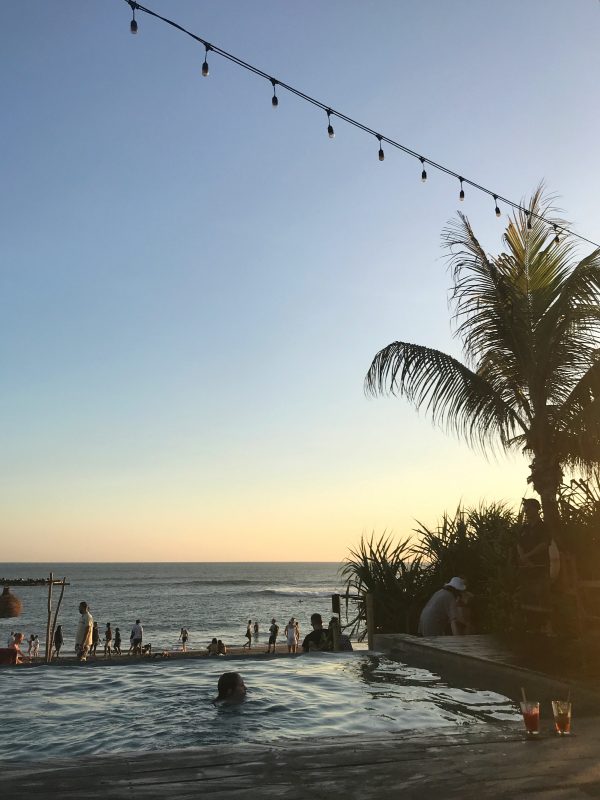 The best value dinner we had out was the budget friendly Grass Terrace Cafe, just down the road from our villa. With AUS$5 Nasi Goreng and two for one cocktails, it was a good place to go on our last night.
The best coffee we had was at Gypsy, but I also rated the cool surfer shop BSG (Surf Supply & Coffee Bar), pictured below.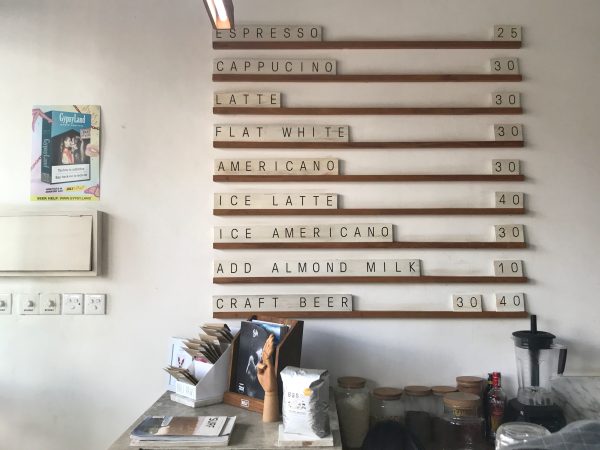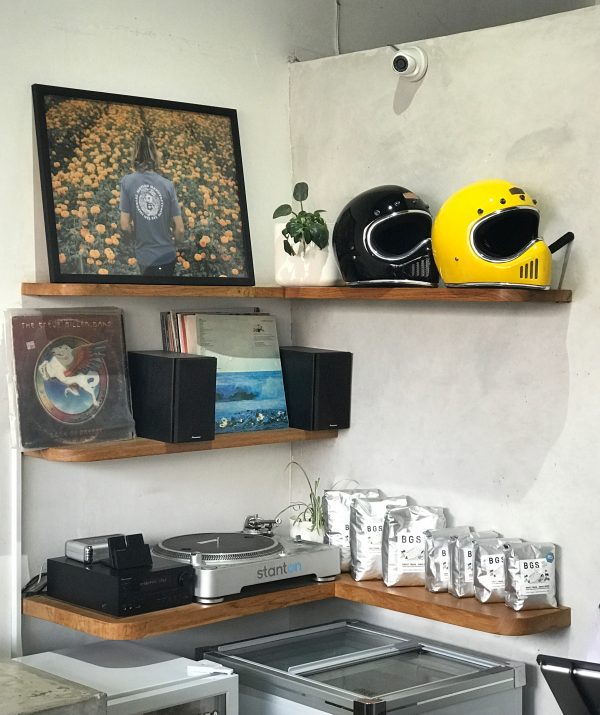 Kelly, a soy milk drinker, was impressed with the offerings at Tropikale.
Other places that were recommended to us but were a bit of a drive away in other areas of Canggu included Madu, Matcha Cafe and Milu by Nook.
Getting Around
With our villas being so well situated, we walked everywhere. The furthest point we walked to was The Lawn, which was a relaxed fifteen-minute stroll away with kids.
While I saw plenty of parts of Canggu where people were walking on the roads – motorbikes and cars seems to effortlessly weave around them – we were fortunate to be staying in an area where we mostly walked on footpaths. Where there weren't, we walked single file towards the traffic and held on to our youngest.
Most people seem to get around Canggu by motorbike, and there are truckloads of them both on and off the roads.
I also saw a few Bluebird taxis around Canggu too, which I wasn't expecting to see.
We hired a driver to take us to Splash Park and home from Finn's Beach Club. Our passes to Splash Park included a shuttle bus to Finn's Beach Club. We paid our drive IDR15 to drive us to Splash Park and IDR20 to drive us home from Finn's.
Getting around within Canggu and getting in and out of Canggu was a challenge as there was heaps of traffic and few roads in or out. I wouldn't recommend Canggu as a base to explore other parts of Bali for this reason. If you're going to Canggu, I'd recommend staying in Canggu as much as possible.
For example, it took us over an hour to get to our villa from Seminyak – the driver estimated 35 minutes but a traffic diversion lengthened the drive to over an hour. Similarly, our friends' drive from Denpasar airport took nearly 90 minutes instead of an hour. That's a long time in a taxi in heavy traffic after a day of travel and not a trip you want to make frequently.
So how does Canggu compare to other areas of Bali?
Every time I've visited Bali, I've stayed in Seminyak. I love it's bustle, the shopping and, as a major foodie, it's excellent restaurants.
Last time, we added a four-night stay in Jimbaran to mix things up, which you can read about here. Jimbaran was very quiet comparatively and where we stayed was quite remote but it was a relaxing end to that holiday.
This time we decided to mix things up by staying in Canggu, after a week in Seminyak.
Canggu has obviously changed and developed significantly in recent years.
While we certainly saw a lot of rice paddies, we found ourselves in close proximity to all we wanted, having chosen a villa that was located in an urban neighborhood with some footpaths.
I really enjoyed our stay in Canggu and would recommend Canggu as a great place to stay if you're happy to stay in Canggu for your stay. Thankfully, we were happy to stay local for the duration of our stay, venturing only as far as Finn's.
Canggu is definitely less hectic, hipper, more laid back and overall, better value than Seminyak but I'd highly recommend finding accommodation close to the action if you're keen to walk and avoid being stuck in traffic.
So over to you, thoughts on Canggu? Any recommendations?