If there is a season that celebrates frockery, then Summer takes the (Christmas) cake.
From party dresses to casual sun dresses; maxis, midis through to minis; strapless to halterneck styles, summer really covers the frockery spectrum.
In the coming weeks, I'll be sharing my edit of my favourite summer frocks, so stay tuned for some fabulous frocks. (In the meantime, if you missed it, you can catch up on my recent Friday's Frock series here too).
We're kicking this series off with one of my favourite summer styles: The Maxi.
Floaty, floor length and fabulous, the maxi is a Summer staple for me.
While looking elegant, the maxi is also a practical winner too – hiding neglected legs and working with flats for effortless Summer style. Add shoes, lipstick and a piece of jewellery and you're pretty much done.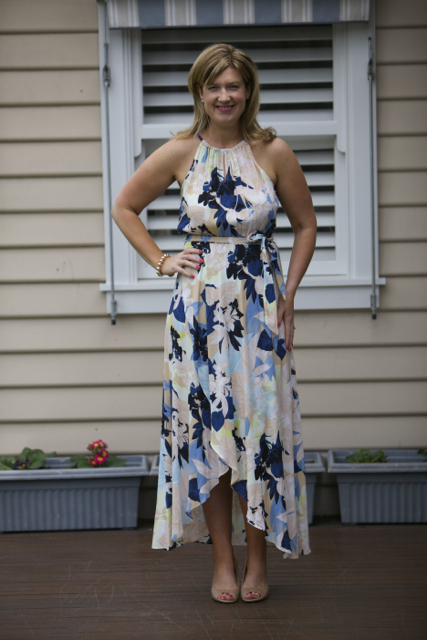 I'm wearing the Gather Crossover Maxi from Witchery in size 10 (sizing is generous, particularly around the arm holes).
To begin with, let's check out some casual new season Summer styles, beginning at $29.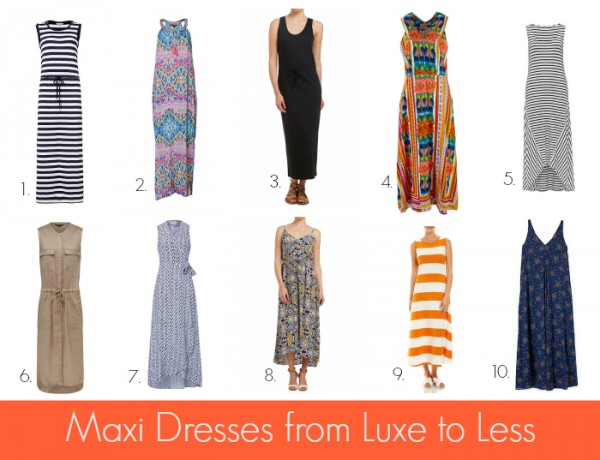 1. Tie Waist Maxi dress, $29 from Target; 2. Dannii Minogue Petites Gypsy Maxi dress, $69 from Target; 3. Black Knot Midi Dress, $99.99 from Sussan; 4. Mexican Maxi, $109.95 from Birdsnest; 5. Sondra Maxi Dress, $129.95 from Metalicus; 6. Utility Maxi, $129.99 from French Connection; 7. Printed Wrap dress, $139.95 from Seed Heritage; 8. Printed Maxi, $149 from Sussan; 9. Limited Edition Maxi, $199 from Sportscraft; 10. Printed Voile Maxi, $199 from Country Road.
Stripe maxis have been a perennial casual favourite for many Summers, with good reason. Channelling nautical style, all they need is a simple sandal or a pair of thongs.
As well as the usual black/white, navy/white combos, I'm loving this fresh orange stripe from Sportscraft (9) above. It's fresh and fun and a new take on an old fave.
There are plenty of fun prints around too, like (2), (4), (8) and (10) above which can easily be dressed up or down with some boho bling and jewelled sandals.
If you're looking for a versatile style to take you from work to play, a shirt style like (6) or a flattering wrap style (7) are great options.
A simple black drawstring style like (3) is always good to have on hand, especially for holidays and travel.
And now on to some dressier styles …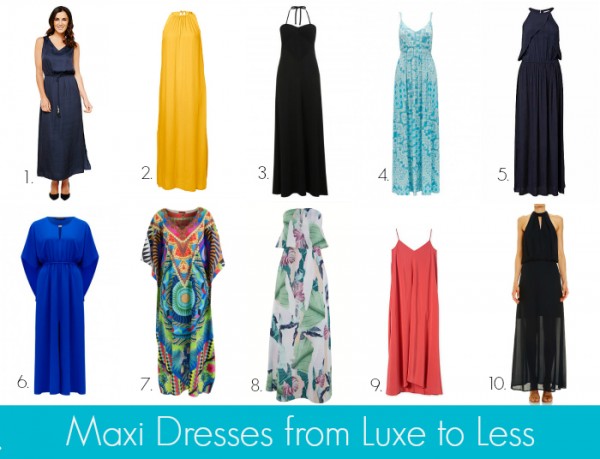 1. Tie Waist Maxi Dress in Peacoat, $49 from Target; 2. Side Split Maxi in Gold, $49 from Target; 3. Tala Panelled Maxi, $99.95 from Jeans West; 4. Tina Tie Dye Maxi, $99.95 from Forever New; 5. Petal Front Maxi, $129.95 from Witchery; 6. Mia Cape Overlay Maxi dress, $149.99 from Forever New; 7. Zambia Maxi dress by Ruby Ya Ya, $159.95 from Birsdnest; 8. In the Jungle Maxi by Cooper St, $199 from Birdsnest; 9. Silk Maxi (also available in Coral Red), $299 from Country Road; 10. Ashley Maxi dress, $299 (but 20% off at the moment) from Saba.
For dressier do's, especially on hot Summer nights, it's hard to go past a floaty maxi.
Pretty printed styles like (4), (7) and (8) can be dressed up or down, depending on the occasion. Add a pop of colour with a clutch and a bright lip.
A bold block colour like (2), (6) or (9) paired with metallic shoes and accessories will make a fab statement too.
If classic is more your style, there are plenty of black and navy options in a range of styles. I'm seriously loving (10) for a modern, sexy take on the maxi.
For more dressy maxi dresses, check out the huge range at Forever New.
This post contains affiliate links. For more info, please check out my Disclosure policy here. 
Are you a fan of the maxi? What's your favourite style/colour/print? How do you style yours?