It's no secret around these parts that I love a print or three.
Stripes, dots, florals, geometric prints, prints with shuttlecocks, tennis racquets or topiary poodles, I love them.
I love them all.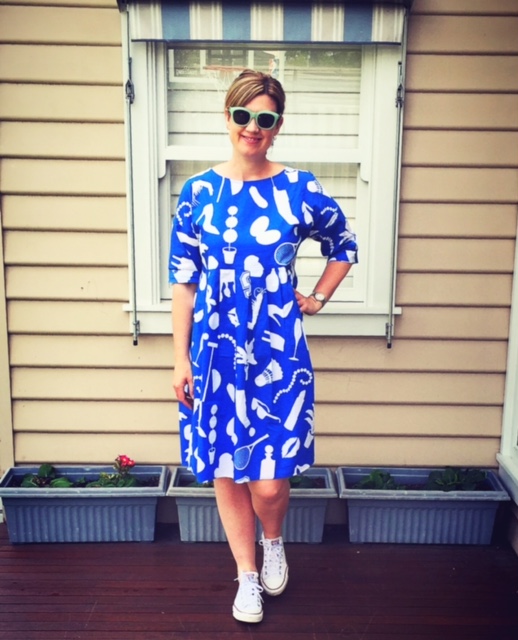 Above, I'm wearing the Lady of Leisure Cotton Dress and below, Best in Show dress, both from Gorman (current season).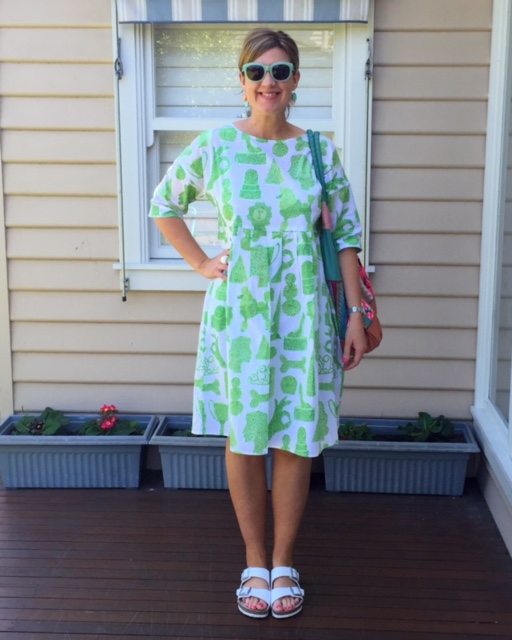 So when I survey what's on offer in stores right now, I'm totes in heaven.
All that glorious colour.
All those fabulous statement prints.
In today's post, it is with great pleasure that I bring my edit of what's new and fab in print frockery, beginning at $29 and covering a range of styles, cuts and lengths.
Let's start with the more casual styles …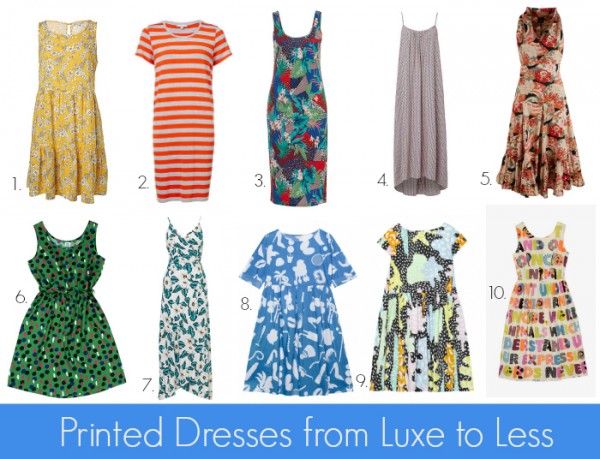 1. Sleeveless Tiered Print dress, $29 from Target; 2. Hi Low T-Shirt dress, $29 from Target; 3. Paradiso Mid Pocket Maxi, $59.95 from Sportsgirl; 4. Printed Classic Maxi, $99.95 from Seed Heritage; 5. Polly Tiered Dress by Rasaleela, $99.95 from Birdsnest; 6. Singlet Dress – Animal Spots, $109 from Miranda Murphy; 7. Tropical Cross Over Maxi, $129.95 from Sportsgirl; 8. Lady of Leisure Cotton Dress, $169 from Gorman; 9. Zissou Beach Dress, $169 from Gorman; 10. Chazal dress, $259 from Obus.
An easy every day style has to be the striped t-shirt dress (2) but I also like to have some floaty oversized styles for when I'm feeling blah. Frocks (1), (4), (8) and (9) fit that bill.
For effortless day to night glam, a printed maxi, like (5) and (7), with an espadrille wedge or jewelled flat is a versatile and stylish option.
If you like a more fitted style, frocks (3), (6) and (10) are flattering options.
There's even more variety in dressier styles, as you can see from the selection below.
From swing styles (1), shifts (2 and 3) through to midi styles (4) and a-line shapes (5, 6, 9 and 10) there's something for everyone.
I'm also loving elasticised waist styles (7 and 8) for something different.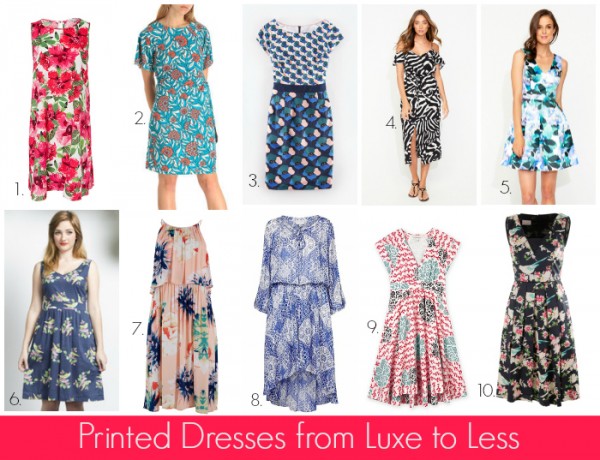 1. Hibiscus Swing Print dress, $29 from Target; 2. Marigold Medallion Raglan Waterfall dress by Leona Edmiston, $90.30 (on sale) from Myer; 3. Kensington dress, $94.80 from Boden; 4. Cold Shoulder Midi dress, $99.95 from Portmans; 5. Palermo Floral dress, $129.95 from Portmans; 6. Parrot on my Shoulder Dress, $145 from Kindling; 7. Makenna dress by Wish, $159.95 from Birdsnest; 8. Lace Up Print dress, $159.95 from Witchery; 9. Printed V Neck dress, $199 from Country Road; 10. Colour by Numbers dress by Maiocchi, $275 from Birdsnest.
When it comes to styling a print dress, I keep things pretty simple and let the print do the talking.
For casual styles, I just add a neutral shoe and a nude lip.
Or, if I'm feeling bolder, I like to pick up one of the colours in the print with my footwear or with an accessory – such as earrings, a bag, statement ring or wrist wear.
For dressier styles of printed dress, all it takes is a bright lip, great hair and a pair of heels and I'm good to go.
If you love a maxi dress, check out my luxe to less edit here.
This post contains affiliate links. You don't pay any extra and I earn a small commission. Read more in my Disclosure Policy here. 
Are you as excited about this season print dresses as I am? What's your pick of the above?