In breaking news, apparently it's almost the middle of January.
And I've been wondering. Where has 2015 gone already?
Just quietly, I'm still getting over the end of year/Christmas/New Year's Eve blur. I've also just realised that for us Mexicans south of the border, there's only two and a bit weeks left of the school holidays. I'm not sure I'm ready to kiss my darlings goodbye and resume lunchbox/paperwork/extra curricular central but I may well be in another week.
In fact, I feel like I am only just getting the hang of this whole spontaneous and relatively cruisy time of year. It's taken a while to find my holiday groove as it were.
My wardrobe has been reflecting my chillaxed attitood too.
This past weekend was a case in point. On Saturday, it was a cool morning on the coast (we are spending the week on Victoria's Mornington Peninsula) and I went to put on a pair of jeans and a knit. But I couldn't do it. I felt too restricted and well, all tight. As you can see below, I popped a loose Metalicus frock on instead with a fine knit cardy from Country Road and was good to go. I felt comfortable and relaxed.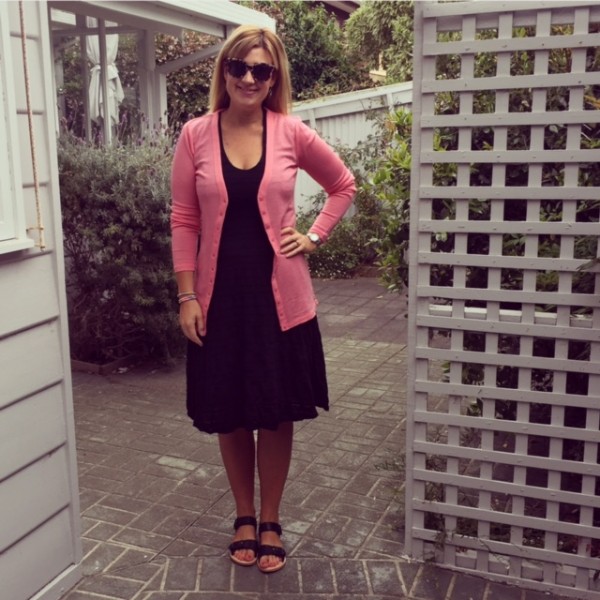 And I'm rather inclined to keep mooching around in easy, floaty frocks which are easy to wear and are giving my post Christmas baby (no need to panic, it's not an actual baby, just the unfortunate consequences of too much champagne and cheese) a little bit of room before the new year's resolutions kick in.
With the Autumn/Winter 2015 ranges hitting stores by the end of January, well ahead of the weather of course, in terms of the fashion seasons, summer is on the way out. So even though it's getting warmer and there's plenty of summer left to run, they're won't be loads of new summer frocks coming through. Despite this, I'm still on the look out for fab frocks that are easy wearing and will work next summer and easily transition to cooler weather with a cardy, scarf or a kimono.
So I decided to find eight frocks under $100 that fit my easy frock criteria. Some are new stock, all are available in a great range of sizes and most come in several colours.
My easy frock criteria is as follows:
1. The frock is wearable with a normal, every day bra;
2. The frock is loose and floaty but still flattering;
3. The frock is in a gorgeous block colour which is not necessarily "on trend", but a colour you love and wear well;
4. The frock can be dressed up or down, depending on your mood and what you have planned for the day.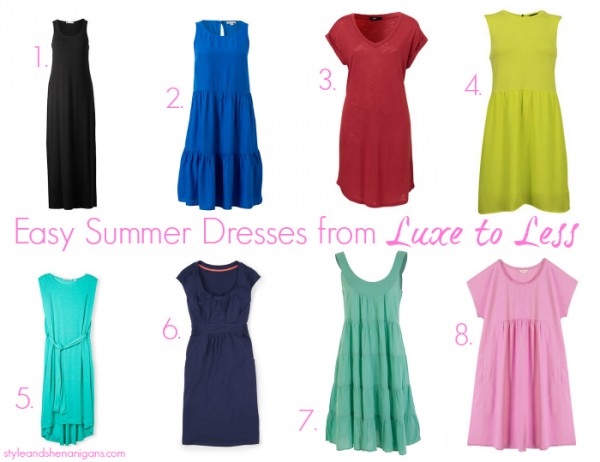 1. Column black maxi dress, $25 from Target; 2. Tiered dress $30 from Target; 3. V Neck Tee Dress, $39.95 from Sportsgirl; 4. Luella Spliced Dress in Lime, $65 from De Cjuba; 5. Tie Front dress, $59.96 (on sale) from Country Road; 6. Casual Weekend dress, $78 from Boden; 7. Jackie dress by Firefly from Birdsnest, $89; 8. Bungalow dress, $99 from Gorman.
So how to style your easy summer dress?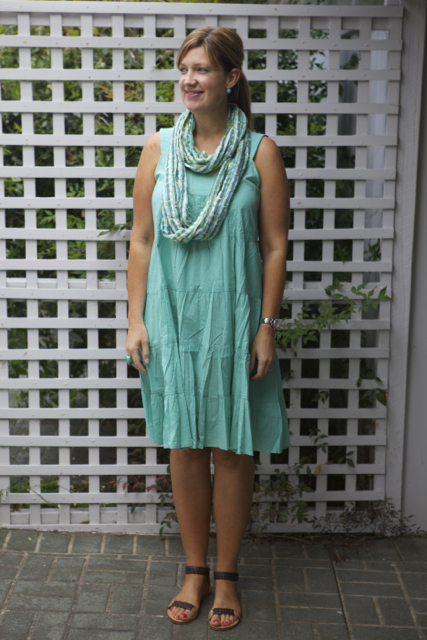 I'm wearing #7 in the collage above, a scarf from Anthropologie and sandals from Papillion in Bali
1. Add shoes and accessories in tan, black or this summer's hottest trend, metallic;
2. Throw on a hat to be sun smart whether it be a wide brimmed hat, trilby or cap;
3. For an easy pop of colour to add interest to your outfit if you can be bothered, throw on a patterned scarf, a colourful printed bag or a bright lip.
For more fab easy dresses, check out the The Tank Dress, $69.95 from Sussan and this T-Shirt dress from Country Road, $99.
Is summer dressing all about easy for you too? What's been your "uniform" this January?