One of the best things about summer is the opportunity to wear dresses. For me, in the hierarchy of frockery, maxi dresses are right up there.  With a maxi, your outfit is pretty much sorted. Simply add a piece of jewellery and a great pair of thongs, sandals or wedges and you are on your way.
Even better, maxis are forgiving as they hide legs that are approaching their next date with their hairdresser.
Being tallish, I also find that maxis create an elongated, slimming silhouette, particularly with a belt or an elasticised waist.
Below are 8 gorgeous maxi dresses ranging in price from $19 through to $429. Five of them come in under $100. I love that you can find great maxi dresses at any price point and in styles ranging from casual (1) and (4) through to smart casual (2, 3 & 7).
I always like to have a couple of dressy maxi dresses (5, 6 and 8) in my summer wardrobe too. They can be worn with wedges or a dressy pair of sandals for comfortable elegance.
In the collection below, there are a variety of different necklines from strappy and halterneck through to strapless and broader coverage. Different necklines will suit different people. When choosing your maxi dress, try a few on to get a sense of what suits you. Look for a style that flatters your shape, your decolletage, works with whatever bra support you need and is the right length for you (factoring in whether you plan to wear it with wedges or flats).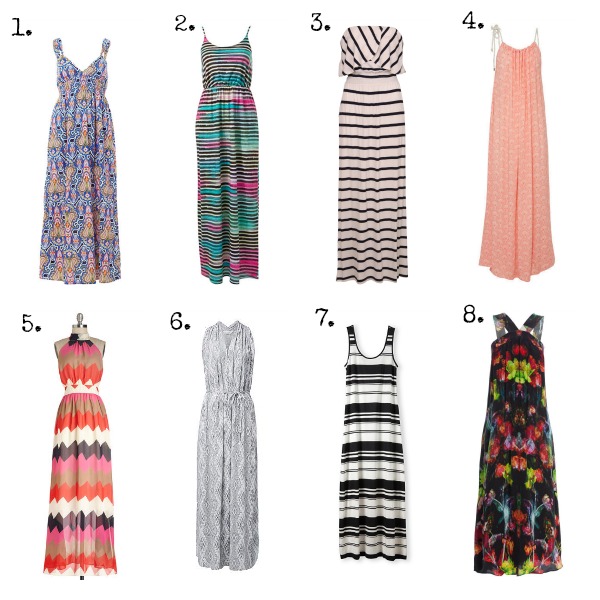 1. Hot Options Bright Paisley Maxi Dress, $19 from Target; 2. Hot Options Multi Stripe Maxi Dress, $30 from Target; 3. Just Add Sugar Bayside Maxi Dress, $59.95 from Birdsnest; 4. Papaya Maxi Dress by Eb &Ive, $89.95 from Down That Little Lane; 5. Colour of Fun Dress, $92.99 from Modcloth; 6. Ikat Maxi Dress, $119.95 from Seed Heritage; 7. Stripe Maxi Dress, $129.00 from Country Road; 8. Summer Fling Dress, $429 from Alannah Hill.
Are you a Maxi fan? Where have you found or seen great Maxis lately? What is your pick of the selection above?
Thank you for your comments. I love hearing from you!