Last week I was in my local Witchery store. It had just re-opened after a refurb, so it had been a while since I had been in store. I spent a while trying a few things on (while Mr 3 kept opening the change room door of course!) and looking through racks of seriously fabulous summer frocks.
As I was flicking through the racks, I noticed two things.
Firstly, that Maxis are big this summer which is good news in my book. You can't go past a Maxi dress for lazy but statement summer dressing.  They are tried and tested summer staples for me and each year I invest in more. They are the easiest of outfits to style, but better still, they are one of the only styles of dress that look as good with flats as they do with heels.
Secondly, as much as I love Maxis, most people need to wear bras. Three babies and earthbound 12 DDs later, I need to wear a bra. You too? Then why do so many of the fabulous frocks I found have cut away, T bar, very low or backless backs in floaty, drapey fabrics, making it tricky if not impossible to find a bra that would work?
Has anyone else noticed this?
I'm certainly all for a strapless Maxi – they look gorgeous, flattering and are a cool option on a hot day or balmy evening. Ditto for cut away and halter neck styles – and a good strapless bra can sort that out too. But there were loads of styles I could just not nut out a way to wear. Over bathers perhaps? That would work in some instances but not so much for the dressy styles.
As I put together this post, I tried to include a variety of styles (and as always, price points) as well as a variety of necklines and strap widths/styles. T'shirt styles are the easiest to wear – a normal bra works fine here. I've got a couple of quality strapless bras (in nude and black) to cover off different necklines and spagetti straps. I had mine both professionally fitted at David Jones and found Simone Perele was the best fit for me.
For those lucky enough to go be able to "commando" up top or who have a very clever bra, I've included a few styles with more interesting but bra unfriendly back detailing. I'd recommend you look closely at the back view of any dresses you buy online to prevent a future bra crisis.
So, let's begin with some casual Maxi dresses – dresses that really only require a pair of thongs or sandals, a pair of earrings, a wide brimmed hat, or an up do for easy summer style. If you want to have a broader choice of styles to wear, it's worth investing in a decent strapless bra to maximise your options.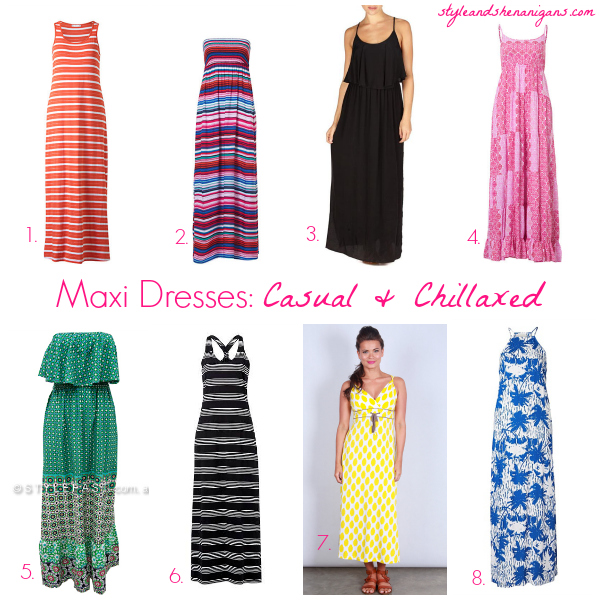 1. Column Maxi, $25 from Target; 2. Shirred Maxi, $40 from Target; 3. Marla Tiered Front Woven Maxi, $39.95 from Cotton On; 4. Tiered Front Maxi Dress in Pink Tile, $49 from Target; 5. Frill Florence Tube Maxi by Sunny Girl, $65 from Style Fast; 6. Printed Cross Back Maxi, $79.95 from Seed Heritage; 7. Yuki Dress, $89 by Boom Shankar; 8. High Neck Cutaway Maxi, $129.95 from Witchery.
And of course, a dressy Maxi is a great wardrobe weapon over summer. Paired with jewelled flats, a block heel, mule or wedge; a bright lip; a statement piece of jewellery (earrings, necklace, cuff or ring), you've got lazy glam covered very nicely indeed. The options below cover the dressy to the formal and should cover off most end of year, Christmas and New Year's Eve parties.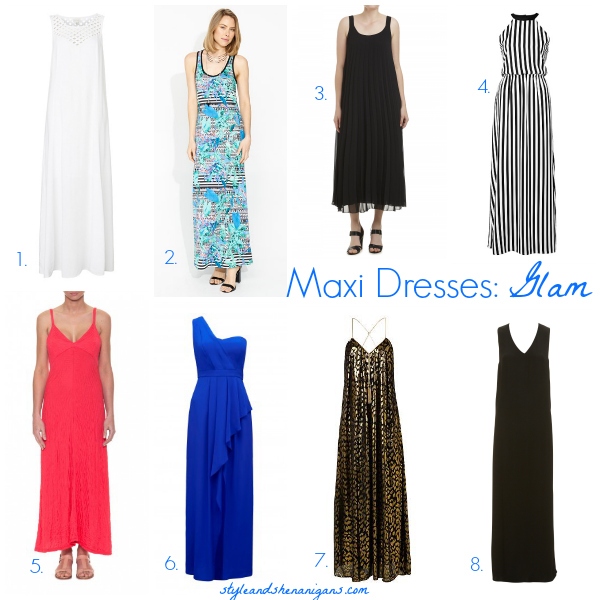 1. Lattice Maxi dress, $89.95 from Witchery; 2. Arianna Jersey Dress, $99.95 from Portmans; 3. Pleated Maxi Dress, $149.95 from Sussan; 4. High Neck Maxi, $149.95 from Witchery; 5. The Boulevard Maxi Dress, $159.95 from Metalicus; 6. Isla One Shouldered Maxi, $179.99 from Forever New; 7. Floaty Chain Maxi, $249.95 from Seed Heritage; 8. Zoe V Neck Maxi, $270 from Saba.
Are you a paid up member of Club Maxi Dress? Are you confounded and perplexed by backless dresses? What's your take on Bra – Gate?