The longer Summer goes on, the lazier I'm getting in the Getting Dressed Department.
With all the pre and new term shenanigans – along with single handedly supporting the dry shampoo industry – I've been finding the temptation is either to wear the same things on high rotation – and there's nothing wrong with that of course – or, reach for a Maxi dress.
Why?
Because the Maxi really does come in to it's own in the warmer months.
In fact, I reckon the recipe for a fabulous summer outfit is pretty simple:
A Maxi Dress + A Pair of Great Shoes + One piece of jewellery = One Fab Outfit.
As an example, here's an outfit I wore a recently for lunch at our friends' house. (You'll find more recent examples of my summer Maxi love affair on Instagram here, here and here.).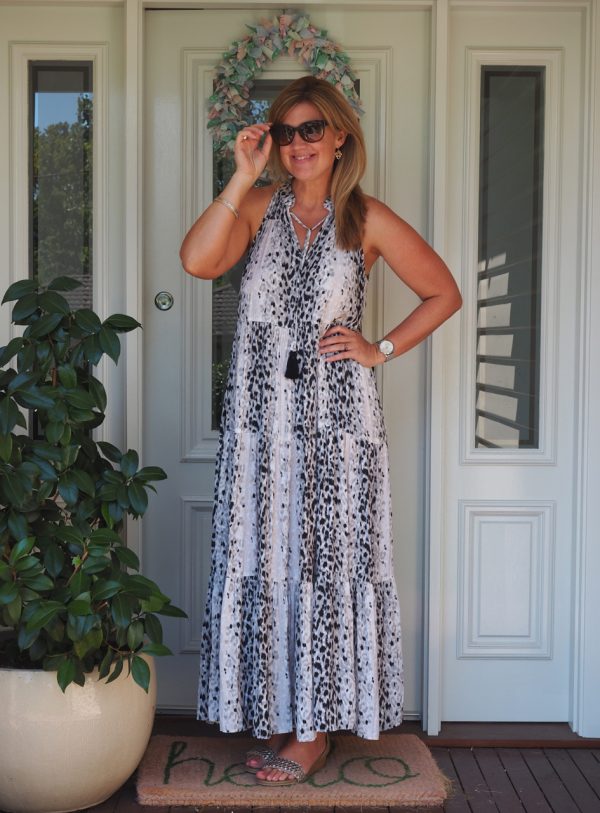 Above, I'm wearing a Decjuba maxi dress in size 12, Nicole Fendel earrings and CHLOE wedges in latte/champagne by Frankie 4 Footwear (gifted).
I picked up this fab maxi frock, above, from Decjuba over January in the sales (and it was half price – winning!) and sadly it's no longer available online but you might be lucky enough to find it on the sale rack in store. I love the lighter animal print, tiered skirt, tassel and tie neck detail and the cut away neckline. It looks dressy but is uber comfortable to wear. Especially for a big lunch!
If you haven't pulled out your maxis this summer, I encourage you to do so stat – now is the perfect time and, as it cools down, many styles will transition seamlessly into autumn wear with the simple addition of a denim jacket and boots/trainers.
If you're looking for an update though, I've tracked down a whole bunch of fab maxi dresses in store (and online) right now, across a range of price points and both casual and dressier styles.
Firstly, here are the more casual styles, beginning at $20.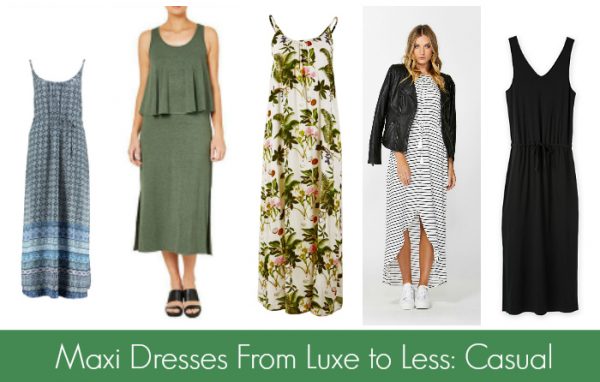 ABOVE, L-R: Strappy A-line Maxi, $20 from Kmart; Overlay Jersey Dress, $25 from Target; Cooper Island Maxi, $89.95 from Birdsnest; Fine Stripe Tie Waist Maxi, $99.95 from Decjuba; V Neck Sweat Dress, $119 from Country Road.
If you're looking for a casual maxi, your options will probably fall into the following categories: the boho, beachy, flowy variety – such as options 1 & 3 above – or the sports luxe versions which often feature tie waists, stripes and a stretch or jersey fabrication, as per options 4 & 5 above.
Both are great casual every day options and look great as well as being cool, comfortable all day options.
The tiered version by Target (option 2) also comes in 3 other colour ways/prints and is a modern take on the Maxi. It can be dressed up with wedges/heels but also worn more casually with sandals. I particularly like this style in the khaki – just add a denim jacket and trainers as it cools down.
If you're dressing up and want to reduce the potential beauty administration involved – hello hairy legs – it's hard to go past a Maxi dress. As l've done above, it's simply a matter of adding a great pair of shoes – metallic accents work particularly well here – and a great accessory or two and you're ready to party.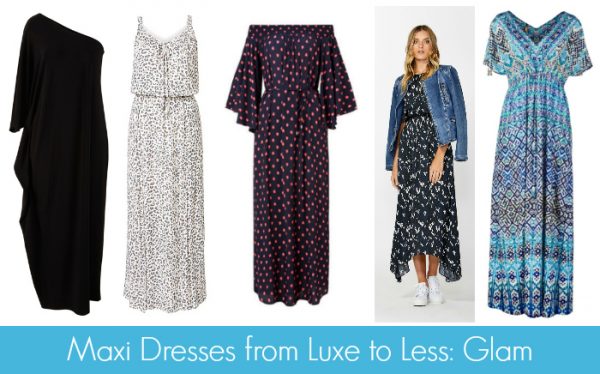 ABOVE, L-R: One Shouldered Goddess Maxi, $99.95 from Birdsnest; St Tropez Maxi Dress, $129.95 from Witchery; Off the Shoulder Maxi, $129.95 from Seed Heritage; Amalfi Maxi, $169.95 from Birdsnest; Shirred Waist Maxi, $159.95 from Decjuba.
As you can see above, there are loads of dressy options around presently and I love that there's not only a variety or colours and prints available, but different necklines as well, from the on trend Off The Shoulder through to the flattering one shoulder.
If you can't get your head – or the girls – around strapless bra shenanigans, there are plenty of other bra friendly options going on here from the Witchery animal print version through to the tie waist Decjuba dress.
If you love navy as much as I do, you might also like this Navy Wrap Maxi Dress, $139 (on sale) from Bohemian Traders.
If you want to reduce the effort involved in dressing up even further, aim to add some blinged up Maxi dresses to your wardrobe. Camilla is famous for her bedazzled kaftans but for much more affordable versions, I love the range at Globetrotter by Ruby Ya Ya. Option 5, the Amalfi Maxi above, is one of many examples of their gorgeous frockery. Simply add a bangle or stud earrings and the dress does the rest.
Finally, if you're looking ahead for some autumn/winter version Maxi styles, check out the just launched Basics range at Bohemian Traders here and this fab new midi dress style from Birdsnest here.
This post contains some affiliate links. You don't pay any extra and I earn a small commission. Read more in my Disclosure Policy here.
Have you been wearing maxi dresses lately? What's your pick of those above?