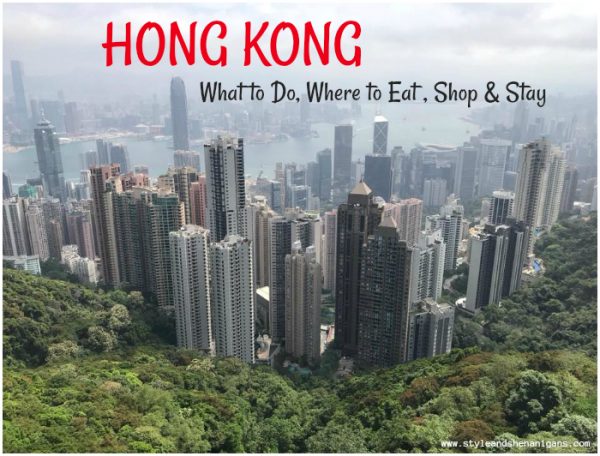 I was lucky enough to spend 6 nights in Hong Kong, or, as I like to call it, Honkers, last week. As someone who LOVES a big city and can spend weeks exploring them – NYC and London among my faves – I found plenty that was fabulous about it.
It's unlike any city I've visited and when I've pondered why, I keep coming back to Hong Kong being a city of contrasts.
There's the English influence and it's colonial history, which is reflected not only in the dual Chinese/English signage but also in the names of it's streets and train stations – Clapham South Road, Prince Edward station for example.
It's very much a product of it's Eastern location, with a mix of Asian ethnicities and cultures, reflected in it's distinctive neighbourhoods, and diversity of food and people.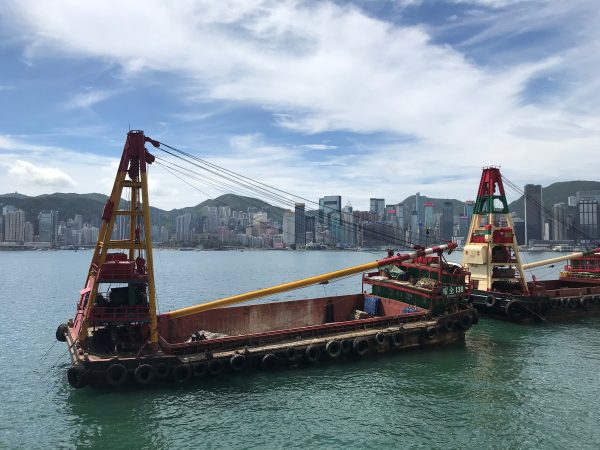 It's also a city where the ancient sits comfortably next to the modern – traditional cuisine served in modern, high end hotels or heritage trams rattling past luxurious European fashion and design houses.
I was struck by the public transport system which was super easy to navigate, very reasonably priced, impeccably clean, punctual and efficient. Even the taxis are colour coded according to neighbourhoods. Yet the sheer number of people and 24 hour energy of Honkers suggests chaos, energy and excitement.
In this post, you'll find an overview of what we did – I was travelling with my 71 year old Mum – and tips to help you plan YOUR trip.
High up on Hong Kong Island and accessible via a heritage tram, is the famous Victoria Peak. The photo below was taken from the viewing deck and looks over Hong Kong Island and, across Victoria Harbour, into Kowloon.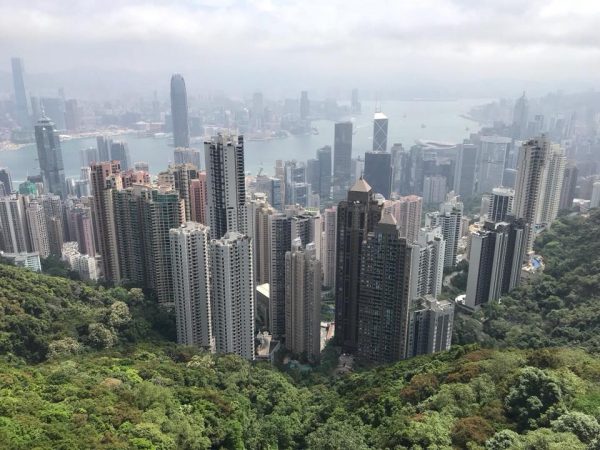 To get there, we caught the train to Central and walked up the hill to the Peak Tram terminus. From there, we had some serious luck.
Firstly, we were directed to swipe our Octopus cards (the travel card you need to use to catch public transport) to get on the tram. We thought we'd need to pay a separate entry fee but that was not the case. It also meant we skipped the not inconsiderable queue for the tram. Entry to the Peak itself is free but they'll take a photo of you and try to sell it to you instead.
We also arrived at the Peak Tram terminus around 10am on a Saturday morning and while there were a few people milling, it was not busy at all. When we returned to the terminus a couple of hours later, it was absolutely heaving and the queues were very long. My advice would be to go early to avoid the crowds. Alternatively, you could go later in the day and watch the (free) nightly light show from this vantage point.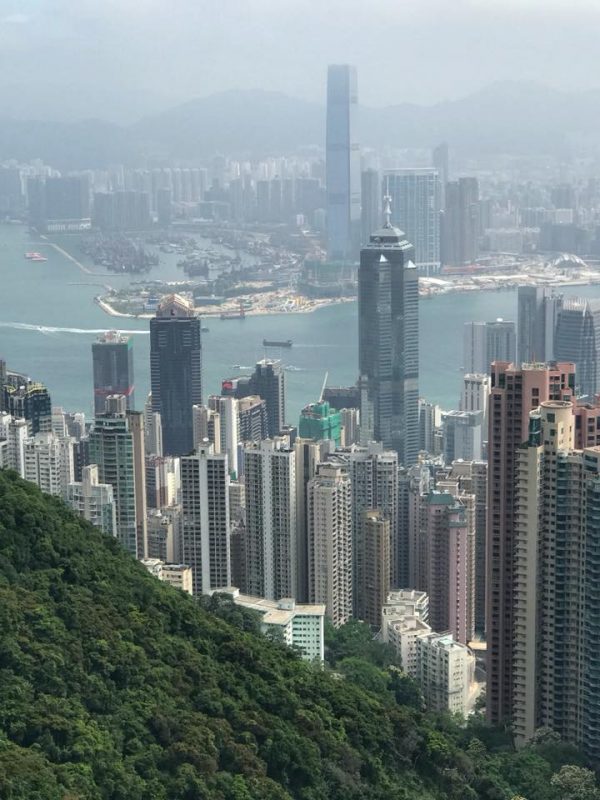 Once up at the Peak, there is plenty to see and do in the six or so storey building at the top. We had a coffee and shopped in the gift shop but there were also restaurants, shops, Madame Tussauds and more. There is also a mall under construction. Mum wasn't keen on walking uphill, but there are some walks you can do from the Peak as well as the Victoria Peak Garden.
For more info, head here.
2. Afternoon Tea at The Peninsula
Afternoon tea at The Peninsula, one of Hong Kong's most exclusive and beautiful hotels, was a highlight of our trip.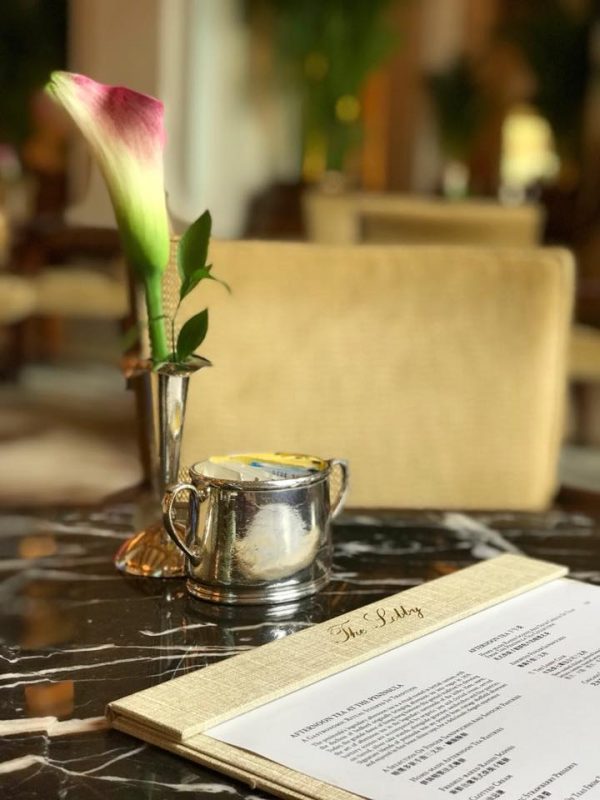 Afternoon tea is served between 2pm and 6pm daily in the lobby, with live chamber music played on the nearby balcony.
If you're not a guest of the hotel, you can't book, so it's a turn up and wait your turn situation. We arrived at 1.40pm – there were about ten people in the line ahead of us – and were ushered through five or ten minutes later but it does vary greatly from day to say, according to staff we spoke with.
At approximately $65 Australian dollars per person (for a party of two), it's comparable in price to high teas in Australian hotels and it was certainly more than enough food for us. The quality, as you'd expect, was very high too.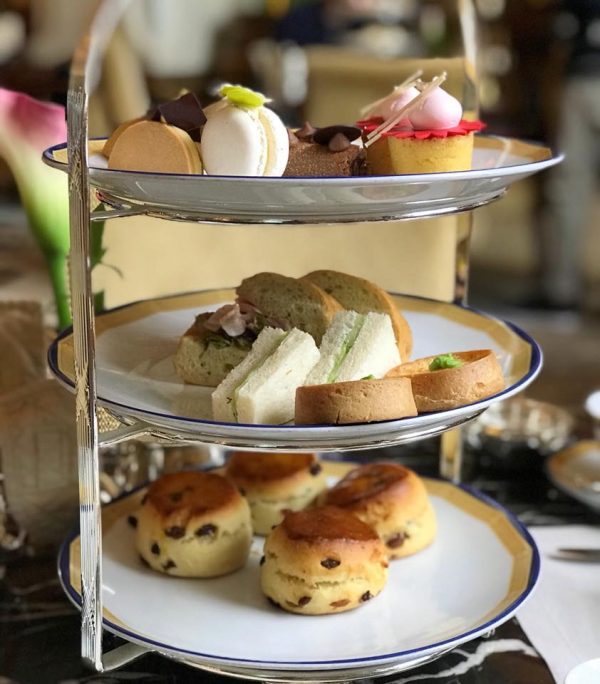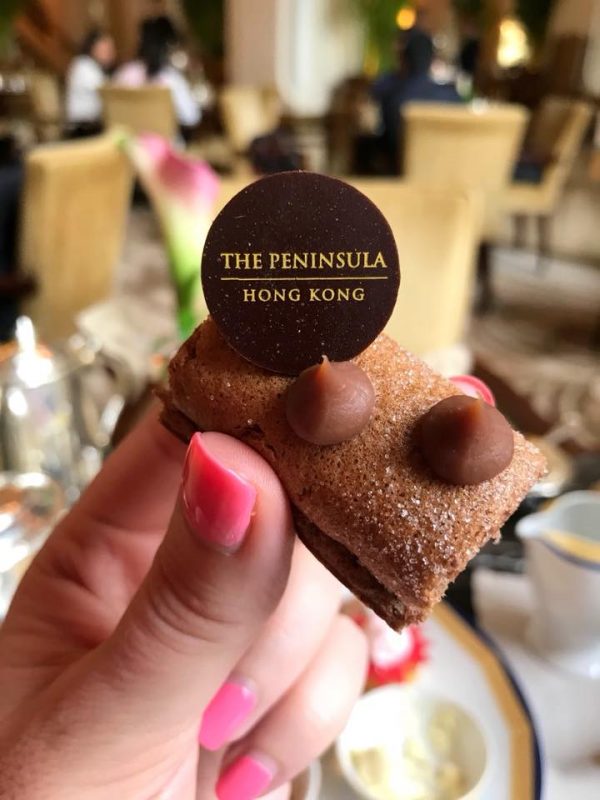 If you do wish to have a glass of bubbles though, you'll be paying through the nose for it. I chose a glass of the least expensive French champagne and it set me back an eye watering $35. Ouch.
For more information, head here.
3. Ride the Star Ferry & Double Trams
No trip to Honkers is complete without a trip on the Star Ferry.  Running every 6- 12 minutes between Hong Kong Island and Kowloon it's not only a great way to see both islands from the water, it only takes ten minutes and costs a couple of bucks. This would be a great activity for kids.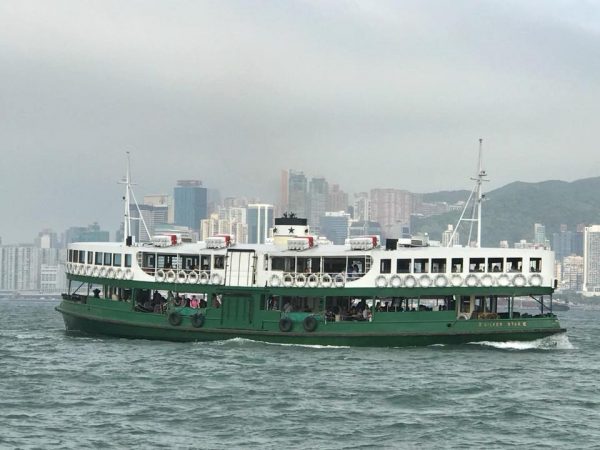 Likewise, we couldn't resist a ride on the double tram through Central. We used our Octopus cards and rode for a couple of stops.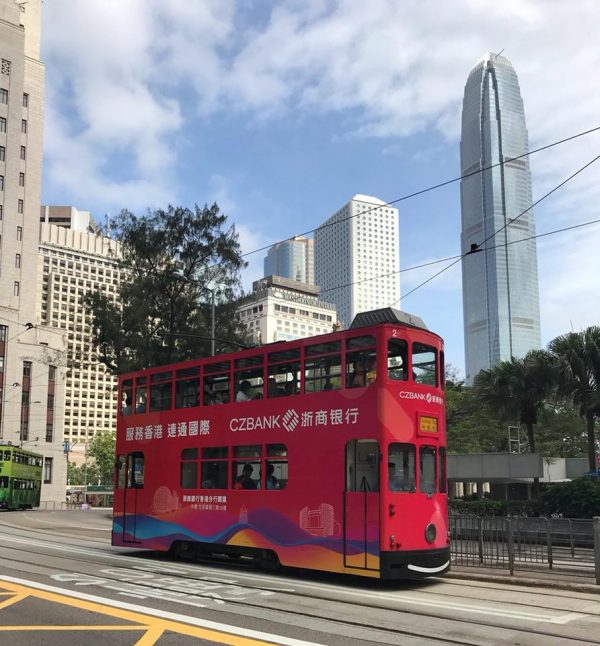 4. Yum Cha
There's plenty of great Yum Cha to be had in Hong Kong but my great mate Sarah – who lived in Honkers at one stage – recommended Maxim's Palace at City Hall, which is a short walk from Hong Kong Station.
It was FABULOUS.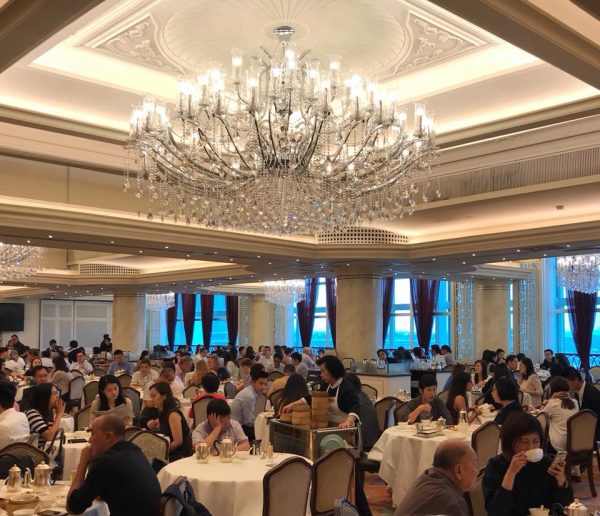 It's an incredibly popular and busy place so we arrived just after midday on a Wednesday and walked straight in. I've subsequently been told by friends that they've waited for up to two hours on the weekend, so if you do have a choice, weekdays may be a safer – and faster – bet.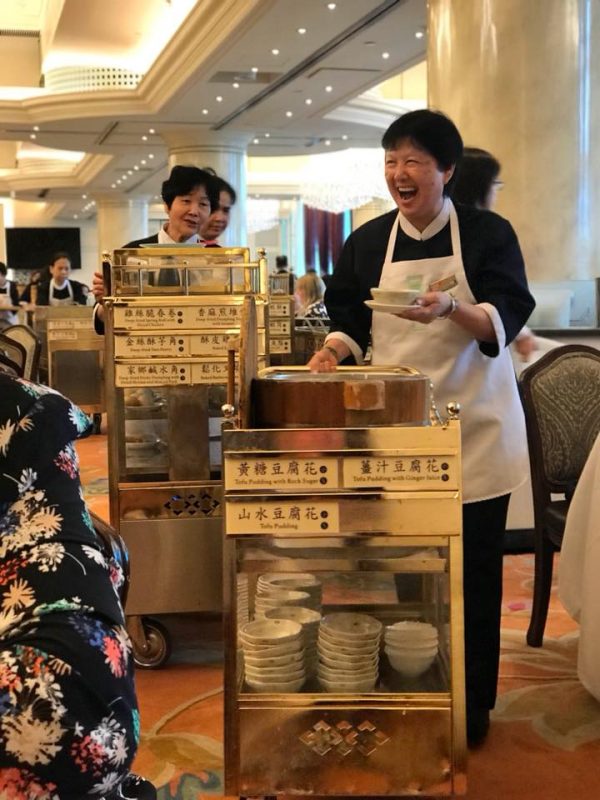 We ate so much here as we wanted to try everything! My highlights were the spring rolls and BBQ pork parcels – pictured below – and the surprising desserts – sesame dumplings and fried milk becoming instant favourites!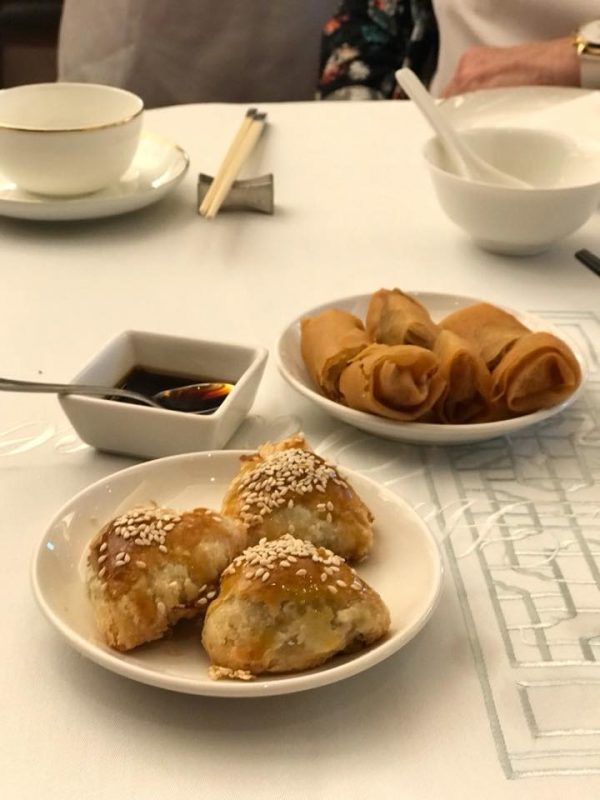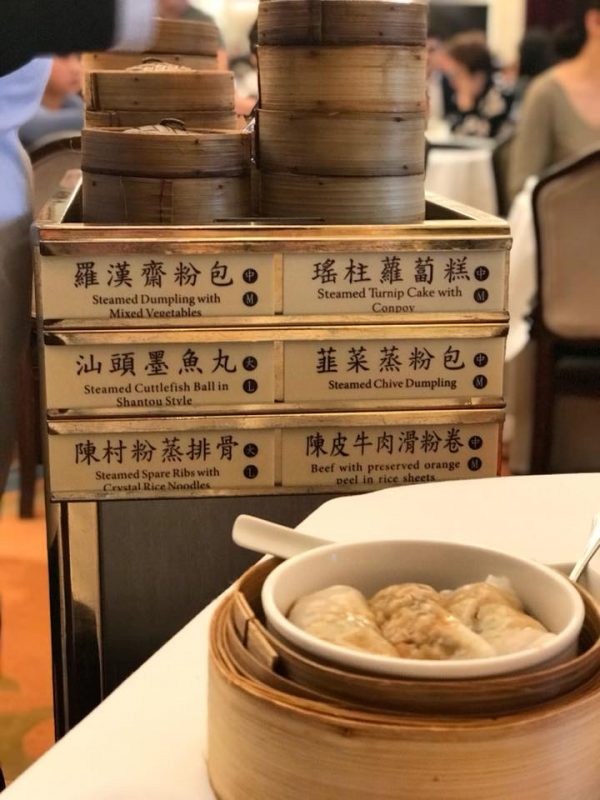 All up, lunch cost around $80 for the two of us and we could have eaten far less.
5. Catch the (free) nightly light show
The Symphony of Lights night show takes place every night between 8 and 8.20pm. You can take in this stunning sight from anywhere on Victoria Harbour and surrounds. We saw it during our dinner at Aqua, which I've detailed below.
Other good – and either free or low cost – vantage spots are from the Star Ferry or Tsim Sha Tsui Promenade. The lobby bar at The Intercontinental is another great – but expensive – spot.
For more info, head here.
6. Ride the Mid Level Escalators
Who would have thought Hong Kong would be home to the longest covered, outdoor escalators transporting locals from offices in Central through to the residential areas further out? So random, so Honkers!
It's free to ride and such a funny but fabulous idea. I think kids would appreciate not only riding the escalators but also the fact it's elevated and you can look over the side to see the people below.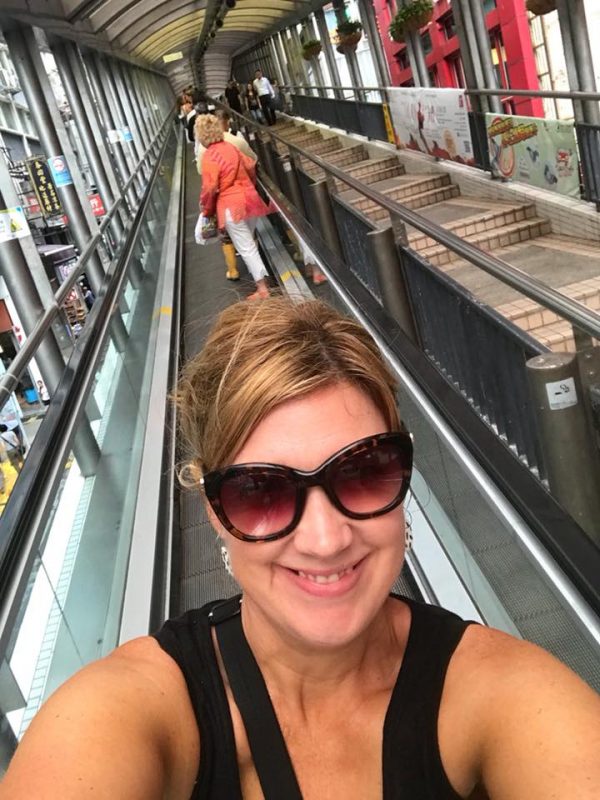 7. Wander the markets
If markets are your thing, you are spoiled for choice in Hong Kong. We visited several, all of which were quite distinctive.
The first market we stumbled across – en route to the Jade Market – was the Yau Ma Tei market. A daytime market with vendors selling mostly fruit, meat, vegetables and flowers, it's clearly pitched towards the locals. I loved walking through it though, seeing the brilliant colours, fresh produce and all the people, going about their business.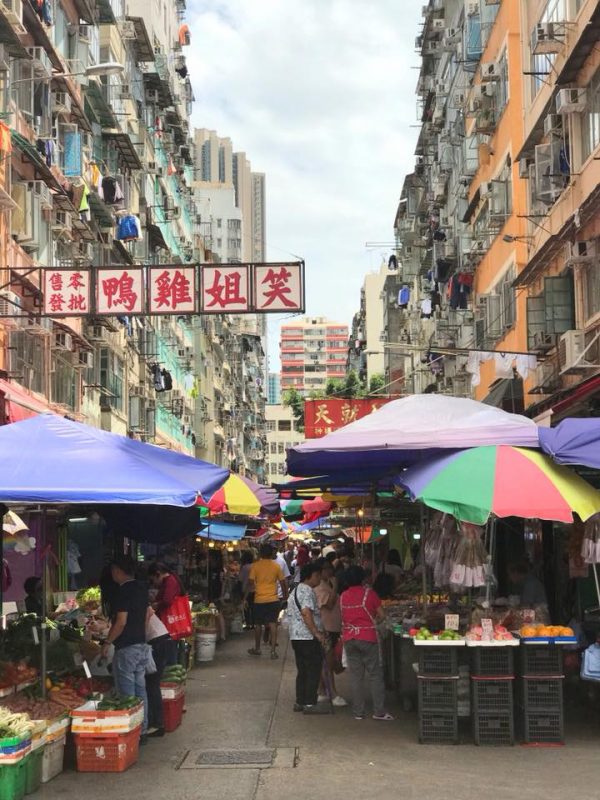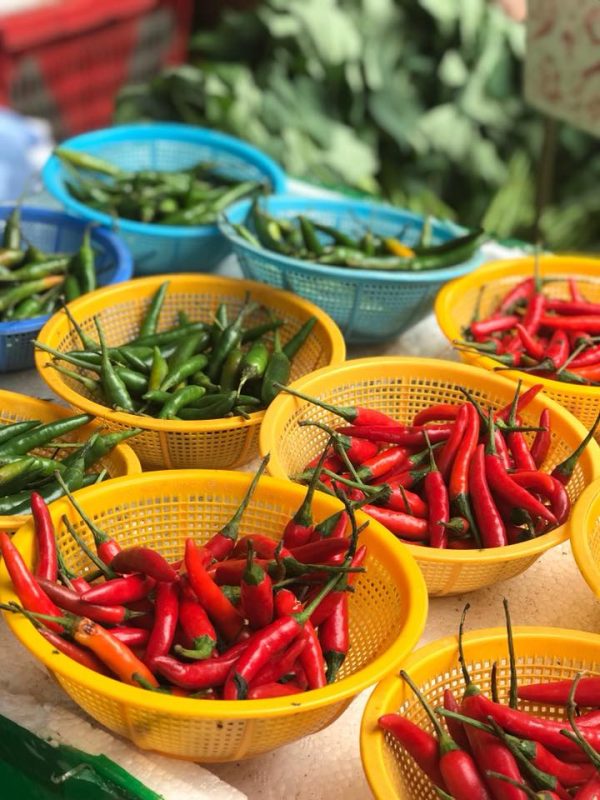 Nearby we popped in to the Jade Market in Yau Ma Tei. It two separate buildings across the road from one another, choices full of stalls similar to that pictured below.
I can't say I was in the market for jade or the pretty assertive selling tactics, but it was good to check out, even if we did not buy anything or stay very long.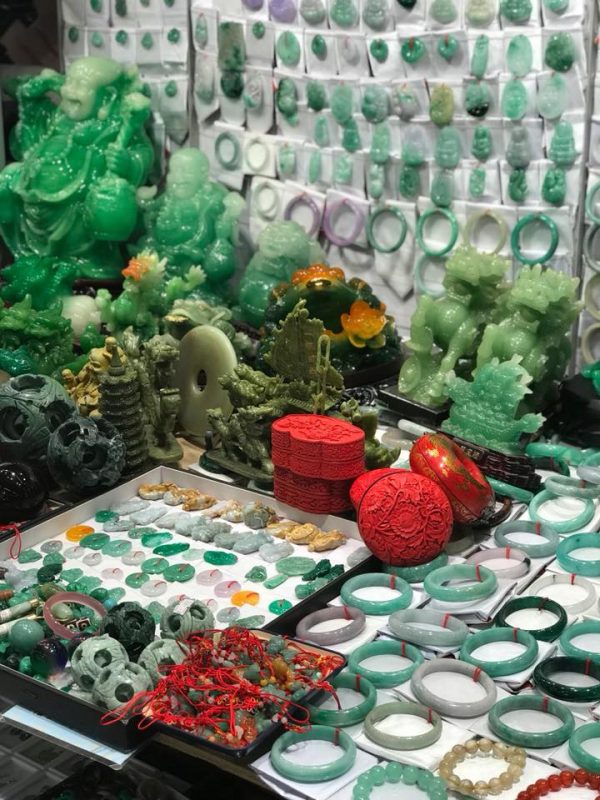 The most well known market is the Temple Street Night Market, also in Yau Ma Tei. It's got atmosphere in spades with people spilling out across the local streets, where there were plenty of great places to eat and places to shop.
It stretches over several blocks and I appreciated that the vendors weren't pushy, so it wasn't a stressful running the gauntlet experience. We did end up buying some ridiculous souvenirs though – Mum bought a jade face roller and I bought a blinged up, rose gold karaoke microphone. As you do.
I did notice that it wasn't the cheapest market though – probably because it's the best known.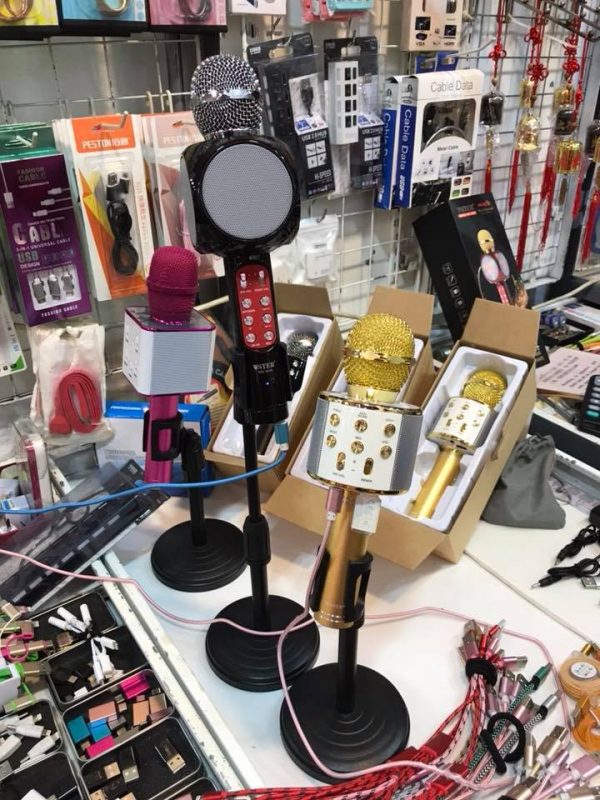 We also visited the Stanley market, but I'll cover that below.
The Bird Market (in Prince Edward) was also recommended to us.
For a list of Hong Kong markets and location details, head here.
7. Visit a temple
I do love a bit of history slash culture on my holidays so we decided to visit a couple of temples. Both were Taoist and entry was by donation for both. They aren't big establishments but were well populated and full of incense burning.
The first temple we visited was the Man Mo Temple in Sheung Wan.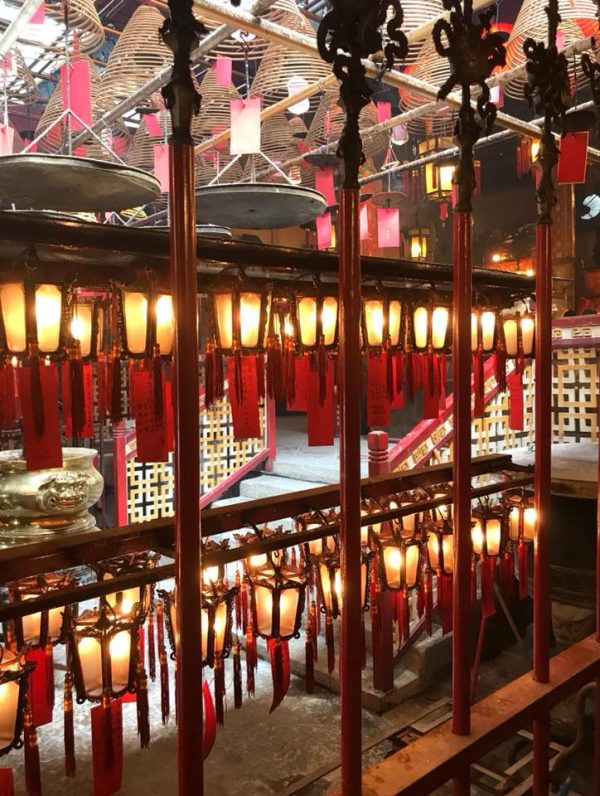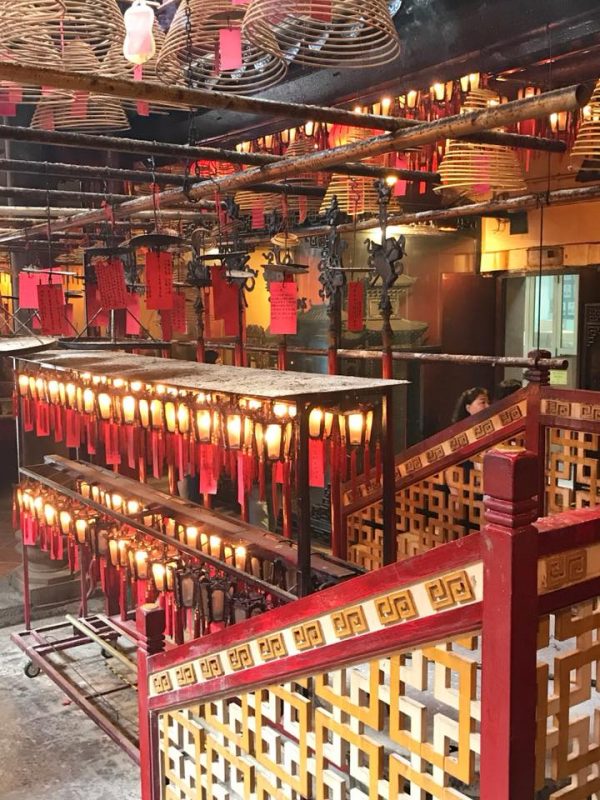 The second temple was the Tin Hau Temple in Yau Ma Tei, which had a stunningly beautiful street presence.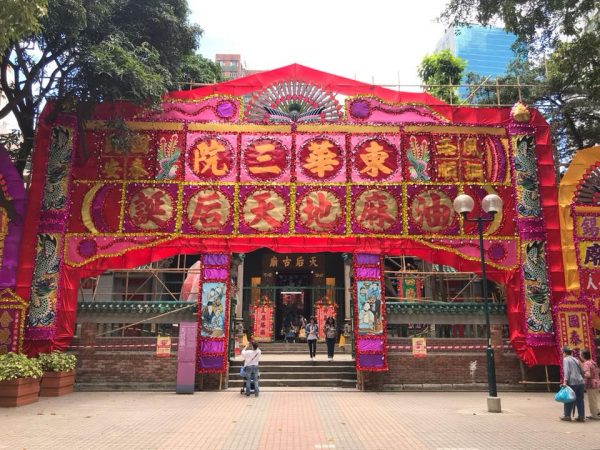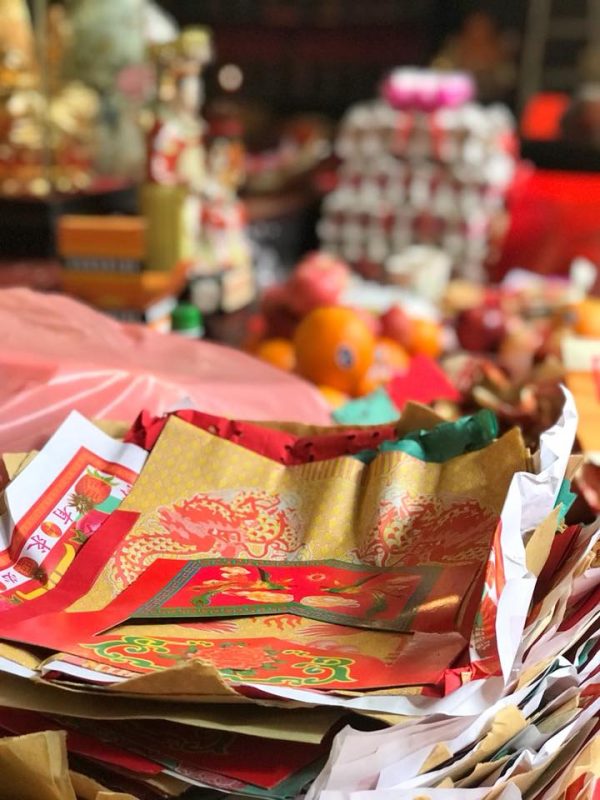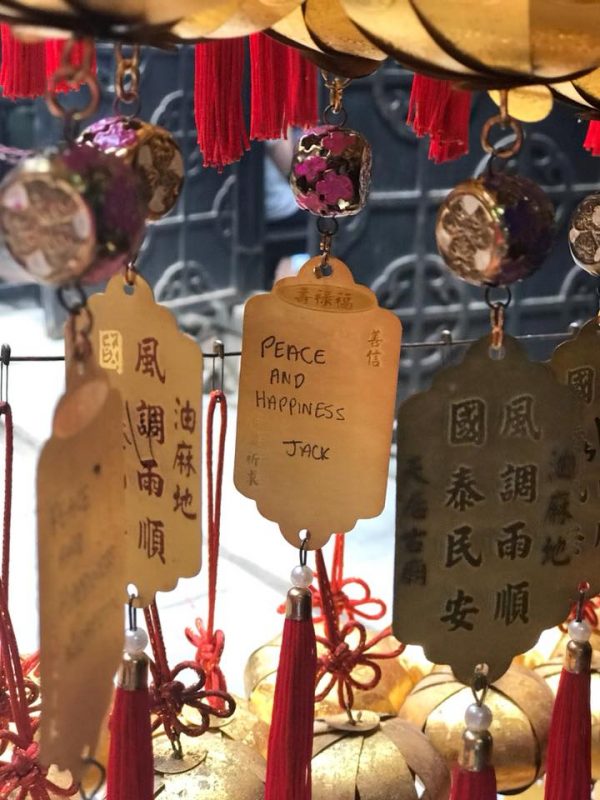 8. Treat your feet
Walking the hilly neighbourhoods north of Central on Hong Kong Island can be tiring work. If your feet get sore, I'd highly recommend a pitstop at Happy Foot Reflexology Centre in Lan Kwai Fong.
You won't walk past it though – and it took some finding – as it's on the 19th/20th floors of a building situated at 1 D'aguilar St.
We didn't book, we just turned up one afternoon – waiting only a few minutes – and booked a 50 minute foot massage each which set us back around $40 Australian dollars. There was Wifi too, so you can check your emails, Insta or Facey or just use the time to zone out and relax.
9. The HSBC Building in Central
There are some pretty impressive buildings dotted around Honkers, many of which participate in the nightly Symphony of Lights show. One of these is an architectural masterpiece  – the HSBC building in Central.
Higher level access to the public is now restricted, but you can walk through the open air lobby and ride the escalator up to the first floor where you'll be asked to open an account as we were!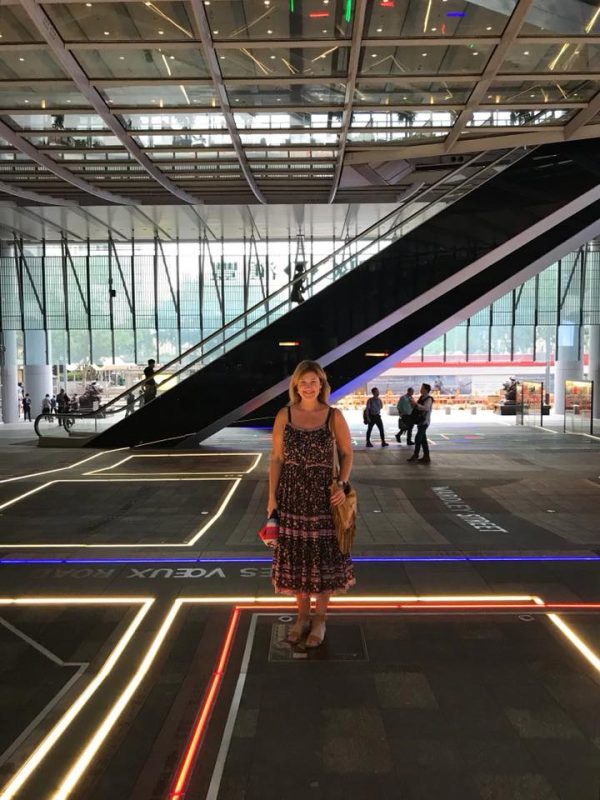 10. Tsim Sha Tsui Promenade
If you're looking for a great – and free – vantage point to look across to Hong Kong Island – especially during the nightly light show – Tsim Sha Tsui is the place to be.
Don't go expecting restaurants or cafes lining the promenade as I did though. It's simply a wide promenade but the views are something else.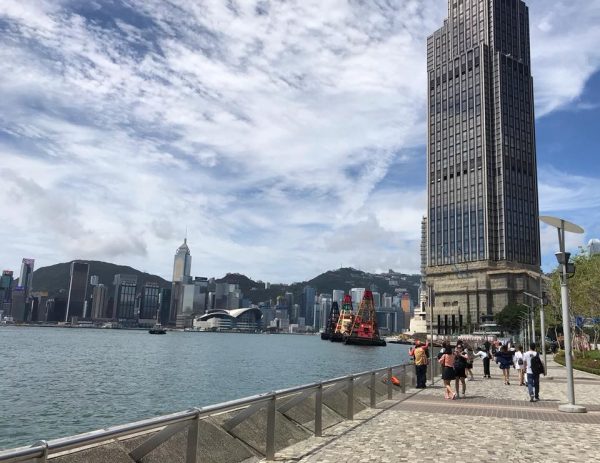 While you're in the neighbourhood, you can visit the Garden of Stars which is accessible via a nearby overpass/footbridge. I caught up with my old mate Bruce Lee.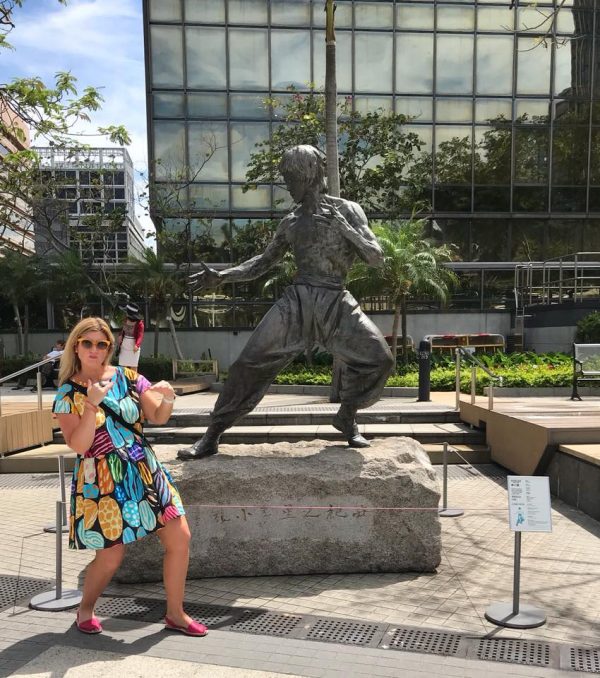 11. Pick a neighbourhood, any neighbourhood
I get lost in guide books and travel blogs as much as the next traveller, but there is something to be said for picking a neighbourhood and just wandering. You often stumble across the big tourist sights anyway – especially in Honkers which is so well signed – and you can just take in the atmosphere, smells and sights and you'll no doubt discover people and places not detailed in anything you've read or seen before.
I really enjoyed wandering the streets of Yae Ma Tei, a densely populated residential area in Kowloon …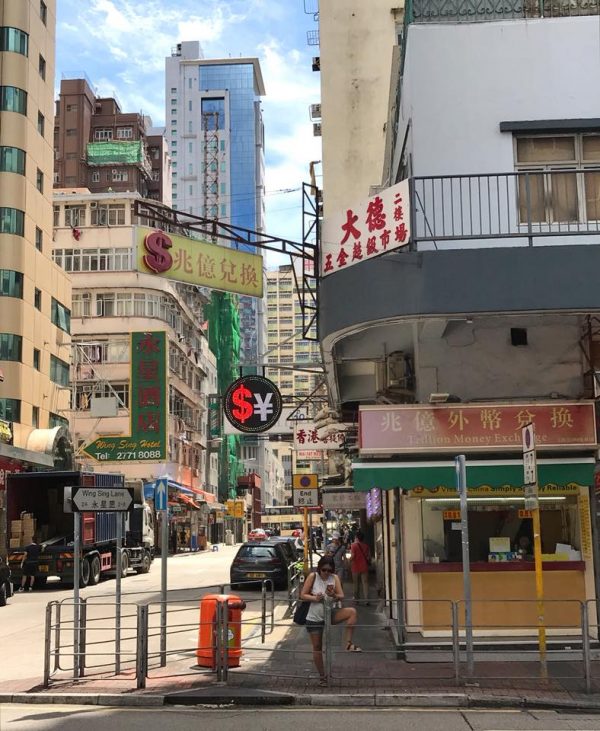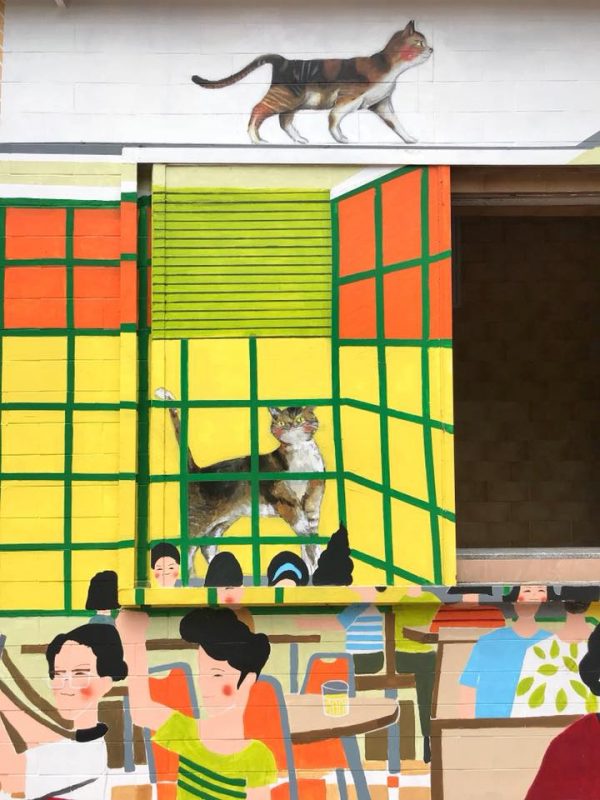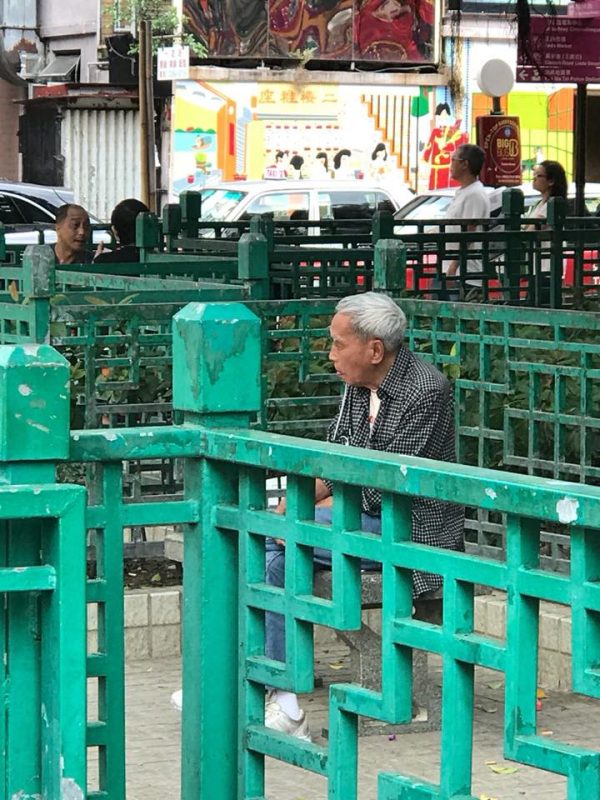 The streets of Soho and Lan Kwai Fong were also full of street art, quirky shops, bars and cafes …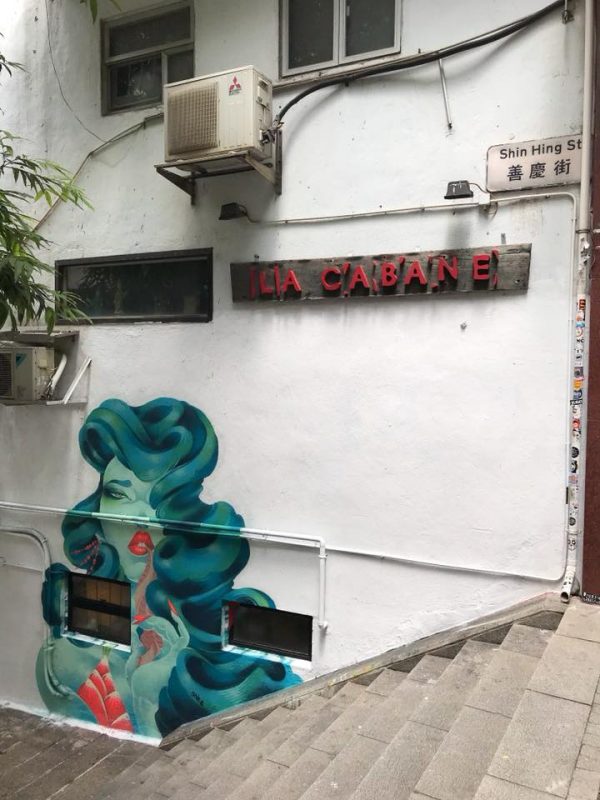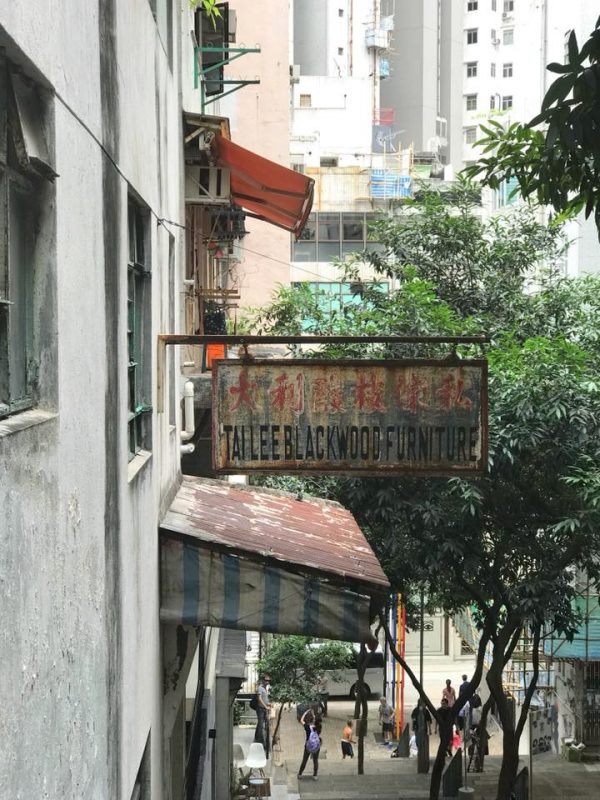 We also chanced upon some street performers near the Star Ferry terminal in Tsim Sha Tsui.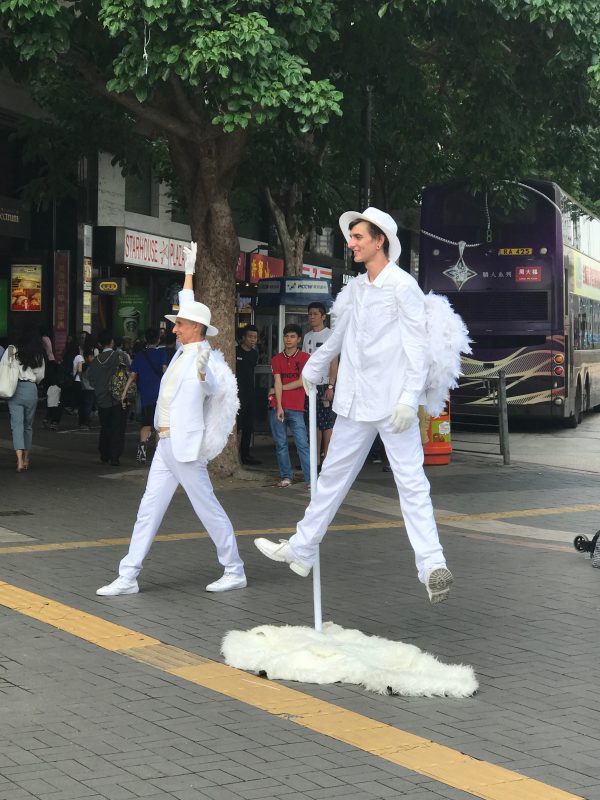 12. Stroll Through a Garden
Hong Kong can be pretty hectic, so if you need a break from the busyness of the city, strolling through a park, hearing some birdsong and seeing a fountain can be the perfect salve.
The closest park to our hotel was Kowloon Park on Nathan Rd in Tsim Sha Tsui, a sprawling park with fountain, aviary, lake and sculptures although it was disappointing to find a McDonalds cafe in the middle of it. To the park's north, there's a public pool, children's playground and a sport and recreation centre.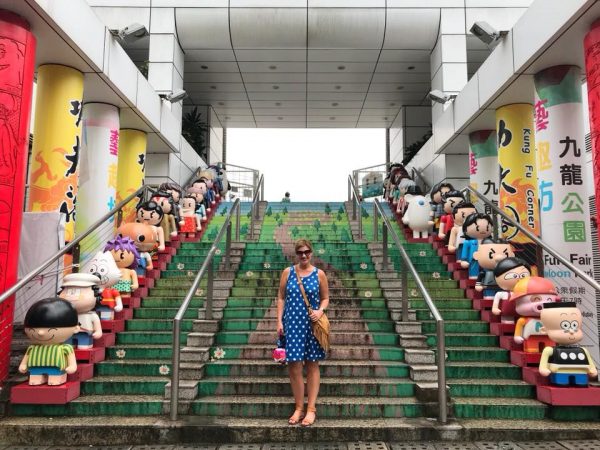 Hong Kong Park in Admiralty on Hong Kong Island is also supposed to be well worth a visit.
13. Pick a Museum
I'd usually make a beeline for the local museums and I did try to visit the Space Museum one day, only to find it didn't open until 1pm. Next door, the Hong Kong Museum of Art was also closed for renovation.
Time/logistics permitting I would have definitely visited both as well as Science Museum.
14. Happy Valley Racecourse
My Mum had zero interest in visiting the Happy Valley Racecourse so we didn't head there on a Wednesday night to take in the spectacle, but several friends highly recommended it. We did drive past it on our way to Stanley though, and it was an impressive spectacle, nestled in between high rise apartments and the greenery of HK Island.
15. Get Out of Town
Hong Kong is surrounded by islands and you can use the city as a launch pad to visit lots of different places including China, Macau as well as other parts of Hong Kong.
In the end we decided to go as far as the coastal village of Stanley.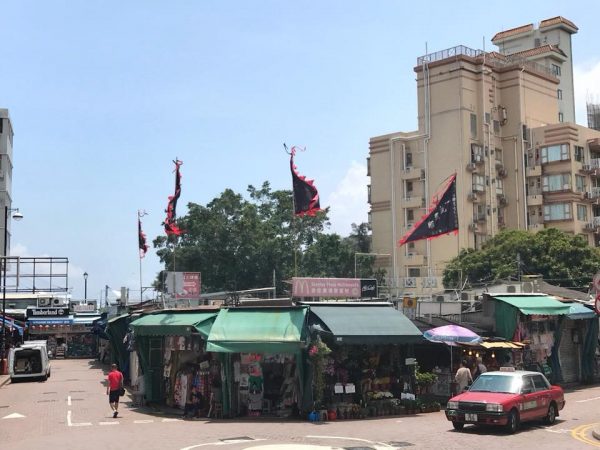 To get there, we caught a train to Central and walked to Exchange Square where we got on the 260 Express to Stanley bus, all using our Octopus travel card.
The drive to Stanley took around 30 minutes and took us along the winding coast, via Deep Water and Repulse Bays. It was a bit hairy in the front row top deck of the double decker bus but it afforded us great views.
Once there, we wandered through the Stanley market, where we found weird and wonderful things from cashmere knits and tech gadgets through to silk purses and animal masks …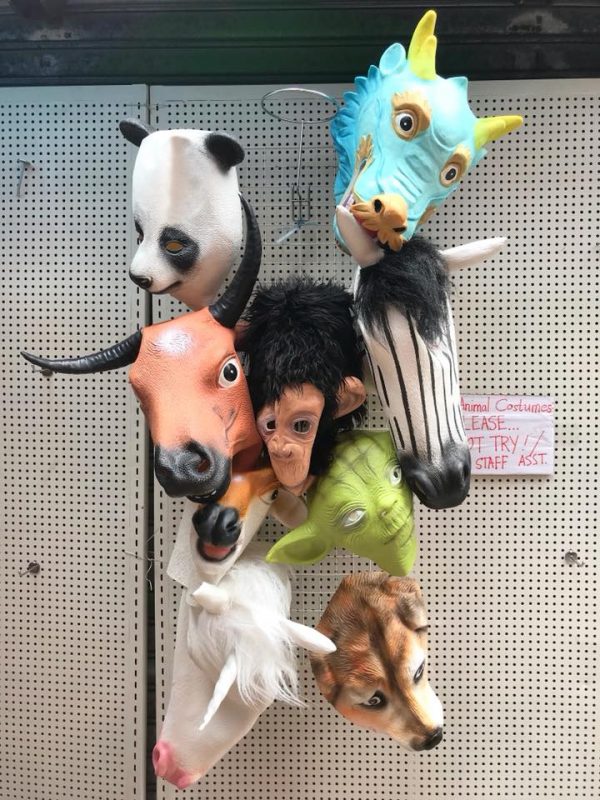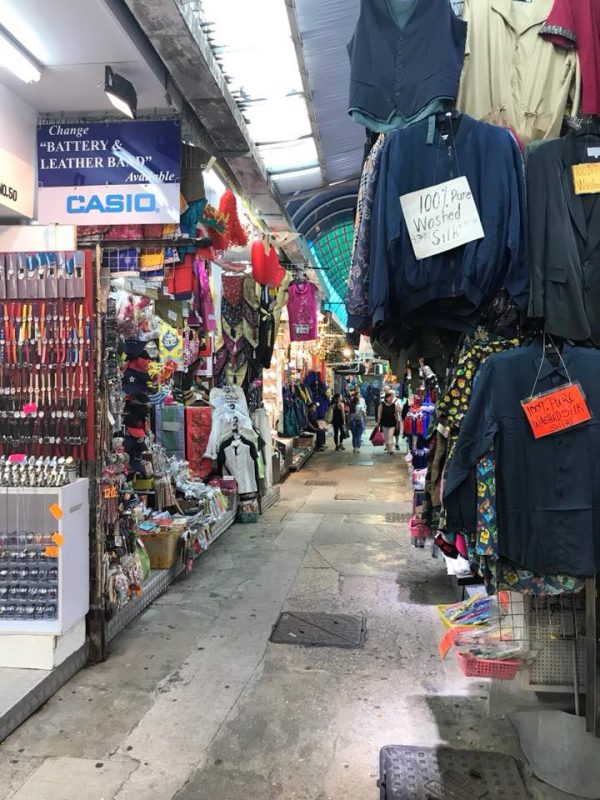 For lunch, we went to a local noodle house opposite the municipal building where we had a steaming bowl of won ton noodle soup for a very reasonable $4.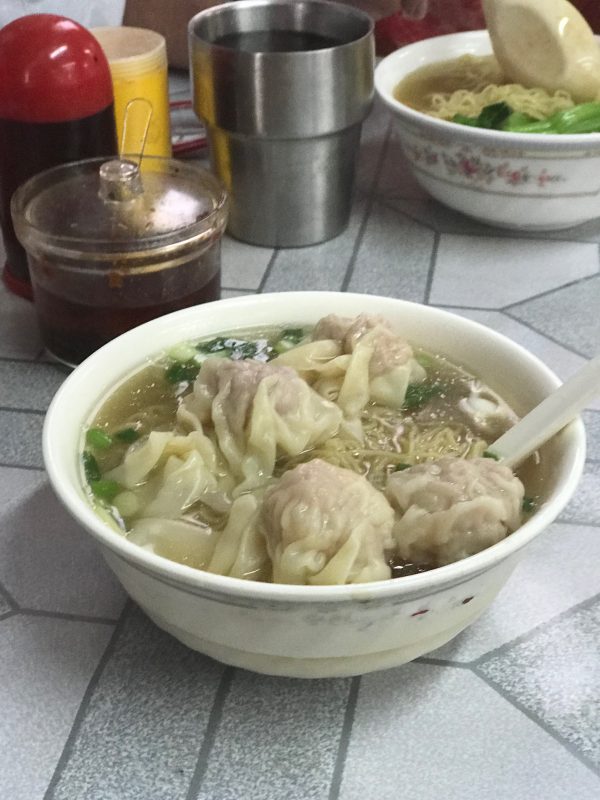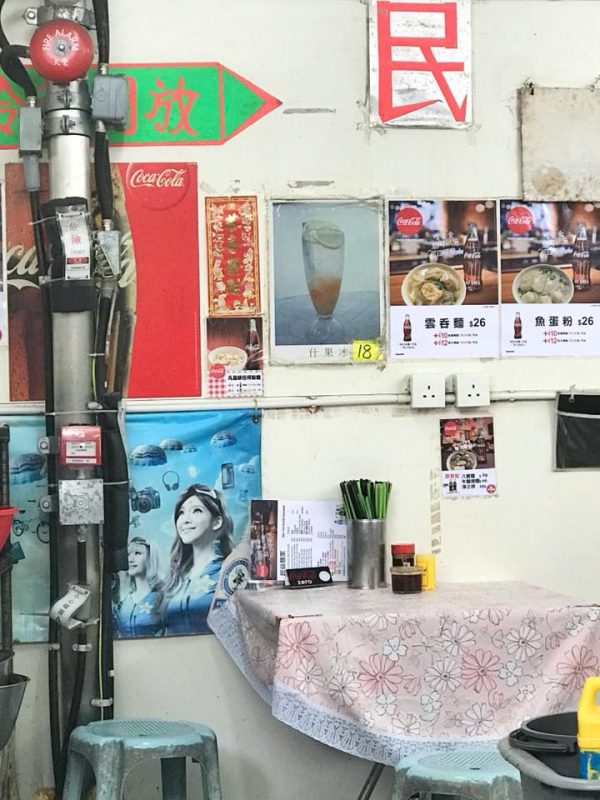 Where to Eat
The food in Honkers was Next Level.
From dim sum to yum cha, traditional Cantonese through to an English afternoon tea, we were consistently blown away by the quality of the food, across every price point.
For lunches and on the go meals, I would highly recommend the excellent dim sum chain Tim Ho Fan. We had a delicious lunch for two for $22 which was great value for some of the best food we ate in Honkers. Without overstating it, these light, slightly sweet biscuit crumb crispness baked pork buns will change your life.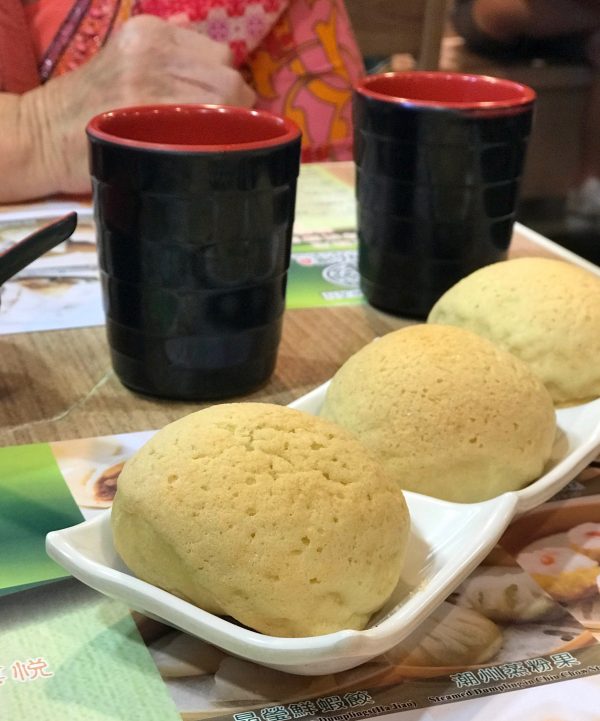 We visited the Hong Kong Station/IFC Mall location – it was down on the concourse level and took some finding.
We also were obsessed by the moreish Portuguese egg tarts at Macau Restaurant in Lock Rd, Tsim Sha Tsui, close to our hotel, which sold warm tarts by the dozen for $2 a pop. It's worth a detour or special trip to eat these delicious morsels. More info here.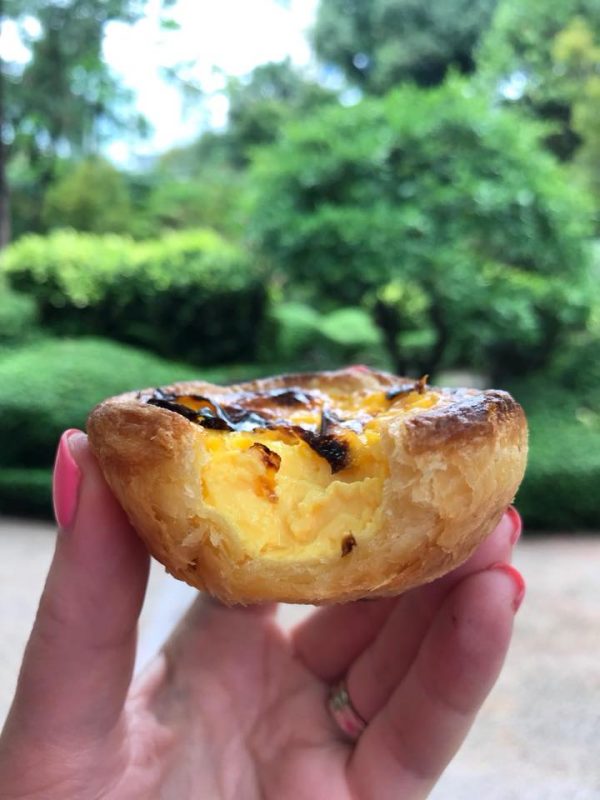 In the mid range, we had two fantastic lunches. The first was Luk Yu Tea House in Soho – a beautiful art deco restaurant with the best spring rolls ever.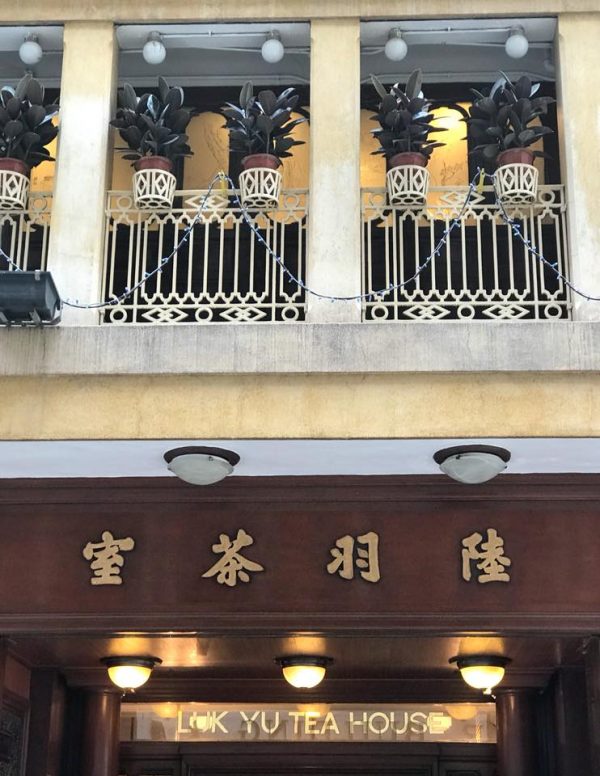 Our Yum Cha at Maxim's Palace at City Hall and afternoon tea at The Peninsula, both of which I've mentioned above, were highlights too.
At the higher end, we had two memorable meals at Aqua in Tsim Sha Tsui and Ming Court, Cordis Hotel, Mong Kok.
Aqua was recommended by several friends who celebrated special birthdays in this beautiful Gatsby inspired restaurant on the floor, looking across Victoria Harbour to Hong Kong Island.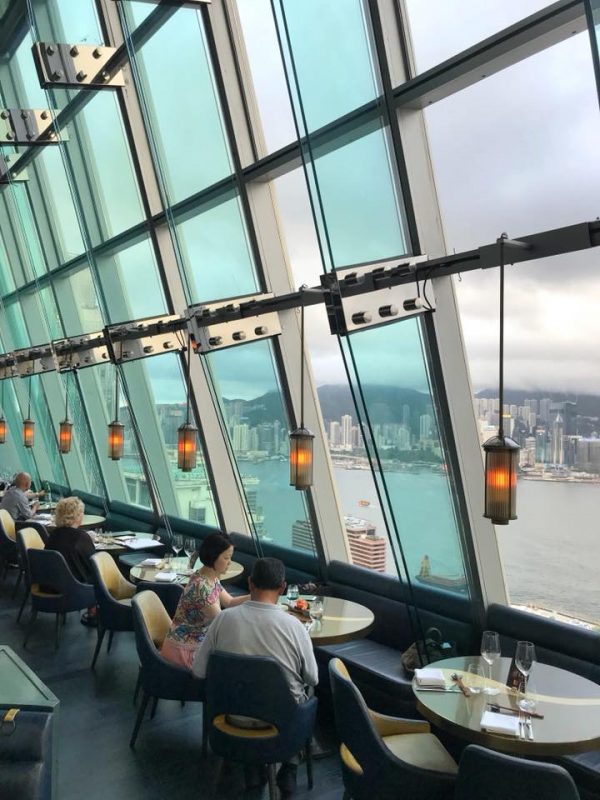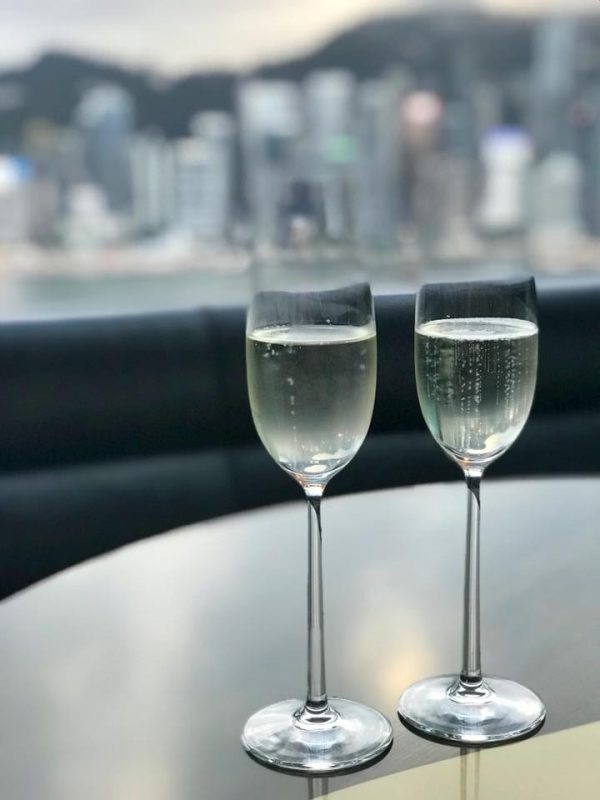 We booked a table for 6pm (we booked a couple of days before) so we'd be there for the 8pm light show, for which we had a spectacular vantage point.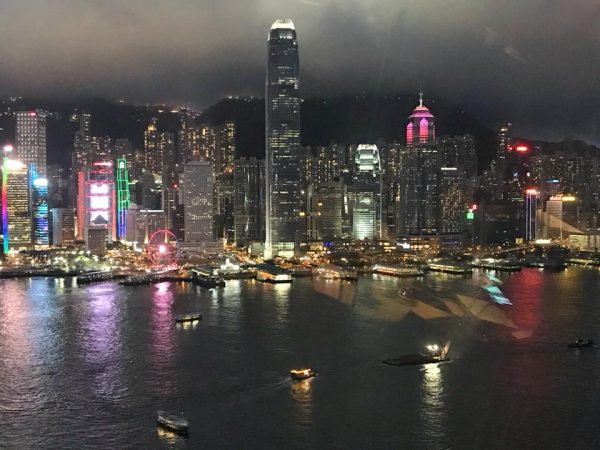 The food was very good, especially the dessert panel, and it really is a million dollar view, but I have to give you the heads up. It's VERY expensive to eat here, with main meals around the eye watering, purse hurting $80 mark. There is a bar on the next level though if dinner is not an option, but I assume cocktails et al would have a similar mark up.
We also had a lovely traditional Cantonese meal at the Michelin starred Ming Court at the Cordis Hotel in Mong Kok. While the food was excellent, the service wasn't great the night we visited, but I'm sure this will be corrected post haste. It was also on the expensive side.
Where to Shop
Shopping in Honkers tends to fall in to two, diametrically opposite categories – the very high end (think European designer houses like Dior, Hermes and Chanel) through to the trinkets, wacky and cheap souvenirs in shops and markets. It took some searching to find middle of the road options but I eventually did.
At the high end, you'll find all the European fashion houses around Central, particularly along Des Voeux Road and the Landmark shopping complex, pictured below.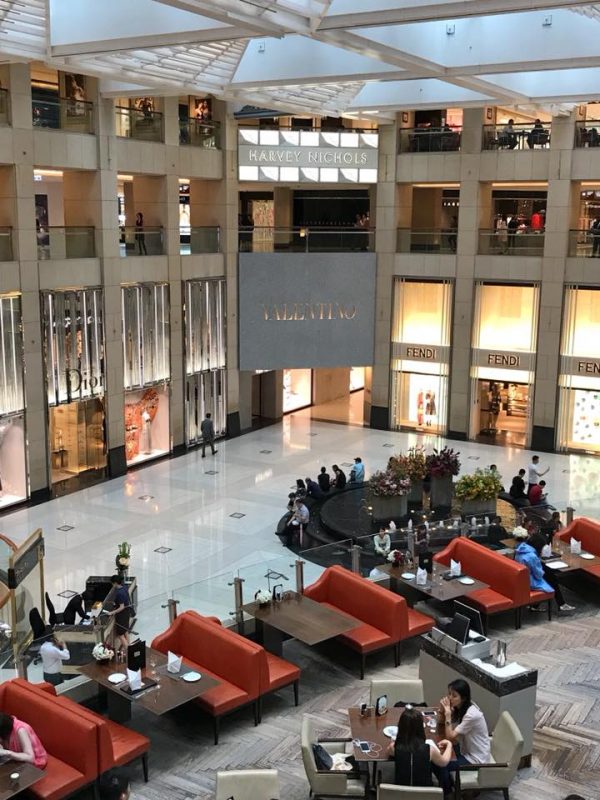 The enormous Harbour City shopping complex near the Star Ferry terminal in Tsim Sha Tsui was full of high end shops too.
In terms of local, luxe shopping, the stand out is Shanghai Tang. We visited the store in Tsim Sha Tsui. These beautifully fitted out stores are well worth a visit even if you can't afford a $300 plate.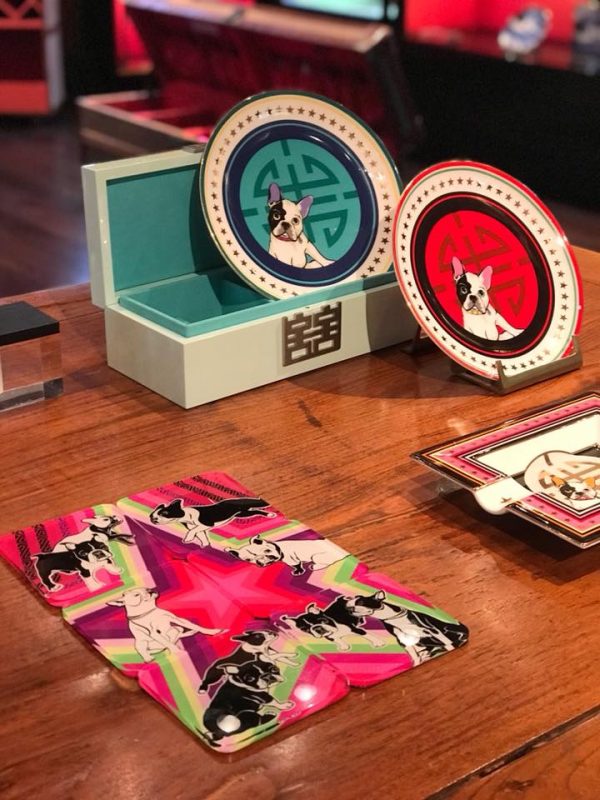 I've covered the markets above, but for mid level shopping, the best spots we found were Mira Place in Tsim Sha Tsui, Kowloon and the IFC Mall near Hong Kong Station over on Hong Kong Island.
Mira Place was a super cool, modern shopping complex across two buildings with a hotel and restaurants where we found Uniqlo, Muji and Kinkerland among many others. Friends of ours stayed in the hotel here and loved it, and recommended Yum Cha at Cuisine, Cuisine.
Over on Hong Kong Island, we loved the IFC Mall where we found American brands J Crew and Kate Spade as well as Zara and Accessorize as well as the usual higher end suspects. Lunch at the nearby Tim Ho Fan or City Hall Yum Cha would make for a great day out.
In terms of the markets, I've covered that in some detail above.
Where to Stay
We stayed in the very reasonably priced, well located Holiday Inn Golden Mile in Nathan Rd, Tsim Sha Tsui which is on the island of Kowloon. We upgraded our room on arrival – to a two bed room (!) – and had access to the Executive Club included which was awesome, as we had breakfast – and decent coffee – there every morning, a glass of bubbles in the early evening and a light dinner on days we'd gone for broke at lunch.
It's not the poshest hotel going around but it was very comfortable, clean, well appointed and the location was excellent. As well as being diagonally across the road from The Peninsula, the underpass to the train station was also across the road, not to mention those delicious egg tarts also being in close proximity.
Other friends have stayed a little further up Nathan Road (towards Kowloon Park) at the modern Mira Hotel. This has an awesome shopping mall and reportedly great yum cha at Cuisine, Cuisine.
Baby Mac stayed in Causeway Bay on Hong Kong Island which you can read about – as well as some of what she got up to in Honkers – here.
In terms of whether to stay on Hong Kong Island or Kowloon, I'd recommend both as they are easily accessible to one another. It was a short ten minute train ride from where we stayed in Kowloon across/under Victoria Harbour to Central.
I liked that Kowloon overall was a slightly more residential area but still close to all the action – especially great hotels, cultural sights, restaurants and shopping – without the intensity of the CBD. Tsim Sha Tsui was great because it's the closest suburb to Victoria Harbour but I loved the residential streets of Yau Me Tei and the frenetic energy of Mong Kok, slightly further north again.
I'd probably stay in Hong Kong Island next time though, to spend time in a new/different part of Honkers and I would love to spend more time in the cafes, bars and shops of Soho and Lan Kwai Fong.
What about taking the kids to Hong Kong?
I'd definitely recommend Hong Kong to anyone if you're looking for a city holiday.
If your kids can manage a fair bit of the walking involved with sight seeing across two islands, the hilly neighbourhoods of Hong Kong Island and love Asian food, you'd be fine.
All the modes of transport – from the Star Ferry, the Mid Level Escalators and the double trams and buses – would be a hit with the kids too.
There's also Hong Kong Disneyland and Ocean Park to break up things up, both of which would no doubt be great days out.
I'm not sure how mine would go with trawling markets or the shops though. I also wouldn't take them to some of the more expensive places we ate – not because they wouldn't behave – although that's never a given – but because I'd have to sell a kidney to afford it.
I think Honkers is great for anyone and everyone but especially suited to foodies or a girls' trip.
And the rest …
We visited for 6 nights in early May. The temperature was very pleasant and the maximums ranged between 23 and 29 and only dropped a few degrees overnight. It did rain intermittently on the last three days of our trip but we also had three beautiful sunny days but I'd always pack a light rain coat and an umbrella for a trip to HK.
Six nights gave us ample time to explore Hong Kong. With an extra day or two you could add a day trip to Macau or China, or a trip to the Happy Valley Racecourse.
HK is a lot of things but a relaxing or resort holiday it is NOT. I didn't go near the (rather nice) hotel pool as there was so much to see and do. Honkers is a place to wander and explore and sample some of the amazing food, sights and experiences on offer.
Hong Kong is super easy to navigate – there are plenty of signs for major tourist sights and the local maps and exit options at train stations were super helpful.
The exchange rate when we visited was around HK$6 to every $1AUS which took a bit of getting used too.
I felt very safe walking around the streets of Hong Kong with Mum, during the day and the early evening.
The flight – from Melbourne – took around 9 and a half hours there and just under 9 hours home. Enough time to catch up on three movies which was a personal highlight for me.
In a nutshell, if you are a foodie or love big cities with plenty of options and energy, you will LOVE Hong Kong.
So over to you – have you been to Honkers? What would you add to the above? We'd love to hear any recommendations!