Sometimes, it is not possible to set aside a whole day to go on a 'family outing'. Extra curricular activities, children's birthday parties and domestic obligations often take up a significant portion of our weekends. The age of your children can be a factor too – for the last seven years running, we have had a child who has a (much needed) day sleep, which has effectively divided our day in two, making shorter and more accessible outings a must.
One of our favourite places to go with our kids is in and around Carlton. There is so much to do for families and you can pretty much pick any two of the following activities and be home again within 3 hours, depending on where you live.
1. Crafternoon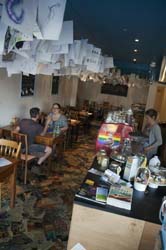 This North Carlton craft cafe is one of our favourite places of all time. With craft and cafe menus, this is a place for the whole family – the grown ups can have a coffee and talk, while the kids are smocked up and crafting away happily. The children can choose from painting (they get their own easel and paints), play-doh, pasting and badge making with extras including eye mask and trinket box kits. Our older children generally paint, while our toddler loves the play doh which comes in three colours and with a box of tools.
Other great things about Crafternoon include that it is open on public holidays, all weekend and from early (7am on weekdays and 8.30am on weekends if you are really desperate!) until 5pm. I also like that you can book ahead, so if you are planning a special outing with the family on your child's birthday or meeting up with friends, you know you will have a table waiting for you.
In terms of accessibility, you can take the tram or there is parking right outside the cafe on Nicholson Street. Remember, however, to check the parking restrictions, particularly on weekdays.
With our 2 year old in tow, we usually last about an hour at Crafternoon, then we head off to a nearby park for a play.
2. Curtain Square

A short drive or bike ride away is Curtain Square, a great park facing Rathdowne Street in North Carlton. There is plenty of space for the kids to run around as well as toilets, a sun shade and a fantastic playground. You can find a full review of Curtain Square playground here. There are also plenty of takeaway coffee options nearby and the library is across the road if the weather turns.
3. Belki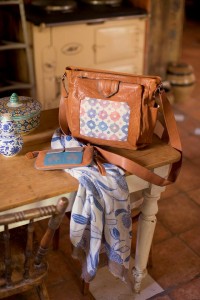 Diagonally across the road from Curtain Square at 631 Rathdowne Street is Belki, a fantastic gift shop full of gorgeous wares – cards, jewellery, handbags (including Nancy Bird, pictured above), home wares and gorgeous bits and pieces for children. It is a great place to find a beautiful gift.
4. Pizza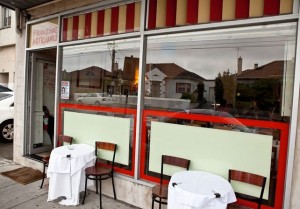 Once everyone has had a good run around and crafted away, it might be time for dinner. We love to take our kids to our favourite pizza place, I Carusi, which is a short drive down Nicholson or Lygon St to Holmes St, Brunswick. You can read reviews of it here.
There is nothing fancy about I Carusi. It is a few doors up from the local service station and the only restaurant on this strip of Holmes St. You will need to book however, as this place is often heaving and once you have tried the pizzas, you will know why.  I dream about their  Pizza Alla Moda Di Giuseppe (Potato, caramelised onion and rosemary pizza) and the kids love it too. They also make the most delicious dessert pizzas (dark chocolate and strawberries, banana and honey, white chocolate and peach – one reviewer on Urban Spoon said it changed her life; I concur).
They are open from 5.30pm for dinner, Tuesday to Sunday.
Other Options
If you want to eat dinner in or near Curtain Square, there are plenty of great places nearby including Chin Chin at Koto Moon, Cafe Zum Zum and The Kent Hotel. There are lots of other great places to visit in Carlton – the Melbourne Museum, IMAX, Carlton Gardens and whatever might be on at the Exhibition Building. Other great cafes for kids include Birdie Num Nums in North Carlton – it's large courtyard and sandpit are perfect for an enjoyable breakfast or brunch for everyone – and Brunetti in Lygon Street, Carlton for morning or afternoon tea.
What is your favourite spot in Carlton? What would you recommend or like to try?