This week's what to wear post topic comes to us via SnS reader Amelia:
Hi Vanessa,  
I have a school reunion next week and I don't know what to wear.  I want to look good but not overdone.  Can you help? PS It's an evening affair to be held at the school. Thanks!
Amelia x
Well, thanks for such a great question Amelia. I'm sure other readers have had the same dilemma.
I had my twenty year school reunion two years ago and I was a bit stumped about what to wear too. Mine was held in a hip bar in the city on a cold Winter's night. It was a challenge to find an outfit that was flattering, comfortable, warm enough and with shoes I could walk in from the car park to the venue.
So what to wear? I think there are a few things to consider when dressing for a school reunion, as I've set out below.
1. The Venue – The first consideration is the venue. Is it being held in a bar, at school or at a function centre?
If the reunion was being held at school like Amelia's is, I'd opt for a very smart casual look, two examples of which are below.
Firstly, here is a pants/classic monochrome with a modern twist option: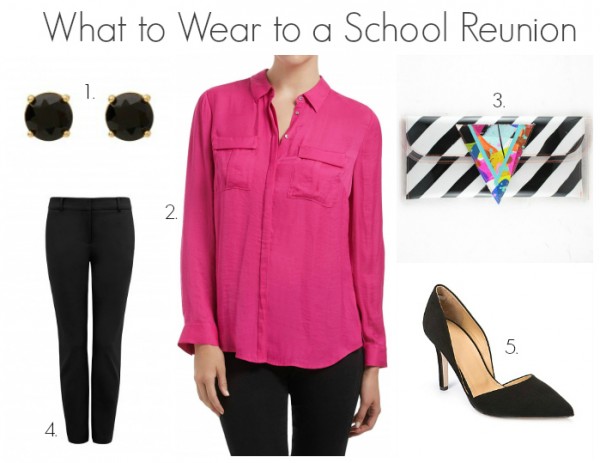 1. New York City Stud, $19.95 from Sportsgirl; 2. Side Split Shirt, $89.95 from Sussan; 3. Walk on the Wild Side Clutch, $119 from Tiff Manuell; 4. Grace Slim 7/8th pants, $79.99 from Forever New; 4. Karina Point Heel, $179.95 from Country Road.
Or, if you love a pop of colour and a printed pencil skirt, this outfit might be more up your alley: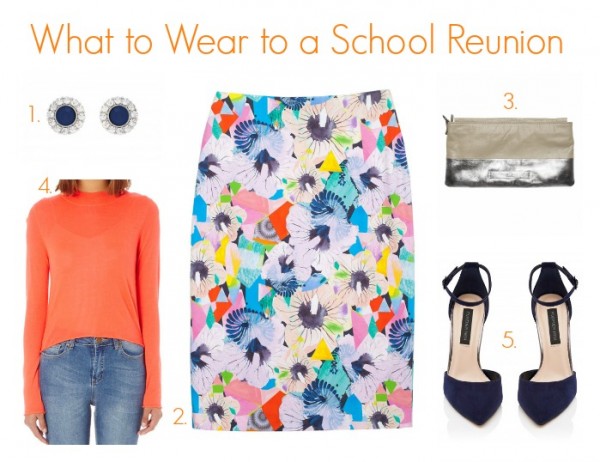 1. Adeline Halo Stud Earrings, $9.99 from Forever New; 2. Garden of Eden Pencil Skirt, $189 from Gorman; 3. Tarnby Clutch, $140 from Elk Accessories; 4. Merino Blend Funnel Neck Top, $39.99 from Glassons; 5. Bella Two Part Heels, $69.99 from Forever New.
I'd dress up a bit more if it was being held at a location other than the school (like a bar) but not go all out. Understated style is what you're aiming for here. You don't want to look like you're trying too hard.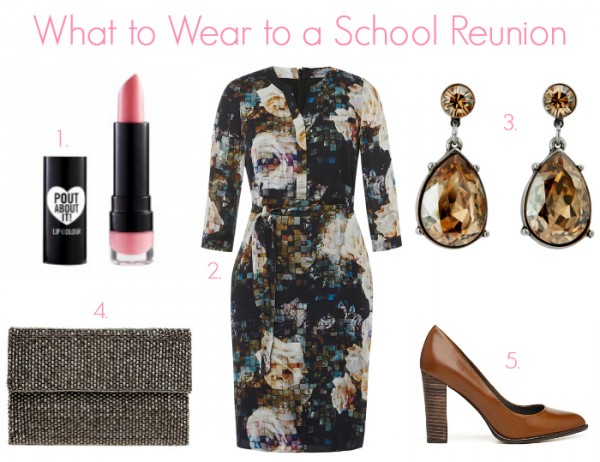 1. Pout About It Mudslide Lipstick, $9.95 from Sportsgirl; 2. Pixelated Floral Dress, $249 (currently $50 off if you spend over $200) from David Lawrence; 3. Bella Crystal Earrings, $79 from Peter Lang; 4. Beaded Clutch, $69.95 from Seed Heritage; 5. Maisie Pump, $149 from Witchery.
2. Dress for comfort – It's also really important that you feel comfortable – steer away from anything that is too tight, too high or too low. If you are feeling a bit nervous, dressing comfortably will hopefully help you feel relaxed and enjoy your night.
3. Dress in your own style but the best version – while you don't need a style makeover or to impress anyone, school reunions are kind of like a job interview – you want to be yourself obviously but it's also an opportunity to show yourself at your fabulous best.
Don't feel like you need to buy a new outfit either – it's a great opportunity to wear your favourite outfit as it's unlikely that any of your school friends have seen it, unless you see them regularly or have posted it all over Facebook!
4. Great Hair, Yeah Yeah – If you have a regular hair appointment, book your appointment for the day of the reunion. A good hair day is always a good thing and can give you that extra bit of confidence. The same goes for nails and anything else you do regularly.
In addition to the what to wear dilemma, don't be surprised if you feel a bit apprehensive about the whole reunion thing in general. The wardrobe crisis is only part of it. I think it's pretty normal to feel nervous in the lead up to a school reunion.
Perhaps seeing your school friends can transport you straight back to your younger self – whether or not that's a good or bad thing. How you feel may also depend on how many people you've kept in touch with and whether there is an ex or nemesis you're hoping to avoid.
There will also inevitably be the "So, what have you been up to for the last *insert number* years?" conversation too, and the challenge of putting that in a nutshell. Generally speaking though, after the initial nervousness, school reunions are loads of fun – there is something about spending years together in an institutional setting that binds people together forever.
A couple of other tips that might make your night more enjoyable include sharing a ride to the venue with an old school friend or two or connecting with some old school friends on Facebook before the night. When you get there, look for friendly smiles and open circles. Include someone who is on their own or who looks nervous. Talk to people you didn't know well as well as your old buddies. Chances are other people are feeling a bit nervous too.
Do you have school reunion coming up or have you been to one lately? What did you wear? How did you feel?