Earlier this week I fulfilled a long held dream and ticked off another item on my bucket list.
I saw Madonna in concert again.
I last saw her on her 1993 Girly Tour – her last and only other tour in Australia – weeks after I finished my Year 12 exams.
It seemed a fitting reward for 13 hard years of education!
Since then, like Madonna, I've been around the world (albeit, on a much more modest scale, ha) and had children. We've both grown up a lot in the last 23 years.
So I couldn't wait to see her again.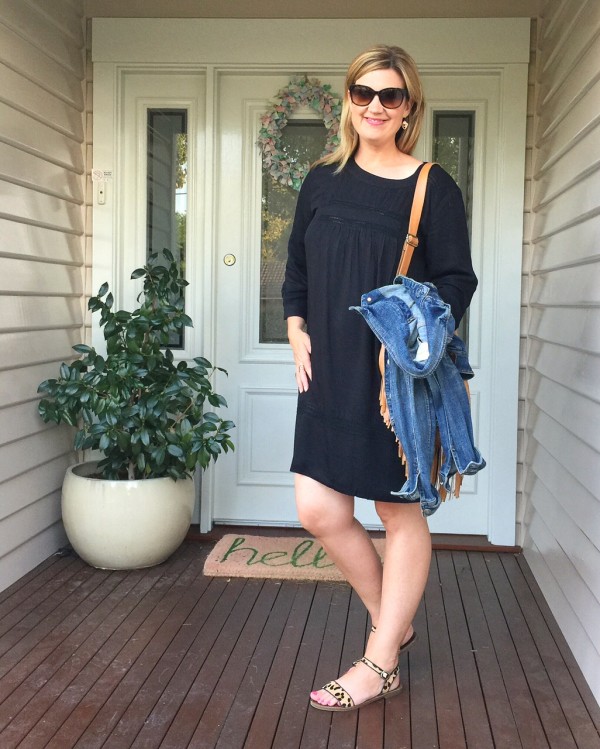 ABOVE: I'm wearing the Lace Prairie dress (restocked, in size L) from Bohemian Traders; Windsor Smith leopard print sandals (a similar style here); messenger tassel bad from Oberoi Market in Bali (details here), Anthropologie denim jacket and Coach sunnies both picked up in the U.S. last year.
And I really had to wait to see her again – not just 23 years either, but with her Sunday night show in Melbourne starting at 10.20pm, it really felt like it had been an eternity, even for those of us who had done their homework and rocked up at 9pm (she was scheduled to start at 9pm but had started at 9.45pm the night before).
In a nutshell, the show was a bit of a mixed bag.
The show began with a very scary and loud Game of Thrones-esque set, with songs from her new Rebel Heart album. I didn't love it but once I heard the opening riff of Burning Up and she played her electric guitar, I was hooked.
The rest of the show was impressively theatrical, with garage, Spanish matador and Gatsby inspired sets and costumes and some really excellent re-working of some of her best and most popular hits (True Blue, Like a Virgin, Like a Prayer, Vogue).
There's no doubt she's a born entertainer, often at her best when it's just her and the mic.
The choreography and acrobatics were world class, as you'd expect too.
I can't say I loved her newest material and she seemed a bit off in terms of her energy and attitood – she said she was late as she'd been crying ("I'm being honest you guys") and later referred to her "troubles".
I feel really bad saying this and I don't like to dis a sister – especially Madge – but I could have done without her seriously relentless F bombs, self referencing as The Queen and her dressing down (both literally and metaphorically) of an audience member – a young woman – at the end of the show. I reflected that if a man had spoken in the same way to a young woman, it would have been seen to be in extremely poor taste and totes inapprops. Which it was.
Thankfully, her awesome encore of Holiday left things on a higher note.
So, my review of the show over, what does one wear to a concert? I"m glad you asked. Here are some ideas.
This outfit below is a variation on what I wore, above.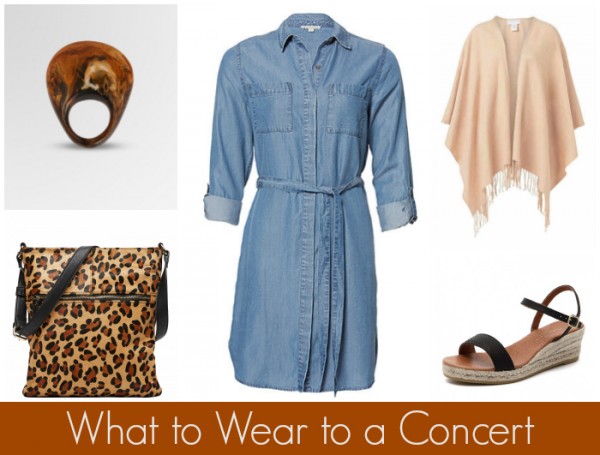 ABOVE, CLOCKWISE FROM LEFT: Resin Atelier Ring, $75 from Dinosaur Designs;  Chambray Shirt dress, $49 (on sale) from Target; Tassel Wrap, $99.95 from Witchery; Moli Black Espadrilles by Sofia Cruz, $159.95 from Style Tread; Animal Cross Body Bag, $99.95 from Sussan.
1. Comfortable Shoes – you'll be on your feet for most of the concert (hopefully) and possibly walking a decent distance to and from your car/public transport and the venue. We walked at least a kilometre to and from Rod Laver Arena to our car which we parked in Flinders Street.
2. Something you can dance in – depending on the concert, you may be tempted to spend most of the night dancing in your seat – I know we did for Madonna but we also did the same for Billy Joel in NYC, whose music is at the opposite end of the techno spectrum. Clothes that are comfortable, not too tight, have some stretch or are roomy can be good options.
I opted for a cotton long sleeved dress and sandals, as you can see above.
3. Messenger Bag – I hate putting my bag on the floor anywhere let alone in concert venues where drinks and food are spilt all the time.
I stick to a messenger style bag which I wear throughout the concert (I take the bare essentials so it's not heavy) so my bag is off the floor and I can access my phone for all those must record moments!
3. Layer or two – depending on the time of year, the temperature in and outside the venue can be very different. I took along a denim jacket for the journey home but it was still very mild so I didn't need it and ended up lugging it around all night (it slipped off when knotted around my waist).
Instead, I should have popped a light wool cardy or a wrap, just in case, that would have fitted in my bag so I was totally hands free.
4. Costumes & Dress Ups – there were some fab costumes at Madonna the other night from the hard core – nuns – through to the fun – ladies channelling Desperately Seeking Suzy, adorned with crucifixes, pearls and bustiers.
I'm not one to dress up usually (but definitely would for a party, for sure) as it never occurs to me in amongst the considerable logistics of actually attending a concert, but I reckon it is a very fun thing to do. Note to self for next time.
And it doesn't even have to be a costume.
At Oprah back in December, there were groups of women with matching outfits – identical dresses, co-ordinating tees – basically anything to draw attention to themselves and catch the eye of their idol. If that's your goal, then it's worth a shot.
And there's the concert admin …
Don't forget your tickets – you might have them on your phone as a back up but you'll need to scan to get in and it's easier to hand someone a paper ticket when you're trying to find your seat in a darkened venue.
Check for any other events around the same time, so you know how much time to leave and factor in any possible delays. We knew the city would be heaving on the night of our concert given it was a long weekend, and Moomba and the soccer were on as well.
Prebook car parking if you're driving. We got a text from Ticketek the day before the Madonna concert telling us the show would finish after midnight and there would be no public transport from midnight so to make arrangements accordingly. Given how much was going on, we booked and pre paid car parking in a 24 hour car park which only cost $8. The night before, friends had had their car locked in a city car park which closed before 1am so we made sure we found a 24 hour garage.
If you're taking public transport, don't forget your MYKI or travel card.
Bring some cash and be prepared to pay the earth – most venues won't allow you to bring in any bottles (i.e. water) to the venue. Bring plenty of cash for refreshments. A bottle of water at Madge set me back $5.20. Ouch.
This post contains affiliate links. You don't pay any extra and I earn a small commission. Read more in my Disclosure Policy here.
Have you been to a concert lately? What would you add to the list above?