Are you concerned about ageing and wrinkles?
It's always been on my radar in a general sense, as it is for a lot of women.
I'm not afraid of ageing – after all, as my wise friend Kelly Exeter once said, age is a privilege denied to many.
As for wrinkles, I've tried to take steps along the way to look after my skin in amongst the hundreds of tabs open in my brain at any given time.
I was slathered in zinc as a child and I've always taken pretty good care of my skin as an adult (save for a few horrible episodes of sunburn in my late teens), wearing sunscreen every day, cleansing and moisturising twice daily, using an eye cream and so on. I'm in my (late) thirties, so I am still young in the overall scheme of things and generally speaking, I've got enough on my plate to pay it a whole heap of attention.
However, I still want to look my best. Until recently, all I have done to minimise the look of my wrinkles is to apply foundation and concealer to even out my skin tone. That was enough for me. I've had three kids and I look like I've had three kids. I'm cool with that.
Then, a few weeks ago, Mr SnS was playing around with an app which takes a photo of you and ages you. He "aged" the whole family, including me.
And my word, it was a bit of a shock. This is what I will apparently look like in a few decades …
Coincidentally, around this time I was invited to the launch of the Newa Skin Rejuvenation system – a product which claims to reduce wrinkles naturally – so, even though I am no beauty blogger, I took the opportunity to go along and find out more. I was intrigued and, now that the crazy intense baby years are drawing to a close, I finally have more headspace to look for ways to start looking after myself a bit more.
So back to Newa. The official spiel is that over time, our skin begins to lose collagen which is what gives skin its shape. Using 3DEEP professional salon grade technology, Newa is clinically proven to firm, tighten and lift the skin by reactivating the skin's natural ability to produce collagen.
So how does the Newa Skin Rejuvenation System do this?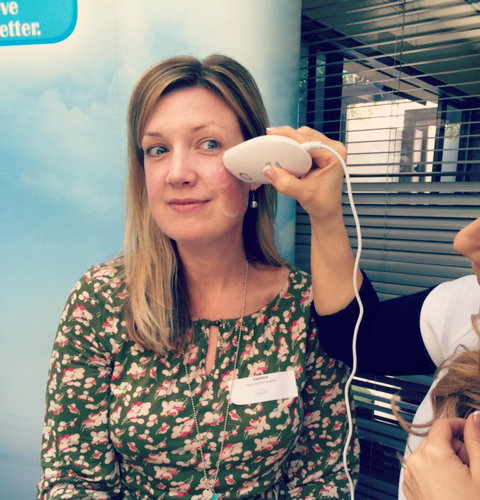 According to Newa, the most efficient way to produce new collagen is by bringing heat to the deep levels of the skin which keeps the skin tight. Newa delivers energy 3 layers deep into the skin, reactivating the natural collagen producing process to lift and smooth wrinkles naturally. Skin care cream can't reach these cells and fillers and chemicals can't achieve this.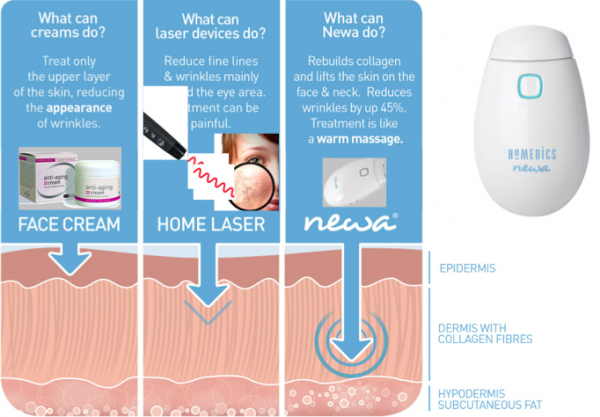 More natural collagen leads to skin being lifted and plumped up. Newa claims to reduce wrinkles by up to 45% in just twelve weeks.
So after hearing a presentation and having had a personal demonstration (above), I agreed to take a Newa pack* and give it a go at home and report back after two weeks (this post) and again at 30 – 40 days (stay tuned).
I liked the idea that I could treat myself at home; that it was a relatively non invasive treatment; and that from a cost per treatment perspective, at $499, the Newa represents a more economical option than some salon and cosmetic treatments.
Here's how it works:
Before I report back, here are a couple of pics of me before using Newa: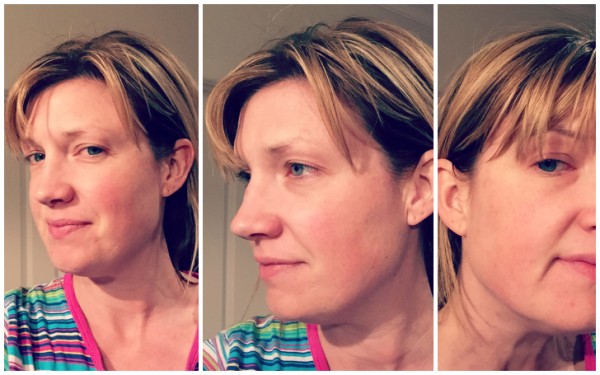 And after fifteen days of use (eleven treatments):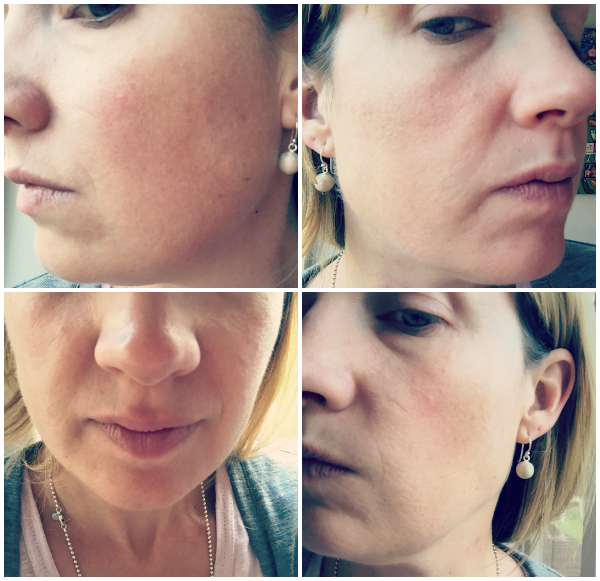 I don't know that the photos show the full picture (and apols for the selfie overload). For me, after just the first use, my skin felt softer, more supple and, dare I say it, more radiant. Kind of like it had been exfoliated without the exfoliation. I wasn't overly aware of the wrinkles on my face before I started using the Newa (except those on my forehead and my many many laughter lines) but I think the Newa has reduced the lines around my mouth somewhat and the light lines on my cheeks. What do you think?
So what's the Newa like to use?
I found the unit easy to use. Once I put the plug in, put the activator on (which is like toothpaste and smells nice and salon-y) and put it on to setting "2", I was good to go. I found the massage sensation pleasant, warm and not unlike one of those nice warm face washers you are given at the end of a meal at a Chinese restaurant. If you find the heat on setting "2" too hot, you can move down to setting "1". I didn't need to do this and found "2" was fine for me.
I decided to treat the four treatment areas on my face (upper and lower cheek areas on both sides), each of which took 4 minutes, so 16 minutes in all. (The Newa isn't designed to treat the forehead or chin).
I initially found this extra 16 minutes in my night time routine a bit long and found it tricky to concentrate. Sometimes I did a few sets of squats (multi tasking) and then I just learned to be still and focus on what I was doing. I could also see that it was working too so that was a good motivator to continue.
I also began my bed time routine a bit earlier to factor in the treatment time. There's nothing to say it can't be done in the morning or any other time and place that suits you, provided you have access to a powerpoint.
In another couple of weeks, I'll show you the results after a full month of treatments.
Newa is a Skin Rejuvenation System that reduces wrinkles naturally. Clinically proven to firm, tighten and lift skin by reactivating your skin's natural ability to produce collagen, Newa reduces wrinkles by up to 45% in just twelve weeks all in the comfort of your own home. For more info visit www.homedics.com.au. Available now at The Shaver Shop $499 RRP.
* I was given a Newa unit to try at home for the purposes of reviewing it in accordance with my Disclosure Policy.
Do you currently use a product/s or have a treatment that reduce wrinkles? Have you heard about the Newa?