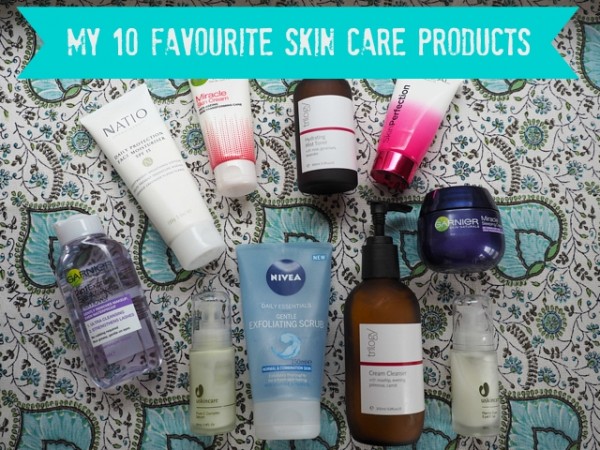 I'm no beauty junkie, but I've always taken reasonable care of my skin.
By this I mean I've consistently cleansed and moisturised my skin twice daily, rarely if ever worn make up to bed, and worn SPF 15 most days for the last twenty or so years.
I think I've done this because my Mum used to be a Nutrimetics consultant and so I've grown up seeing her taking care of her skin.
The scent of Apricot Body Dew will always remind me of her.
Despite this, my skin care routine while consistent, has generally been pretty simple.
In the last few years, as child rearing has taken it's toll on my face (as well as the rest of my body!), I've added an eye cream to my skin care routine and most recently, a serum has been thrown in to the mix.
Now, as I prepare to leave my thirties, I've taken my skin care regime up another notch or two and started experimenting with some new products and brands, partly precipitated by some of the freebies and goodie bags bloggers are lucky enough to receive at PR events.
Like fashion brands, I like to mix things up and try different products and brands at a variety of price points and I buy products anywhere from the supermarket, Priceline, Mecca Cosmetica and even spas.
In today's post, I'm sharing the ten skin care products my skin is loving right now. I'd love to hear what works for you too and whether you've tried any of these.
I'll start with my favourite cleansers and toner.
1. Trilogy Cream Cleanser RRP $36.99 – A couple of girlfriends put me on to Trilogy products a few years ago and I've been really happy with them ever since.
This is a lovely cleanser which I use every night. It's gentle on the skin and the pump bottle is easy to use.
It's relatively expensive though, so I generally only buy it when it is on sale at Priceline (like last week, when it was 40% off).
2. Nivea Gentle Exfoliating Scrub RRP $9.99 – I exfoliate my skin a couple of times a week in the shower and this scrub, which I throw in to my trolley at the supermarket, does a good job, smells nice and is reasonably priced.
3. Garnier 2 in 1 Express Makeup Remover RRP$7.99- I've always found I need a make up remover as well as a cleanser to remove my mascara, concealer and eye make up.
This product is very gentle on my skin, removes my eye make up easily and again, is reasonably priced.
4. Trilogy Hydrating Mist Toner RRP$26.99 – I've been using this for a couple of years and I love the scent and feel of this mist on my skin. I occasionally use it during the day for a quick, rejuvenating spritz, especially on hot days.
Again, I generally only buy this on sale from Priceline.
And now on to the moisturisers.
From top to bottom, left to right:
5. USPA Pure C Complex Serum RRP $90 –  I've never been one for a serum (I didn't feel the need and was hesitant to splash the cash) but I bought this after the most sublime facial at the QT Hotel in Sydney (which you can read about here).
It has a lovely, fresh scent, feels beautiful to apply and has made a real difference to the softness, feel and look of my skin over the last couple of months.
6. L'Oreal Skin Perfection BB Cream RRP$24.95 – this 5 in 1 tinted BB cream was my introduction to the world of BB creams.
I like to call it my every day face when I want a moisturiser with some light coverage to even out my skin tone. It also has an SPF of 15.
I pick this up at Priceline or the supermarket and have found it's great for every day wear or with mascara and lip gloss for a natural but just made up look.
7. USPA Revital Eyes Eyelift Gel RRP $66 – this is a beautiful gel to apply and goes on easily with a pleasant scent.
I also have a slightly less expensive Trilogy eye cream that I use as well so I don't run out of this one as quickly.
8. Natio Daily Protection Face Moisturiser SPF 15 RRP $16.95 – I've been on the look out for a basic, inexpensive and untinted daily moisturiser (to wear under foundation) with SPF and this has been a great buy. It feels and smells lovely.
9. Garnier Sleeping Miracle Cream RRP$19.99* – I was given this cream at the Kidspot Voices 2015 Breakfast in May and I absolutely love it. It was inspired by sleeping masks used by Korean women apparently and must be used to be believed.
It feels silky smooth to apply and soaks in to my skin easily and quickly. It has a pleasant scent and an almost gel like texture.
This product is being launched in Australia and is therefore hard to find online, although I had no difficulty finding it at my local Priceline last week.
I'm also surprised it retails for $19.99, which I think is excellent value considering it's quality and it's positive affect on my skin.
For more info, check out my prize winning review of the Garnier Miracle Cream here.
10. Garnier Miracle Skin Cream RRP $19.99* – This was also in the goodie bag at the recent Kidspot Voices of 2015 event. I didn't use it until recently and it really is miraculous – the cream is white but when applied to your skin, it somehow changes colour to the right tone for you. It's supposed to make you look radiant and younger looking (I'll leave that to others to judge) but it does feel good. Amazing!
The Garnier Miracle Skin Cream gives a slightly heavier coverage than the L'Oreal Skin Perfection BB Cream mentioned above. In researching this post, I discovered it also has a SPF of 15 in it too. It's a great every day cream with coverage and SPF.
* denotes products that were gifted to me. For more information, check out my Disclosure Policy here.
Do you use any of these products? What are your favourite skin care products?