A couple of weeks ago I wrote about the New Skin Rejuvenation System* two weeks in to my treatment.
Today, I'm reporting back about my experience after my first month of treatment, which has been twenty treatments in total. It's recommended that you use the Newa five times a week for the first four weeks before switching into "maintenance mode".
Before I launch into that, allow me to briefly recap what the Newa Skin Rejuvenation System is all about.
The official spiel is that over time, our skin begins to lose collagen which is what gives skin its shape. Using 3DEEP professional salon grade technology, Newa is clinically proven to firm, tighten and lift the skin by reactivating the skin's natural ability to produce collagen.
So how does the Newa Skin Rejuvenation System do this I hear you ask?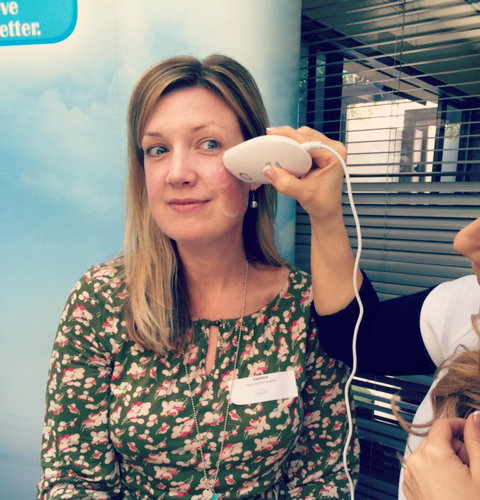 According to Newa, the most efficient way to produce new collagen is by bringing heat to the deep levels of the skin which keeps the skin tight. Newa delivers energy 3 layers deep into the skin, reactivating the natural collagen producing process to lift and smooth wrinkles naturally. Skin care cream can't reach these cells and fillers and chemicals can't achieve this.
Here's how it works:
Here are a couple of rather fetching pics of me before using Newa …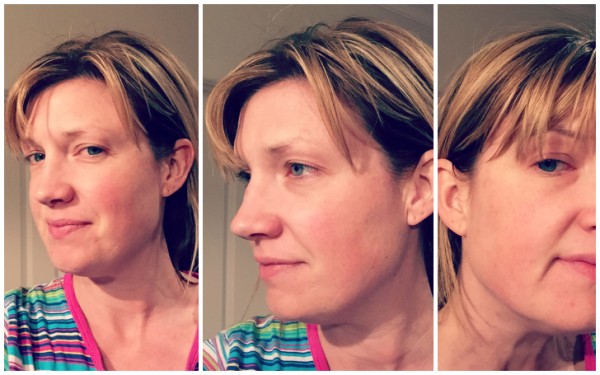 And after a month of use (twenty treatments) …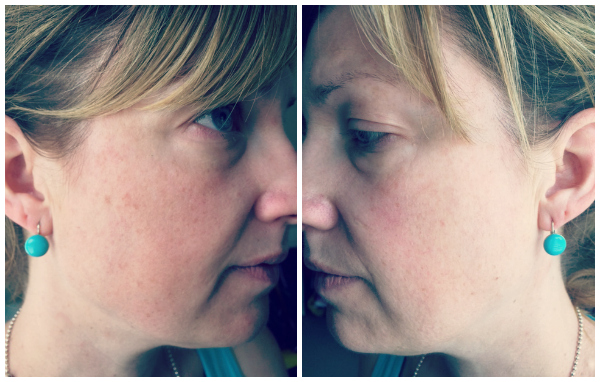 So how did I find using the Newa overall?
I definitely noticed a significant improvement in the softness and and overall feel of my skin. Newa reports that visible wrinkles are improved by up to 45% but I couldn't really put a percentage on mine.
I can say, however, that each time I used the Newa, my skin felt fresh, soft, smooth and invigorated – like I'd had a gentle but deep exfoliation. It also felt a little "plumper". It was a shame that I went to bed immediately after each treatment as I didn't get to show it off immediately (I unfortunately don't have the time to do the treatment in the mornings).
No-one commented on any differences although I wonder whether this may be partly due to the fact that I wear foundation most days – either a light BB cream or foundation. In any event, my wrinkles and lines on my cheeks were not particularly visible to begin with so this did not surprise me.
Would I recommend the Newa Skin Rejuvenation System?
So the bottom line is that I would recommend it provided:
– you have the time to commit to the treatment, five times a week for the first four weeks. After that, two treatments a week are sufficient for maintenance. The time each treatment takes depends on how many of the six treatment areas you focus on. Each treatment area takes four minutes. I focussed on four areas bringing my treatment time to 16 minutes;
– you want to improve the skin on your cheeks, chin, neck and near your eyes. I think you will see an improvement in those areas like I did. This product will not treat your forehead though;
– you prefer the flexibility of beauty treatments in your own home. This product is ideal if it is difficult for you to attend appointments at salons from a time/child care perspective;
– you don't mind administering the treatment yourself. Some people like to go to a salon and flake out, relax and let someone else do the "work". If you are happy to do your own treatment, this product could work for you. Once I got into the groove I didn't mind the DIY factor but this may not suit everyone;
– you would rather explore less invasive beauty treatments;
– you've done the maths and worked out that even with the RRP $499 price tag, you'd be ahead financially given your current or usual expenditure on salon treatments. Also factor in the activator gel which is $59.95 a tube. I've still got some left after one month of intense use so it does last a while – one tube is provided with the kit when your purchase it;
Newa is a Skin Rejuvenation System that reduces wrinkles naturally. Clinically proven to firm, tighten and lift skin by reactivating your skin's natural ability to produce collagen, Newa reduces wrinkles by up to 45% in just twelve weeks all in the comfort of your own home. For more info visit www.homedics.com.au. Available now at The Shaver Shop $499 RRP.
* I was given a Newa unit to try at home for the purposes of reviewing it in accordance with my Disclosure Policy.
So that's my wrap of the Newa Skin Rejuventation System. Any questions, thoughts or comments?