Got your invite to this year's work Christmas party?
Are you looking forward to the do itself and having some fun and a well earned wind down with your work mates?
I always really looked forward to my work Christmas party and it was always a very fun and festive affair.
And I've been to some rippers.
Lunches out at fab restaurants were the thing at my most recent workplace.
We had beautiful long lunches at Libertine, Studley Park Boat House, Hellenic Republic and Mo Vida in addition to our annual family Christmas picnic.
At the workplace before that, we used to mix things up from year to year. Lawn bowling one year, drinks and a DJ the next. We did a boat cruise along the Yarra another time which was not the greatest when you are three months pregnant, starving and can't drink!
Now I'm working for myself, I either crash Mr SnS' work Christmas lunch or organise my own. This year, another self employed mate has suggested a bunch of us self employed peeps should have lunch together and create our own work Christmas party. Such a great idea and I'm looking forward to it already.
So, bearing in mind that Work Christmas parties come in all shapes and sizes, I've put together three outfits to cover a range of potential party scenarios.
The first covers the evening do – whether that's dinner, drinks or a cocktail party.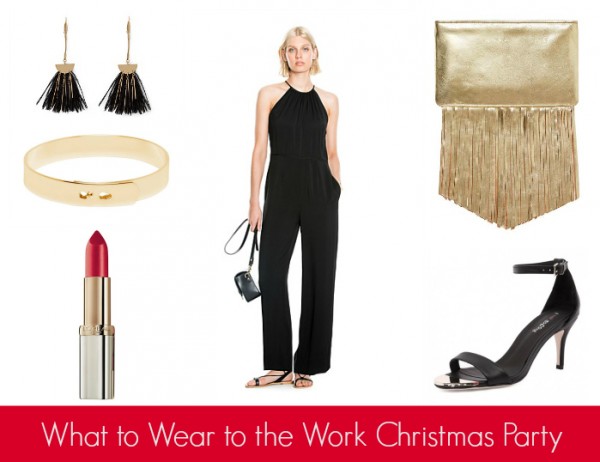 ABOVE, CLOCKWISE FROM LEFT: Feather Earrings, $69.95 from Country Road; Halter Jumpsuit, $199 from Country Road; Belinda Fringe Clutch, $89.95 from Seed Heritage;  Cabana Heel in Black/Gold by I Love Billy, $89.95 at Style Tread; L'Oreal Colour Riche – Carmin, $21.95 from Target; Sleek Metal Cuff, $29.95 from French Connection.
I love the modern simplicity of this jumpsuit. It shows off some skin with the halter neck and drapes flatteringly with a wider leg.
If you're not sure about jumpsuits or concerned about potential bathroom scenarios, any black dress or black top/pants combo would also work.
If you're looking for a new take on the LBD, check out this gorgeous Cut out Kimono dress, $149.95 from Witchery.
Accessories wise, I've included some feather earrings from Country Road's latest jewellery range and kept the tassel theme going with this statement fringed clutch.
Depending on the location and formality, you could either wear a dressy pair of flats, as the model is above, or add some height, as I usually do with a jumpsuit, with a pair of heels. (You can find more tips for styling a jumpsuit here).
Complete the look with a bold red lip and you'll be ready to party!
The next outfit is for a less formal affair, such as a lunch or drinks after work.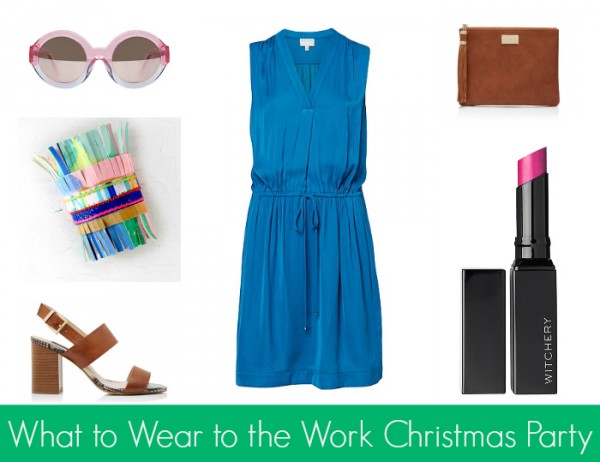 ABOVE, CLOCKWISE FROM LEFT: Zissou sunglasses, $169 from Gorman; V Neck Sleeveless dress, $119.95 from Witchery; Zade Clutch, $29.99 from Forever New; Lipstick in Orchid, $16.95 from Witchery; Sally Block Heels, $59.99 from Forever New; Wonder Woman Cuff, $49.00 from Tiff Manuell.
I love pairing a bold block colour dress like this easy wearing sky blue frock from Witchery with a statement accessory such as this fab cuff from designer Tiff Manuell.
(If a print dress is more your thing, check out my latest posts on new season printed dresses here.)
The tie waist creates some shape while being adjustable which is handy at the end of a long lunch.
Block heels or a wedge are a good idea if you're likely to be standing up, walking to the location or to public transport at the end of the event.
A fab pair of sunnies are essential for a day time do so you can focus on your colleagues and read the menu without being knocked sideways by sun glare.
Add a bright lip and hello, Christmas!
This final outfit is for more casual work do's such as family days, picnics or parties where you actually have to do something – like bowl or supervise children.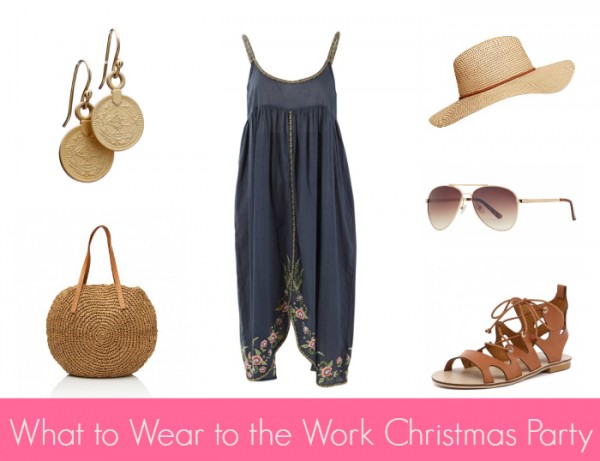 ABOVE, CLOCKWISE FROM LEFT: Gold Plated Coin Earrings, $36.95 from Hard to Find; Juliet dress by Lazybones, $145 from, Birdsnest; Wide Brim Hat, $59.95 from Seed Heritage; Adele Aviators, $34.95 from Sussan; Morgin Tan Gladiator sandals, $59.95 from Style Tread; Round Straw Tote, $49.95 from Sportsgirl.
I'm channelling boho vibes here with this gorgeous new season Lazybones frock, coin earrings and gladiator sandals. If it's a bit breezy, add your old denim jacket for warmth.
If you're hanging at the park, don't forget to be sun smart and add a wide brimmed hat and sunnies.
A big tote will come in handy for sunscreen, presents, drink bottles and all the usual paraphernalia.
Oh and if you need to sort out a Kris Kringle for the Christmas party, you can check out 35 KK ideas under $15 here.
This post contains affiliate links. You don't pay any extra and I earn a small commission. Read more in my Disclosure Policy here. 
What are you doing for your work Christmas party this year? Which outfit would be the most approps?