Well, the jumpsuit looks like it is here to stay.
Big yay for that. * insert fist pump *
I first wrote about the jumpsuit revival two years ago in my post I Heart Jumpsuits.
In it, I made the case for why you might consider wearing a jumpsuit and how to find the right jumpsuit for you.
Back then, jumpsuits were a new trend that many of us felt nervous about trying.
Now, they are well established as a great alternative to the frock.
Which is totes a good thing as I'm definitely still on the jumpsuit wagon.
That's not to say I have a wardrobe full of them – I don't – but I do have three including this fabulous Valsa Jumpsuit from Melko, which looks like a maxi but is in fact a wide legged cullotte style jumpsuit. (Melko, if you've not been introduced, is a fab store full of beautiful clothing and accessories from Brazil and other parts of South America). 
How gorgeous is this fabric – it's silky rayon is smooth to the touch and this print is all sorts of gorgeous. The navy is bang on trend and this is such an elegant outfit for a Christmas party.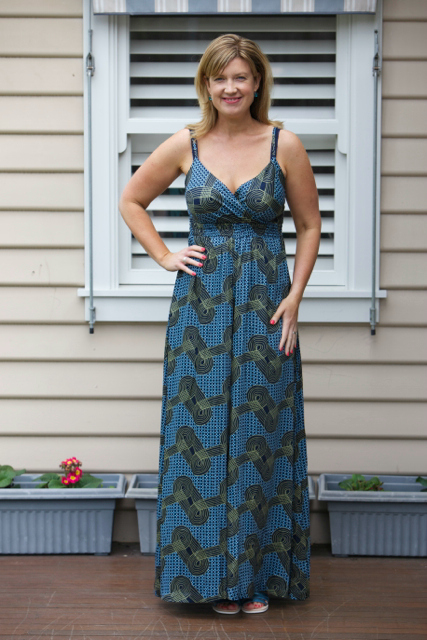 I'm wearing the Valsa Jumpsuit,* $249 from Melko (limited sizes left), earrings from Ann Taylor (US) and new season Mirage Heels from Gorman. I'm wearing size 4 in the jumpsuit which is roughly equivalent to a 14 – a smaller size fitted except for in the top. Check out the full range of jumpsuits and playsuits at Melko's online store here, visit them in Melbourne at their Howey Place, Melbourne or Brunswick St, Fitzroy stores or check for a local stockist here.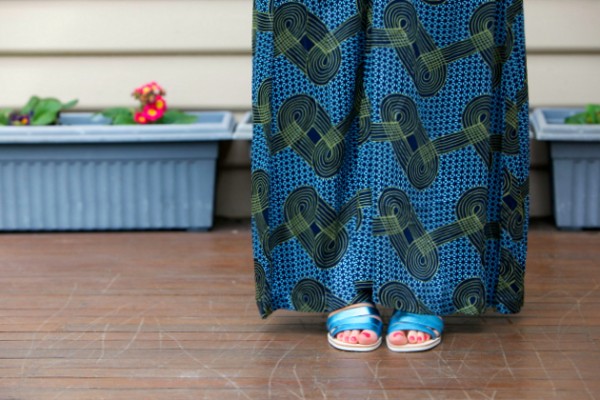 So if you haven't found the right jumpsuit for you yet, don't fret. In today's post, I've found eight more new season jumpsuits, beginning at $49.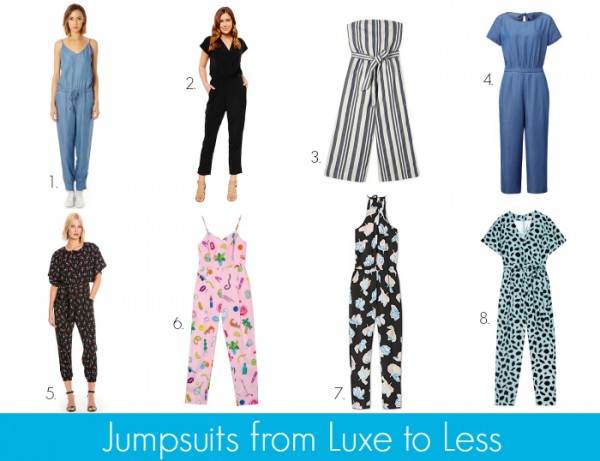 1. V Neck Jumpsuit, $49.99 from Glassons; 2. Lily Loves Cross Front Jumpsuit, $49 from Target; 3. Stripe Print Pantsuit, $149.99 from Country Road; 4. Tencel Jumpsuit, $149.95 from Seed Heritage; 5. Print Tie Waist Jumpsuit, $179.99 from Country Road; 6. Garden Party Pantsuit, $229 from Gorman; 7. Halter Neck Tie Jumpsuit, $229 from Marcs; 8. Deville Jumpsuit, $299 from Gorman.
This summer, in addition to the much loved wrap front/tapered leg style, there are a few distinctive trends in jumpsuits:
– the denim jumpsuit;
– the halter neck jumpsuit; and
– the printed jumpsuit;
– the wide legged jumpsuit, like the one I'm wearing above;
You'll still find a few classic black styles but jumpsuits are a bit more casual and playful this Spring/Summer.
For dressy jumpsuits, I'm loving the range at Seed Heritage. This white strapless style is a an absolute show stopper.
Playsuits are popular too, with loads of great options across stores and price points. Check out the fab range over at Witchery.
While it's possible to find a great jumpsuit at a range of price points, several brands's price points are quite high – I'm talking Marcs, Gorman, Country Road and Seed Heritage.
This is not a bargain by any stretch, but when you consider how much a pair of pants and a top at the same store would set you back, it's actually better value than it perhaps first appears.
So how to style a jumpsuit? Here are a few tips:
1. For block colour jumpsuits, incorporate some on trend metallic accents into your outfit – a rose gold clutch; a knock out pair of gold heels or a strappy silver wedge; or a pair of statement earrings;
2. For strapless, halterneck or asymmetrical jumpsuits, stick to a neutral shoe, leave your decolletage bare and add a statement pair of earrings, cuff or an arm party;
3. For printed jumpsuits, add a heel, bag or bright lip in a colour that features in the print to add some wow factor;
4. For playsuits (shorts), wear a neutral woven sandal by day and up the glam-o-meter with an espadrille wedge by night.
5. For all jumpsuits, a bit of height is flattering – opting for a good sized heel or wedge will elongate your legs. It's not easy to pull off a jumpsuit with flats but if you feel confident, go for it!
6. For casual denim styles, up the boho factor with a beaded arm party or some statement boho inspired earrings.
* This jumpsuit was gifted me by the kind folks at Melko. This post also contains affiliate links. You don't pay any extra but I earn a small commission. You can read my full disclosure policy here. 
This post was originally published in October 2014 and has been updated with current products, styling ideas and trends because I'm still loving jumpsuits!
Will you be dusting of last year's jumpsuit for the coming summer? Or investing in a new one? How do you like to accessorise yours? Of those above, what takes your fancy?