I've long been a fangirl of Gorman.
It's hard to isolate the reason why as there are several.
Like our mutual love of quirky, statement prints.
And our penchant for an oversized dress and the flattering, Harry high pant.
Not to mention our colour obsession and our abiding love of fun home wares.
Just when I thought it couldn't get any better, Gorman has gone all '80s on me. And I really love the '80s.
Gorman's new Spring Summer range doesn't just give a nod to the '80s. No, we're talking a full blown Footloose solo down Electric Avenue with Flashdance splits thrown in for good luck.
Specifically, I'm talking poodles, giant perspex earrings, pleats galore and gold polyester.
And then there's this super fun Hands On print which is carried across dresses, tops, knit wear, pants and skirts as part of Gorman's new Spring Summer 16 range.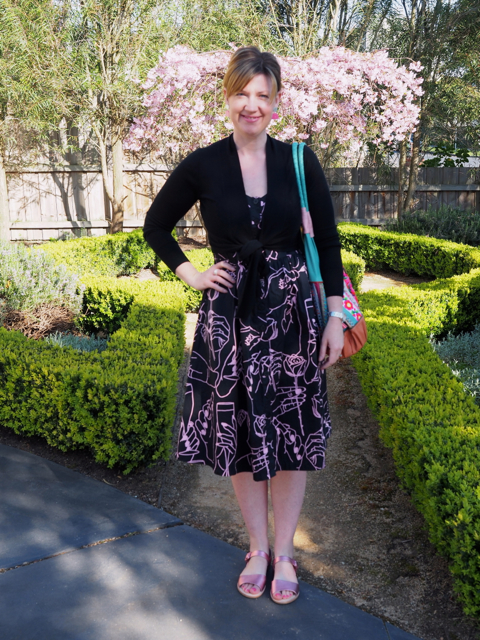 To me, this exclusive Gorman print is the love child of Beauty and the Beast (or it's modern incarnation, The Bachelor with whole hand on the rose biz) and all things 80's (lipstick print anyone?).
It's fun, it's a bit retro.
It's a yes from me Eddie.
Above and below, I'm wearing the Hands On cotton dress, $199 which I picked up at a recent 20% off storewide sale.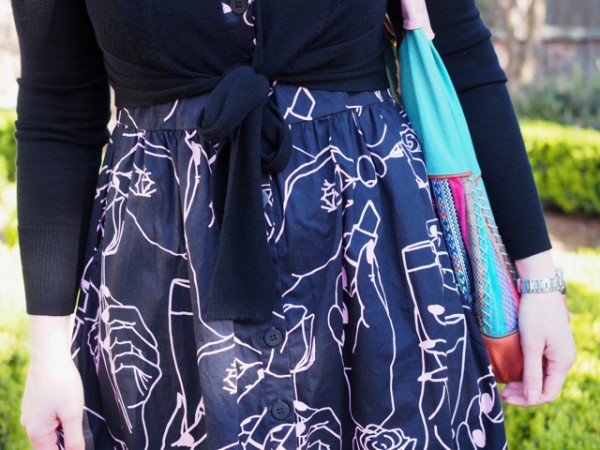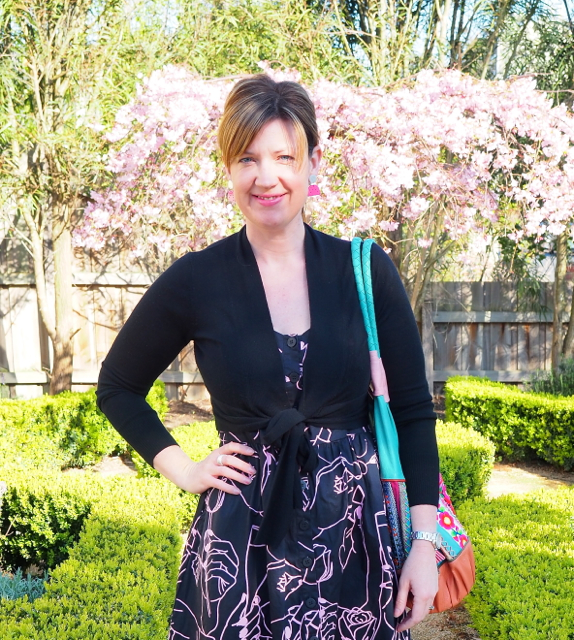 Why is this dress working for me?
Well firstly, this is an easy wearing button through cotton dress with thin straps which works well with a cardy or shrug thrown over the top for now.
Come Summer, the breathable cotton fabric will work well on warm days too.
The statement print is fun and can be dressed up or down. Here I've dialled up the 80's vibe a bit higher with some fun perspex earrings from Adelaide based jewellery designer Mint Cloud, a wrap from Alannah Hill, a fave bag picked up in Bali last year and metallic pink sandals (Arizona sandals) from Gorman.
For me, a classic frock and flats combo was the perfect outfit for a day in the city with a girlfriend to see the most excellent David Bowie exhibition and a fab lunch at Cumulus Inc.
I would also wear this fun frock with a pair of clogs or a wedge for a family dinner or for lunch with girlfriends.
This dress would also work for our breastfeeding sisters with it's handy button through feature.
Size wise, it's slightly generous. I'm wearing a size 12 which is roomy but the 10 was too tight across my DD bust.
The waist sits higher than my natural waist too which makes it a flattering cut, particularly if you are pear shaped and the decent length makes it a knee length option for taller ladies or an on trend midi length if you're shorter than my 5'9″.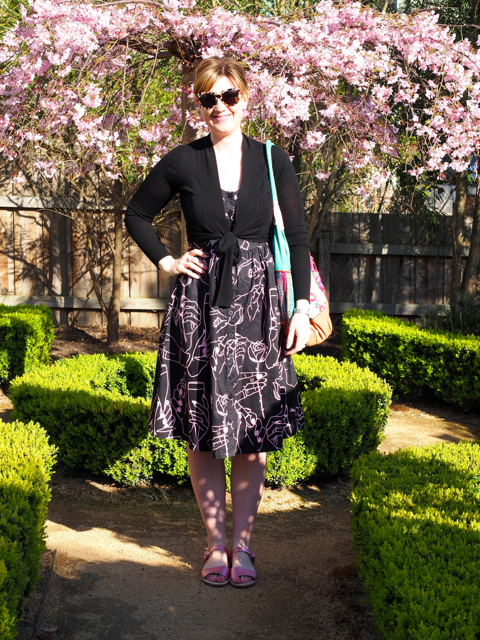 If you're a fan of this style but not the print, this check out the Badminton Dress (a block coloured bright blue version) and the Leisure Lover Button Dress (a fun pink/orange print).
Are you happy to see the '80s making a comeback? Do you love a statement print?