One of my favourite things about Melbourne label Gorman is it's regular collaborations with local artists.
Several prints all based on the artist's work are used for a seasonal capsule collection, offering something completely new and different every season, even when similar styles are repeated.
There have been many standout collaborations in the past – my recent faves include Miranda Skoczek, Kate Kosek, Camille Walala, Rachel and most recently, Fred Fowler – but the new Mirka Mora X Gorman collab has me bursting with excitement.
It's absolutely awesome.
I'm obviously not the only one who thinks so too as the online store sold out of most of the new range in a matter of days (it's just been restocked from the boutiques).
I went in store last week stat and tried on several pieces in the new range. The stand out piece for (and on) me was this beautiful Mirka dreaming skirt, a silk linen blend.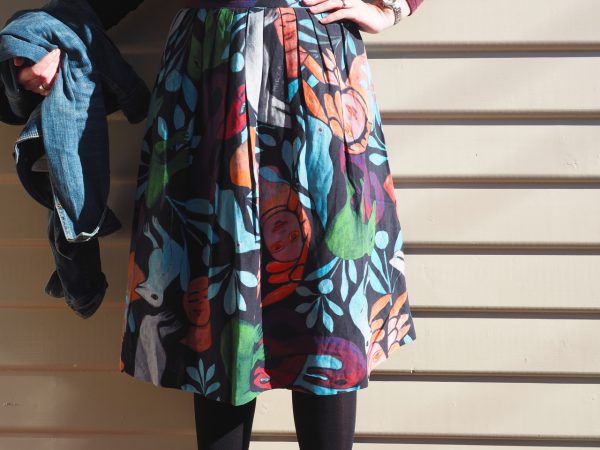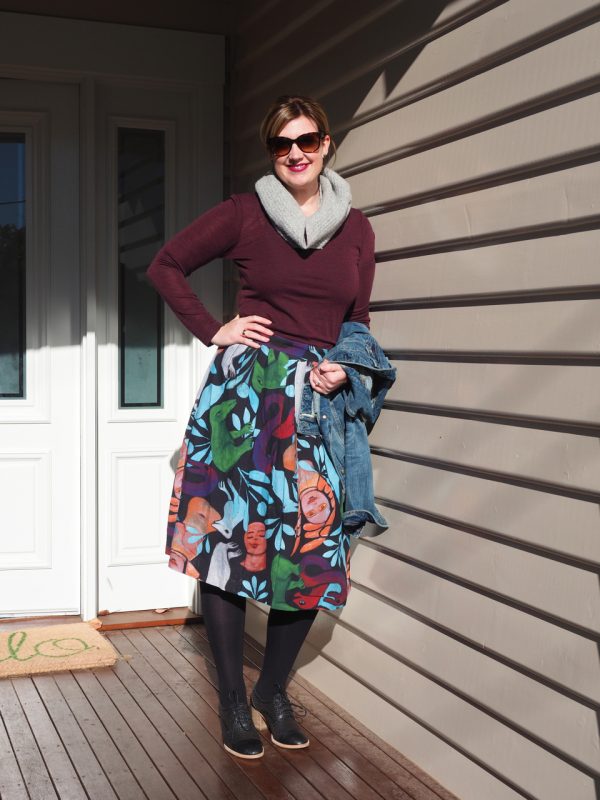 I've paired this skirt with my the Break the Ice top in wine (picked up in a recent sale but now sold out online – check in store though), a fine merino long sleeved top which I picked up in a storewide sale. I love how it picks up the deep wine in the print.
My ever faithful grey wool snood from Boden and these current season Silent D Wiana Black lace ups from Style Tread and a bright lip finish things off.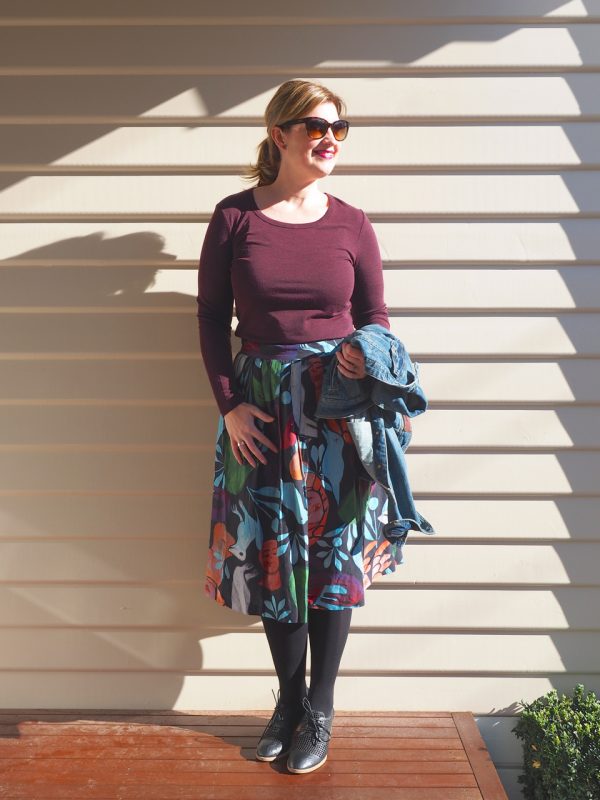 A printed skirt like this is a handy little number too, particularly with it's trans-seasonal friendly silk/linen fabrication. It's substantial enough that in winter, I can pair it with knits, tights and boots. As it warms up, I'd wear this with a fitted tee or shirt and derbys or ballet flats.
Just a little heads up though: the sizing in the new range is a little bit all over the place. I'm wearing a 14 in this skirt which sits very high on my waist (the narrowest part), so I'd say it's definitely on the small side. I would normally take a 12 in this style.
When I tried the pants on though, I was a 12 when I'm often a 14 in Gorman pants – they do have a reasonable amount of stretch though.
I had also had my eye on this very cool biker style Mirka Dreaming jacket, but found I was in between sizes (12 and 14).
This dress, worn by Mirka Mora herself in the promos, is all sorts of amazing too.
Are you a fan of the new collab or Gorman generally? What are you loving from the new collection?