I recently converted to the jumpsuit and I am here to suggest that you could too. It is not a style I thought would suit me, but surprisingly, this 1980s high waisted shape suits ladies with busts and bottoms.
My jumpsuit purchase was an impulsive one, made with the encouragement of my 17 year old colleague. I was a little unsure to begin with, but after posting a photo of myself in it on Facebook with the question, "Can I pull this off?", the yays outvoted the nays. I went with the people and have already worn my jumpsuit a couple of times out for dinner with friends. As soon as the weather improves, I will be wearing it more often (and maybe even on the blog!). Wearing a jumpsuit is fun, on trend and just a tad 80s. What's not to love?
If you are considering whether a jumpsuit is for you, my advice is fourfold:
1. If you are self conscious about your legs, wear heels or wedges to elongate your legs;
2. If you are self conscious about your bottom, wear a long slim line cardy over the top;
3. When trying on your jumpsuit, practice sitting down to make sure the fabric in the torso is long enough for you to feel comfortable when sitting down. The last thing you need when you are out and about is a permanent wedgie.
4. Stick to black or prints. A white jumpsuit could carry you into karate territory. You don't want to be mistaken for a Sensei.
Below is my round up of some great jumpsuits.
I think this black wrap jumpsuit from Seed Heritage (1) is a knock out and would look the business with a great pair of heels and bright red lipstick.
The rest range from sexy and sophisticated (2 and 5) through to playful chic (4) and relaxed boho (7).
If you are not sure about this style on you, you might like this jumpsuit (3) or playsuit (6) for your little girl.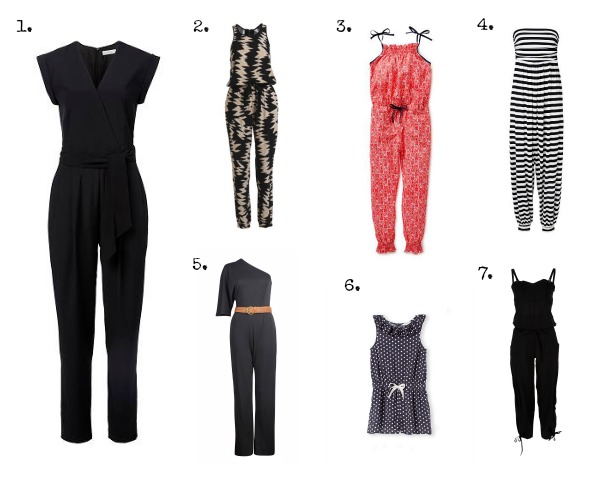 1. Women's Apparel Wrap Jumpsuit, $149.95 from Seed Heritage (also available in white);
2. Women's Tribal Jumpsuit, $99.95 from Bardot;
3. Girls Bandana Jumpsuit, $59.95 from Seed Heritage;
4. Women's Apparel Bandeau Jumpsuit, $99.95 from Seed Heritage" (also available in a print);
5. Women's Farrah Playsuit, reduced to $99.95, from Pilgrim;
 6. Girls Star Print Jumpsuit, $49.95 from Country Road;
 7. Tailored Playsuit, $89.95 from Birdsnest.
Are you a jumpsuit fan? Would you like to "jump" on board? Do any of these styles take your fancy?