I know its not breaking news but the weather has been a bit all over the place lately, hasn't it?
Un-seasonally mild weather has meant winter has been somewhat delayed this year. Even in Melbourne, where winter usually begins in earnest around the beginning of May, it's been surprisingly pleasant.
In fact, I've been away this last weekend gone and didn't need to wear my coat. Not once. It's all a bit odd.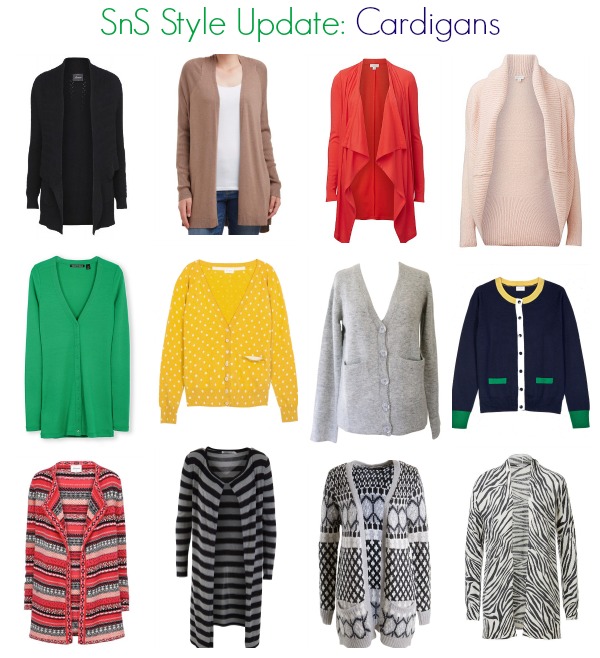 It's made it tricky to get dressed too. I am sure I'm not the only one looking forward to wearing my new winter threads and feeling a little first world frustratation that I am still in between seasons.
So, how to dress in un-seasonally mild trans-seasonal weather?
For me, the answer is a cardigan.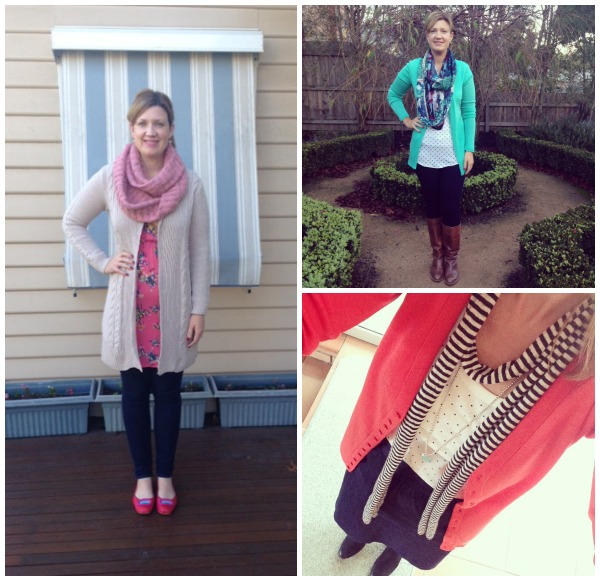 In the morning, I wear mine with a scarf over the top to fend off a chilly start to the day. As the day warms up, I lose the snood and feel comfortable with fewer layers on my chest, while still keeping my arms covered and warm. Later in the day, the scarf/snood goes back on for the after school run around.
There are plenty of cardigans around at the moment and you'll be sure to find one that works for you. Here are a few of my favourites: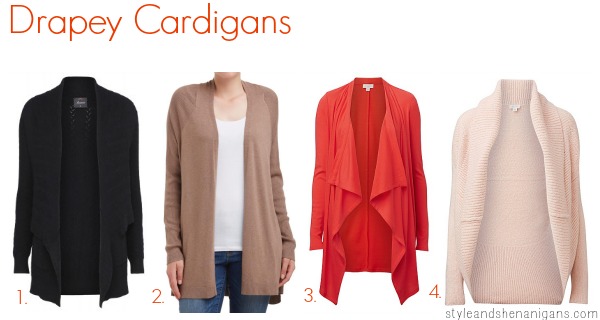 1. Sally Waterfall Cardigan, $29.99 (currently 40% off), Jeanswest; 2. Soft Drape Cardi, $79.95 from Sussan; 3. Babywool Waterfall Cardi, $119.95 from Witchery; 4.Cocoon Cardi, $129.95 from Witchery.
Drapey cardigans are the King of Cardigans and the most versatile.
From a practical perspective, they cope with variations in weight as they aren't fitted. They are also great for those days when you don't want anything clinging to you but you still need warmth and shape.
Longer styles can also cover bottoms and thighs if, like me, you prefer to cover these areas when wearing skinny jeans or pants.
Waterfall styles, like (3) above, are particularly great for pregnant women as they cater for growing bellies and work before, during and after baby. They also allow easy access for (and coverage if you prefer it), for breastfeeding Mums too.
Down the track, they can also be belted to create a waist and a whole new look.
Worn with simple block colours, they can be dressed up or down by simply adding statement jewellery and a pair of heeled boots.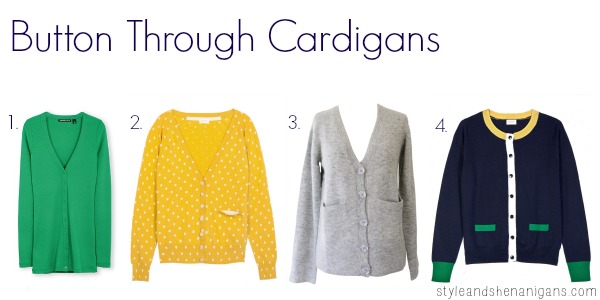 1. Long sleeve Cardigan, $59.95 from Country Road; 2. New Band Wagon Cardigan, $129 from Gorman; 3. Slouchy Angora Cardigan in Grey, $139 from Bohemian Traders; 4. Jessi Cardi, $169 from Gorman.
I love a button through cardy. I tend to wear my shorter/cropped button through cardigans done up and worn with skirts or over dresses which is all a bit retro and cute.
Longer line button through cardigans, like the Country Road one above (1) are perfect over jeans and dresses. (I am wearing two of mine – the green and orange – in the photos above). Their slim line is flattering and covers bottoms and the tops of thighs. In a colour, they also pack a bright punch. I generally wear mine open and with a scarf and long pendant.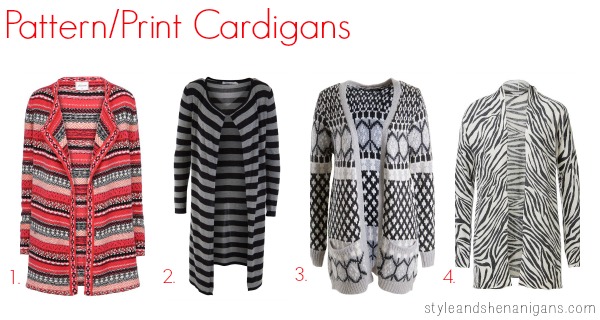 1. Marin Pattern Cardigan, $41.99 (currently 40%) from Jeanswest; 2. Stripe Long Line Cardigan by Sunny Girl, $49.95 from Birdsnest;  3. Alpine Cardi by Living Doll, $109.95 from Birdsnest; 4. Zebra Print Cardigan, $129.95 from Seed.
A patterned/print cardigan looks great over jeans, a longline tank and a pair of boots. If you need to layer with a scarf, opt for a block colour and let the print do the talking or go to town with a print clash (for inspiration for how to print clash, head to this post).
What's your go to style of cardy? Do you prefer long, short, patterned or drapey? What's your pick of the above?