I had dinner with a girlfriend recently. We met at sleep school 5 years ago (oh the places I meet people!).
Twelve months ago she had her third child. Over dinner she told me she is in that inbetween land of not knowing what suits her anymore, while trying to lose some of the "baby" weight and that she is feeling less than comfortable in the meantime. I could totally relate and empathise and I am sure many of you know those feelings all too well.
And then she delivered the line of the evening – "I didn't think it was possible to wear skinny jeans until I lost all the weight until I saw you. You have totally inspired me to wear my skinny jeans again, even now!" I took this as a compliment (as it was intended) and let her in on my tips for wearing skinny jeans, when you are not, in worldly terms, a skinny minnie.
I won't bore you with the deets but like many other hourglass or pear shaped women, I don't think my bottom half is my greatest feature. It's fine in the overall scheme of things but when dressing, I go to some lengths to draw attention away from this region.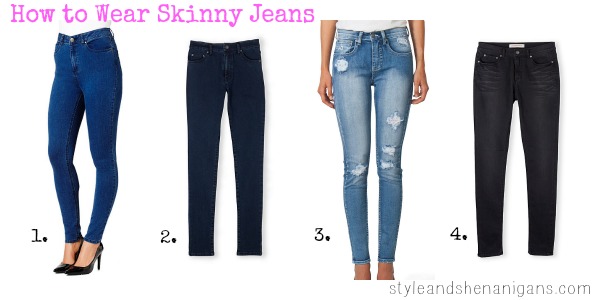 1. Hot Options Denim High Waisted Jeans, $40 from Target; 2. Indigo Mid Rise Jegging, $99.95 from Country Road; 3. Distressed Skinny Jeans, $90 from Bohemian Traders; 4. Black Low Rise Jean, $99.95 from Country Road.
I also confess that my skinny jean fantasy is to wear a simple shirt tucked into my skinny jeans in a casual preppy, Elle MacPherson, school pick up kind of way but of course, this is not my reality!
Nevertheless, I have found ways of wearing skinny jeans (which, let's face it, don't leave ANYTHING to the imagination) in a way which I think is flattering and comfortable.
I hope that these tips might help other women who are perhaps a little self conscious like me and wondering how to embrace this long lasting trend. After all, there are no signs of skinny jeans leaving the building although boyfriend jeans are a good casual alternative if you can't/won't go there.
So here are my tips for wearing skinny jeans and four outfits for some new season styling inspiration. I'd love to hear your tips too.
1. Find the right pair of skinny jeans
The goal here is to try to find a pair that are comfortable and give you a flattering, streamlined silhouette.
For some of us, this means a high waisted pair that reduce/eliminate muffin top issues (such as the Target pair and Country Road jeggings above).
I also find that skinny jeans with elastane (stretch) are far more comfortable than those without. This reduces the "cut in half" feeling when you bend over and the infamous post-wash, my-jeans-have-shrunk discomfort.
If you don't find jeans comfortable, consider a ponte legging/jegging. A good place to start is Sussan as they always have loads of this style.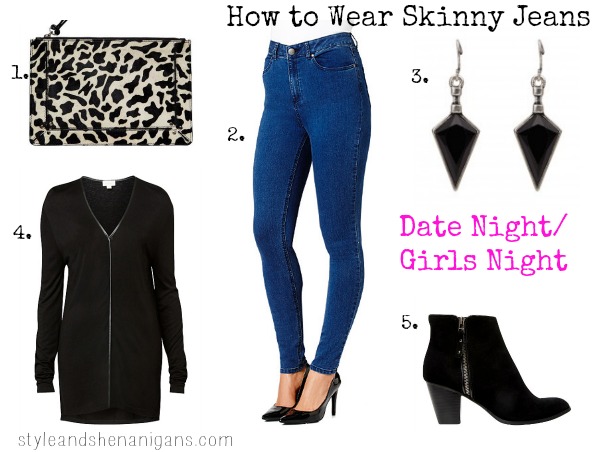 1. Printed Leather Clutch, $99.95 from Seed Heritage; 2. Hot Options Denim High Waisted Jeans, $40 from Target; 3. Arrow Dangle Earrings, $9.95 from Sportsgirl;  4. V Neck Tunic, $69.95 from Witchery; 5. Gabby Zip Ankle Boot, $199.95 from Seed Heritage.
2. Invest in tunic tops and knits
My autumn/winter wardrobe now consists of tunics in a variety of fabrics, colours and prints. As I am tall (5′ 9″), I usually aim for a mid thigh length which covers my bottom and the top half of my legs without looking like I am wearing a dress over pants. I find this to be the most flattering length for me.
If you are shorter, a shorter a-line or swing type top or knit can be a great alternative.
3. Draw attention away from your bottom half
This can be as simple as wearing a bright colour on top, a pair of statement earrings or a scarf.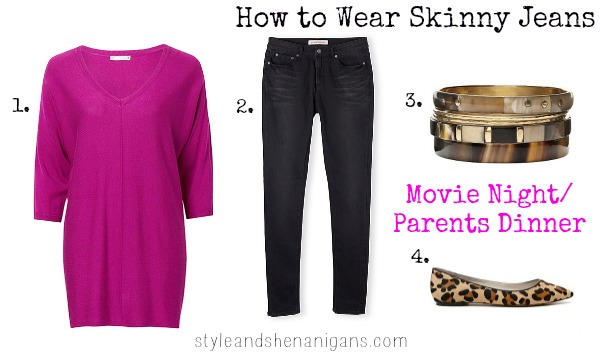 1. Relaxed Knit Tunic in Fuchsia $40 from Target; 2. Black Low Rise Jean, $99.95 from Country Road; 3. Horn & Metal Bracelet Set, $39.95 from Witchery; 4. Adrianna Pointed Flats, $129 from Witchery.
4. Look for longer cardigan style knits that cover.
There are lots of options out there at a range of different price points. I had no difficulty finding a great range when researching for this post. Target and Witchery in particular have great options this season.
To avoid creating extra bulk, look for a finer long knit or go for a coatigan which is a two-in-oner. I love this style with a scarf and ankle boots, as in the outfit below.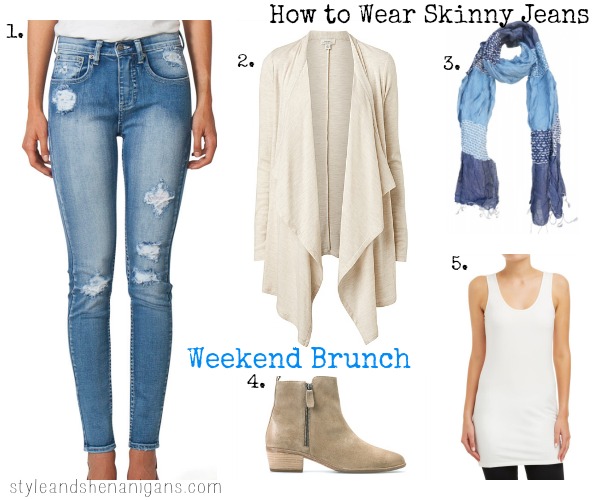 1. Distressed Skinny Jeans, $90 from Bohemian Traders; 2. Baby Waterfall Cardigan, $119.95 from Witchery; 3. Textured Blue Silk Scarf, $39 from Blue Bungalow; 4. Tayla Suede Ankle Boots, $199 from Country Road; 5. Longline tank, $19.95 from Sussan.
5. Wearing heeled ankle boots with skinny jeans elongates legs
Even for someone as tall as me, I find that wearing a heeled boot with my skinny jeans really elongates my legs and is more flattering, as in the first outfit above.
When wearing heeled ankle boots, make sure your skinny jeans are the right length – they should sit neatly just inside or at the top of your ankle boots without bunching up.
If you are wearing longer boots, you are aiming for the boots to sit nicely on top of the jeans with no creasing or bunching.
6. Look for basics that are longer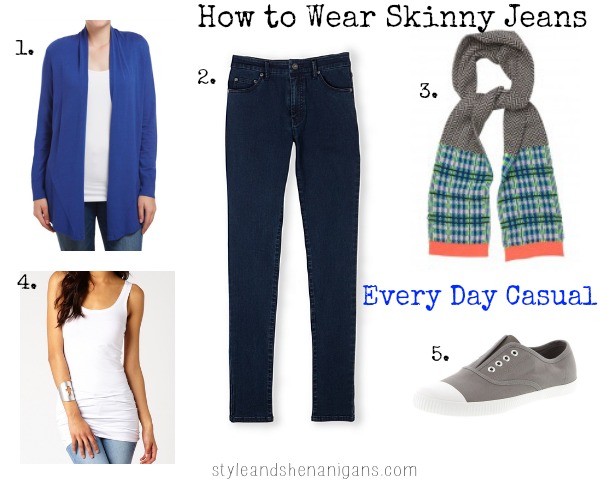 1. Relaxed Cardy in Cobalt, $69.95 from Sussan; 2. Indigo Mid Rise Jegging, $99.95 from Country Road; 3. Spice and Dice Scarf, $29.95 from Sportsgirl; 4. Basic Longline Tank, $9.99 from Glassons; 5. Mandy Eyelet Slip on Shoes, $15 from Target (but available in store only).
In the last few years, I have bought a number of longer length singlet/long sleeved fitted tops which I wear under long knits and cardigans to give me greater coverage (and warmth). Provided your jeans sit comfortably, this should create a flattering look, as above.
I find I get the most wear from my white, grey and black tops as they go with everything.
I have found great basics at Sussan, Target and Glassons.
For more skinny jean styling inspo, head over to my Instagram feed. I post my outfits almost daily and will be featuring plenty of skinny jean action over the autumn/winter months.
Do you wear skinny jeans? How do you style them? What is your pick of the above?