As much as I love a frock, lately I've been working on my Pants Game.
Alongside my ongoing quest for the perfect pair of jeans – more on that in a later post – I've been looking to add more options to my pant-robe.
Mostly, it's been for practical purposes – some variety when it comes to my everyday knit/pants/trainers uniform.
I've also come to realise though that having a few options in the pants department is a great way to create totally different looks when it comes to Winter dressing which can sometimes feel as ho hum as the weather.
So in today's post, I'm sharing the five styles of pants I'm loving so far this Winter – besides jeans – and I'd love to hear what you think and what you've been wearing in the comments below.
1. Cords
I can't get enough of cords. They're comfortable, warm and have enough stretch to be great even when you are sitting down all day. Mine even made the grade as travelling wear – I wore mine on the plane to Uluru.
The pair I'm wearing on high rotation lately are the leopard cord pants from Gorman.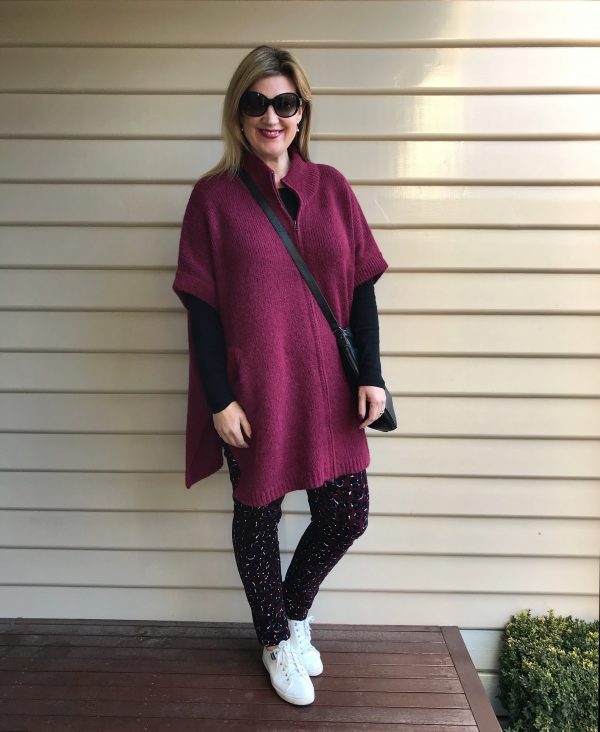 As well as the fun leopard print, I love that they're easy to dress up too with a heeled boot or pointed flat. Because they're textured themselves, I find they also work beautifully with other prints and textures.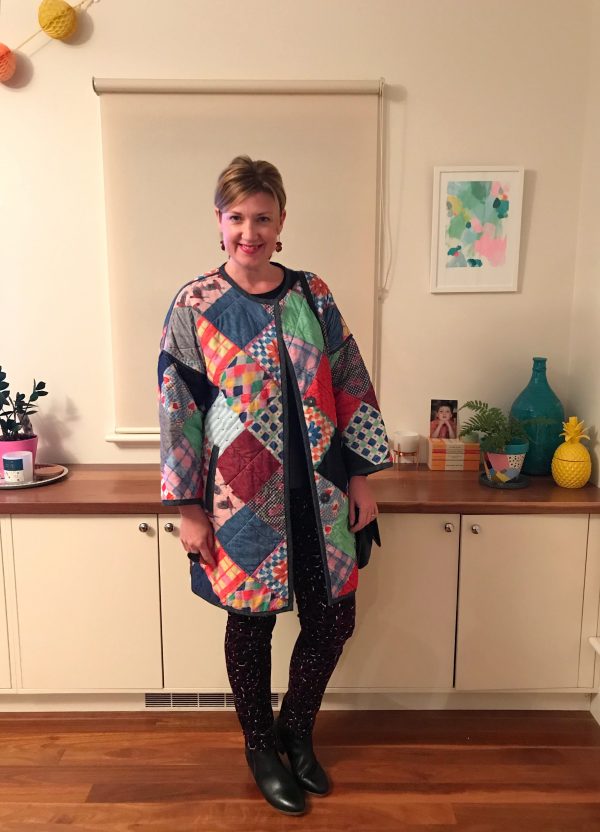 Gorman do great cords and currently have this plain style in copper and navy and this new printed style.
2. Joggers
If you're looking for the love child of trackie dacks and jeans – and let's face it, who isn't – you need a pair of joggers in your life. They're essentially dressy trackies that kinda look like jeans and are supremely comfortable.
I wore mine out for a casual dinner one night on holidays …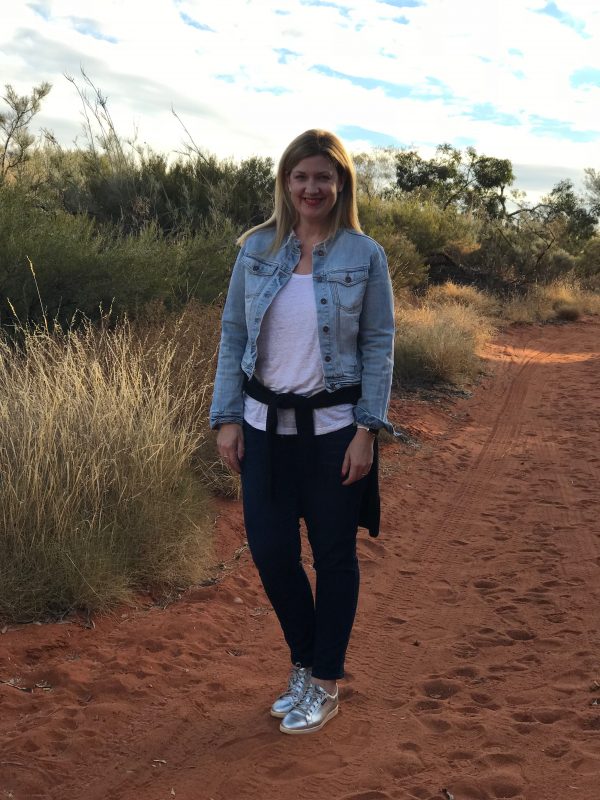 … and even on a walk through Walpa Gorge.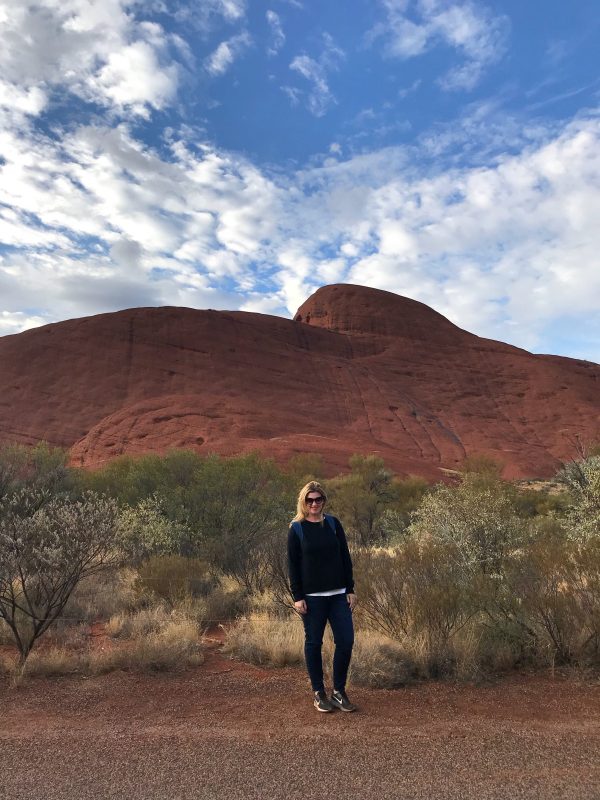 I bought mine last year from Jeans West – they're called the Luxe Lounge Slim Boyfriend but they are still carrying this style in three different colours albeit in limited sizes online so it might be worth heading in store. If you're buying online, FYI, they're on the generous side size wise and have some stretch. Check them out here.
I wear mine most often with a knit and trainers for casual days or when I'm trekking in gorges. As you do.
3. Ponte Pants
Ponte pants were all the rage a few years ago and with good reason. They were a revelation to me in those post pregnancy years particularly, when a warm, stretchy, substantial yet flattering pair of pants was the basis for all my breastfeeding outfits.
I still have a few pairs though and they come in super handy during the depths of Winter and are a great alternative to jeans. I wear mine with oversized knits or tunic tops and a pair of trainers or boots/pointed flats to dress them up.
4. Trousers
I missed the Annie Hall trouser phenomenon by a decade first time around, but I'm certainly making up for it now. A 70's style, wide legged, pleated front, high waisted pair of trousers is one of my favourite styles of pants and I just can't get enough of them.
My latest pair are the Freckle Pants (they're a wool blend) from Gorman. I love to dress mine down with trainers.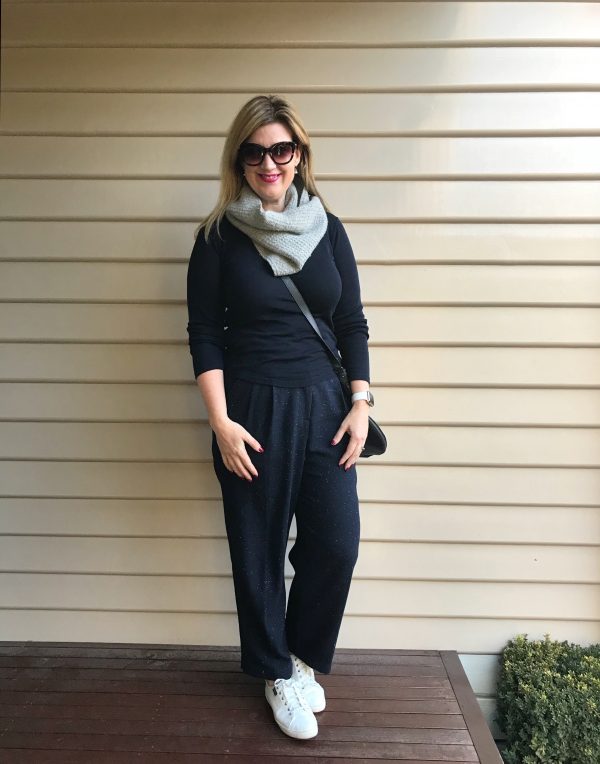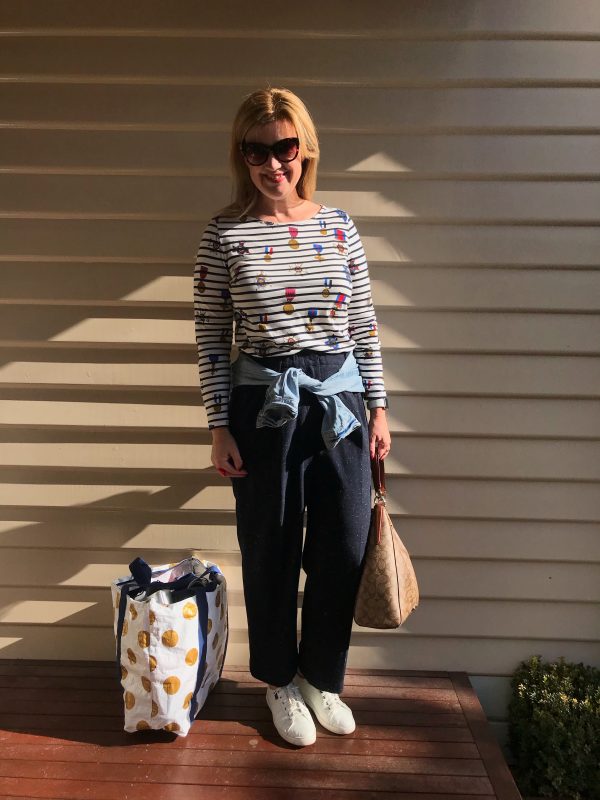 Gorman carry this style over from Summer to Winter too and just change up the fabric from silk/linen/tencel blends to wool blends. Below I'm wearing the Camo Cut Paper pants, also from Gorman and on sale, which were part of their Autumn collab with Claire Johnson.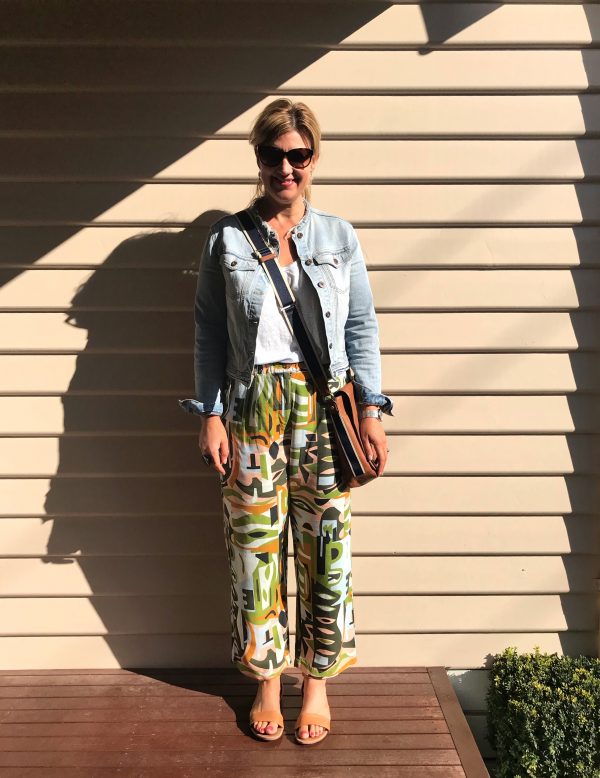 5. Leggings
OK, so some people don't think leggings are pants but I'm firmly in the camp that says they are PROVIDED they have more than just a little bottom coverage.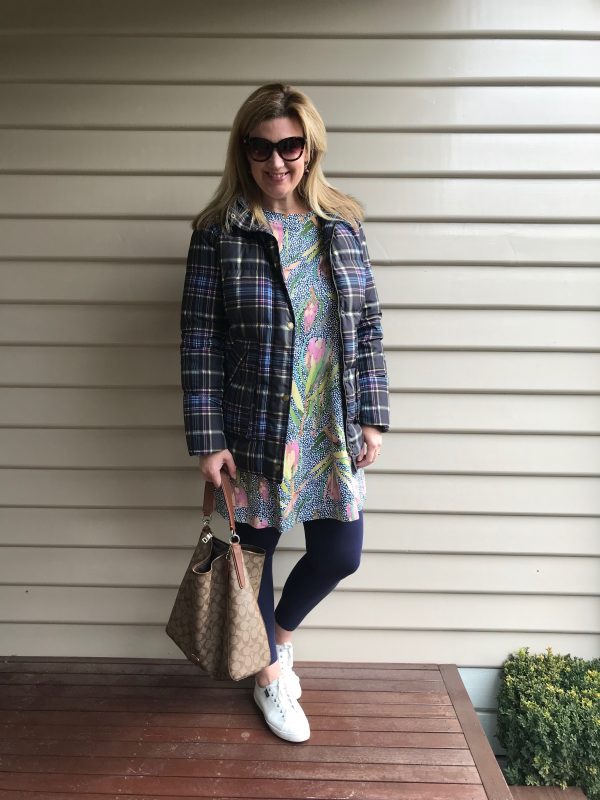 So for me, leggings are an awesome option to wear with dresses – especially to extend the wearability of trans-seasonal styles – as well as with knitted dresses, tunics or shorter dresses like the swing style I'm wearing above.
If I want to wear boots, I'd wear tights with these dresses/tunics but with my leggings, I'm more likely to opt for my trainers and a more casual approach.
I'm wearing leggings from Boden – they're the only style I've worn for nearly a decade and I swear by them. They come in three colours (black, grey and navy), and in two lengths – full and cropped, so you can choose what will work for you best. They wash and wear really well and are super comfortable too.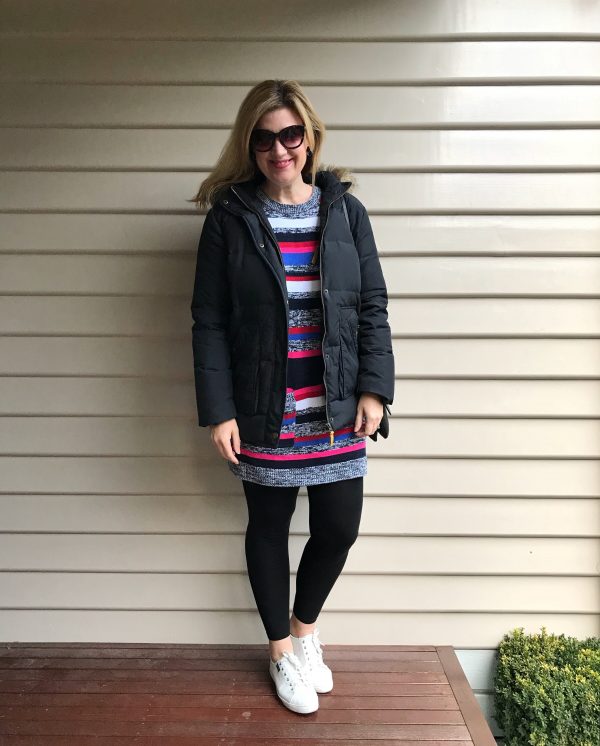 With a pair of trainers, this is another great casual alternative to jeans and again, is easy to dress up with a dressier shoe.
This post contains affiliate links. You don't pay any extra and I earn a small commission. Read more in my Disclosure Policy here.
So what's your favourite pair of pants outside of jeans? Do you wear any or all of the above?