I'm a frock girl from waaaay back, but I do give my jeans a pretty good work out over the cooler months, which in Melbourne is from April through to October, give or take.
And while I'm committed to diversifying things in the Pants Department (check out this post Five Winter Pants I'm Loving Right Now That Aren't Jeans), a great pair of jeans is definitely high on my list of Wardrobe Essentials.
I don't like playing favourites though and like a lot of us, I'm always on the search for the perfect – and ultimate – pair of jeans.
For me, the perfect pair of jeans involves a couple of things.
The first – which is non negotiable – is a great cut. I'm an hourglass so it's always a challenge to find jeans that fit but don't fall down as I'm narrower in the waist than the thighs.
Secondly, I like some variety in the colour department and style and am open to anything from black, chambray through to indigo, distressed or clean cut.
So while I'm still on the search for the ultimate pair of jeans, here are the jeans I'm currently loving and which are certainly worth checking out if you're on the hunt for a new pair.
1. Distressed Skinny Jeans from Bohemian Traders
Over the last two years, I've bought three pairs of these. I've got two sizes (32s and 30s), which I alternate depending on how much cake I've eaten I feel. I picked up my latest pair in a Spend and Save as I put my foot through the hole of my favourite pair when I was putting them on. Hashtag Too Much Ventilation.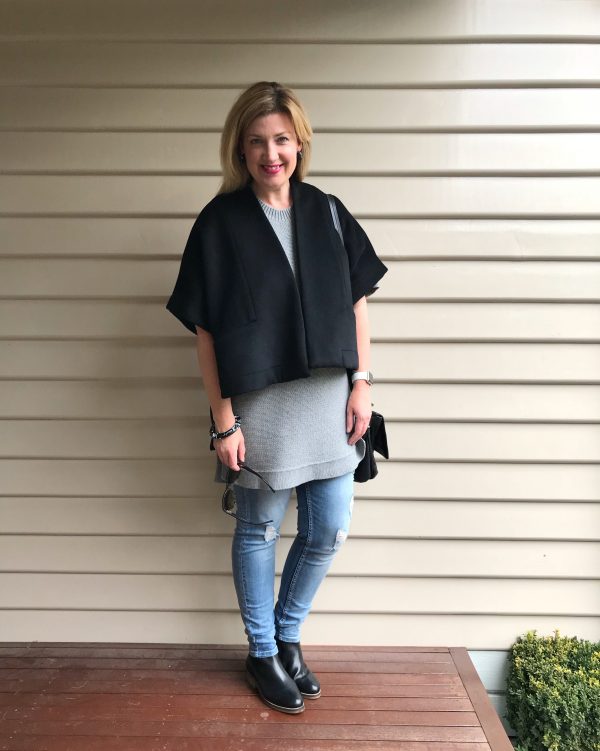 I love that they sit mid waist, that they've got a bit of stretch and the shape and length of them.
Though I usually steer clear of light denim in a skinny style, I actually find these jeans really flattering – the distressed detail breaks up things up visually which works for me.
I'm also loving the distressed detail although do be careful when putting them on as it's easy to put a  hole in them.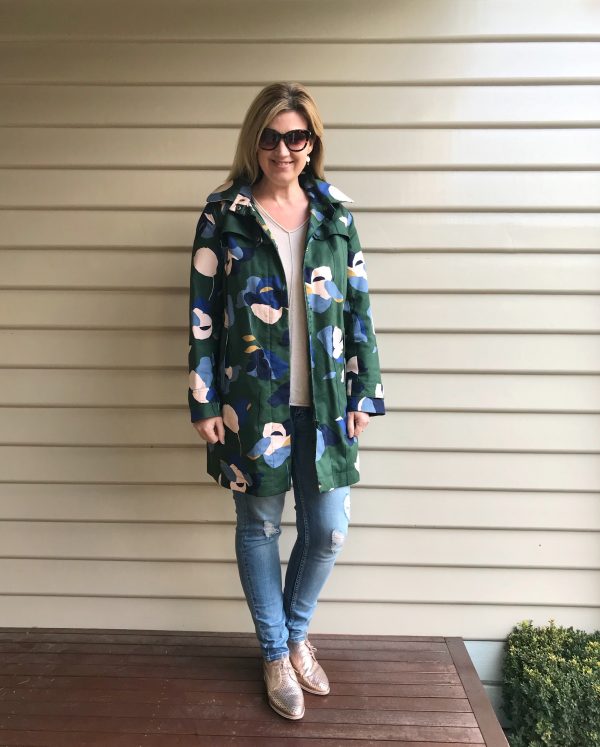 2. Black Jeans
Black jeans are a versatile option because they're so easy to dress up and down.
I've got three pairs I'm currently wearing on high rotation.
The first pair are the Curve Embracer from Jeans West, bought a couple of months ago. These are a matte black and are on the thicker, more substantial side fabric wise, so nice and warm for Winter. With their soft, matte fabric, they're almost a jean version of the ponte pant.
It's also a style that will suit most people, given you can choose from several lengths and sizes 7 through to 20.
I absolutely love how these don't gape at the back and fit really well.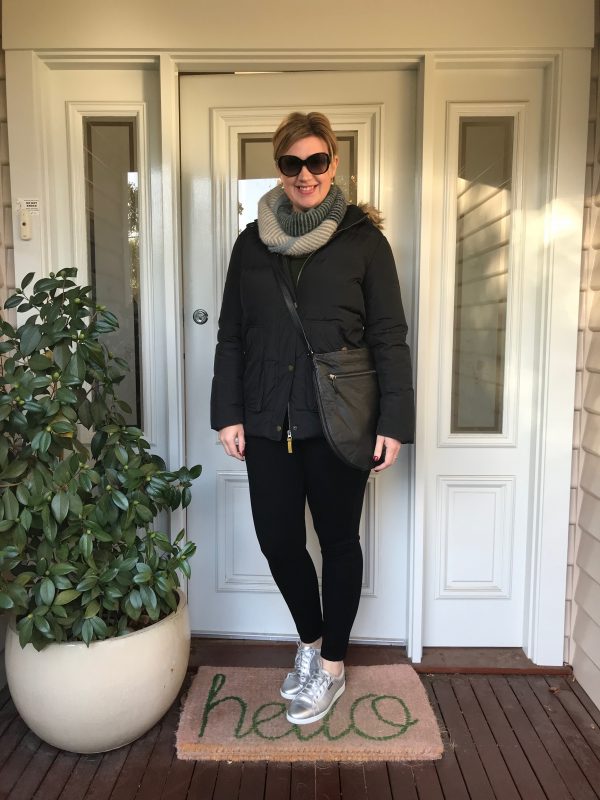 I also love this old pair of Sateen Jeans from Country Road – this is a style they bring out every season and it's a great everyday option. They come in several colours and in sizes 4 – 16. I wear a size 12 in this style and they are well worn – I think I bought them at least four years ago.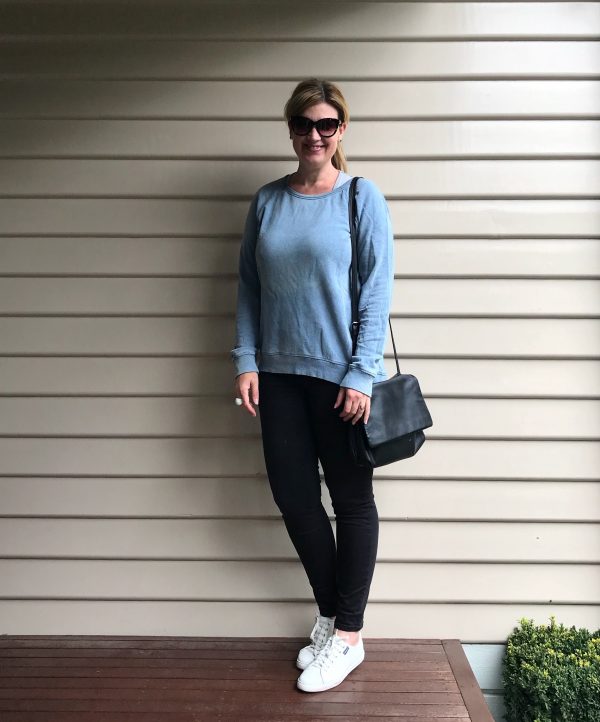 I also love my high waisted skinny jeans from Bohemian Traders from last Winter, although the high waist might not be everyone's thing. They do give a fair bit too after a wear, so take that into account when choosing your size. They're also cut across the knees, so not an option for the coldest of days.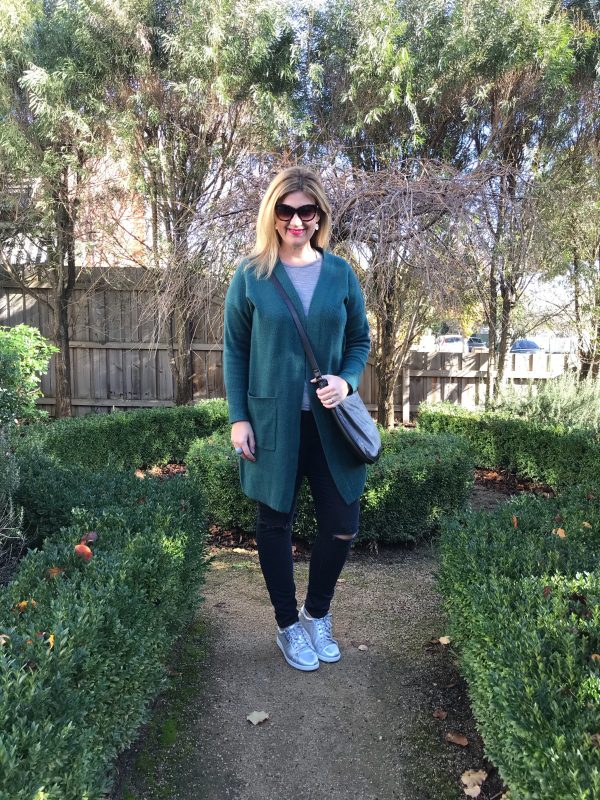 I wear a size 32 in this style, although I reckon I could squeeze into a 30.
3. Indigo Jeans
I have a couple of pairs of indigo/dark blue denim jeans I'm wearing at the moment.
The first are these Luxe High Waisted Skinny Jeans from Decjuba, pictured below. I wear a size 14 in this style, which has some stretch and sit mid waist.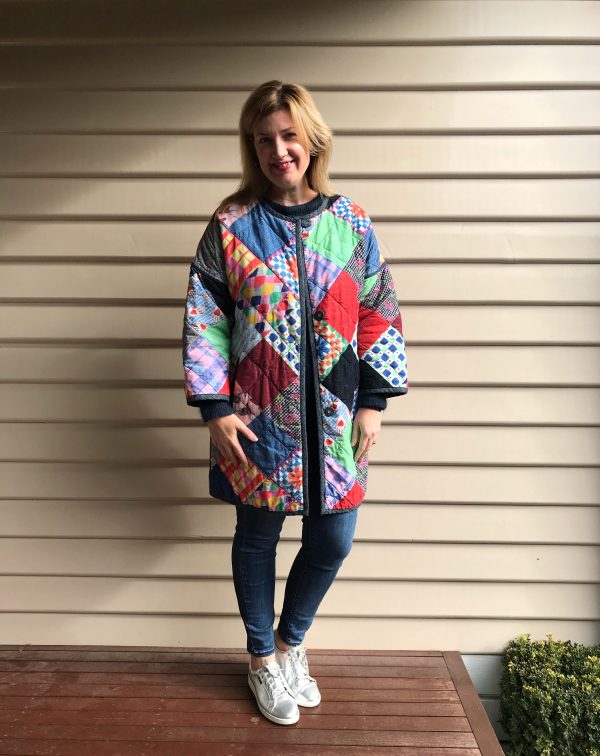 These are a great every day jean and also come in black. They're available in sizes 6 – 14.
I alternate these with these Soft Touch Jeggings from Country Road – the update on their much loved jeggings. They have a more substantial weight and are more "jean" like than their predecessors but still have plenty of stretch thanks to their high stretch modal blend. Once again they're a super skinny style that sit mid waist.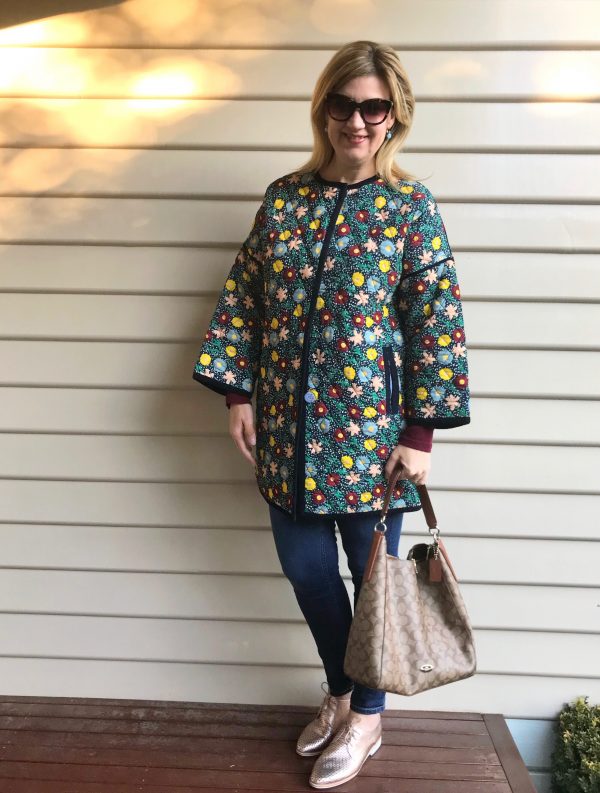 You'll find this style available in sizes 6 – 16. I take a size 12 in this style.
More Styles?
As you can see from the above, I prefer mid waisted super skinny styles when it comes to jeans as I find that's the style that suits me best. I do like (and wear) wide legged and straighter styles when it comes to other pant styles, as you'll see in this post.
If you prefer looser, straighter, stepped hem or wide leg jeans, I'd highly recommend you check out the premium denim range at Bohemian Traders.
If you are looking for skinny or biker style jeggings, I'd recommend the Riley jeggings over at Decjuba.
For curvy girls, the Curve Embracer range is a game changer. Check out the full range here.
This post contains affiliate links. You don't pay any extra and I earn a small commission. Read more in my Disclosure Policy here.
So over to you – what are your Go To Jeans?