If you've been reading this blog for a while, you'll know that I regularly feature clothing and accessories from Australian label Bohemian Traders.
Based in northern NSW, this small business has been consistently producing 'effortless threads for the modern bohemian' for a few years now.
Each season, I eagerly await the latest drop – wondering which classics and hard wearing basics will be refreshed and given new life this season as well as the revelation of new prints and styles.
Since late January, the AW17 has slowly been revealed, from the new Premium denim range to their latest drop, Primrose.
In the middle there somewhere, the latest crop of striped dresses was also released, adding new styles and lengths which are perfect threads for everyday, weekend and casual wear.
Recently I took advantage of a 25% discount (for completing an online reader survey) and put an AW17 order in, hoping to cover off some new styles and some wardrobe basics. Below, I'm wearing  two pieces I chose. I can tell you right now, there are several more pieces sitting in my shopping cart!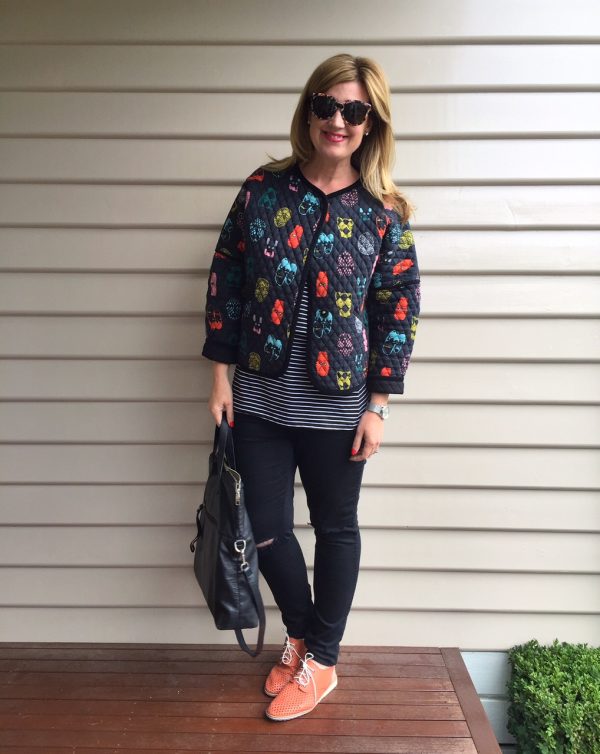 High Waisted Black Skinny Jeans, $139 from Bohemian Traders
The first are the High Waisted Black Skinny Jeans I'm wearing above. I'm wearing a size 32 (the equivalent of a size 14).
I can tell you that this is the first time I've ever bought BT jeans and, now I think about it, successfully ordered a pair of jeans online.
Because of my shape – smaller waist/bigger thighs – I usually find buying jeans and pants a challenge. Wide legged styles (especially high waisted styles with an elasticised waist) and soft pant/jogger styles are much safer territory for me and generally where I've had more success.
Despite my well grounded scepticism, I still went ahead and ordered the BT distressed skinny style and I'm very happy to report that I like them very much and they fit well.
I think the reason they work for me is two fold.
Firstly, the high waisted styling means they don't fall down – I find I have to continually hike up jeans that sit lower on my waist. I've destroyed many a belt loop doing this very thing. I should say though that while they fit perfectly when I put them on, they did soften up considerably over a day's wear though, so if you are between sizes, I'd size down as they have plenty of give. (Length wise, they are on the long side – I could easily cuff them but I worn them au naturale above).
Secondly, the softness and elastane component of the fabric gives them the capacity to mould to my legs, making them comfortable to wear and easy to sit in. I can never go back to stiff, tight jeans with no stretch after wearing these.
From a purely aesthetic perspective, I'm loving the addition of distressed jeans to my jean-drobe – I was worried the split would feel uncomfortable (the sensation of fabric pulling not a pleasant one) but they are fine, even though the hole is right on my knee cap. I love this edgier, urban style to breathe some new life into my casual wardrobe.
If you're a fan of this style, you can also shop it in a light wash and a dark wash.
Also, for clarification, this is the latest style of black distressed jeans and a high waisted style. The previous incarnation, which is still available, is the Black Distressed Skinny Jeans which are mid rise, sitting lower on the waist/hips.
The next thing I chose was this Long Sleeve Classic Scoop Neck in Stripe, $139 from Bohemian Traders. As I mentioned in this post last week, I can always find room in my wardrobe for another striped dress!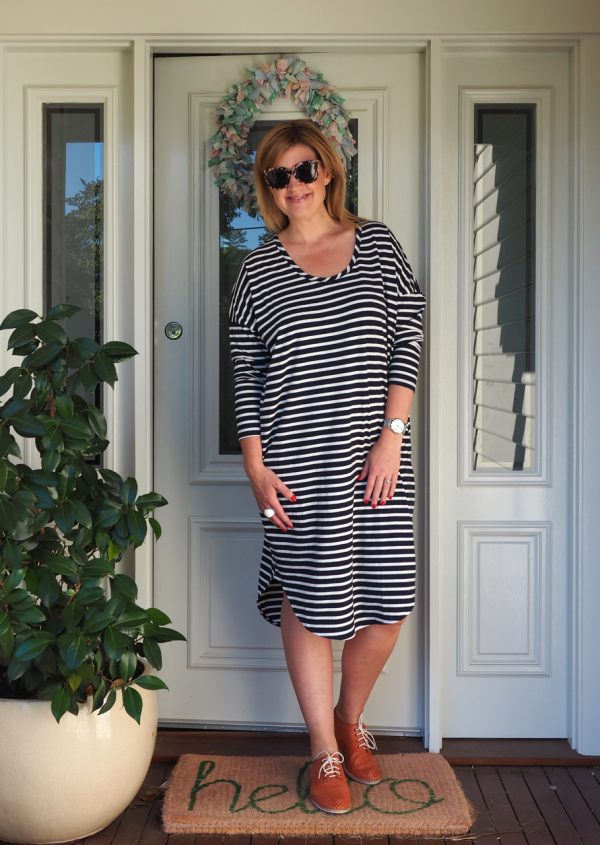 Long Sleeve Classic Scoop Neck in Stripe, $139 from Bohemian Traders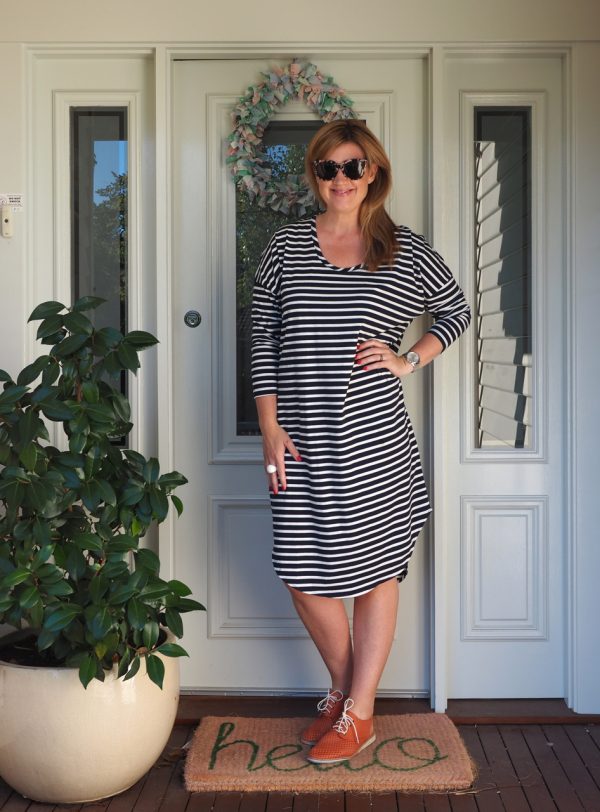 This style is definitely generous in the sizing department. I've gone for a Medium and I still have loads of room – which I'm fine with given it's an oversized style but I could have easily gone for a Small too. Depending on how you like the fit, I'd recommend going down one, if not two sizes.
The length is spot on for me too (I'm 5'9″/175cm tall) and I like the high/low hemline.  I'm also a big fan of the softness and stretch of the cotton jersey fabrication.
If you're covered in the stripes department – said no one ever – you might like to know this dress also comes in grey and black.
I've worn my dress with Rollie slingbacks (check out the latest AW range here) but I'd also wear it with Birks, trainers or flat boots with a denim jacket or skirt knotted around my waist.
Finally, Bohemian Traders have tweaked their Returns & Shipping policy making it much more consumer friendly.  Refunds are now available on full price stock (less shipping) within 7 days of receipt of order for Australian delivery and there's free shipping for domestic orders over $150. Details here.
This post contains some affiliate links. You don't pay any extra and I earn a small commission. Read more in my Disclosure Policy here.
Have you checked out the new BT range? Thoughts?