It's no secret around these parts that I love a stripe or three.
And, despite my wardrobe already boasting an impressive stripey section, I still find myself adding stripes to cart every season: stripey tees, knits and always, dresses.
Case in point: my latest edition, the Luxe Swing Dress, $79.95 from Decjuba (I'm wearing a Medium). I'm loving this easy wearing, comfortable swing jersey style – it's seriously the dress equivalent of wearing trackie dacks.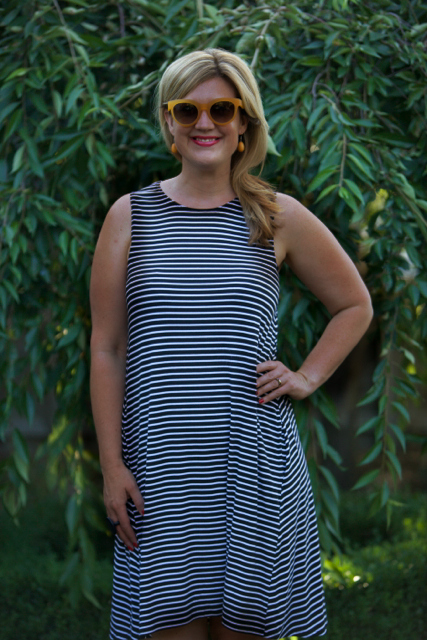 I keep coming back to stripes because they never date; they're simple yet chic; and classic navy/white and black/white combos work with just about everything.
So if you're on the look out for more stripes in your life/wardrobe too, I've got you covered in today's post.
Including the frock I'm wearing above (which is also dress (4) below), for today's Luxe to Less post, I've found fifteen fab new season options, at a range of price points and a variety of styles.
Firstly, here are some fab new season casual styles. I've included sleeveless, short sleeve and long sleeved options to cover a range of temperatures which pretty much covers Melbourne's weather lately …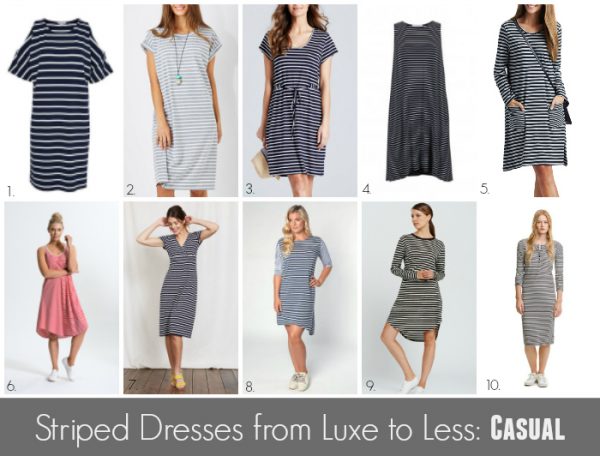 ABOVE: 1. Cold Shoulder Dress, $19 from Target; 2. Bird Keepers Shell Dress, $49.95 (on sale) from Birdsnest; 3. The Feel Good Dress, $69.95 from Birdsnest; 4. Luxe Swing Dress, $79.95 from Decjuba; 5. The Stripe Swing Dress Black/Grey, $79.95 from Birdsnest; 6. Striped Singlet Dress in Red, $89 (on sale) from Bohemian Traders; 7. Casual Jersey Dress, $95 from Boden Clothing; 8. Striped Dress, $129 from Bohemian Traders; 9. Sportif Dress, $129.95 from Surafina; 10. Mini Stripe Henley Dress, $139 from Country Road.
I love that this classic wardrobe work horse is available across most retailers and at a budget to suit most. This makes it an easy and accessible every day option, particularly given it's so easy to style.
My favourite ways to style a casual striped dress are to add trainers – this particularly works well with long sleeved versions – and a denim jacket or shirt, either on or tied around the waist. Add your favourite sunnies and a messenger bag to complete this easy everyday look.
For more summery versions, add a pair of Birks, Havianas or your favourite sandals and don't be afraid to add more interest by adding a contrasting colour, a clashing print or a statement pair of earrings or a pendant. You can see an example of this (and another fab striped dress from Birdsnest) in this post.
If you're covered in the casual stripes department, a striped dress for work or play is always going to be a winner too. Here are some of my faves in store right now …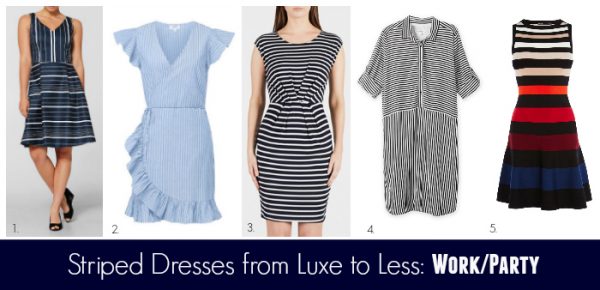 ABOVE: 1. Sateen Fit and Flare Dress, $39 from Target; 2. Stripe Wrap Dress, $119.95 from Seed Heritage; 3. Under the Sea Striped Henley Dress, $149 from Marcs; 4. Modal Shirt Dress, $179.95 from Trenery; 5. Colour Stripe Dress, $375 from Karen Millen.
If you're looking for a modern take on the striped dress, try a shirt dress version like the Trenery (4) option below or the pretty wrap style (2) from Seed Heritage.
I also love a knitted striped dress and this Karen Millen (5) example also introduces some bold colour to play with in the shoes/accessories department.
Stripe lovers should also check out the fab range at French Connection – there are limited sizes available online here but check in store and at Myer and David Jones.
This post contains some affiliate links. You don't pay any extra and I earn a small commission. Read more in my Disclosure Policy here.
Is there a striped dress or three in your wardrobe? What's your favourite style?