I've been an online shopper for many many moons.
In fact, I like to think of myself as a pioneer of sorts – I was doing it loooong before many of my friends and family, not just locally but from also from abroad.
What I loved – and still do – about online shopping is the convenience (which was a massive factor when the kids were little); the double joy of ordering and a parcel arriving a few days later (I'll always love this part); the ability to order sizes or colours online that were sold out in store; and the ability to shop labels that weren't in a bricks and mortar store anywhere near me.
The inescapable Debbie Downer though has always been The Returns Situation.
You know, the hassle of checking returns policies; adhering to the usually restrictive window of time for returns/refunds/exchanges; and of course the major annoyance of a trip to the post office during office hours to buy the parcel, address the package and pay the postage, often all with the kids in tow.
While I've always tried to send things back that don't fit or suit, I know many don't for one reason or other. Perhaps they're too busy; they've missed the returns window; they don't want to pay the return postage on top of what they've already spent; or logistically, they just can't get there.
Whatever the reason, they're then left with clothes they won't wear and, worst of all, the credit card bill.
There are exceptions however.
I reckon online store Birdsnest has long been a market leader in creating a positive and very user friendly online shopping experience. Aside from the great range of in house and designer/local labels they stock, Birdsnest's customer service – which includes a friendly hand written note, beautiful red packaging, express delivery and a generous 365 day return/refund policy – has always been excellent. I've consistently had very positive shopping experiences with them over many years.
Well ladies, I'm very happy to report, first hand, that Birdsnest has upped the shopping experience-ometer again with the creation of The Birdsnest Changeroom.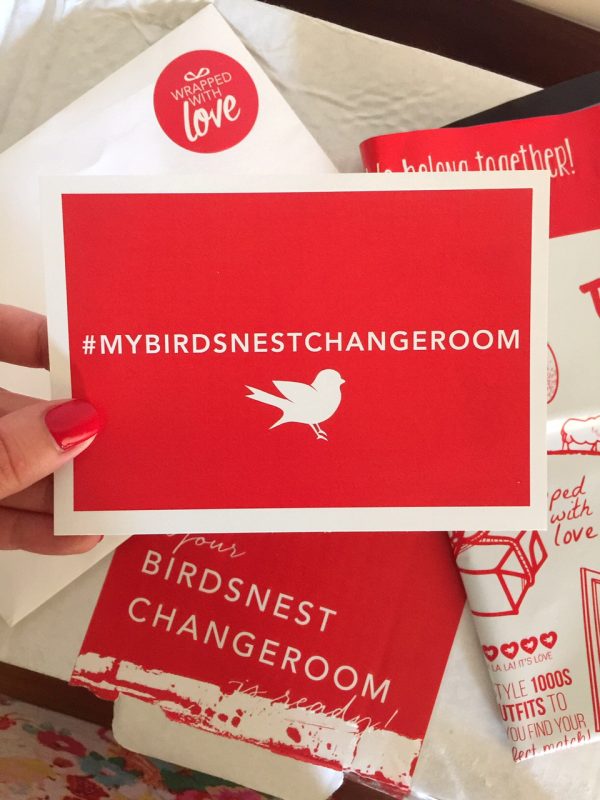 In a nutshell, by opting for a Birdsnest Changeroom for $9.95 when you check out, you can select up to $1000 worth of product to try on in the comfort of your own home. (You'll probably also qualify for free express delivery as this applies to orders over $200).
Along with your goodies, you'll also be sent a paid returns bag and returns form (with a self addressed sticker label to add to the prepaid bag) to make it super easy to send back anything you don't love.
Essentially it's a try before you buy or, an at home change room experience for under a tenner. I reckon that's a pretty amazing deal, especially when you consider that this cuts out the trip to the post office (you can send your parcel back using the self addressed label at any post box), buying a satchel as well as the actual return postage.
Other perks include personalised style tips – just complete your style profile – and you'll also receive styling tip cards along with your goodies.
The only condition is that you register and use Zip Pay when you check out. It takes 5 minutes and you can log in using your Facebook login details to make it even easier. You'll also need to have your credit card details handy.
OK, details covered, here's what I chose when I ordered a Birdsnest Changeroom and yes, you might recognise several pieces from recent posts. I was aiming to try on a range of great every day basics plus a couple of easy wearing but beautiful dresses for dressier occasions.
As part of the 'Changeroom' experience, Birdsnest suggest that you show your purchases to a friend to give you a second opinion – so that's where you come in – I'd love to hear your suggestions for what I should keep!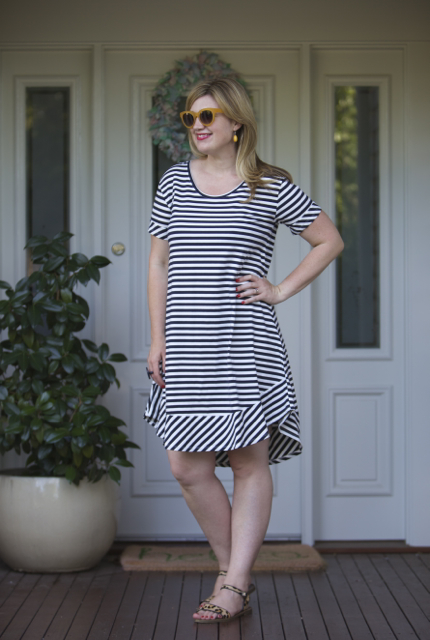 ABOVE: The Swing Dress in Navy Stripe (available in several other colours), $69.95. I'm wearing size 12. This is such a great everyday style with a simple pair of sandals or thongs – I've added a pop of colour or printed shoes for some extra interest.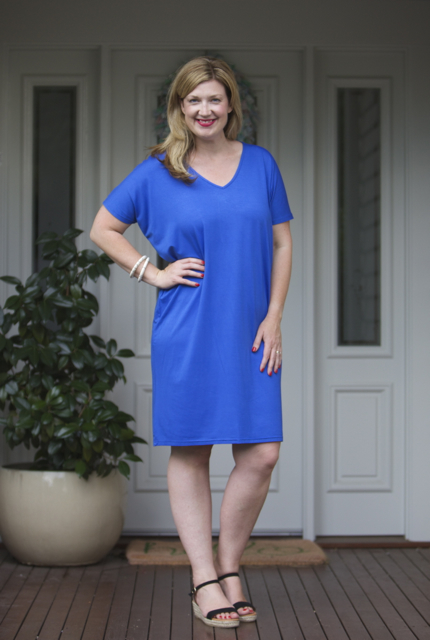 ABOVE: The V Neck Shift Dress in Splash (also available in light grey), $79.95. I'm wearing size 12. I've been eyeing off this dress for ages. I love this gorgeous colour and this easy throw on style.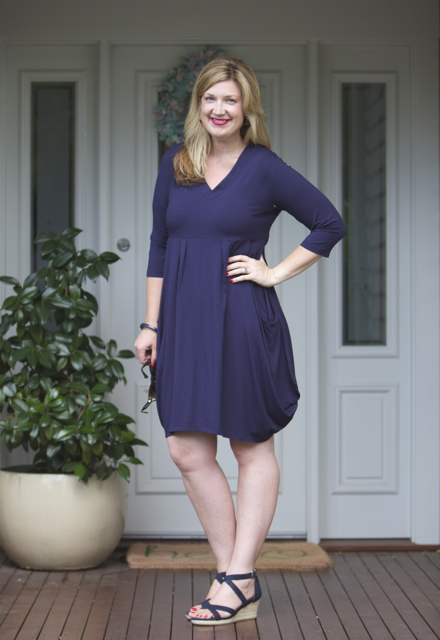 ABOVE: The Pocket Tunic Dress (also available in black and dark grey), $89.95. I'm wearing size 12. Just add leggings or tights come Autumn/Winter.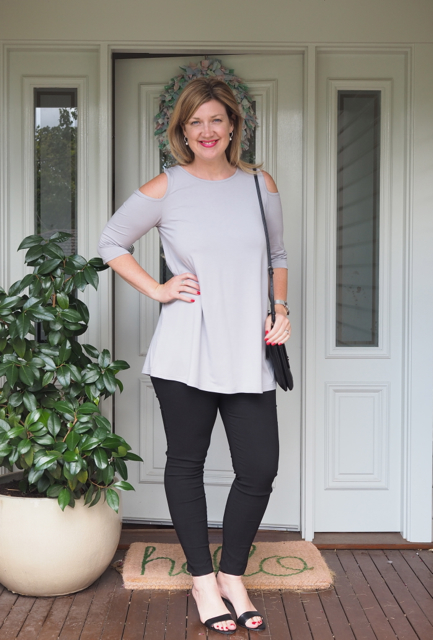 ABOVE: Cut Out Shoulder Tunic in Grey (also available in black), $59.95. I'm wearing size 12. I'm loving the longer length and flattering drape of this top which would also look fab with jeans and derbys/trainers. I'm definitely ordering the black in this new style too!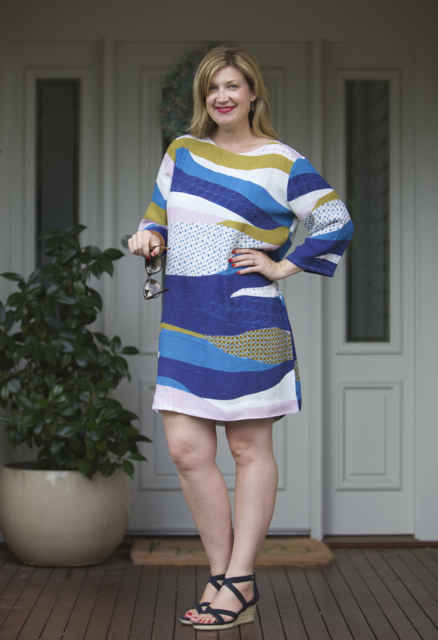 ABOVE: Organic Print Dress, $139.95 from Elm (I'm wearing a size 14 but it's very roomy, so I reckon I could go down a size to 12). How divine is this print?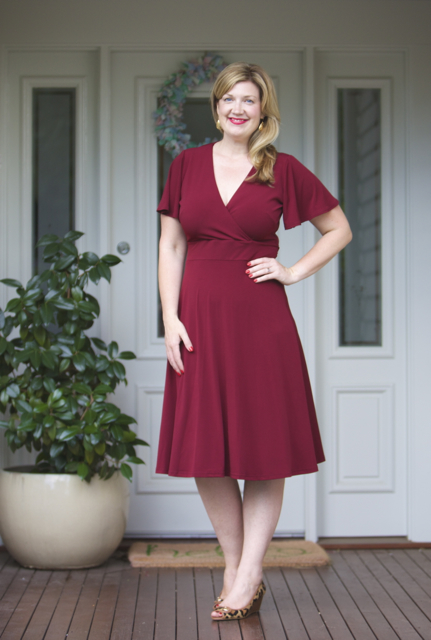 ABOVE: Jersey Wrap Dress in Port, (also available in smokey grey), $109.95 I'm wearing a size 12.  The weight and feel of this jersey is beautiful. This is a great dress for work, date night and parties in one of Autumn's most on trend colours.
In summary?
I loved being able to try on a range of different styles in the knowledge that returning what I didn't love would be easy. So instead of agonising over every single item I added to cart – like I usually do – I felt like I could take a risk, try a range of different styles to compare or try something completely different. And that's winning right there.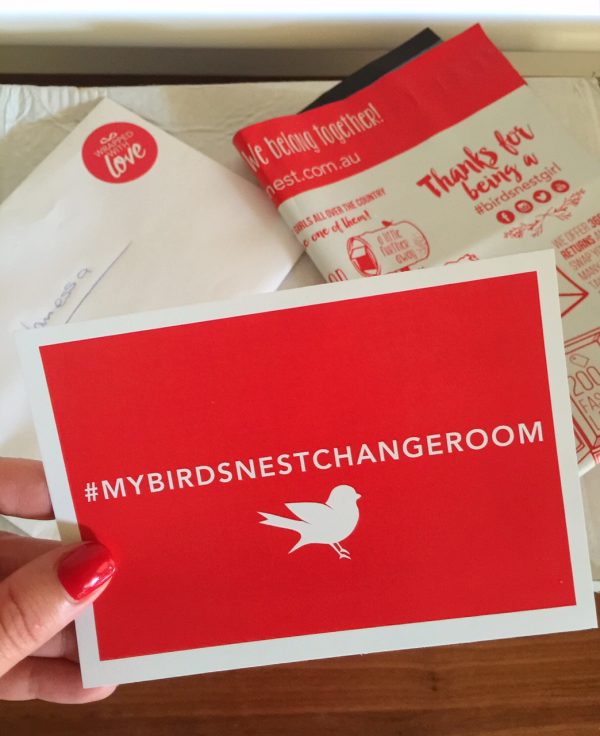 Big thanks to Birdsnest for giving me a voucher so I could road test this new shopping experience first hand. For more details about Birdsnest's Changeroom, head here.
This post contains some affiliate links. You don't pay any extra and I earn a small commission. Read more in my Disclosure Policy here.
Which pieces do you think I should keep? Do you shop at Birdsnest? Have you heard about or tried the Changeroom experience?