It's easy to get bamboozled by all the sales and promotions going on these days.
I know that my inbox is inundated with emails of promotions, rewards and other deals daily.
It can be a bit overwhelming sometimes.
Some sales really catch my attention though and Vogue's Online Shopping Night, which takes place twice a year, is one of them.
If you're not already familiar with it, the Vogue Online Shopping Night is essentially a co-ordinated promotion whereby a great range of online retailers simultaneously offer great deals on a designated Wednesday, from 12 noon to midnight.
And it's happening today.
Of course I don't suggest that anyone buys anything just because it's on sale, but if you approach this day as an opportunity to buy things you either need or would have bought anyway, it can be a very worthwhile exercise. (If you're after some tips on how to shop online for clothes, I've covered that here).
Why?
Because it includes so many retailers, including some premium brands, who rarely go on sale unlike the usual suspects who offer Spend and Saves or storewide sales every other week.
Most of the deals are storewide sales (which are the ones I've mostly included below). Free shipping and extra discounts on sale stock are also available at some retailers. You'll need a discount code for some, but not all retailers too. I've listed the relevant ones alongside the deal below.
So in this post, I've put together a guide of the best deals and a shopping wish list, below. Everything below is 20-30% off the price listed. I haven't calculated the discounts but if you click through, they will hopefully come up there or once you add the code at the check out stage.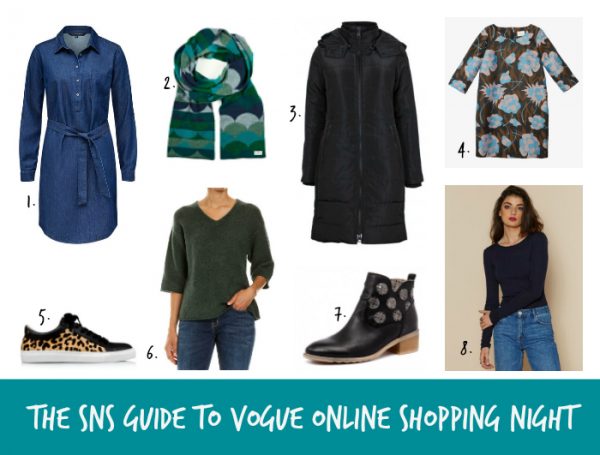 ABOVE: 1. Denim dress, $129.95 from French Connection; 2. Phoenix Scarf, $119.95 from Uimi Store; 3.Laura Longline Puffer, $189.95 from Decjuba; 4. Svetlana Dress, $269 from Obus; 5. Lacrosse Sneakers, $169.95 from Jo Mercer; 6. Lily V-Neck Knit, $159 from Saba; 7. Piazza black/grey boots, $249.95 from Style Tread; 8. Navy Merino Knit, $39.99 from Glassons.
Best Deals for clothing and accessories
You'll also find 20% off storewide at Alannah Hill, Seed Heritage, Skin & Threads, Forever New and Kookai.
Best Deals for footwear
Also check out the amazing (but very expensive) shoes at Alpha60 which are also 20% using the code VOSN16.
Best Deals for Homewares
For more info and to search all the retailers participating and deals offered, head here.
This post contains some affiliate links. You don't pay any extra and I earn a small commission. Read more in my Disclosure Policy here.
What's your pick of the sales? Have you shopped during the VOSN before?