We all love a bargain but what I love even more than a bargain is current, in season, full priced fashion with a big fat discount.
Bring. It. On.
So, every 6 months, I'm very pleased to bring you my wrap of the best sales in the twice yearly Vogue Online Shopping Night ("VOSN").
Now just to be 100%, crystal clear, I'm in no way associated or affiliated with Vogue.
Nope.
I am, however, a fashion lover from way back and I write a lot about fashion on this here blog and I love to pass on my sales intel to friends, family and readers.
Which is why I've put this post together.
I've done the research and put together a list of what I consider to be the best sales in the latest VOSN.
If you're not already familiar with it, the Vogue Online Shopping Night is essentially a co-ordinated promotion whereby a great range of online retailers simultaneously offer great deals on a designated Wednesday, from 12 noon to midnight, twice a year.
And it's happening TODAY.
But just before we get into the nitty gritty, I'm not for one second suggesting that anyone should buy something just because it's on sale.
No way Jose.
But, if you already know what you're looking for (e.g. a new pair of boots or a new Winter coat or a new pair of trainers) and you've done a little style stalking already, this can be a great day to buy what you were planning to buy anyway, with a significant discount.
So, without further ado, below is my round up of the best sales. You'll see that some retailers require a promo code but not all do, in which case you may be able to shop them right now. I've also included retailers that aren't part of VOSN but are offering comparable deals.
For the other deals, which require a promo code (denoted below by an asterisk), check back here just after midday as I'll list them below as soon as they are made publicly available.
In the meantime, it doesn't hurt to do some reconnaissance, right?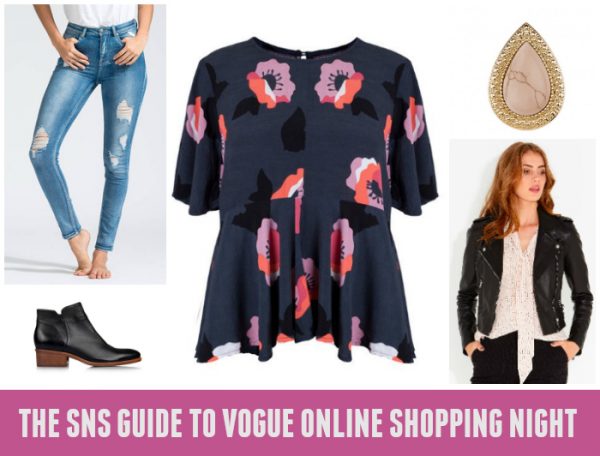 ABOVE, CLOCKWISE FROM TOP RIGHT: Distressed Skinny Jeans, $139 from Bohemian Traders; Wildflower Sunday Top, $120 from Mister Zimi; Bohemian Bardot Ring, $79 from Samantha Wills; Buckle Up Biker Jacket, $249.95 from Portmans; Kraken Ankle Boots, $239.95 from Jo Mercer.
Best Deals for Clothing and Accessories 
Best Deals for Footwear
Best Deals for Homewares
For more info and to search all the retailers participating in VOSN and deals offered, head here.
Other Great Deals 
The following retailers aren't participating in VOSN but their deals are comparable.
Decjuba are offering 30% off including sale (some exclusions apply) starting now. Ends midnight today.
You'll find 25% off 400 brands over at The Iconic (they stock leading brands including Nine West, The Horse, Kate Spade, Louen Hide and Adidas among others) until midnight today too.
Australian jewellery brand SAMANTHA WILLS are taking 30% off site-wide (including an extra 30% off sale items) from Tuesday the 23rd of May until midnight, Wednesday the 24th of May, with the code: TAKE30. All orders will receive FREE worldwide shipping, as well as a FREE wooden necklace box.
The Cotton On Group (Cotton On, Typo, and Rubi) are also offering 20% off storewide until midnight tonight.
This post contains some affiliate links. You don't pay any extra and I earn a small commission. Read more in my Disclosure Policy here.
Are you making the most of the sales today? What's on your shopping list?