With the Spring Racing Carnival, a couple of birthday do's, end of year break ups and Christmas soirees all on the horizon, I'm presently in the throes of nutting out what to wear for these upcoming occasions.
And while I love love LOVE browsing all the new season ranges and planning my outfits – #fashionnerd – I don't love paying full price, even for new season stock. So, I've been biding my time, waiting for a storewide sale or promotion to nab what I'm after.
Thankfully, one such sale bonanza is happening TODAY: the Vogue Online Shopping Night ("VOSN"). If you're not already familiar with it, the VOSN is essentially a co-ordinated promotion whereby a great range of online retailers simultaneously offer great deals on a designated Wednesday, from 12 noon to midnight, three times a year.
Now just to be 100%, crystal clear, I'm in no way associated or affiliated with Vogue.
Nope.
I am, however, a fashion lover from way back and I write a lot about fashion on this here blog and I love to pass on my sales intel to friends, family and readers.
So if you already know what you're looking for (e.g. a dress for the Races or upcoming Christmas season, a new pair of bathers or trainers, or, dare I say it, Christmas shopping) and you've done a little style stalking already, this can be a great day to buy what you were planning to buy anyway, with a significant discount.
So, without further ado, below is my round up of the best sales. You'll see that some retailers require a promo code but not all do, in which case you may be able to shop them right now. I've also included retailers that aren't part of VOSN but are offering comparable deals. YAY for that.
For deals which require a promo code (only those retailers participating in VOSN), I've just listed them below when they were made publicly available. For many, the discount code is automatically applied during checkout. If you have any issues with the code, check back here at Vogue Online Shopping Night.
In the meantime, it doesn't hurt to do some reconnaissance, right?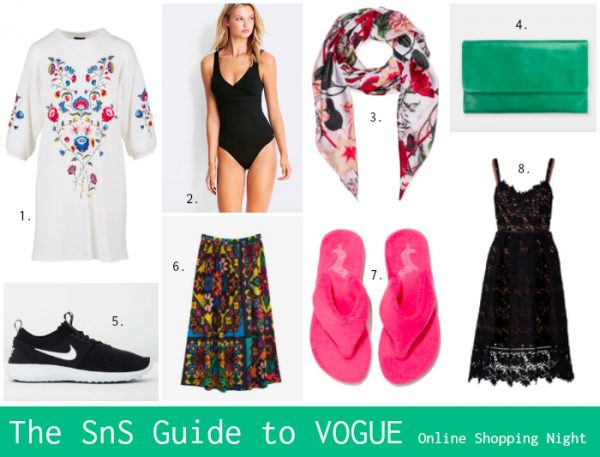 ABOVE: 1. Florence Sweater Dress, $59.95 from Dotti; 2. Maillot in Black, $139.95 from Seafolly; 3. Spring Scarf, $29.95 from Portmans; 4. Status Anxiety Wallet, $109.95 from The Iconic; 5. Women's Nikes, $130 from The Iconic – see all discounted styles here; 6. Istoriya Skirt, $189 from Obus; 7. Towelling Slipper Thongs, $29.95 from Peter Alexander; 8. Sadie Full Lace Dress, $169.95 from Portmans.
Best Deals for Clothing and Accessories  – These Deals Start at Midday Today
Best Deals for Footwear – These Deals Start at Midday Today
Best Deals for Homewares – These Deals Start at Midday Today
Non VOSN Deals You Can Shop Now
If you want to start Christmas shopping for the kids …
Check out the new Harry Potter sleepwear range at Peter Alexander (currently 25% off) and you'll find a storewide sale on also at Smiggle. Also check out the range of sportswear and trainers at The Iconic for older kids.
This post contains some affiliate links. You don't pay any extra and I earn a small commission. Read more in my Disclosure Policy here.
Are you making the most of the sales today? What's on your shopping list?